I'm a beach-hopper, and I've been to a lot of beaches in the world. So, when I say Koh Samui has some of the best beaches in Thailand, then you know it's true! For me, there is no better place than Koh Samui for an epic tropical getaway.
Koh Samui Beaches are so pristine, and the water is so clear, it looks like a picture straight out of an advertisement.
There are gorgeous resorts on every corner to help you relax for as long as you need. And if you're looking for something more adventurous than just lounging around by the beach, then there are plenty of activities that will keep your adrenaline pumping all day long.
In this post, I am so excited to share my list of the 10 best beaches in Koh Samui with you! I stayed on this beautiful island for two months, and I loved every minute of it. Even though there are a lot of great places to visit here, these 10 beaches were my absolute favorites.
Best Beaches in Koh Samui
1. Silver Beach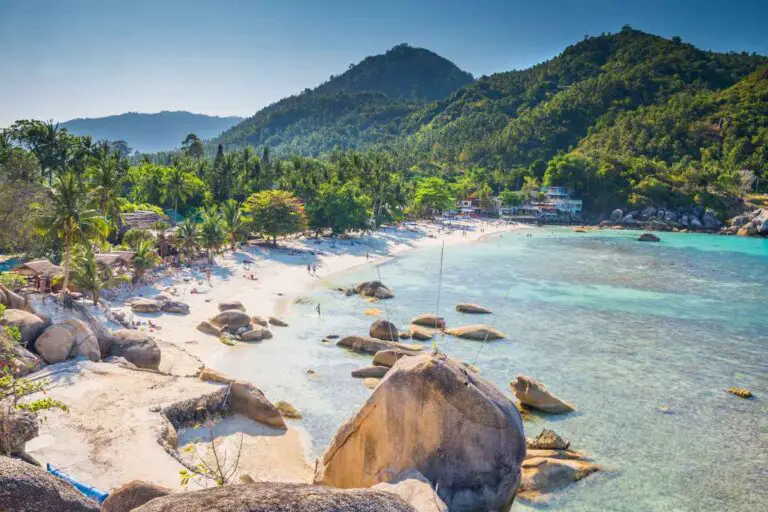 I always enjoy discovering new beaches, and Silver Beach is definitely one of the most beautiful beaches in Koh Samui. It's so beautiful, plus there are plenty of places where you can relax or snorkel!
At first, I thought this place wasn't so good because the waves were pretty strong. But then I met a local who explained that this was probably due to recent storms (that's why there were so many lost fishing nets washed up on shore).
Since he knew the beach well, I believed everything he told me and found his advice very helpful! He even showed me where it was safe to go snorkeling, plus he showed me the best places to hang my towel.
After all that excitement, I wanted nothing more than to lie down for an hour or two. So, before leaving Silver Beach, I dropped off all of my things at the Huts, only to return later when the sun started setting over the ocean's horizon. On my way back to the Huts, I stopped to take a few pictures of this cute little lighthouse on the other end of the beach.
I didn't want to leave, but it was getting dark. So, reluctantly I packed up my stuff and headed towards Nathon Town as I had booked a stay at Junta City Hotel.
Read More: Best Things To Do In Koh Samui
2. Maenam Beach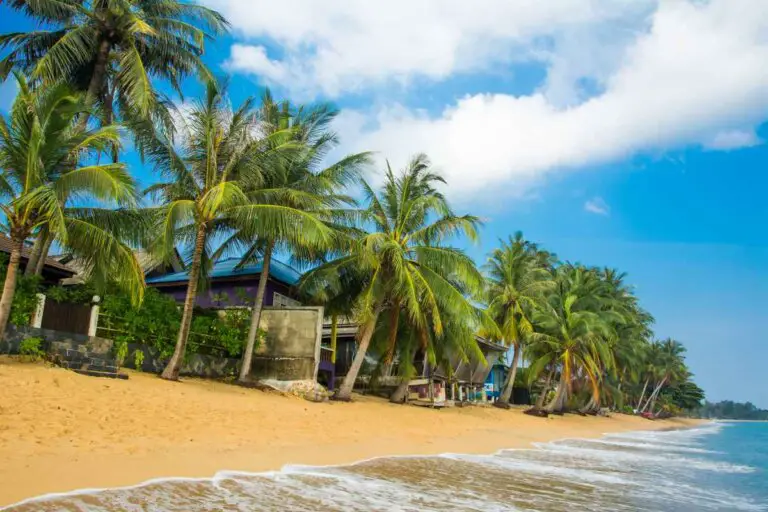 As its name suggests, Maenam Beach can be found near the very north tip of Koh Samui. This wide sandy beach is great for relaxing because it offers plenty of shade from coconut trees. Plus, there are huts available for rent which come with comfortable chairs and big umbrellas, so you don't have to sit directly underneath the sweltering sun!
I spent my third day at Maenam Beach because it was a good place to rest after a long overnight bus ride from Nathon. Additionally, I had an amazing seafood lunch on this same day. So the location felt doubly rewarding!
I think Maenam is a great place for families with kids to visit. This is because there's a lifeguard present and the beach seems very safe. In fact, I enjoyed watching some toddlers chasing each other into the water as their parents looked on from dry land. It was adorable!
Maenam wasn't my best beach in Koh Samui (in terms of scenery), but I liked it because it's such a calm and relaxing environment (plus cheap too!). In addition, if you want to do some shopping, there are a few markets nearby with bags and clothing items that you might be interested in picking up.
Read More: Best Beaches In Thailand
3. Bophut Beach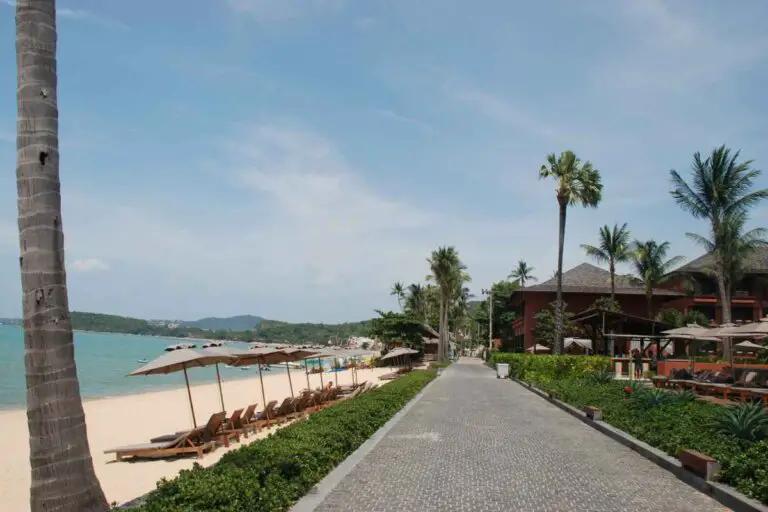 Bophut Beach is located in the middle of Koh Samui, about a 30-minute drive from Maenam. I went to Bophut twice during my stay on the island, and both times were quite enjoyable.
I believe that beaches are judged by their sand quality. And I have to say that Bophut has some of the whitest sand I've ever come across in Thailand! It's absolutely perfect, not too coarse or too fine. Generally, very pleasant to walk barefoot.
There are many different resorts on this stretch of beach, so you can find everything from luxury five-star accommodations to more affordable and simple guesthouses. I stayed in a great place called The Lodge Annex, where I got a comfortable private room with air conditioning, TV, and hot water shower for only $20 per night! The best part was the hotel's location because it's just off Bophut Beach, so you can easily walk out to the sand when you wake up.
I liked walking along the beach at Bophut because there were plenty of people selling seafood dishes such as fried snapper and grilled prawns. In addition to these types of food, there are also many restaurants that serve American fare like burgers and French fries if you get tired of Thai cuisine.
Overall, even though Bophut Beach is crowded with people during peak travel season, it still remains one of my best beaches in Koh Samui. This is because of the gorgeous ocean views and engaging atmosphere.
4. Lipa Noi Beach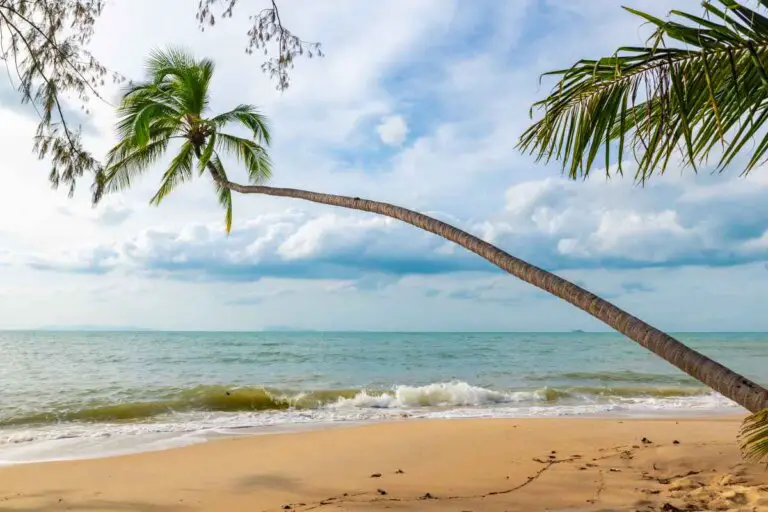 This is a small cozy beach located on the other side of Bophut Beach, so it's a bit further from where I stayed. However, this was my go-to place for snorkeling!
In particular, Lipa Noi Beach has an area that is covered with rocks rather than sand. And these rocks create a "natural aquarium" where you can see a variety of sea life. In fact, here, you'll catch a glimpse of several types of colorful coral reefs as well as various species of fish. It's pretty cool to watch them swim by!
There aren't many places to eat lunch near Lipa Noi Beach (although there are a few shops), but I did find a small taco stand a little further up the street. So if you're a foodie who's always on the lookout for delicious bites, then this is a great beach to visit!
In addition, I found that it was really easy to rent both snorkeling equipment and a motorbike from Lipa Noi Beach, which helped me explore other parts of Koh Samui very easily. Finally, there's also fresh coconuts being sold around here so you can have a drink of water when you get thirsty.
5. Choeng Mon Beach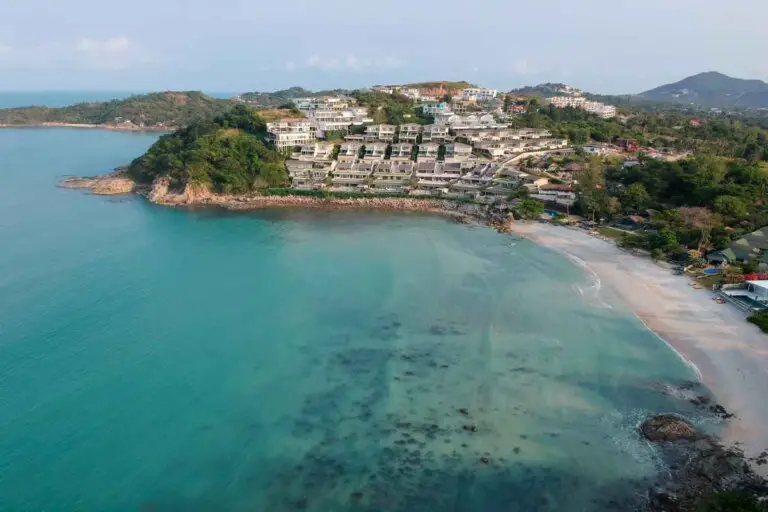 Choeng Mon Beach is another of the best Koh Samui beaches, which has been featured in many international advertisements and TV shows. So it's also very crowded with tourists.
There are plenty of resorts on this beach, but they're all pretty expensive, so I wouldn't recommend staying here unless you have tons of money to spend. However, if you can get yourself invited to stay at one of these hotels for free, then you should definitely go for it!
As far as the actual beach goes, Choeng Mon isn't my favorite because it's pretty dirty and there aren't too many activities that you can do. Still, the sand and water are clean enough for swimming and sunbathing (plus some people snorkel from the shore). So it's okay if you don't have too high of expectations.
Choeng Mon Beach offers great views of Koh Phangan as well! I remember being at the beach with some friends when we noticed a giant full moon coming up in the sky. So everyone decided to run-up to the top of this mountain for a better look. It was fun taking pictures and seeing something that impressive going on right in our own backyard.
6. Chaweng Beach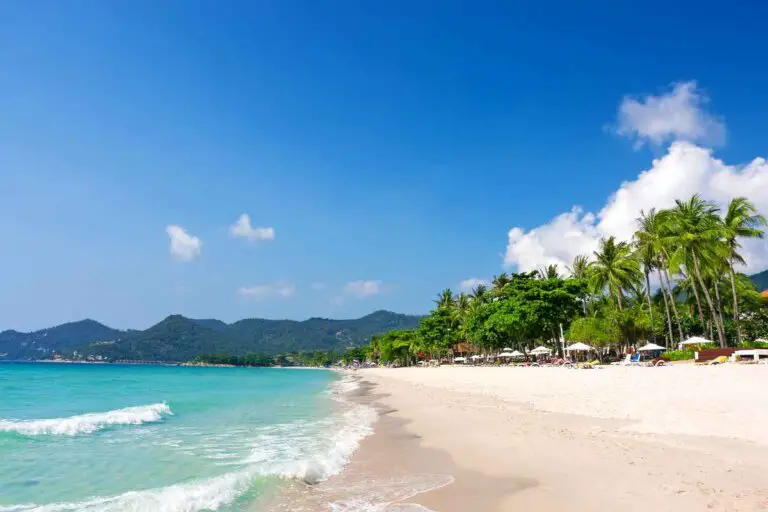 Chaweng Beach is the biggest and one of the most popular beaches in Koh Samui. It's very long, making it a great destination for anyone who wants to relax in a crowded setting! Additionally, I think Chaweng is a perfect place for families with kids because there are lifeguards present and lots of water sports activities that parents can join their children in engaging in (for a fee, of course).
One thing I love about Chaweng Beach is its excessive nightlife. This area has got to have some of the best nightclubs on any island throughout Thailand! In fact, my friends and I went out clubbing at least three times during our stay at Koh Samui. And we always had a blast!
There are dozens of resorts, hotels, and guest houses for visitors to stay at around Chaweng Beach. So it's easy to find a place that you'll love. I stayed at Ark Bar Beach Resort, where I had fun. There's also plenty of shopping opportunities here too, including markets where you can find the same items as the ones sold at Maenam Beach (bags/clothing).
7. Ban Tai Beach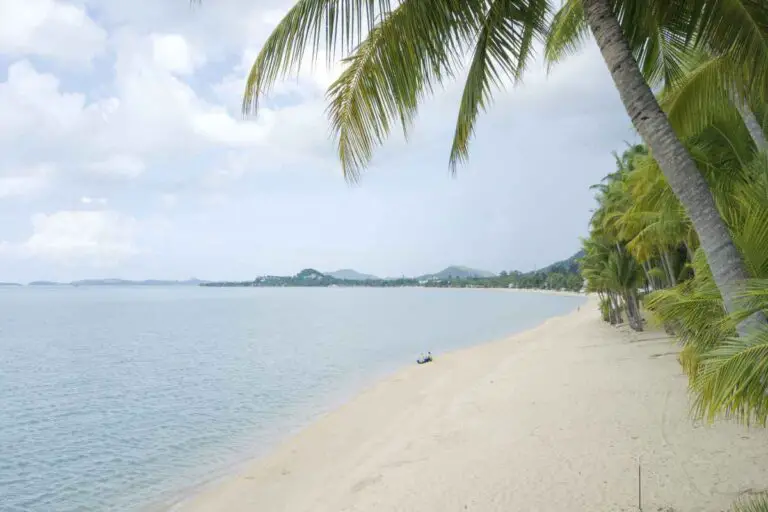 Ban Tai Beach is an excellent choice if you want to get away from the more touristy beaches in Koh Samui. I'm not saying that you won't find any other tourists here, but Ban Tai Beach seems to be less popular than beaches like Chaweng, which are known for their party vibe.
As a result, there were very few vendors pestering me when I visited this beach, which was really nice! Plus, the sand here is definitely whiter and brighter compared to other beaches in Koh Samui's.
I also enjoyed walking on Ban Tai because there are several beaches in close proximity. So you can walk between them easily. Plus, if you continue walking south, you'll eventually reach a point where the sand turns into rocks, which makes for good snorkeling.
I had the most divine seafood lunch on Ban Tai Beach, and I was so content that I didn't want to leave! The restaurant at which I ate was called Sunset Restaurant, and it's located right on the sand, perfect for people who want a tropical ambiance while they eat.
In my opinion, Ban Tai is the best beach in Koh Samui. It's pretty quiet here compared to other beaches in Koh Samui. Plus, there aren't many buildings nearby. This means that all you get is blue sky and beautiful beaches!
8. Lamai Beach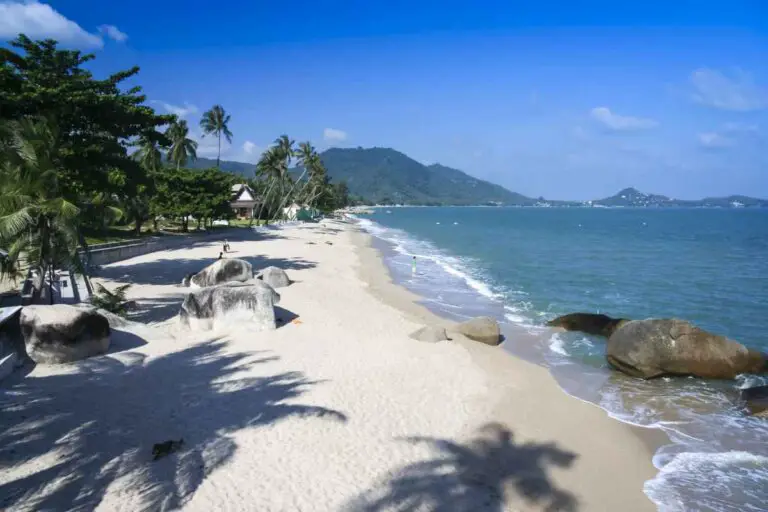 Lamai Beach is probably one of the most famous beaches in Koh Samui for a good reason: it's very beautiful! The sand here is super fine, white, and powdery. Plus, there are large patches of green grass spread throughout the beach where people can sit down to relax under the shade of palm trees.
The water color at Lamai Beach isn't too special, but it's still nice if you're not an avid snorkeler or scuba diver. I did get out into the sea once when I visited this location because my friend wanted me to jump off one of the rocks located just beside Lamai.
All in all, Lamai Beach has scenery that's great for Instagram photos. In addition, there are tons of shops available along the street that runs parallel to the beach, where you can find t-shirts, jewelry, purses, and all kinds of souvenirs. I recommend visiting Lamai Beach at least once during your stay on Koh Samui!
9. Bang Po Beach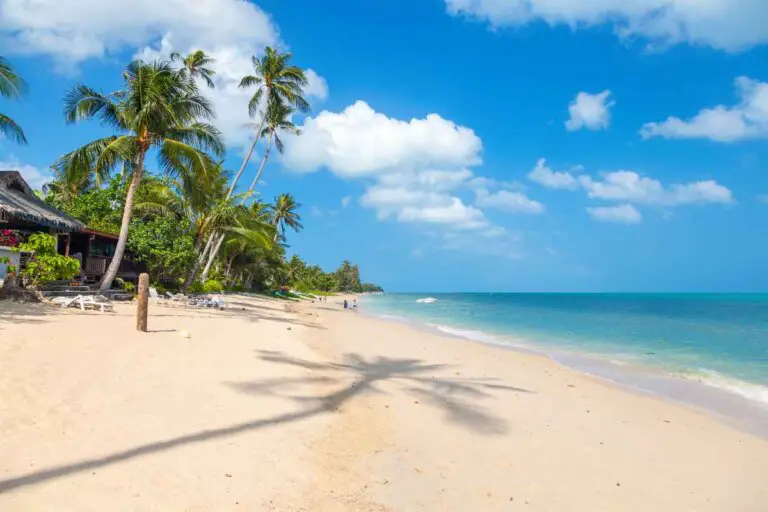 Bang Po Beach is the perfect spot for those looking to spend their days in a more tranquil environment. As its name suggests, this beach is on the quieter side, and not many people come here (at least not during November and December).
The first time I visited Bang Po Beach was with my friends on my last day at Koh Samui. It was a great choice because we wanted something relaxing for our holiday finale, yet it also helped us avoid being back at our guesthouses too early.
During low tide, Bang Po becomes super wide. So walking all along the shoreline helps you feel like you've traveled pretty far inland. Yet when high tide rolls around, it shrinks way down so that there are only small pools of water between the beach and the shore.
Additionally, there are no beaches in Koh Samui prettier than Bang Po during sunset. I probably took more photos of this locale at golden hour than any other place. It's absolutely breathtaking!
10. Taling Ngam Beach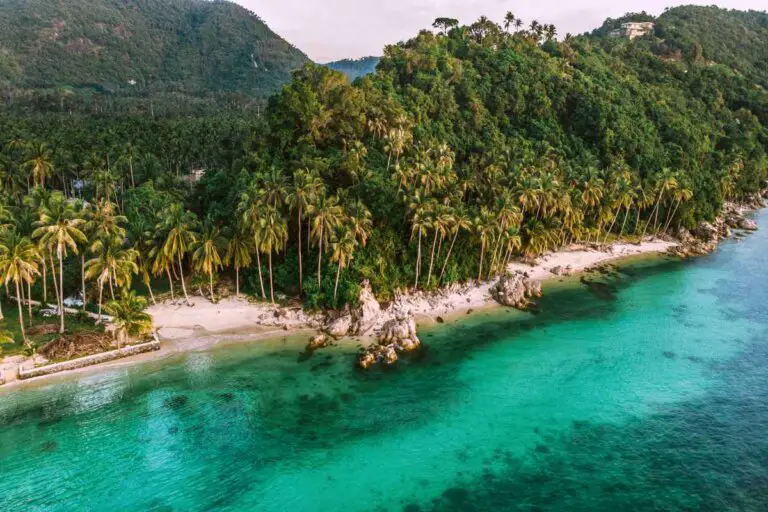 Taling Ngam Beach has a bit of everything to offer. Its beautifully shaped white sands and turquoise waters make the perfect backdrop for your holiday photos.
But Taling Ngam isn't just great because of its beauty; this beach is home to some amazing activities too! For example, you can do parasailing and riding banana boats (even rent an actual boat if you're feeling frisky!). Plus, there are many shops here to buy local items such as wood carvings and coconut shell handicrafts!
So if you're looking for a complete Koh Samui beaches experience, then definitely check out Taling Ngam Beach. You won't be disappointed!
In summary
The beaches in Koh Samui are absolutely picturesque and perfect for anyone who wants to get away from the busy city life. Whether you are looking for beaches with crystal clear waters or beaches with white sand, there is definitely one that will suit your fancy! Koh Samui beaches are great places to relax while enjoying the fresh sea breeze.
So, if you're into that whole "vacation" thing, then I think beaches on Koh Samui are some of the best places to go!