Planning a trip to Thailand was not the easiest task in the world. The difficulty started when choosing the most beautiful beaches in Thailand to visit. And I admit, figuring out the beaches in Thailand was more work than I expected.
Thailand's beaches are a world fetish and are also becoming a desire among many tourists. Its beautiful beaches boast of clear sands, emerald blue waters, impressive rock formations, and many long-tail boats: a true paradisiacal and very photogenic dream. The islands look like photo-shops in real life. The color of the sea and surrounding vegetation make the scenery look unreal. I have to confess that this is the country that I fell in love with, and I'm thinking about coming back again.
So, if you plan to visit this country, having a map in hand can make your planning easier. After all, you don't want to go to paradise to spend a lot of trouble! Therefore, in this article, I will list the 11 best beaches in Thailand to appear in the itinerary of your dream vacation.
Best Beaches in Thailand
1. Railay Beach, Krabi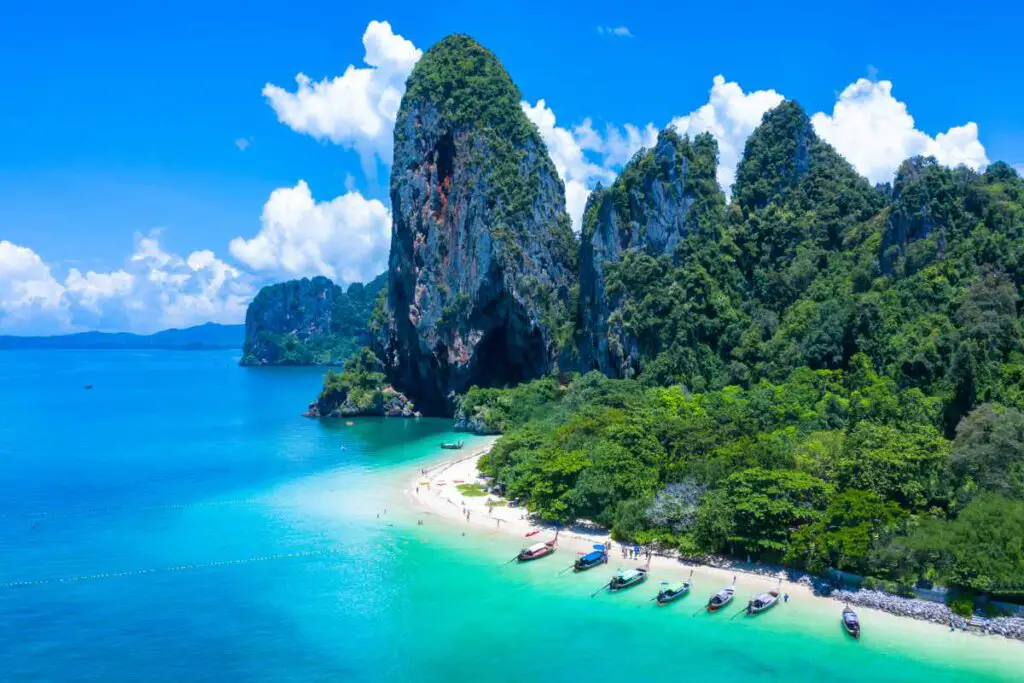 I start the list of the best beaches in Thailand with Railay Beach, one of the most popular beaches in the country. It can only be reached by boat from Krabi Town or some other beach in the area, such as Ao Nang or Phra Nang.
Famous for the huge limestone walls that end into the sea, Railay is the darling of climbers and honeymooners. Its main beach, Railay West, is full of resorts and small businesses, with a laid-back, family-friendly atmosphere.
By the way, Krabi is one of the most famous destinations in Thailand, being the main gateway for tourists who want to explore the islands and beaches of the Andaman Sea.
In addition, there are plenty of shops to buy souvenirs, all framed in a bohemian atmosphere, full of Rastafarians. I had the opportunity to explore other surrounding beaches and discovered caves, viewpoints, and hidden lagoons.
Some of the best hotels near Railay Beach that I recommend are:
Rayavadee Hotel
Railay Bay Resort & Spa
Railay Great View Resort
Sunrise tropical resort
2. Maya Bay (Koh Phi Phi)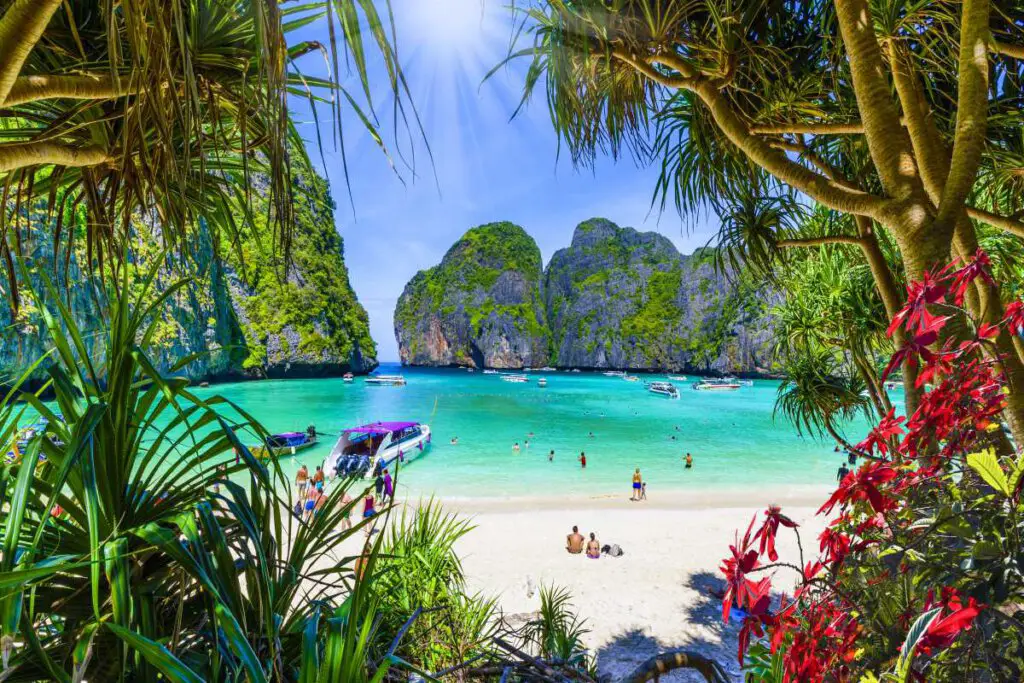 This is one of the most beautiful beaches in Thailand, and for sure, one of my favorite. Maya Bay Beach is located in the Koh Phi Phi archipelago and was the setting for the film "The Beach" with Leonardo di Caprio in the year 2000. The shallow and blue waters of Maya Bay are one of the most beautiful islands in the world. Almost the entire area is surrounded by a huge limestone monolith.
The steep hills surrounding the water made me feel like I was in a private paradise. And because the bay is a large reef, I was able to see a lot of tropical fish here. I recommend practicing snorkeling at this beach.
Some of the best hotels near Maya Bay Beach that I recommend are:
Phi Phi the Beach Resort
SAii Phi Phi Island Village
P.P. Blue Sky Resort
Phi Phi Banyan Villa
3. Freedom Beach, Koh Tao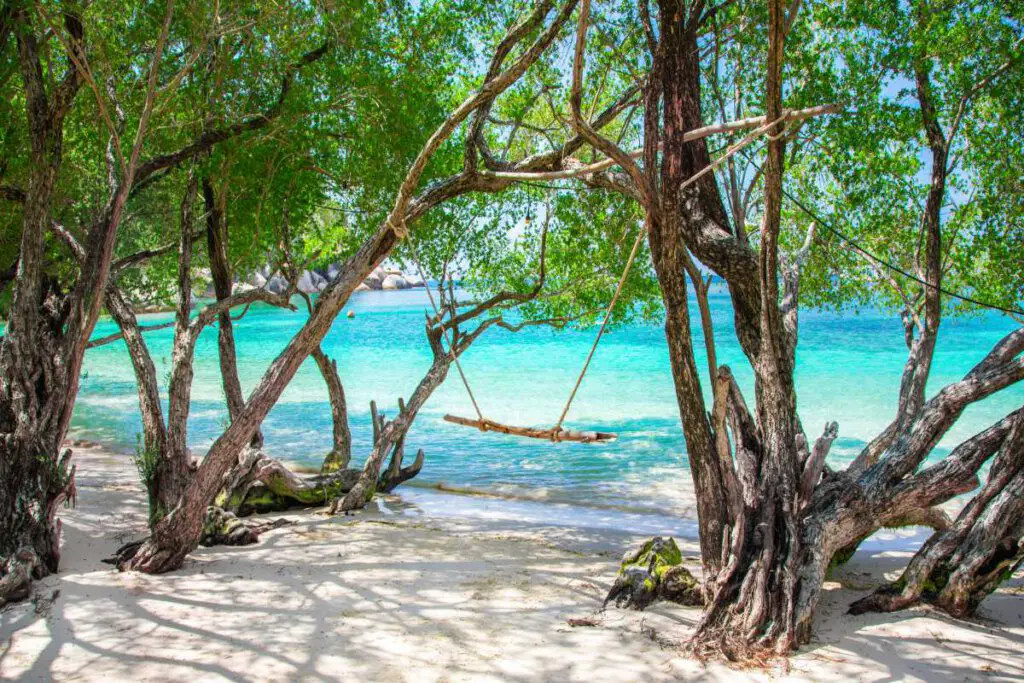 Freedom Beach, on the island of Koh Tao, is known for being one of the most beautiful beaches in Thailand due to its fine white sand, its crystal clear waters, and above all, its wonderful shadows under the trees, where you can rest or read your favorite book. It is also one of the best beaches in Thailand if you want to swim or dive, as you will find schools of fish.
I was captivated by the natural beauty of this beach and also the incredible sunsets. In addition, before reaching it, I passed by the Taa Toh Lek beach, a small isolated paradise surrounded by nature.
Some of the best hotels near Freedom Beach that I recommend are:
Avista Hideaway Phuket Patong – MGallery Hotel Collection
Phuket Marriott Resort & Spa, Merlin Beach
Crest Resort & Pool Villas
Baan Yin Dee Boutique Resort
4. Phra Nang Beach, Krabi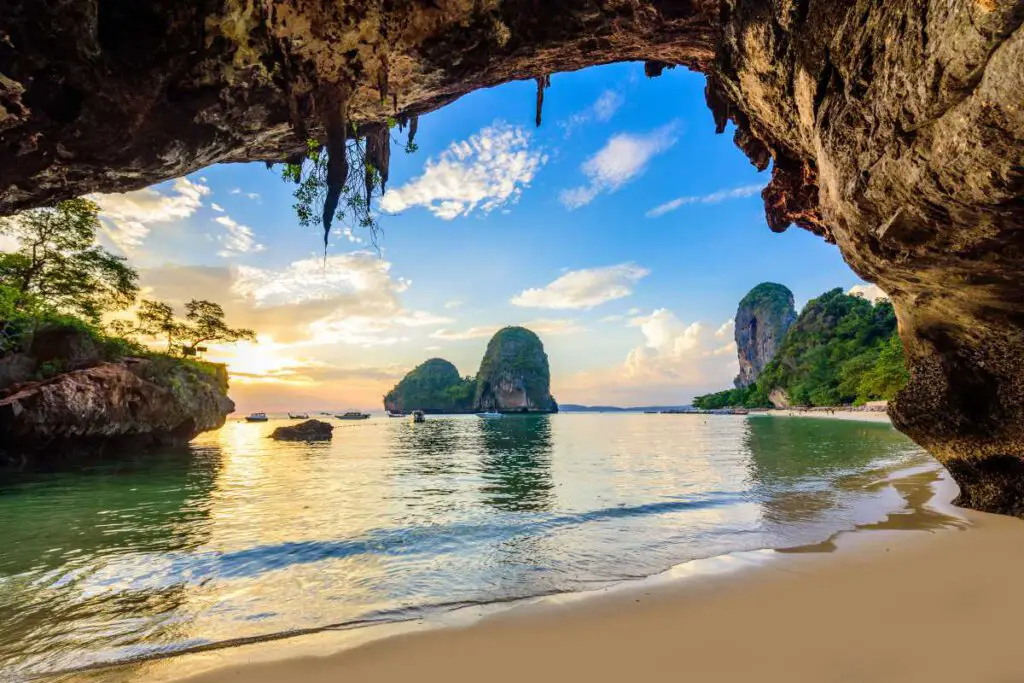 Phra Nang is one of the most beautiful beaches in Thailand, with white sand and beautiful turquoise waters. It is about 400 meters long, and something that makes it really special is that it is located next to the cave with the same name, in which both tourists and locals deposit offerings in honor of a fertility goddess, as phallic symbols or lingams.
Some of the best activities I recommend on this beach are sunbathing on the sand, swimming in its shallow waters since they are perfect without danger, or climbing on the cave walls.
However, I have to point out that this beach experiences a huge influx of tourists because of its beauty. Therefore, I recommend enjoying it for at least a couple of days.
Some of the best hotels near Phra Nang Beach that I recommend are:
Railay Princess Resort & Spa
Railay Village Resort
Rayavadee resort
Sunrise Tropical Resort
5. Pattaya Beach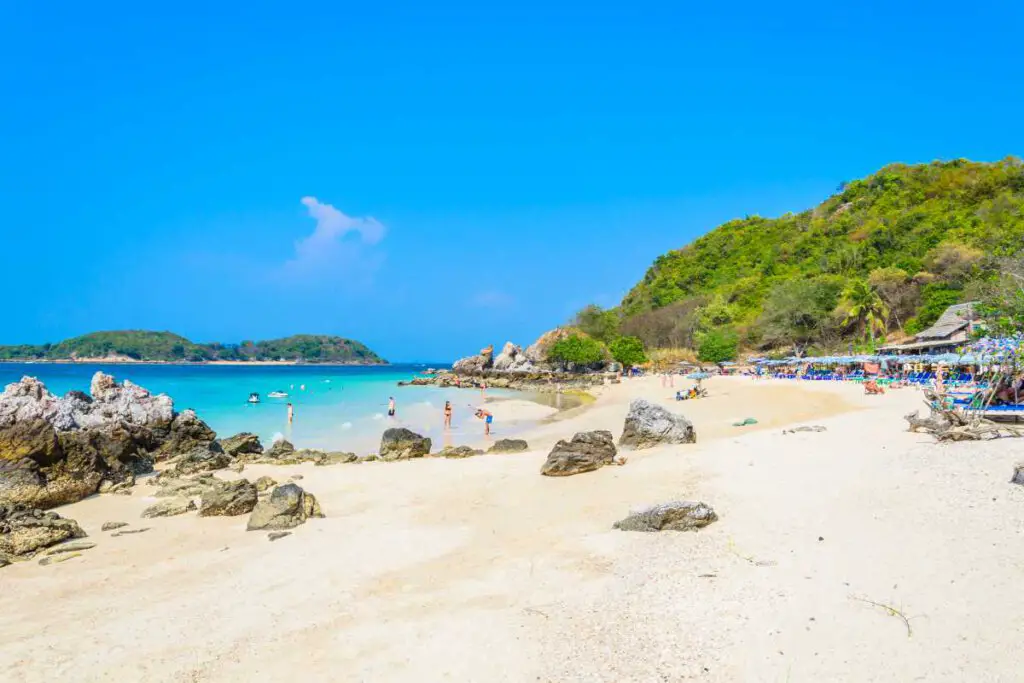 Pattaya is one of the main beaches on Koh Lipe. It offers wide kilometers of white sands, which I think made me enjoy its beautiful landscape. If you are not bothered by crowded places and are looking for an active environment, Pattaya is one of the best beaches in Thailand that I recommend.
It is located a short distance from the main street of the island and is the arrival and departure point of the ferries. The water is transparent, shallow, and with lots of fish, ideal for snorkeling.
At night the beach is especially attractive, as there are a variety of bars located on the beach that offer food and drinks and liven up the place with music and flashy lights. Without a doubt, it is part of the best beaches in Thailand I recommend you must see.
Some of the best hotels around Pattaya Beach where you can book your stay are:
Golden Tulip Pattaya Beach Resort
Mytt Beach Hotel
Centara Grand Mirage Beach Resort Pattaya
Pullman Pattaya Hotel G
6. Ao Nang, Krabi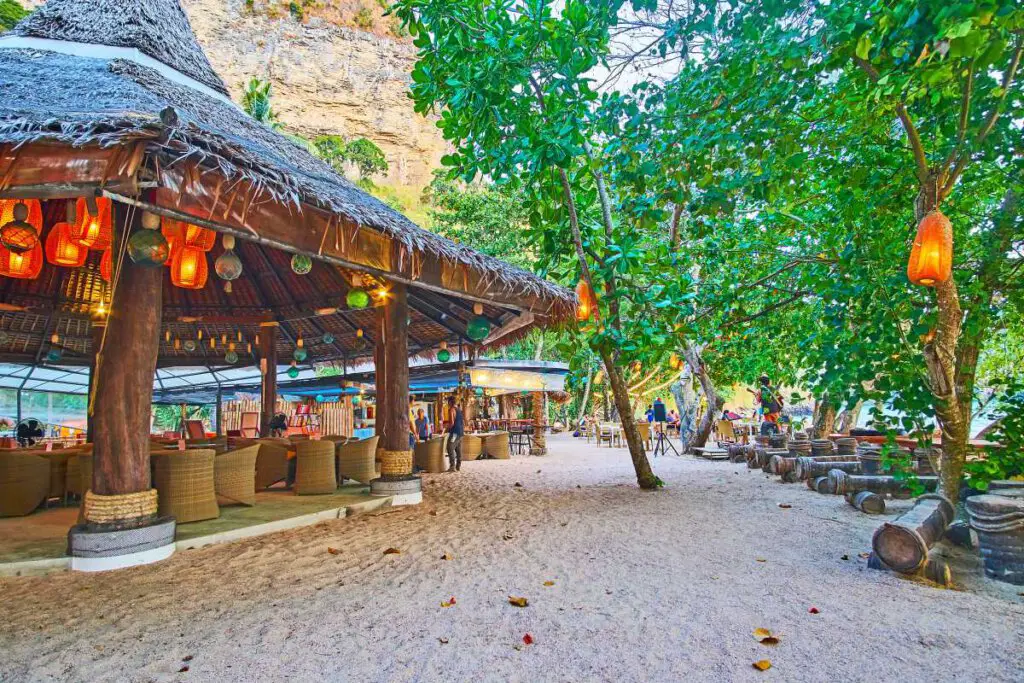 Ao Nang is both the name of the beach and the municipality, which is in Krabi province. It is one of Krabi's main beaches and also a common point for transport to islands such as Koh Lipe, Koh Lanta, and Koh Yao Noi.
This beach is the perfect combination of relaxation and fun, since its shallow waters allow for relaxing baths, and its huge rocks provide shade to rest. In addition, many boats leave from here to other beautiful beaches and islands.
I find this beach quite busy, especially among tourists. This is largely due to the strong presence of services such as hostels, bars, and restaurants.
In the past, it was the meeting point for hundreds of backpackers who visited it. But now, it is full of hotels and restaurants, which have transformed it into a very busy area and one of the essential beaches in Thailand. In addition, from this beach, I was able to see the most beautiful sunsets in Thailand.
Some of the best hotels near Ao Nang Beach that I recommend are:
Panan Krabi Resort
BlueSotel Krabi Ao Nang Beach
Sea Seeker Krabi Resort
Holiday Inn Resort Krabi Ao Nang Beach
7. Koh Nang Yuan Beach (Koh Tao)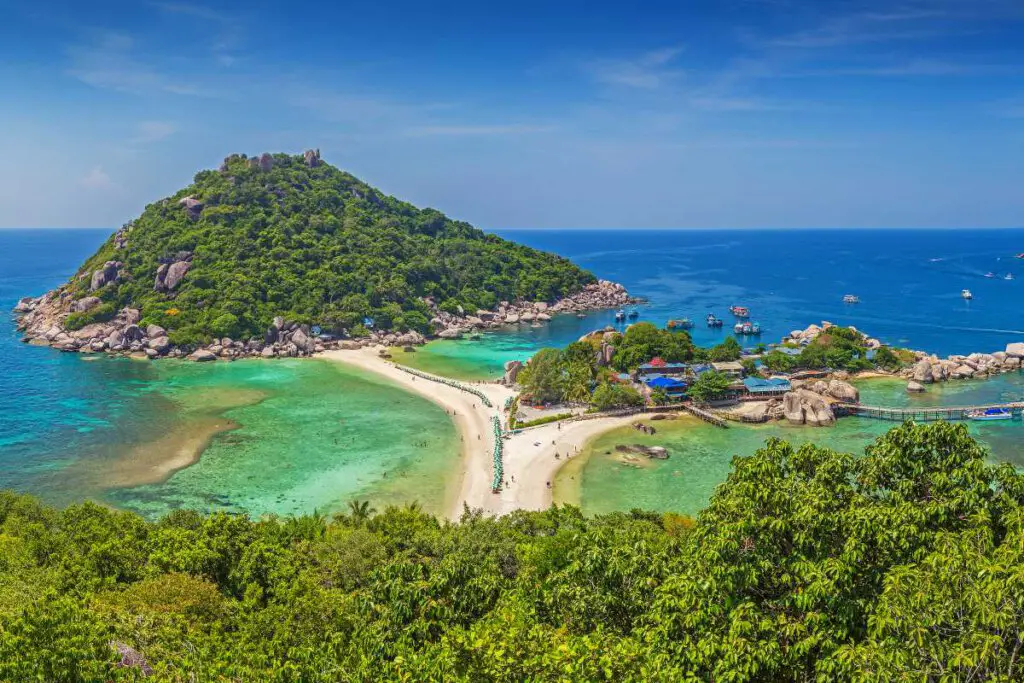 I found Koh Nang Yuan to be one of the best beaches in Thailand for diving. What I really loved was seeing the colorful corals, which to me I think were the best in the country.
This beach, made up of two islets linked by a strip of white sand offers one of the best views of Thai beaches: tall palm trees and clear blue waters. Its beauty does not go unnoticed, it is one of the most visited places by tourists, and it is one of the most beautiful beaches in Thailand.
Although it tends to receive some criticism for being so crowded in recent years, the government of the country has had to take measures to reduce environmental degradation. It is, without a doubt, among the best beaches in Thailand that I recommend visiting.
Some of the best hotels near Koh Nang Yuan Beach that I recommend are:
Monkey Flower Villas
Anankhira Villas
Koh Tao Cabana
Seashell Resort Koh Tao
8. Lamai Beach, Koh Samui
Koh Samui is the third largest island in Thailand, located in the Gulf of Thailand, 35 kilometers from the mainland. There are a lot of beaches on this island, and I couldn't visit all of them.
The most secluded ones are in the northeastern part of the island. However, Lamai is considered the most popular beach in Koh Samui. This is because it's an uncrowded, calm family beach and about four kilometers long. I enjoyed the beautiful views of fine white sands, vast vegetation, and crystal clear water.
One of the advantages of including this beach in your trips is that you can choose from a variety of restaurants with the best of local and international cuisine. During the night you will not be bored either, as I saw several bars and clubs to visit.
Some of the best hotels near Lamai Beach that I recommend are:
Sandalwood Luxury Villas
Silavadee Pool Spa Resort
Rocky's Boutique Resort
Le Meridien Koh Samui Resort & Spa
9. Bottle Beach, Surat
Bottle Beach is among the most beautiful beaches in Thailand and also on Koh Phangan Island. I got here by going through a very picturesque part of the coast. Everything is perfect: the climate is good, the sand is white, and the waters are perfect for swimming. In short, the bay is magnificent.
In the afternoon, when the last boats or fishing boats disappear on the horizon, and everything is silent, I was able to enjoy and feel the calmness of the beach. In addition, the sunset was amazing.
Some of the best hotels near Bottle Beach that I recommend are:
Anantara Rasananda Koh Phangan Villas
Buri Rasa Village Phangan
Santhiya Koh Phangan Resort & Spa
Panviman Resort – Koh Pha Ngan
10. Thong Nai Pan Bay Beach
The beauty and variety of the landscape, the ease of getting there, and the excellent services make me recommend Thong Nai Pan Bay beach during your cruise in Thailand. The bay is very scenic and well protected against waves and wind. Its name means "the bay of Pan."
According to a local legend, the name honors a man who was loyal to the king and who received the lands of the bay as a reward.
Besides the tranquility of the place, I really appreciated the beauty of the landscape, perfect for hiking. In addition, its waters are calm and crystal clear. There are no coral reefs, but the absence of currents makes the sea calm for swimming and diving.
Some of the best hotels near Thong Nai Pan Bay Beach that I recommend are:
Buri Rasa Village Phangan
Anantara Rasananda Koh Phangan Villas
Panviman Resort – Koh Pha Ngan
Santhiya Koh Phangan Resort & Spa
11. Phra Ae Beach, Ko Lanta (long beach)
Koh Lanta is one of the jewels of Krabi Province, full of beauty by the sea, with beautiful views. The area has a chaotic set of bays and coves that were once a haven for pirates. In this area, the beaches are accessible and reserved.
One of the most famous beaches on Koh Lanta is called Phra Ae or Long Beach. It is a strip of sand bathed by calm water and rich in nuances. This beach, very busy in the summer, is home to numerous resorts. There are several bars and restaurants where you can taste fish specialties.
One of its business cards that I liked is the wonderful sunset and the white sand, as well as the enchanting natural setting. It is ideal for swimming and for families with children. The water is calm and an ideal place to relax because it is so big for everyone to find his own space.
Some of the best hotels near Phra Ae Beach that I recommend are:
Lanta Castaway Beach Resort
Lanta Casa Blanca
Lanta Casuarina Beach Resort
Long Beach Chalet
In summary
Some of the best beaches in Thailand are considered the best in the world. For sure, you will leave the country wanting to return. In any case, there is never enough time for so many wonders of nature. The tropical climate, the perfect sea, the sand, the vegetation, the fruits, and their typical foods make this destination wonderful. That way, it is time to hit the road and take a trip to Thailand, this amazing country.
More from Thailand: Best Places for Scuba Diving in Thailand and 14 Top-Rated Beaches in Asia