Known as the 'Elephant Island' because of its shape that is said to resemble an elephant from up high, Koh Chang is one of Thailand's most beautiful islands.
With stunning white-sand beaches and crystal clear waters, the island is unsurprisingly a favorite tourist destination with so many things to do.
Whether you're a first-time visitor or a long-time resident, I think you'll find something fun. In this post, I will show you 12 Best Things to Do in Koh Chang That You Can't Miss.
Things To Do In Koh Chang
1. Enjoy the Beaches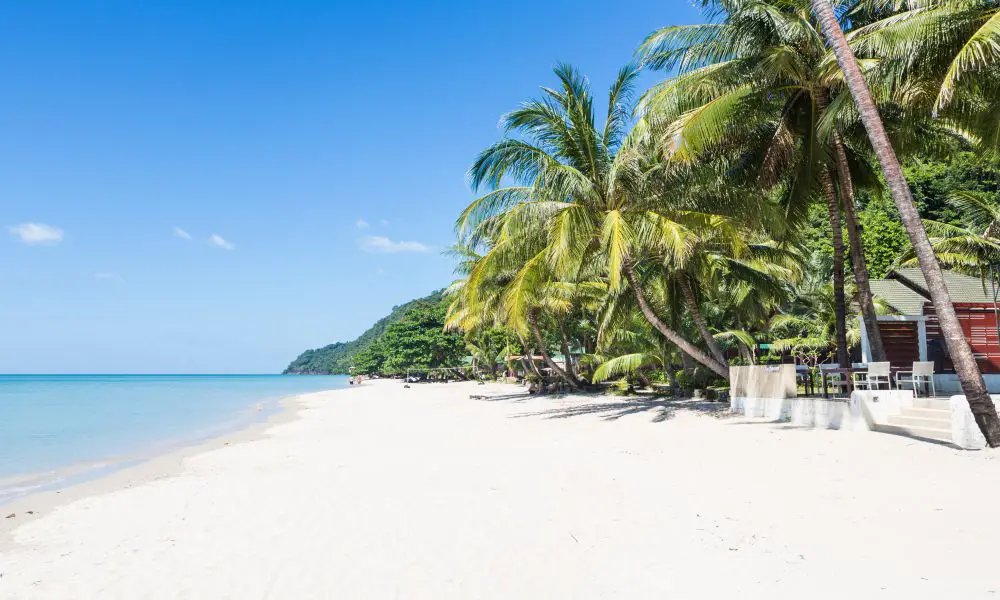 Koh Chang is blessed with some of the most beautiful beaches in the world. And one of the best things to do on this island is to simply lounge around on those sandy shores.
The main beach on Koh Chang is White Sand Beach. It has quickly become one of the most popular beaches on the island, and for a good reason too. The azure blue waters and fine white sand make this beach a pleasure to visit any time of year.
There are plenty of activities that you can enjoy on White Sand Beach, such as snorkeling and parasailing (for an additional fee). This area also features a nice selection of restaurants and bars where you can have lunch or grab a drink.
If you are looking for a more secluded beach, then check out Lonely Beach. This beach is popular because of the incredible sunset it offers every day and the young backpacker's vibe.
There are plenty of other wonderful beaches to choose from, such as Kai Bae Beach and Klong Prao Beach. They are all lined with all sorts of accommodation options. Just pick one and make sure you spend the day chilling out under a coconut tree!
Read More: Best Beaches In Thailand
2. Go Snorkeling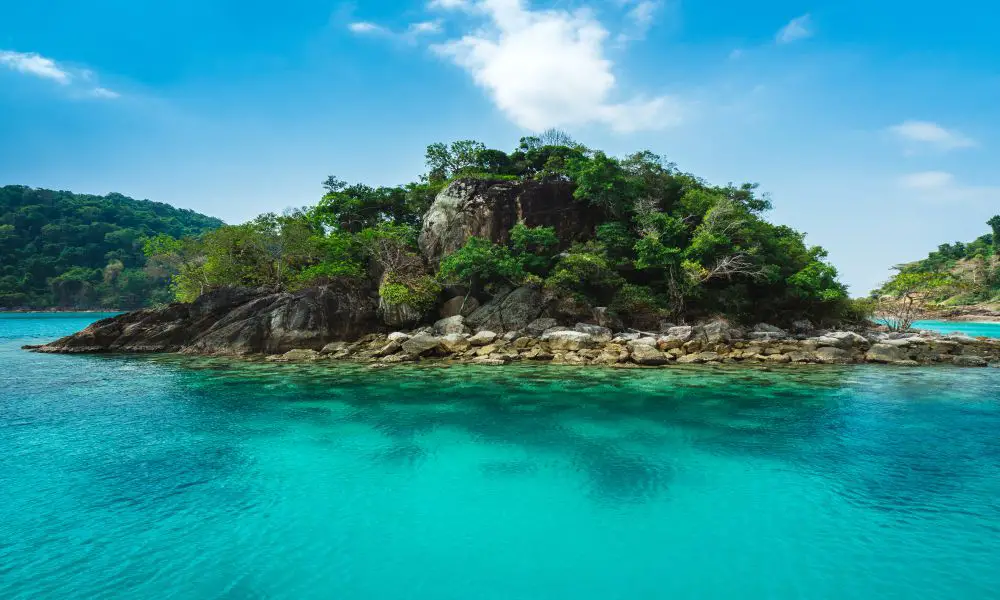 If you don't snorkel, you should give it a try. Snorkeling is one of those things to do in Koh Chang that will be an unforgettable experience. Of course, I am not talking about swimming with the fishes and stingrays on some small pond on earth. I'm talking about the real Sea, with all sorts of amazing and colorful fish and corals.
The first place I recommend for snorkeling is in Koh Rang. It is just an incredible experience, as the visibility there is pretty good, and the bay attracts lots of marine life. Another great place to snorkel is Koh Wai Island, where the island is surrounded by coral reefs and has some of the clearest waters in Thailand.
There are many more spots to go snorkeling around Koh Chang, so it's up to you whether you want to explore them all or go with the classics first.
3. Dive Deep Under The Sea
If you're not much into snorkeling but still want an experience, diving might be a better option for you. The amazing world of underwater creatures can be discovered by taking a dive.
There are several diving schools on the island, where you can take the adventure of your lifetime. And not only if you are an experienced diver already, but there are also many options for beginners as well. Just prepare yourself for some serious fun.
The most popular spot for diving in Koh Chang is its wreck diving site. The beautiful wreck can be found just a few minutes away from White Sand Beach. It is a great starting point for novice and experienced divers as well.
Another great option for diving is Ko Rang, which is one of my favorite islands in Thailand and worth a visit. It's located around 45 minutes away from Koh Chang by speedboat, and it's actually part of the same island group, so there are lots of snorkeling options as well.
So, no matter what your level of diving experience is, the schools on Koh Chang will be more than happy to show you around and make your dive an unforgettable experience.
4. Jungle Trekking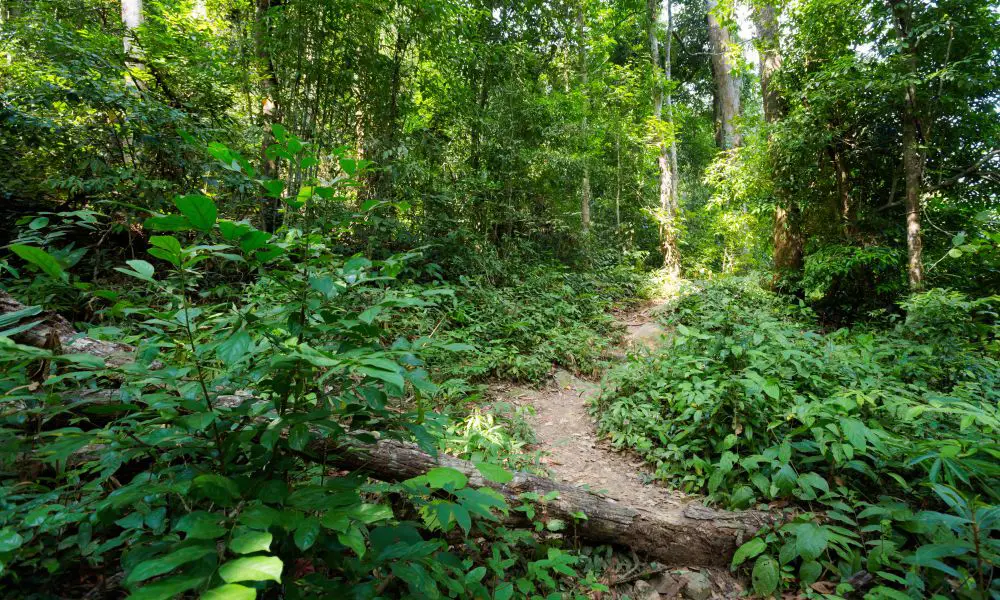 Another of the great things to do in Koh Chang is exploring its jungle. Some of this island's jungles are among the most beautiful and pristine jungles in Thailand. The island has many jungle trails leading through the dense forest where you can find all sorts of flora and fauna. Many people come from around the world to appreciate the beauty of nature here.
Also, who doesn't like a bit of adventure? The trails through the forest offer interesting views of nature which you don't get to see every day, even if you are an avid traveler. Climbing over rocks, exploring caves, and having the feeling of being away from civilization are some other reasons why people love jungle trekking.
So, if you're looking for something different to do in Koh Chang, Jungle Trekking is a great option. Just be sure to wear appropriate shoes and clothes because it can get muddy and slippery.
Read More: Best Things To Do In Sukhothai
5. Hang out at Koh Chang's Markets
Markets are part of the things to do in Koh Chang. This is a great opportunity to experience Thai culture and buy some souvenirs. And Koh Chang is home to several markets, each with its own charm and atmosphere.
The busiest one is the market in Bang Bao Village is one of my favorites, with its unique atmosphere and colorful daily shows. At this market, you can see long-tail boats docking at the pier while local people are selling their wooden sculptures, souvenirs, and seafood products on long tables set up under the trees. It must be said that this is a great place for seafood lovers.
Another great market on the island is the White Sand beach Shopping, located near the white sand beach. It is in this place where you can buy everything you need, including fresh fruits and vegetables, clothes, souvenirs and much more.
6. Explore the Bang Bao Floating Village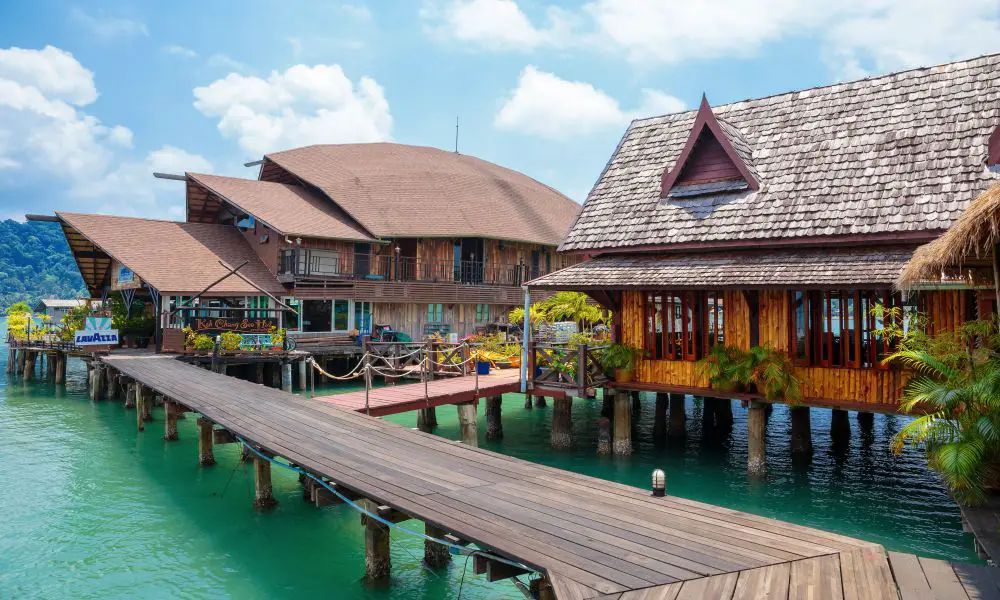 For those who want to discover some of the real-life in Thailand, I recommend a visit to the Bang Bao Floating Village. The Bang Bao Floating Village is something unique. It is a fascinating place to explore and get a glimpse of how locals live. The village is actually floating on the Sea, which makes for some great photo opportunities.
But what makes the Bang Bao Floating Village so special and popular among tourists? Well, first of all, it's how tradition still goes hand in hand with modernity here. Locals live in wooden houses by the Sea while they run their businesses right around them. There are also kayaks for rent so you can see more easily by water than only walking through narrow 'roads' between water houses.
The second reason is because it is photogenic. The village really comes to life during sunset, when the orange and pink tones reflect on the water. It's a photographers' heaven! Finally, the village also has several good resorts and small restaurants, which are open to visitors. But note that it can get busy during day time and it may be overcrowded on the weekend.
7. Check out Khlong Phlu Waterfall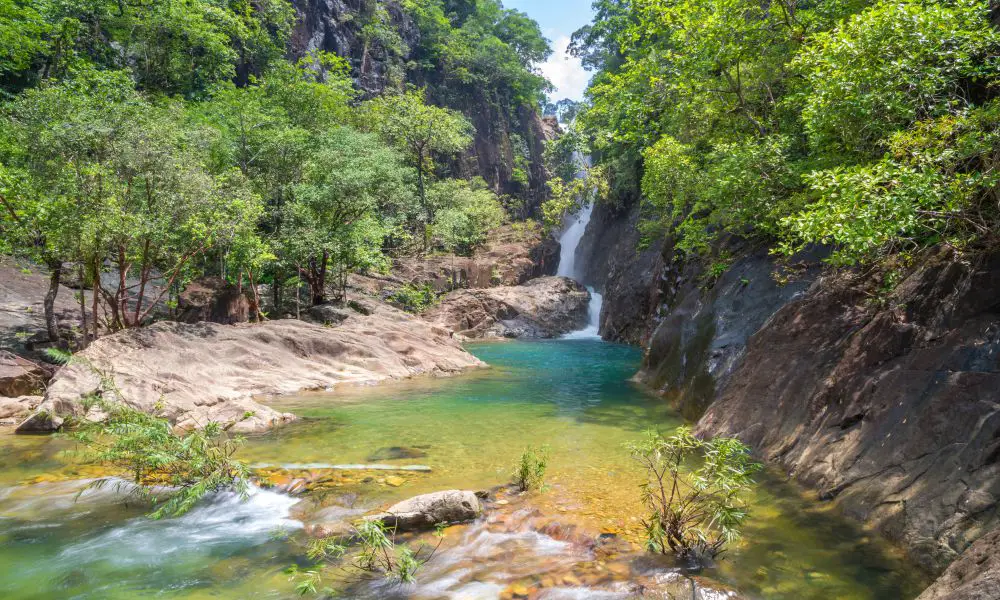 If you are in Koh Chang, you must visit the island's main waterfall. In fact, I would go as far as saying that Khlong Phlu Waterfall is one of the things to do on Koh Chang if you only have a day.
Khlong Phlu Waterfall is not a huge waterfall with a lot of water, but it makes up for it by its brightness and beauty. The waterfall itself is impressive and beautiful, especially when you see this kind of natural wonder in an unspoiled jungle setting.
The impressive cascade is surrounded by lush green forest and tall trees. Besides checking out the waterfall itself, it offers several other attractions as well. Some examples are natural pools and rock climbing courses.
Read More: Best Things To Do In Kanchanaburi
8. Have Fun at Treetop Adventure Park
Another great activity to do in Koh Chang is spending a day at the Treetop Adventure Park. This is an outdoor activity park with a wide range of activities, such as zip lines, rainforest slides, obstacle courses, rope walks, Tarzan swings, and more.
The park is perfect for those who are looking for an adrenaline rush. From start to finish, you will be entertained and excited the whole time. And with the beautiful backdrop of the jungle and mountains, it makes for some great photos too.
Also, the park is perfect for all ages and all levels of fitness. The staff is very friendly and helpful, so you don't have to worry about not being able to do anything. They will give you all the instructions you need and help you through the entire course. I can assure you that it will be an experience you will never forget. The only downside is that it is not cheap, but it is definitely worth the price.
9. Visit The Temples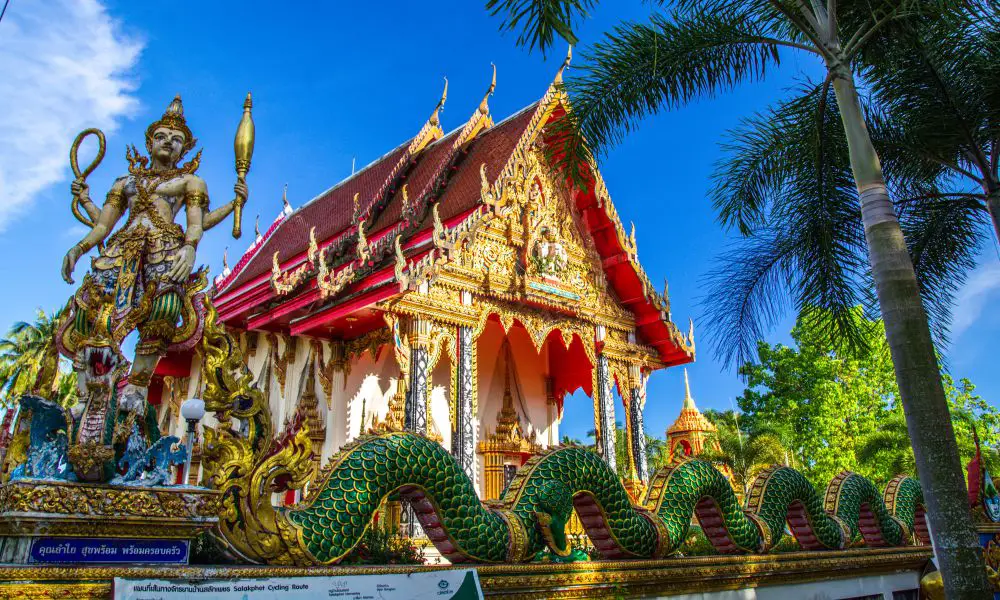 As you may know, religion is important in Thailand. And one of the unique things to do in Koh Chang is to visit its temples. The island is home to quite a few Buddhist temples, and most of them date back centuries.
The most famous temple on the island is Wat Bang Bao. It is easily recognizable by its golden spire, which can be seen from afar. The temple features beautiful architecture and intricate carvings. Wat Salak Petch is also worth a visit. It is located on a hill and offers stunning views over the surrounding area. The temple is home to some impressive murals and a number of Buddha statues.
If you are looking for something more off the beaten path, then check out Wat Klong Phrao. This small and peaceful temple is located in a secluded spot in the jungle and can be reached only by boat or a long hike. It is definitely worth the effort, though, as the temple houses some truly stunning murals. There are plenty of other temples on the island, so make sure to explore as many as you can.
10. Experience Koh Chang's Nightlife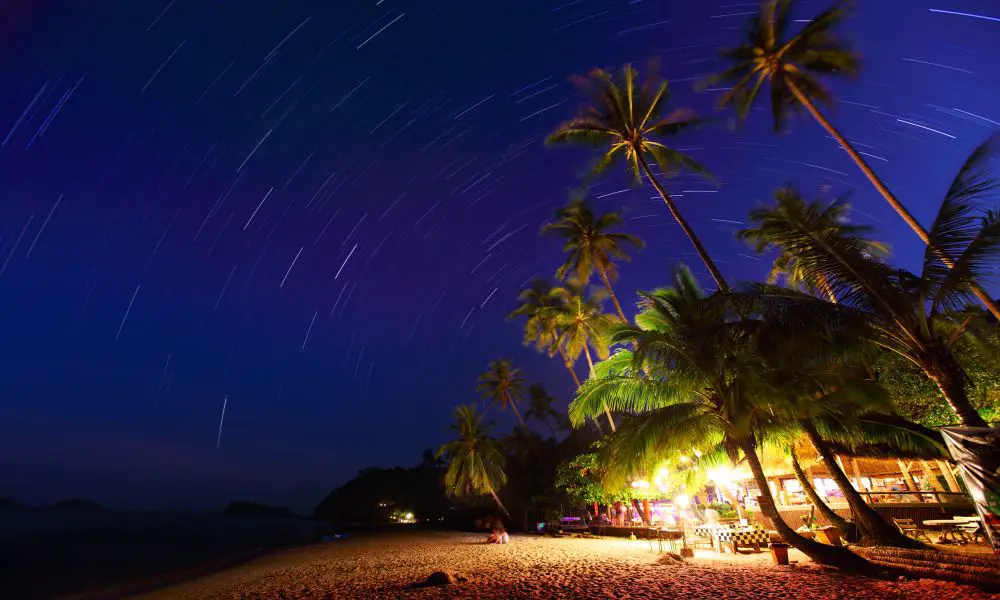 Koh Chang is not just all about beaches and relaxation. The island also offers a great nightlife scene. In fact, many of the beach bars and clubs are open until late. There is something for everyone, whether you are looking for a place to dance all night or just have a few drinks.
The most popular area for nightlife on Koh Chang is probably near White Sand Beach. There are several bars and clubs that line the beach road, and they tend to get pretty busy. You can find anything from chilled-out beach bars to pumping nightclubs here.
Another hotspot for nightlife is in Lonely Beach, where you will find the majority of the island's backpacker hostels and bars. The party atmosphere is guaranteed here, so be prepared to drink and dance the night away.
And if you are looking for something a bit more low-key, then I recommend checking out some of the bars in Changklong Pier. This is a great place to have a few drinks and listen to some live music.
No matter what your preference, Koh Chang's nightlife has something for everyone. Just make sure you have enough energy for tomorrow morning.
11. Relax at a Spa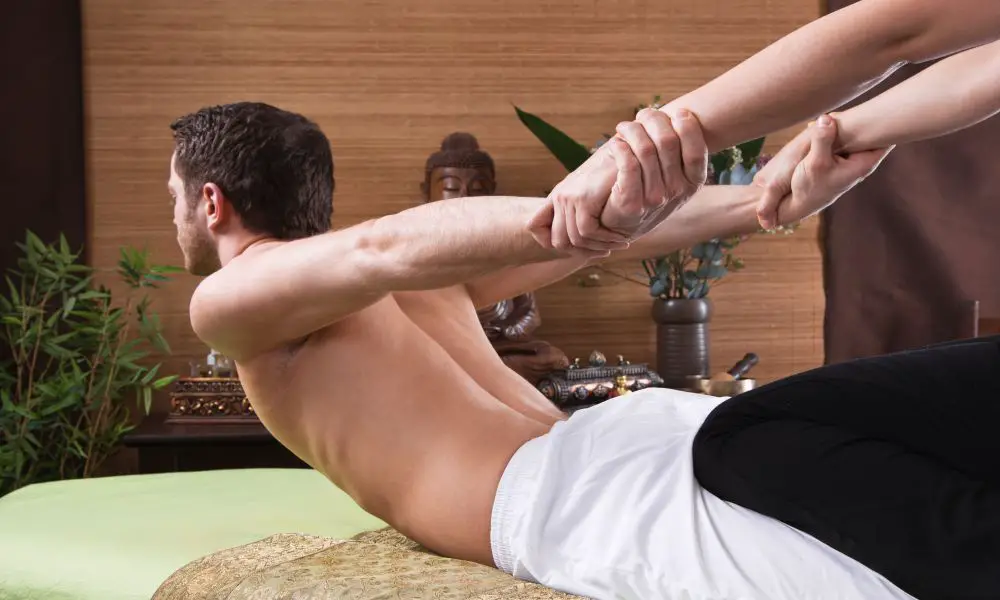 One of the best things to do in Koh Chang is to treat yourself with some pampering. The island has several spas where you can enjoy a variety of treatments, from massages, body scrubs, and facials to reiki healing sessions.
In Lonely Beach, for instance, there are several small spas that offer a wide range of treatments and massages. In White Sand Beach, you will come across a few more luxury options as well as a couple of cheaper but also good-quality spas. If you decide to check out Klong Prao Beach, there are only midrange spas available.
At all three locations, I recommend Thai Massage by the Sea. However, if you like good discounts and extra value, check out local spas. Most of them offer reasonable prices for great services. Of course, you may find yourself surrounded by more locals than tourists.
12. Watch Koh Chang Sunsets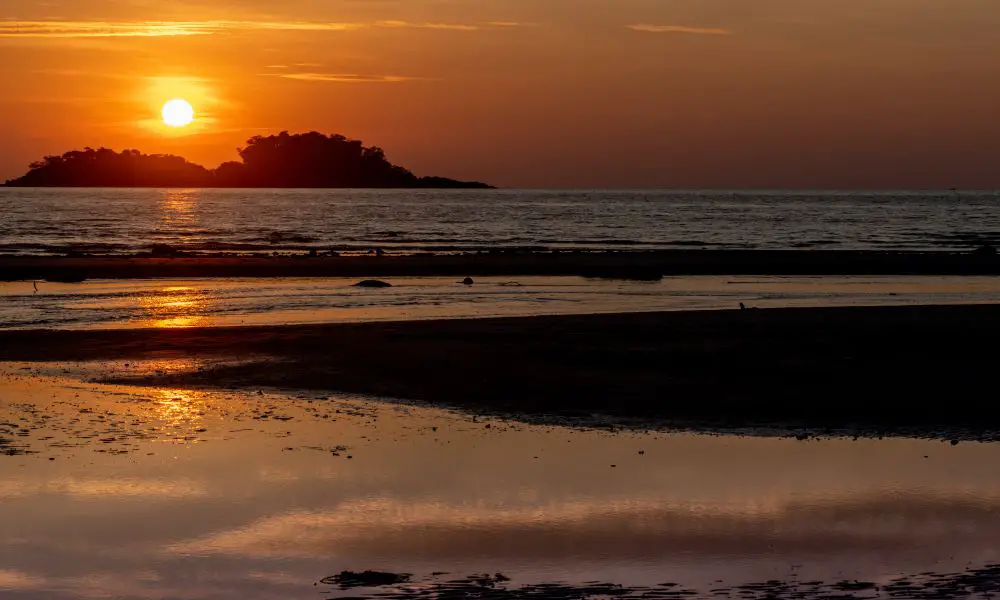 If there is one thing you should do in Koh Chang, it's watching the sunset. The sunsets here are simply amazing and worth capturing on camera. There are plenty of good spots all around the island from where to watch the show. Some of the favorites are Klong Prao Beach, White Sand Beach, and Lonely Beach. But really, any spot on the island with a view of the setting sun is a good spot! Just find a place to sit down, relax and enjoy the show.
In summary
Koh Chang is a great place for people who want to get away from the stresses of everyday life and just relax. I hope this list of 12 Things to Do in Koh Chang That You Can't Miss will help you plan your trip and make the most out of it. There's so much more to explore in Koh Chang, but these are some good places to start. Enjoy your time here. It is a truly special place.