When I began to prepare for my trip to Thailand, I was looking for a quiet island, one that was large enough with various attractions that would keep me busy. And diving on the internet, Koh Samui attractions impressed me.
This is because, among the best places to visit in Koh Samui, you find a bit of everything: beaches, jungle, marine reserves, bars, temples, waterfalls, aerial views, Buddha statues, etc.
I spent seven days on the island, and the truth is that I did not get bored at any time. The best way to explore Koh Samui is by motorcycle. In fact, renting a motorcycle in Thailand is totally the order of the day, and you will find endless, really cheap rental shops.
Although the island can be explored almost completely in one day well spent, I recommend that you do it in two days to better enjoy Koh Samui tourist attractions. After all, that's what you're on vacation for. Below is my recommendation of the 12 Best Things to Do in Koh Samui.
Things To Do In Koh Samui
1. The Big Buddha Temple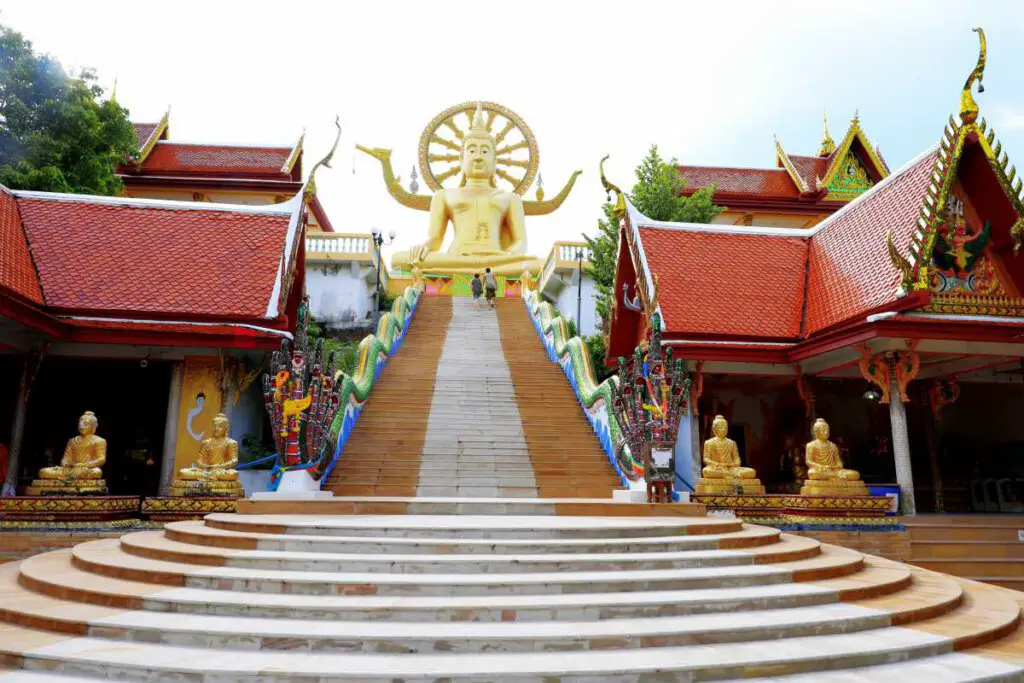 Although the vast majority of places to visit in Koh Samui feature Mother Nature, the hand of man has also left a monument worth visiting. This is the case of the Temple of the Great Buddha, located in the northeast part of the island.
Known in the local language as Wat Phra Yai, it is a temple whose central pillar is a statue of the seated Buddha about 12 meters high that was erected in 1972.
The truth is that it impresses with its size and its golden color. A staircase that resembles a dragon leads to the platform on which the Buddha rests, and there are two other somewhat smaller statues. Thai tourists and local people from the island Koh Samui come every day to pray to the statue and make offerings of flowers, fruit, or incense, which gives it a lot of life.
In addition to being a camera-worthy spectacle, the Big Buddha is surrounded by delightful little shops where you can indulge your shopping craving and find the perfect souvenir for your vacation.
Read More: Best Temples In Thailand
2. Chaweng Beach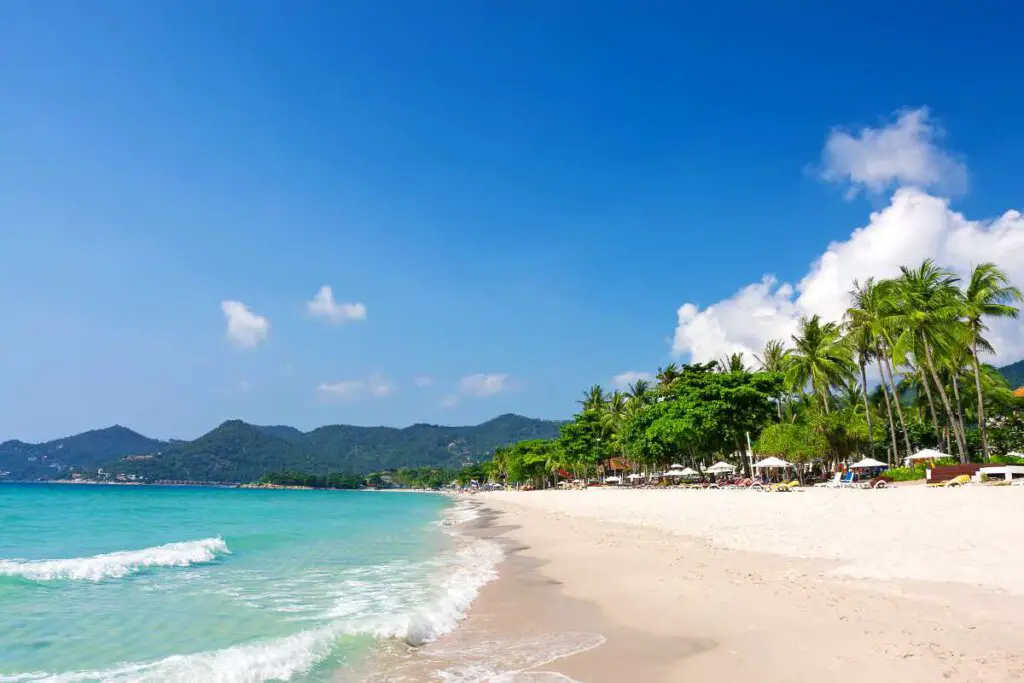 I also had the opportunity to visit Chaweng beach, famous for the beauty of its pristine waters and sands that sweetly descend into a perfect sea. I found that this beach is not only the best and most developed, but also among the best tourist attractions in Koh Samui.
This beach, which is divided into four parts (Chaweng Noi, North Chaweng, Central Chaweng, and South Chaweng), is the largest in the eastern part of the island, with 7 kilometers of coastline. This is the ideal place for a swim or for organizing parties that take place from morning to night.
Food lovers can find almost anything here. There are good restaurants serving Thai, Western, and seafood specialties. In addition, you can enjoy the nightlife from the many restaurants and bars operating along the beach.
Read More: Best Beaches In Koh Samui
3. Lamai Beach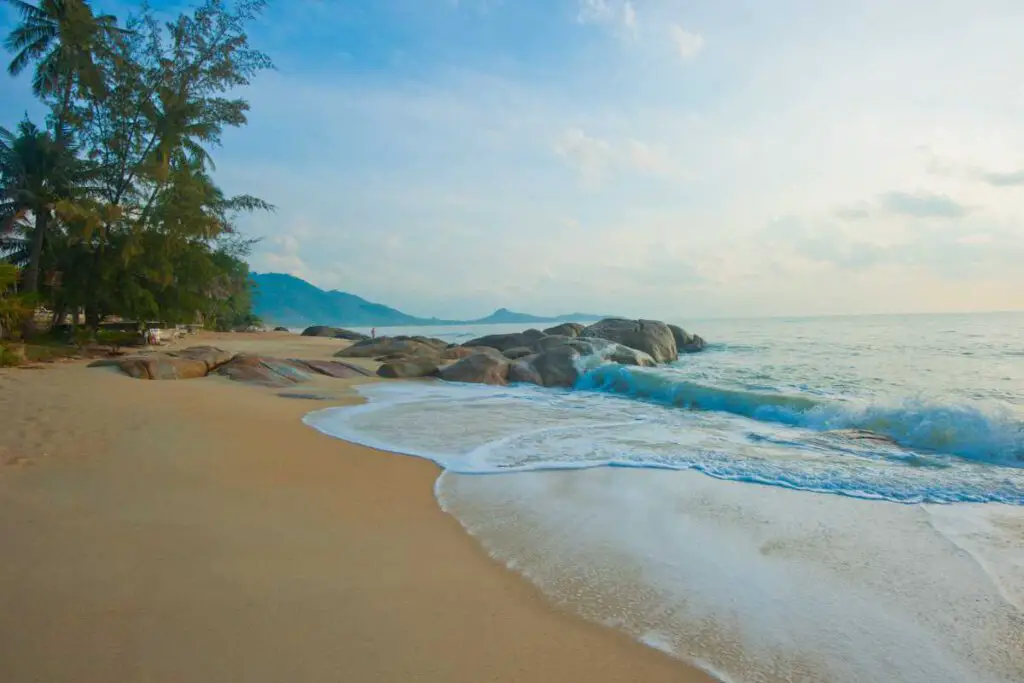 Another Koh Samui attraction that I recommend is Lamai Beach: Calmer than Chaweng, but also very touristic. It offers a beautiful headland with transparent and crystalline waters. 
Still, it should be noted that some parts of the beach have rocks. In fact, it is here where, by the sea, you can see the famous Grandfather and Grandmother rocks, which are reminiscent of the genital parts.
Around the beach, you can stay in some of its luxurious resorts or enjoy the cuisine of Koh Samui in one of its restaurants. And being close to the airport, I found this beach to be the best option to go before leaving the island.
4. The Rocks of Hin Ta and Hin Yai (Grandfather and Grandmother Rocks)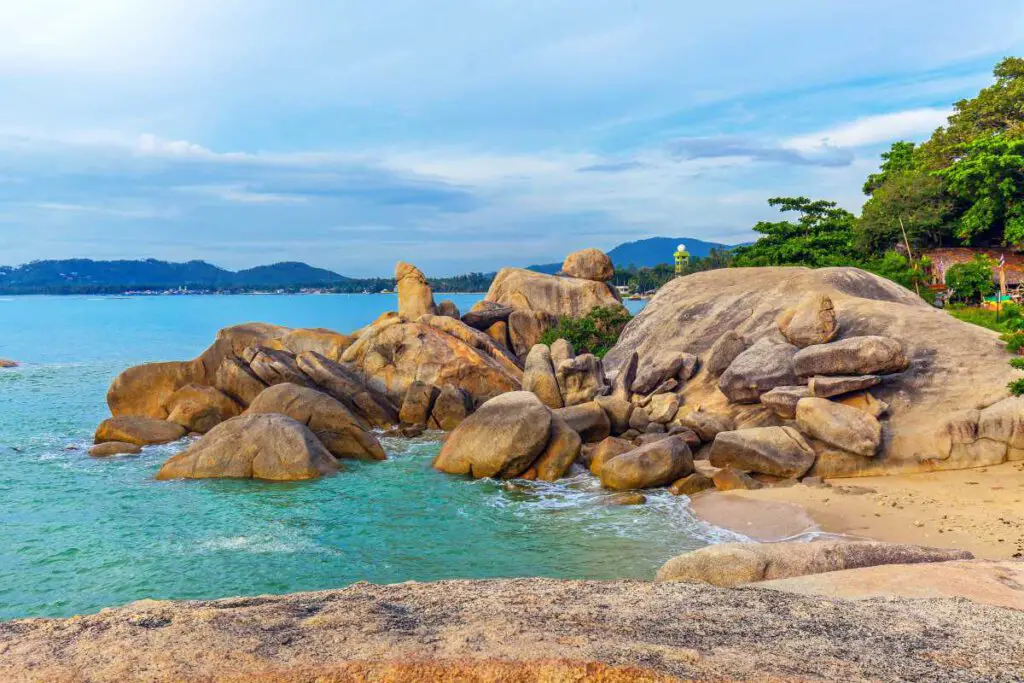 This is among the Koh Samui tourist attractions that have become famous all over the world. Many tourists head to Koh Samui specifically to see the outlandish cliffs and take pictures of this place. Why? The Grandmother and Grandfather are two rocks of an unusual shape that resembles that of male and female genitals.
As expected, in order to give this place a greater tourist hype, Thai guides have come up with several legend stories.
One of them is that a Thai couple wanted to marry off their son, who had come of age. To do this, they took a boat and set sail to the village where the girl's family was to ask for her hand in marriage.
Unfortunately, their little boat capsized in the middle of a storm, and the couple died. Legend has it that they were washed ashore on Samui and turned into rocks.
Located at the southern end of Lamai beach, the views from the two rocks are beautiful, and you will find a small patch of sand in an area that, although not suitable for swimming, you can dive between the rocks and enjoy the underwater life in totally clean waters.
5. Fisherman's village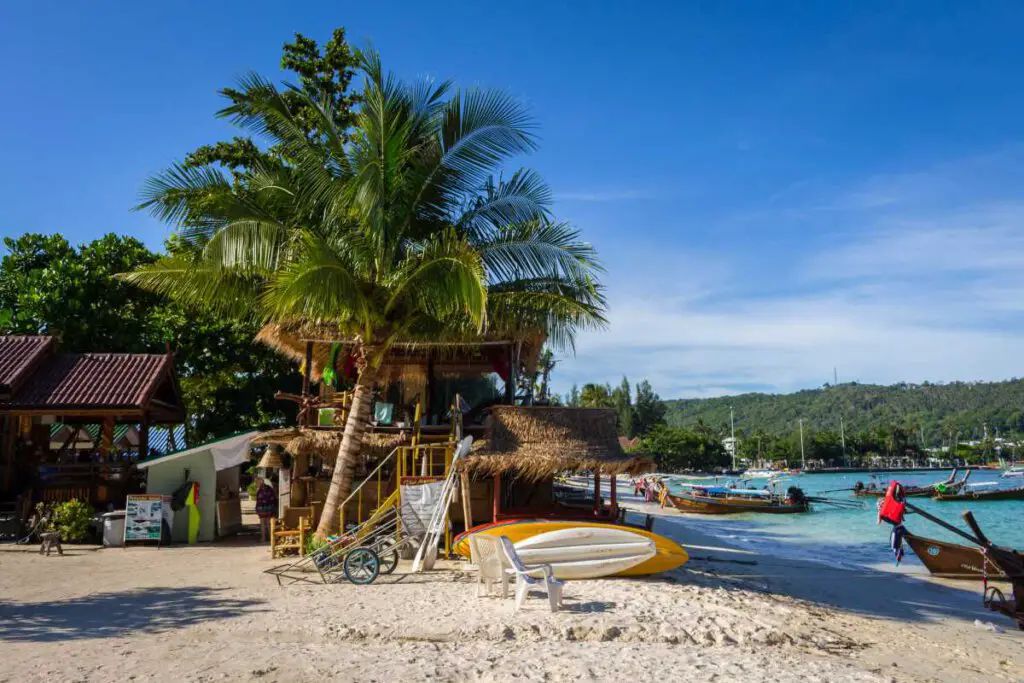 A short distance from the Temple of the Big Buddha is another of the best places to visit in Koh Samui. On a motorcycle, it took me no more than 10 minutes to go from one place to another.
The Bophut Fisherman's Quarter is part of the historical part of this town. The old wooden fishermen's houses have now been turned into small boutique shops and chic restaurants that line narrow streets.
Shopping, eating, or drinking is more expensive here than in other parts of the island, but you are surrounded by a somewhat more relaxed and traditional atmosphere.
Every day from 17:00 to 23:00, Fisherman's Village turns into a pedestrian zone, where a brisk trade in all kinds of tourist stuff is in full swing. In addition to the possibility of buying a variety of souvenirs.
"Fisherman's Village" is a very good place where you can have a tasty, stylish and interesting evening. In addition, there is a beach with a ruined jetty that adds a beautiful touch to the photos at sunset.
6. The Nang Muang Waterfalls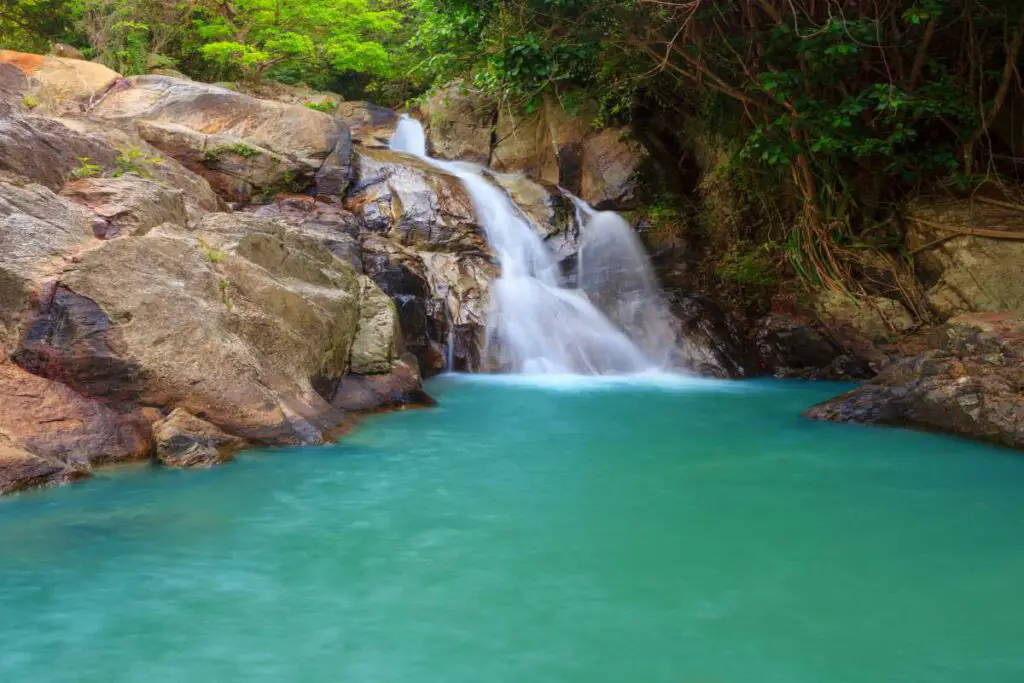 In a place where it is hot most of the year, it is normal that among the best places to visit in Koh Samui is a natural pool of fresh water that is formed by the contribution of a beautiful waterfall. Here, you will find two waterfalls: Na Muang 1 and Na Muang 2
The Na Muang 1 waterfall is the largest (in terms of the height from which the water flows) and photogenic in Koh Samui. It is spectacular, and the pool it forms is large enough for a dozen or twenty people to bathe at the same time without problems.
Even in the dry season, Na Muang-1 is quite full-flowing (unlike most other waterfalls on the island, which at this time turn into stunted streams).
On the other hand, to get to Na Muang 2, you have to walk about 30 minutes along a jungle path. Na Muang-2 consists of two cascades, and the total length is about 80 meters. The top of the waterfall is not very visible from below, as it is hidden behind greenery.
To get a good look at the waterfall, I recommend climbing a small path to about half of its height. Keep in mind that at the very end of the trail, you will have to jump a little over the rocks.
Read More: Best Places To Visit In Thailand
7. The Magic Budha Garden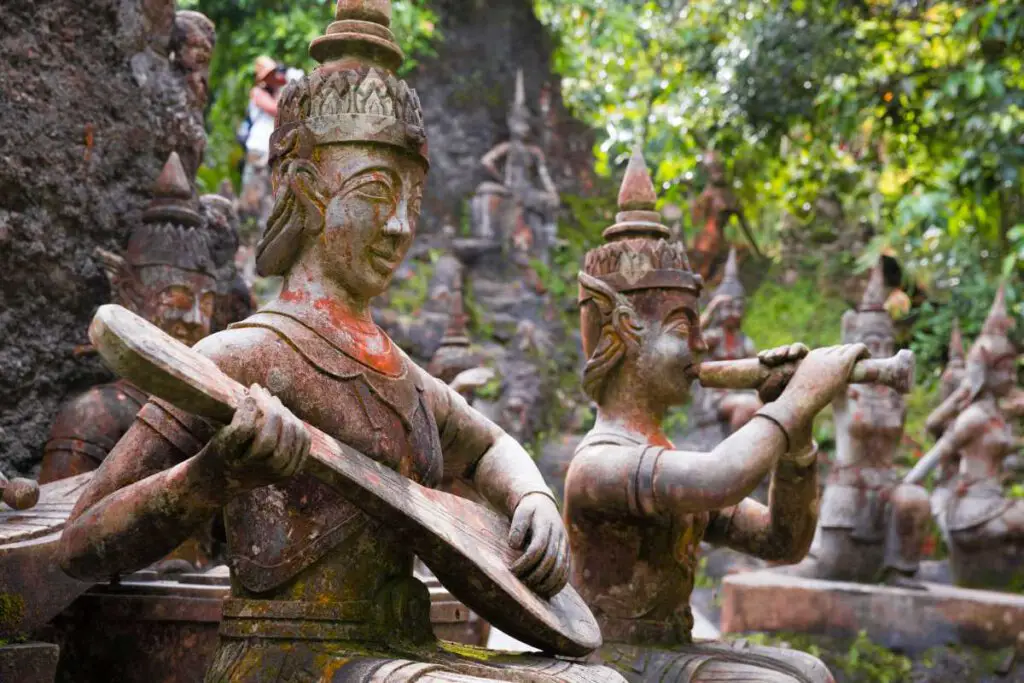 It is a small and quaint, but very photogenic attraction. In a picturesque mountain hollow, along the bottom of which a river runs, one aging gardener realized that the place where he lives is truly heavenly, and what was missing was only sculptural decorations.
Although he was not a professional, it took a long time to create the sculptures. Moreover, he alternated work on his creations with a long meditation for a week or two. After his death, his ashes were buried in one of the Magic Garden houses, and the heirs decided that the place could bring money. And now, it has become one of the best main man-made tourist attractions of Koh Samui.
A stone staircase leads from the parking lot to the garden, stepping on which you immediately find yourself in a special world. Everything around is buried in tropical greenery, and there is some kind of almost mystical silence.
8. Paradise Park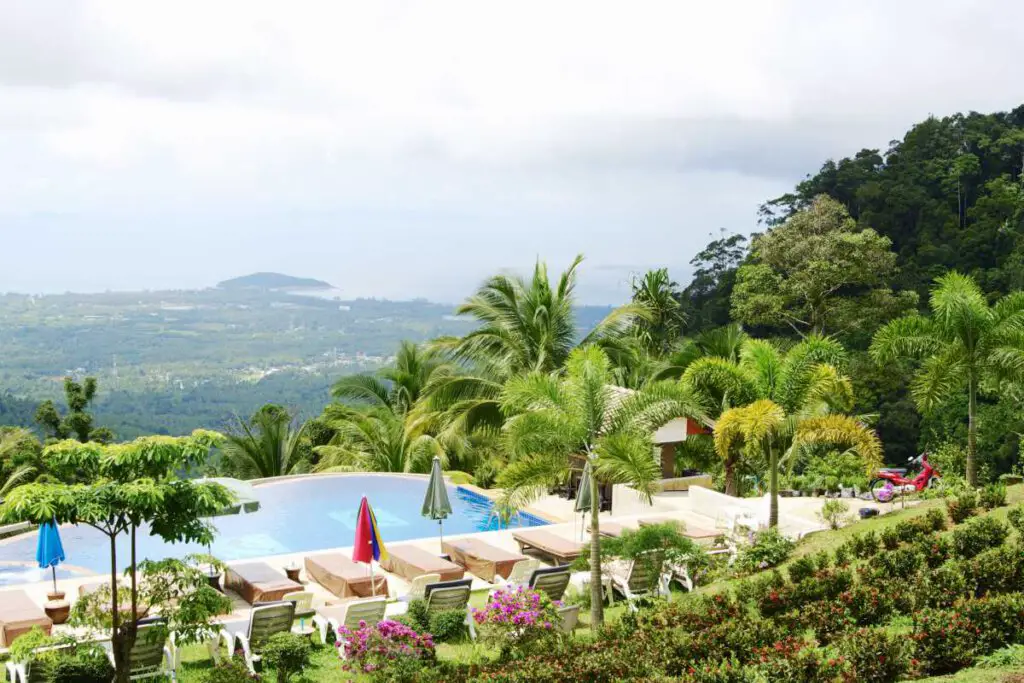 This is one of the few tourist attractions in Koh Samui where you can entertain children who are bored on the beach. And for some reason, the lion's share of entertainment on the island is focused on adults.
Paradise Park is a petting zoo where you can not only look at the animals, but also touch/pet them. However, the assortment of animals is not very wide: deer, goats, parrots, turtles, and some other representatives of the tropical fauna.
The park is located in the mountains in the central part of the island, close to the Magic Garden of Buddha and the Namuang waterfalls. So I recommend that you visit these Koh Samui attractions in one trip. The road that leads there is quite decent.
9. Ang Thong Marine Park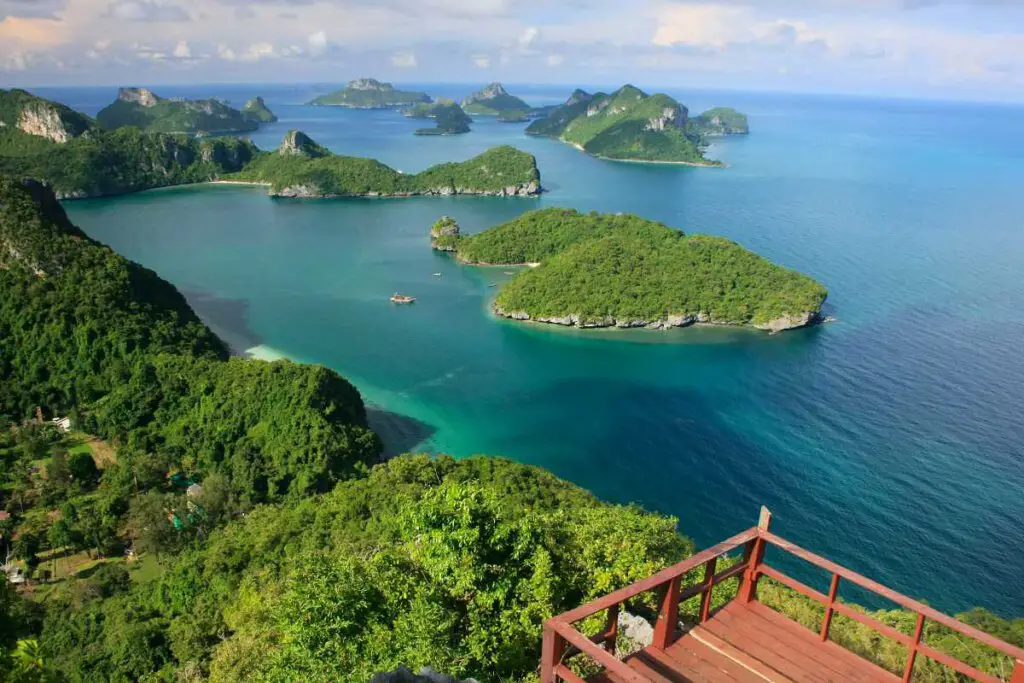 Without a doubt, Angthong National Marine Park is among the best tourist attractions in Koh Samui.
During my travels, I have always liked nature and the outdoors more than exploring modern cities. For this reason, the truth is that I have seen almost everything: jungles, coral reefs, mountains, rivers, and lakes of all colors and kinds. However, and I am thankful for it, I continue to be amazed by each new place I visit.
Mind you, I never expected Angthong Marine Park to be as beautiful as what I found. In a protected area that barely exceeds 225 square kilometers, an archipelago of 42 islands unfolds before you a beauty that is difficult to classify. 
The water has several different shades of blue and is totally clean. Beneath its surface, life explodes in the form of corals and fish of all colors, shapes, and sizes.
Ang Thong National Marine Park features stunning seascapes, secret grottoes, mountain lakes, and heavenly white-sand beaches.
During my excursion, I climbed to the observation deck at the park and was amazed by the stunning beauty of this place. If you don't want to climb up the trail, you can spend this time on the excellent beach.
10. Wat Plai Laem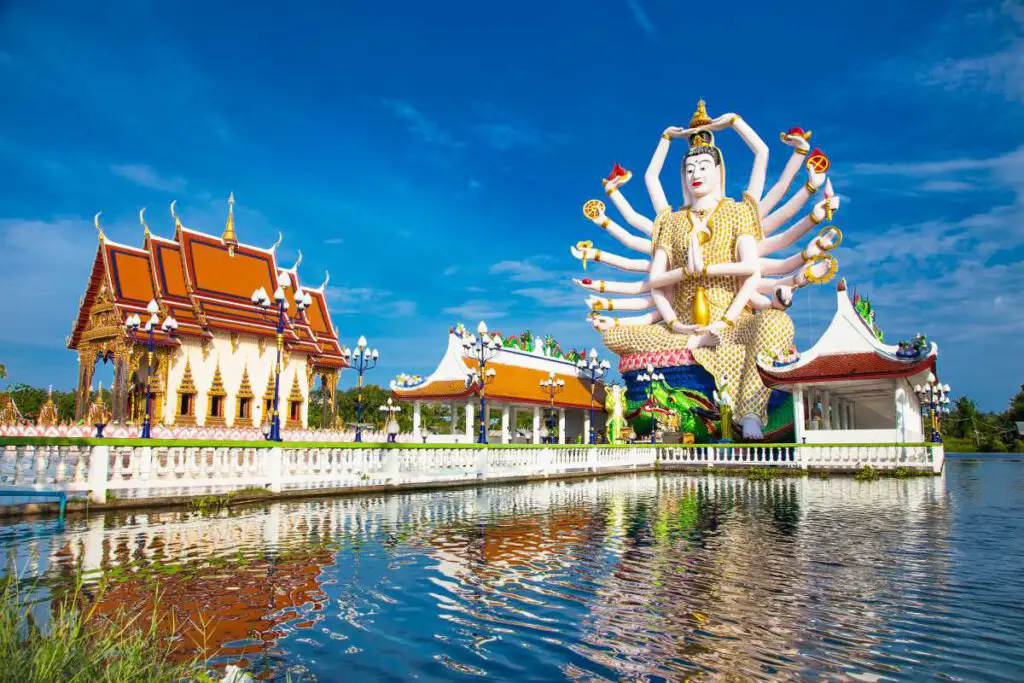 Wat Plai Laem is among the best and most interesting tourist attractions in Koh Samui. It is no coincidence that it is included in the programs of all sightseeing tours around the island without exception.
During the construction of the temple complex, Thai architect Khun Charit Phumdonming freely interpreted the canons of Buddhist architecture. As a result, an extremely original landmark appeared on the map of Samui, and that is the White Temple in Chiang Rai.
Wat Plai Laem is an artificial lake, where a beautiful Buddhist temple rises and two 12-meter statues: the Chinese goddess of mercy Guanyin and the "laughing Buddha," a popular character in Japanese netsuke figurines.
11. Secret Garden of Buddha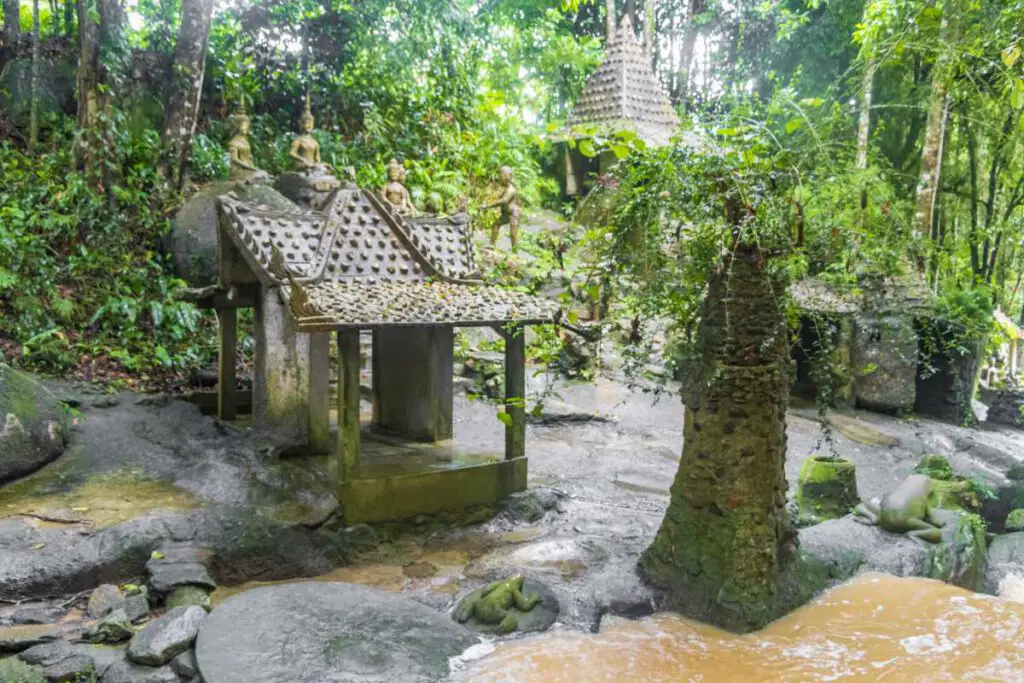 I have read a lot about the secret garden of Buddha, and I had to include it on my list of Koh Samui Thailand tourist attractions to visit.
I found this to be an extremely unusual and interesting place. This garden is home to a collection of statues, surrounded by jungle and enriched by the presence of nature.
The statues are the work of a local fruit producer, Nim Thongsuk, who has carved them since 1976. They depict animals, gods, people in various activities and positions. Also, there's even one that portrays the author himself, who continued to work on his dream until he died.
To reach this place, I recommend taking a taxi or come on organized tours.
12. Take a Climb to See Khao Hua Jook Chedi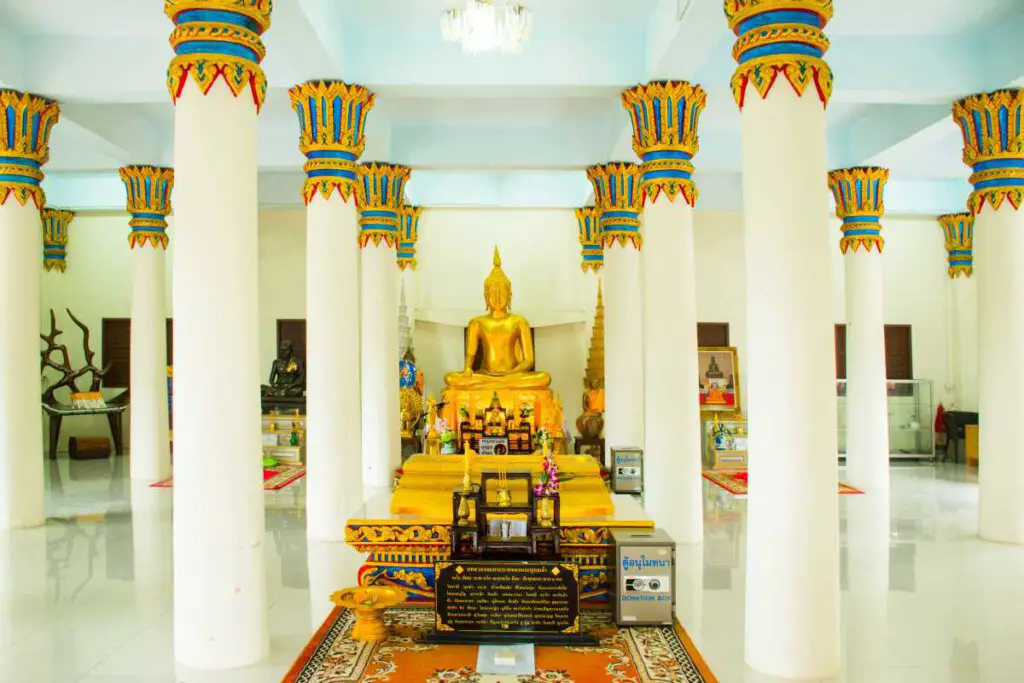 It is the second-largest Buddhist stupa on Koh Samui and one of its best viewpoints. The stupa rises on a hilltop west of Chaweng and offers excellent views of Chaweng Beach, the lake of the same name, and Samui International Airport.
If like me, you like watching the planes taking off and landing from above, this is the place to be. This spectacle becomes especially impressive in the evening and at night when planes come in with bright lights. On a fine day, from the Khao Hua Jook stupa, you can also see the Big Buddha on a tiny island near Bangrak.