Thinking of the best things to do in Puerto Rico? This Caribbean island is world-famous for its white sandy beaches, azure blue water, and swaying palm trees, the ideal holiday picture. And Puerto Rico Beaches completely live up to those expectations.
I confess that I once dreamed of visiting Puerto Rico because I saw a photo of Culebra, one of the islands belonging to Puerto Rico. After a few unsuccessful attempts, in 2019, everything conspired in favor, and I managed to plan a new trip to this island that is a Free State Associated with the United States.
I only had two weeks, but the trip was super worth it. I had the opportunity to recharge and renew my energy while having fun in some of its beautiful beaches. And in this post, I will highlight the 10 best beaches in Puerto Rico that I found intresting. Read on!
Best Beaches In Puerto Rico
1. Flamenco Beach, Culebra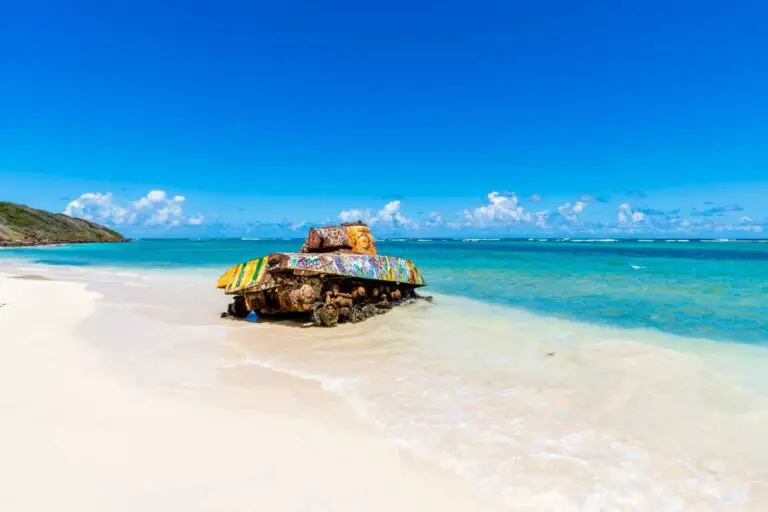 On the second day after arriving in Puerto Rico, I took the one-day tour to Culebra Island. It is known for hosting Flamenco Beach, one of the most popular beaches in Puerto Rico, and in 6th place in the ranking of best beaches in the world.
It has more than a kilometer of horseshoe-shaped coastline and is surrounded by beautiful mountains. The sand at this beach is white, the water is crystal clear, and there are practically no waves, which makes it perfect for swimming.
The most iconic feature of the beach is the two Sherman tanks that belonged to the US Army. In the past, this beach was used for military practices and was abandoned when they left the country. This is a perfect spot for taking photos.
Due to its popularity as one of the best beaches in Puerto Rico, it is usually crowded. However, all its natural beauty has been respected. It offers all the facilities to the tourist, such as bathrooms, lifeguards and kiosks to eat. In addition, it is easily accessible.
2. La Monserate Beach, Luquillo
The La Monserrate is another of Puerto Rico's beaches that really impressed me. It is known for its beauty, diversity of entertainment (kayaking, jet skis, windsurfing, pedal boats, flyboarding), and for its proximity to the El Yunque National Forest (9 km), which is home to rivers, waterfalls, hiking trails, camping areas, and cabins.
Its crystal clear waters and huge palm trees make it a popular spot for people who want to have fun at the beach. In addition, the calm waters and low tides make this the perfect beach for swimming and playing in the sand with the children.
In addition, this beach has all the facilities within reach so that you feel calm. There are several businesses and restaurants, and you have an option of choosing from a wide variety of drinks and gastronomy, such as seafood, typical foods, fried foods, among others.
The beach also has recreational areas in case you want to organize a party or a family activity. And if you decide to stay to continue the fun, you have a space to camp with total security because you have guards and lifeguards.
3. Boqueron Beach, Cabo Rojo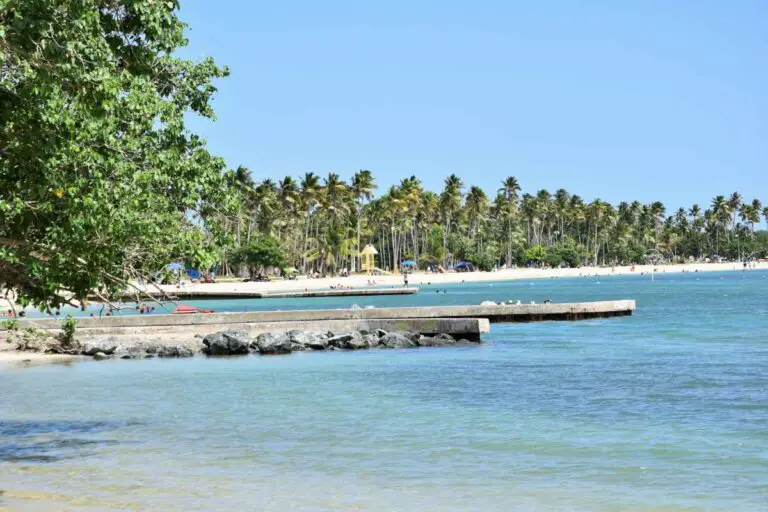 Due to its location on the west coast, I think Boqueron is one of the best beaches in Puerto Rico to watch the sunset. It is in Cabo Rojo, a Puerto Rican town called the "Capital of Tourism" and the "Capital of Seafood," 15 km south of Mayaguez and 79 km west of Ponce.
I loved the sparkling waters and a pristine shoreline which is more than a mile long. In addition, it is designated as Blue Flag Beach. This means that everything is kept clean, safe, and respecting the environment. It has abundant palm trees, mangroves, and an extensive coastline that contributes to beautifying the landscape that will surely be unforgettable.
The best thing about this beach is a ramp that allows people with disabilities to enter the water. For many, it is the best beach in Puerto Rico since it has multiple amenities and security agents, so you don't worry about a thing. A playground for children, a basketball court, and a space to practice beach volleyball are other attractions that make this beach a favorite.
I spent my night here renting one of the cabins managed by the National Parks, and it was very affordable. You can also try one when visiting here.
4. Sucia Beach, Cabo Rojo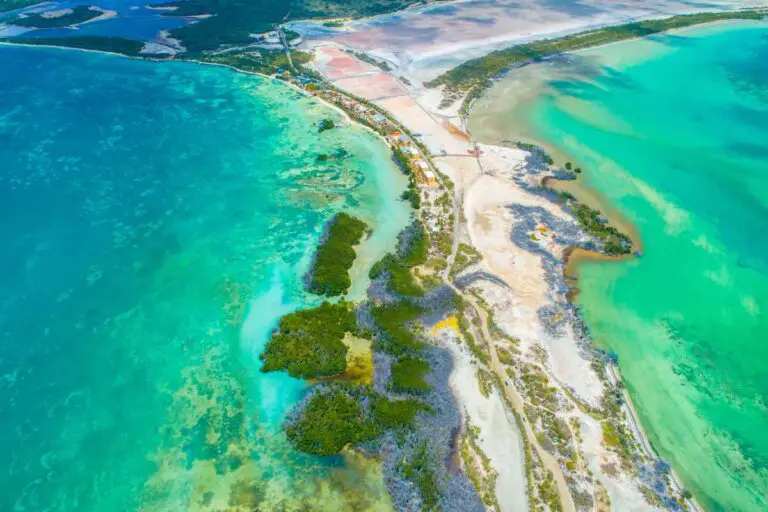 Sucia beach is another popular beach located on the southwest coast of Puerto Rico. This crescent-shaped beach is a paradise of waters with white sand and beautiful shades of turquoise and navy blue. I found it to be one of the quiet beaches in Puerto Rico due to its little waves. In addition, it is part of the Las Salinas reserve.
I spent 2 hours at the beach then headed to "Los Morillo's" lighthouse, located on a limestone cliff at the southwestern end of the Big Island of Puerto Rico. It was erected in 1882 to help navigation through the risky Mona Pass, which is part of the routes of ships going to or from the Atlantic and the Panama Canal. I guess this is the perfect place if you want to take beautiful photos and enjoy the panoramic view of the surrounding.
It also has a path that allows you to appreciate the bay and the Caribbean Sea fully. Being a secluded and not very crowded place, it is considered among the best beaches in Puerto Rico. It also has a shallow bottom, ideal for the little ones.
5. Seven Seas Beach, Fajardo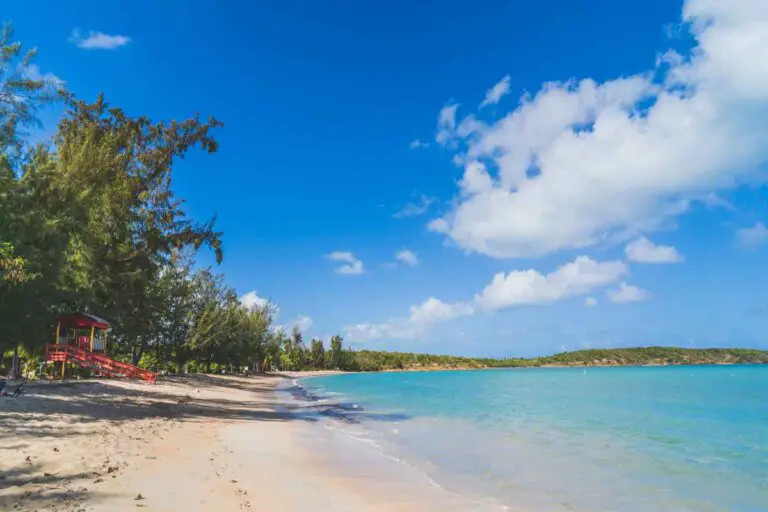 The Seven Seas beach is considered one of the best beaches in Puerto Rico, very close to the Cabezas de San Juan Nature Reserve.
When I visited it, I felt as if I was on one of the private beaches in Puerto Rico, since it is very intimate. In addition, this beach has abundant marine ecosystems, so if you decide to practice snorkel or learn to dive, you have the perfect environment.
The beach has all the possible services and amenities, which is why it is rated among the five best beaches in Puerto Rico and was internationally classified as "Blue Flag," which ensures its highest quality. Here you don't need to worry about food because you can choose from multiple businesses that sell typical dishes.
Also, if you plan to stay and continue having fun, I recommend visiting the areas specially adapted for camping at an excellent price. And can I tell you another amazing thing about this beach? You will feel calm and safe because this is one of the Puerto Rican beaches that have lifeguards and guards who are attentive all the time.
6. Gilligan Island, Guanica
Aurora's key, or Gilligan Island as it is better known, is part of the Guanica Biosphere Reserve, and it took me only five minutes by boat from the coast. It has one of the most crystalline beaches in Puerto Rico, with shallow depth and white sand, ideal for children. Swimming made me feel like swimming in a giant outdoor pool.
In the immediate vicinity, there are mangroves with a wide variety of fish. There are two channels of fluorescent turquoise blue water with gentle currents, approximately three meters deep, perfect for swimming, kayaking, and snorkeling.
The number of daily visitors to the island is restricted to 200 people. Therefore, if you really want to go, I suggest arriving very early. In addition, there is no type of service offered currently. However, there is a boat that provides transportation service from the Guanica coast to Gilligan at a reasonable amount.
7. Mosquito Bay, Vieques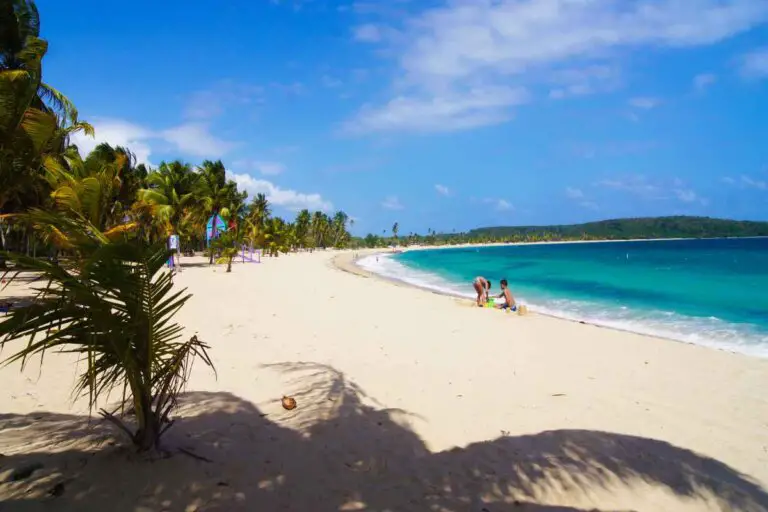 If you want to experience a wonderful show, then I recommend visiting Mosquito Bay in Vieques. It is one of the best beaches in Puerto Rico for its spectacular bioluminescence, a natural phenomenon that few beaches in the world have.
The bay is part of the Vieques Bioluminescent Natural Reserve, with a surface area of 4.14 km square. Its calm and shallow waters are sheltered from the open sea, making them a paradise for the whole family.
What intrigued me on this beach is that while swimming in its crystal clear and calm water during the night, any movement I made turned into a gigantic firefly. This was due to marine microorganisms, with one or more whip-shaped appendages, which create an impressive light effect. But don't worry, they are not dangerous, so come at night to enjoy this show.
But if you come before dark in the flatter areas of the shore, there are strips of a mangrove where you can enjoy and observe birds, crabs, lizards, and different species of insects that live there. It is one of the most beautiful beaches in Puerto Rico, and it is reached by boats that leave every day from Fajardo.
8. Escambron Beach, San Juan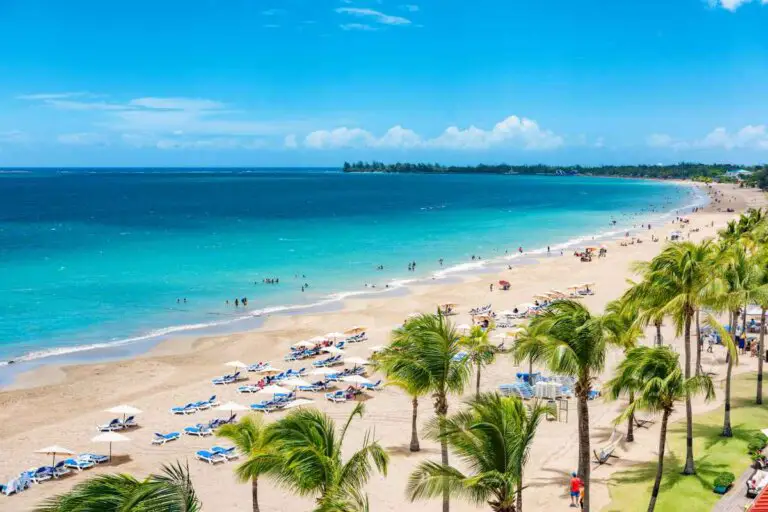 Escambron Beach is located in the metropolitan area and is one of the best beaches in Puerto Rico that you can visit by public transport. In addition, it's one of the beaches where I saw many people practicing different kinds of water sports.
On the other hand, right next to it is the Third Millennium Park, which is a large recreational space. It has walking and running track and a baseball stadium, excellent for children. Also, there is a bridge that connects with the Luis Munoz Rivera Park, where you have another excellent option for games.
This beach has restaurants that sell different types of food and shops where you can buy handicrafts, fried foods, and all kinds of drinks. Unfortunately, you can't camp here, but it is possible to stay there until late in the afternoon. This is another of the beaches that were internationally categorized as "Blue Flag," where all services and security are guaranteed.
9. La Chiva Beach, Puerto Ferro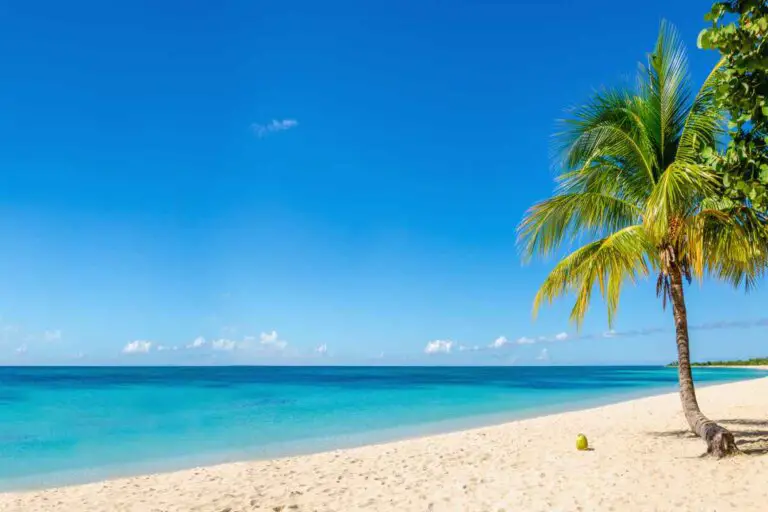 La Chiva is another beach that I really liked since it is part of the National Wildlife Refuge. To get there, I recommend using an all-terrain vehicle to avoid getting stuck.
What really impressed me was its more than two kilometers of coastline with a perfect bay for a long walk on the longshore. And being one of the best beaches in Puerto Rico, it has a very diverse marine life, with multiple species of fish and wonderful corals. This makes it one of the beaches in Puerto Rico to enjoy snorkeling and diving. In addition, I was shown an area where sea turtles lay their eggs, so it is advisable to be careful.
Because it is considered a reserve, you cannot stay on this beach. It also has no amenities or places to buy food. So, I recommend that you carry everything you need for the time you plan to be there. Don't forget to pick up the rubbish if you go to the beaches of Puerto Rico.
10. Mar Chiquita Beach, Manati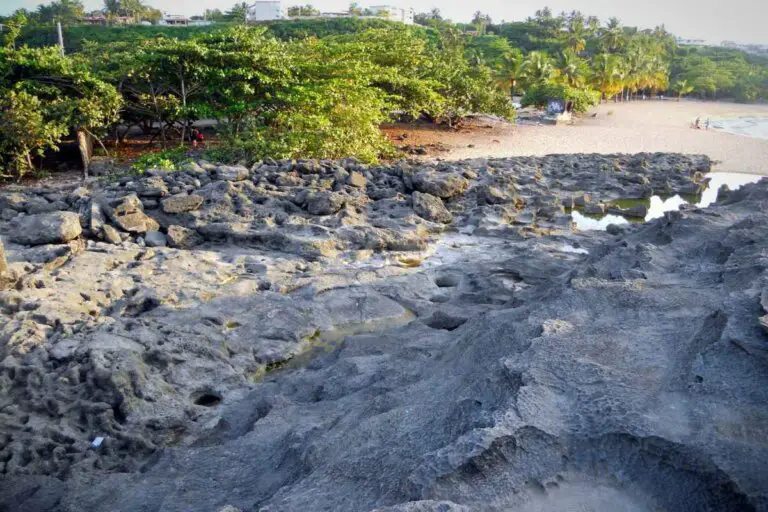 Mar Chiquita is one of the best beaches in Puerto Rico and is located just 45 minutes west of the capital, San Juan. It is one of the good beaches for children in Puerto Rico, and I totally recommend it for families.
This beach is protected from the waves by huge rocks, and in the middle, it has two limestone outcroppings where the tide enters and forms a wonderful pool with coarse sand. Here, you can swim, snorkel, observe the beautiful coral and meet the varied marine life very close to the shore.
With no shops or restaurants around, I suggest taking everything you need to prepare a barbecue with your family, or if you prefer, you can buy different types of typical food in the trucks that stop to sell nearby. In addition, they sell all kinds of tropical drinks such as frappes and pina colada. If you are looking for adventure, the beach has several archaeological sites nearby that you can visit.