The Bahamas ranks 57th most popular tourist destination in the world. It is made up of 30 islands, 700 islets, and just over 2,000 unpopulated reefs. It goes without saying that visiting the Bahamas is synonymous with rest, sun, and beach. It is a paradisiacal place in the Caribbean that welcomes you with a strong dose of fun and relaxation.
The main Bahamas tourist attractions are its beaches, and they are perfect for swimming or practicing water sports. However, the Bahamas also has other attractions that will allow you to know its culture and history. And if what you want when embarking on this great trip is to enjoy every second, I assure you that you will not get bored, there is a wide variety of activities to do and beaches to visit.
So, if you visit the Bahamas on your next vacation, I recommend visiting the following 12 Top Things to Do in the Bahamas that I enjoyed during my 20 days visit to this country. Read on!
Things to Do in the Bahamas
1. Atlantis Paradise Island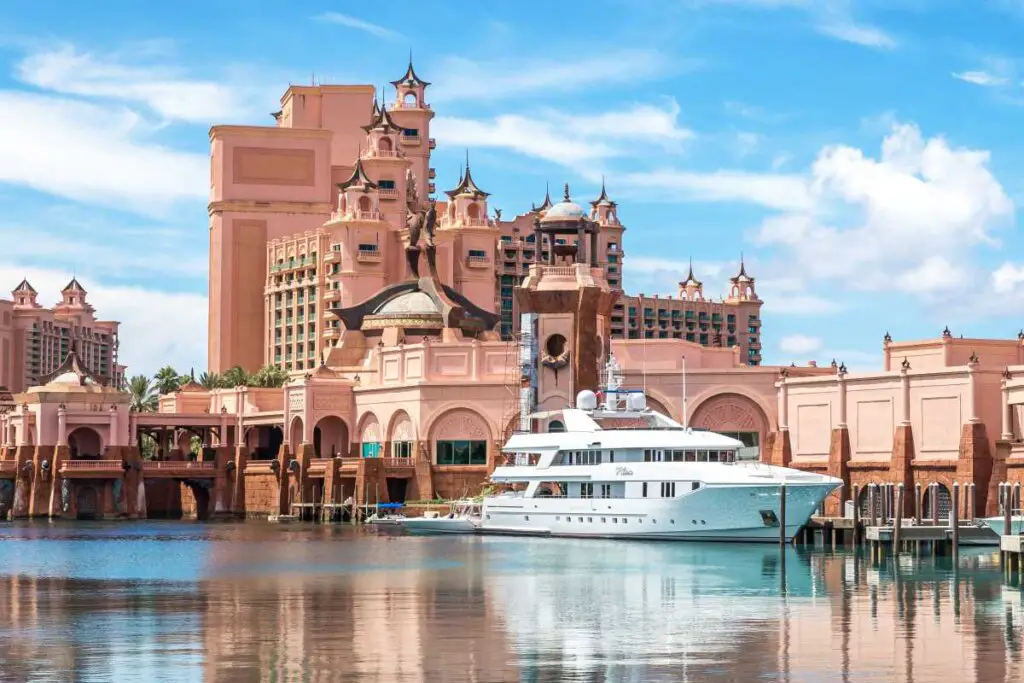 There are those who love and who hate it, but it is impossible not to notice the majestic construction of the Atlantis hotel in Nassau. I have nicknamed it "Barbie Castle."
Atlantis is a gigantic luxury hotel complex with many swimming pools, restaurants, etc. I didn't go into the hotel and just stayed in the small area of ​​shops and malls next to the marina, which is free. Anyone who wants to get into Atlantis can spend the day by buying a day pass to some of the hotel's attractions. I believe it's a really cool program for kids.
You can reach Paradise Island on foot via the Poitier Bridge, by taxi, or by ferry from downtown Nassau (behind Straw Market). I went on foot and returned to the center by boat!
You know that after seeing it from afar, I felt like staying at Atlantis, even though I'm not a fan of huge hotels! But definitely, this is one of the best things to do in the Bahamas.
2. Nassau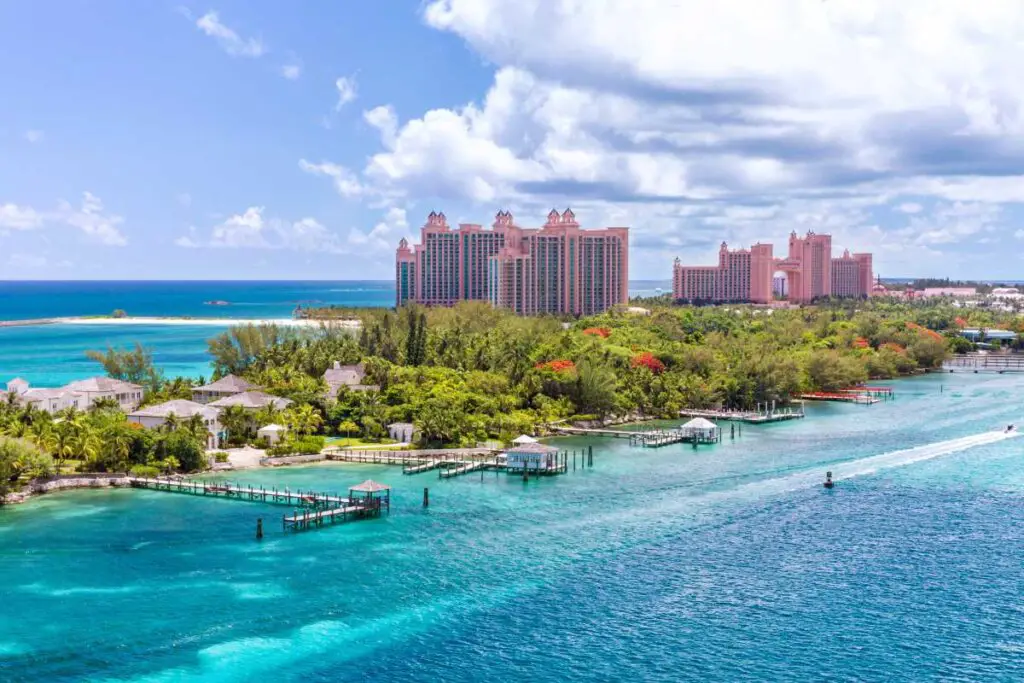 Actually, this is where my journey of knowing the Bahamas started. Therefore, it can't miss this list of the best tourist attractions in the Bahamas.
I visited the Retreat Garden National Park, where I saw one of the largest collections of exotic palms in the world. It is also home to native orchids or red ginger. In addition, I toured Fort Charlotte, which was built in 1788. I toured its corridors and saw the dungeons, which allowed me to learn more about the military history of the Bahamas.
On the other hand, I cannot forget its fabulous beaches, such as Long Wharf. A perfect place to take a bath and rest, but also to carry out numerous activities. That is, it is suitable for any visitor regardless of what you are looking for.
3. Dean's Blue Hole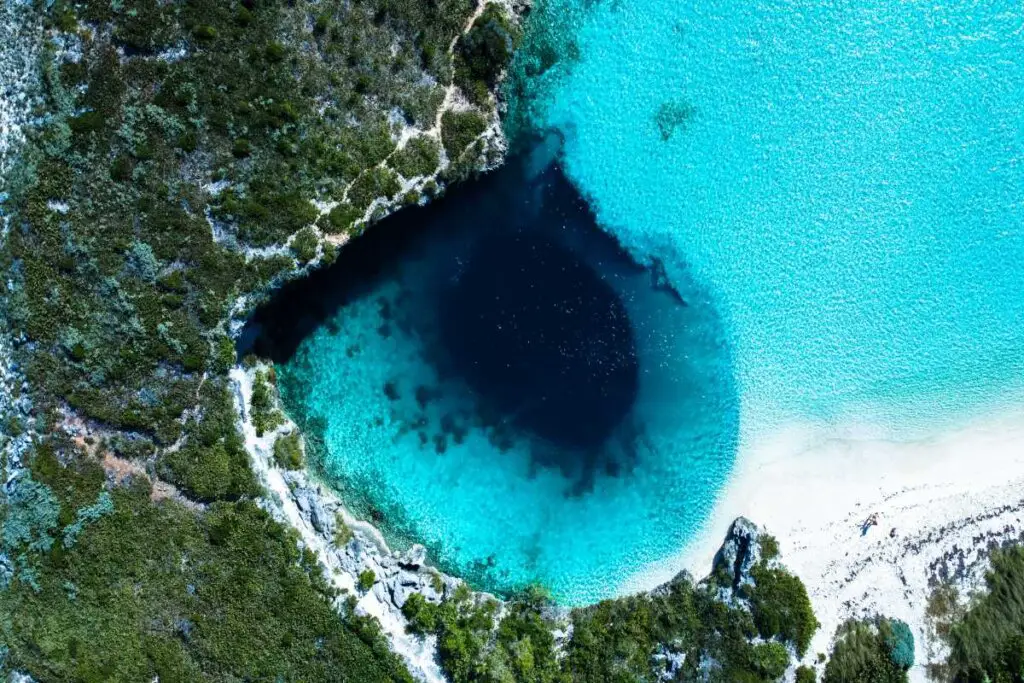 The marine universe hides secrets and mysteries that man can never fully understand. And in the Bahamas, there is one of them: The deepest blue hole in the world. Located in a bay west of Clarence Town on the Long Island of the Bahamas, this 202-meter-deep natural wonder captures the interest of divers from all over the world.
Dean's Blue Hole stands out among the options of Bahamian tourist attractions. It is estimated that it has been there for 15,000 years. Its circular surface has a diameter of 35 meters. About 20 meters from the surface, the hole widens, creating a large cavern about 100 meters in diameter. Various diving competitions have taken place in this hole. It was even here, in 2007, that diver William Trubidge broke the world record for freediving, reaching a depth of 84 meters. This magical place has mysteries and ways of life that any lover of the sea would conquer.
4. Harbor Island
Although when I talk about the beaches of the Caribbean, many people imagine white sands. But in the Bahamas, I found an island that surpasses even that idea. Harbor Island is one of the most popular tourist attractions in the Bahamas, as its sand is neither brown nor white. It is pink! Seven kilometers of stunning pink sand beaches open before your eyes. 
Its warm waters are ideal for swimming, diving, and fishing. During sunset, I was amazed by the pink coast, which shines in pale orange. And I recommend that's why I recommend short walks before the evening n this beach.
The only city I found on Harbor Island is called Dunmore, and I enjoyed getting to know it, as it highlights its colorful local architecture and the Caribbean atmosphere that is perceived in the music and the people. I love this town because it has numerous traditional British villas. In addition, it's also a hotspot for local restaurants that specialize in Bahamian dishes such as cracked conch, souse, and baked crabs.
5. Castaway Cay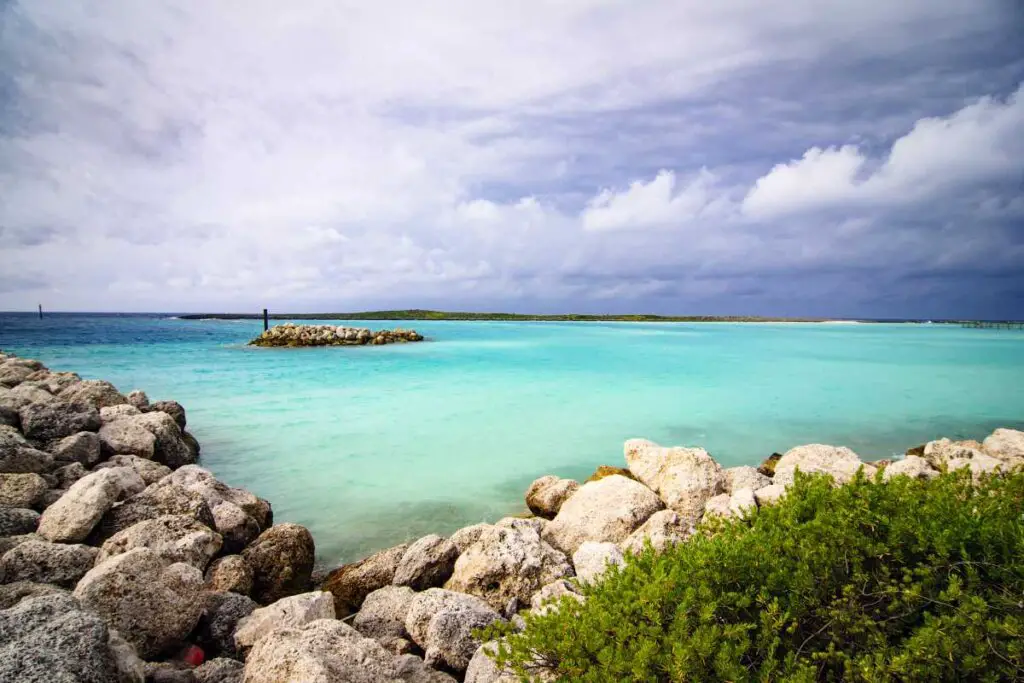 Castaway Cay is Disney's private island in the Bahamas. This island has four kilometers beach for people with a family beach and another for people over eighteen, water parks for children, and ultra-dynamic slides for adrenaline lovers. Disney characters such as Captain Jack Sparrow from the Pirates of the Caribbean welcome visitors, who can only be those who have boarded one of the Disney cruises. An exclusive plan, but absolutely fantastic for travelers who have the opportunity to experience it.
So why is it a seaside Disneyland? Castaway Cay is a beach that Walt Disney temporarily owns. According to sources, Walt Disney has the right to do business on this island until 2096. Before becoming a tourist location, Castaway Cay was once a hot spot for drug smugglers. This is due to the old airstrip within it.
Though it looks very lively now with all the huts, pools, restaurants, and other recreational amenities present, there's still a lot for Walt Disney to do in the future. Castaway Cay area measures 1,000 acres in total. However, the company only managed to develop 55 acres.
Aside from swimming and sunbathing, other activities in Castaway cay are banana boat riding, kayaking, snorkeling, hiking, open-air dining, recreational swimming ( Walt Disney divided Castaway cay into nine swimming areas), shopping, massage sessions, and kiddie dance parties. Vising this place is probably one of the best things to do in the Bahamas.
6. Ardastra Gardens Zoo and Conservation Center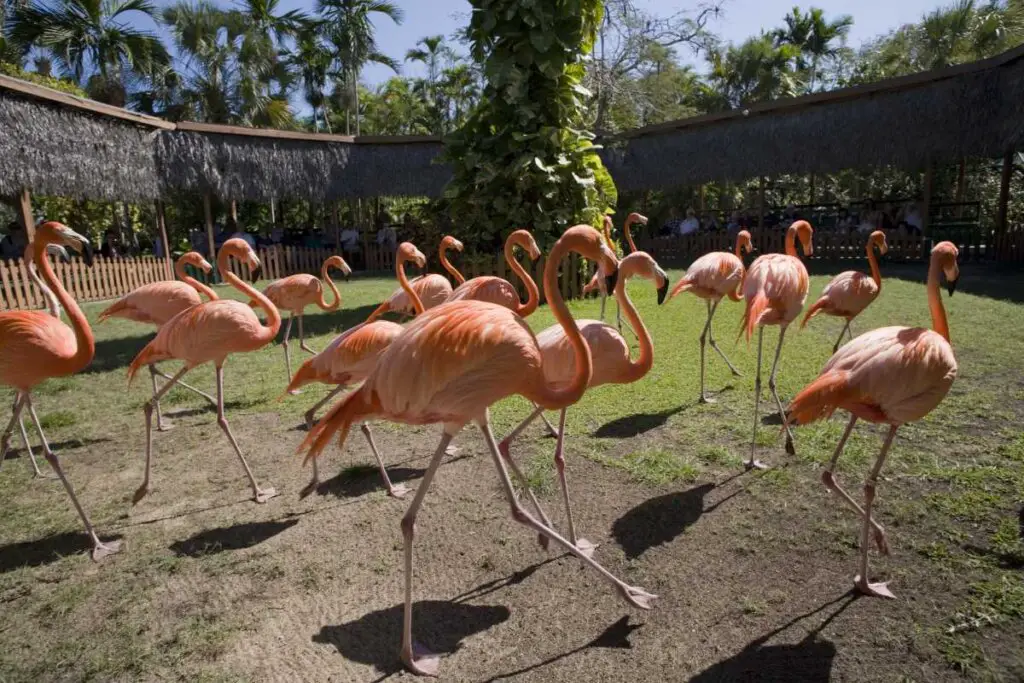 Another place that interested me and I recommend for families is the Ardastra Gardens Zoo and Conservation Center. It is a reservoir of exotic animals located in Nassau. It was the work of the Jamaican horticulturist Hedley Vivian Edward, who managed to open its doors in 1937.
It was in the 1950s, and thanks to the intervention of the Bahamian government, that the zoo received what is today its main attraction: beautiful and tall flamingos. Visitors can feed them, and at certain times of the day, in the company of their caregivers, they make a nice show.
7. Pirates of Nassau Museum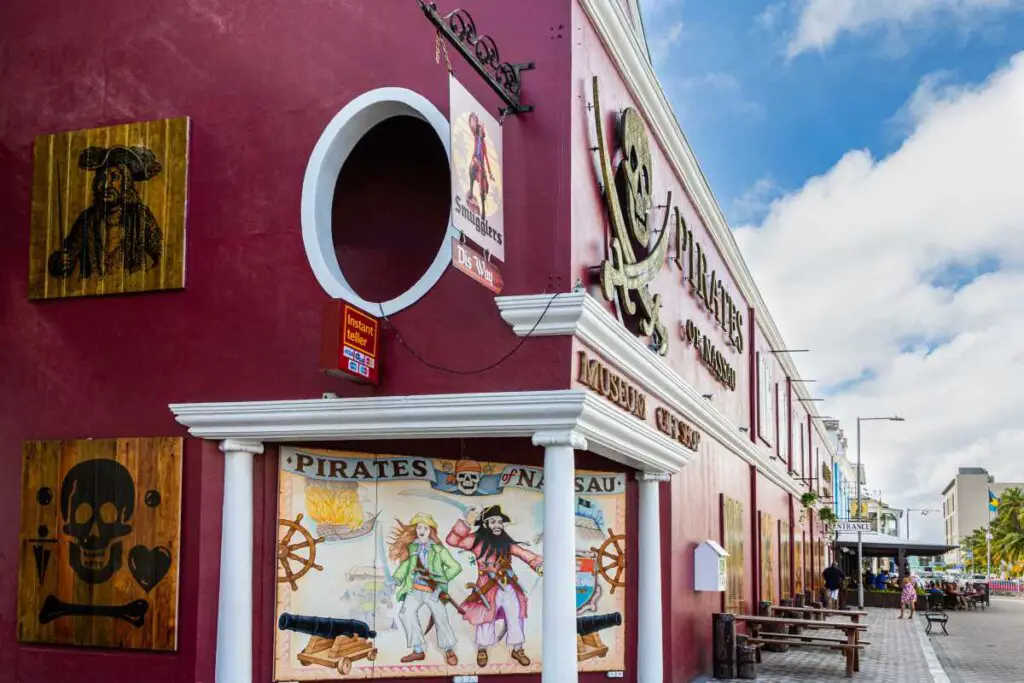 Tales of pirates are part of the culture in the Bahamas. Hidden treasures, bloody raids, and astounding naval battles are some of the topics that l commonly heard.
And to see lots of pirate artifacts in one go, I was advised to visit the Pirates of Nassau Museum. This museum looks like a theme park. It resembles a shady pirate town where a pirate ship is waiting at the dock.
Though it doesn't look like an authentic museum, the exhibits are impressive. Items that I saw in this museum are flintlock pistols, cutlasses, swords, flags, astrolabes, etc. All of these date back to the Golden Era of Pirates. Aside from the main gallery, there are also dedicated sections that feature education exhibits about Black Beard, Woods Rogers, Anne Bonny, and Mary Read.
But the fun doesn't end at Pirates of Nassau Museum with viewing the exhibits only. There's also the built-in restaurant and club. The built-in restaurant serves you pirate-themed dishes. On the other hand, the clubs provide parties for small crowds.
8. Dolphin Cay Atlantis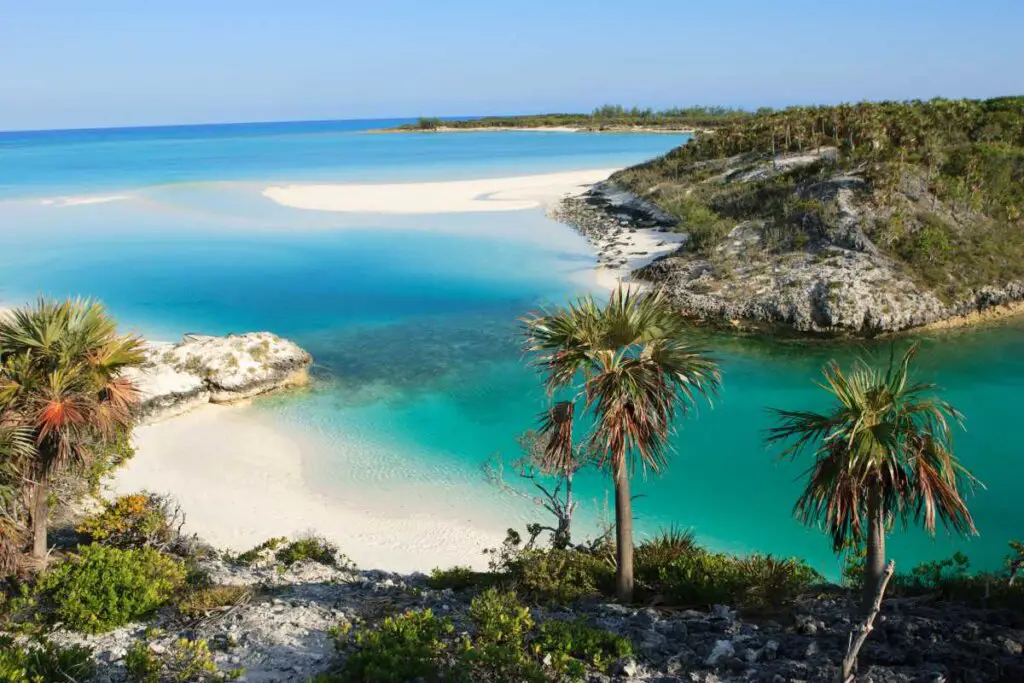 I confess that when I was choosing the tour options before the trip, I was tempted to remove this option. Imagine being in deep icy water and crashing waves. But obviously, it was bullshit of mine, and it's in a tank with controlled water and no waves.
Dolphin Cay is a marine reservation area in Paradise Island. It's owned by the same company that manages the Atlantis resort and hotel.
Before swimming with Dolphins, we were given neoprene clothes and had to go through the informational class. There they give us clothes, a snorkel kit, and fins and a key to a locker, where you can leave your backpack and belongings. They don't let you take anything with you when swimming: not even cell phones, GoPro, anything like that, so you have to leave everything there.
Then, in a group of about 20 people, we went to a classroom with a big screen, where an instructor gave some basic information about dolphins and focused a lot on what we CANNOT do: which parts of the dolphins you can't touch, or which don't touch too hard and so on.
We were instructed to float on our stomachs and breathe through the snorkel to see the dolphin up close passing our side. The instructors also encouraged us to reach out to touch the dolphins as they passed.
It was a super cool warm-up to get familiarized with the animals and get used to the mask and snorkel goggles. I don't know about you, but I've never had much contact with these diving things, and I struggled a bit with it. The mask kept fogging up, and water got into the tube where I was supposed to be breathing. I spent a lot of trouble in those first minutes, but then I got used to the scheme.
The whole experience lasted around 30-40 minutes, and soon the instructor was already giving signs that it was time to say goodbye and start coming out of the water. Everything went by very quickly, I really wanted to take another dolphin ride there in the swimming pool, but they also deserved to rest after playing with us.
9. National Art Gallery of Bahamas
To see the artistic heritage of the Bahamas, I headed to the National Art Gallery, another of the popular tourist attractions in the Bahamas. I didn't have trouble finding this. I just went to the city of Nassau and look for that classic British villa with a beautiful balcony and a well-tended front garden.
Here, most of the exhibits in the gallery consist of photos, paintings, portraits, and drawings. Subjects that they tackle pertain to the political, cultural, and social issues in the Bahamas.
Understanding the exhibits wasn't hard because I was accompanied by a tour guide and all information. Guided tours are available from 10 a.m – 5 p.m Monday- Saturday.
If you want to buy souvenirs, the National Art Gallery is the place to go because it sells unique items ranging from printed t-shirts, bags, ball-pen cases, figurines, portraits, and many more.
10. Lucayan National Park
Another popular place that provided a holistic exploration and swimming at the beach was the Lucayan National Park.
Lucayan National Park spans 16 acres. Within it are beaches, picnic locations, and caves. Overseeing the development and maintenance of this national park is the Bahamas National Trust. The best location for swimming and picnicking is at Gold Rock beach. It impressed me with its fine white sand where trees grow that cast shade.
You can explore the underwater cave system of the Lucayan National Park that extends up to 9.7 kilometers. With a tour guide, take a look at its rock formations and bizarre aquatic animals.
Lucayan National Park is also home to thick beaked vireos, Bahama swallows, and olive-capped warblers. To see these, prioritize following the trails that lead to the Gold Rock Creek that's north of Gold Rock Beach.
11. Elbow Cay
The legendary Elbow Cay is among the most beautiful and most popular tourist attractions in the Bahamas. It was originally populated by British people fleeing from the newly independent United States of America in 1785.
Today this island is an indispensable point for tourists looking for unforgettable beaches and towns with a Caribbean flavor. The largest urban settlement on the Cay is HopeTown, a small town featuring a beautiful lighthouse with red and white stripes and 37 meters high. The narrow and colorful streets lead to one of the most beautiful beaches in the Caribbean.
12. Taino Beach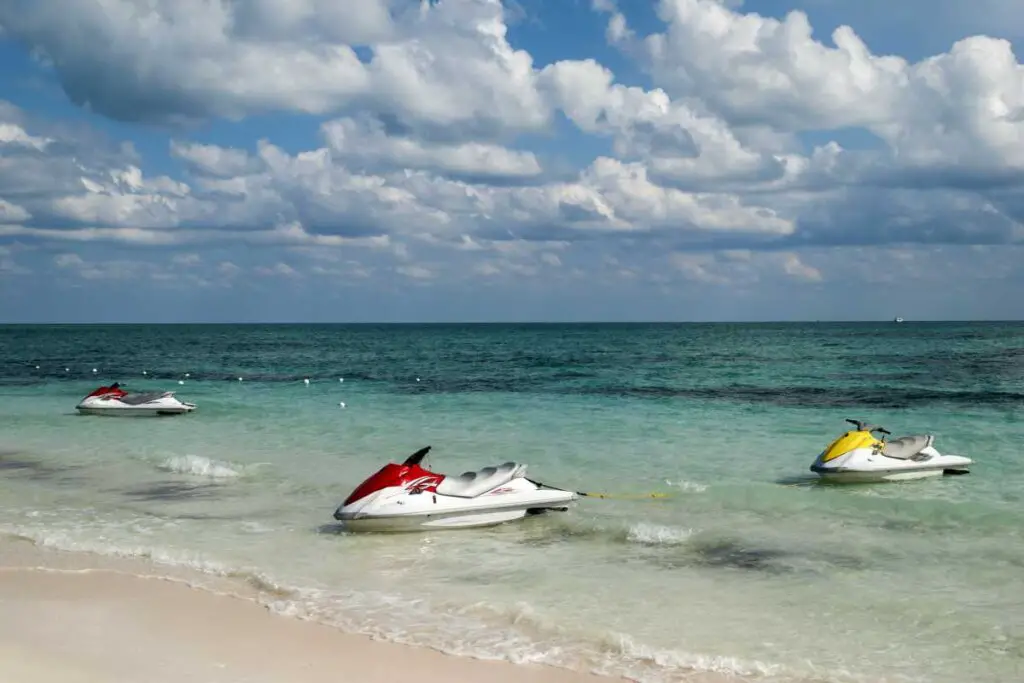 For watersports, Taino Beach didn't disappoint me. Its signature characteristic is its very tranquil water condition. On this beach, it seems that waves are nonexistent. For this reason, activities such as swimming, parasailing, boating, kayaking, and jet skiing are very safe. 
The wide and flat surface of Taino beach serves well for beach volleyball. Moreover, the fine dunes cast picturesque shadows in the afternoon.  Taino Beach is also home to cheap hotels that offer what feels like 5-star accommodation to guests. Hotels near this beach have their own swimming pools that host simple gatherings. Truly, I enjoyed the best of Bahamas attractions on this beach.