Aruba is known worldwide as "the happy island." Honestly, before visiting what would be my 34th country, I did not imagine the magnitude of such a slogan. Now I am in a position to affirm that they did not exaggerate at all and that it is one of the most beautiful islands that I have known in my life.
Today I'm going to bring you closer to the 11 best beaches in Aruba and share a little bit of my experience with you. Undoubtedly all the beaches in Aruba are beautiful, but there are some that are well known, and the truth is, they are worth visiting.
Best Beaches In Aruba
1. Palm Beach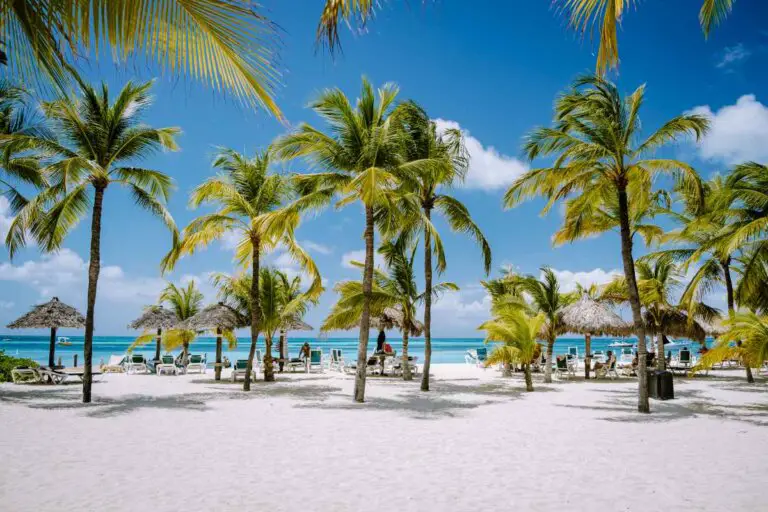 Now my first official day in Aruba! For that day, I didn't want to do any walks, just enjoy the beach of my hotel with all the comfort. Although Palm Beach is a beach open to everyone, each hotel maintains its reserved space, with sun loungers, towels and tables covered with umbrellas or with the famous palapas. I remember that I had reserved my palapa since the night before to avoid the risk of running out. Always good to check this availability at the resorts and leave it booked as well.
Although it was a day without major activities, it was one of the most enjoyable days of the trip. I was dazzled by that place, that translucent blue sea, the white sand, that delicious Caribbean vibe. Depending on the number of days you have, I highly recommend that you take a day off to just hang out without commitments.
By the way, this is one of the best beaches in Aruba for snorkeling. Other activities that you can try include boat riding, kayaking, fishing, or play recreational games on the coast.
At dusk and nighttime, Palm Beach becomes very romantic. Fine dining beside the beach is a popular activity that nearby hotels offer. If you want a more familiar plan, you can try bowling and other cultural proposals in two of the most important Shopping Centers. In addition, you will find small casinos and clubs. Visit these if you want a wilder nightlife.
2. Eagle Beach
The next day I walked from Palm Beach to Eagle Beach (about 3km) and stayed there. I guess this is one of the largest beaches in Aruba, which is also known for its fine white sand. It is so big that even though there are many people, it is not crowded. So that's why I think it deserves to be in the top 11 of Aruba's best beaches. The best thing is that it has some divine trees that give you just the right shade to be sheltered from the sun.
Additionally, it has spaces to play racket without disturbing others, making it one of the must-see beaches in Aruba. Don't forget to photograph yourself next to the immense fofoti trees, unique in the area. And if you are lucky, you may get one of the four species that make life in the town.
If you plan to spend the night around this beach, don't forget to enjoy the beautiful views of the sun setting. The good thing is that you can do this without disruptions since tourists rarely flock to the coast. I suggest going on the Divi Tree that's on the northern side, which has the best viewing spot.
Some of the fun activities that Eagle Beach offers are banana boat rides, snorkeling, jet skiing, and parasailing. You may get this equipment at nearby rental shops.
I stayed in Palm Beach at night, and I liked it so much. I was able to eat well, buy souvenirs, eat ice cream, coffee and walk around.
3. Baby Beach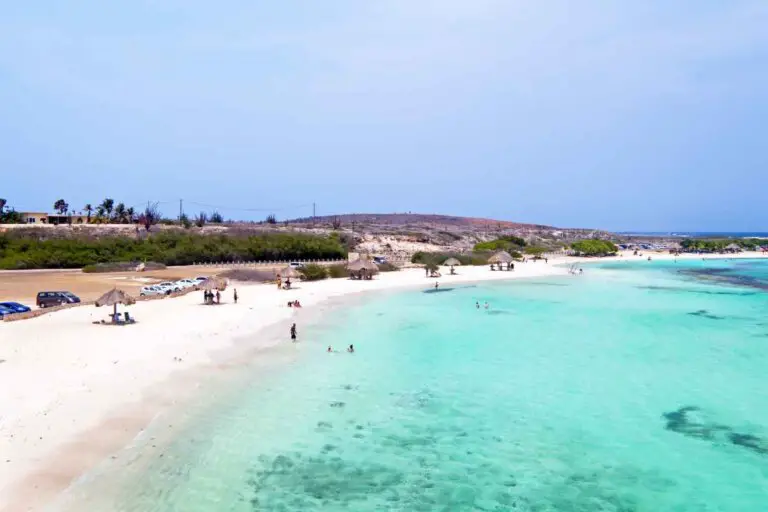 My next and most wonderful stop was Baby Beach, the most beautiful beach I've seen in Aruba and one of the most beautiful I've ever seen! The name could not be different because, due to the calm and clear waters, it is ideal for children, hence the name Baby Beach.
I had to include it in this list of the 11 best beaches in Aruba as it is shaped like a half-moon and with an artificial lagoon in the middle. Snorkeling in Baby Beach doesn't require a guide since the water is shallow. Though the water isn't that deep, you will still find barracudas, squid, parrotfish, eels, and angelfish. On average, the water in Baby Beach is waist level and goes deeper as you head further toward the inlet.
The beach has tents that can be rented, and there is also a snorkel rental. But I remember that there were very few tents and all were already occupied. Therefore, the ideal is to arrive early! I also saw a small bar, which unfortunately was closed.
4. Arashi Beach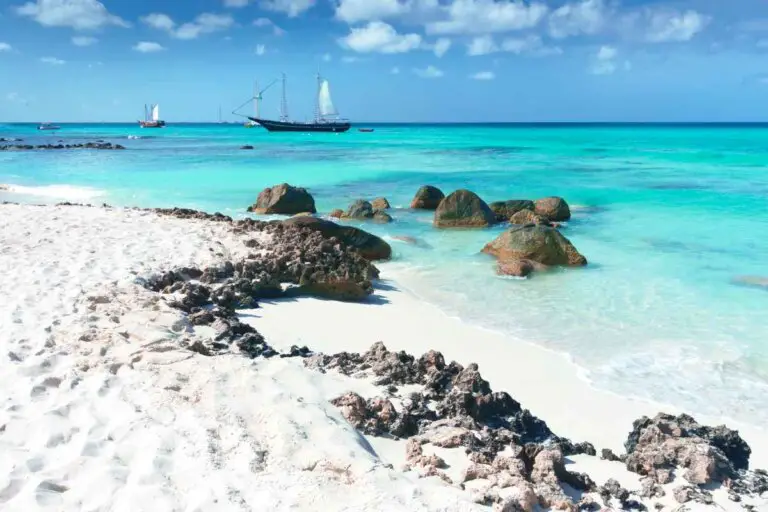 Arashi Beach is one of the quietest and least congested public beaches in Aruba that I visited. It is 30 minutes from downtown Oranjestad, and most of its visitors are local.
It has gentle currents and an important wealth of marine life, making it perfect for snorkeling. It has two areas for this practice, one for experienced people and one for newbies. So if it is your first time, you have nothing to worry about. In addition, its gentle waves are ideal for people who are starting to practice bodyboarding.
Another reason why I loved this is its comfortable amenities. Arashi beach is complete with beach huts, rental chairs, showers, and changing rooms. About 100 meters away from Arashi Beach's tourist area is the Arashi Beach tours. This establishment offers guides, snorkeling, boat rides, and water equipment rentals.
This beach is located well to the north of the island and is very close to the California lighthouse, so you can take advantage of it to go visit it. Another thing that I love about this beach, besides the super white sand, is that there is a lot of sun and although there are some palapas, they are quite separated from each other.
5. Druif Beach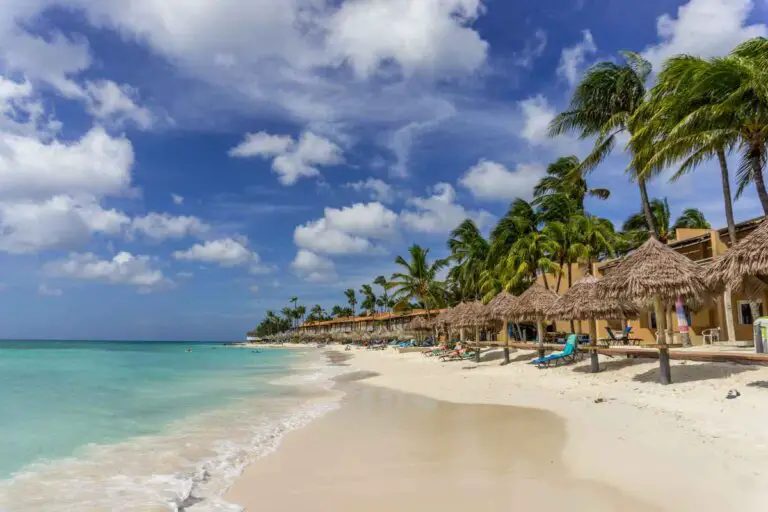 If you are looking for quiet beaches in Aruba, with fewer visitors and without sacrificing enjoyment, I recommend visiting Druif Beach. It has quiet space, much less frequented, and gives you the chance to relax without a problem.
This coast is located near the center of the city and even borders the popular Eagle Beach. The beauty of its turquoise blue water and its ivory sand invite you to walk, jog or swim in the town. If you are more active, the beach volleyball court may be a good option for you, and this is one of the beaches in Aruba that has jetski rentals, so you could join this adventure.
Nearby resorts to Druif Beach are the Tamarijn and Divi sister resorts. These resorts are rather simple. However, they provide quick access to other Aruba beaches such as Eagle Beach and Schatz Beach.
I recommend snorkeling at this beach as it has numerous coral reefs that attract seahorses, turtles, angelfish, and other small polychromatic marine wildlife.
6. Boka Catalina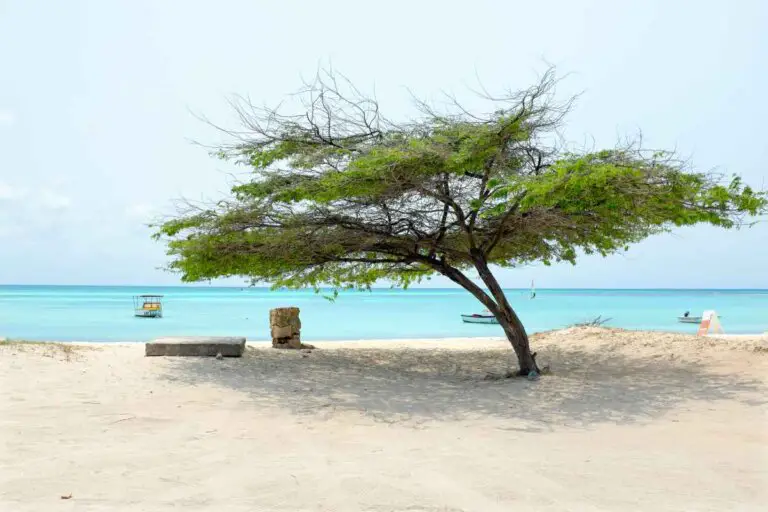 A little piece of heaven, that's how I heard tourists visiting this beautiful bay describe it, which is hidden in Malmok Beach, five minutes from the most commercial area of the island.
My snorkeling experience here was great, as the emerald waters stay clear and calm. This gave me an easy time underwater as I viewed turtles, coral formations, spotted fish, sea horses, and colorful fish species.
During the week, this beach is a quiet, private and perfect place to disconnect and rest. And on the weekends, it is still one of the quieter beaches in Aruba. However, you will encounter many more visitors, especially families looking to make the most of their Aruba vacation.
The beach area of Boka Catalina divides into two. It comprises a rocky section and a sandy section. The white sandy section is where you'll find the makeshift beach huts. On the other hand, the rocky section attracts fish.
Despite its popularity, large business establishments don't operate in Boka Catalina. That's why its natural beauty greatly stands out. So, it's worth taking snacks and drinks, to enjoy all day without worrying about the weather. By the way, I fell in love with its landscape!
7. Manchebo Beach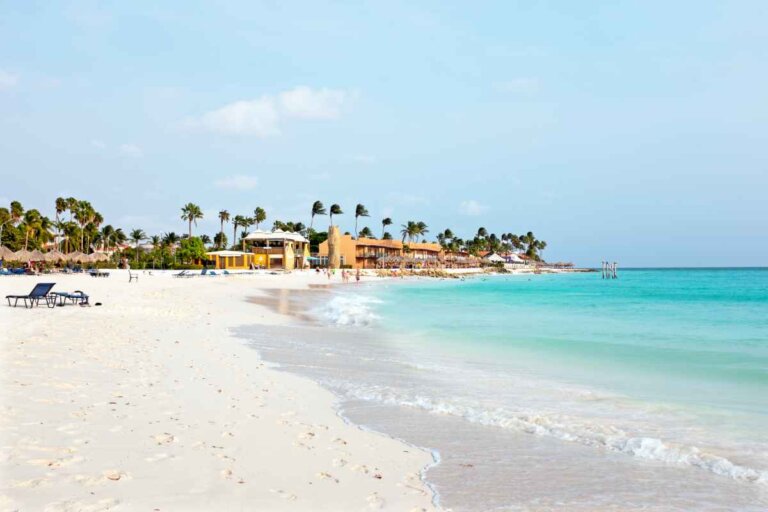 I found this beach ideal for couples who want to relax and have a good time. The beach is located next to Eagle Beach and is one of the best beaches in Aruba to visit due to the services offered by the hotels located on its shore.
The water of Manchebo Beach stays warm and calm all year round. In addition, there are recreational areas near the beach. Places that you might want to visit are the Aruba Ostrich Farm, Aruba Butterfly Farm, and Safari Jeep Tours.
One of the most luxurious hotels you can find is Manchebo Beach Spa & Resort. This hotel has an open-air spa, which has a massage center and a steam room. They also offer yoga classes, which undoubtedly appeal to many of their visitors, especially happy couples.
8. Boka Grandi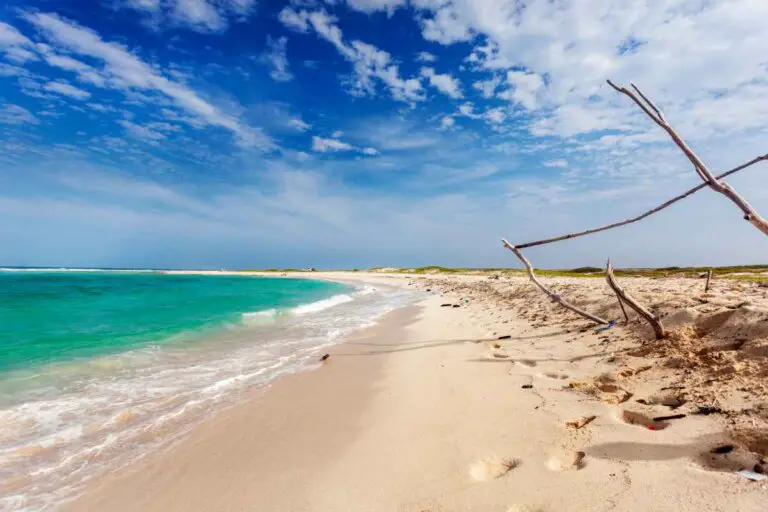 Five minutes from San Nicolas, the second-largest city in Aruban, I was welcomed by a huge and picturesque red anchor to Boca Grandi. It is one of the best beaches in Aruba that tourists love.
There you can contemplate for a few minutes the incredible acrobatics performed by experts in the sport of kitesurfing. You can also jump into the water with a board and a kite and enjoy the adrenaline. This is a stop that you must make.
Because of its beauty, the different shades of blue in its waters, and the few people who frequent it, Boca Grandi Beach is a great place to take photos.
Unfortunately, there are no restaurants operating within the vicinity of Boka Grandi. The nearest food options available for you are those that are a walking distance of Baby Beach, which is 5 minutes away.
9. Boca Prins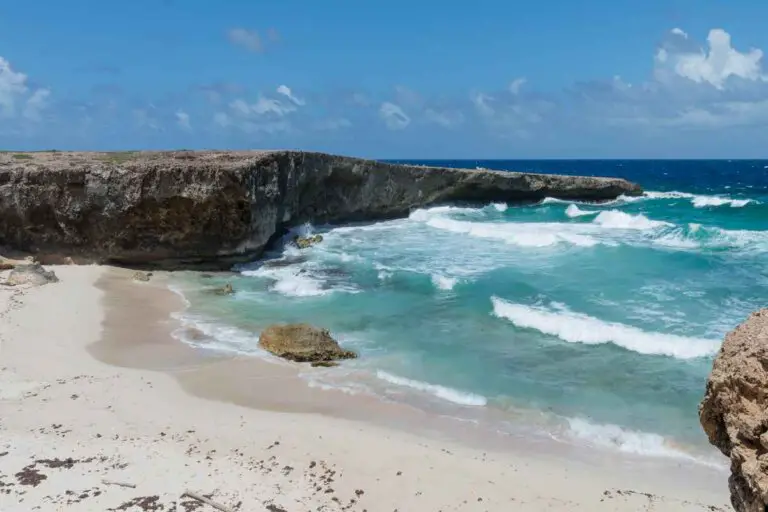 This is another beach in Aruba that stands out due to its crystal clear waters, strong currents, and huge white dunes. When you reach the coast, which is located in the Arikok National Park, you will see some wooden stairs that will guide you towards the coast.
This is one of the beaches in Aruba with waves which makes it bad for swimming due to the strength of its currents, but you can take a dip. Nearby there is a very famous restaurant, which has the same name as the beach. It is outdoor and allows you to contemplate the bay.
I recommend visiting Boca Prins if you love picnics. The thin white sand strip of Boca Prins makes a perfect place for relaxing chatting with friends or family while drinking or eating under the shade of a parasol.
10. Andicuri Beach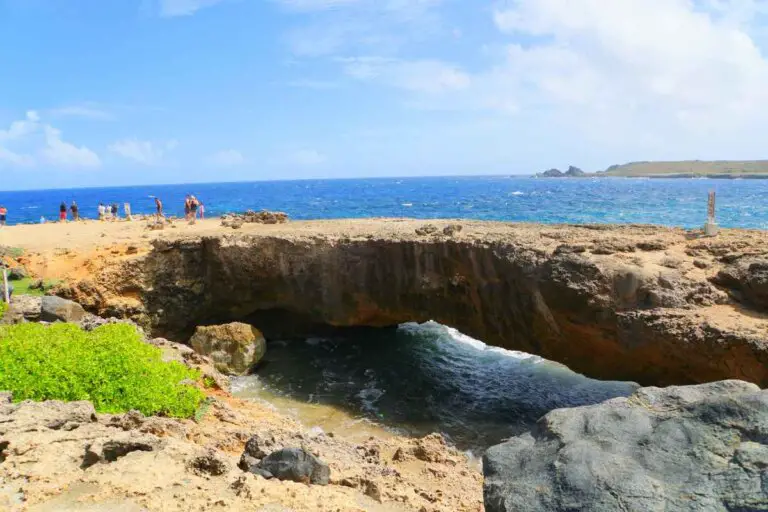 One of the beaches in Aruba that enjoy a privileged location is Andicuri Beach, an ideal spa for the practice of bodyboarding. It is located in Barlovento, bordered by two large natural corals.
It has great beauty, but usually not many bathers. Therefore, it is not among the crowded beaches of Aruba. Most of the island's bodyboarding competitions take place in this bay due to its twisting waves. This might be due to the presence of the coves that stir the water. So, I suggest that you check the schedules for this sport before you go.
Aside from bodyboarding, swimming is another popular activity though a bit dangerous. Rock formations serve as great diving platforms where you may do black flips and other diving stunts.
11. Rodgers Beach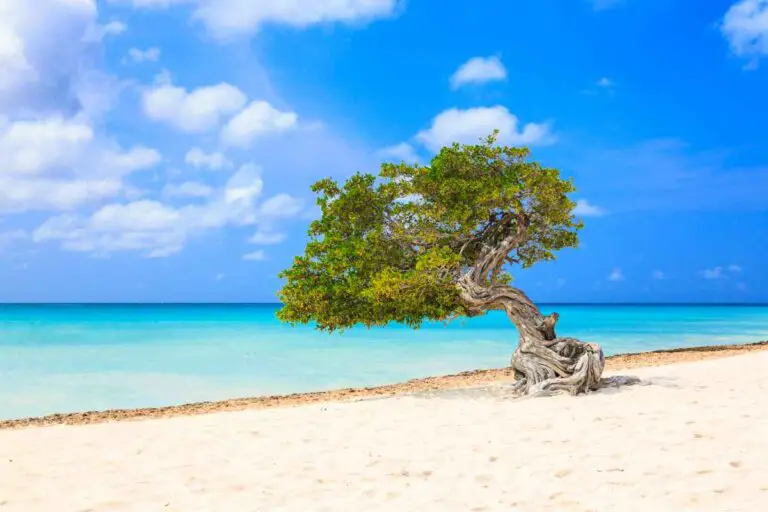 I end my list 11 best beaches in Aruba with Rodger's Beach. It is located by San Nicolas, near Baby Beach, and is one of the most beautiful beaches in Aruba. This coast is ideal to go during the week. It is the perfect place if you want to get away from the crowds and find a place where you can lie down, read or hang out. If you want to get a little more fun, I suggest renting snorkeling and diving equipment there.
On the coast of Rodger's Beach are numerous large beach huts. They can accommodate three up to four people. Other comfortable amenities are a viewing deck, beach chairs, and showers. For food, head to the restaurants that are only walking distance away from Baby Beach.