Visiting the beautiful beaches in Algarve are without a doubt one of the best things to do in the Algarve and the whole country. The region is really amazing and full of idyllic beaches. But knowing what to find and which beaches to visit, you can enjoy your trip much more.
As I had two weeks of the tour, I planned to explore the local beaches as much as possible. Despite the strong winds and waves during my stay, I was lucky enough to pass through amazing places! That's why I'm sharing the Best Beaches in Algarve that you need to know below!
But first, I must say that it is difficult to talk about the best beaches in the Algarve, as the region's coastline has 155 km of beaches for all tastes. Anyway, here is a list of my 12 favorite beaches that I recommend visiting.
Best Beaches in Algarve
1. Praya da Marinha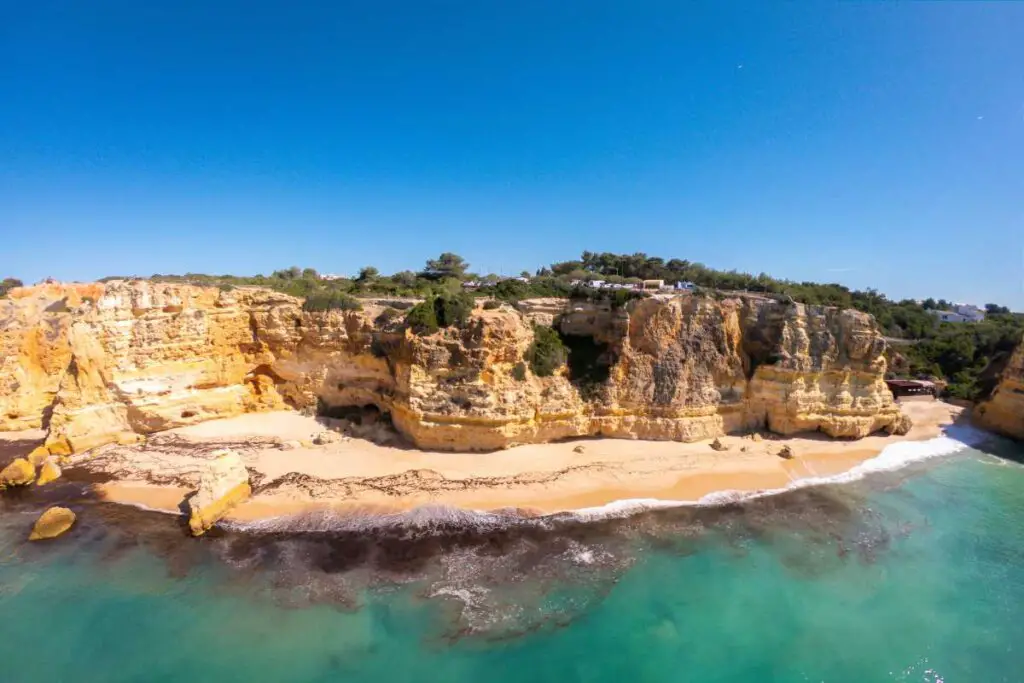 Playa da Marinha is a beautiful beach between cliffs and crystal clear waters, considered by many to be one of the most beautiful beaches in Algarve, and the truth is that I found it incredible. It has also appeared on numerous lists of the most beautiful beaches in Europe.
It is located in Carvoeiro, a picturesque fishing village in the Algarve. It is an ideal beach to spend the day with the family and enjoy snorkeling, as it has spectacular marine fauna. In addition, its photogenic cliffs, caves, and rocks create a landscape difficult to forget. I recommend climbing the cliffs to see the views of the coast from there.
As a fact, I will tell you that it does not have any restaurant, only a small bar.
Read More: 14 Best Things to Do in the Algarve
2. Praia Dona Ana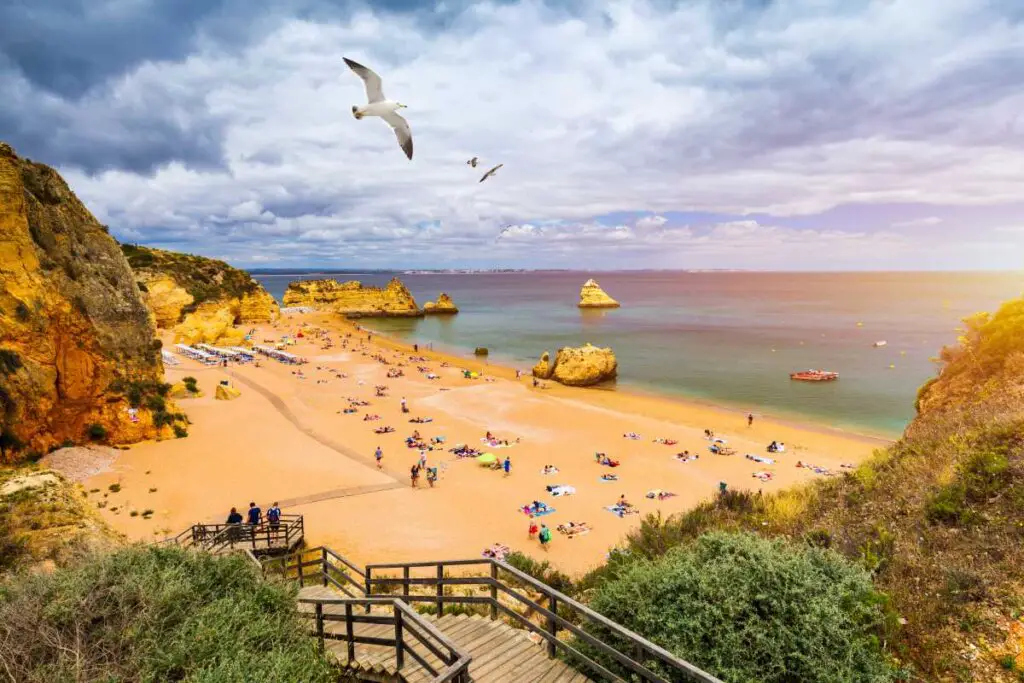 A beach full of titles. It was elected the best in the world by Conde Nast Traveler magazine in 2013 and the most beautiful in Portugal.
It is located on the Costa D'Ouro, an area that is named for the golden tone of the sand and rocks. They say that this beach was much prettier in the past when there was less human intervention. I believe. But it's beautiful, just the same.
It is quite large and has a lifeguard service and sunbeds and umbrellas for a fee. Access is by wooden stairs. Near the car park, there is a small shop to buy soft drinks or a snack. The Marisol restaurant offers food with very bad reviews but with unbeatable views, at least for a beer.
You can traverse the surrounding rock cliffs of Praia Dona Ana because there are natural pathways for you to follow. However, be careful when doing so because footholds are a bit loose and can make you slip. Moreover, sharp pebbles are on the ground. Therefore, wear a set of protective clothing before doing this.
3. Praia do Camilo
This is also one of the beautiful beaches in Algarve, in the town of Lagos. To access it, you have to go down many stairs down the cliffs. The landscape is dominated by formations of karst origin, with caves, bizarre formations, rocks, arches, and other crags, which offers a beautiful view of this beach. And being nestled between rocks, it is immediately shaded in the afternoon and in summer.
Its cold and crystalline turquoise waters invite you to swim and dive, while its clean and clear sand invite you to sunbathe. My advice is to try to go as early as possible, as the beach is a bit small and parking runs out quickly. Also, it is better to go in the morning, which is when it gets the most sun. Even so, perhaps the most important thing is that the tide is low since the beach is much smaller when it is at its highest point.
Read More: 17 Best Things to Do in Porto
4. Praia do Barril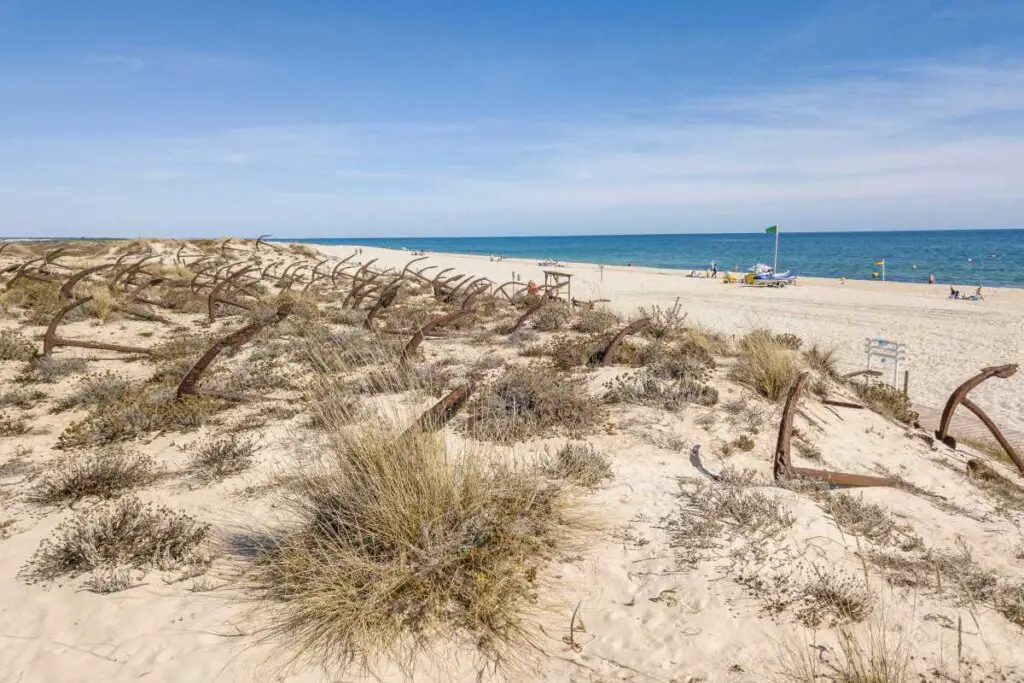 In my opinion, Praia do Barril is one of the best beaches in the Algarve. Located on one of the islands of the Ria Formosa, specifically that of Tavira, it is a beautiful golden sandy area where you will not lack space to throw your towel. The water is usually quite calm, so it is perfect if you travel with children. The dunes also serve to stop the wind that usually blows in this area.
At the backshore of the Praia Do Barril are a series of neatly arranged anchors, rusting and emptily looking at the ocean. These were the anchors of the tuna fishing boats in the past. After the fishing community left Praia Do Barril, the anchors of their ships were then used as memorials to commemorate the once-thriving tuna fishing.
There are several walkways to follow. And aside from the Cemetery of Anchors, they will take you to other attractions such as the Museo do Atum, Blue Beach Bar, Praia do Barill old town, and Parque Natural da Ria Formosa. There's also a mini-train that kids and adults will enjoy.
5. Praia Joao de Arens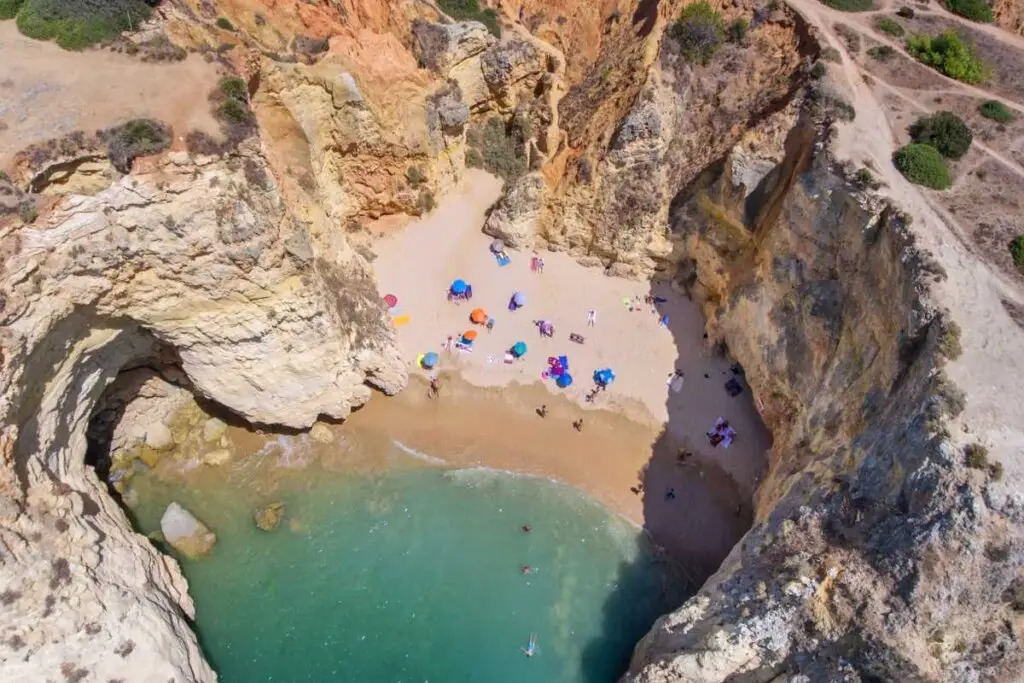 If you asked me which is the best beach in Algarve that I fell in love with is Praia Joao de Arens.
Praia Joao de Arens is a true gem that goes almost unnoticed. Although in the comments on Google Maps, it seemed that getting there is a difficult task, the truth is that you just have to walk 5 minutes from the parking lot and look for the path that will help you go down to it through the gullies. While it is true that it is not the easiest thing in the world, any minimally agile person can arrive without any problem, even carrying gear like we were.
The first thing you will find is a small unspoiled cove with a fabulous setting. The atmosphere is usually young, and it is not uncommon to find people practicing nudism since it is considered a naturist beach. On the left, you will see a small tunnel easy to cross both at low and high tide (easier at low tide if you are loaded). I promise you that the view is truly glorious.
On the other hand, you will not get bored for a second. You have several interesting caves and snorkeling areas. Remember to bring food and drink. There is nothing at all.
Read More: 22 Best Things to Do in Portugal
6. Praia da Rocha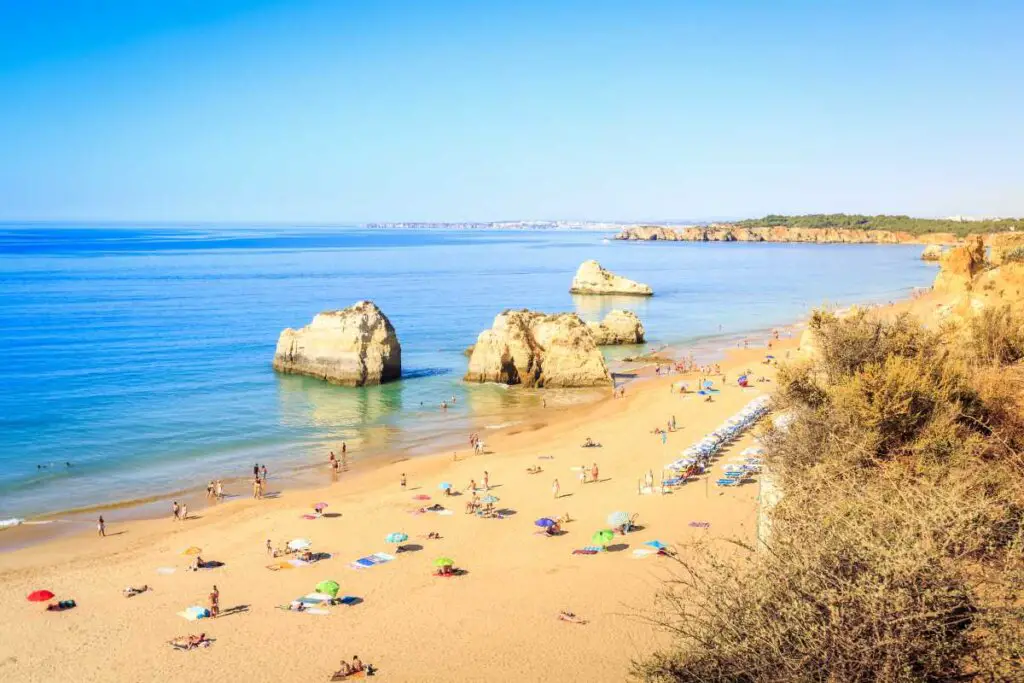 This is arguably among the best beaches in Algarve and also one of the most spacious. Although not as special as the previous ones, Praia da Rocha is a huge beach perfect for families and for those who do not want to complicate their lives to enjoy the sea. In addition, you can stay calm if you go with children because the water is normally calm thanks to the dam on the left side. There are also have plenty of places to rent loungers and umbrellas.
Although this beach may not attract much attention, I advise you to set aside a couple of hours to take a walk along the coastline and have a cocktail in one of the many bars and restaurants in the back area. The atmosphere is super laid back.
7. Benagil Cave Beach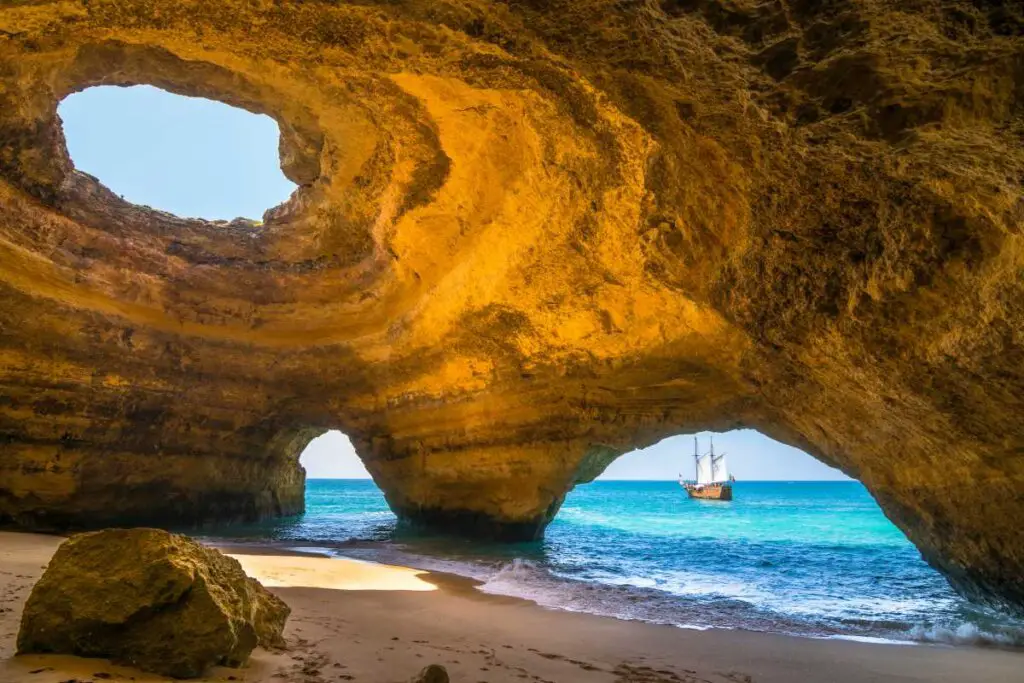 I finally reached one of the most popular places in the Algarve! The Benagil cave rose to fame a few years ago on Instagram, and the town has taken advantage of the pull. With curiosity, I also decided to visit it, and I have to admit that the cave, with that huge hole in the ceiling through which the sun enters, is beautiful.
The first thing you have to know is that Benagil Cave beach is actually a cave with a small beach inside that has been considered one of the most beautiful caves in the world. Tourists mainly come here to have fun and get to socialize.
How to get to the Benagil cave? Well, basically, you have three options:
Swimming:I did not know it. But if I had noticed it before, I would have done it that way. The entrance to the cave is about a 5-minute swim from the left side of the main beach. If you are a good swimmer and the sea is not rough, I advise you to do so.
By kayak:I opt for this. I paddled to the cave, and then I visited Praia da Corredoura and saw the famous Praia da Marinha from the sea. If you are good with kayaking, you can also stop at Mesquita. I liked the walk a lot since I went through some pretty cool caves.
By boat:there are excursions that take you to see the Benagil cave (they do not usually get off the boat) and other neighboring caves and beaches.
What time to go to the Benagil cave? My advice is that if you want to see the cave in its splendor, even if there are more people, it is that you do it between 11:00 and 13:00, which is when the sun is high and more light enters through the hole. For this, I recommend that you go around 10:00, since parking is not easy and there is usually a queue.
8. Praia da Falesia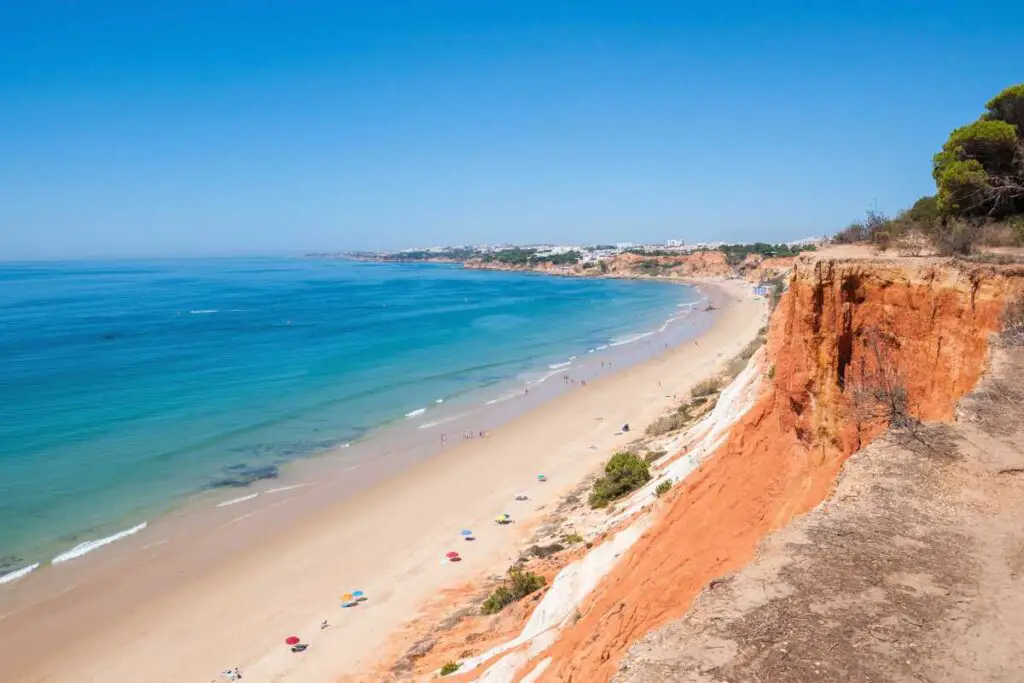 I already told you above that Praia Joao Arens stole my heart. But, if I had to tell you another beach in Algarve that you cannot miss, I think it would be Praia da Falesia. The first time I saw it, it blew my mind.
This is a very extensive strip of blonde sand protected by huge reddish rock walls full of hypnotic gullies. 'Falesia' means cliff, so it will be the first thing that catches your attention, especially since you will have no choice but to start seeing it from the heights and then descend.
Along this beach, you have all the services you want: lifeguards, sun loungers, restaurants, and of course, the traditional vendors of Bolinas.
9. Praia de Vale do Lobo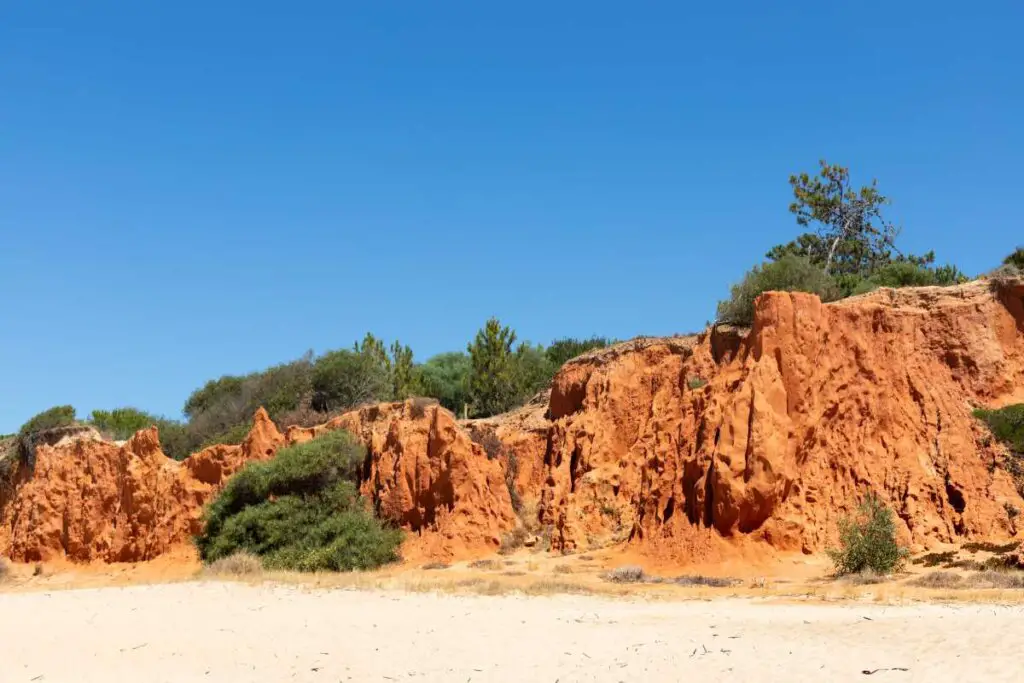 If you're looking for very luxurious beaches in Algarve, the Praia De Vale Da Lobo is where you should go. You'll find this in Portugal's Golden Triangle, a famous district in Algarve where locals and foreigners enjoy their stay.
Praia de Vale do Lobo is very spacious, with several stretches of sun loungers and umbrellas, restaurants, and bars overlooking the sea. The problem? That most of the parking is paid by the hour, so surely you will have to scratch your pocket a bit. Still, I think it's worth it. That's why it's one of my favorite beaches in Algarve.
All in all, finding a great place to stay or eat won't be a problem if you're in Praia De Vale Da Lobo. Instead, the problem is how you make your money last considering that it is a very premium beach. To save money, consider booking a hotel or villa on the outskirts.
10. Praia do Farol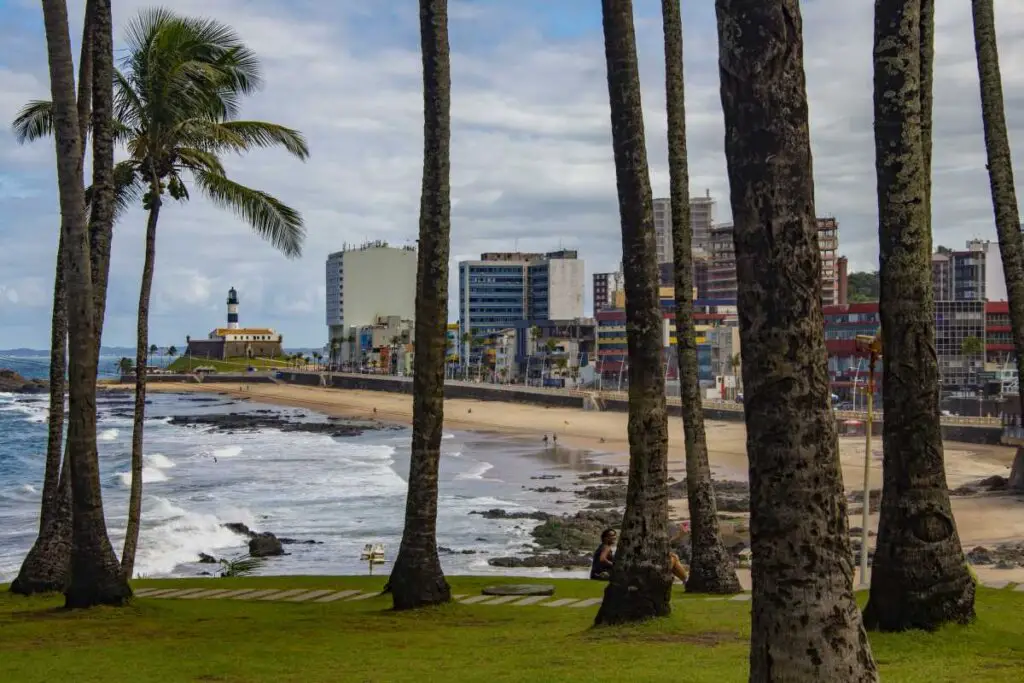 Praia do Farol is a true paradise and one of the most beautiful beaches in the Algarve. With almost white and fine sand and turquoise water, it seems wonderful to me, especially considering that it is also one of the least visited.
Near this beach are several classic-style Portuguese villas that you can rent for days to enjoy their nighttime vibe. Options range from simple one to four-bedroom villas. From the villas, you can access nearby restaurants such as Tasca Do Celso, Ah Fateixa, and Paparoca.
In addition, you can head to the nearby river Mira and try fishing or kayaking. Be careful because its flow becomes a bit turbulent during high tide. Wear a personal floatation device to ensure your safety.
11. Praia de Amoreira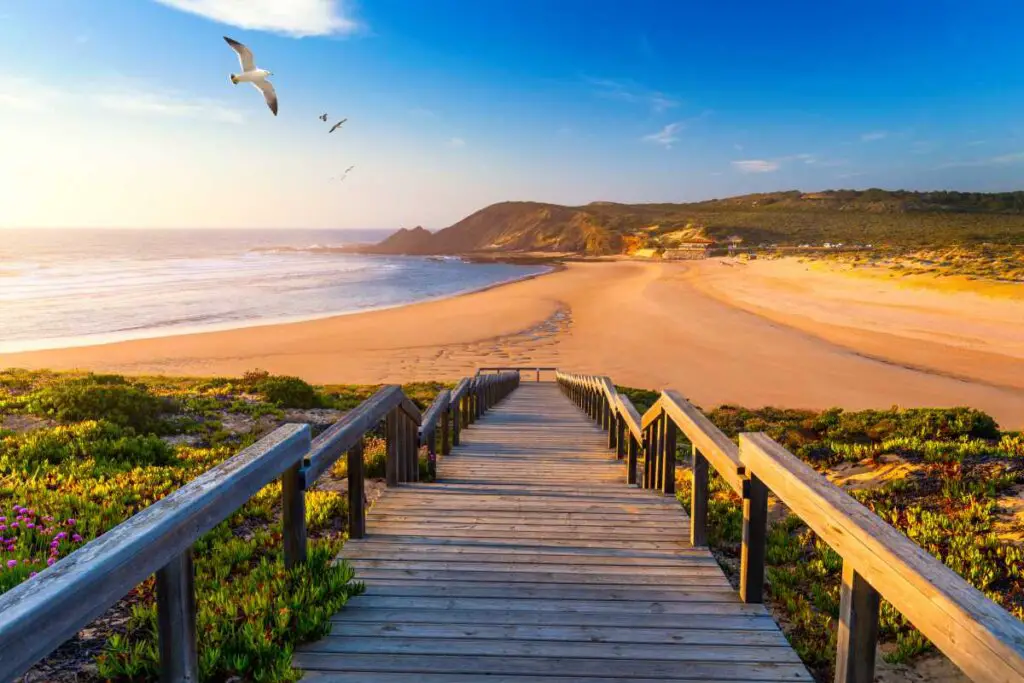 Praia de Amoreira is, perhaps, one of the best beaches in Algarve for those who love surfing. It is a huge beach where waves are usually not lacking. Their strength is just enough for intermediate and beginner surfers. However, you should take care since the waves pass by a few rock formations on the seawater. Nevertheless, if you're experienced, accidents aren't bound to happen.
Praia De Amoreira becomes very beautiful at low tide. The recession of the seawater reveals a lot of rock formations that the seawater covers during high tide. The gray and black backdrops of the surrounding rock cliffs and mountains make the view more beautiful.
12. Carvoeiro Beach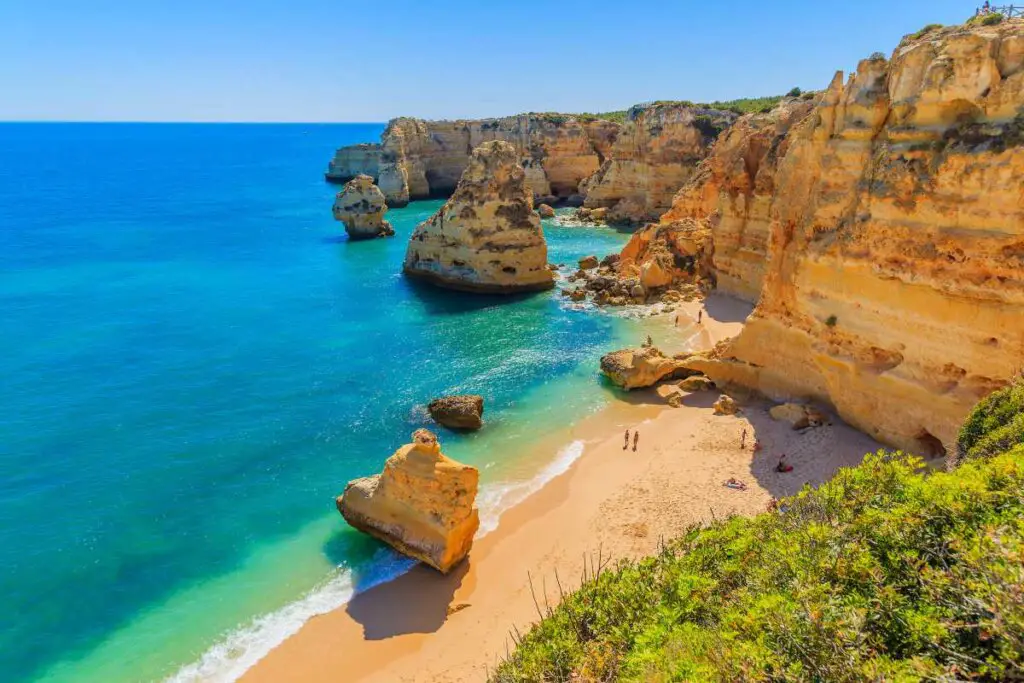 Praia do Carvoeiro is one of the most emblematic places in the Algarve and is located in Lagoa. It's a small beach, but with a spectacular view. From the top of the cliffs, you can see the super transparent seawater and many colorful houses. Without a doubt, it's pure charm.
In addition to getting to know the beach, you can stroll around the alleys around the beach, buy souvenirs, and have lunch. There are plenty of local shops and many restaurant options. I also toured the trails on top of the cliffs to "A Boneca," a tunnel in the rock with a "window" to the sea.