I'm sure you've heard of the beautiful city of Lisbon, which is the Portuguese capital. But have you ever been there? If not, I highly recommend that you visit one day!
Lisbon is one of Europe's most beautiful cities, and it has a lot to offer for tourists. From the beautiful architecture to the delicious food, this capital of Portugal has it all.
One of Lisbon's most notable features is its cobblestone streets. The homes and businesses are built so close together that they create a seamless maze for tourists to get lost while exploring!
So if you're looking for some great sights while traveling to this city, then this blog post is perfect for you. I've compiled a list of 21 Best Tourist Attractions In Lisbon worth checking out next time you're there. Read on!
Best Tourist Attractions In Lisbon
1. São Jorge Castle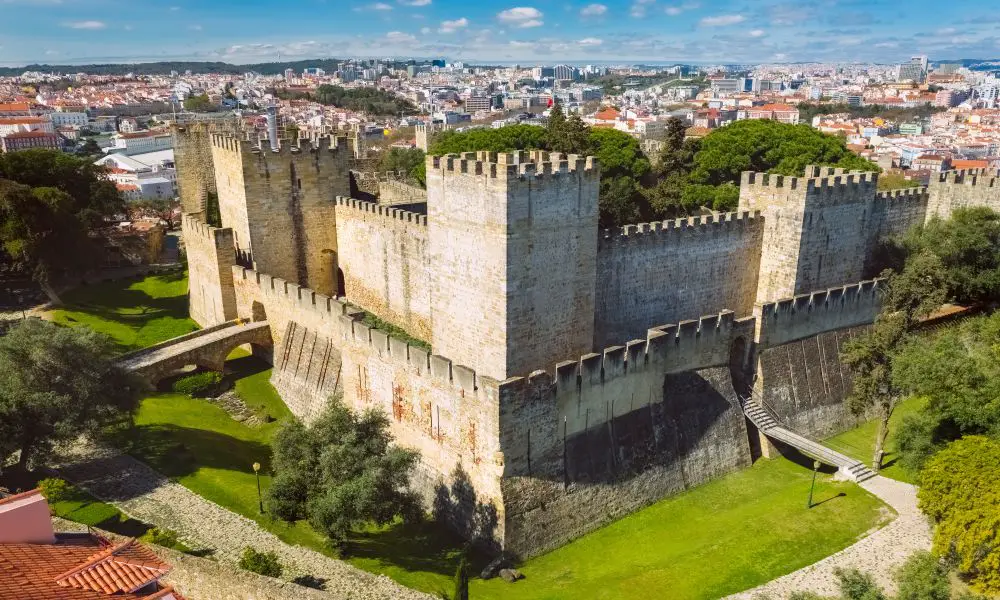 One of the most popular tourist attractions in Lisbon is the Sao Jorge Castle, which was built during the medieval period. Its history began in the fifth century when Arabs invaded Lisbon, and it was they who erected this formidable military defense structure.
Later, Christians conquered the land and used parts of the fortress to construct a monastery dedicated to St. George.
Throughout history, this castle has played an important role in several events, including protecting citizens from pirates and assaults by rival groups.
Today, it's one of Lisbon's most interesting attractions that features interesting exhibits that tell visitors about its history. And you can reach it by climbing up through Alfama winding streets.
Visitors will learn about Portugal's monarchy past as well as marvel at weapons used to defend against alleged invaders.
One thing you must do when visiting this attraction is to climb the ancient battlements and enjoy one of the most beautiful panoramic views of Lisbon.
The castle itself is majestic and imposing, while the view from the top has been enchanting locals and visitors for centuries.
A visit to this attraction can be combined with other activities such as river cruises or even sunset on the Tagus River. This is because the castle is just downriver from many Lisbon attractions on the waterfront.
Read More: Best Tourist Attractions In Portugal
2. Museu Nacional dos Coches
The National Coach Museum is one of Lisbon's finest museums and home to the country's most impressive collection of horse-drawn carriages. This is a world-class attraction that you can find tucked away in the western city district of Belem.
To get the most out of your visit, I recommend hiring an audio guide (available in several different languages) as it provides detailed information about the history and development of Portugal's horse-drawn traffic.
You'll need at least half a day to explore everything on offer here. This is because this lavish museum features over 160 beautifully crafted coaches, which date from as far back as 1769 right up to modern times (the latest addition was gifted by Spain).
Of particular interest for those in horse-drawn transportation is the impressive collection of royal carriages. The highlight for me was an ornately decorated coach belonging to King Joao V that has been preserved as it was on the day of his death in 1750.
During my visit, I also got to see another famous carriage belonging to Queen Maria Pia of Savoy, who reigned between 1862 and 1889.
The coaches in the museum are nothing short of spectacular, and range from small barouches up to huge royal carriages with gold inlaid woodwork. There's also a smaller collection in which you can actually step inside.
3. Time out Market Lisboa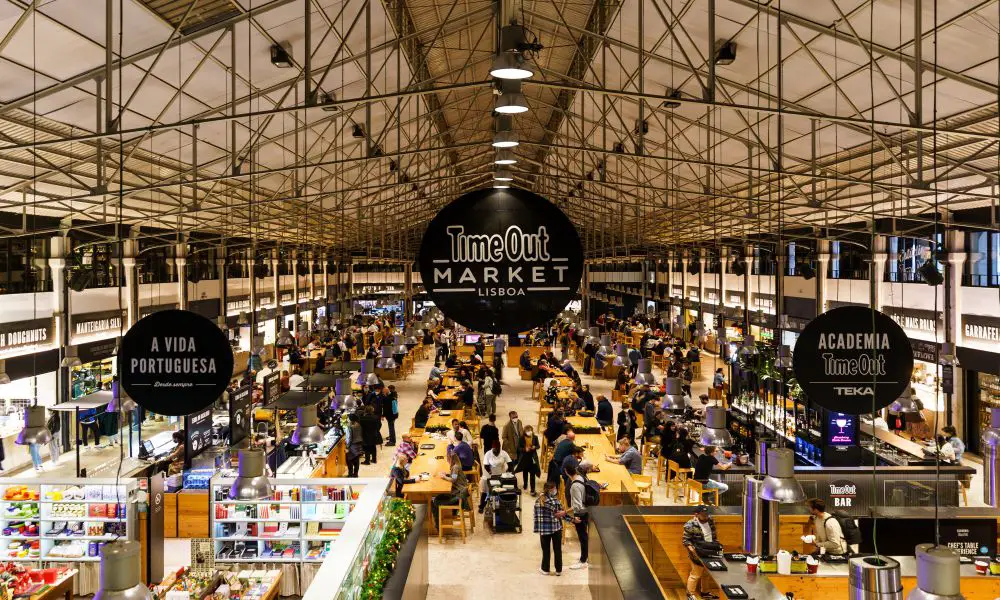 If you're a fan of eating, drinking, and socializing with friends, I recommend checking out Time Out Market Lisboa. Located in downtown Lisbon, this is one of the newest tourist attractions.
Time Out Market is a food court, much like any other, you have probably seen around the world. But not only is it the largest of its kind in Portugal, but it's also an innovative concept that has received huge acclaim from visitors and locals alike.
The market combines an incredible spread of artisanal food producers with some of Lisbon's top restaurants. As well as delis where you can buy traditional Portuguese wines and cheeses, there are bars serving locally brewed craft beer, smoky barbecue skewers, sandwich shops, sushi counters, and even gelato stalls (unusual for this part of Europe!).
I came here at 8 pm on a Saturday night and was greeted by the longest line I've ever seen for any restaurant. I bought a couple of snacks while I was there, including pasteis de Nata (egg custard tart pastry dusted with cinnamon).
The market is open daily from 10 am until midnight. But if you're looking to go for a food tour and sample some local food specialties, then it's best to visit at lunchtime as these tend to be served up during those hours. In the evening, the market becomes lively with bars playing live music.
Read More: Best Tourist Attractions in Lagos
4. Cristo Rei Statue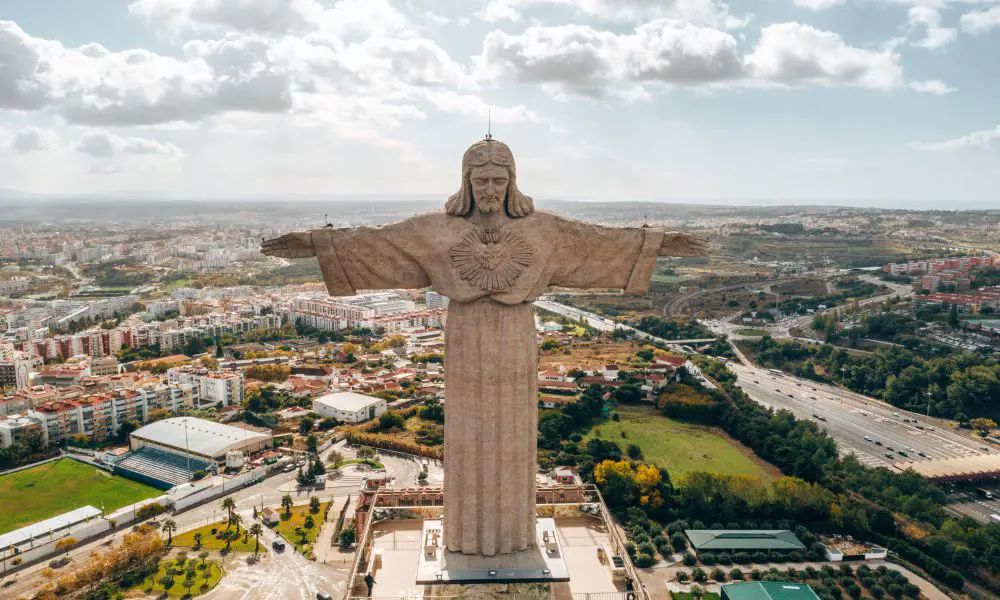 Lisbon has its fair share of statues, but none are quite as unusual or vast as the Cristo Rei statue that famously overlooks the entrance to the city.
There's no denying that this monumental statue is one of the major tourist attractions in Lisbon, standing proudly on top of a 20m granite pedestal with an amazing view over the city and river Tagus. The whole structure stands 27m tall.
This imposing statue was created by famous Portuguese sculptor Emanuel dos Santos Ferreira in 1959, who spent four years working on it before unveiling his masterpiece to the world.
The statue depicts Jesus Christ with arms stretched, looking out across Lisbon towards the 25 de Abril Bridge (something I actually noticed during my visit).
The sculpture is located in the town of Almada, which is a city that's part of the greater Lisbon metropolitan area and across the Targus River.
So, it was its position that sparked my interest in visiting. I thought it would be fun to stand on one side of the river looking out towards Lisbon and then cross over into the city on a boat from Almada.
5. Rossio Square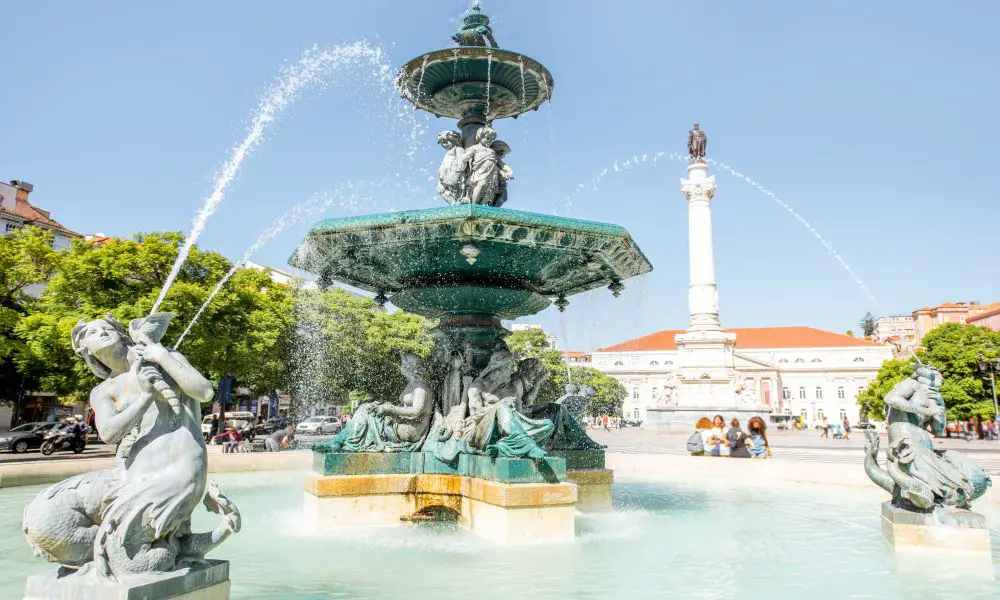 The historic Rossio Square, also known as Praça Dom Pedro IV, is one of the top attractions in Lisbon. Developed initially during ancient Roman times, this square has had many incarnations over the centuries, including religious buildings, theatres, and markets.
It was first opened as a public space back in 1764, on the orders of King Joseph I. The area used to be home to a monastery that dated back to the 14th century.
Still, it was bulldozed during an urban renewal project undertaken by Napoleon's troops during their occupation of Lisbon.
After being designated as a public garden around 1870, Rossio Square became even more famous as Lisbon's town hall was built between 1882 and 1911 (it takes up two sides of the square).
The square is lined with beautiful statues, including one of King Pedro IV sitting on his horse. At night, it's illuminated by street lamps decorated with gilded bronze pineapples (which symbolize hospitality) and ornate fountains.
Another interesting feature of this historic city center landmark is the grand neoclassical building that houses Lisbon's opera house.
Rossio Square is one of the most beautiful things to see in Lisbon, and it should be at or near the top of your list of places to visit when you're here.
It's just a walking distance to Santa Justa Elevator (see below), and it's worth strolling through this square before or after you take that ride.
6. Jerónimos Monastery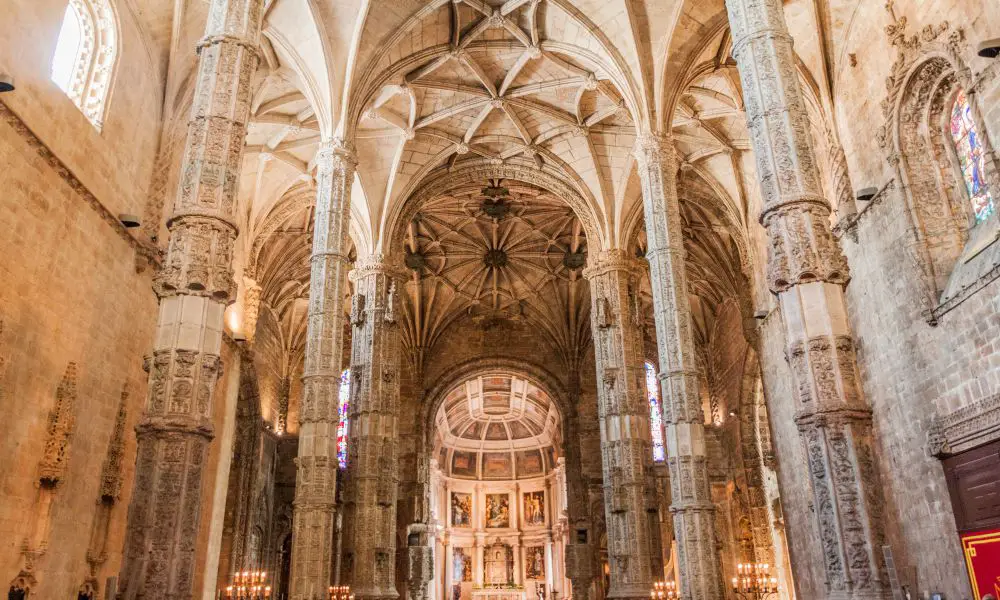 If you only have one tour in Lisbon, make it this one. The Jeronimos Monastery is a UNESCO World Heritage Site located in the Belem district of Portugal's capital city and is considered to be one of the most impressive tourist attractions in Lisbon due to its sheer size and historic design.
The monastery was built by King Manuel I in 1501 as a tribute to Vasco de Gama's successful voyage to India in 1498. The stunning monastery has beautiful rounded arches throughout and features some incredible architecture from the 16th century.
This includes a distinctive lantern tower that served as a beacon for ships entering Lisbon Harbor. There's also a museum inside if you want to learn about the history of the monastery in more detail or perhaps see some painted altarpieces.
I had a guided tour of the monastery, which was included in the price of my entry ticket. Not only did this feel like an amazing privilege, but it also gave me more background on some of its artwork and history.
Finally, I would recommend that you don't just rush straight to the museum when you first visit here. Try to soak up some of the atmosphere first by exploring parts of the monastery's exterior before entering through its distinctive wooden doors.
7. Oceanario de Lisboa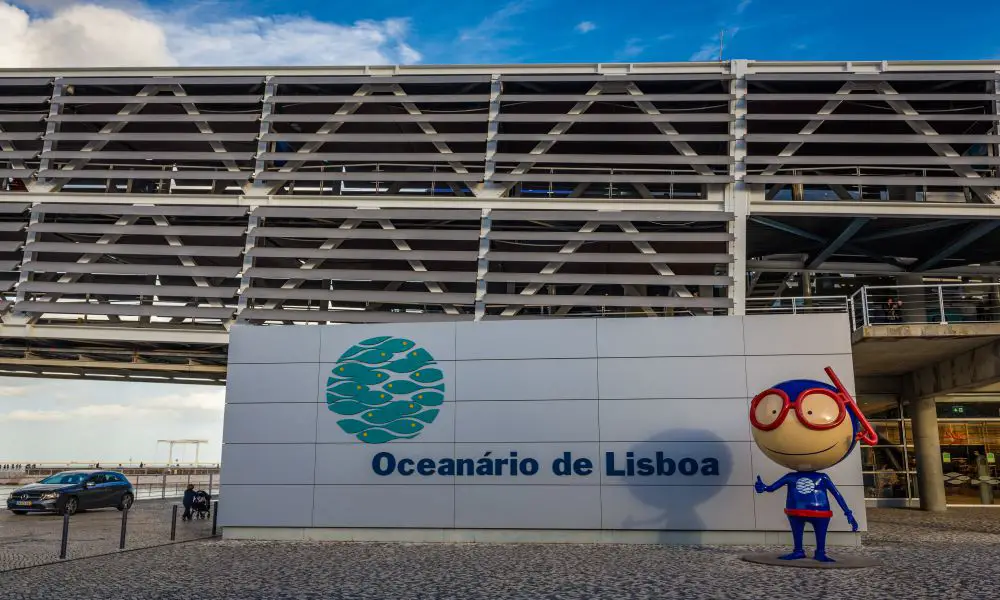 The impressive Oceanario de Lisboa is one of the most popular tourist attractions in Lisbon, and it's easy to see why. It stands on the edge of Parque das Naçoes, an area previously dominated by the huge Expo '98 fairgrounds that was once home to the city's thriving port.
Within its permanent exhibitions, one can observe species from all five oceans displayed in over 5 million liters of seawater tanks.
These include sharks, rays, sea turtles, lobsters, and many other fish. The Oceanario de Lisboa also has temporary exhibitions that display special aquatic life forms. These may include seahorses, jellyfish, or piranhas.
This attraction was opened in 1998 to celebrate the anniversary of the Portuguese Discoveries. It was an ambitious project that cost almost half a billion dollars.
It was designed by architect Peter Chermayeff while engineering consultancy Atkins provided specialist marine engineering.
The entire facility was designed to mimic the coastal waters found along Portugal's extensive coastline. Many tourists flock here just for a quick visit, although you can stay all day if you want. After all, there's plenty to see!
Read More: Best Tourist Attractions in Porto
8. Museu Calouste Gulbenkian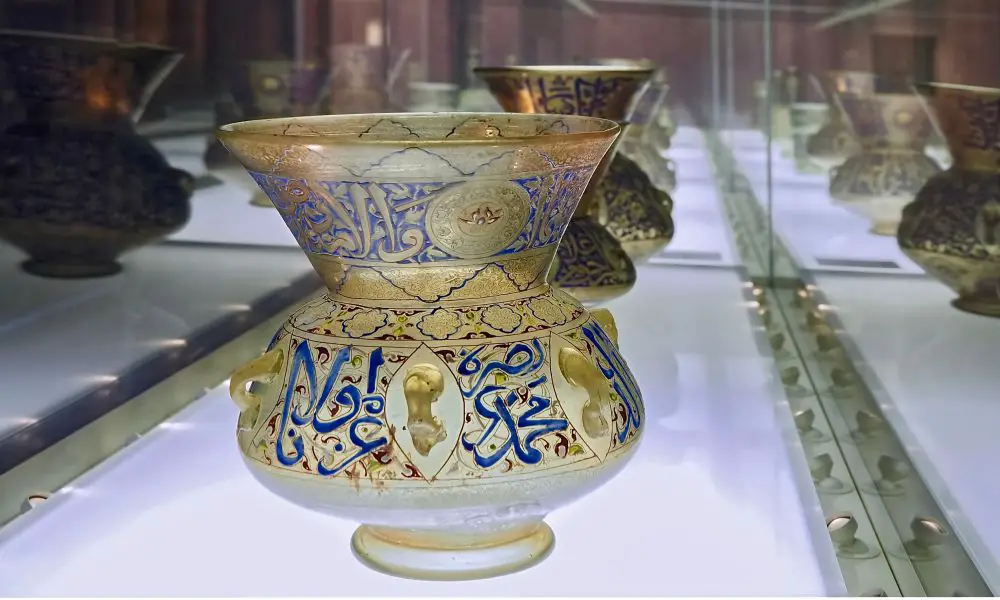 One of the top-rated tourist attractions in Lisbon, if not all of Portugal, is the Museu Calouste Gulbenkian. This museum is named after the Armenian oil turned philanthropist who left his incredible art collection to Lisbon as a cultural gift upon his death in 1955.
The building that houses this impressive collection was designed by architect Pedro Cid, Ruy Jervis d'Athouguia, and Alberto Pessoa back in the 1960s. It has become one of the city's major landmarks thanks to its fantastic brutalist architecture.
The interior of the museum continues this modernistic theme with stark white spaces holding the artwork off like pieces on display at an art gallery rather than part of some warm domestic home setting.
Most of the work here was donated by Mr. Gulbenkian, although he also bought paintings from time to time when they caught his eye. The museum opened in 1969 and holds more than 6500 pieces, mostly gathered from Europe's great art centers: Paris, London, Rome, and Amsterdam, among them.
The collection is eclectic, with everything from textiles to ceramics on display alongside sculptures and paintings, including some masterpieces by artists such as Picasso, Toulouse-Lautrec, Monet, and Rembrandt.
My personal experience at this place was cool seeing all the artwork inside! So, if you're in Portugal and you want an insight into this complex man, then I recommend you put this on your list of things to do in Lisbon.
9. Torre de Belem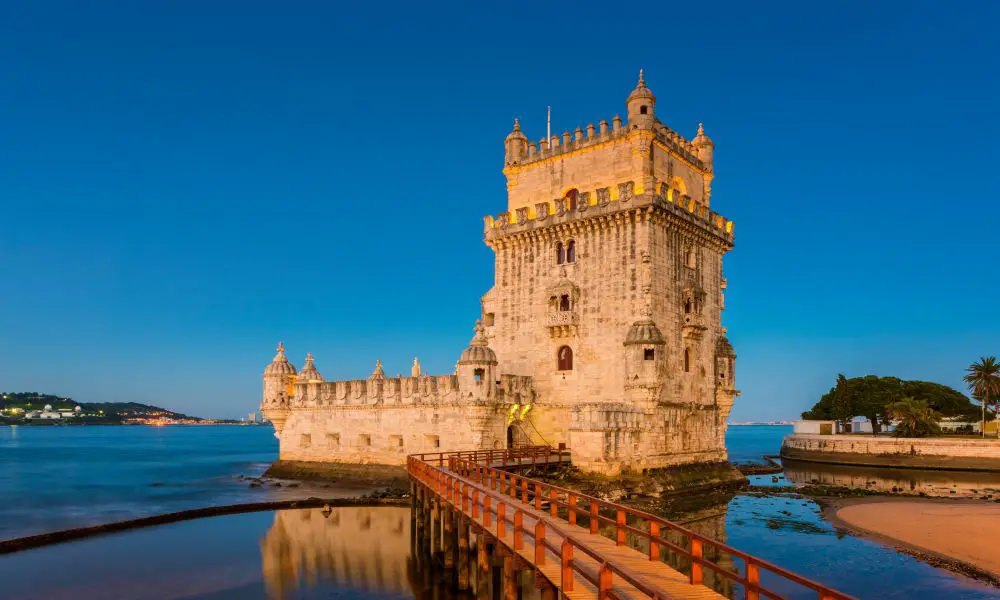 Another of my favorite things to do in Lisbon is visiting this 16th-century fortified tower. The construction of this tower was first suggested by King John II sometime around 1450. However, it wasn't until 1515 that his successor, Manuel I, took up the project with serious intent.
A team of military architects from Italy worked under Felipe Terzi to conceive a structure that would help defend Lisbon against pirates and corsairs who once had free rein on the vast Atlantic coastline.
Today, the Torre de Belem serves as Lisbon's Maritime Museum. You can take a walking tour and enjoy exhibits ranging from historic navigational instruments through models showing how sailors lived during different centuries to recent nautical discoveries. In addition, there are several cafes around where you can grab a bite to eat.
You can climb to the top of the tower and enjoy the great views across the river and even see The 25th April Bridge.
10. Museum of Art, Architecture, and Technology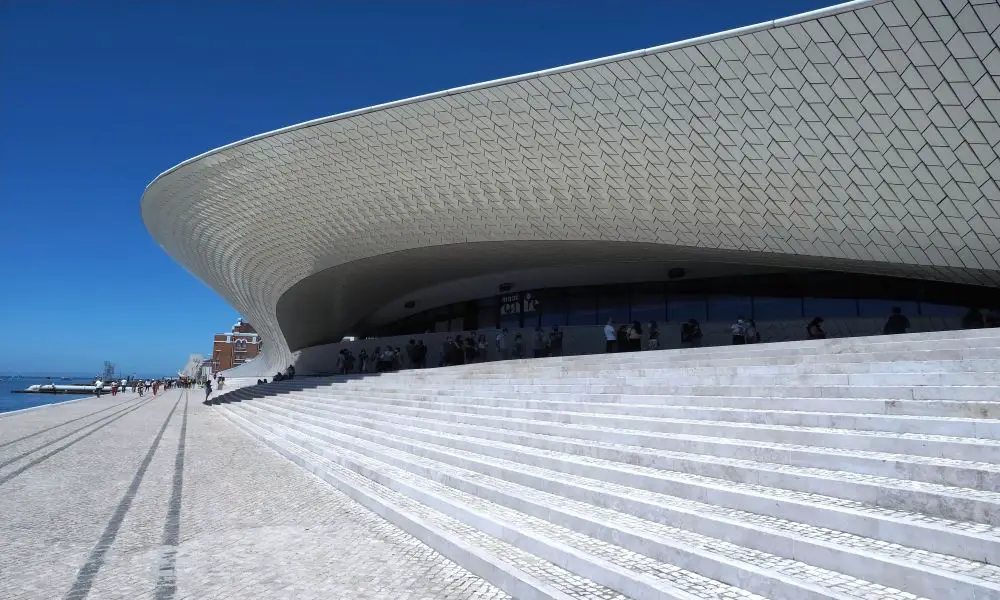 The Museum of Art, Architecture, and Technology (MAAT) is another Lisbon attraction you should add to your list.
The building itself is a work of art, with shiny metallic walls and sloping roofs that resemble aircraft wings. It was designed by the great Amanda Levete Architects with an exterior made of metal panels in shades of gold inspired by the colors of the Tagus River.
Most of the exhibitions are organized by the museum's curators on topics related to architecture, industrial design, or visual arts history. However, they also host special projects conceived in collaboration with other institutions around the world.
There are early computers from the 1950s as well as a room full of typewriters dating from decades past. You'll come face-to-face with a replica of Apollo 10 (the spaceship that carried Neil Armstrong and Buzz Aldrin to the moon for their historic 1969 landing).
I was very impressed with this museum as it is both interactive and dynamic with an excellent collection of modern art items that are constantly being changed around.
So you could easily spend an entire day taking in all the art on display (it's not too big). There are also guided tours available, which I recommend checking out if you get the chance.
11. Day Trip to Sintra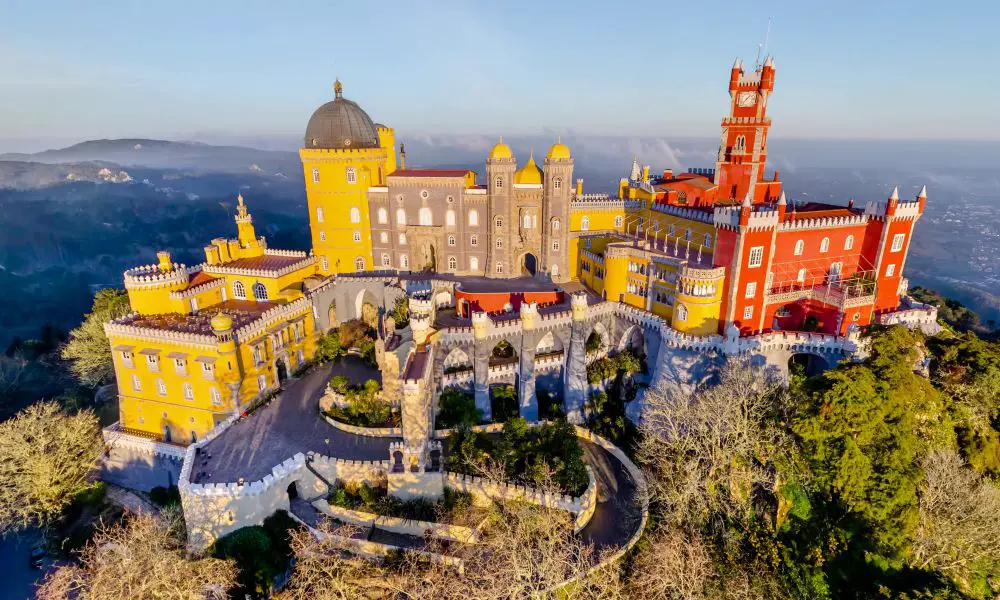 Sintra is one of my favorite Lisbon tourist attractions. Located just 30km to the west of the capital city, this town has long been a popular retreat for aristocrats and royals.
The reason for its popularity dates back to when it was home to an impressive National palace, which later became designated as UNESCO World Heritage Site in 1995. 
At first glance, Sintra looks like a picture-perfect example of a historic Portuguese village: cobbled streets and whitewashed houses with red roofs and window boxes spilling over with flowers.
But as soon as you arrive, you'll start to notice that Sintra's charms are a little more unusual than the average Portuguese town.
First, there's the sheer number of palaces and castles (around 30 in total), the popular one being the Pena Palace. All are connected via winding paths through meandering postcard-worthy streets.
It makes for quite an adventure and one that will amaze you with its rich history and beauty of unsurpassed quality.
In addition, you can visit the Cabo da Roca, which is considered to be one of the seven wonders of Portugal.
The rock is located at the westernmost point of the Sintra Mountain Range. So, I'd recommend visiting at least once during any trip to Lisbon.
12. Go Beach Hopping Costa da Caparica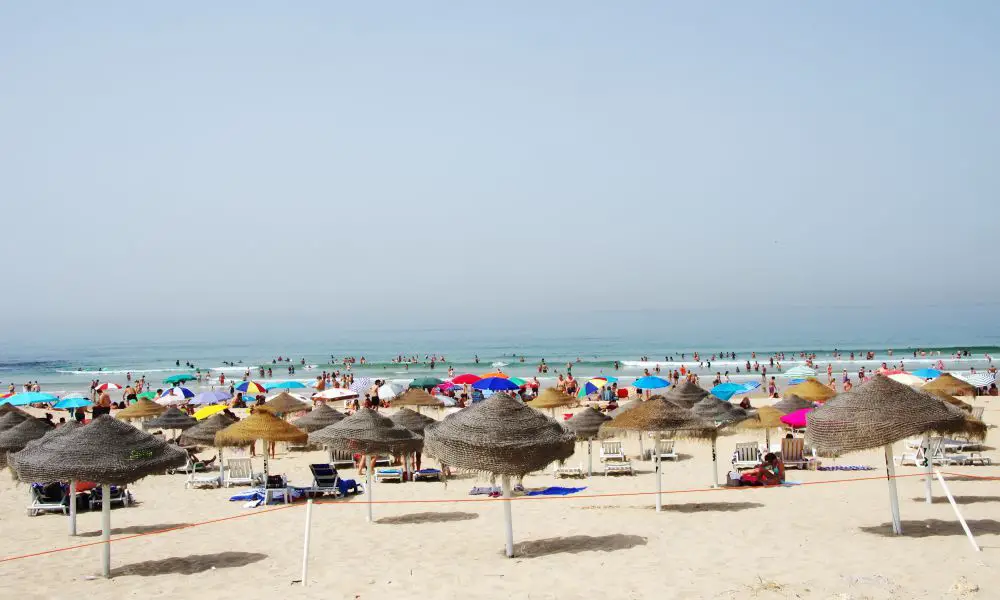 Around 16km south of Lisbon is the Costa da Caparica coastline, one of Europe's most impressive beaches. What makes it so special are its long stretches of sand separated by rocky headlands that jut into the Atlantic Ocean.
The best way to experience this beach is by hopping from one end to another using a regular boat service. This area has several small resorts with bars and restaurants to suit all tastes, including seafood shacks on stilts right over the water.
There are also plenty of other activities on offer if you want to make a day trip out of it. You can go surfing, windsurfing or even horse riding along the dunes!
If you feel up for an extra challenge, try your hand at paragliding. In addition, you can also check out the beaches along Cascais, with its pretty seaside resort.
13. Museu Nacional do Azulejo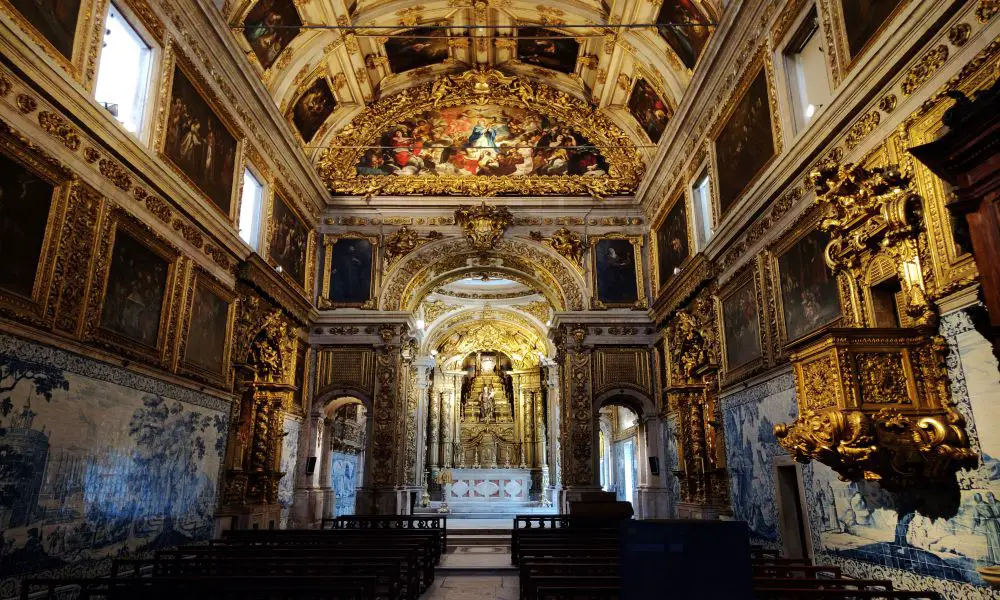 Additionally, one of the more popular tourist attractions in Lisbon is the Museu Nacional do Azulejo (MNA). This extraordinary museum is located within the church of the Convento da Madre de Deus.
Azulejos are reflective glazed tiles that were created during the 16th century and became popular throughout Portugal by the 17th century. By 1884, azulejos had become an integral feature of Portuguese culture, and they remain so to this day.
The MNA showcases a stunning collection of over 4000 floor and wall tiles from different periods. They include pieces from churches, palaces, inns, hospitals, convents, and private homes. 
These impressive works of art date back to the 15th century, and they provide a fascinating insight into the tastes and customs of earlier times.
The museum also has exhibits that showcase contemporary artists and their work. The collection includes paintings, drawings, and sculptures created using azulejos as an inspiration or concept.
This provides a unique blend of traditional art forms alongside modern pieces from recognized artists.
In addition to its awe-inspiring architecture, the MNA is simply bursting with tiles from floor to ceiling in each gallery.
I found myself drawn throughout this fabulous museum, examining piece after piece until I had no choice but to leave because my feet were beginning to ache!
14. Elevador de Santa Justa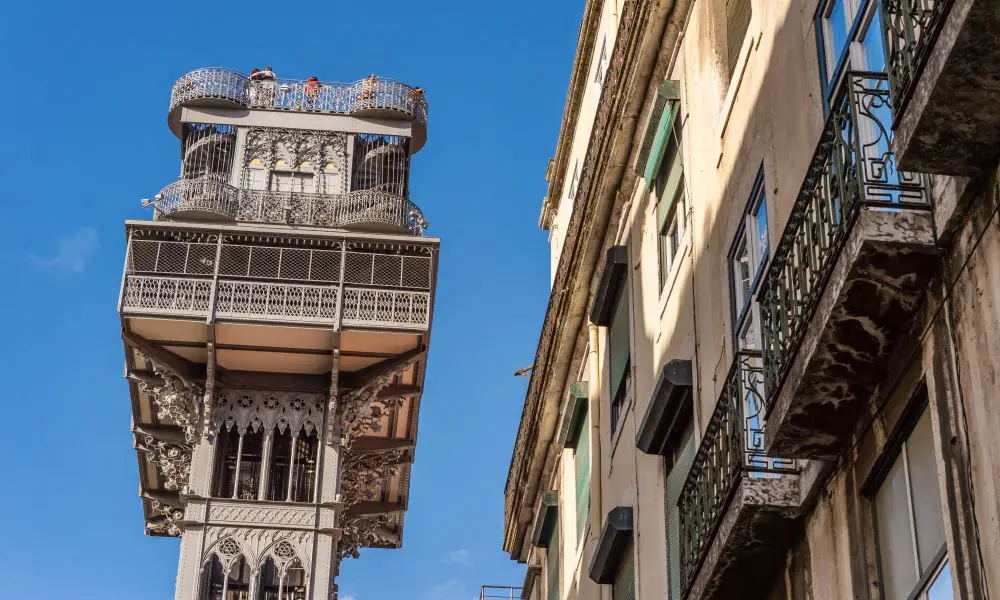 The Santa Justa lift is a very pretty, Art Deco-style elevator that takes visitors from the lower streets up into the higher reaches of Lisbon's city center. Dating back to 1901, this unique-looking lift snakes its way up for 32 meters.
Given its unique shape and style, many people assume that this must be an art nouveau lift. But in fact, it was designed in neo-gothic style by Raoul Mesnier du Ponsard to match nearby buildings, including Carmo Convent.
It was intended as part of a larger network of lifts that would have linked Baixa with the Largo do Carmo. However, the project failed to get off the ground, so Elevador de Santa Justa remains Lisbon's only lift tower!
The view from the top provides stunning panoramas over Lisbon's skyline and river Tagus. As well as taking some great photos, I also enjoyed strolling along Rua da Conceicao next to the elevator as it heads towards the historic city center.
So, this is one of those Lisbon tourist attractions that I could easily spend hours watching the world go by from above.
15. Padrao dos Descobrimentos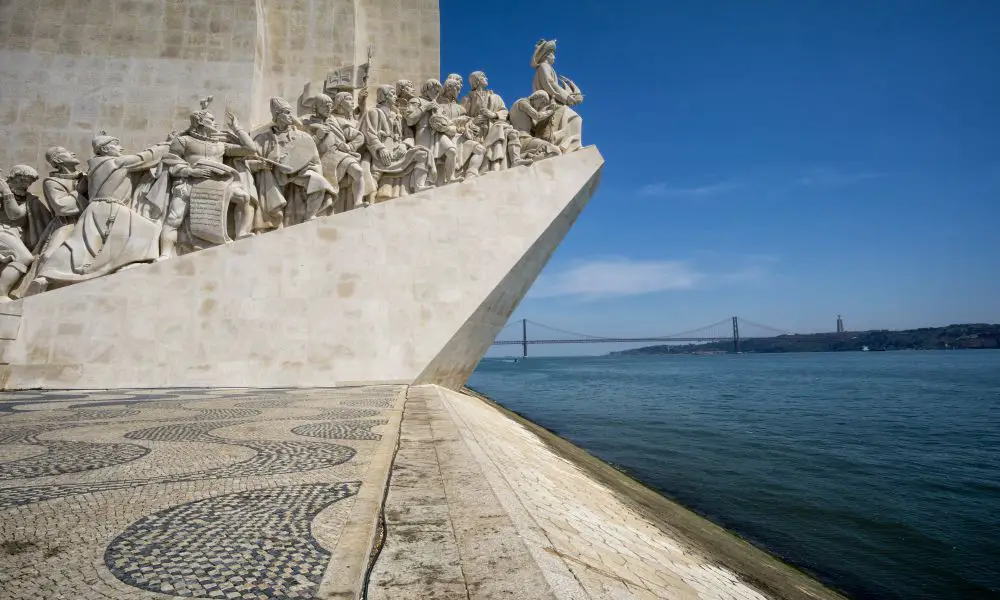 Located on the riverfront in Lisbon, this striking monument pays tribute to the country's marine explorers. It is one of Lisbon's tourist attractions that can be enjoyed throughout the year, thanks to its interactive water feature.
Constructed in 1960 to mark 500 years since Prince Henry the Navigator had died, this boat-shaped memorial honors great explorers such as Vasco da Gama, Pedro Alvares Cabral, and others who sailed out from Lisbon and discovered new continents and trade routes.
This beautiful white granite structure reaches 52 meters (171ft) into the sky. It features Portuguese explorers like Prince Henry the Navigator, Vasco da Gama, Pedro Alvares Cabral, and other notable figures.
This attraction also pays tribute to all those who made Portugal a great maritime power in an era when rival European countries were still eyeing up the potential riches that lay beyond the open seas.
So, if you are interested in beautiful architecture or Portuguese history, I recommend visiting this place while you are staying in Lisbon.
16. Lisboa Story Centre
One of the newest Lisbon tourist attractions, the Lisboa Story Centre, is an immersive education experience that focuses on Portugal's history.
The museum uses virtual reality, augmented reality, real-life objects, reconstructed sets, and genuine artifacts to bring stories from the past to life in a distinctive way.
History buffs will love this place while others may find it really interesting too. Here, you will have access to some cool exhibits, including a full-size replica of an abbey gateway dating back to 1154 AD, original gargoyles from Lisbon Cathedral, stone fragments from a Roman temple, and Moorish floor tiles.
In addition to the main museum, there is a film theatre where a 12-minute documentary tells the story of Lisbon through sound and moving images along with an interactive experience that allows visitors to see what the city looked like in 1555.
This is an interesting Lisbon attraction if you want to learn about how this wonderful city came into being. So I recommend checking out the Lisboa Story Centre.
17. Igreja do Carmo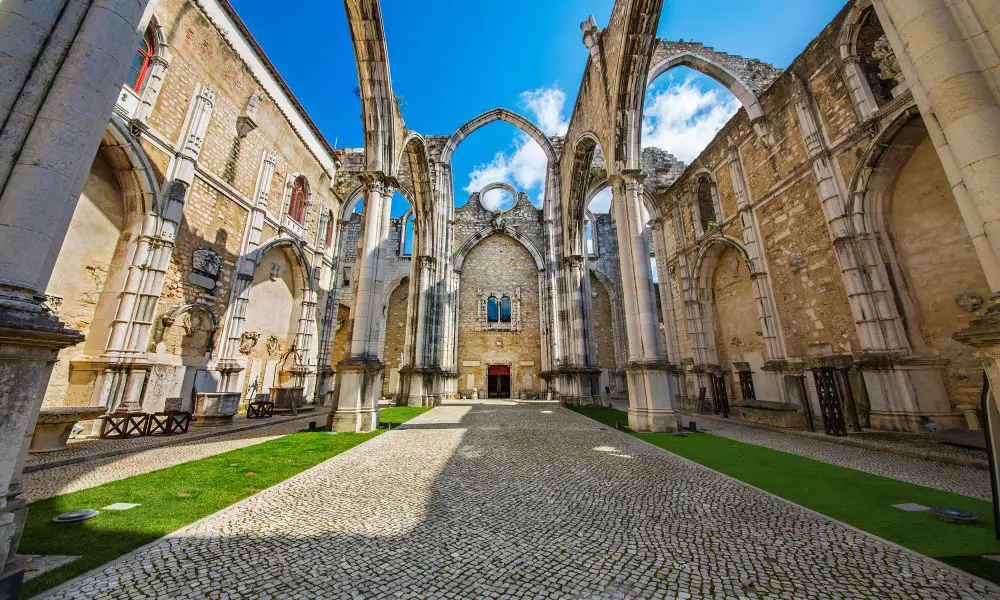 Igreja do Carmo is the site of a ruined church that was once attached to the Carmelite Order. It's located in the heart of Lisboa's historic downtown district, and it's one of the best tourist attractions in Lisbon for those interested in religious architecture.
This gothic church was built by the Crusaders, who landed in Portugal to fight against Muslims. The first construction of this magnificent building began in 1389, and later on, it came under the reign of King Manuel I.
Further additions were made between 1510 and 1540 when a fine choral chapel was constructed next to the eastern wall.
It was completed with a carved stone pulpit and choir stalls. Unfortunately, on All Saints' Day (November 1, 1755), an earthquake toppled the building, making it unusable.
Today, the ruins of this historic landmark are now preserved as a national monument. Inside the ruins, you can find beautiful works of art such as tombs and sculptures as well as some interesting writings on its walls.
In addition, there is a bizarre display of two mummies lying prone in their glass cases. While you are exploring the old ruins, you will also see a part of the original foundation and underground cisterns.
18. Igreja-Museu Sao Roque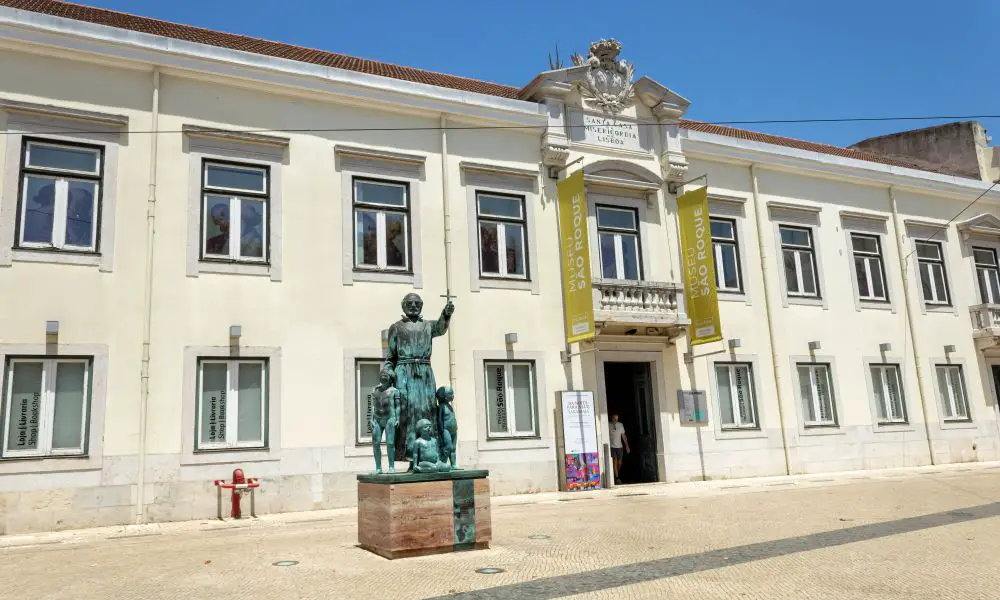 This elegant baroque church and museum is one of the most important pilgrimage sites in Portugal. So, it's worth visiting even if you are not religious.
Sao Roque Church is located on a hill at the top of the Chiado shopping district. It's claimed that during World War II, many citizens sought refuge inside its walls when air raid sirens wailed.
Today, tourists flock to admire this architectural gem for its priceless art collection rather than its role as a place of worship.
The religious order that built Sao Roque designed it specifically with pilgrims in mind because they regularly walked the seven kilometers from Lisbon to here on their knees as an act of penance.
These days, the idea of pilgrims haring across town on their knees seems extreme, but there are plenty of other reasons to visit this church.
From its high vantage point, you can clearly see much of Lisbon's skyline. Among the many treasures inside are 16th-century azulejos tiles depicting scenes from Sao Roque's life, as well as four paintings by Josefa d'Obidos that show miracles attributed to Saint Roque.
19. Museu Bordalo Pinheiro
Another museum I visited in Lisbon is this most unusual exhibition space containing the private collection of Portuguese artist Bordalo Pinheiro. As well as paintings and photographs, the building also houses old cars, trucks, farm machines, boats, and even planes.
The museum is located in an imposing 19th-century building that previously served as a Portuguese nobleman's private residence that spreads over several floors.
The house has been given a new lease on life by being converted into a magnificent art space with three distinct exhibition spaces filled with Bordalo's work.
In my opinion, while his exhibits may be far from conventional artworks, they are certainly worth viewing by anyone visiting this city, just for their originality!
20. Aqueduto das Aguas Livres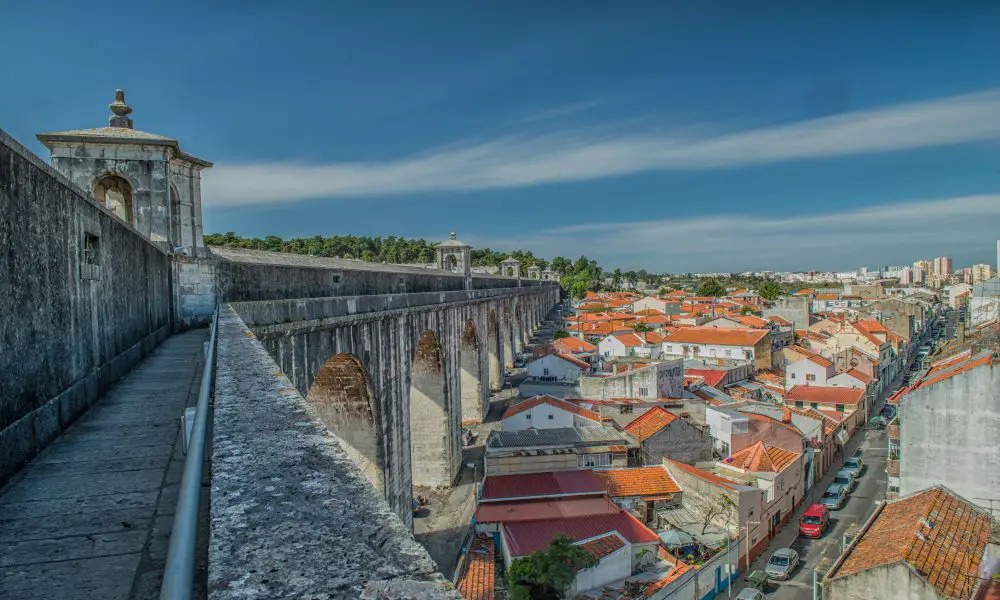 The Aqueduto das Aguas Livres is another of the top tourist attractions in Lisbon enjoyed by visitors and locals alike. This impressive feat of engineering dates back to the early 18th century and was built by order of King Joao V.
About 19km in length, the aqueduct once brought clean drinking water into central Lisbon from natural springs located to the north of the city. These days, sections of it are used as a footpath, bringing hundreds of thousands of daily visitors to admire its beauty.
There are 35 arches that stretch across the Alcantara valley, with its crown rising at 65 meters. It was designed to pass through any of the hills around Lisbon without impediment, making it one of the most impressive feats of engineering in Portugal's history.
You can walk along with it for over 2 kilometers, and there are several viewing points where you'll be rewarded with some stunning views down onto modern-day Lisboa.
21. Basilica da Estrela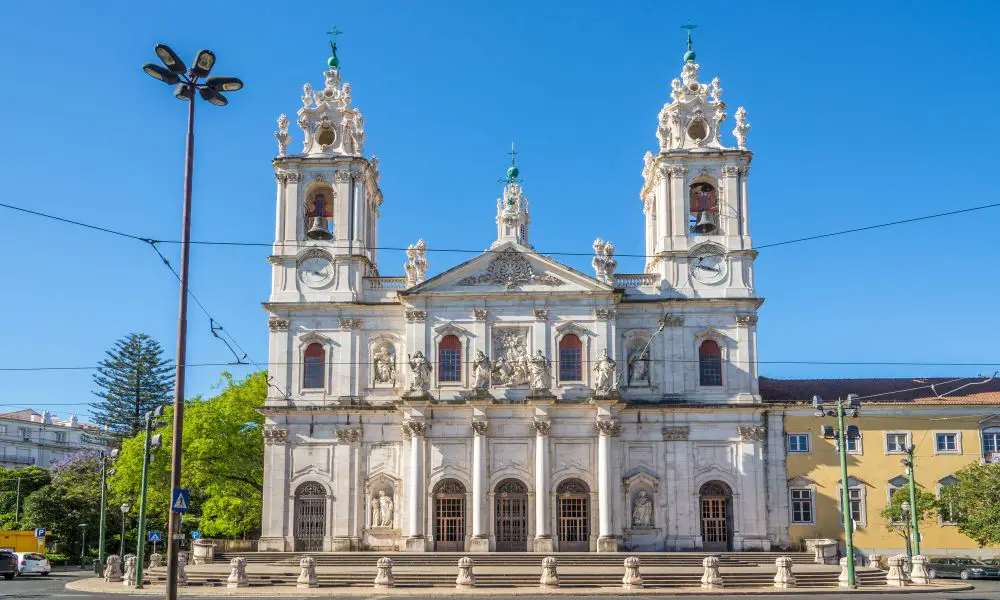 The Basilica of the Star is one of the most famous churches in Lisbon. Its dome is one of the city's highest points and offers great views over Lisbon and beyond.
The building as it now stands was completed in 1790 by order of Queen Dona Maria I (Mary) after two earlier basilicas on the site had been destroyed. First by an earthquake and later during a fire.
The lavish structure was inspired by Rome's St Peter's Basilica and features a wonderfully ornate neo-classical style facade with large marble columns.
The interior is decorated with ornate pillars, chandeliers, and high ceilings, while stained glass windows add color to the walls.
Like many historic Portuguese buildings, the Basilica features azulejos, blue-and-white hand-painted tiles dating from around 1550. I suggest checking the church's collection of modern arts too.