Have you ever wanted to explore the world and experience something different?
If so, Madeira, Portugal, is a great place for an exciting adventure.
From trekking down winding trails in Laurisilva forest to enjoying a traditional evening of folk music at one of Funchal's local bars, there are plenty of unusual things to do in Madeira that will have you feeling like you're living your best life.
In this article, we'll discuss the most interesting activities and fun things to do in Madeira that visitors can enjoy while on their holiday.
From long hikes up Mount Pico Ruivo – the highest peak on the island – to discovering stunning waterfalls hidden away in dense forests, outdoor enthusiasts looking for an active vacation will certainly not be disappointed by what Madeira has to offer.
For those who prefer more laid-back days soaking up some sunshine, there are also several beaches with calm waters perfect for swimming or simply relaxing under an umbrella.
And if sightseeing is more your thing, then don't miss out on visiting some of the oldest churches in Europe which date back hundreds of years.
But it doesn't stop there; if you want to get off the beaten path and uncover all that Madeira has to offer, then why not try booking a tour through Levada Trails?
Here you can learn about how levadas were used as irrigation systems during past centuries and even spot rare species of birds along the way!
Alternatively, take a short boat ride over to Deserta Grande Island where you might catch a glimpse of dolphins frolicking around in the sea before heading back home with unforgettable memories from your trip.
1. Exploring Funchal's Ancient Streets
Exploring Funchal's ancient streets is an unforgettable experience.
The cobblestone roads of Madeira's old town are lined with colorful storefronts and flower-filled balconies that give off a lively atmosphere.
It doesn't take long to feel like you've stepped back in time! As you wander the alleys, you'll come across some truly remarkable sights – from towering churches to striking monuments.
Plus, there's plenty of shops and cafes where you can stop for refreshments along the way.
Funchal's old town offers something unique at every turn: traditional locals selling their handmade crafts; quaint restaurants serving up delicious local cuisine; or perhaps even a street performance by one of many talented artists.
No matter what your interests may be, there is always something interesting waiting around each corner.
As you explore Funchal's ancient streets, it will become clear why this city has been so beloved throughout history.
From its breathtaking views to its vibrant culture, Funchal never fails to deliver on charm and amazement. So take a stroll through these enchanting streets and discover all they have to offer!
2. Trekking The Areeiro Trail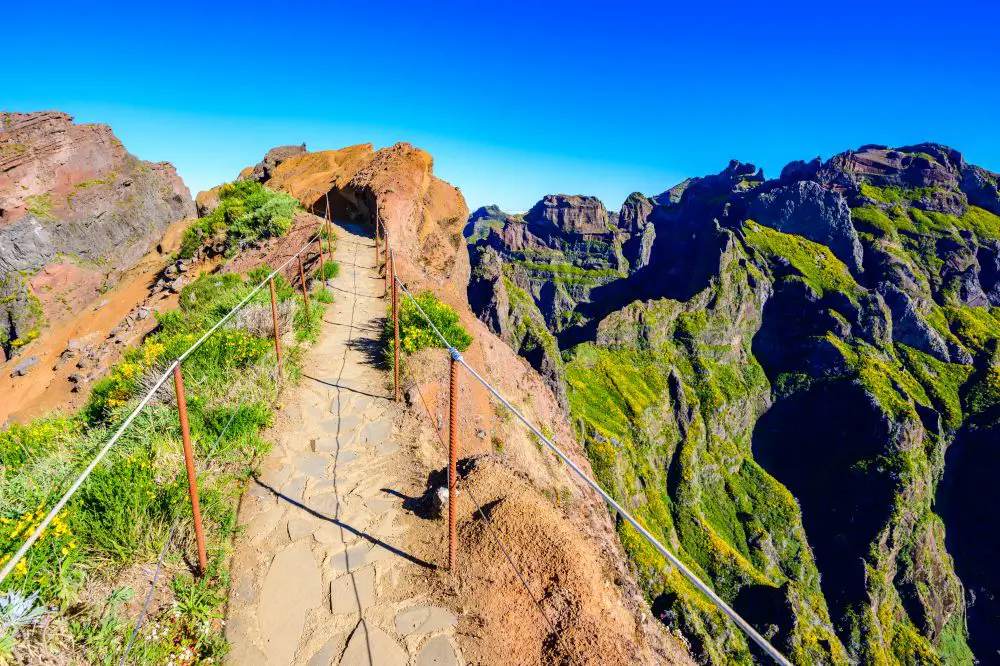 Exploring the ancient streets of Funchal is like a treasure hunt, discovering hidden gems and uncovering secrets.
But for something truly unique, one has to venture away from the cobbled roads and explore what lies beyond them.
For those who want to break out of their comfort zone, trekking the Areeiro Trail in Madeira (Portugal) offers an unforgettable experience:
The Areeiro trail provides spectacular views that take your breath away – literally!
From lush green forests to rocky cliffs and ravines – no two steps along this path are alike.
The trail itself is well-marked making it suitable for both experienced hikers as well as beginners.
Trekkers will find plenty of places to rest and enjoy nature's beauty along the way. Here is a 3 item list of things you should not miss when exploring the Areeiro Trail:
Admire stunning views from Pico do Areeiro – the highest peak in Portugal at 1810 meters above sea level;
Spot rare species of birds such as Bonelli's eagle, buzzards, common kestrels and blackcaps;
Enjoy traditional Portuguese snacks such as bolo de mel (honey cake), made with honey produced by local beekeepers on the lower slopes of Areeiro mountain range.
Whether you're looking for a hike full of adventure or just some peace and quiet away from civilization, trekking down the Areeiro trail will bring you closer to nature than ever before while giving you an insight into authentic rural life in Madeira.
So don't let this opportunity pass you by – go ahead and explore the magnificent landscapes that await across the island!
Read More: Best Tourist Attractions in Portugal
3. Taking A Ride On The Achadas Da Cruz Cable Car
Taking a ride on the Achadas da Cruz Cable Car is one of the most unusual things to do in Madeira, Portugal. With its incredible views and easy-to-navigate route, it's no surprise that this cable car has become so popular among tourists.
The journey starts at Pico dos Barcelos Station, located near Funchal City Centre, before heading up towards Achadas da Cruz Mountain where you can enjoy stunning panoramic views of the island.
The beautiful scenery makes for an unforgettable experience; during your ascent you'll pass by lush vineyards and terraced fields with breathtaking ocean vistas beyond them.
As well as admiring the spectacular sights from within the cable car itself, you also have the option to stop off at one of several viewing points along the way.
These stops give visitors the opportunity to take some photos or explore nearby attractions such as levada trails and old churches.
If you're looking for an exciting activity that will let you discover more about Madeira without having to worry about transport costs or long drives then taking a trip on the Achadas da Cruz Cable Car should be top of your list!
Not only does it offer a unique view of this Portuguese paradise but it's also incredibly affordable and great fun too – what could be better?
4. Visiting Fanal Forest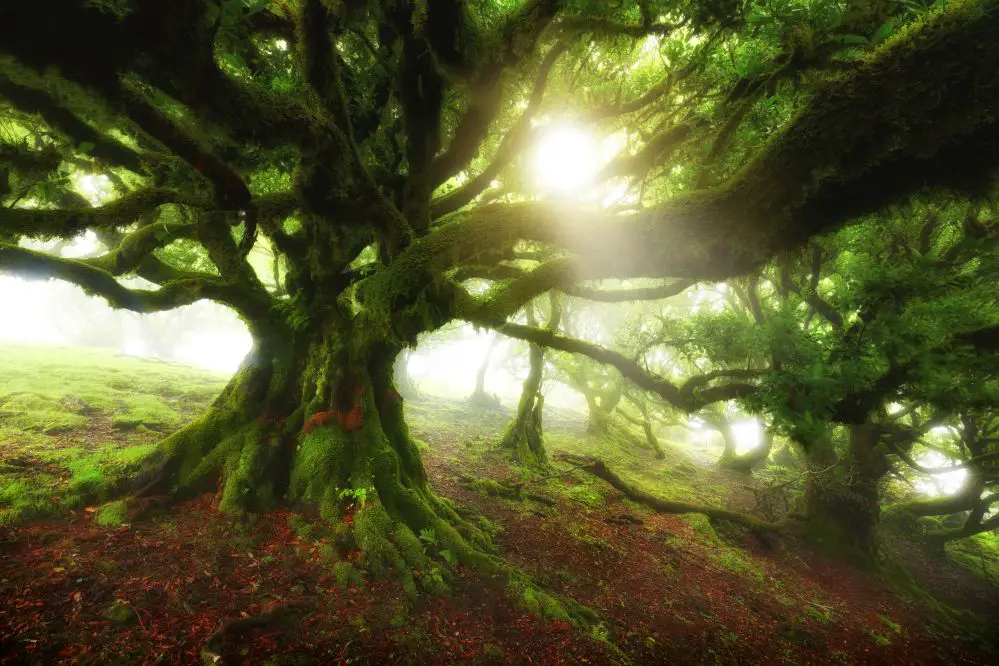 Madeira, Portugal is known for its breathtaking landscapes and gorgeous nature.
One of the most beautiful places to visit in Madeira is Fanal Forest – a lush paradise situated in the northwestern part of the island.
If you're looking for an exciting way to explore this stunning area, visiting Fanal Forest should be at the top of your list!
The Fanal Nature Reserve offers visitors a chance to immerse themselves in nature.
Whether you want to take a leisurely stroll or embark on a challenging hike, there's something for everyone here.
Hiking through Fanal gives you views of some incredible landscapes; it'll also give you a chance to spot some local wildlife like wild boar, foxes and even eagles.
There are plenty of trails ranging from easy to difficult that offer different experiences depending on your skill level.
Not only does exploring Fanal provide amazing scenery but it can also give you peace and tranquility away from the hustle and bustle of everyday life.
Spending time in such natural beauty will leave you feeling refreshed and inspired – perfect if you need a break from your hectic routine!
So why not pay a visit to Fanal Forest while on holiday in Madeira? It promises an unforgettable experience filled with adventure and relaxation!
5. Relaxing At Illheus Da Janela'S Tiny Pebbled Beach
If you're looking for a peaceful spot to relax and take in the beauty of Madeira's coast, Illheus da Janela's tiny pebbled beach is the perfect destination.
Located on the southern tip of Madeira Island, this tranquil retreat offers an array of activities both on land and at sea that can be enjoyed by all ages.
Here are some unusual things to do at the beach:
1. Go fishing – Whether you're a novice or experienced angler, there are plenty of opportunities for deep-sea fishing off Illheus da Janela's shoreline. Try your luck at catching mackerel, tuna, marlin or even barracuda!
2. Take a boat ride – Enjoy stunning views of Funchal Bay while sailing around the island with one of our local captains. Get up close and personal with dolphins as they swim alongside your boat!
3. Have a picnic – Pack a blanket and lunch basket filled with traditional Portuguese delicacies to enjoy against the backdrop of crystal blue waters lapping against white sand beaches.
Illheus da Janela's tiny pebbled beach provides visitors with an idyllic escape from city life where one can truly appreciate all that Mother Nature has to offer.
As soon as you step onto its shores, you'll immediately feel immersed in its peaceful atmosphere.
So come discover why so many travelers have fallen in love with this hidden gem located along Madeira's beautiful coastline!
6. Going Dolphin Watching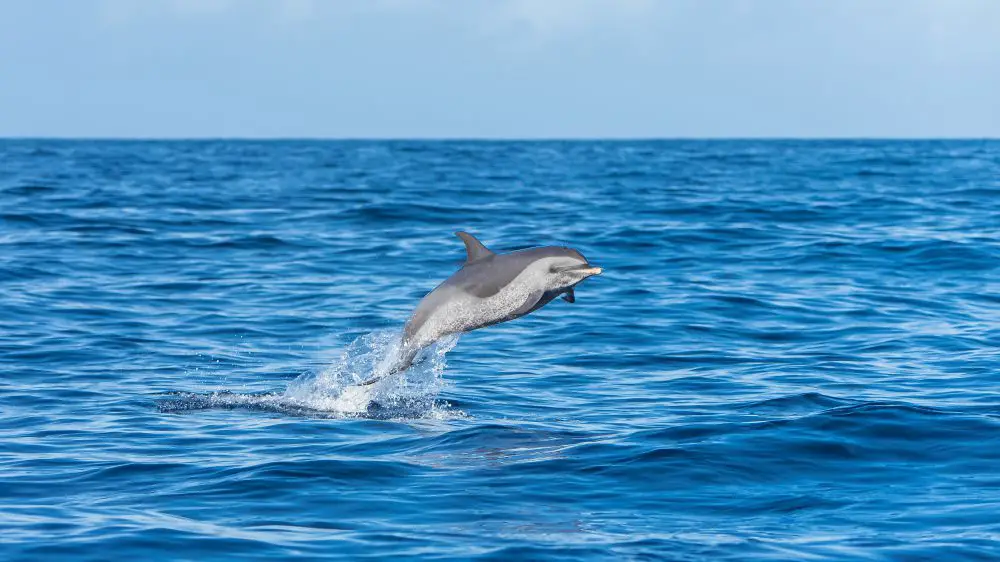 Exploring the deep blue waters off the coast of Madeira, Portugal is an unforgettable experience.
Dolphin watching is a must-do activity for visitors to the island.
A boat tour around this gorgeous archipelago provides an opportunity to observe dolphins in their natural habitat. It's truly a remarkable sight!
The offshore cruise will take you out into the open ocean where you can spot several species of dolphins.
You'll be able to get up close and personal with these majestic creatures as they jump, dive and play in their aquatic home.
Depending on your luck, you may even see whales or other sea life during your excursion! The captain and crew of the boat provide interesting facts about each animal along the way that make it much more enjoyable than just watching them swim by.
Dolphin watching is a fantastic way to immerse yourself in nature while taking in some of Madeira's stunning scenery.
From afar, you can admire its dramatic cliffs rising from the Atlantic Ocean and rugged coastline dotted with white sand beaches – all while keeping an eye out for playful pods of dolphins swimming alongside your boat!
So don't miss out on this unique chance to glimpse one of our planet's most extraordinary beings while exploring one of Europe's premier holiday destinations: Madeira, Portugal.
7. Touring With A Hop On Hop Off Bus
With over 2,000 kilometers of roads to explore and discover, Madeira has much to offer its visitors.
An easy way to take in the sights is with a hop on hop off bus tour.
This type of touring allows you to explore many different areas at your own pace while also taking advantage of scenic routes that traditional public transportation can't provide.
Plus, it's an incredibly cost-effective way to travel around the island!
When you choose a hop on hop off bus tour for exploring Madeira, you get more than just convenient access to all kinds of interesting attractions; you also get a unique opportunity to experience the local culture firsthand.
You'll be able to chat with friendly locals as they help direct you toward hidden gems not found on any map or guidebook.
As you ride along from one destination to the next, the experienced driver will point out important landmarks and sites of interest, giving you insight into this beautiful corner of Portugal.
Best of all, since these tours are designed for flexibility and freedom there's no pressure about having to stick with a strict itinerary – so feel free to jump off whenever something catches your eye!
Whether it's stopping at a café for lunch or taking picturesque photos atop Levada trails – discovering Madeira by hopping aboard one of these buses is sure to become an unforgettable adventure.
8. Seeing Miradouro Garganta Funda
If you're looking for an unusual activity to do in Madeira, Portugal, then make sure to check out the Miradouro Garganta Funda.
This stunning lookout point is located at the top of a hill and offers breathtaking views of the entire city.
Plus, its location makes it the perfect place to watch the sunset or sunrise.
The best way to reach this viewpoint is by taking a hike up the trail known as Garganta Funda.
The trail starts from Pico dos Barcelos and winds through lush forests before reaching its peak.
Along your journey, you'll have plenty of opportunities to spot different types of birds and wildlife that call Madeira home.
As you get closer to the miradouro, however, you will be met with unparalleled views of Funchal's harbor and coastline below.
Once you've arrived at the top, take some time to soak in all that beauty around you.
From here, you can also see several other smaller islands off in the distance – making for a truly magical experience!
In addition, don't forget to snap some photos so that you can remember this incredible sight forever.
With its mesmerizing panoramic vistas and serene atmosphere, visiting Miradouro Garganta Funda should definitely be on your list when traveling in Madeira!
9. Strolling Through Madeira Botanical Garden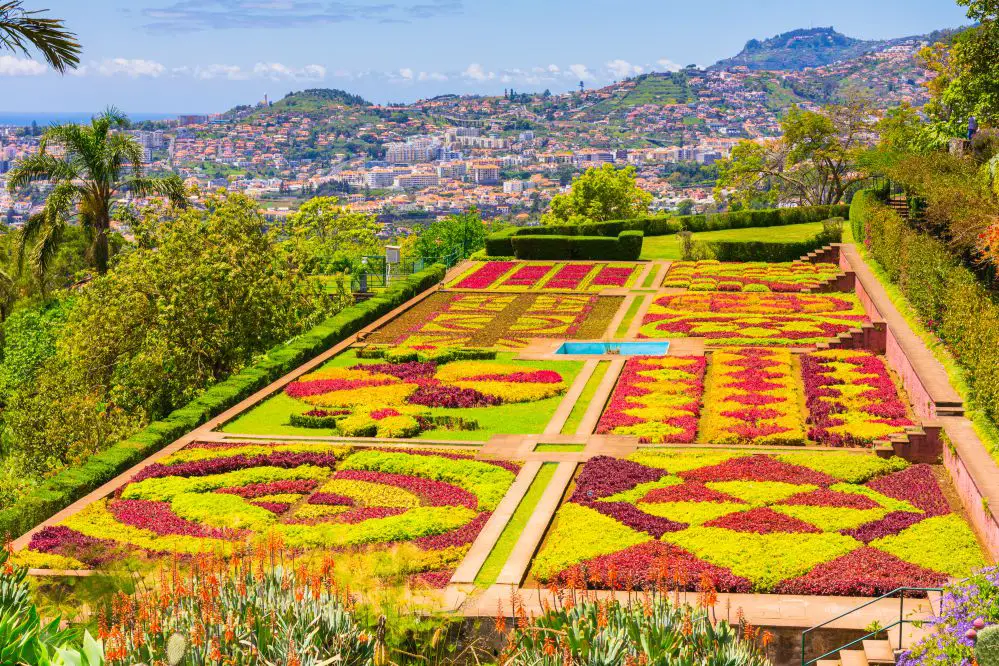 Exploring Madeira Botanical Garden is one of the most unusual things to do in Madeira. It's a great way to get acquainted with the island and its unique flora, as well as enjoy some breathtaking views.
Here's what you can expect when strolling through this incredible botanical garden:
Gardens: The gardens have been carefully designed with winding pathways that lead visitors past plants from all over the world, including cacti, palm trees, flowering shrubs, ferns and more. You'll also be able to see many native species of birds flitting around the greenery – making it even more enjoyable!
Viewpoints: There are several viewpoints scattered throughout the grounds where you can stop and take in spectacular ocean views or gaze out over Funchal cityscape. On clear days, these panoramic vistas will surely leave you speechless!
Fountains & Ponds: As you wander through the gardens, make sure not to miss out on all the beautiful water features such as ponds full of colorful fish and cascading fountains surrounded by lush vegetation – providing an idyllic atmosphere for relaxation and contemplation.
Whether you're looking for a peaceful stroll among nature or want to learn about new plant life, a visit to Madeira Botanical Garden is certainly worth your time.
Plus, who knows? Maybe you'll find yourself so inspired that you might just come back again soon!
10. Admiring Miradouros Do Paredão
Madeira is a beautiful destination, and the Miradouros do Paredão are no exception.
This stunning miradouro looks out over the Atlantic Ocean and provides one of Madeira's most breathtaking sights.
From here you can admire the majestic cliffs that line this stretch of coast – truly an awe-inspiring view!
The views from the Miradouro do Paredão are especially spectacular at sunrise or sunset when they glow with vibrant hues of orange and red.
It's also possible to spot dolphins playing in the waters below if you're lucky, adding even more charm to your experience.
No visit to Madeira would be complete without taking some time to appreciate these stunning paredão sights first hand.
Not only will you get an opportunity to take in some incredible views, but it'll also provide a much needed respite from everyday life, allowing you to relax and recharge while appreciating all that Mother Nature has to offer.
Whether it's admiring the sunrises or spotting dolphins beneath the waves, there's something magical about spending time here that'll stay with you forever.
11. Driving Through Madeira'S Scenic Inland Roads
Driving through Madeira's stunning inland roads is like taking a journey to an exotic paradise.
The winding roads, lush landscapes, and breathtaking views will take your breath away!
From the craggy peaks of Pico Ruivo in the north to Paul da Serra plateau in the south, you'll be mesmerized by every corner of this incredible island.
The curvy mountain roads that snake their way around Madeira are some of its most impressive sights.
As you drive along these scenic routes, you can admire the vibrant colors of nature all around you – from brilliant greens to deep blues and purples. Along with dramatic cliffs and crashing waves below, it truly is a sight to behold.
As if that weren't enough, there are also plenty of opportunities for outdoor activities in this untamed wilderness.
Whether it's hiking up one of the many trails or simply exploring small villages dotting the landscape – whatever adventure you choose, Madeira's inland roads offer an unparalleled experience.
With such spectacular scenery on display and so much to explore, driving through Madeira's backroads promises to be an unforgettable experience – one that will stay with you forever!
12. Swimming In Porto Moniz'S Volcanic Pools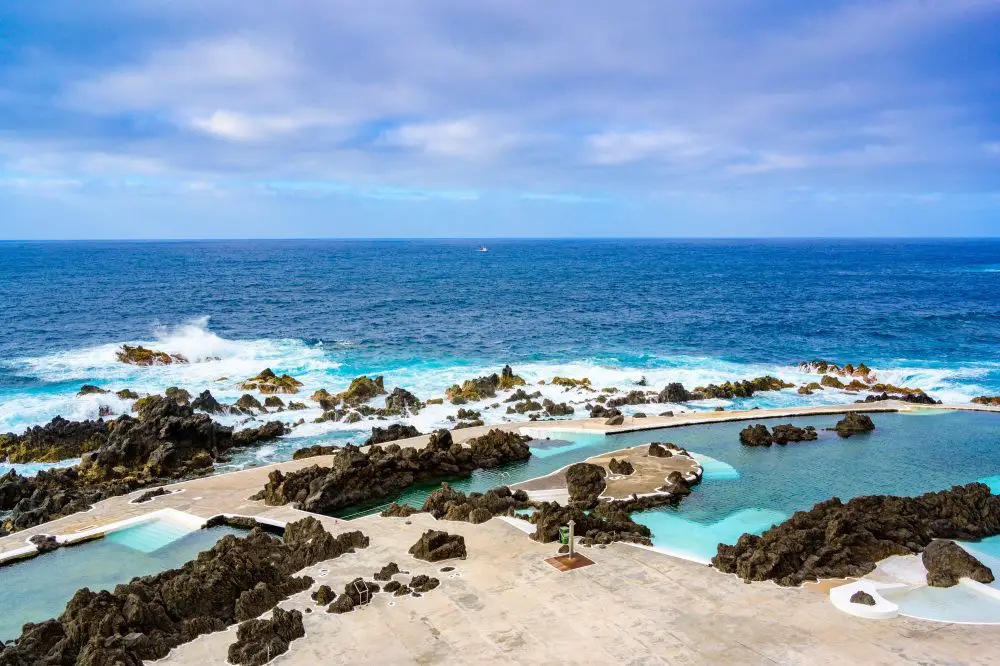 Exploring the outdoors of Madeira is an exciting and unique experience.
One of the most thrilling activities to do in this beautiful portuguese region is swimming in Porto Moniz's volcanic pools.
Located on the northwest coast, these lava pools are a great spot for outdoor swimming.
The layout consists of several basins with different depths that were formed thousands of years ago by molten rocks originating from nearby volcanoes.
The temperature in each basin varies throughout the day due to the sun's rays coming in contact with them but generally stays warm all year round, and it's around 20-21 degrees celsius.
It offers swimmers a safe and refreshing opportunity to explore the marine life around them such as colorful fish or even sea turtles!
Porto Moniz also has plenty of amenities for visitors including restaurants, cafes, shops, and public restrooms with showers so you can make your stay comfortable while enjoying its natural beauty.
Swimming here will certainly give you memories to last a lifetime – whether it be playing tag amongst friends or just admiring how stunningly clear the waters are!
So don't miss out on this incredible adventure when visiting Madeira – take a dip in one (or more!) of Porto Moniz's amazing volcanic pools!
13. Exploring A Sugar Cane Factory In Calheta
Exploring a sugar cane factory in Calheta, Portugal is one very interesting addition to your trip to Madeira.
Located on the south coast of this Portuguese island, it's home to an impressive and historic facility that produces some of the finest rum found anywhere in Europe.
Even if you aren't big on drinking alcohol, there are still plenty of reasons to visit this fascinating place.
The first thing visitors will notice as they arrive at the factory is its unique architecture.
This old-fashioned building looks like something right out of a movie set – with its whitewashed walls and sprawling grounds surrounded by lush vegetation.
Inside, guests can explore various rooms filled with equipment used for producing rum distillates.
Visitors can also watch workers extract juice from freshly harvested sugar cane stalks before it's heated and distilled into high quality spirits.
In addition to seeing how rum is made, visitors can take part in educational activities related to sugar cane production such as tasting different rums or learning about the history behind these traditional drinks.
There are also guided tours available so tourists can learn more about the industry while enjoying all that Calheta has to offer.
Whether you're looking for something offbeat to do or just want to experience a classic piece of Madeiran culture, exploring a sugar cane factory could be just what you need!
14. Hiking The Fountains Trail In Rabaçal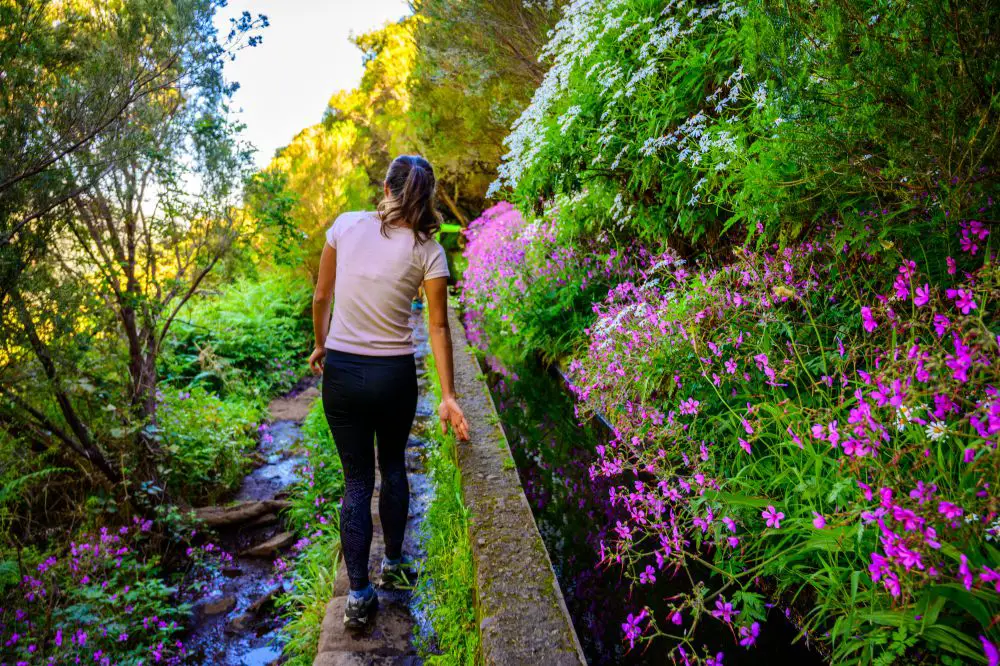 Madeira is known for its diverse natural wonders, and one of the most unique activities to do there is hiking the Fountains Trail in Rabaçal.
Located on the north side of Madeira Island, this 7 km trail offers breathtaking views of lush green hillsides with cascading waterfalls and streams that lead down towards Porto Moniz.
The fountains are an integral part of this hike as they symbolize both beauty and power, reminding hikers why it's important to take time away from our busy lives and appreciate nature.
Here's what you can expect when taking on the challenge:
You'll experience a stunning array of landscapes ranging from rocky cliffs to lush forests
Enjoy multiple waterfalls along your journey, each more spectacular than the last
Take a break at several viewpoints throughout your trek, giving you plenty of chances to admire the scenery around you
Explore serene pools filled with crystal clear waters at the end of your hike which provide a perfect opportunity for swimming or simply admiring their beauty
The Fountains Trail in Rabaçal will give anyone looking for adventure lots to explore while also providing moments of peace and tranquility.
Whether it's walking through wildflower-filled meadows or admiring the magnificent gorges below, this path has something special for everyone.
If you're searching for an escape into nature that invigorates both body and mind, then look no further than this unforgettable fountains rabaçal hike!
15. Experiencing Monte Sledge Toboggan Ride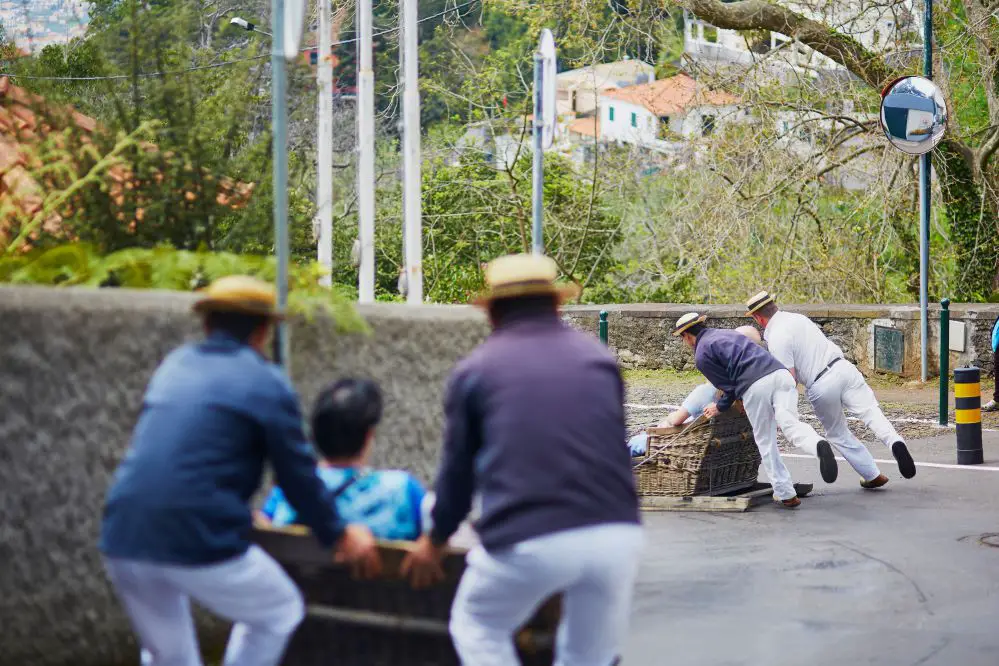 If you're seeking an unusual activity to do in Madeira, Portugal, Monte Sledge Toboggan Ride is the way to go.
This thrilling experience takes visitors on a downhill ride through the verdant mountains of Funchal.
The toboggan cars are crafted from wicker and wood, with leather seating for two or four passengers.
Riders control their own speed using brake levers attached to the side of each car.
The track begins at Monte's highest point and winds down nearly 1,500 feet along steep roads lined with lush greenery.
While careening around sharp turns, riders get amazing views of Funchal Bay below them.
As they approach the end of their journey, drivers can choose between taking a longer route that passes by some beautiful gardens or opting for a shorter path that leads straight back into town.
Monte Sledge Toboggan Ride promises excitement and adventure like no other activity in Madeira.
It's an exhilarating experience perfect for friends and family who want to make lasting memories together while exploring this incredible region!