Are you seeking an unforgettable experience that will allow you to explore the wild and free side of nature?
Are you in search of a thrilling adventure that allows you to observe wildlife up-close and personally?
If so, these best world travel destinations for wildlife watching are sure to tantalize your senses and awaken your spirit.
From Africa's Serengeti National Park to Costa Rica's Osa Peninsula, it's easy to find exotic locations where one can witness majestic creatures living in their natural habitats.
Whether you're looking for grizzly bears or tigers, whales or monkeys, there is no shortage of stunning landscapes filled with fascinating animals.
You'll be able to spot everything from jaguars lounging on tree branches to elephants grazing peacefully across grassy plains.
With such a wide variety of incredible wildlife viewing opportunities available around the world, why not embark on a journey today?
So pack your bags and get ready for a once-in-a-lifetime opportunity! With this article as your guide, you'll soon be experiencing some of the most awe-inspiring sights the animal kingdom has to offer.
1. Seeing Serengeti National Park In Tanzania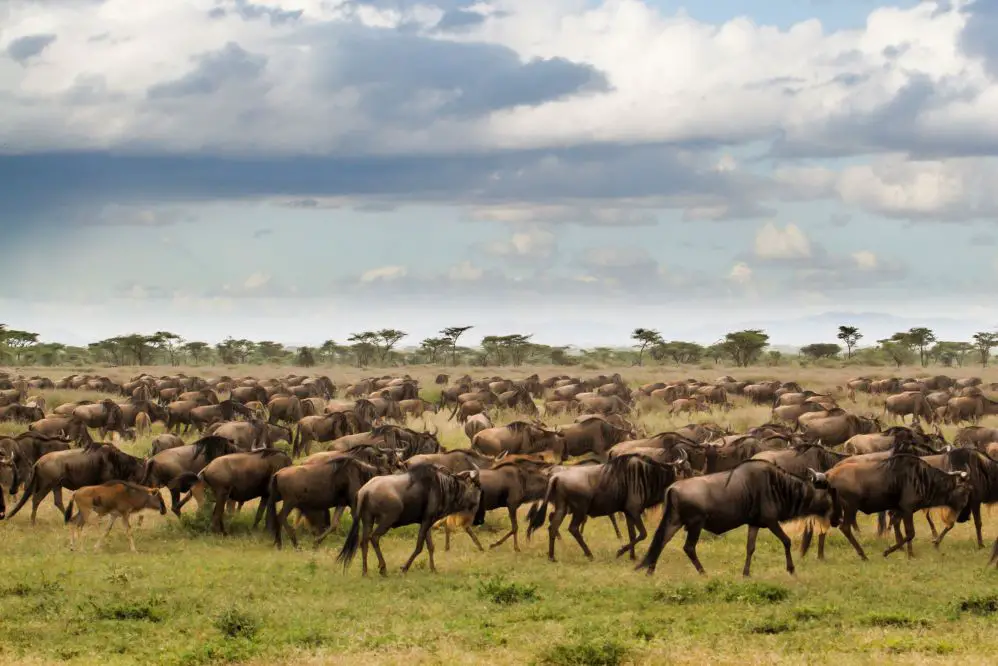 If you're looking for an unforgettable wildlife experience, then a visit to Serengeti National Park in Tanzania should be at the top of your list.
You'll get up close and personal with some of Africa's most incredible creatures on a safari through this sprawling wilderness.
From wildebeests migrating across vast grasslands to lions lounging by watering holes, there is something here to captivate every nature enthusiast.
You can choose from several different types of safaris when exploring the Serengeti.
Whether you want to take a jeep tour or go on foot with an experienced guide, there are plenty of options available to suit all budgets and interests.
A guided walking tour allows you to observe animals in their natural habitat without disturbing them – it's one of the best ways to really appreciate the beauty and diversity of this amazing environment.
Plus, if you opt for a private vehicle tour, you can also enjoy uninterrupted views while getting off-road access that many other visitors don't have.
Visiting Serengeti National Park in Tanzania is like entering a world of freedom and possibility.
You can encounter the majestic parade of buffaloes, or observe the gracefulness of elephants and giraffes as they graze on the plains.
The antelope, with their unique coats and impressive horns, are also here – eland, topi, kongoni and impala alike.
But that's not all; you'll be able to spot the big cats too! Whether it's a lion lounging atop its kill or a cheetah speeding across the landscape, these powerful animals will capture your attention.
Even the elusive leopard can be found dozing in one of the trees near Seronera River. Truly, Serengeti National Park has something for everyone.
A trip to Serengeti National Park offers more than just amazing animal sightings; it provides insight into African culture as well.
Visiting local Maasai villages gives travelers a unique glimpse into traditional customs such as wood carving and beadwork crafts, along with music and dance performances that will leave lasting memories long after your return home.
So whether you're seeking adventure or cultural immersion, Serengeti Wildlife has something special waiting for everyone who takes the plunge!
2. Discovering Katmai National Park In The USA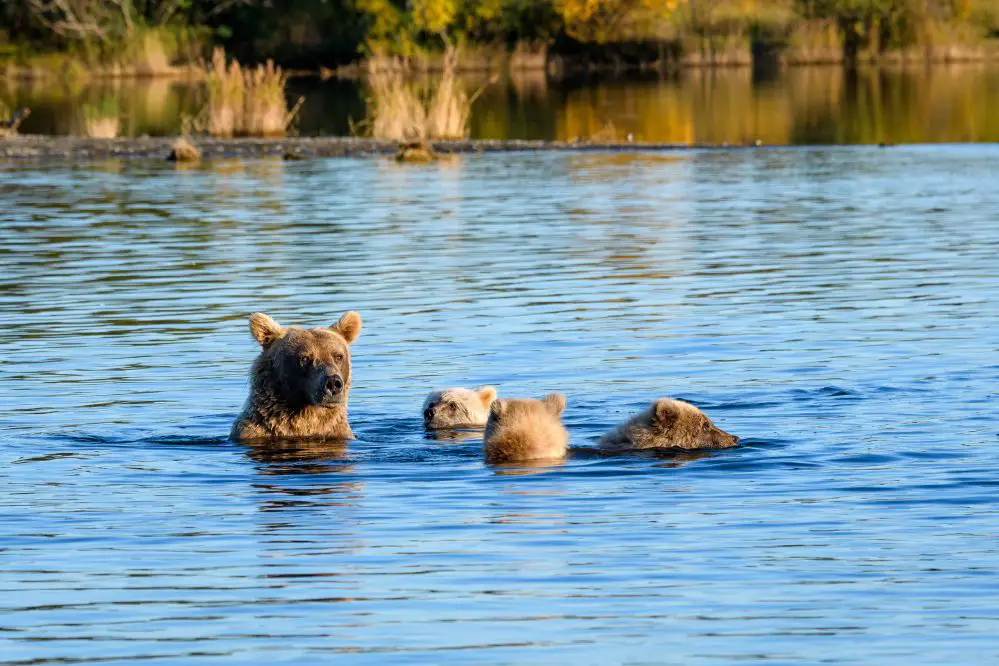 Nestled in Alaska's majestic wilderness, Katmai National Park is a paradise for wildlife watching enthusiasts.
From the largest brown bears on the planet to hundreds of migratory birds and more, here's why this park should be at the top of your list when it comes to wildlife viewing in the USA:
Spectacular Viewing Opportunities: With its various rivers, streams and lakes, there are plenty of opportunities for stunning views while you watch animals like Alaskan brown bears roam freely in their natural habitat.
Unique Ecosystem: The spectacular geography of Katmai provides an ideal environment for all sorts of critters – from eagles and wolves to salmon and moose.
Guided Tours: Whether you want to take a guided hike or bear-viewing tour, there are options available that will make your visit even more memorable!
Accessibility: Located just outside Anchorage and accessible via floatplane or boat, it's easy to get to if you're looking for some incredible wildlife-watching experiences in the USA.
Katmai National Park is truly one of those places you need to experience first-hand – and with so much nature waiting to be explored, it won't disappoint!
So grab your binoculars and head out into the wilds of Alaska – you'll never forget what awaits!
3. Experiencing Etosha National Park In Namibia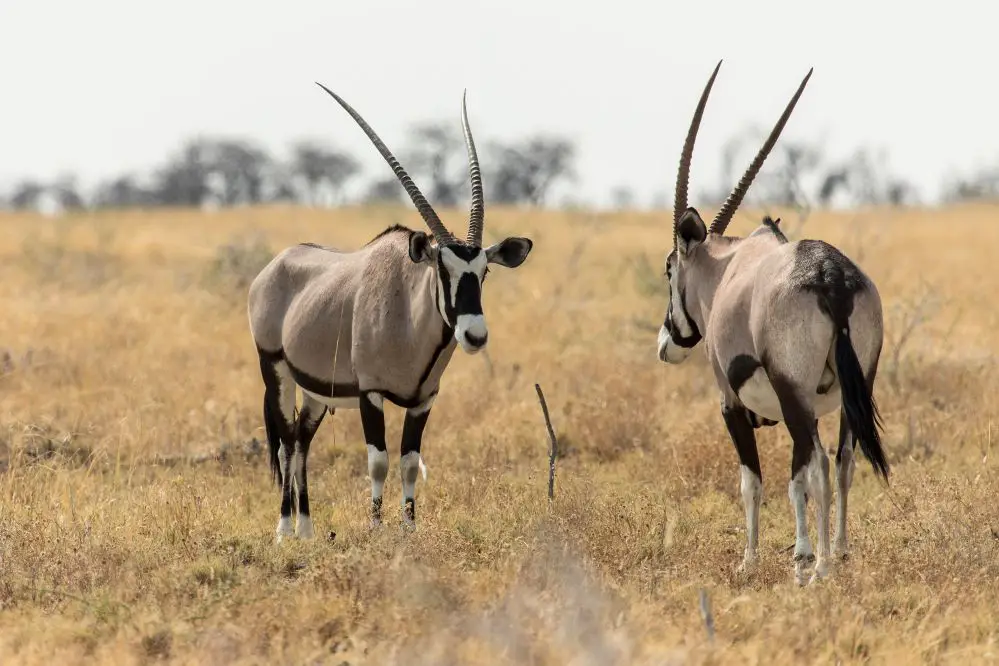 Escape the hustle and bustle of everyday life. Refresh your soul in a place untouched by modern civilization; Etosha National Park, Namibia.
Located on the edge of the Kalahari Desert, this wildlife sanctuary is home to some of Africa's most majestic creatures.
From elephants and rhinos, to giraffes and zebras, you can witness up close these incredible animals roaming freely in their natural habitats.
A Namibian safari at Etosha National Park offers an experience unlike any other.
Not only do you get to see amazing wildlife from miles away as they roam through sprawling grasslands, but you also have the opportunity to explore different ecosystems throughout the park.
With its diverse array of flora and fauna, it's easy to become immersed within nature's beauty here.
Whether you go on a guided tour or just wander off into the desert yourself – there are plenty of opportunities for exciting discoveries!
If adventure-seeking is what motivates you, be sure to take a night game drive where predators such as lions and leopards come out in search of prey during twilight hours while hyenas howl under starry skies.
As dawn approaches again, watch in awe as herds of wildebeest cross rivers lined with crocodiles – all part of the cycle that makes up this unique ecosystem found nowhere else on Earth!
Discovering Etosha National Park will leave you feeling exhilarated yet humbled simultaneously; something words cannot adequately describe.
The next time you need an escape from your daily routine consider visiting this remarkable destination for an unforgettable journey into Nature's grandeur.
Etosha National Park is populated with a wide variety of mammals, both large and small.
Lions, leopards, elephants, rhinos, giraffes, wildebeest, cheetahs, hyenas, mountain zebras, plains zebras, springbok, kudu, gemsbok, and eland are among the more prominent species residing in the park.
Other smaller critters you'll find include jackals, bat-eared foxes, warthogs, honey badgers, and ground squirrels.
All together, Etosha National Park is home to 114 different types of mammals.
4. Visiting Yellowstone National Park In The USA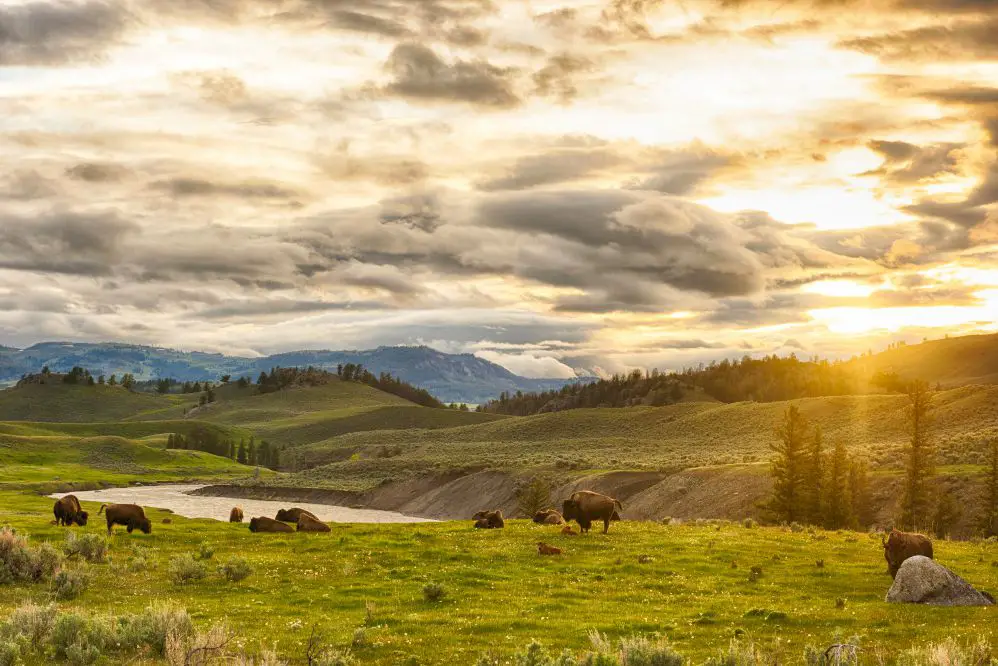 Yellowstone National Park, located in the USA, is a must-visit for wildlife watchers.
The park has been designated as an International Biosphere Reserve and World Heritage Site due to its unique ecosystem and large array of wild animals that inhabit it.
From grizzly bears to bison, wolves to elk, Yellowstone is home to some of North America's most iconic species.
Exploring the area on foot or by car offers numerous opportunities to observe these creatures up close in their natural habitat.
It's also important to remember that while you are there, you should keep your distance from any animal at all times; safety first!
Additionally, given that this is a protected environment with strict regulations, visitors should be aware of local rules and follow them carefully.
The beauty of Yellowstone National Park can best be experienced when exploring its many trails and admiring the incredible views they offer.
With stunning landscapes filled with waterfalls, geysers and hot springs, it truly is one of nature's greatest treasures – making it no wonder why so many people visit every year!
Whether you're looking for a peaceful escape or hoping for an unforgettable adventure, visiting Yellowstone National Park definitely won't disappoint.
5. Exploring Rainforests Of The Atsinanana In Madagascar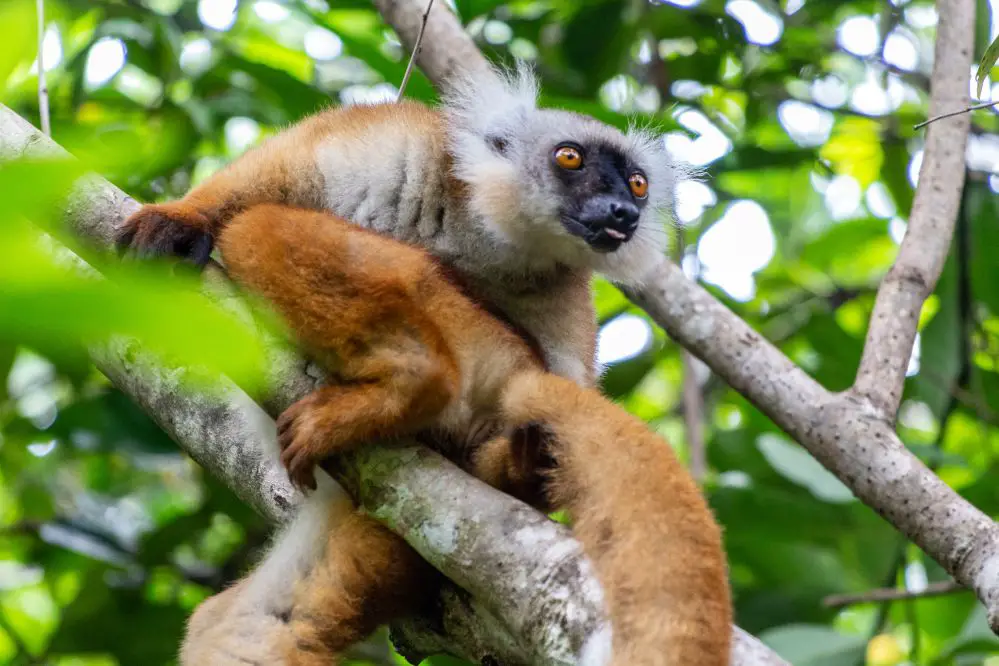 The Atsinanana rainforests of Madagascar are a natural wonderland, full of exotic wildlife and breathtaking views.
Located on the eastern coast of the island nation, this area is home to some of the most biodiverse ecosystems in the world.
Visitors can trek through lush jungles, take part in guided tours and explore hidden caves – all while experiencing nature at its finest.
Animals such as lemurs, chameleons and birds abound in these forests and many species are endemic only to Madagascar.
Even if you're not a bird-watcher or an experienced hiker, there's plenty to see here that will leave you with lasting memories and stories for years to come.
The beauty of this region lies in both its diversity and accessibility; it's easy to reach by plane from nearby cities like Antananarivo – making it ideal for those who want to experience adventure without having to venture too far off the beaten path.
From adrenaline pumping activities like zip lining over canopy trees, to simply stopping to admire wildflowers along one of the forest trails – no matter what kind of traveler you are, there's something special waiting for you in Madagascar's Atsinanana rainforest!
6. Discovering Mana Pools National Park In Zimbabwe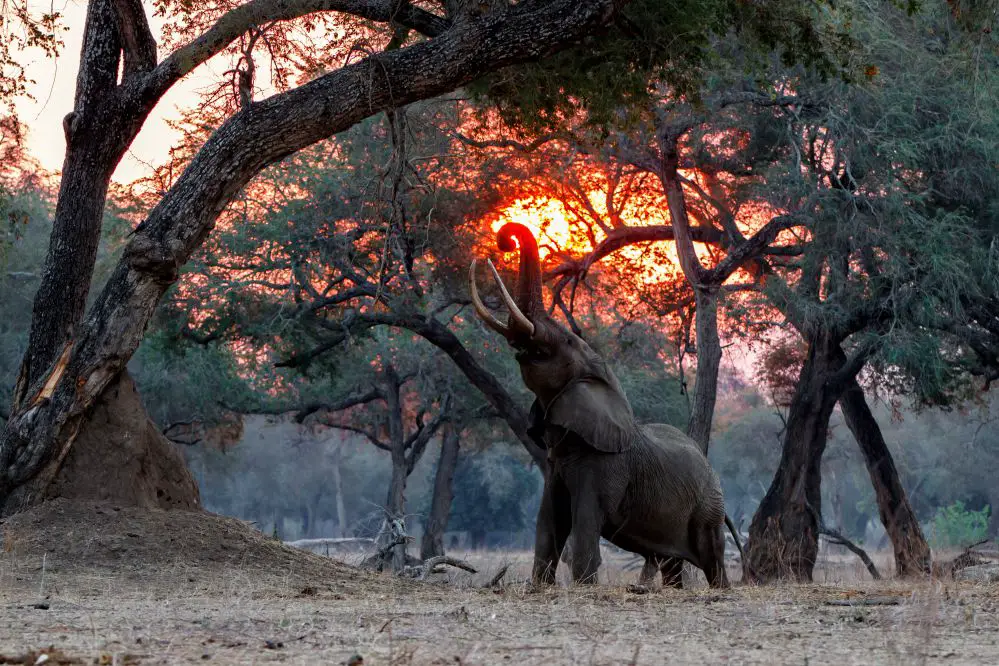 Mana Pools National Park in Zimbabwe is an incredible wildlife-watching destination that offers a unique African safari experience.
It provides the perfect opportunity to observe some of Africa's most iconic animals up close.
Here, you can get a first-hand glimpse into the fascinating diversity of the continent's wildlife and its stunning landscapes.
The park is known for being home to large populations of lions, elephants, buffaloes, zebras and hippos which makes it ideal for those looking to spot big game animals during their trip.
Moreover, Mana Pools also boasts sightings of rare birds such as painted snipes, wattled cranes and grey crowned cranes – making it an excellent choice for birders too!
When visiting Mana Pools National Park you'll have the chance to: * Embark on thrilling game drives through untamed wilderness * Explore pristine rivers by canoe or kayak * Spend days tracking down rare species with expert guides
Visiting Mana Pools National Park gives travelers not only unforgettable memories but also a sense freedom.
Whether you're after wild adventures or simply wish to relax surrounded by nature – this park has something special in store for everyone who visits.
So why wait? Pack your bags and start planning your dream safari today!
7. Experiencing Ujung Kulon National Park In Indonesia
Nestled away in the far corner of Indonesia lies a hidden gem, Ujung Kulon National Park.
This magical place is an ideal spot to get up close and personal with some of the most incredible wildlife on Earth.
From majestic Javan Rhinoceros to playful macaques, Ujung Kulon has something for everyone.
As soon as you arrive at this lush paradise, it's easy to understand why so many people have fallen in love with its beauty.
The dense rainforest teems with life from all directions – chirping birds above, rustling leaves below and small animals scampering across your path.
You can also explore beaches where sea turtles come ashore to lay their eggs or take boat rides around nearby islands packed with fascinating creatures like wild boar and monkeys.
The park offers visitors plenty of ways to experience its wonders firsthand:
– Take jungle treks through remote parts of the forest – Go snorkeling or swimming off the coast
– Watch out for rare species while kayaking along rivers – Spot exotic birds during early morning hikes
– Visit conservation centers dedicated to saving endangered wildlife
No matter how you choose to explore Ujung Kulon National Park, one thing is certain – you won't be disappointed!
With a wide array of activities available, anyone who visits this special place will leave feeling energized, inspired and eager to return.
8. Exploring Lone Pine Sanctuary In Australia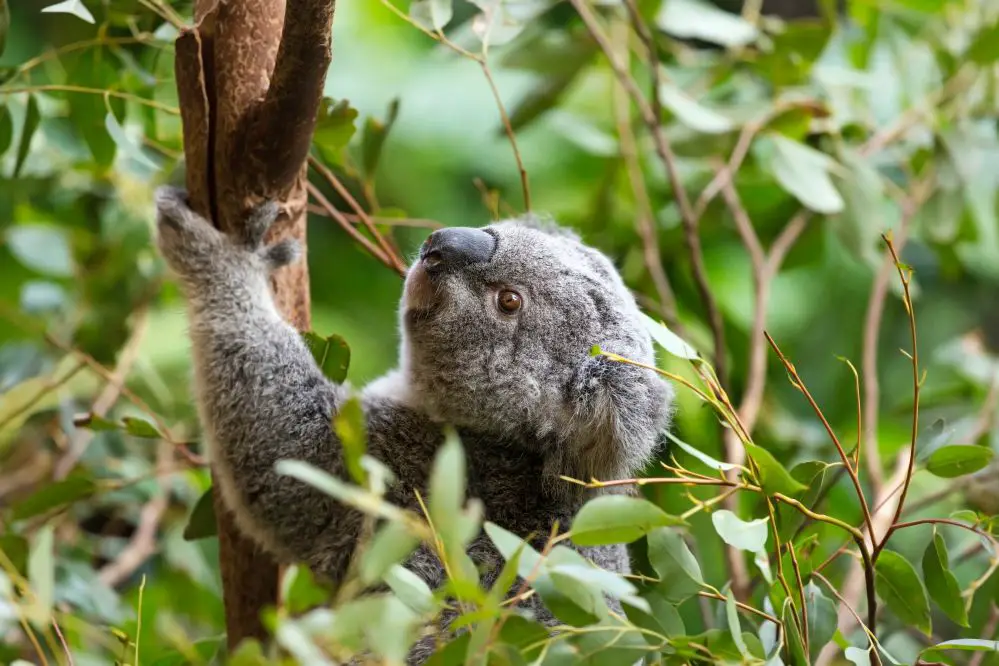 Lone Pine Sanctuary in Australia is one of the best wildlife watching destinations in the world.
Located just outside Brisbane, this sanctuary provides an incredible opportunity to get up close and personal with some of Australia's most iconic native animals.
The sanctuary has been operating since 1927 and continues to be a top destination for wildlife enthusiasts from around the globe.
The koalas are undoubtedly the star attractions at Lone Pine Sanctuary, but there are also plenty of other unique species to discover here as well.
From kangaroos and wallabies, to lizards and parrots, visitors have plenty of opportunities to observe these amazing creatures in their natural habitat.
There's even a chance to hand-feed some of them! Visitors can take part in guided tours or explore independently via walking trails – no matter how you decide to experience it all, you're sure not to be disappointed by what you find here.
In addition to its abundant array of wildlife, Lone Pine Sanctuary offers guests chances for relaxation too.
Guests can enjoy picnics onsite or soak up the sun while taking time out among nature; either way, they'll leave feeling rejuvenated and inspired.
Lone Pine Sanctuary is truly a place where people come together with nature – making it an unforgettable travel destination for any animal lover.
9. Encountering Jim Corbett National Park In India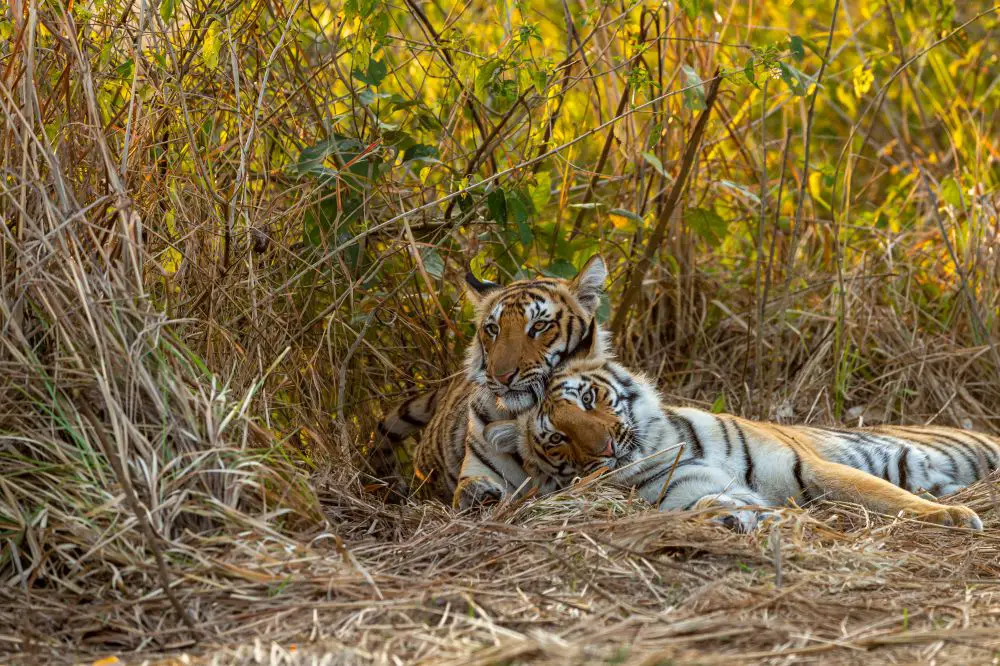 For wildlife enthusiasts looking to explore wildlife in India, Jim Corbett National Park offers a unique opportunity.
Boasting an abundance of flora and fauna, this India safari is sure to be both engaging and enthralling.
Jim Corbett National Park has been around since 1936, making it one of the oldest parks in India.
It's home to some of India's most iconic wildlife species, including tigers, elephants, leopards and many more.
Visitors can also look forward to encountering over 600 different types of birds on their visit here.
Here are just three reasons why you should consider exploring Jim Corbett National Park:
1. A chance to spot rare animals like Bengal tiger or Asian elephant in their natural habitat
2. Various guided tours that provide detailed information about the park's ecology and history
3. The perfect opportunity for photographers and nature lovers alike to capture stunning visuals
From spotting wild animals roaming freely amidst lush green landscapes to enjoying spectacular sunsets along the banks of Ramganga River – there's something for everyone at Jim Corbett National Park!
Whether you're looking for an adventure-filled experience or simply want to take a leisurely stroll through nature trails surrounded by incredible views – this national park provides an unforgettable experience that will leave you wanting more!
10. Observing Bandhavgarh National Park In India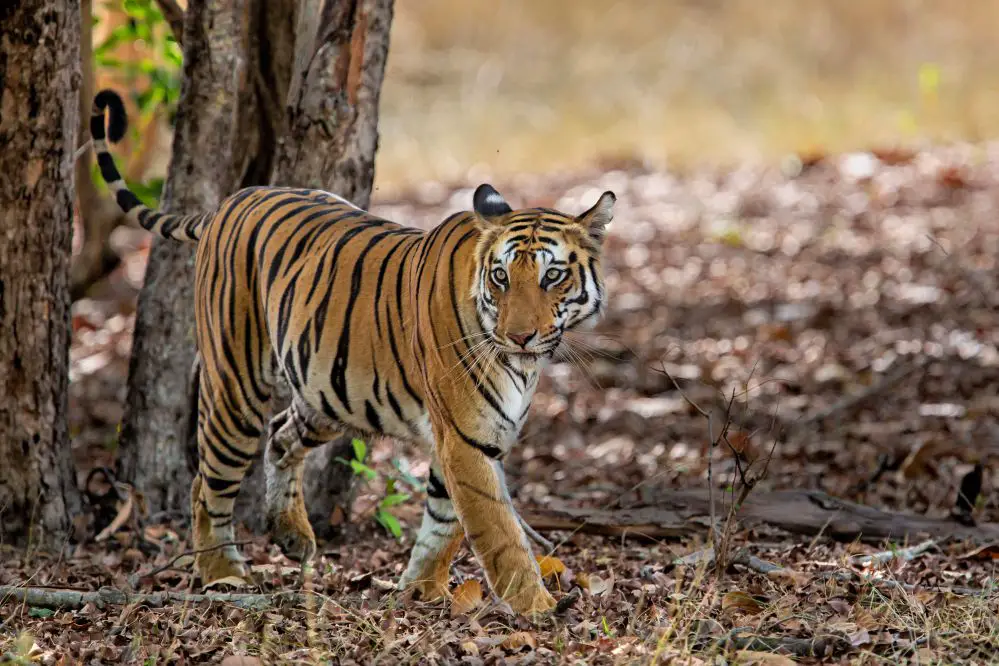 Bandhavgarh National Park in India is the perfect destination for wildlife watching.
Located in the state of Madhya Pradesh, this park contains a wide array of exotic species, including Bengal tigers and other animals such as leopards, deer, wild pigs, sloth bears and several rare birds.
It's also home to some of the most spectacular landscapes in India, with lush green forests and majestic mountains.
A tiger safari in India at Bandhavgarh National Park will be one of the highlights of your trip.
You can explore the national park on foot or by jeep while accompanied by experienced guides who know all the best spots where you have a chance to see these amazing creatures up close.
You'll learn about their behavior and habits from knowledgeable experts who will show you how to spot them if they are out hunting or resting during daylight hours.
They can even take you closer to areas that may contain more elusive individuals like white tigers or panthers.
After sunset, there are plenty of opportunities for nocturnal observation; just keep an eye out for owls!
An Indian Wildlife Safari at Bandhavgarh is sure to leave you feeling awestruck.
From its captivating views and fascinating inhabitants to its friendly staff and expert guides a visit here promises unforgettable moments and memories that will last a lifetime!
11. Visiting Sabi Sands Game Reserve In South Africa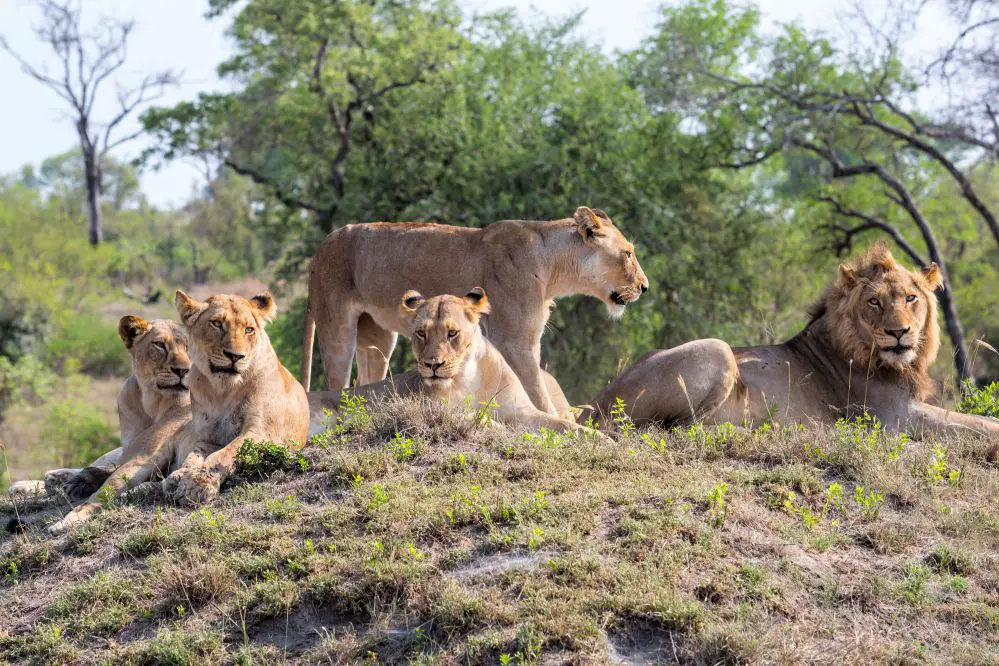 The Sabi Sands Game Reserve in South Africa is one of the best destinations for spotting a variety of African animals from big cats like lions, leopards, cheetahs and wild dogs to elephants, rhinos and buffalos.
This game reserve spans an impressive 1.2 million acres and offers some of the most spectacular wildlife viewing experiences on earth.
The Sabi Sands area has been developed into luxury safari lodges as well as luxurious campsites that are perfect for those looking for an authentic safari experience without sacrificing comfort or convenience.
Many sites offer stunning views over the bushveld landscape with opportunities to spot rare species such as the endangered African wild dog amongst other predators roaming free in their natural habitat.
You can also take part in guided walking tours through the bushveld; look out for antelope, zebra, giraffe and more!
Whether you choose to stay at one of the many resorts or self-catering accommodations available within the Sabi Sands Game Reserve, this destination promises unparalleled wildlife watching opportunities that will leave you feeling truly connected with nature – something no amount of television or digital media can provide.
With its breathtaking landscapes, rich diversity of flora and fauna and abundance of incredible creatures living freely among us humans, there really is nothing quite like visiting Sabi Sands Game Reserve in South Africa.
12. Exploring Okavango Delta In Botswana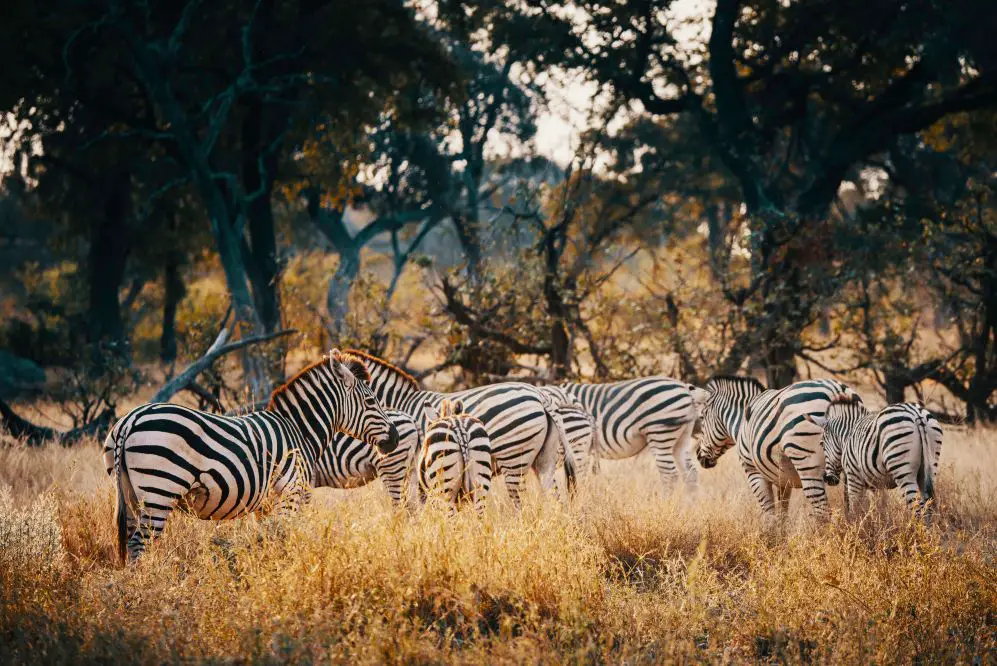 The Okavango Delta in Botswana is a glimmering paradise. Lush, grassy plains blur into deep blue lagoons, which are teeming with wildlife from the surrounding wetlands and bushveld.
A safari here offers an unforgettable opportunity to observe some of Africa's most iconic species in their natural habitats.
As one of the largest inland deltas on Earth, this region is home to over 400 bird species and thousands of animals including elephants, lions, leopards, spotted hyenas and wild dogs.
The vastness of the landscape means you can take your time exploring it: wading through mokoros (traditional wooden boats) along narrow channels or heading out on game drives for unparalleled sightings.
No matter how you choose to explore the area's wealth of biodiversity, every moment brings something different and exciting – elephant herds emerging from dense foliage, prides of lions lounging in golden savannahs or rare antelopes grazing near waterholes; all framed by breathtaking views across the delta's many lagoons and islands.
This unique ecosystem has become increasingly popular as a tourist destination due to its rich diversity of life and remarkable beauty.
With so much to discover – from traditional culture to diverse landscapes – it's no wonder why travelers flock here for once-in-a-lifetime experiences that will never be forgotten!
13. Exploring Everglades National Park In The USA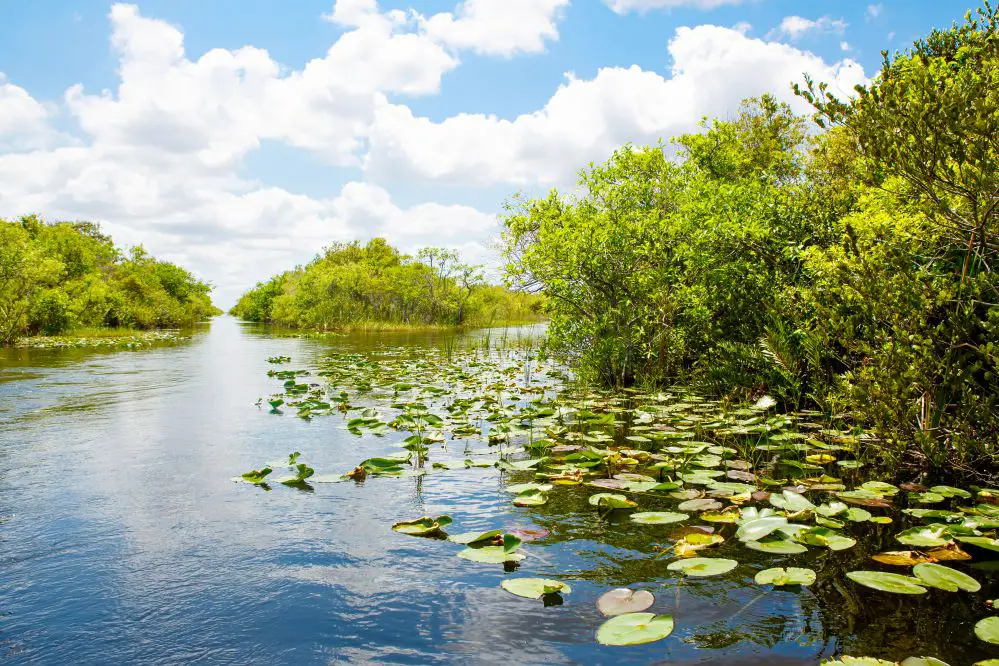 As the saying goes, "Life is either a daring adventure or nothing at all." Exploring Everglades National Park in the USA offers an opportunity to embark on such an adventure.
Spanning 1.5 million acres across southern Florida, there are plenty of opportunities for wildlife watching within this national park.
The wetland ecosystem of the Everglades provides a home for many species of animals and plants that can be seen by visitors when exploring the area.
From wading birds like egrets and ibises to crocodiles and manatees, these creatures can often be spotted along hiking trails and waterways throughout the Everglades.
The vastness of this park also makes it an ideal spot for spotting larger mammals like deer, bobcats, panthers, and even bears!
A visit to Everglades National Park is not just about viewing wildlife; it's also about appreciating nature in its most beautiful form – from sweeping marshes filled with aquatic grasses to towering cypress trees draped in Spanish moss or bald eagles soaring above pine forests.
Whether you're looking for breathtaking views or exciting animal encounters, there's something here for everyone who wants to experience nature up close and personal.
14. Encountering Kruger National Park In South Africa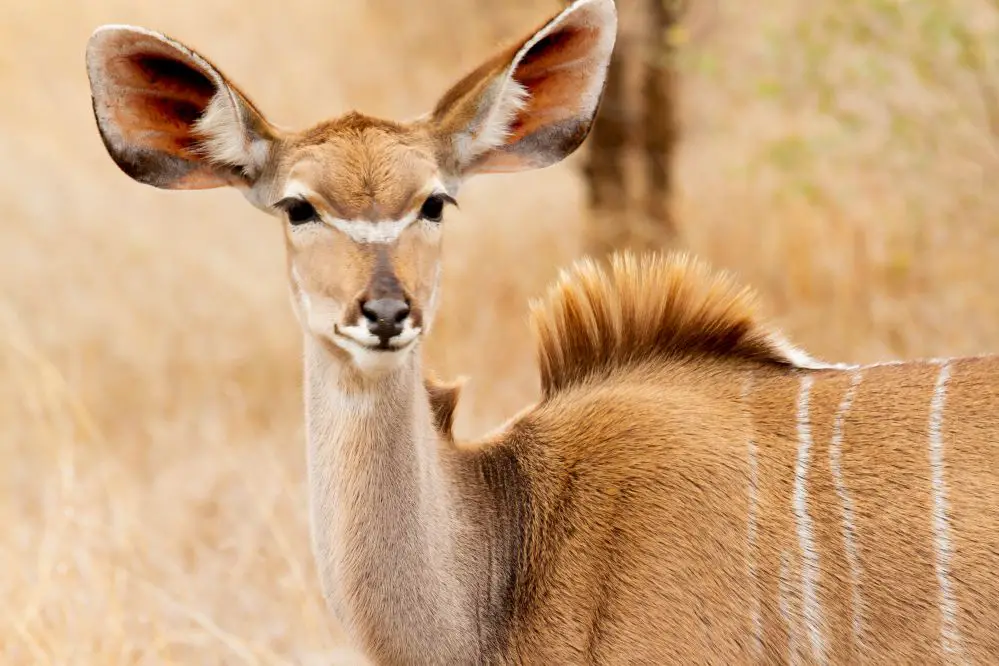 Next on our wildlife-watching tour of the African continent is Kruger National Park in South Africa.
This park has become a popular destination for safari tours and camping trips, offering visitors an extraordinary chance to view some of Africa's most iconic animals in their natural habitats.
From lions and elephants to rhinos and giraffes, Kruger offers a plethora of magnificent creatures to discover.
For those seeking unique experiences with more personalised service than that offered by traditional guided tours, there are several companies which offer private kruger park safaris or custom-tailored kruger wildlife tours.
These excursions provide guests with exclusive access to the best spots within the park, as well as opportunities for up-close encounters with nature at its finest.
Additionally, these guides can also arrange accommodation options like luxury lodges or rustic bush camps located inside the park itself – perfect for adventurous types who wish to immerse themselves fully into the African wilderness.
Kruger National Park boasts other attractions besides its incredible array of animal species; it's also home to some stunning landscapes such as waterfalls and riverside plains.
For those looking for even more adventure, there are plenty of kruger camping trips available too – giving you the opportunity to explore deeper into this majestic wonderland under your own steam!
Whether you're after a thrilling game drive through dense jungle foliage or a leisurely stroll along one of Kruger's many tranquil trails, this breathtaking reserve will leave lasting memories of your wildest dreams come true.
15. Admiring Corcovado National Park In Costa Rica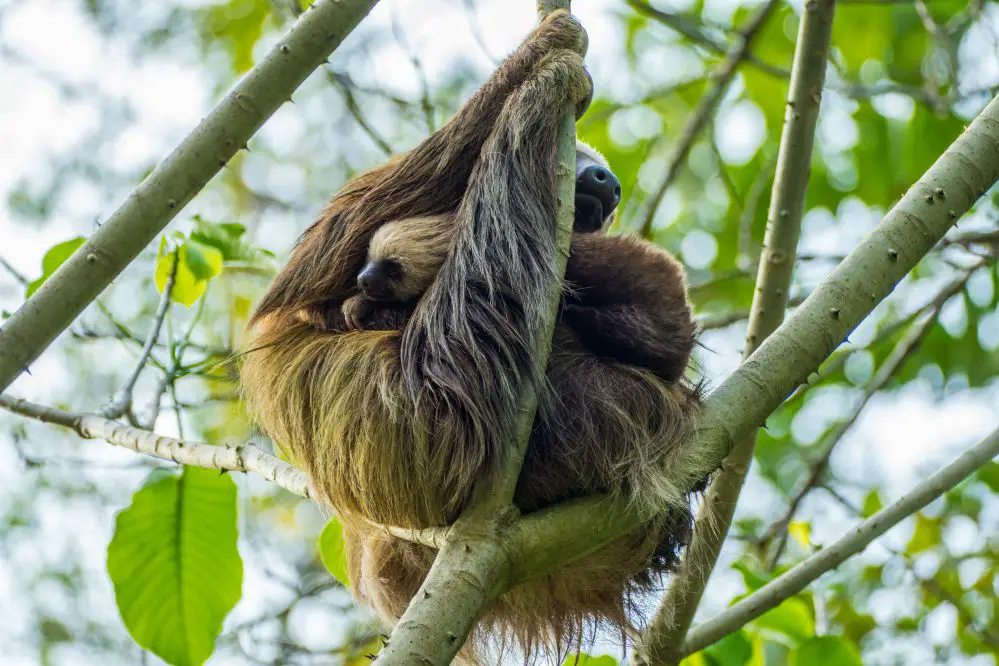 Visiting the Corcovado National Park in Costa Rica is an incredible experience that should not be missed.
This park offers unparalleled access to some of the most diverse wildlife on Earth, and it's easy to understand why so many people come here just for the chance to observe these creatures up close and personal.
There are few places quite like this one for admiring wild animals in their natural habitat.
The best way to take advantage of all that Corcovado has to offer is by taking a guided tour into the jungle.
These tours typically last between two and three days, depending on how far you plan to travel, but they're well worth the money spent as they provide amazing opportunities for animal-watching.
The guide will show you where certain species prefer to live, what time of day they come out, and even give you tips on capturing stunning photos with your camera or smartphone.
One highlight of visiting Corcovado is the opportunity it provides for learning about conservation efforts being undertaken in Costa Rica.
Here you can witness firsthand how dedicated biologists are working hard every day to ensure that fragile ecosystems remain intact and healthy long into future generations.
It's important work, and by observing it first hand we gain a better understanding of how vital nature is – something no amount of reading could ever replicate.
With admiration comes respect, making us more likely than ever before to protect our planet's precious resources!
Conclusion
Wildlife watching is an exciting and unique experience that can be found all over the world. From the Everglades National Park in the United States to Etosha National Park in Namibia, there are endless opportunities for travelers to get up close and personal with incredible wildlife.
Every destination offers something truly extraordinary – from flocks of exotic birds to majestic predators like lions and tigers.
No matter where you go, wildlife watching will take your breath away. Whether it's a herd of elephants roaming across the Serengeti or a family of bears fishing along Katmai National Park's rivers, these scenes will remain etched into your memory forever!
Even if you don't witness any animals on your journey, exploring these lands is still an awe-inspiring adventure that I could never forget.
If you're looking for one of life's greatest experiences, then look no further than wildlife watching at some of these stunning locations around the world. You'll create memories that will last a lifetime – guaranteed!