When I thought of Morocco, surely the first thing that comes to my mind is the desert. In fact, it is one of the main attractions that thousands of travelers seek as an experience when visiting this area. However, in a large part of the country, believe me, or not, there are also mountains and even snow in winter.
To admire this mountainous landscape, you must move inland, to the High Atlas Mountains, where you can see snowy mountains. The High Atlas Morocco is, in fact, a mountain system that runs through all of northwestern Africa, from Tunisia and through Algeria, for 2,400 kilometers. The highest peak is the Toubkal, with 4,167 meters, which is located in Moroccan territory. Its meaning is "Land that rises above the others."
In this blog post, I will highlight the 10 Top-Rated Tourist Attractions in Morocco's High Atlas region that will make your trip unforgettable. Read on!
1. Ait Ben Haddou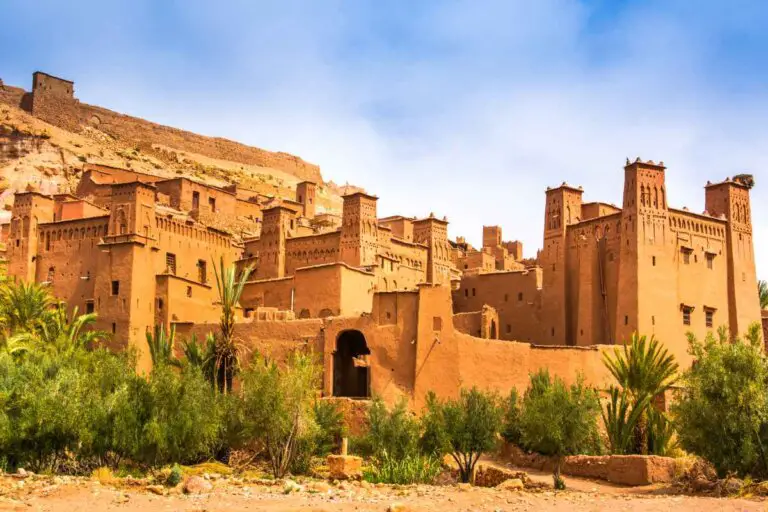 My first stop was at Ait Ben Haddou, an ancient fortified village and UNESCO World Heritage Site. This is one of the most popular tourist attractions in Morocco High Atlas Region because it's a perfect example of high atlas architecture with its narrow alleys, old city walls and traditional houses known as ksars that are built from mud bricks or clay mixed with straw.
The beauty here lies not only on this amazing architectural site, but also for being located right next to some impressive mountains such as Jbel Toubkal, which stands above all other peaks in the North Africa region.
Though not many are living in this area now, Ait-Ben-Haddou's location and layout speak a lot about its past. Flowing along the side of this city is the Ounila River, which provided the early residents with fish and water for cooking and cleaning.
Moreover, as you walk along, you'll see several public buildings such as a mosque, a fortified granary (on the highest point of the Ait-Ben-Haddou), a public square, a Muslim cemetery, a Jewish Cemetery, etc.
All these indicate that Ait Ben Haddou was once a location for bustling trade and the harmonious cohabitation of Jews and Muslims.
2. Ouarzazate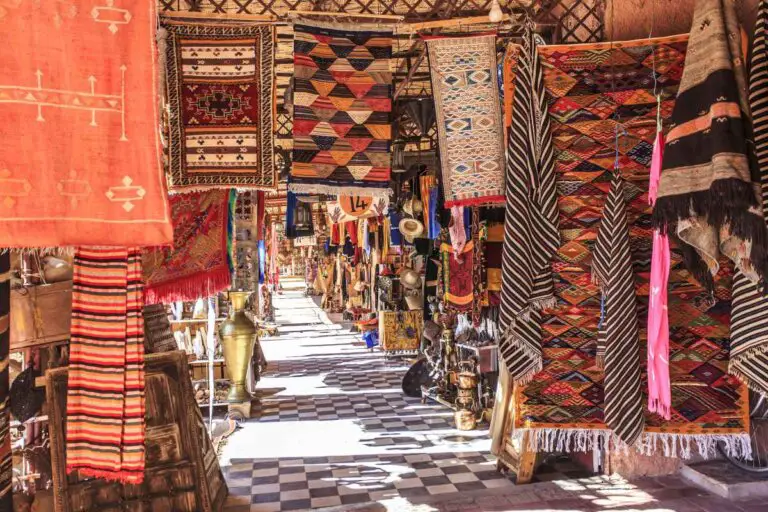 This is also one of the main tourist attractions in Morocco High Atlas Region because it served as the backdrop for many Hollywood films like Ridley Scott (Blade Runner), David Lean and John Huston, who used this town to film their movies and TV series such as Lawrence of Arabia, The Misfits, and much more.
Comprising of an endless stretch of clay buildings, this city looks like a dull brown kingdom that's stuck in time. Nevertheless, consider coming because Ouarzazate's strength lies in its proximity to many nearby tourist attractions.
Tourists and Moroccan tour guides call Ouarzazate the gateway or portal to the dessert. This is because it provides access to the entry point of the Sahara in Morocco, which lies on the southern side. Moreover, the Draa Valley tour starts in Ouarzazate, so trekkers rest here before heading out the next day.
But it could be that the nearby Ait Ben Haddou is the primary reason why tourists visit Ouarzazate. From Ait Ben Haddou, Ouarzazate looks like a tiny dwarven kingdom that proudly exposes its buildings to the basking heat of the Moroccan sun.
3. Ourika Valley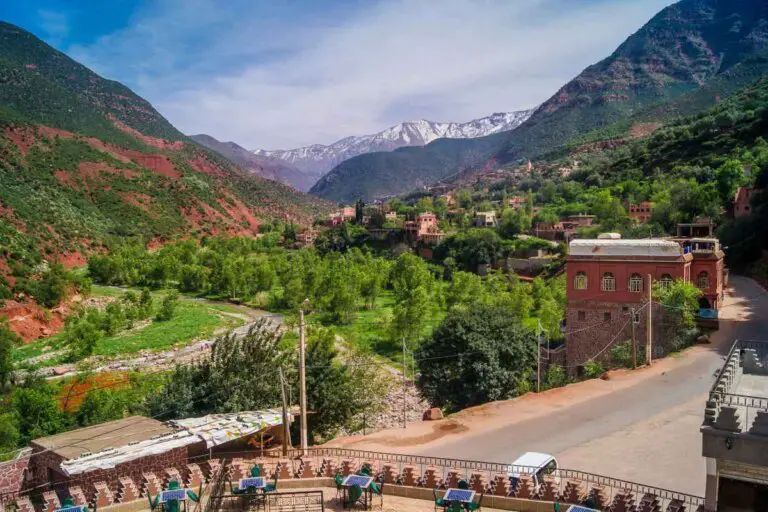 I continued my trip and headed to Ourika Valley. The area is famous for its palm trees that line the river's banks and create breathtaking scenery against mountain peaks.
This region was also good to explore because of the natural beauty it has in spite of being relatively close to Marrakesh (less than two hours). It consists mostly of lush forests where monkeys can be seen climbing up high on branches or perching themselves nearby, watching people go by. In addition, there are many waterfalls.
In the Ourika Valley, you can opt to go for a trekking tour with a tourist guide. The trek lasts for 1 or 4 hours, depending on how far you're willing to go. With the trekking tour, you'll access the Berber House, the Yasmine Restaurant and cafe, and scenic locations.
You'll pass by the houses of locals during the trek. Therefore, prepare some money because their homemade textiles might be up to your tastes.
4. Draa Valley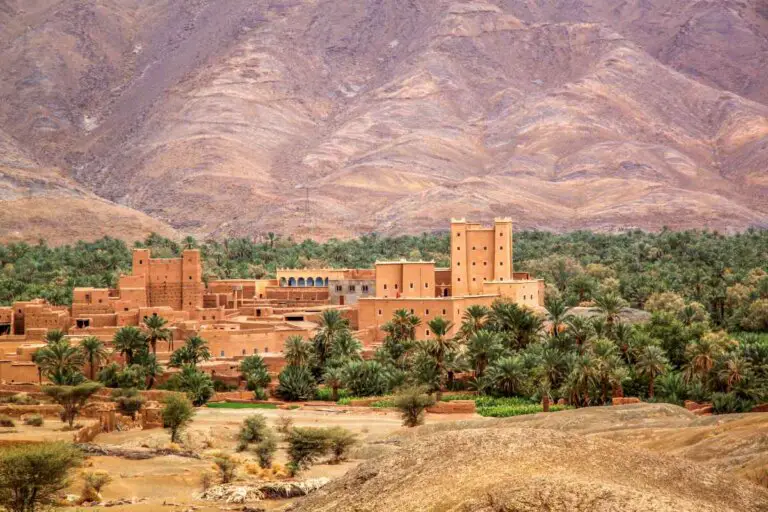 This is another picturesque valley that I found interesting in the high Atlas Mountains. It's a green oasis in an otherwise arid region of the country. And if you love hiking or even horse riding, then this valley offers some of the best trails around!
In addition to mountain climbing, there are many other activities available for tourists who come here, such as kayaking and camping along rivers or just relaxing in small towns that dot every corner of this verdant high-altitude paradise.
Aside from its views, Draa Valley is famous because it is one of the oldest valleys in Morocco. In the Draa River, numerous petroglyphs lie. Moreover, an old rock statue: the Venus of Tan-Tan, was found here. What's amazing about the finding is that the crude female statue made out of rock might be the oldest handwork in history.
The Venus of Tan-Tan is now at a museum. However, you can still see the petroglyphs via Draa Valley Treks. These will also take you to the kasbahs of Draa Valley. There are seven of these for you to explore.
5. Dades Valley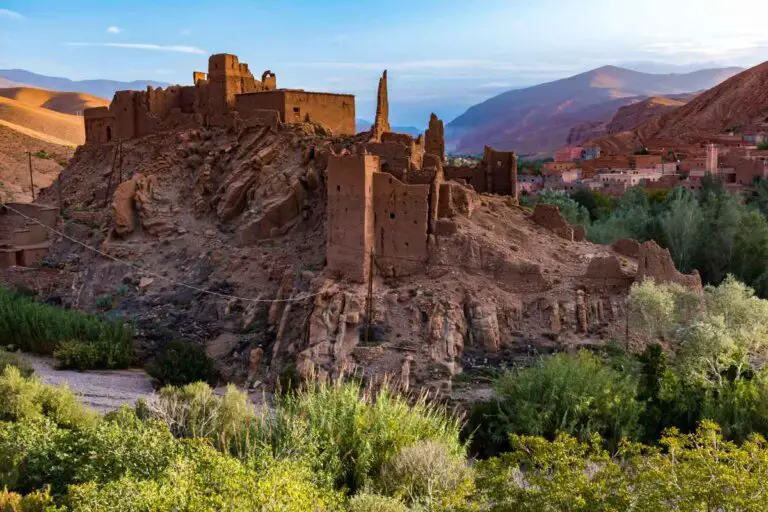 After a few hours of driving, I reached Dades Valley. It's a place where you can enjoy the high Atlas Mountains nature and the beauty of its landscape. This valley is known for its high-altitude lakes that are surrounded by high peaks up to about 16,000 ft. The scenery here changes from mountain tops covered with snow during winter to lush green valley's full trees during springtime.
Dades Valley is also a site where you'll see numerous kasbahs that stand against its wavy background. The kasbahs are the main attraction of this valley. Explore each and take pictures. However, if you're willing to continue with the adventure, the Dades Gorge is waiting.
Polychromatic rock walls define the Dades Gorge. The rock walls can either have a red hue, a brown hue, or a whitish hue, depending on the minerals present on them. Reaching heights between 200 meters – 500 meters, the walls of Dades Gorge were once actually submerged in the ocean a few million years ago. Right now, they provide tourists with dizzying unforgettable sights.
6. Telouet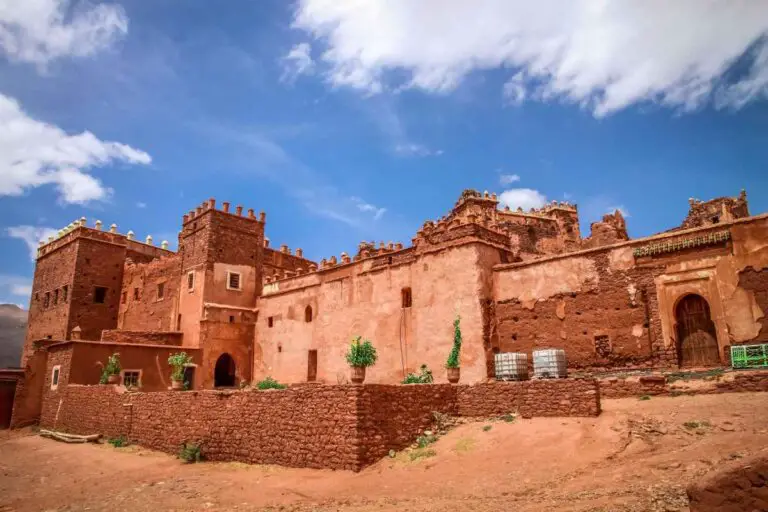 Telouet is a humble rural community. Day or night, this town is very peaceful and serves well for tourists who wish to rest before going to bustling tourist sites. Within Telouet is lush farmland that provides wonderful photo opportunities.
On the grounds of the Telouet is the stronghold of the Glaoui tribe, a once-powerful tribe in the High Atlas Region that made a fortune by selling passage to merchants. Aside from the Glaoui stronghold, there's also the Telouet Kasbah. The Telouet Kasbah comes second to the Bahia Palace of Marrakech in terms of beauty.
However, the Morrocan government had to take action because the Telouet Kasbah is starting to deteriorate. This is due to the extreme environment of the High Atlas Region. Strict policies apply while you're exploring the place. For example, you can't bring rubbles from the site back home as a souvenir. Moreover, throwing water bottles anywhere is taboo even though there aren't a lot of recycling bins around.
As for activities, a day in Telouet begins with visiting the local shops, exploring the Glaoui stronghold, and enjoying the views that the Telouet Kasbah offers.
7. Todra Gorge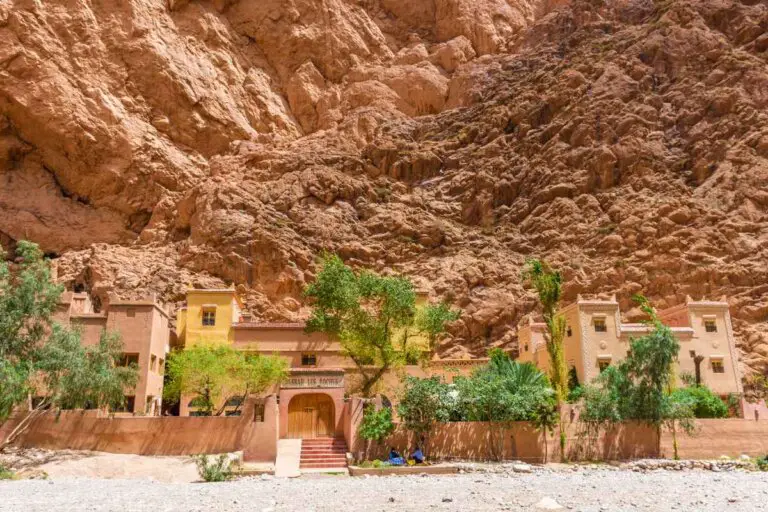 Known as a popular rock climbing destination, Todra Gorge is also one of the most popular tourist attractions in Morocco's high atlas region. Spanning for 25-miles, the Todra gorge features images of different patterns and formations on the face of the canyons. The scenes change with respect to the period of the day. This is because the sun cast shadows on the canyons.
Also, you'll get to watch the breath-stopping flight of Todra's mountain goats. They don't come near the highway and move further upon sensing that tourists are around. The view of the Todra River is equally spectacular. Moreover, the hairpins of the highway in Todra Gorge allow for a challenging motorbike ride.
Although many people prefer to visit this area by four-wheel vehicles, it is also possible to hike through the gorge and enjoy its natural beauty. I advise that you include this attraction on your list if you are looking to do adventure sports or rock climbing while visiting this area.
8. Tifoultoute Kasbah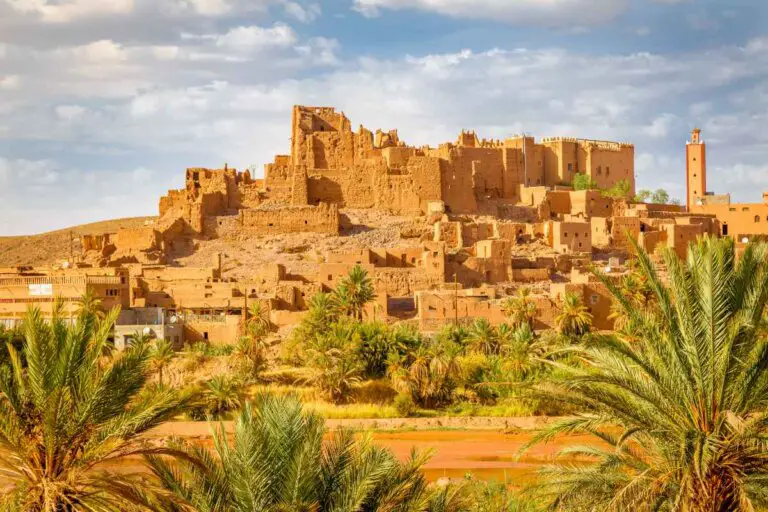 My next stop was in Ouarzazate, a city high up on the Atlas Mountains. One of my favorite attractions here is Tifoultoute Kasbah which has been restored and is open to visitors. It's considered one of the most beautiful kasbahs because it has impressive architecture with high walls that used to keeps out intruders while providing spectacular views over adjacent farms and valleys below. It is also one of Atlas Morocco's most famous destinations, and it was recently declared a UNESCO World Heritage.
This place provides a cool refuge from high temperatures during the summer months. However, I found out that some parts are not accessible due to steep steps or narrow passages inside the palace area.
As I looked at what people had to say about this attraction on the internet, many tourists talked of how this site made them feel like they were stepping back into a time once they walked through its doors, especially when they see the high ceilings, wood furniture and painted walls.
There's nothing much to do except take pictures of its ceiling, interior landscaping, etc. The back is the most picturesque spot because it's where you'll see the wonderful snowcaps of the Atlas Mountain Range. Surrounding the Tifoultoute Kasbah are traditional Moroccan houses.
9. Ouzoud Waterfalls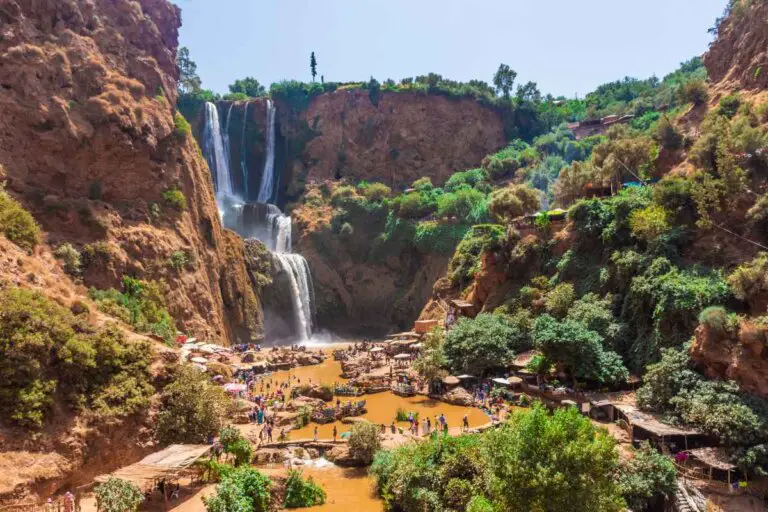 My visit to the high atlas would not be complete without seeing a beautiful waterfall. Ouzoud Waterfall has been described as one of the top tourist attractions in Morocco's High Atlas Region because it's less than an hour away from Marrakech.
Though pictures of the Ouzoud waterfalls that circulate on the internet only show one waterfall, Ouzoud is, in fact, a generic term for a group of waterfalls close to the village of Taghnameilt. This means that you'll be able to see several waterfalls during your visit.
At the end of the Ouzoud waterfall, complex are the orchards, gardens, gorges, and farms along the El-Abid River. You can explore the Ouzoud without a guide. However, it's safer if you get one. By the way, a part of Ozoud waterfalls, the one which circulates online, is the second tallest waterfall in the entire African continent.
No restaurants are near Ouzoud waterfalls. Hence, bring your own food and water before coming. Moreover, camping isn't allowed though there are lots of nearby areas that serve as a wonderful campground. Go to the Tagnahmeilt village for quick accommodation. However, don't expect much because there are no great hotels there.
10. Setti Fatma Village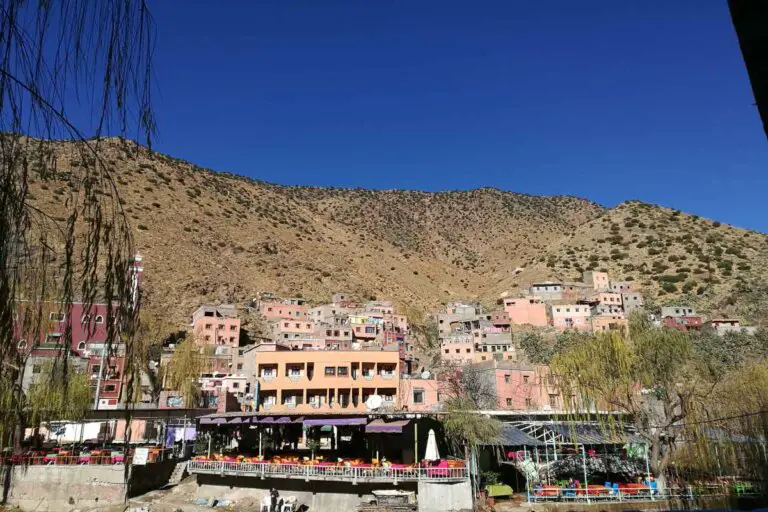 Some high-altitude villages in this region are known for a particular artisan tradition. The best example is the Setti Fatma Village which is famous because it's an old village built entirely of mud-brick and straw that has been home to potters since at least 1450.
It was here where I had my first encounter with Morocco's high mountain life. As I walked through narrow streets lined by houses fronted by little shops, I saw locals selling everything from handmade fabrics to local cuisines like tajine or couscous. You can also find some handicrafts made out of wool, such as carpets, blankets, pillows and even clothes.
Today, Setti Fatma looks very modern due to tourism initiatives. It's a great place to stop for coffee or food before resuming with the Ourika Valley hike. Setti Fatma stands beside a portion of the Ourika River. Whenever the icecaps of the Atlas Mountain range melt, the Ourika River rises and provides locals with tons of catch.
Read more about Morocco: 14 Top-Rated Tourist Attractions in Rabat
Summary
High atlas Morocco is a beautiful region with high mountains and snow in winter. Although the area is known for its desert landscapes, it also has many interesting attractions that are worth visiting. I also recommend finding accommodation near Atlas Mountain Range for an unforgettable experience with nature!