Seychelles was a pleasant surprise for me. I was expecting an island exploited by tourism, with many resorts, Italian restaurants, and full of people in search of the best beaches in Seychelles. But no, I found out that the island of Seychelles is impressively green and wild.
Seychelles is an archipelago in the Indian Ocean, northeast of Madagascar. There are more than 115 islands and islets in this nation, with a total landmass of 455 square kilometers. These stunning beaches have been popular with tourists for decades, and it's not hard to see why!
The beaches here offer some of the best white sand, crystal clear water, and a range of activities, from snorkeling to scuba diving. And it's not just the beaches that are spectacular; there is an incredible amount of wildlife on land and sea.
I was fortunate enough to spend a week in Seychelles this past February, and it is one of the most beautiful places I have ever been. And in this post, I've compiled a list of the 14 best beaches in Seychelles that are perfect for travelers like you! Read on
Best Beaches in Seychelles
1. Petit Anse, Mahe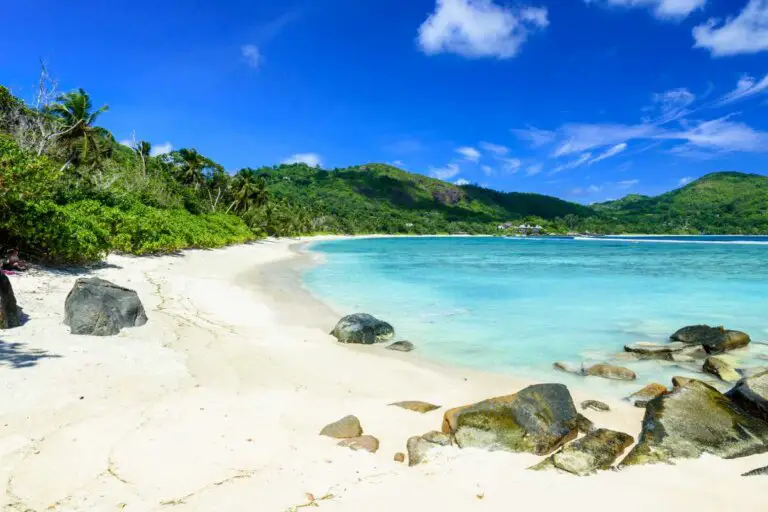 This is the most beautiful Seychelles beach, according to me. I mean, there are more beautiful beaches (in terms of size, beauty, and landscape), but this is different. It gives you a feeling of exclusivity.
Petit beach is an immense beach of white and impalpable sand, absolutely deserted and bathed by medium waves but with a limpid and transparent sea. Despite the waves, you can safely enter the sea for about ten meters, as the seabed is very shallow and completely sandy. The beach slopes gently, and you can enjoy snorkeling on the sides near the rocks. The landscape is very pretty with lush vegetation where you can hide from view if you want to go nude sunbathing.
I spent my night at Four Seasons Resort, which has treehouse villas with a private pool. The experience was truly unique. It's not cheap, but if you do it once in your life, it is worth that little extra.
In my opinion, this beach has something extra compared to all those that you will find in Seychelles. It's ideal if you're looking for a place alone so as not to feel overwhelmed by other people passing by every five minutes.
2. Anse Source d'Argent, La Digue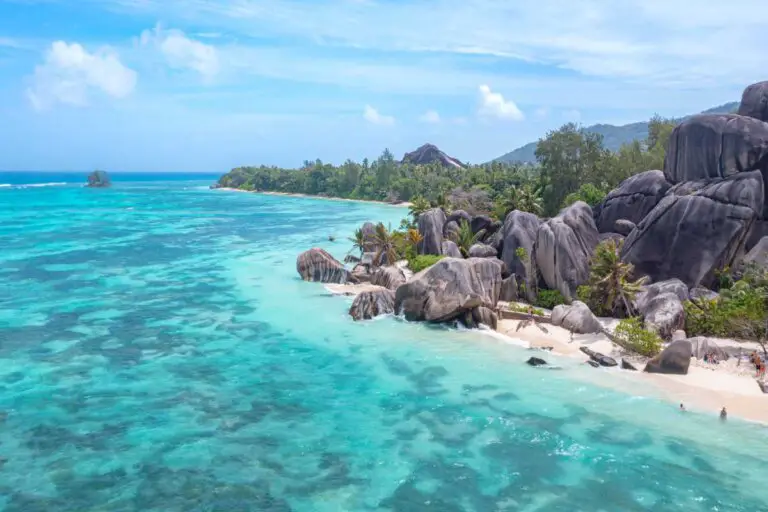 Anse Source D'argent is another spectacular beach in Seychelles and can be considered a must-visit. It is located in the southwest of the island, and it is the best of the best. No wonder the movie Castaway was shot here.
It's designed in a way that makes it look like two beaches in one, with the blue sea on one side and calm water on the other. The sand is soft and fine, perfect for walking barefoot without scratching your feet. The water is clear, but it has some waves during certain hours of the day (not too strong).
It also has tall granite rocks where you can climb to take great photos or enjoy the sunset while having something cold to drink or eat peanuts or bread crumbs (the typical food sold by vendors near seaside promenades).
Overall, Anse Source d'Argent is an excellent option when visiting Mahe. Just note that you may need to pay the entrance fee to L'Union Estate of SCR to access it.
3. Anse Lazio, Praslin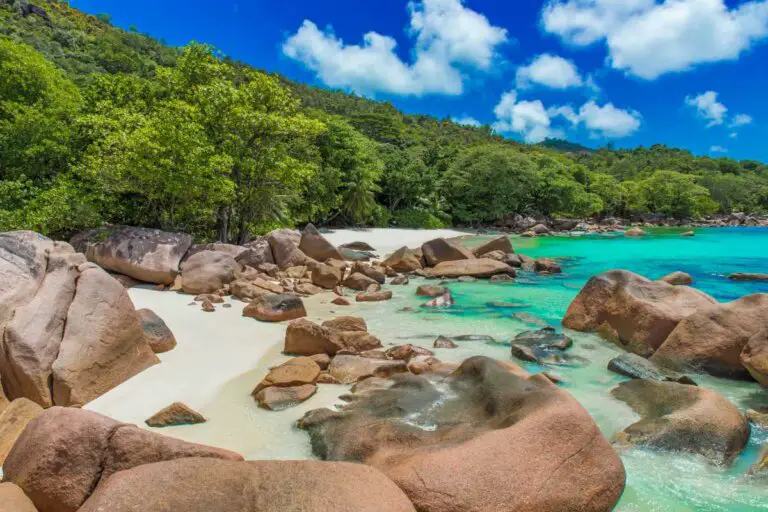 No doubt this is one of the top-rated Seychelles beaches, located in Praslin Island. There were more people at the beach, but that did not bother me.
The fact is that Lazio Beach turned out to be more beautiful than I expected. The color of the sand is white, the water is blue (it has some rocks that protect it from waves). The color of those rocks came out even better by contrast with both colors. Quite an explosion of colors. It is certainly worth taking a walk along the coast to see all those strange natural shapes, such as those big rocks or those caves.
I spent the afternoon on Lazio Beach, and it was nice because there was room for everyone: families, couples, groups of friends. Everyone could enjoy the place without bothering anyone else.
Of course, you can rent a sunbed with an umbrella for some peace or go to one of those places where food and drinks are served. They were not expensive but certainly more expensive than on other beaches. Many people took the risk of having their things stolen because they went too far away from their belongings. This is why I recommend being very careful if you have something that interests thieves (such as cameras).
4. Anse Georgette, Praslin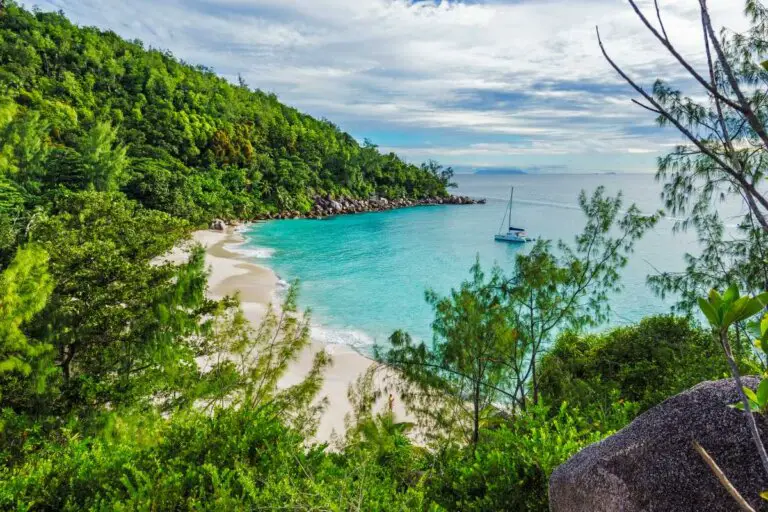 Although Petit Anse is on the top list of best beaches in Seychelles, it fights head-to-head with Anse Georgette. This beach is paradise. Turquoise water, white sand, and a postcard landscape added to the fact that due to its difficult access, it is not very crowded.
To come here, there are two options, and neither is entirely simple, but there is a huge difference in effort. This is because Anse Georgette beach is located in a place that, to access by land, you have to go through the property of a luxury hotel called Constance Lemuria. To do this, you must request a permit or authorization from the hotel in advance, and although it is not complex, it requires that you do it in advance (2/3 days). It also implies that as there are a certain amount of quotas per day, you have to anticipate this for peak seasons.
That said, here is the second option, which was the one I made. It takes more effort and a lot more sweat for sure, but the satisfaction of not having to ask anyone for permission to enter a public beach, and having achieved it despite the difficulty, was insurmountable. I'm talking about trekking from Anse Lazio to Anse Georgette.
When I say that it is difficult, it is due to several factors. Among them is that it is not a signposted trail of medium/high difficulty. It takes approx. 2 hours to go and 2 hours to return. It has very steep places and requires some physical strength.
5. Beau Vallon Bay, Mahe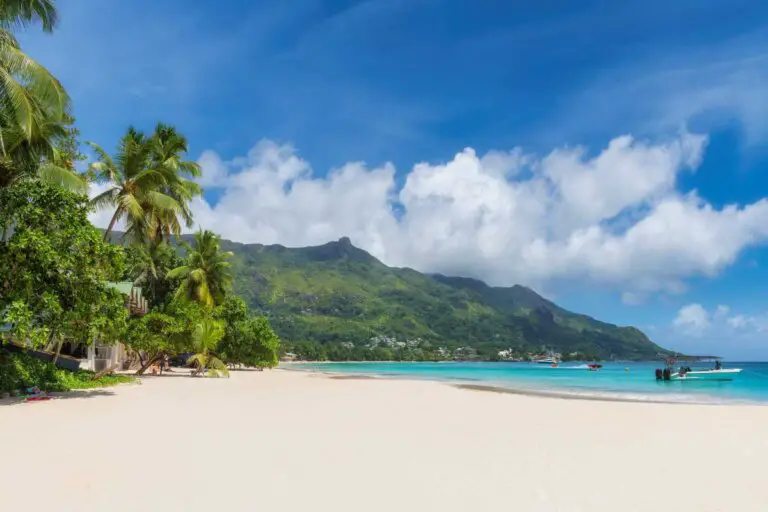 And, of course, I also have to talk about the most "touristic" place of them all. Beau Vallon Bay is a name that almost everyone who has been on a trip to Seychelles knows. It's a beach with more than 1km long coastline and lots of big restaurants where it is possible to eat or drink something cold.
The water here is calm, which makes it ideal for swimming, snorkeling, or simply walking by the sea. In addition, there are also many beach activities such as Banana boating, parasailing, paddleboarding, etc.
In my opinion, it doesn't look like a top Seychelles beach. There are many people and hotels everywhere. In addition, there were some musicians playing music very loudly so you could not really enjoy either. I have heard different opinions about this place, so it depends on which day you go and if you stay in one of the surrounding hotels.
Many hotels, restaurants, and bars are crowded. The good thing is that it has a lot of infrastructures (which I think has made it look more commercialized). It's also a good place to see the nightlife in Seychelles. So it would be a shame not to visit.
6. Grand Anse, La Digue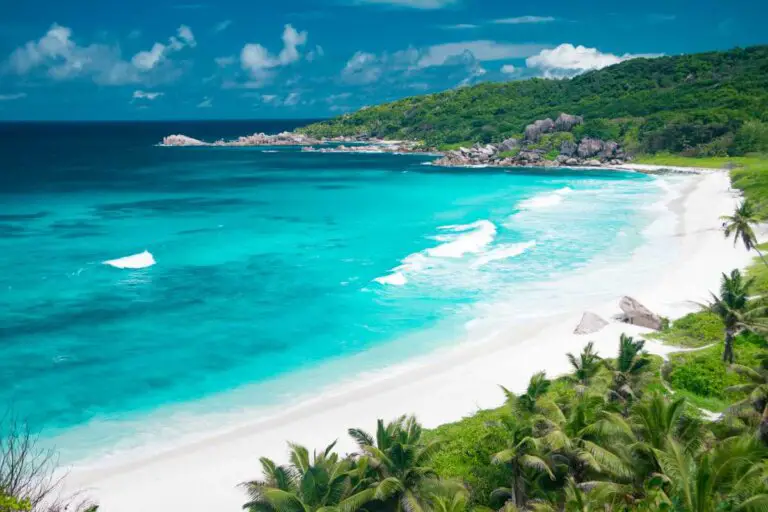 This is a beach that has a lot of personalities. It's made up of fine sand and rocks, where you can find all kinds of shells and corals. The water is clear, and the waves are big enough to have some fun if that's what you're looking for.
You can practise almost any water sport you want here (except scuba diving). There are instructors for everything from surfing to parasailing and banana rides. And it also has a pool! I do not know if it is possible to bathe in it, but there were people swimming. In any case, this beach stands out due to its atmosphere, which makes you have fun even when your intention was just to take a walk.
In addition, although it may be crowded during peak seasons, here you will always find space unless there are some events.
7. Anse Intendance, Mahe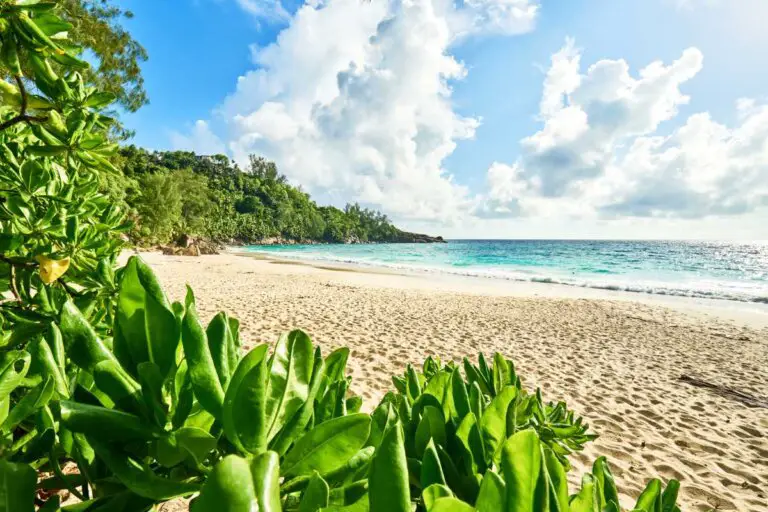 As I continue touring Mahe, there is this incredible beach, also to the south: Anse Intendance. To get here, you leave the car in a parking lot at the end of the road and walk several meters along some paths in the middle of the vegetation that is beautiful.
This beach is very calm and quiet, with good sand and great waves. However, this makes it difficult to swim here, but not impossible. I saw people jump in the water and even do some surfing at high tide (at least that's what it looked like). At low tide, I recommend going to see different rock formations nearby. If you are lucky, you can even see some sea turtles!
I spent my night at Banyan Tree Seychelles, which is a beach resort. The hotel is amazing, and the view from my room was incredible. I recommend you to stay there at least one night because the experience is worth it.
So, if you're looking for a place that allows you to enjoy the best of Seychelles beaches without too much stress, this is your beach.
8. Anse Royale, Mahe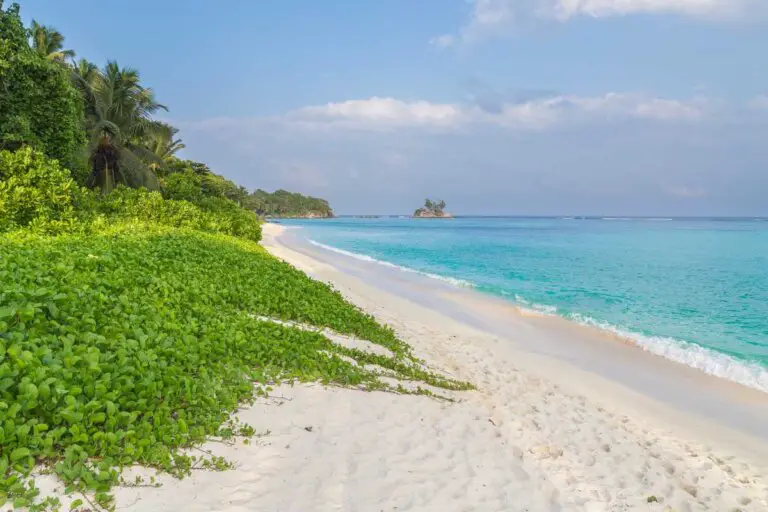 And, of course, Anse Royale cannot be missing from this count of the best beaches in Seychelles. This was my first beach in Seychelles, and for this, I also have a special affection for it. To arrive and see the color of that water, with the green landscapes in the background, the huge stones on the sides, was undoubtedly a novelty.
There are quite a lot of people (more than in its neighbors), but it is still not a crazy thing. Of course, keep an eye on this beach with your belongings.
It is best to stay where most of the people are, and not leave your things in areas where there is no one or near the road. This is because there may be outbursts or the typical petty thieves that run by and take the things that you left very close to hand. But nothing to be alarmed about. In fact, it is the only beach where I saw police, and they recommended something like that (especially since I was walking with a camera with a tripod).
9. Anse Severe, La Digue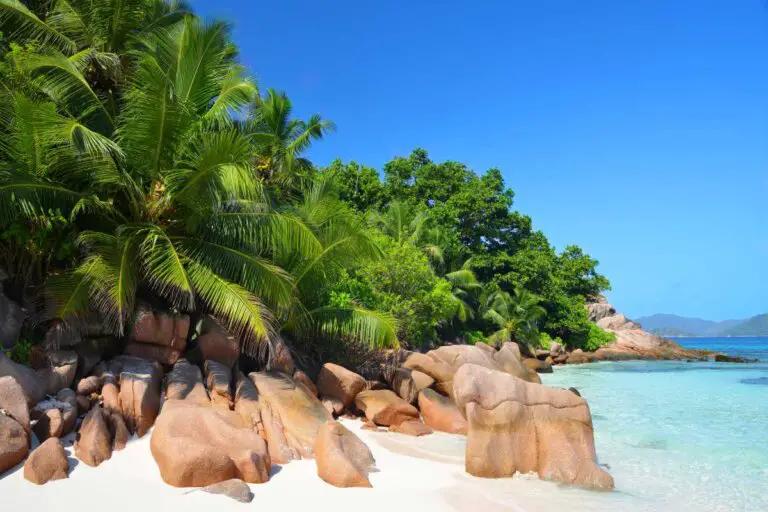 Actually, the beach of Anse Severe does not quite belong in the list of best beaches in Seychelles. Of course, it is a beautiful beach, but so are all beaches in Seychelles. What makes this beach special is that it has by far the best snorkeling spots in La Digue. The reef is quite close to the beach, and at high tide, you can swim to it from the shore. Fish in all colors of the rainbow, squid, and if you're lucky, you'll also spot a turtle here and there.
Anse Severe is, therefore, not the most beautiful beach in Seychelles, but if you like snorkeling, it is the place to be.
10. Anse Louis, Mahe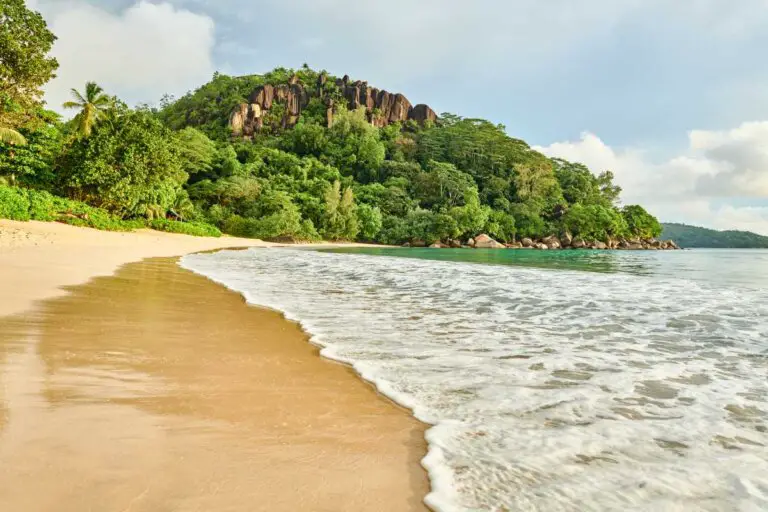 There is nothing more special than dipping into the blue water of Anse Louis. This beach has all the conditions to be one of the best Seychelles beaches. It's just that it's far away from everything and partly hidden behind rocks. For this reason, I recommend it for people who are looking for something different than the typical postcard-perfect pictures or want to walk around without bumping into other tourists every minute.
The beach has turquoise water, white sand, and huge granite rocks on the coast. They make up such beautiful combinations with the colors of the sky, sea, and vegetation. But what stands out most are its transparency and calmness. It has a very gentle slope, and the water is so clear that you can see your feet. It really feels like stepping into a swimming pool.
The beach is very popular with families with small children because it is very safe and quiet. But this does not mean that there will be no waves or current at all! The water may seem calm but check whether or not there are any strong currents before you go. I went with my friend, and we had a great time!
Behind the beach is the Anatara Maia Seychelles Villas, where we spent the night. They were beautiful, and we had a great meal with a magnificent view of the beach. In addition, each villa has a small private infinity pool on the terrace and is decorated with modern and tasteful furniture.
11. Anse Volbert, Praslin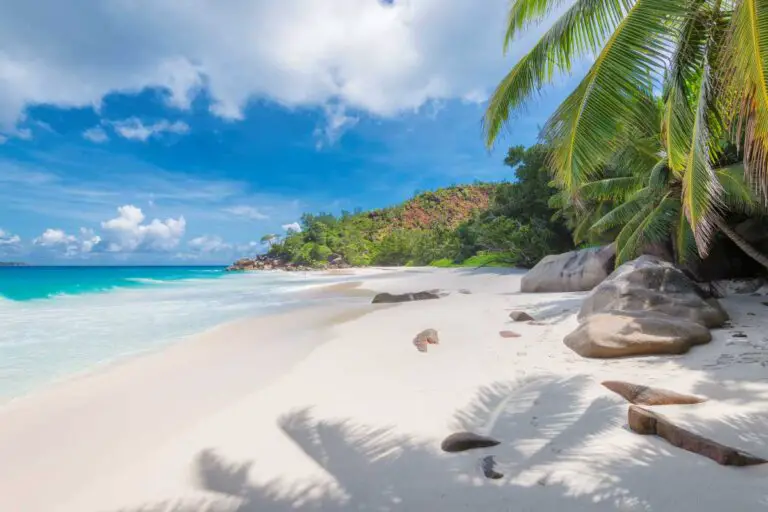 The Anse Volbert is a beach that I would define as leisurely. This beach has very special characteristics that I believe make it one of the best beaches in Seychelles. The color of the water, for example, is beautiful at all times of the day. Sometimes blue, sometimes green, depending on how deep it is. In addition, it has a fairly wide strip of sand that makes it easy to find a place where no one will be in front of you.
The water here is calm and shallow, making it a great place to go if you're traveling with kids. This beach also has a section with coral and rocks where you can snorkel and try to spot some fish. And just behind the beach, there are small shops and restaurants where you can eat something.
In my opinion, this beach has something extra compared to all those that you will find in Seychelles. It's ideal for anyone who likes nature and isn't afraid of going a little away from the beaten path. In addition, its glamour does not disappoint even when there are few people there.
12. Anse Marron, La Digue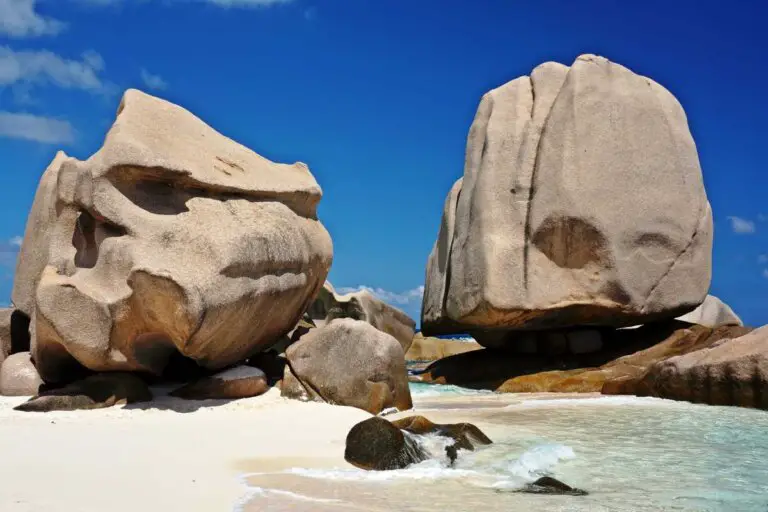 This is also one of the best beaches in Seychelles. At least, for me, it was. It is not really easy to get there, but it is worth it. To access it, you'll need a bit of a hike that can be rocky and slippery.
Once there, you will be able to admire one of the most beautiful landscapes in Seychelles. You'll have beautiful views of huge granite rocks around you, with greenery and flowers all over the place. The sand here is very fine and slightly golden, and the water has clear turquoise tones.
But be careful with the tides! The swell is strong, and the water comes fast, so make sure you swim behind the boulders, which provide natural pools for swimming. In my opinion, this is one of the beaches in Seychelles where you have everything: good views, good landscape, and an amazing atmosphere. When you're here, you feel like you're in your own world.
13. Anse Soleil, Mahe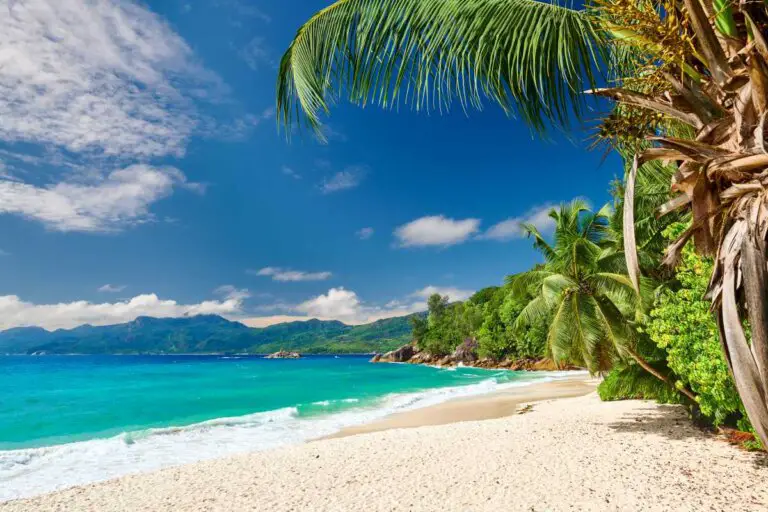 Anse Soleil is a corner of paradise, located in a small cove north of the island of Mahe. The area is surrounded by dense vegetation that offers shelter during the rest. The beach is 300 meters long and offers the typical characteristics that have made Seychelles so loved and desired: fine sand and enchanting sea.
I recommend that you stay at Anse Soleil until the evening if you want to have a great view of the sunset. The beach is lined with many coconut palms, so be careful of falling coconuts and do not lie directly under the palms. There is a delightful restaurant where you can eat local dishes and fresh fish.
14. Anse Cocos, La Digue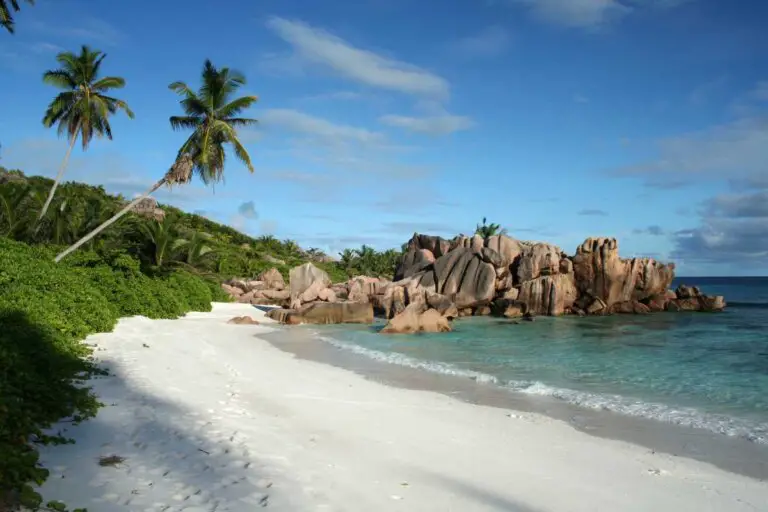 I have saved the best for last. Anse Cocos is the most beautiful beach in Seychelles. I believe it is the most beautiful beach of all I have been because it's stunning from every angle. It's hard to find a place that captures that same feeling of peace that one feels while looking at this beach.
However, a visit to Anse Cocos requires a bit of effort. You have to trek from Grand Anse to Petit Anse first (two beaches that are also very beautiful). And the trek ends at the spectacular Anse Coco.
The sand here is whitish, and the water is turquoise. Swimming in this beach is not recommended as the area boast dangerous tides and current. However, at the end of the bay, there is a natural, boulder-formed swimming pool where the sea is calm. I spent most of my day sunbathing and watching how the water flows into the sand. It was such a unique experience.
In my opinion, this beach has something extra compared to all those that you will find in Seychelles. It's ideal if you're looking for a place alone so as not to feel overwhelmed by other people passing by every minute.