As I was planning my itinerary on what to do in Tanzania, I memorized the phrase "HAKUNA MATATA." I had prepared myself for the fact that in Tanzania, I would hear this phrase over and over again, and so it was! Two simple words that mean "There is no problem." I liked pronouncing this phrase, shouting it, and singing it. But I didn't understand the profound importance it has for the people I met.
The first thing I have to tell you is that a trip to Tanzania is not particularly cheap. We usually have the idea that Africa is an economic continent, and it is not. If what you are looking for is a cheap trip, I recommend you to take a trip to Southeast Asia, which is much cheaper.
The safaris in Tanzania and other African countries have focused on Western tourists with high purchasing power. There are inexpensive options, but it is rare to find some cheap options.
During my 15 days in Tanzania, I was able to make an unforgettable safari in Africa. In addition, having 15 days also gives me time to relax on its paradisiacal beaches. Below, I will highlight the 15 best things to do in Tanzania that you must visit.
Things to Do in Tanzania
1. Serengeti National Park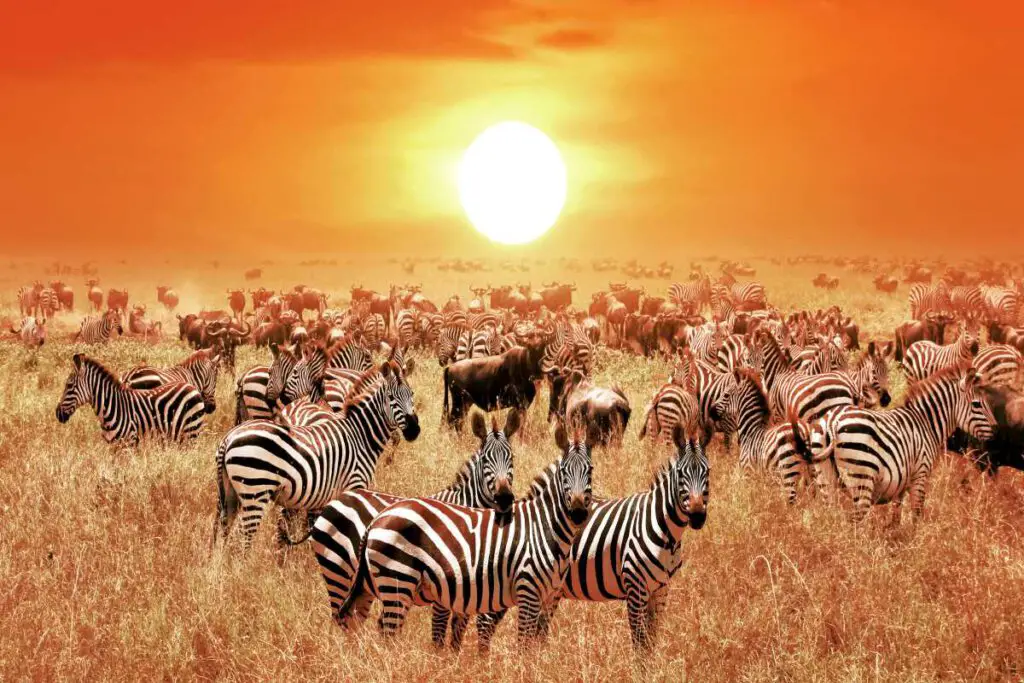 A Safari in the Serengeti, the dream of all those who like me love Africa. In fact, I loved it because it was my first experience in Savannah, in addition to being one of the most popular Tanzania tourist attractions. I knew it would not leave me indifferent to the endless stories I had read before leaving.
The gigantic park extends to the border with the Masai Mara in Kenya and is adjacent to Lake Victoria, shared with Uganda, the Ngorongoro Conservation Area, and other important reserves.
The Serengeti was declared a World Heritage Site by UNESCO in 1981, representing one of the main tourist attractions in Tanzania and the most important of a system of four protected natural areas called the "Nothern Safari Circuit." These include the National Park of the Lake Manyara, Tarangire National Park, Arusha National Park, and Ngorongoro Nature Reserve.
But beyond the dimensions and wonders of the Savannah, Serengeti safaris are world-famous and stand out from all the others for the event that makes it a truly special place: The Great Wildebeest Migration. This is a natural circle that brings groups of wildebeest. I'm talking about 2 million wildebeests running across the Mara River entering Maasai Mara in Kenya in search of water and fresh grass.
The best times to witness the migration are from mid-July to September, which is the time when the wildebeests cross the Maasai River, risking their lives, challenging crocodiles and currents.
2. Ngoro Ngoro Caldera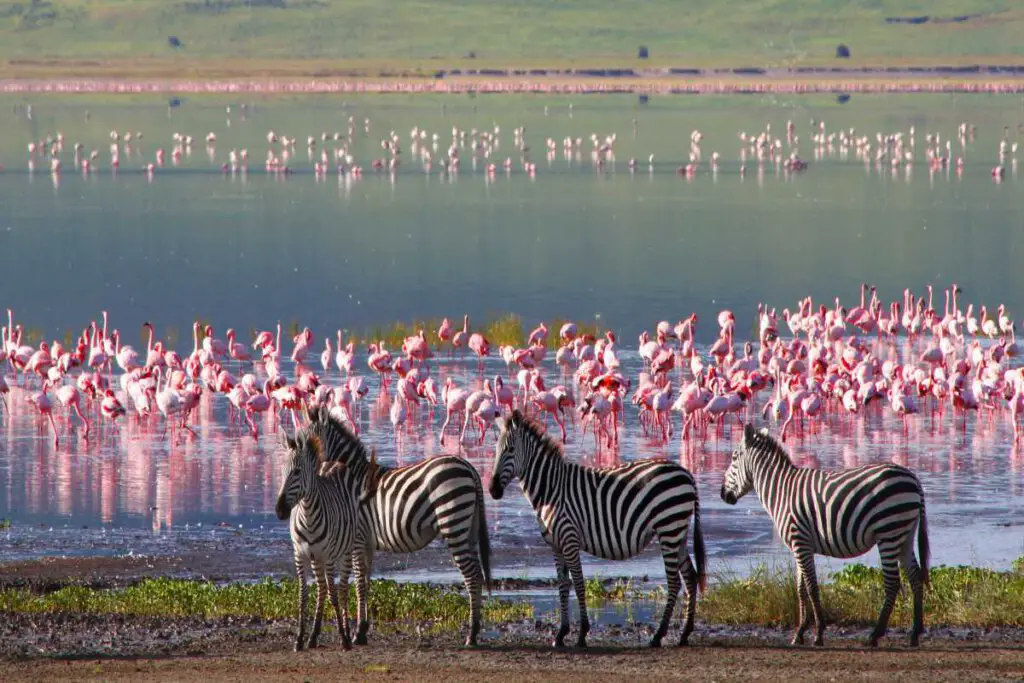 The long-awaited moment arrives in the Ngoro Ngoro Caldera. This was the attraction that I had been waiting for a long time. Wonderful is an understatement. I saw amazing views and lots of animals. It left everyone speechless.
I was inside the caldera, 300 square kilometers inhabited by over 25,000 specimens of animals. I immediately spot a pride of lions. We stopped in front of the lions, and I could hear their labored breathing. They were drooling. In the crater, it was 42 degrees, and the only trees present were on the edge, but they are occupied by the Maasai with their herd of cows. The lions seemed in pain. As soon as our guide turns off the engine, they get up and come to take refuge under our shadow. They can't take it anymore.
In addition to the lions, flamingoes are frequent in the vicinity of Ngoro Ngoro Caldera. They usually spend their time near pools of water or streams. Accompanying the flamingoes are elephants and other large four-legged animals. You might also see predatory animals such as cheetahs and hyenas.
3. Mount Kilimanjaro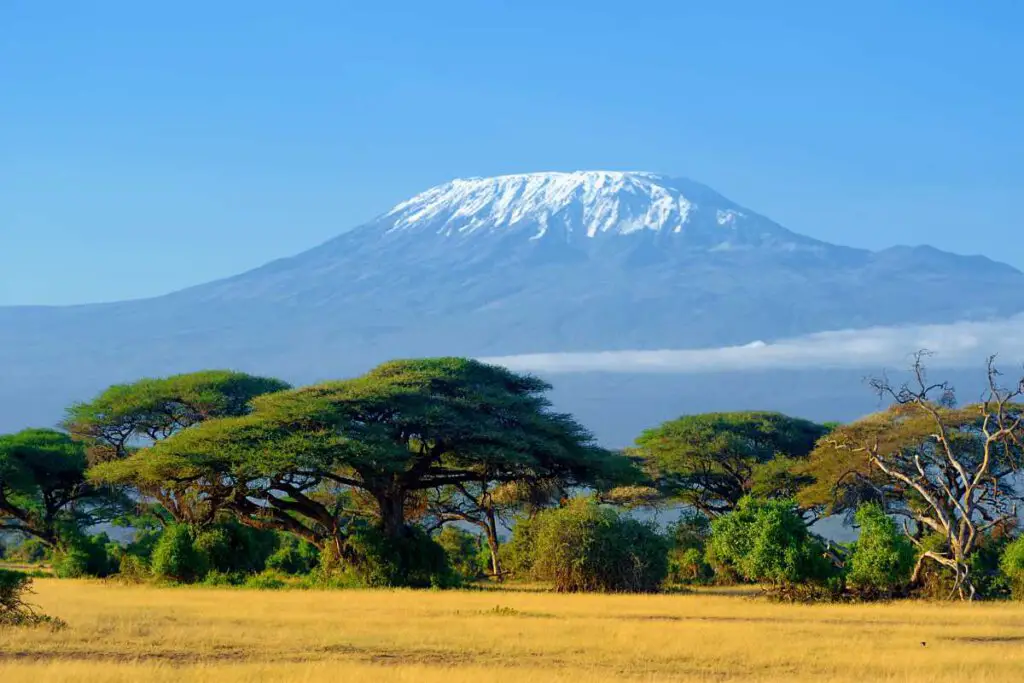 My next trip was to the highest point on the African continent, with more than 5,985 meters high and snow-capped peaks all year round. Mount Kilimanjaro is one of the most popular tourist attractions in Tanzania, on the border with Kenya.
The landscape seems to be from another planet: as the peak of Kilimanjaro is snowed all year round, it creates a very curious contrast with the immense savannah around it. In addition, it is divided into woody, rocky, marshy, and grassy landscapes.
A hike in Mount Kilimanjaro will take you to flower fields, rock beds, grassy plains, and other scenic locations. The alpine peak also becomes more beautiful as you get higher. Moreover, you'll see animals such as blue monkeys, white-necked ravens, malachite sunbird, and four-striped grass mouse. This combination of wildlife with beautiful views makes this one of the best Tanzania attractions.
4. The Maasai Tribe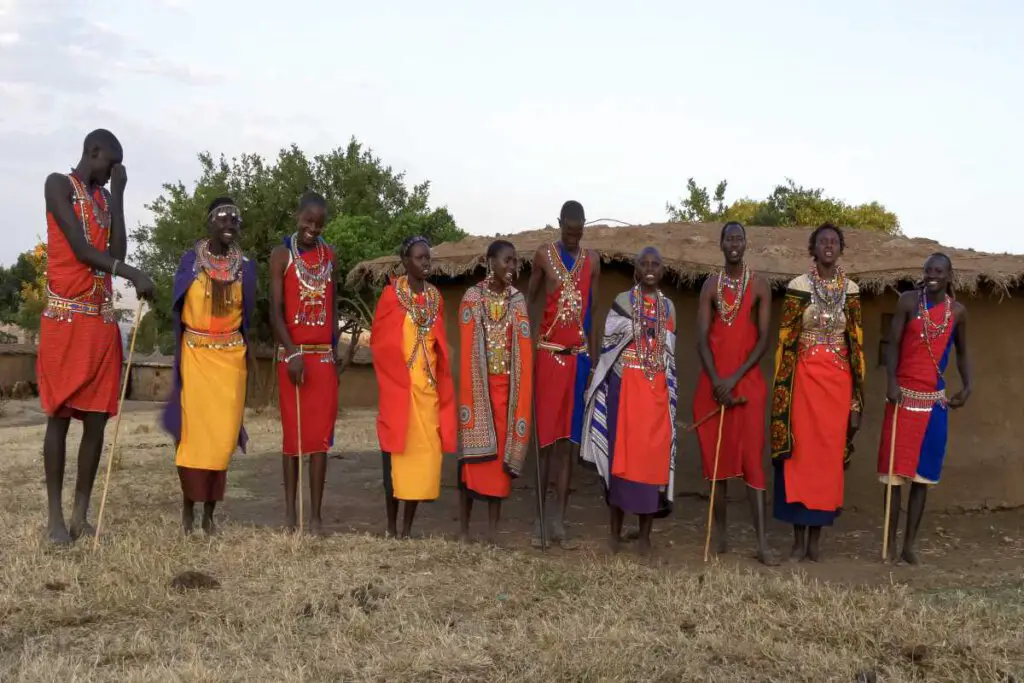 As I'm always interested in culture, I decided to visit the Maasai tribe people. They are a semi-nomadic tribe that lives in Kenya and Tanzania. In Tanzania, the Maasai tribe lives within conservation parks and nature parks. They've been around Tanzania since the 17th or 18th century. And it's amazing to know that even though they're behind in terms of modernization, the Maasai population is continuously rising.
Though devoid of writing, the Maasai culture prospered because they have a strong oral tradition. Tales, lessons, legends, and practices are passed down orally from one generation to the next. I stayed with them overnight, and I really enjoyed their "Nyama Choma" (roasted meat) and their dances.
5. Lake Manyara National Park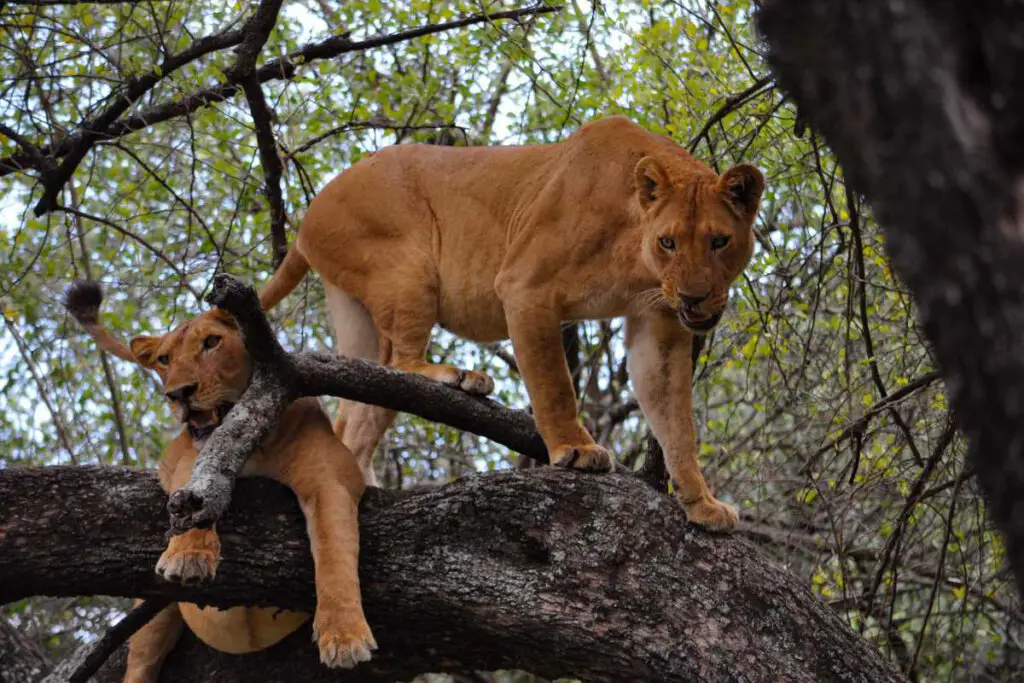 This day I woke up early, had breakfast together with a friend, and headed to Lake Manyara by jeep. Being one of the top tourist attractions in Tanzania, I knew I was going to have fun.
Lake Manyara is the lake with the highest biodiversity in Tanzania and has been a World Heritage Site since 1982. What my eyes see is indescribable! The beauty of this place is unique and constantly changes from kilometer to kilometer. Just think that in an area of ​​only 330 sq km, where 200we have five different ecosystems:
An equatorial forest fed by the waters of the underground lake
The lake delta with marshes and reeds
The savannah and the expanses of very tall grass, and much more
We enter a truly lush forest, strangely surrounded by deserted stretches that lead to the lake. In particular, it is the home of two great friends: giraffes and elephants. I have always loved giraffes, ever since I was a child (I have one tattooed on my arm), and even if it is not the first time I have seen it, finding myself in front of so many long-necked, free, elegant friends who look at us curiously, makes me cheer just like a child! Numerous species of birds are concentrated along the shores of the lake: pink flamingos, pelicans, as well as huge hippos.
6. Mount Meru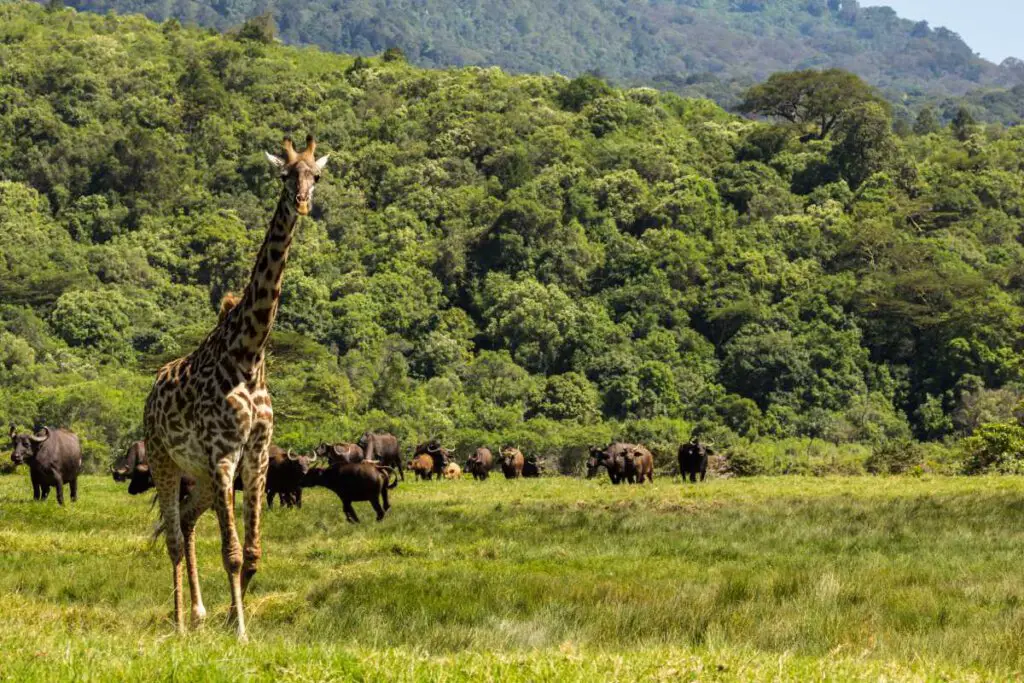 If you think that hiking Mount Kilimanjaro is hard, then Mount Meru is even worse. This is among the popular hiking attractions in Tanzania that do well if you're a professional hiker/climber. The landscape mostly consists of steep rocky slopes that require you to use your hands and feet to traverse. Moreover, you need special hiking and climbing equipment to reach its most difficult spots, such as the Shark's Fin. 
Even though I'm not a professional climber, I have to admit that this was the hardest hike I have ever tried. When challenging this mountain, we needed to work together as a team, and no one should passively push on without doing anything beneficial for the team. Those who already climbed this mountain understand the idea behind the rule.
7. Mnemba Island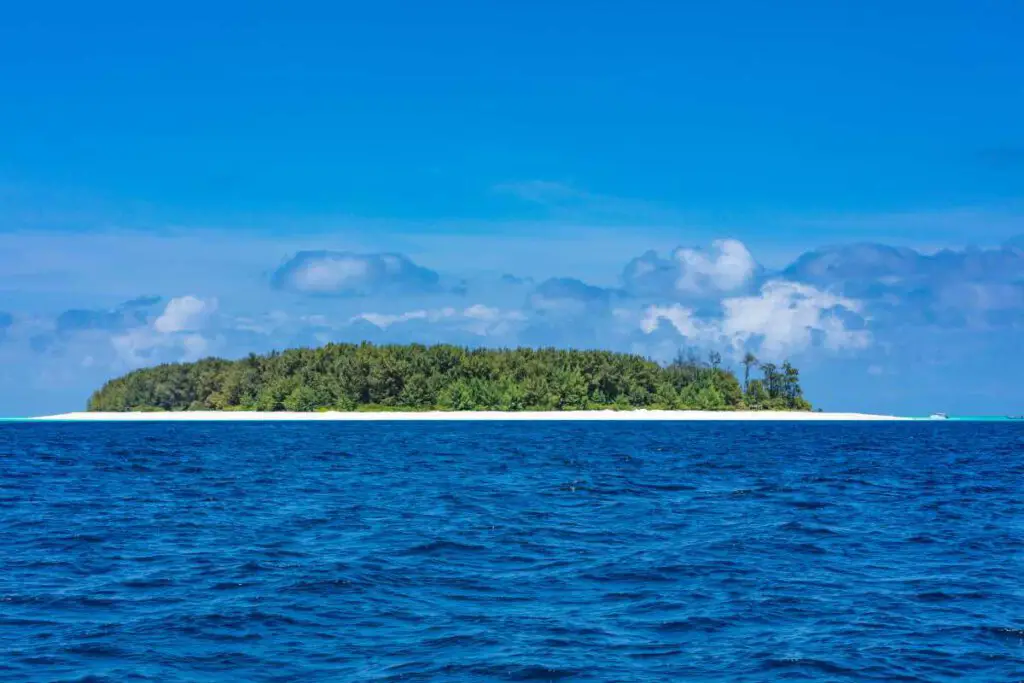 After spending a lot of time touring the national parks and conservation reserves of Tanzania, the heat and dust started bothering me, and I felt the need to cool down. Aside from wildlife, Tanzania has some beaches that are impressive, and one of these is Mnemba Island.
Mnemba Island has a roughly triangular shape with a white sand beach. I enjoyed swimming and sunbathing around this beach. In addition, Scuba diving is the most popular activity on Mnemba Island that I tried. Underneath the seawater's surface are corals, dolphins, turtles, and colorful fishes.
In addition, this island also has a small woodland that I was able to explore and enjoy bird watching.
The island's beauty and mellow atmosphere make it a great destination for newlyweds as well. The island is certainly one of the most unique honeymoon destinations out there.
8. Tarangire National Park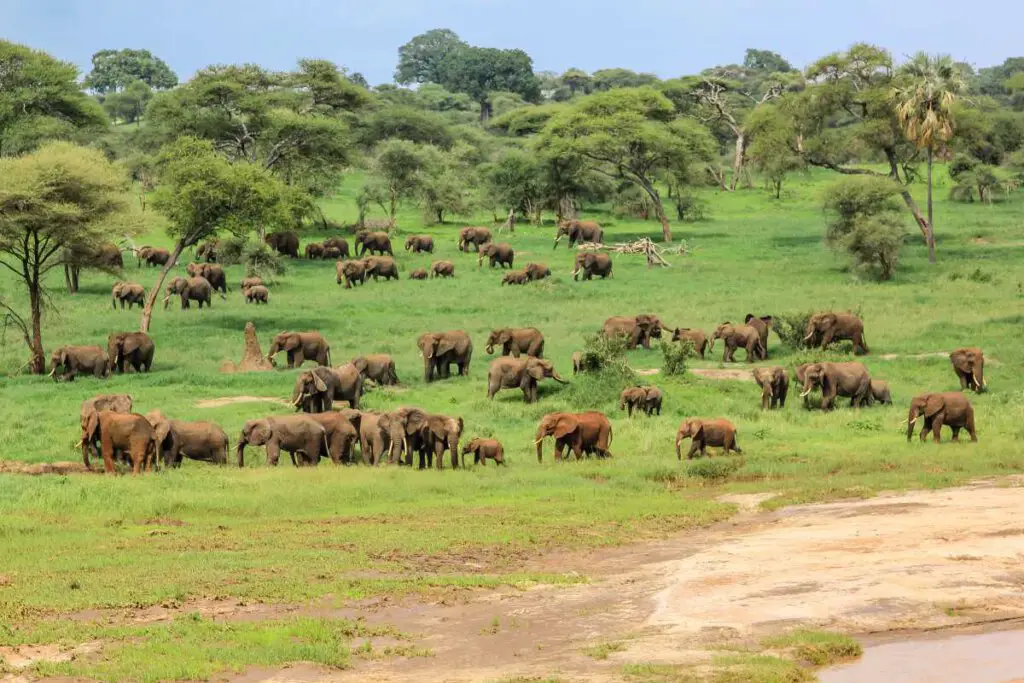 Tarangire National Park was my gateway to the Tanzania safari. To me, this was more than a trip. It was a vacation that included a relaxing and sea stay in Zanzibar, which I integrated with a few days of Safari.
I decided to visit this park with a tour company. We entered Tarangire National Park, and our jeep was immediately stopped by a herd of buffalo. Wild animals must be respected and can be dangerous. The great thing is that we have just arrived, and we have already met a specimen of the Big Five!
The first meeting with the elephant was also exciting, and I will never forget it. During the Safari, our jeep stopped, a group of elephants crossed the track we were traveling on. Our guide told us to remain still and silent. At the same time, the male, probably the head of the family, broke away from the group and came towards us. It was huge, and it brought its muzzle close to our cockpit. His right eye was looking at us, and it was inches from the lowered window. I could smell his breath.
With a graceful gesture, despite his size, he turned quickly and in a few seconds reached his family, who was grazing in a clearing a few meters from us. The jeep moves again, but we are silent for a few more minutes. Our journey continued, and we saw lions, crocodiles, giraffes, hippos, and flamingoes hanging around. There were also elephants playing in the mud pools. Definitely, this is one of the top tourist attractions in Tanzania that I recommend.
9. Saadani National Park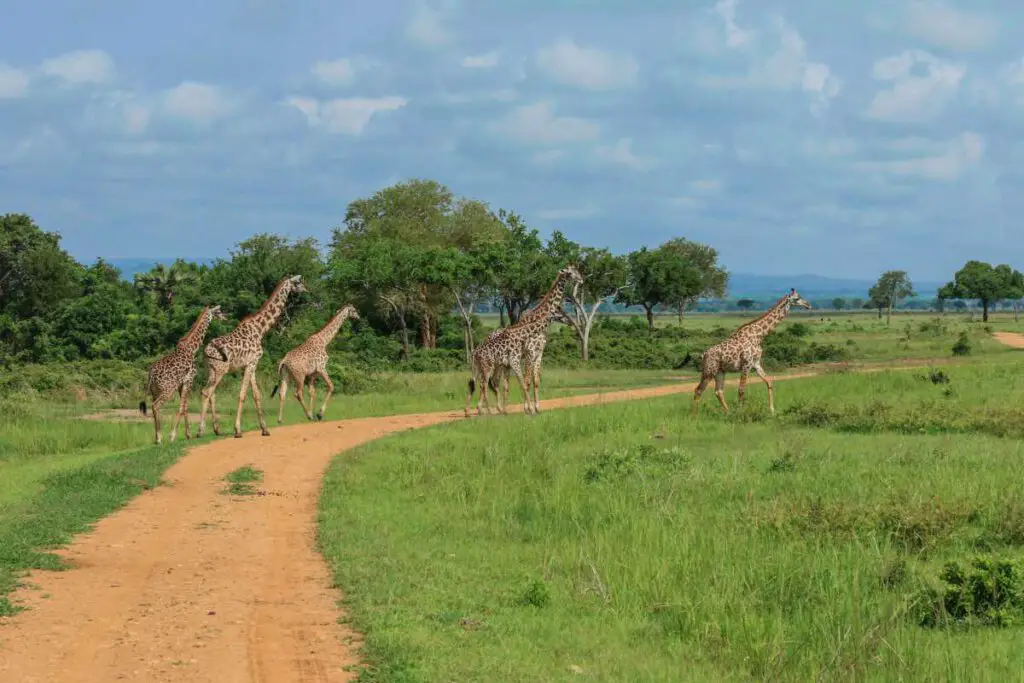 I decided to visit the seaside Saadani National Park because I wanted to see Tanzanian wildlife and cool down after without engaging in any lengthy trips. As a national park, Saadani is home to buffalos, elephants, wildebeests, yellow baboons, velvet monkeys, elands, and antelopes.
As a beach, the Saandani National Park offers boat tours to tourists. I was taken to the far side of the sea to do scuba diving as the visibility is wonderful. In addition, I highly recommend the fishing experience that this attraction offers.
10. Unguja Island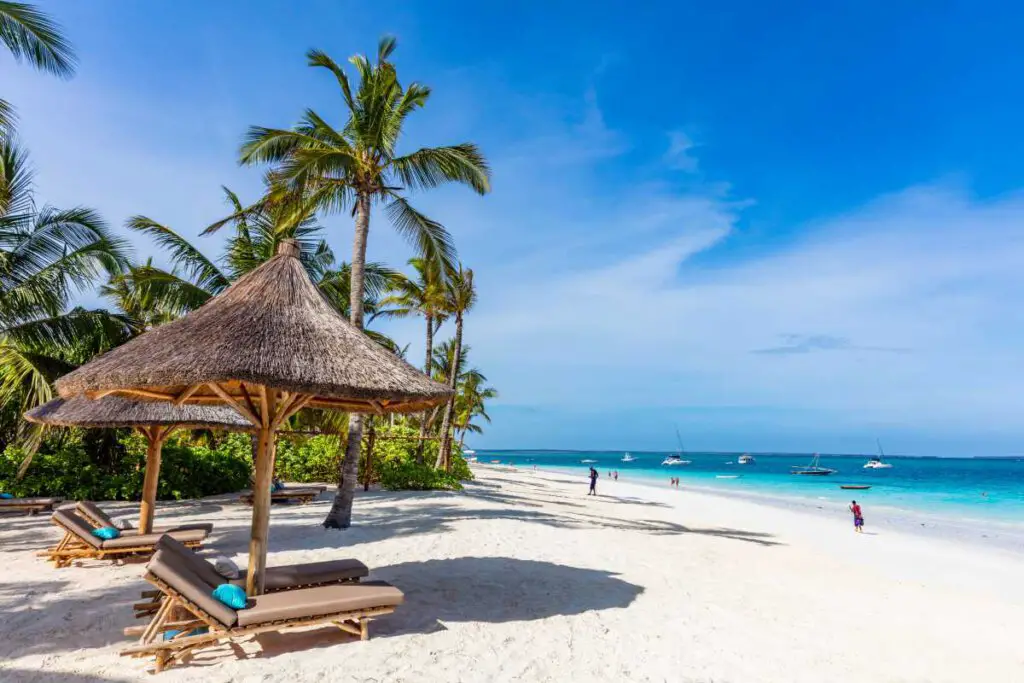 If I talk about the world of tourism, which is mainly related to islands, I can mention various locations that are certainly very interesting. Tanzania itself also does not want to miss the list of countries that are tourist destinations that have beautiful island tours. And Unguja Island is one of the top tourist attractions in Tanzania that you should not miss. This island has a beauty that will surely make you all fall in love.
Unguja Island itself is known as a private island that is quite famous. A lot of artists and world leaders spend their vacation time visiting this one island. What really impressed me was the variety of luxurious facilities. This one island is basically an island that I can say to be one small part of an archipelago that is quite famous in Tanzania.
11. Nyerere National Park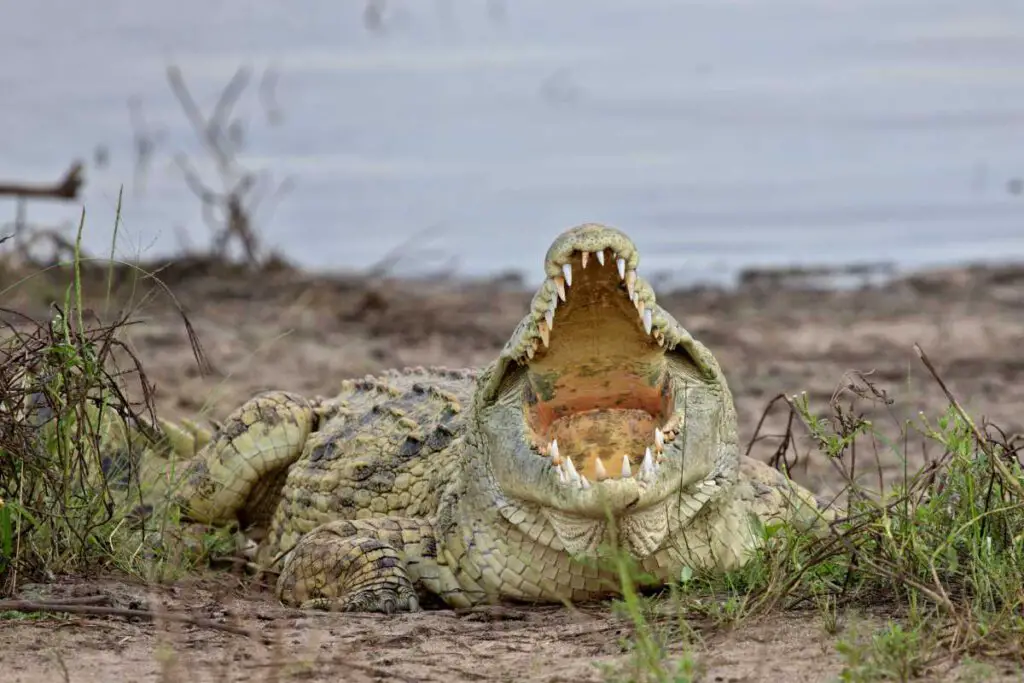 Nyerere National Park is Tanzania's largest wildlife conservation area and is rated among the top attractions in Tanzania. Its landscape is divided into grasslands, woodlands, riversides, and mini-lakes. Nyerere National Park covers an area of 30,900 square kilometers.
The Rufiji River, Tanzania's mightiest river, is in Nyerere National Park. This is where I see a large number of hippos and crocodiles. Existing on its banks are several woodlands that look very picturesque. Moreover, the twists and turns of the river on the face of Nyerere look very beautiful when I view them from above.
12. Lake Natron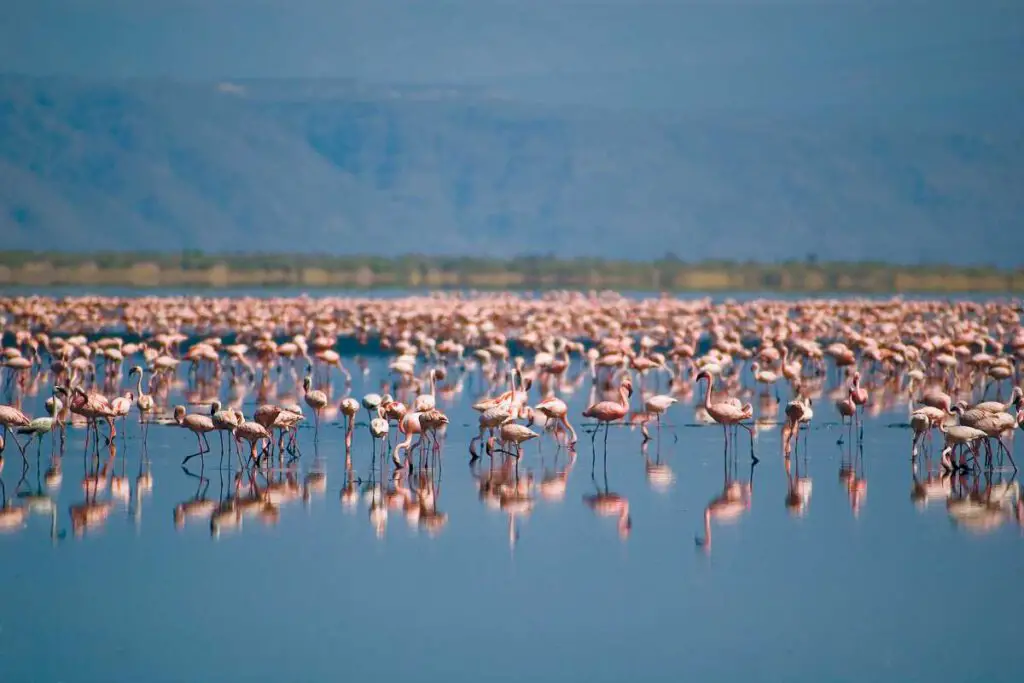 I talk about beautiful lake tourism, and maybe there are lots of lakes that I can find. However, if I talk about a lake that can be said to be strange, then Natron Lake is one of the places.
I say that this tourist attraction in Tanzania is unique because the evaporation rate that occurs in this lake is very high. In addition, this is a lake that has high levels of soda and salt content. This is why you will see remnants of salt left behind after evaporation. The color of the lake itself will sometimes turn red. This is closely related to the microbes that live in lake water. If you have time, I highly recommend this place.
13. Zanzibar Islands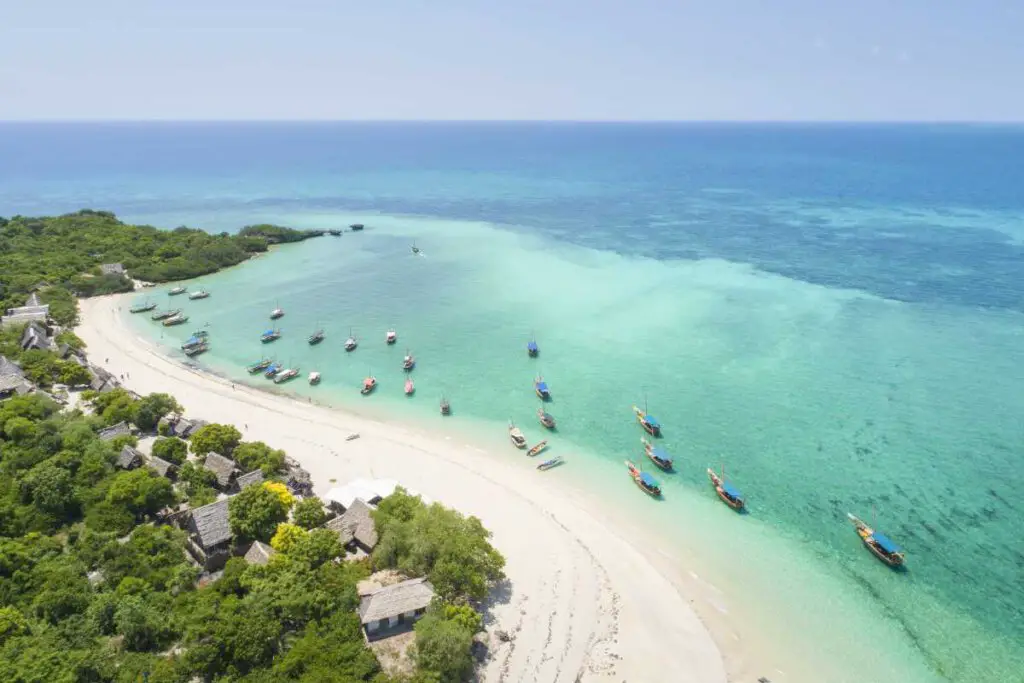 Maybe you are already bored with the atmosphere of romantic cities in Europe, which are widely used as honeymoon destinations. So why not try to visit tourist attractions in Tanzania on this vacation? The Zanzibar Islands are one of the destinations that I recommend when visiting Tanzania.
This one archipelago has three main islands that I realized are often visited by many tourists. I can confidently say that the beauty of this island is not inferior to the attractions of Meeru Island in the Maldives. The island is very famous as one of the honeymoon tourist destinations in the world.
While on this island, I was treated to various types of beautiful scenery. The blue sea is clean, and the culinary delights are also delicious. In addition, I bought some typical African souvenirs from this island. If there is an opportunity to visit, then make this location one of your favorite attractions in Tanzania.
14. Stone Town in Zanzibar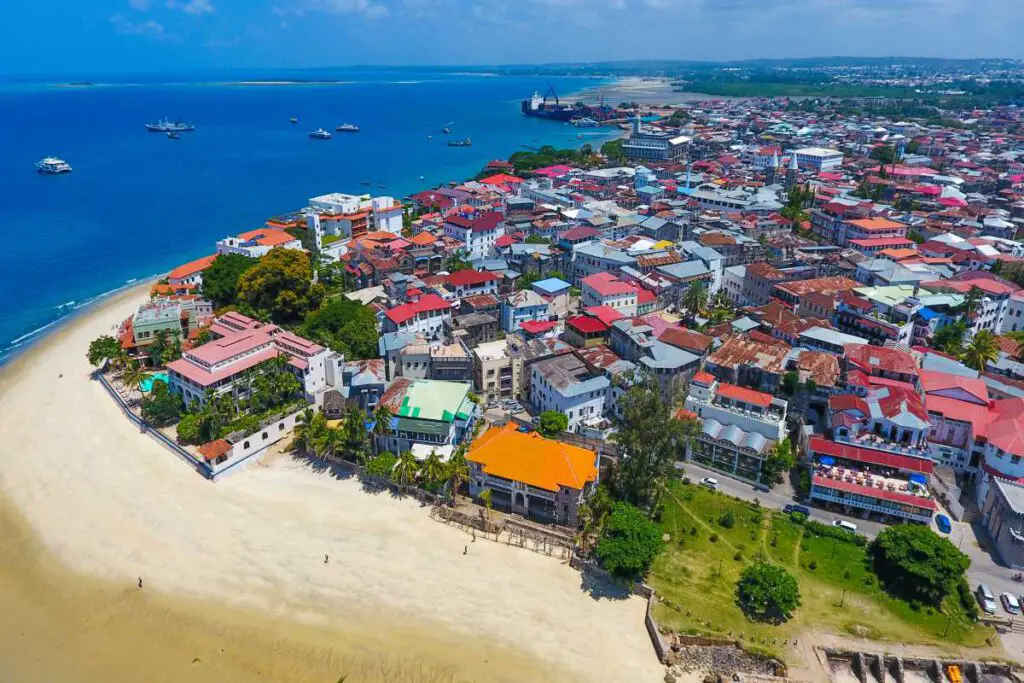 Being in Zanzibar, I decided to tour the Stone town. This is the capital of Zanzibar, declared a World Heritage Site by UNESCO for its rich historical and cultural significance.
Even after hundreds of years, the city has retained all its original ancient charm. Walking through its streets, I came across groups of elderly people chatting over cups of kahawa (coffee) or reading the newspaper. Women shop at the market, and children were playing everywhere. In its somewhat decadent streets, I found many small Dukas (shops) selling wonderful handicrafts, especially colorful fabrics, spices, fresh fruit, and delicious seafood. 
Generally, Stone Town is characterized by the numerous colonial-style buildings alongside Swahili houses which are accessed through intricate wood-carved doors. Other places of interest include the Portuguese Fort and its cannons, the Sultan's Palace Museum (and the House of Wonders.
15. Messerani Snake Park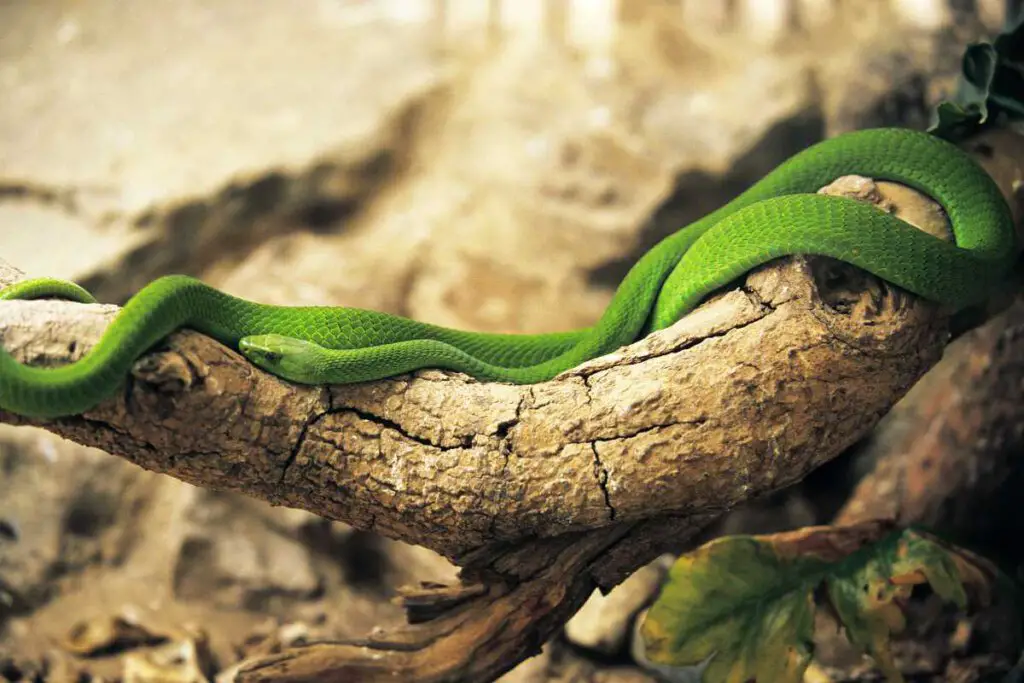 After enjoying some of the top tourist attractions in Tanzania, it's time to go back to the mainland to see Tanzania's lush wildlife before heading home. And if you're wondering where to find the cold-blooded serpents that reside in Tanzania, the Messerani Snake Park is where you should head to.
In this snake park, not only was I able to see docile pythons here, but I also saw highly dangerous snakes such as black mambas, green mamba, Egyptian cobras, puff adders, etc.