Every time I talk about Egypt, they tell me that my eyes light up. And perhaps it is true, given my love for this land. And in my opinion, it's magical and full of mysteries.
Egypt's ancient culture is best seen in the country's pyramids and other artifacts, but it's their gorgeous beach resorts that have attracted tourists of late. Renowned for the fantastic diving opportunities and underwater life of the Red Sea, Egypt offers a relaxing getaway with plenty to do on land or sea.
The stunning coastline offers sun worshipers a year-round warm climate. In addition, it enchants with its diverse flora and fauna, and it is impossible not to fall in love with this colorful world.
Many times I have been asked to list Egypt beaches that I think are unmissable to visit. For this reason, I will leave you with a list of the 12 best beaches in Egypt. Read on!
Best Beaches in Egypt
1. Naama Bay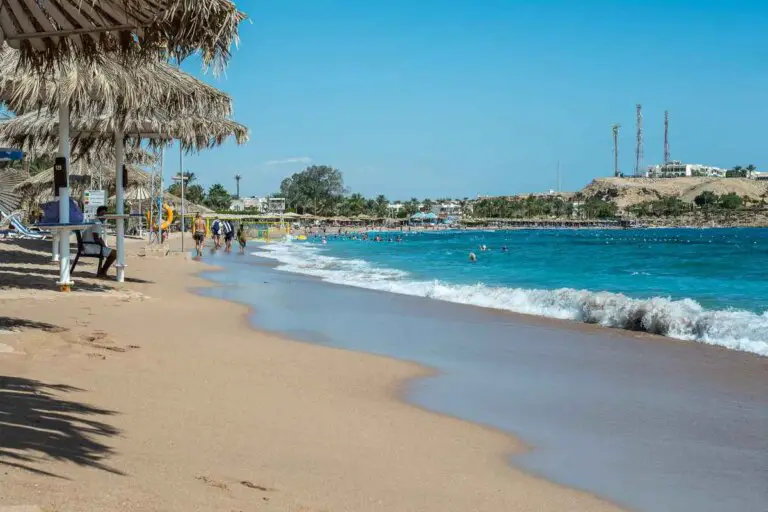 This was my first stop after landing in Egypt for the first time. This place is best known because of its lively and energetic nightlife, awesome shoreline with lots of water sports activities to enjoy as well as a multitude of outdoor cafes that can't be missed.
The cerulean water of Naama Bay is home to blue spotted rays, moray eels, lionfish, and napoleons. Sometimes, giant green turtles hang around. Naama Bay enjoys a reputation as a snorkeling and scuba diving location.
You don't have to prepare a parasol because numerous wooden cottages are on the shoreline. The same also goes for the food. There are nearby restaurants where you can get snacks.
At nighttime, Naama Bay transforms into a bustling location for nightlife. Souvenir shops don't close early and become more inviting.
2. Mahmeya Island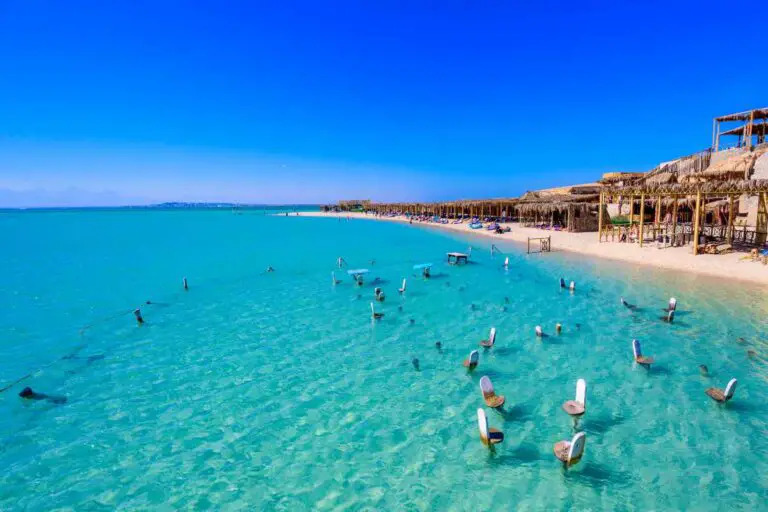 Another of the best beaches in Egypt is Mahmeya Island. If you are looking for the best snorkeling spot, then Mahmeya is perfect for you. A short, exciting trip (literally 45 minutes) by boat from Hurghada will take you to the fabulous underwater coral reef garden, the most picturesque corner of the Red Sea.
A visit to the magnificent national park and beaches of Mahmey is an exotic vacation for lovers of an exquisite travel. Dive into the underwater depths and explore the underwater caves filled with rainbow fish or watch dolphins swim by as you sunbathe on the white sands of this beach. Note that during high season it can be crowded here, since organized tours from all over the world come here.
3. Dahab Lagoon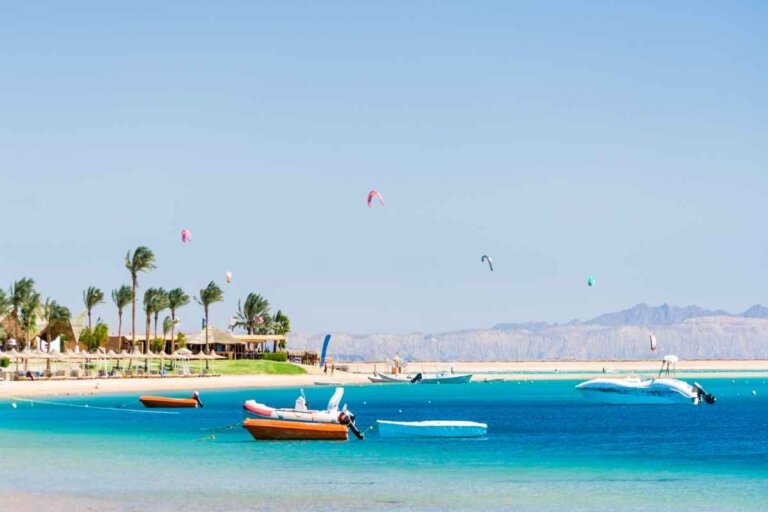 The beaches of this resort are in stark contrast to other beautiful beaches in Egypt. There is a sandy and rocky shore here. But the biggest difference is the few numbers of umbrellas, sun loungers, and other luxuries inherent in other resort coasts.
In addition, the beauty of Dahab's beaches is the few numbers vacationers here, sunbathing lazily on sun loungers. And even the rugs and pillows given out to tourists are usually empty.
Dahab's beaches are popular with surfers. Yes, they are some of the best surfing beaches in Egypt! Weather conditions contribute to an increase in the number of windsurfers who can no longer part with such a paradise. Diving is no less popular, and without sailing far from the coast. A few meters from the coast, a mysterious underwater world opens up for those wishing to find sunken treasures.
In general, the beaches of Dahab are beautiful nature in their original, untouched form and a haven for active people.
4. Soma Bay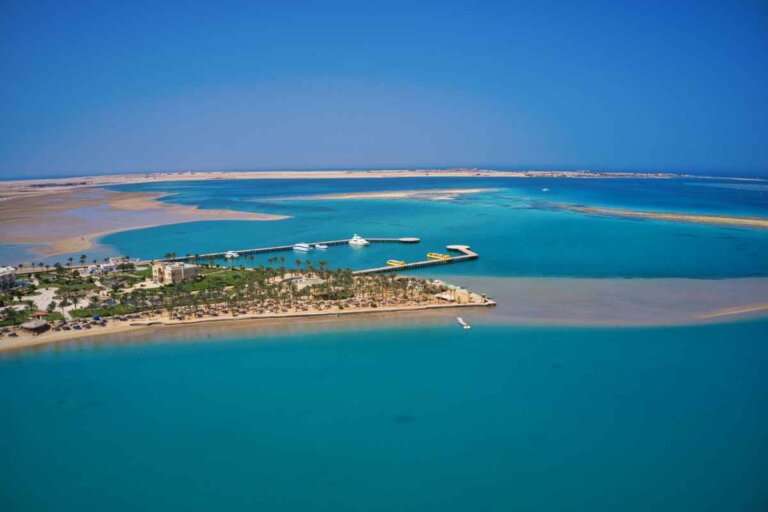 An exclusive peninsula on the West Bank of the Red Sea, Soma Bay covers an area of ​​four square miles. On a stretch of land jutting out into the Red Sea, this is a high-class location characterized by white sandy beaches and panoramic sea views. With plenty of watersports opportunities, Soma Bay has been named one of the top three kitesurfing destinations in the world for its flat water and 300 days of wind per year.
Given the exclusivity of this location, it is through the upscale resorts at SOMA Bay that visitors can truly enjoy all that amazing beaches have to offer. There are hotels where tourists can spend days relaxing on the beach and organize a romantic dinner on the beach in the evening. The magnificent marina stretches far out into the water, a charming feature perfect for dreamy sunset walks.
Despite the many tranquil and romantic beach destinations in Soma Bay, there are still many activities to choose from, such as beach volleyball and water sports.
5. Makadi Bay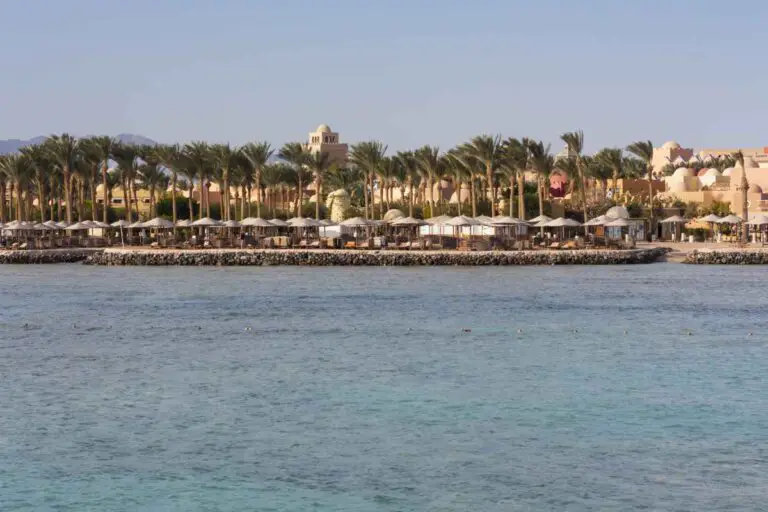 Makadi Bay is best known for its world-class resort hotels, but it also offers some fantastic beaches. The coastal strip is divided between hotels and is equipped with all the necessary attributes of a beach holiday (sun loungers, umbrellas, water attractions, etc.). The beaches are sandy with an admixture of shells and incredibly clean.
There are a lot of great things to do here, including snorkeling and scuba diving. The best time to visit the beach is during the winter months between November and March when temperatures are moderate, and there's less rain.
Being among the best beaches in Egypt, the bay has lovely white sand and clear blue water, plus a number of family-friendly activities available such as watersports, horse riding, and windsurfing. It's also close to Hurghada International Airport, so it's perfect for travelers who have just arrived!
The best thing about this beach is the cool atmosphere. There are few tourists around, and you can enjoy the whole beach without a problem.
6. Mamoura Beach
Alexandria is a city that the Greeks built on the northern coast of Egypt under the command of Alexander the Great. Some of the most famous spots in this city are the lighthouse of Pharos and the Temple of Serapis. Nonetheless, if looking at the historical sites is tiring you, just go northeast of Alexandria and find Mamoura Beach.
The Mamoura Beach is a wavy beach in front of Alexandria's Malak Hefni Street. In July and August, locals crowd this beach to cool off and spend time with friends or family. However, in other months, Mamoura is a haven where you can practice surfing, scuba diving, and kayaking.
What makes Mamoura beach more ideal is its proximity to other tourist attractions in Alexandria. On the south of Mamoura Beach is a theme park and the Kota Park. On the western tip of Mamoura is the Tea Island restaurant. Go to this cafe, order tea and cake, and relax while watching the fun happenings in Mamoura and the nearby Montazah beach.
For sightseeing and places to visit in Egypt, check our article 10 Top-Rated Tourist Attractions in Egypt
7. Ageeba Beach
I had a chance to visit Ageeba beach on the north coast of Egypt, and it is definitely one of the best beaches in Egypt. What sets this beach apart from other Egyptian beaches is the two cliffs that shelter its shore.
Though the shoreline of Ageeba beach isn't that long, it's very soft with its soft white sand. Ageeba ascertains that you'll have a wonderful time sunbathing. The seawater isn't that deep, making it perfect for the amateur swimmer.
As for the cliffs on both ends of Ageeba's shoreline, you spend time walking to explore this. The cliffs provide a panoramic sight of the whole Ageeba beach area. They even have some high-rise diving spots where you can jump from if you're brave enough.
8. Cleopatra Beach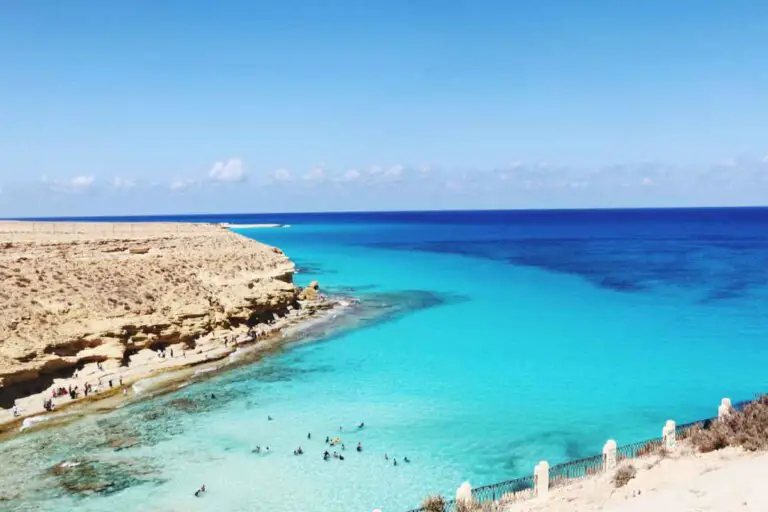 This place is located in a small secluded cove located near the town of Mersa Matruh. The sandy coast is washed by seawater that changes color from turquoise to bright blue. The coastal waters are deep enough for diving. The sea in the bay is warm and clean, and the natural pool formed in the rock is popular with fans of active sports. According to legend, in ancient times, the queen herself took baths here.
Like all of the best beaches in Egypt, Cleopatra is popular with tourists. During the peak season, the coast is crowded with vacationers. So it is better to arrive early and take a seat on the sand early in the morning.
9. Fjord Bay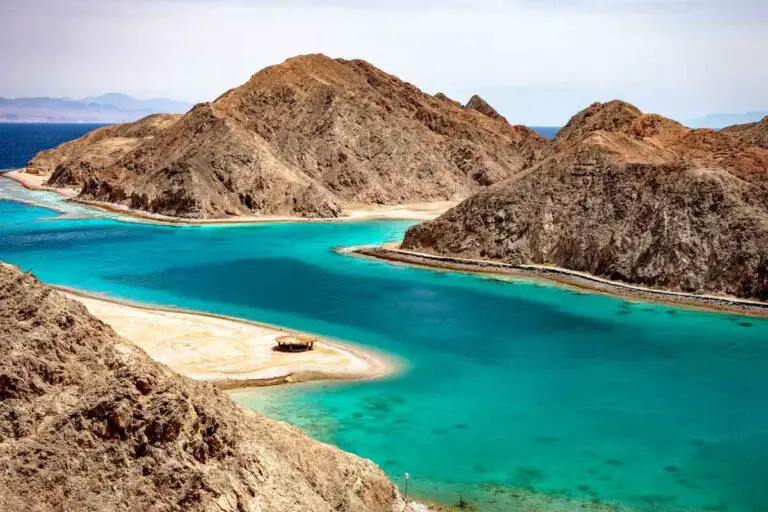 Fjord Bay is an Egyptian beach best known for its watersports. The bay can be found on the Red Sea and has a reputation as "one of Egypt's best-kept secrets." Fjord Bay offers water sports enthusiasts plenty to do: jet skiing, parasailing, surfing lessons, or just exploring calm seas in snorkeling gear.
Fjord Bay has a range of facilities for tourists, including restaurants and bars, as well as luxury accommodations and villas that are available for rent in addition to traditional hotels. The bay also contains some natural attractions like sand dunes, palm trees, and an abundance of sea life that make Fjord Bay stand out from similar Egyptian beaches.
Visitors are usually treated with sunsets that turn into nightfall; stunning dark blue skies combined with orange and pink tones create breathtaking vistas of natural beauty. There are also fishing trips available at the resort if you prefer more tranquil settings.
10. El Gouna Beaches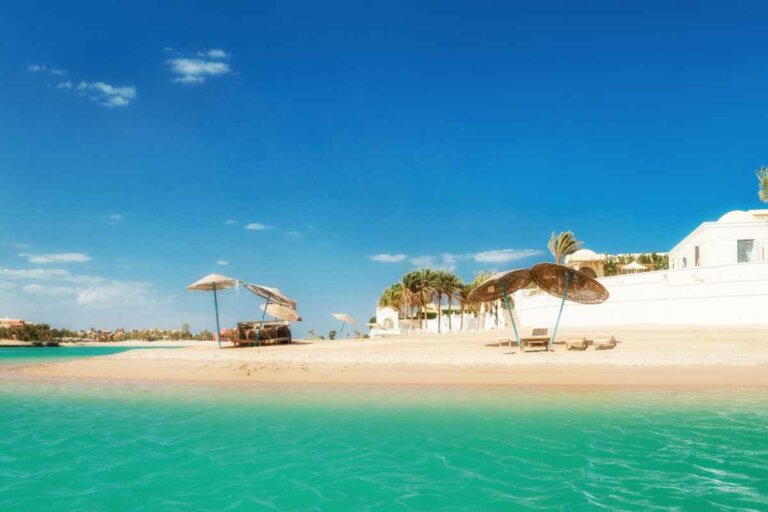 This modern city on the Red Sea is unusual and romantic, consisting of numerous islands connected by bridges. It is a city of numerous lagoons bordering lush gardens and views of the water at every turn. With natural beaches, water sports, and an abundance of marinas, this is a very beautiful area. El Gouna is also Egypt's greenest holiday destination, winning many prestigious awards, including the Green Globe.
When it comes to beaches in El Gouna, you will be spoiled for choice in high-end neighborhoods. Most of the beach is privately owned by hotels and homeowners. Although most of them are privately owned, you do not need to be in a hotel to access most of El Gouna's beaches.
For active people, diving is available almost anywhere. However, El Gouna has acquired a reputation for kite surfing. Some of the best suited for this sport are Mangrovi Beach, the beach at Movenpick Resort & Spa El Gouna, and Zeitouna Beach. The latter is a great place for those who like to stay active in other pursuits. The beach hosts volleyball, soccer, and dancing classes, and the 400-meter marina is ideal for those looking to swim in deeper water and snorkel around the coral reef.
11. Nuweiba and Taba beaches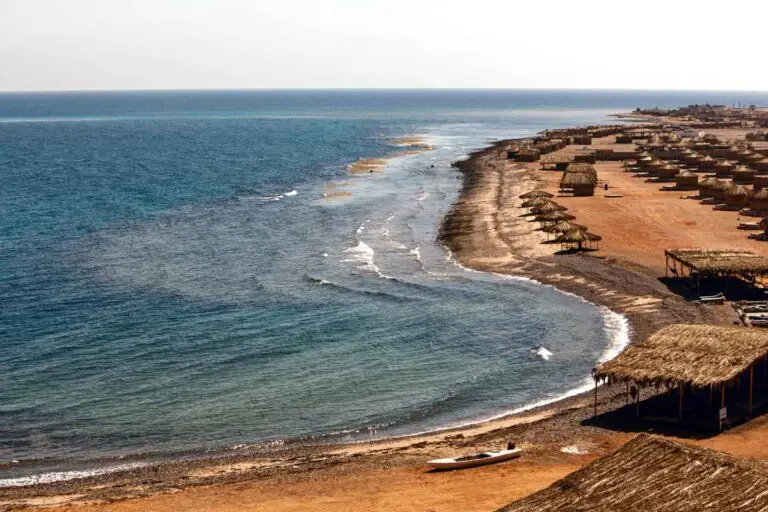 The resort area of ​​Sharm El Sheikh also includes such areas as Nuweiba and Taba. Lovers of sea recreation claim that the best beaches in Egypt are located right here.
A wide strip of fine sand is the main advantage of these areas. If you are planning a vacation with children, then it is best to visit Nuweiba. The resort occupies the eastern part of the Sinai Peninsula and is 170 km away from Sharm El Sheikh. The sandy beaches have everything you need for a perfect holiday.
And being a less crowded beach, you can find your own little spot of paradise to relax in without feeling uncomfortable. The underwater world is striking in its beauty. Therefore, Nuweiba attracts a huge number of tourists.
The resort of Taba is no less famous. Luxurious hotels are located on its territory. Beautiful golden beaches sit side by side with coral reefs. This is a heavenly place that also deserves attention.
12. Marsa Alam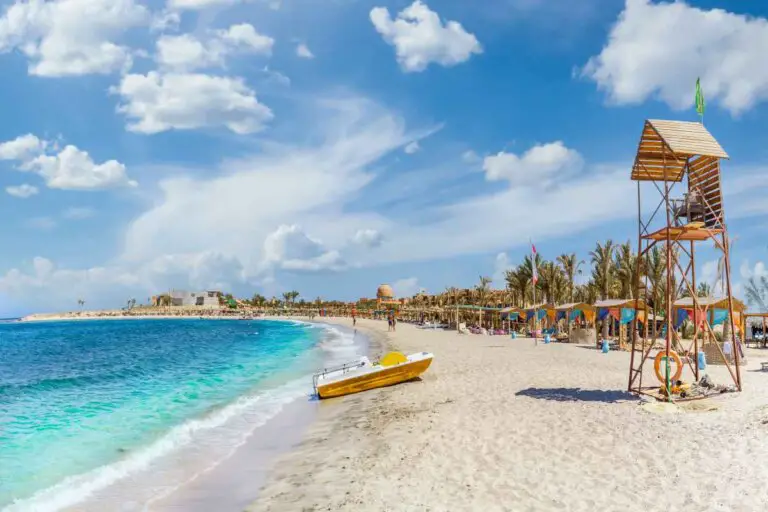 Before becoming a resort, Marsa Alam was an ordinary fishing village, but soon it became a high-class international tourist destination. This is facilitated by the active development of the territory with four- and five-star hotels, as well as various tourist infrastructure facilities.
The length of the coastline is as much as 70 kilometers, which is an impressive indicator against the background of other resorts in the Red Sea. The bulk of foreign tourists come here for diving. It is in Marsa Alam that you can find fantastic beautiful objects of the underwater world, untouched by man and preserved their pristine beauty.
I should also mention the beautiful Abu Dabab beach. This is a wild beach located in the national park. This colorful place is a must-see. Nearby hotels offer a free excursion to Abu Dabab. The beach is famous for its natural conditions: gorgeous sandy coast, convenient entry into the sea, sandy bottom. These advantages put it on a par with the best beaches in Egypt. Snorkeling and diving are possible here. It is possible to see the rarest marine life in local waters.