Chiang Mai is Thailand's sixth-largest city, with around 700,000 inhabitants, and has become known as the cultural capital of the northern region of the country.
It is also a popular tourist destination for tourists initially attracted by the spirituality that surrounds the city, with its three hundred or so Buddhist temples. But today, with a plethora of attractions and tourism on the rise, there are many things to do in Chiang Mai.
This town has more than 700 years of history, a fascinating culture, cultural festivals, and traditions that promote a great mix between the local population and communities from different parts of the world that have settled here.
The greatest charm of Chiang Mai is to be a modern and cosmopolitan city without having lost its traditional charm.
But what are the best things to do in Chiang Mai on a city visit? Here is my list of the 12 best things to do in Chiang Mai to make your trip unforgettable.
Things To Do in Chiang Mai
1. Wat Phra That Doi Suthep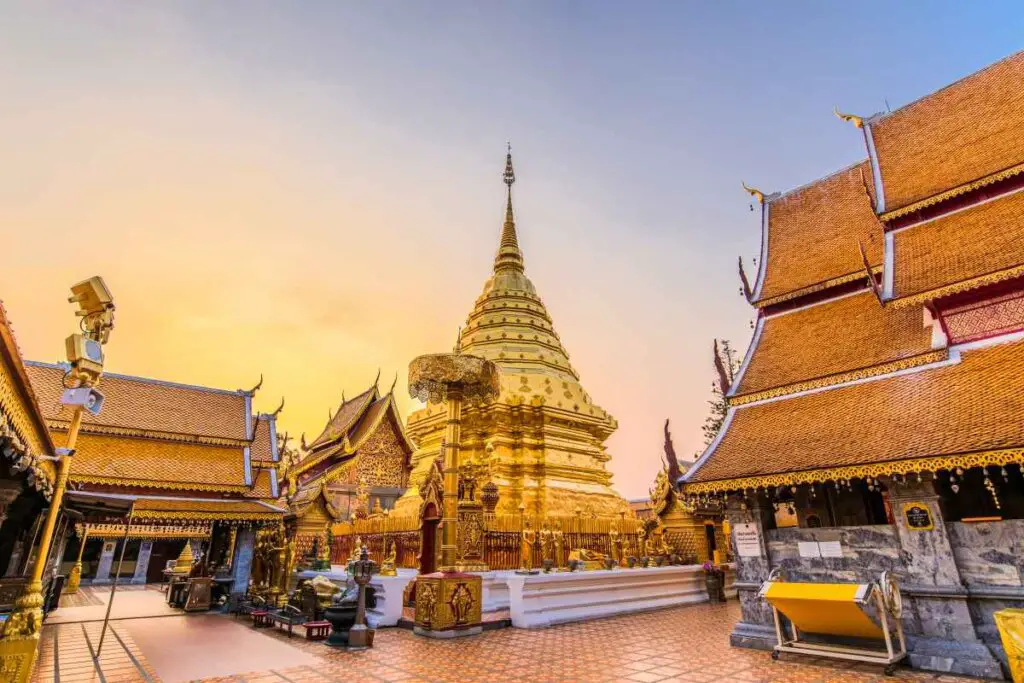 I started my tour by visiting Wat Phra That Doi Suthep, the most famous Temple in Chiang Mai. The journey to the top of this Buddhist monastery is an incredible experience.
Once you reach the top, you will see the figure of a white elephant that has a great legend behind it, several buildings and temples, Buddhist statues, prayer bells, and a terrace with good views of Chiang Mai and its surroundings.
This place is really spectacular and worth seeing not only for its architectural history but also because it offers visitors some fantastic views overlooking magnificent rice fields. Don't forget that to enter the most sacred part of the Temple, where there is an impressive gold-plated chedi, you will have to take off your shoes.
Wat Phra That Doi Suthep (translated as Temple at the Northern Mount) is located about 13 km from downtown Chiang Mai. Other places near Doi Suthep that are worth seeing are the Wat Pha Lat temple surrounded by magnificent natural scenery, the Bhubing Palace gardens, and the Huay Kaew waterfall.
Read More: Best Temples In Thailand
2. Wat Chedi Luang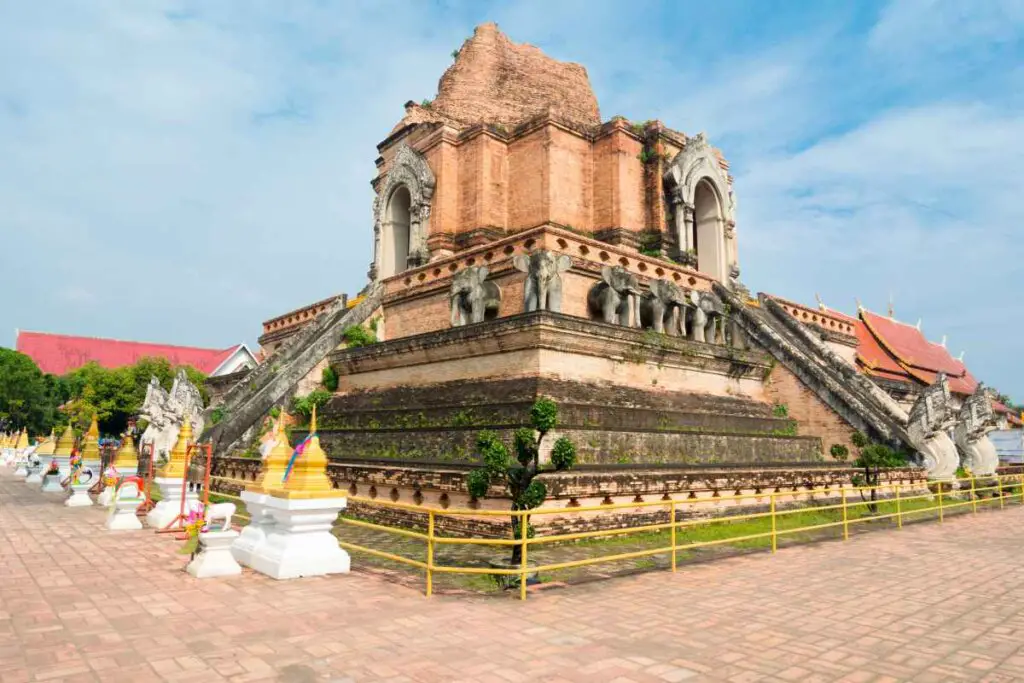 My next stop was at Wat Chedi Luang. This Temple is one of the most important landmarks in Chiang Mai and symbolizes Thai Buddhism, with its seven-tiered pagoda that stands on a square base surrounded by four smaller chedis (pagodas).
The construction began in 1385 during the reign of King Ramesuan under the supervision of his son, Prince Lokanat, who was later ordained to become Wat Phra Singh. The magnificent structure took about 150 years to be completed.
Nevertheless, two decades after completion Wat Chedi Luang had been ravaged by war but still remained standing as a testament to its solidity and endurance.
This Temple is also a place of worship for Thai people who come here to make merit on behalf of their deceased relatives or friends, as well as locals and tourists alike who visit this historic site year-round.
It's worth taking the time to explore Wat Chedi Luang from top to bottom, inside and out! It really does have a lot to offer in terms of its architecture, artwork, statues, and religious atmosphere that makes it one of the most popular tourist attractions in Chiang Mai.
Read More: Best Things To Do In Kanchanaburi
3. Doi Pui Village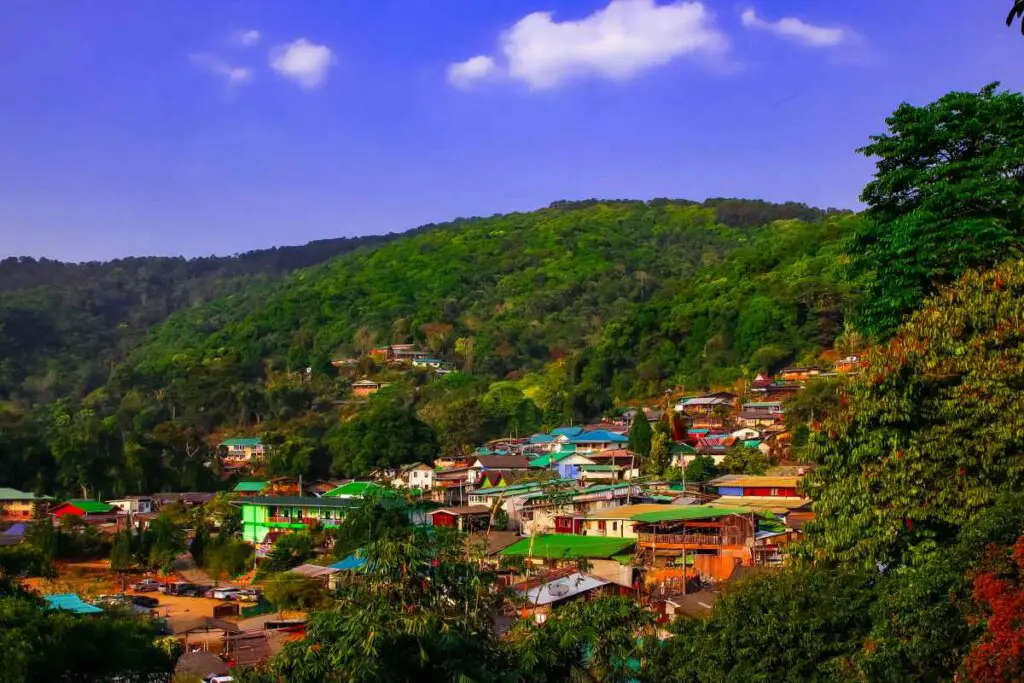 I enjoyed visiting Doi Pui Village, a village about an hour outside of Chiang Mai. The ride out there is pretty scenic, and the people are friendly. I went with a friend on his birthday weekend to stay in one of their cottages for two nights.
The things we enjoyed most about it were the hikes up the mountain (about 150 meters) as well as walking around seeing all of the different buildings that had been built like tree houses or rock huts and connecting bridges between them.
You can also find what they call "Dragon's blood" trees which have red sap oozing from their bark when cut open. This is because, apparently, this fluid has some kind of medicinal use that I am not qualified to speak to.
We also loved the food. I had some of my favorites, like khao soi and fried rice with eggs. But they make it a little bit differently than we are used to at home. It was really good though!
And there were things that I hadn't yet tried before, such as bamboo shoot salad or som tam papaya salad, which is very famous in Thailand. In addition to all these things, there's an amazing view from up on the mountain when walking around too!
4. Doi Inthanon National Park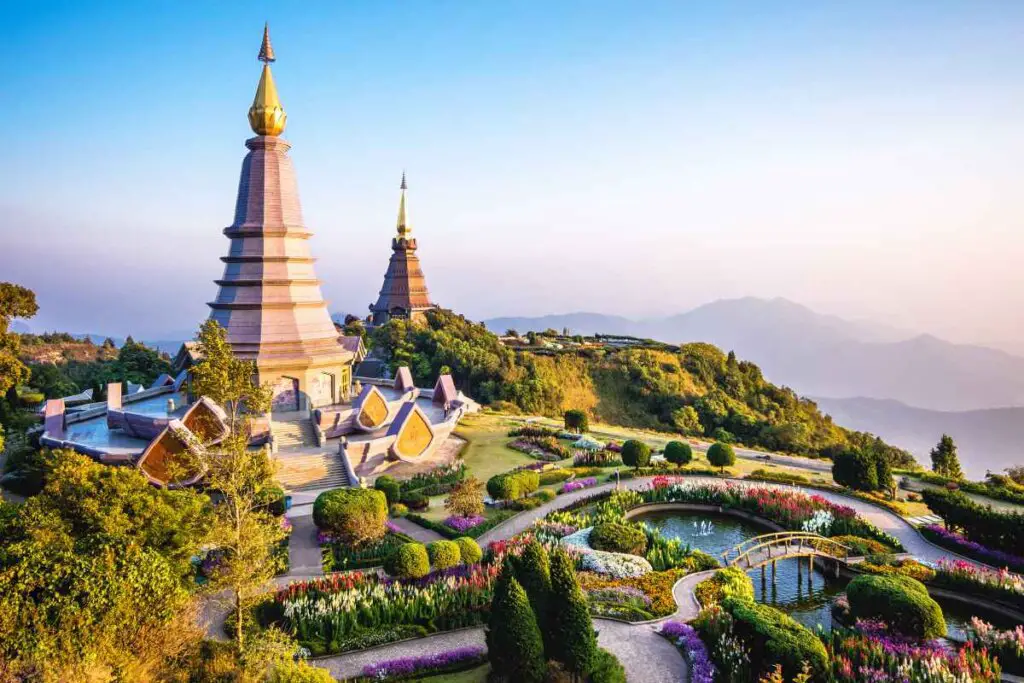 70 kilometers away from Chiang Mai, Doi Inthanon is a national park that is still little sought after by tourists. But it is well worth being on your list of things to do in Chiang Mai, especially if you like to contact with nature.
It is one of the complete tours in Chiang Mai because it has waterfalls, trails, gardens, different temples, and the highest point in all of Thailand.
Our first stop was at a waterfall, where we took pictures but didn't dive. Soon after, we did a trail of about 2 hours through the park and had the help of a local guide.
The views are incredible, and the lookouts allow for great photos! Just take a jacket because it's cold. The difficulty level is medium.
Next, we pass by the highest point in the country, called the roof of Thailand. Finally, we visited the royal stupas, buildings made to honor the king and queen of Thailand. They are beautiful! However, the gardens are even more stunning!
Read More: Things To Do In Koh Chang
5. Lantern Festival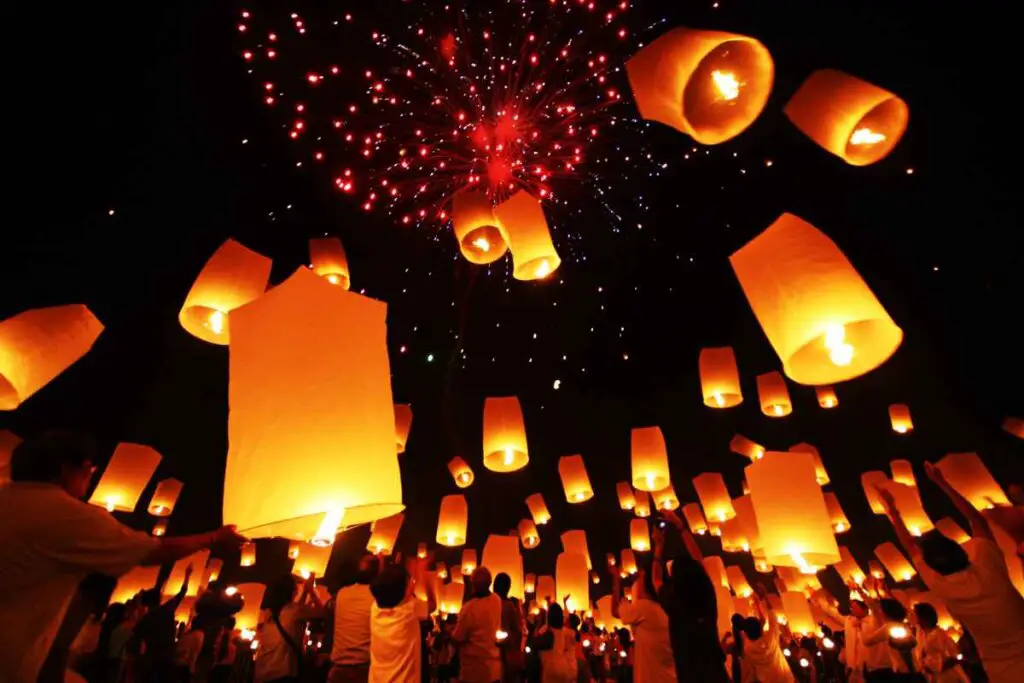 The most "unusual" of attractions when it comes to things to do in Chiang Mai at night is the Lantern Festival, which is a celebration held every year in Thailand, but super popular in Chiang Mai. Like carnival, the date varies every year.
In this festival, people decorate the houses and hold cultural events. But what attracts the tourists' attention the most is the release of lanterns (or balloons) into the sky. They explain that it is a way to send negative energy away.
Tourists can also participate in this ceremony, and it draws thousands of people to Chiang Mai at this time of year.
6. Grand Canyon Waterpark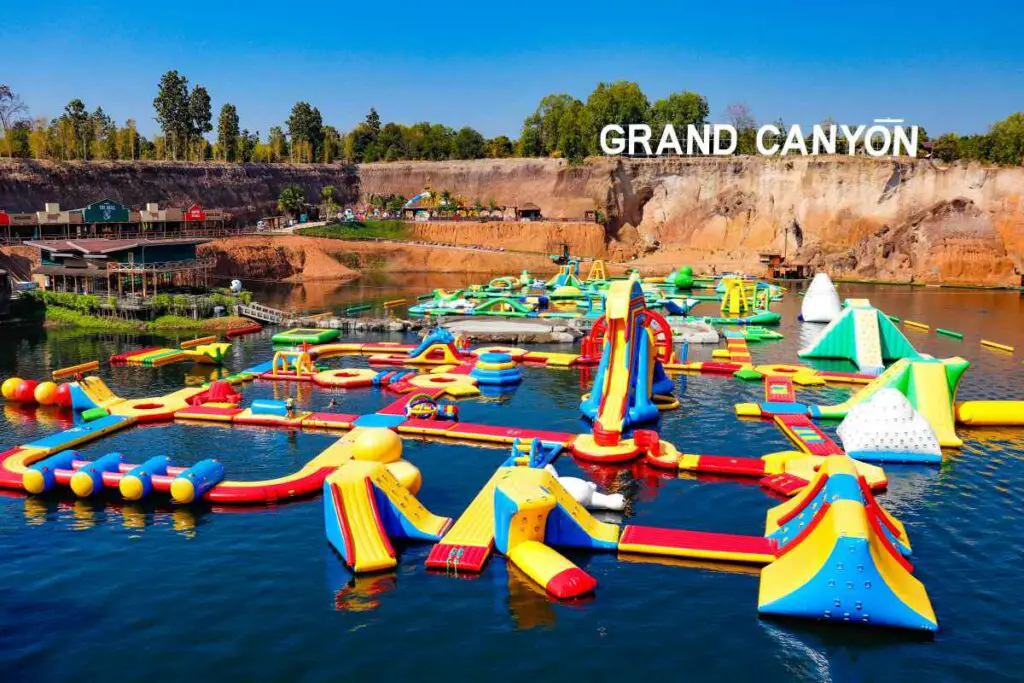 I love to have fun, and so I decided to visit Grand Canyon Waterpark while I was in Chiang Mai. This waterpark is the largest water park in Thailand, and it has a lot of cool attractions for visitors to enjoy!
The first attraction that you will see when you get there are three slides: Tornado Twist & Turbulence, Twister, and Hurricane. 
These rides are fast-paced, so they offer thrills without fear or danger. You can also try one of the many other activities at this complex, like tube chalet and banana boat ride.
For me, my favorite part about coming here was watching all the people riding on these white elephants. It's such an amazing sight because somehow, their entire bodies seem to be under those huge creatures.
I still have a lot of vacations to spend in Thailand, but I will definitely be coming back here because there's so much more for my friends and me to explore!
7. Street Food at the Chiang Mai Gate Market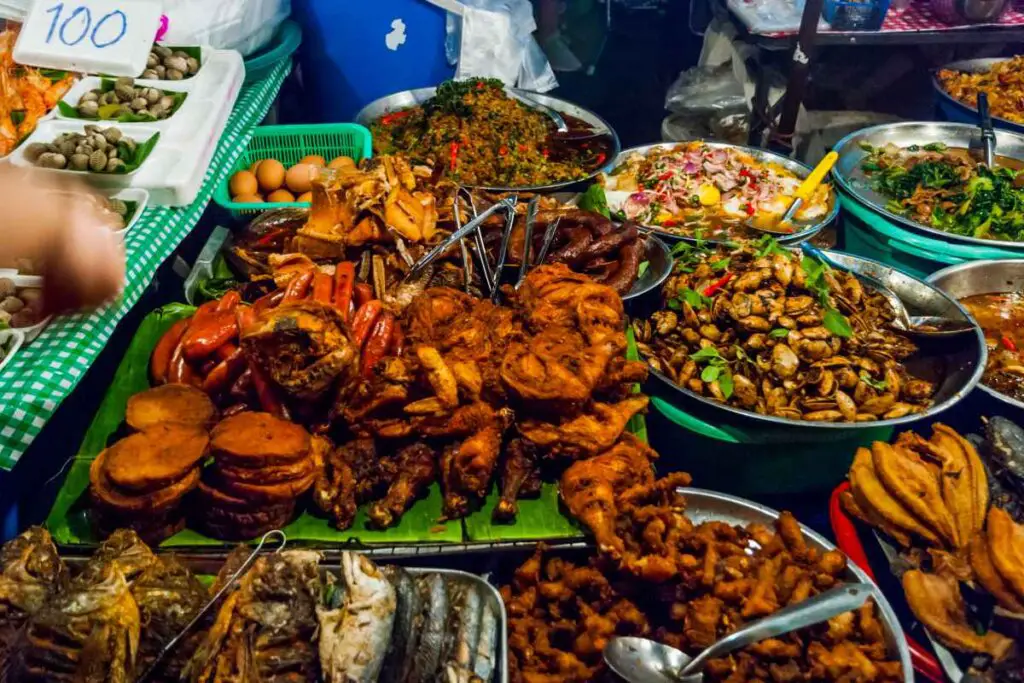 Feel hungry? Head over to the Chiang Mai Gate Market near Wat Phra Singh Temple for some street food.
You can find many things on this market, but keep in mind that things might be a little more expensive than at other markets.
You'll find things like fruit, curry dishes, and other traditional Thai foods. The best time to go is in the morning when things are fresh out of their cooking pots!
At this market, you can also buy souvenirs such as woodcarvings or handmade jewelry from local traders who have stalls there.
Read More: Best Dishes To Eat In Thailand
8. Elephant Jungle Sanctuary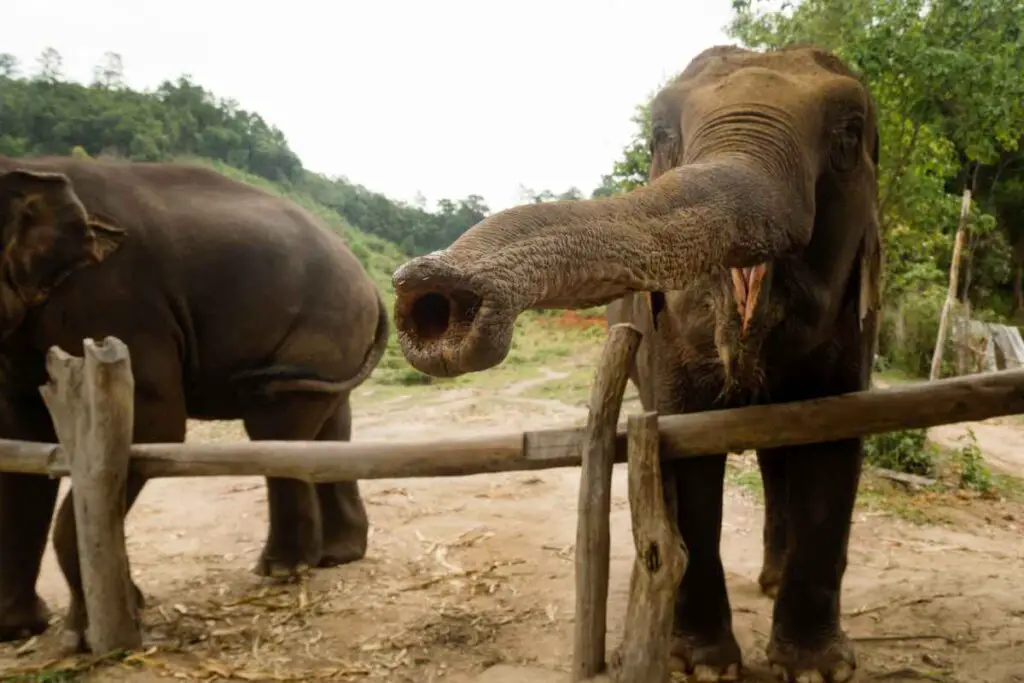 Elephant Jungle Sanctuary is a sanctuary for rescued and retired elephants. They are the only elephant rescue in Thailand to be endorsed by International Animal Rescue, World Animal Protection, The Elephant Alliance of North America, and Wildlife Friends Foundation (Germany).
The mission of the nonprofit organization is to rehabilitate abused Asian Elephants that have been working as laborers or entertainers through a partnership with mahouts who also care for their own family's needs.
Elephant Jungle Sanctuary has rescued over 60 badly abused Asian Elephants from all around Thailand and offers visitors an insight into how these magnificent animals are treated before they reach retirement age.
The main activities to do here are spend time with elephants, feeding them, and playing games.
Read More: Best Ethical Elephant Sanctuaries In Thailand
9. Night Bazaar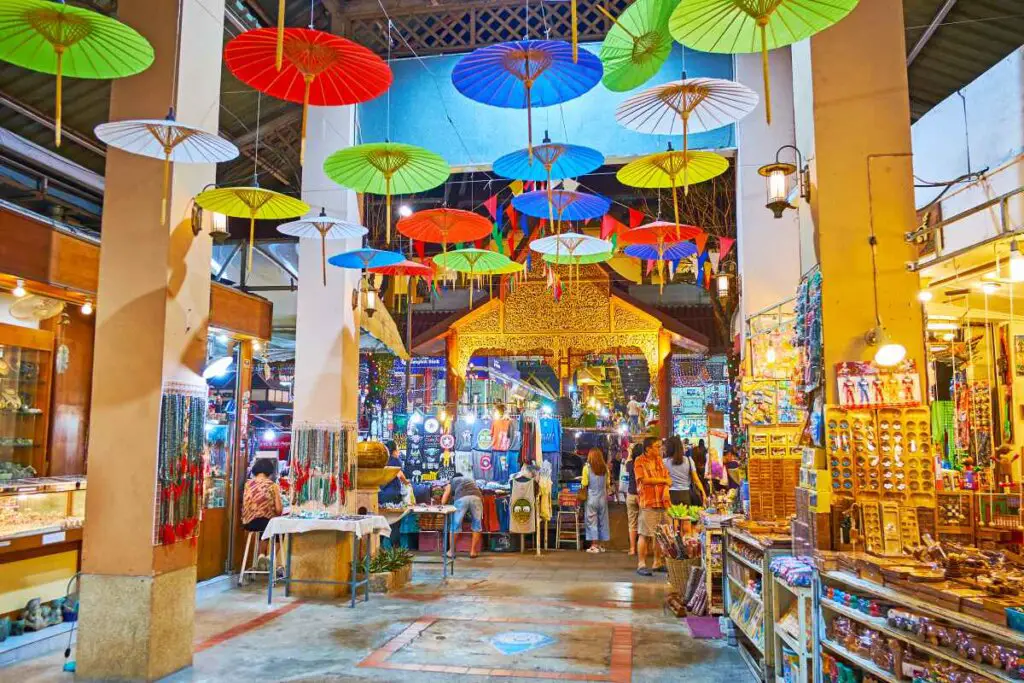 The Night Bazaar is a main night shopping market square of Chiangmai. You'll find this on the eastern side of the city, on Chang Klahn road.
There are several street food stands, textile shops, and souvenir shops.
The night bazaar looks very spectacular at night due to the light of the orange lamps for the shops. Shopping here starts at 5 pm and ends at midnight.
Night Bazaar offers the cheapest products in Chiangmai. Vendors are always ready to sell their goods at a lower price if you know how to negotiate.
You'll also find the best souvenirs that comprise of handcrafted items that came from the hill tribe villages of Chiangmai.
Moreover, the street food is made out of ingredients from Chiangmai's local produce. Delicious eats for your taste buds are Sai Ua, Khao Mok, and Khao Soi.
10. Eagle Track Zipline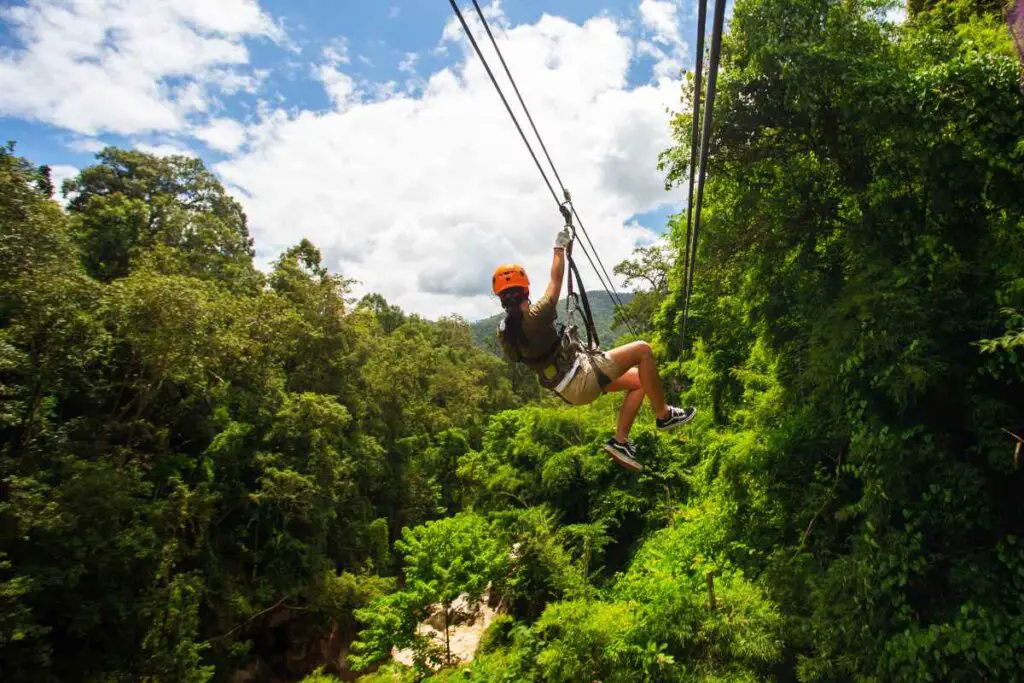 The Eagle Track Zip-line is a 260-meter long zip line track in Chiang Mai that features the views of the Hmong village, Karen village, Maerong River, and the infamous Chiangmai rice paddies.
Scenes that you'll see while being on the Eagle Track Zip-line are always spectacular because you'll be suspended 40 meters above the ground. No need to worry because the staff never fail to maintain the zip-lining gears so that accidents can't happen.
Zip-lining isn't the only fun activity that awaits you in Eagle Track Zip-line. Eagle Track Zip-line also has a gut-challenging hanging bridge, balance beams, and spider-web contraption.
But all in all, what can thrill you the most is the waterfalls, which are Eagle Track's Zip-line's secret gem.
11. Chiang Mai Zoo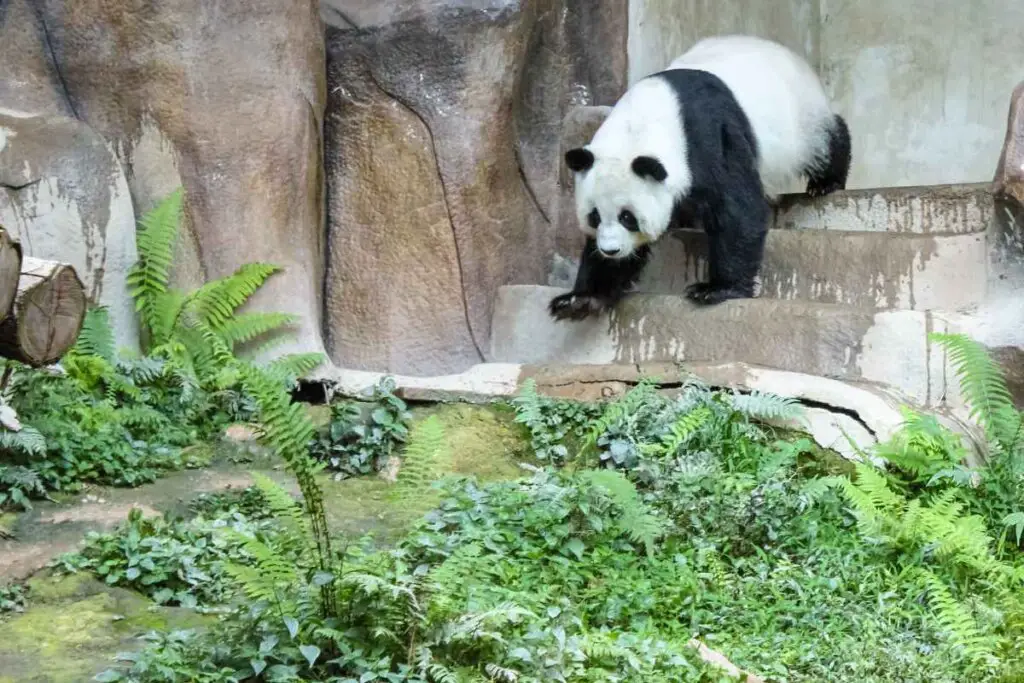 I visited the Chiang Mai Zoo during my last days in Chiang Mai. It's a smaller zoo, but it has some interesting exhibits such as an orangutan exhibit, elephant rides, and the chimp house, which is home to around 25 different primates, including chimps, gibbons, and macaques. 
I had never seen so many monkeys before! The chimp house also contained two separate areas with bamboo bars for visitors to walk through, one of them being filled with water and turtles where you can get up close to see how they move about.
The other area was more like a jungle setting that housed various types of tropical birds and green leafy branches all over the ground floor. There were three little houses here, which seemed like monkey habitats, from what I could see.
Overall, it was a nice little zoo with some interesting exhibits, and I would recommend chimp house to anyone who is an animal lover because you get up close to the primates in their natural habitat, which makes for very entertaining viewing!
12. Wat Sri Suphan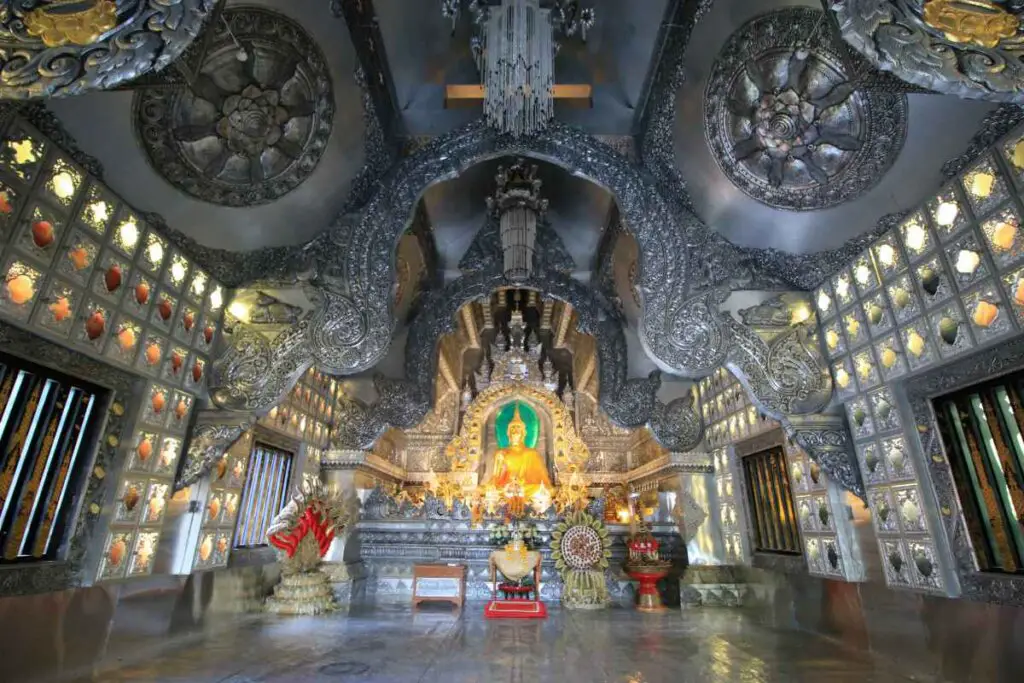 This Temple needs to be on your list of things to do in Chiang Mai. It is the oldest Temple in the city, dating back to the 1500s. What makes this Temple special is the coating of silver that covers its exterior and interior. Even the handicrafts that adorn Wat Sri Suphan are made out of silver too.
A portion of the silver that covers this Temple came from the local villagers. At present, the Wat Sri Suphan is the only authentic silver temple in Thailand. Making this location even more famous to tourists is the rule that only men can enter its space.
The most popular explanation why the builders decided to cover Wat Sri Suphan with silver is because it stands on a silversmith village. Silversmiths still linger on the Wat Sri Suphan, and you can buy handcrafted silver necklaces, bracelets, figurines, and earrings from them.