We enter one of the most popular destinations in all of Europe: Malta. In the middle of the Mediterranean Sea and with a curious mixture of Arab and British influences, this tiny country of less than 300 square kilometers unfolds along its coast a unique landscape in which cliffs, crystal clear waters, and heart-stopping panoramic views intermingle. With this in mind, let me show you today the top 10 best beaches in Malta, a set of sandy beaches that will only steal a piece of your heart. Will you accompany me?
First of all, let me make a little clarification. Compared to the expectations of most people, the beaches in Malta are difficult to access, rocky, scarce, and poorly preserved. Most of them are far from tourist centers, and in many cases, in natural settings with little urban respect. That said, I think that on a trip of these characteristics it is important to keep in mind which are the best beaches in Malta, to go for a shot and not be mistaken. Let's start!
Best Beaches in Malta
1. Ramla Bay, one of the best beaches in Malta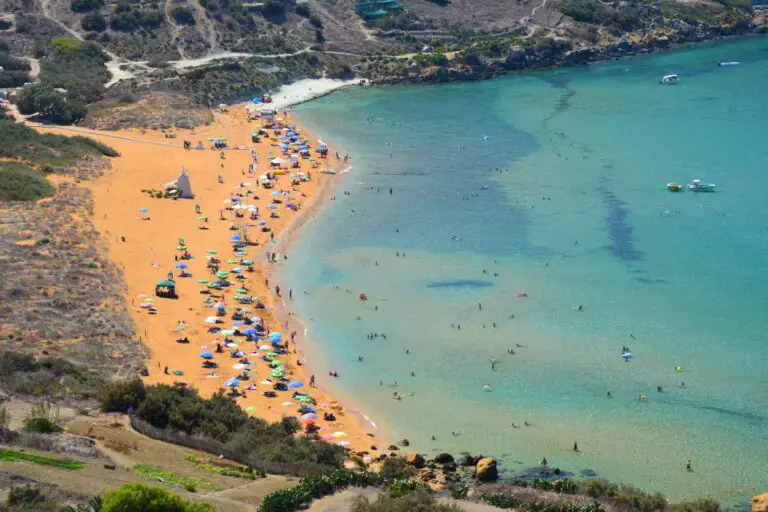 It was the first of Malta's beaches that we visited, and let me tell you that getting there was not easy. Ramla Bay is located at the northern tip of the island of Gozo, the second-largest in the Maltese archipelago, which is possibly the largest sandy area in the entire country. Its main attraction is the reddish color of its sands, which, together with the green and rocky area that borders it and the transparent waters, make it a fabulous option to enjoy the sun and sand.
It is in a practically virgin state (therefore, it does not have services), which is always appreciated. However, its state of conservation and maintenance could be substantially improved. To get there, you can do it by rental car or by taking a bus from Victoria, the capital of Gozo. Finally, keep in mind that given its size and its location outside the main tourist routes, it is not usually very crowded.
2. Golden Bay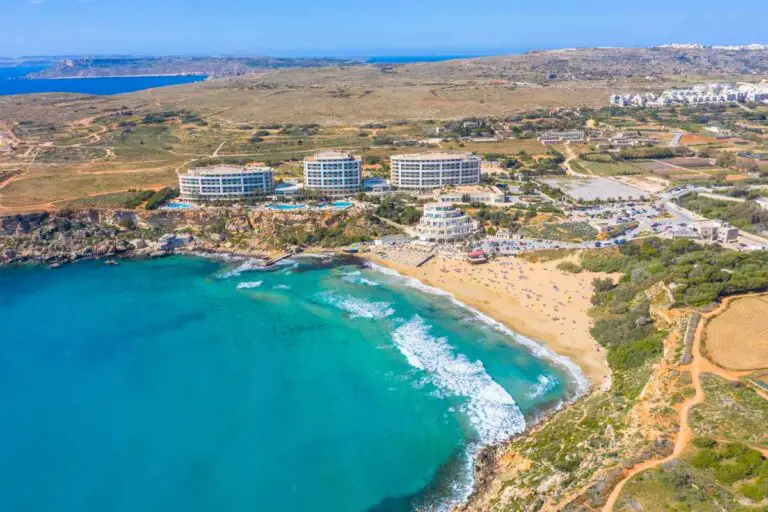 Very different and quite far from the previous one on the list of the best beaches in Malta: Golden Bay. Personally, I think it is one of the best sandy areas on the island, which, as I said before, are quite scarce. Specifically, we are in the western tip of Malta, very close to Mellieha and quite far from the Bay of Valletta. It is a very busy area, much more so than in the case of Ramla Bay, since it is surrounded by four and five-star hotel complexes.
Its wide sandy area and its transparent waters make it one of the favorite options for tourists. Also that it is located on the main island and close to hotel areas makes it usually very crowded in summer times.
It can be easily reached by car, while you also have the possibility of the bus. The conclusion is clear: I wish all the beaches in Malta were like Golden Bay.
3. Blue Lagoon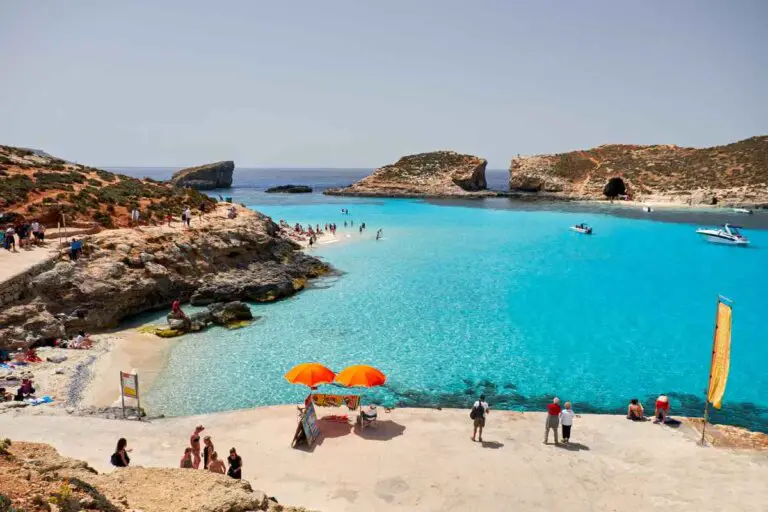 Now, yes. If you were looking for heart-stopping Malta sandy beaches and crystal clear waters, you've come to the ideal place. The beautiful cove of Blue Lagoon, possibly one of the most beautiful landscapes in the whole country, can boast of being one of the most beautiful beaches in Malta. An authentic natural setting that, despite experiencing great tourist influxes, is still an idyllic space. It will leave you amazed!
It is located on the island of Comino and is relatively easy to access via boat. Blue Lagoon stands out for its crystal clear waters, ideal for diving and other water sports, its exotic flora, and the wild state in which it is found. The main point against it is that it is overcrowded in summer. In turn, there are a multitude of activities and plans to do in the surroundings of Blue Lagoon, three of which I leave you below:
Cruise to Comino Island and Blue Lagoon
Gozo and Comino Cruise
Malta coastline cruise
4. Ghadira Bay
We now move to the north of the country to continue with our list of the best beaches in Malta, and here we discover Ghadira Bay. It is located in no man's land, very close to Mellieha, and surrounded by large three and four-star hotel complexes.
This sandy area, of good size and quite crowded in summer, is wide and has fine golden sand. In turn, its waters, transparent in color, are usually quite cared for. The accesses are quite good, and there are some beach bars and restaurants where you can have a drink.
To get there, you can do it by bus or by rental car (there are many places to park in the surroundings easily). Therefore, I recommend that you visit it since it is truly worth it. It is one of the best beaches, if not the best, in the entire north. Good atmosphere, crystal clear waters, little waves, and a more or less picturesque environment. What more could you want?
5. Pretty Bay
Another of the most famous coastal areas in the whole country is Pretty Bay, which with its name, already allows you to know that we are facing one of the most beautiful beaches in Malta. It is located in the southern part of the country, about 20 minutes by bus from the Bay of Valletta. Specifically, it is located in the municipality of Birzebbuga, with around 9,000 inhabitants. It is quite a popular destination for its golden sand and crystal clear waters.
I must say, in any case, that it is not a virgin beach. It is surrounded by buildings and in the urban center of Birzebbuga. At the same time, the views are somewhat overshadowed by the proximity to the southern Maltese seaport, full of scaffolding, ships, and gigantic containers.
Depending on the tides, its size is substantially reduced. However, in general, it is spacious and with a good supply of services. There are many restaurants and bars in the surroundings, a skate park, and the occasional cafeteria.
For sightseeing in Malta read: 10 Top-Rated Tourist Attractions in Malta
6. Paradise Bay
Paradise Bay is a small cove reclaimed from the sea, quite charming and unknown to tourists, who mostly choose the beaches closest to the bay of Valletta. This beach is very close to the port of Cirkewwa, which connects quickly with Gozo, and is surrounded by lodgings and hotel complexes. Its location makes it a quieter beach and away from the mass tourism that we sometimes find in the Mediterranean country.
Its size is very small, especially if the tide rises. Its environment is very rocky, full of cliffs, and its waters are crystal blue. The services are very scarce, but there is a beach bar to have a drink and the possibility of renting sun loungers. It is an ideal beach to go with the family, and it can be easily reached by bus or by rental car. In general, it is quite a pleasant place. I recommend it to you!
7. Ghajn Tuffieha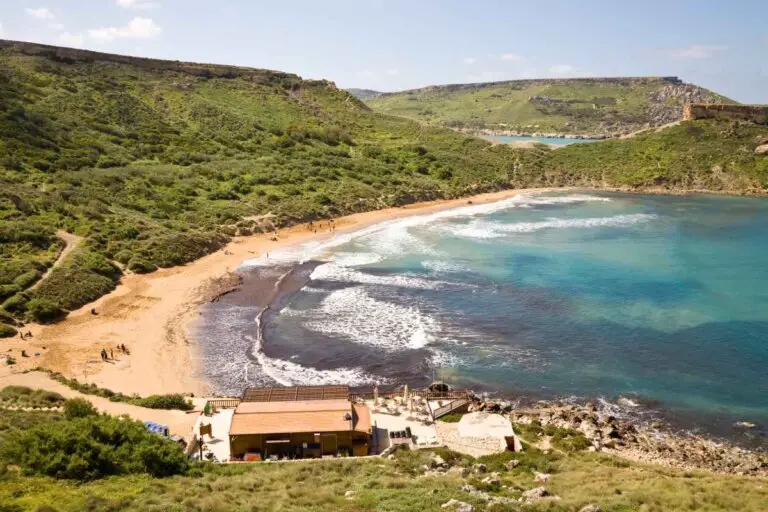 And now, yes, my favorite of all, Ghajn Tuffieha, a beautiful beach with fine sand and a natural wave, with no buildings around it. It is located in the northwest of Malta. Without a doubt, the most remarkable thing is its tranquility to enjoy a relaxed day at the beach.
I had to go through a stretch of stairs, back and forth, to reach the beach, but it is not tiring either. Therefore, it is good to be prepared and not carry too many things.
What I loved about this beach is that it is one of the less crowded Malta sandy beaches (although in summer it is difficult to find it without people). The sand has a reddish tone, and it has very clear waters. There are small waves here, and you can find surfers enjoying themselves.
Contemplating the sunset from this place is something you cannot miss if you are in Malta. It is easy to get there by your own vehicle or by public transport. However, during the summer months it can be a bit difficult to find parking so take precautions and go early. If you arrive early, you can park without a problem.
8. St. Peters Pool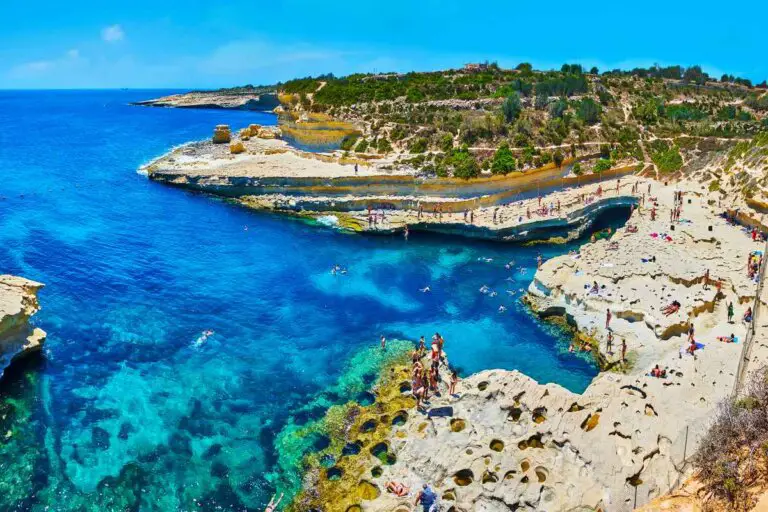 In the Delimara area, I found find Peter's Pool beach, named for its characteristic U-shaped pool shape. To get there you must walk along a signposted road, so it is advisable to wear comfortable shoes. Peter's Pool does not have any type of facility, so I recommend that you go stocked with food and drink to enjoy your visit.
It is a beach with a deep draft, ideal for practicing water sports such as diving or snorkeling. It is important to be careful when bathing on days with swell and wind, since the current can cause problems.
9. Zonqor Beach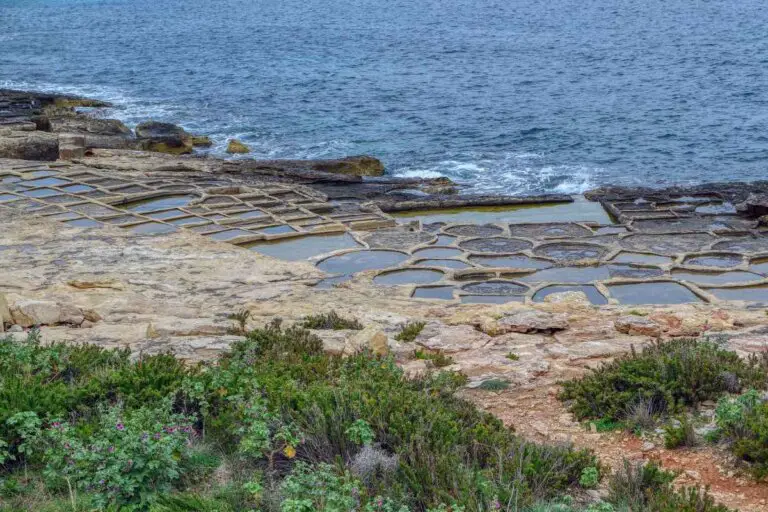 Zonqor beach has a rocky brown landscape that makes the aquamarine sea stand out. Not many visit due to its barren terrain. Nevertheless, don't follow their example, or you'll miss a lot. Though the shore of Zonqor isn't good-looking, its waters serve great for swimming due to its calmness.
Swimming without any worries is what I loved about Zonqor. Furthermore, it has a moderate depth, so you don't have to worry about perilous accidents such as drowning.
But the highlight of the Zonqor beach is the numerous salt pans on its coast. The local salt makers have been using these for many years. Come early and witness how humble seawater slowly transforms into lumps of salt under the heat of the sun.
10. Gnejna Bay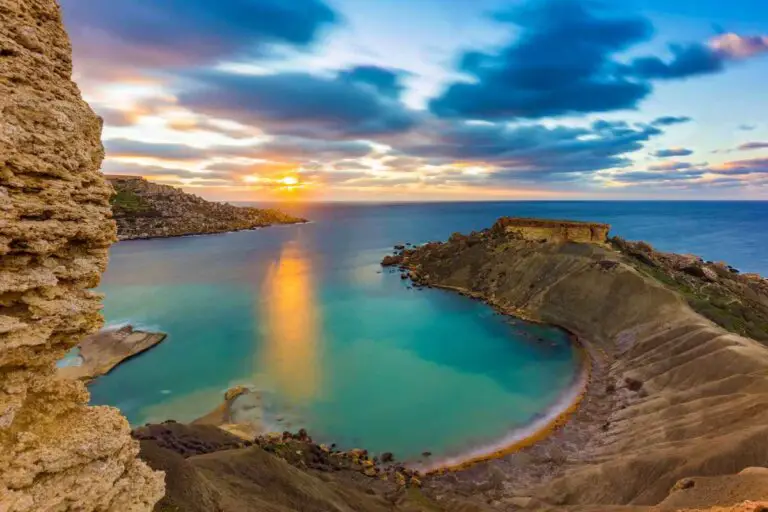 I traveled to Gnejna Bay, and I found this lonely place to rest, sunbathe and take a relaxing bath in the Mediterranean Sea. Gnejna Bay is located in a rocky area. However, the beach is made up of sandy areas and crystal clear water.
I was surprised to find in the vicinity a solar observatory, where you can get closer to contemplate the wildest part of the island. Take a camera with you, and capture a beautiful memory of the best views of the island.