Have you ever been to the Greek island of Kefalonia? If not, you're missing out! This gorgeous island is home to some of the best attractions in Greece, making it a prime place for tourism. You can explore the stunning beaches, interesting historical sites, and plenty of restaurants and bars to keep you entertained. To help you plan your trip, I've put together a list of the 10 Top-Rated Attractions & Things to Do in Kefalonia.
Things To Do In Kefalonia
1. Fiskardo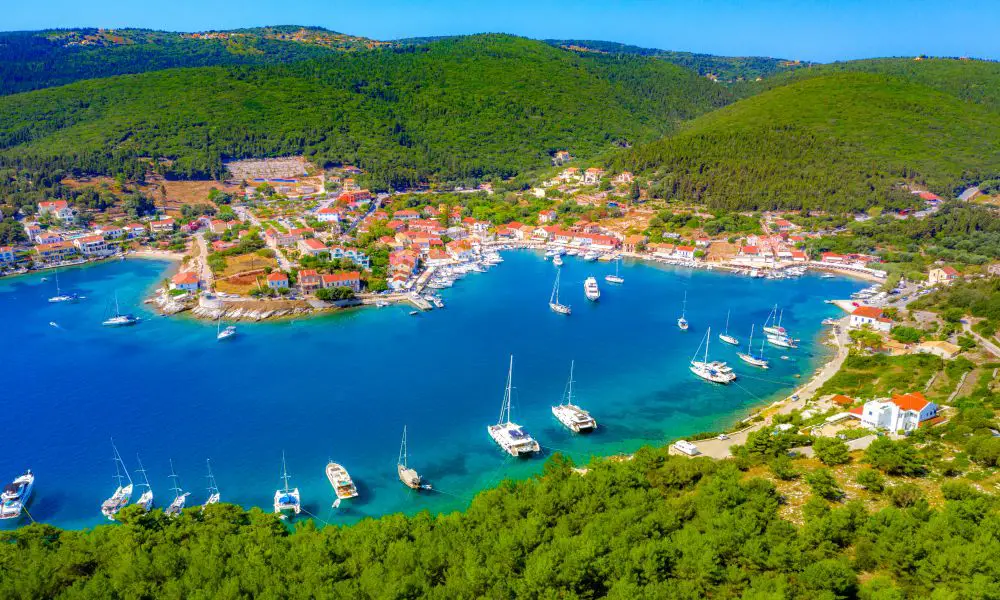 Fiskardo is a beautiful little village on the island's northeast coast, set in an idyllic bay with picture-postcard surroundings. This seaside village still holds onto the traditional way of life with a wonderful mix of Greek and Italian architecture.
The elevated position with wonderful views out to sea makes Fiskardo the most impressive of all the villages. Traditional houses are brightly painted along narrow, winding streets and alleyways. The best way to explore the village is to walk around and take in the sights and sounds of this wonderful place. You can also take boat tours to visit some of the island's pretty coves, where you might find yourself swimming alongside wild dolphins.
My favorite part of this village was the sunset view, which was absolutely incredible. If you have some spare cash, take a walk down to the waterfront just before nightfall and grab yourself an ice-cold beer while watching the fading light dance on the sea. Trust me, it will be one of the most amazing things to do in Kefalonia.
Once the sun has set, I suggest taking a walk down to one of the many taverns at the water's edge for a night of fantastic food and even better company.
Read More: 19 Best Things to Do in Heraklion
2. Sami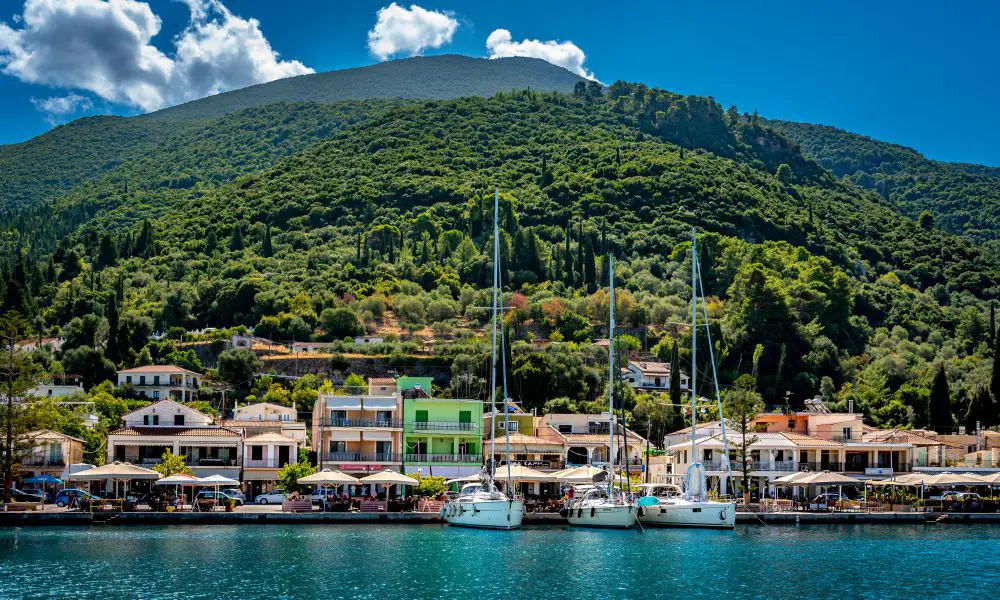 Sami is one of the main island's port towns and one of the most beautiful places to visit in Kefalonia. The harbor here has all the charm of an old-fashioned fishing village with brightly painted houses lining the waterfront. 
You can enjoy your time here by strolling along the waterfront and sipping a coffee from one of the many cafes. When you are done enjoying the views, make your way to the main street to visit the many shops and stores that line its narrow sidewalks. You can find anything from homemade clothes to souvenirs, all at a fantastic price.
And if you need a break from your busy day, take a walk around the small neighborhood streets to take in the atmosphere of the place. Do not forget to visit the old Venetian fort, which has great views out to sea.
In general, Sami is one of the top attractions in Kefalonia, mainly because of its wonderful harbor, colorful streets, and great cafes. It is one of the best places to visit if you are in the mood for some traditional Greek food and music.
3. Argostoli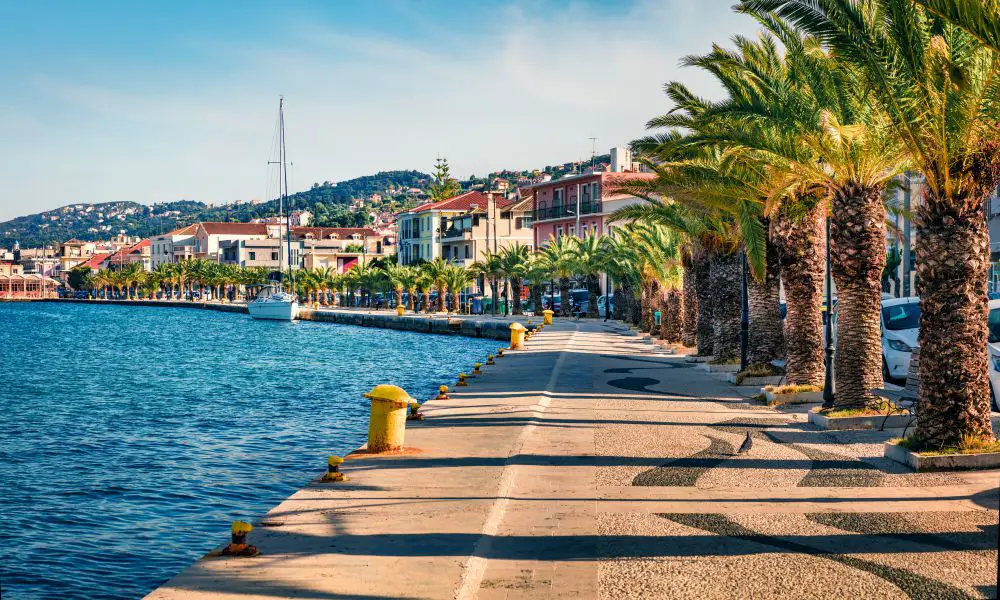 Argostoli is the island's capital and largest city. It is built on a wide bay that opens onto the Ionian Sea, and it is the major port of the island. Many are drawn to this city by its amazing shops and restaurants, which offer everything from traditional Greek food to international cuisine. And for those who enjoy a night in the town, there are plenty of bars and nightclubs to pick from.
However, Argostoli is not only known for its fantastic food and nightlife, but also as an important location for history. Here you can find many museums chronicling the island's past, including the impressive archaeological museum, which has some impressive Roman pottery and vases. You can also spend some time wandering around the town's winding streets and admiring all of the beautiful architecture.
Read More: 9 Best Things to Do at the Metéora Monasteries
4. Boat Excursions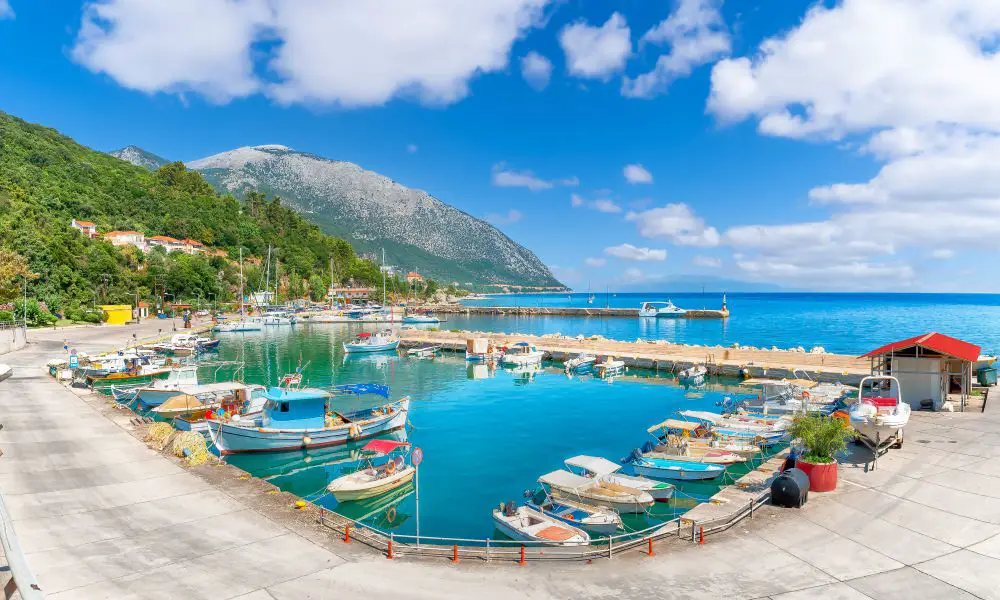 One of the best things to do in Kefalonia is to book a boat excursion out in the beautiful Ionian Sea. These excursions are usually guided, so you can sit back and enjoy the ride knowing that everything is being taken care of. I suggest taking a boat tour on your first day in Kefalonia so you can see as much of the island as possible. The surrounding waters are simply stunning with crystal clear, turquoise water and picture-perfect views of the mountains towering above the shoreline.
The island's best beaches are hidden among the many coves and bays. The boat often stops at a few different locations so that you have ample time to swim or enjoy a delicious seafood lunch. And before heading back, there is plenty of time to relax on deck and enjoy the breathtaking view of the sun as it sets over the endless horizon. 
5. Melissani Cave & Lake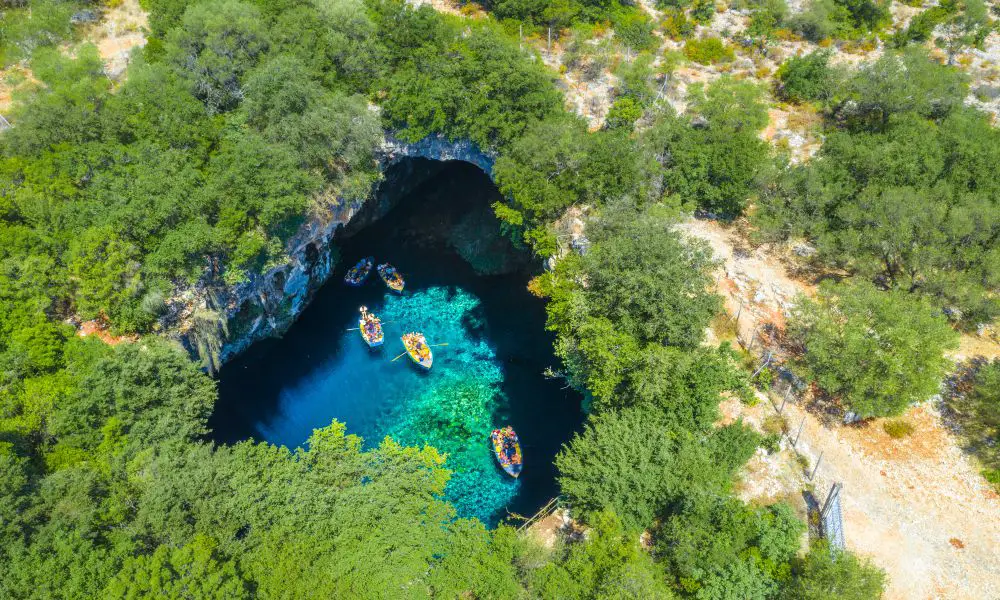 The Melissani Cave and Lake is a truly magical place and one of the top attractions on Kefalonia you won't want to miss. This fascinating place has a hole at the roof of the cave, which creates a shimmering blue light, giving the lake a surreal and picturesque look. You can take a boat ride into the cave to get up close and personal with this amazing sight. 
And if you want to be truly blown away by nature's beauty, I suggest visiting this cave and lake during sunset or sunrise. The pictures you take will certainly be worth it. I strongly recommend that you wear sturdy footwear and take lots of water with you.
6. Ainos National Park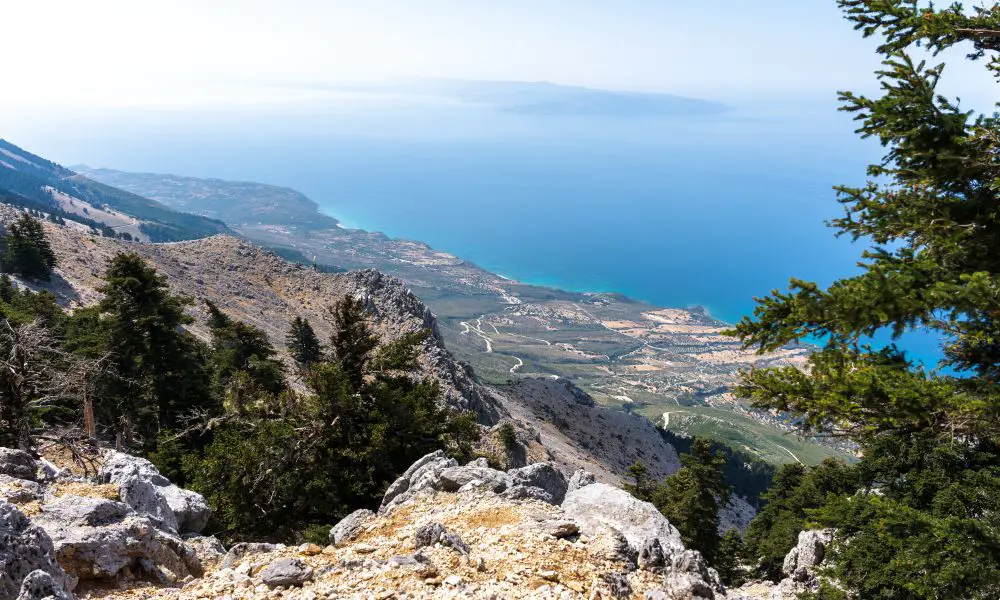 One of the best things to do on Kefalonia is a hike through Ainos National Park. This park is home to Mount Ainos, the highest peak in Kefalonia at 1,628 meters. The park is home to many rare and unique plants, some of which are found only on Kefalonia. There is also the opportunity to spot different bird species, including hawks, vultures, and eagles.
The park has a number of hiking trails ranging from gentle scenic routes to challenging ascents, making it suitable for all levels of fitness. The best part is that you don't need any prior experience to enjoy a hike through the park. I suggest starting off with the easy trails so you can get used to hiking in this kind of terrain. But if you are experienced, there are some trails that are more challenging. You can choose to explore by yourself or with a guide, but either way, you won't regret your visit.
7. Makris Gialos Beach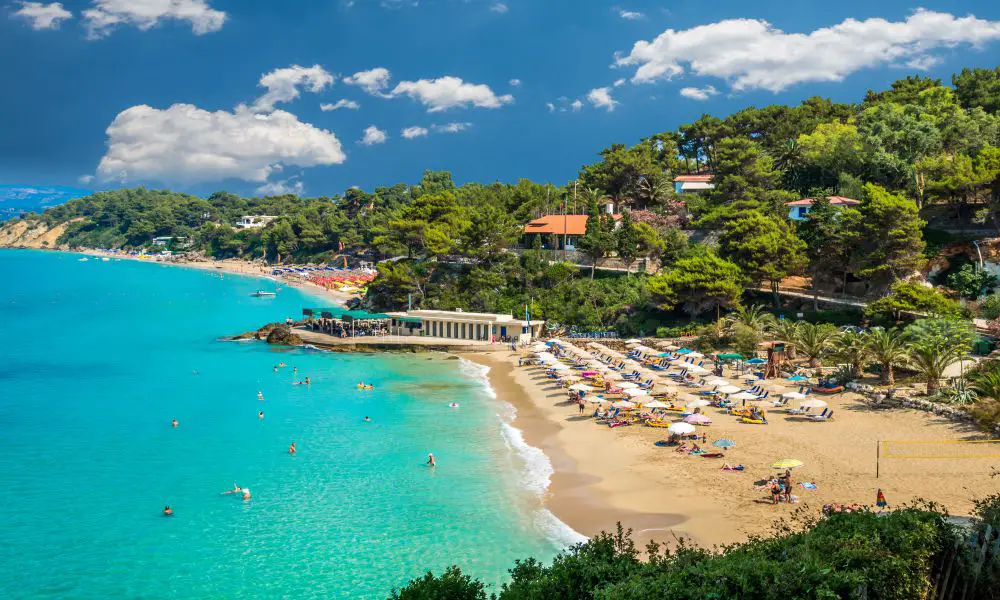 If you are looking for luxury and comfort, head to Makris Gialos Beach. This beach is one of the most popular and vibrant in the whole of Kefalonia. It is known for its lovely golden sand and clear blue water. It not only attracts the masses during the summer season, but boasts fantastic hotels and restaurants. 
There are also plenty of beach activities to enjoy, such as jet-skiing and speed boat trips. Moreover, after a day on the beach, you can go out at night to one of the bars or restaurants that line the seaside. There are plenty of choices, from simple taverns to luxury beach bars. 
The beautiful thing about Makari is that you can pick and choose what you want to do without being overwhelmed with all the options. If you would prefer a quiet family day out, go for it. But if you want to party until the early hours, that's also possible.
Read More: 22 Best Beaches in Greece
8. Drogarati Cave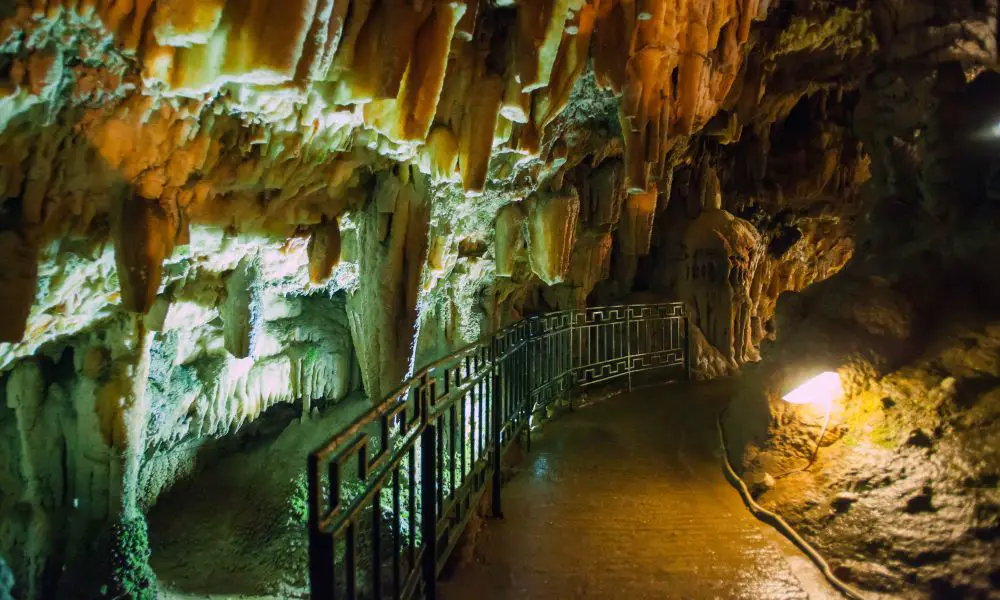 The beautiful Drongarati Cave is one of the top attractions in Kefalonia for those who love caving and exploring the unknown. This breathtaking natural wonder is about 100 meters long and about 45 meters wide. At first sight, the cave looks like any other cave. However, after a few minutes of exploration, you start to notice the stunning stalactites and stalagmites clinging to the ceiling and walls.
This is a great place to visit if you enjoy being surrounded by nature. It's also a fantastic spot for photography, as the cave walls and the stalactites reflect the light, creating beautiful shadows and shapes.
9. Agios Georgios Castle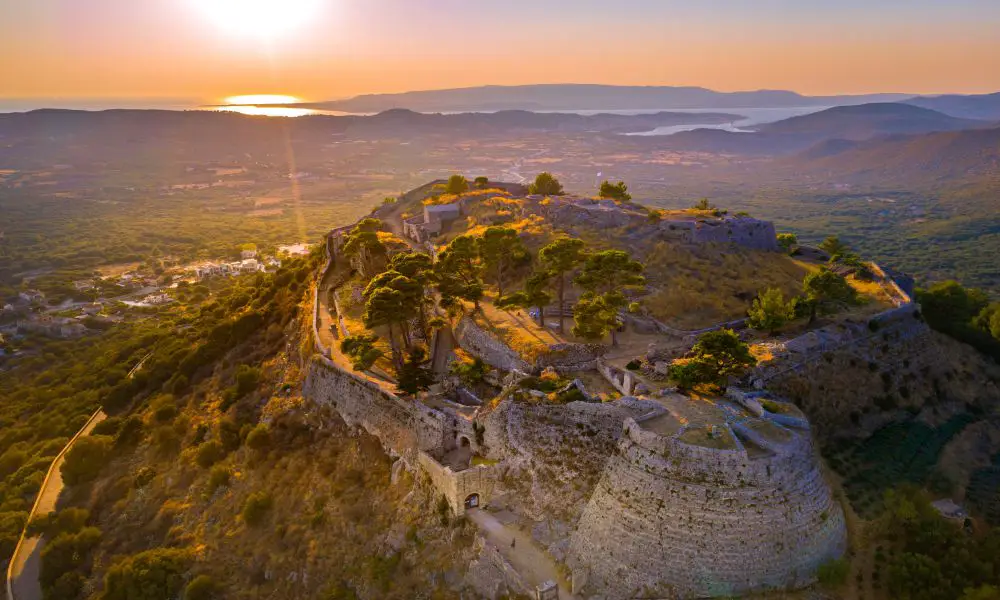 This beautifully preserved medieval castle is on the edge of a hilltop overlooking Argostoli. Built by the Venetians during the 12th century, this was once the island's most important fortification. It was originally built to protect against pirate raids, but fell into disrepair after being abandoned. Today, visiting this place is one of the best things to do in Kefalonia as you can explore the castle and marvel at its unique architectural style.
You can wander freely around the fortress and marvel at the excellent preservation of its rustic architecture. And if you're interested in history, there are tour guides who are more than willing to give you an insight into life in medieval times. 
All in all, it is a wonderful place to spend an hour or two contemplating life as it once was. I spent a whole afternoon exploring the castle's hidden secret passageways and abandoned dungeons.
10. Myrtos Beach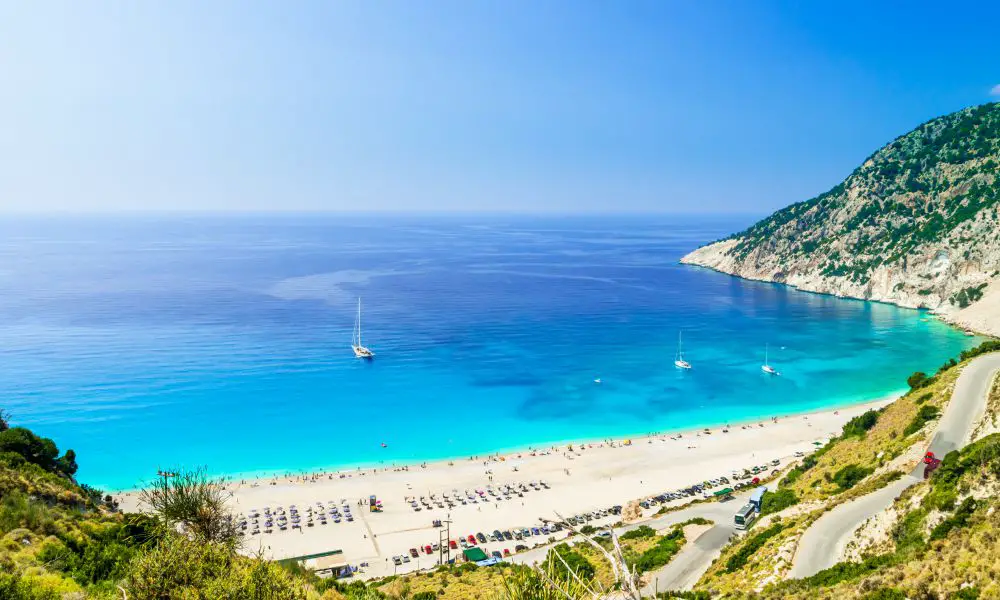 A visit to Kefalonia would not be complete without a trip to the beautiful Myrtos Beach. This is a massive stretch of fine white sand, which is also claimed by the beautiful blue waters of the Ionian Sea. The beach has been voted the best in Greece, and it isn't difficult to see why after a visit here.
Visitors flock from all over the world to swim in the shallow crystal clear waters, ideal for families. Take time to explore the beach, which is 2-kilometers in length and a popular destination for walkers. You can find a number of taverns and bars close to the beach, where you can get a cold beer and something to eat. 
I spent the whole day relaxing on the beach and enjoying the wonderful views. And since this is one of the top attractions in Kefalonia, you will usually find a crowd here. So it is best to get here early if you want a choice of sunbeds.
Conclusion
These are some of the best things to do in Kefalonia. The island has much to offer in history, culture, and incredible scenery. So I strongly suggest you make it a point to visit at least one or more of these amazing places. So, go book a flight, and I wish you a very pleasant stay in Kefalonia.