In this article, I'm going to talk about Balinese attractions. This is a paradisiacal place in Indonesia that is certainly on the list of travelers around the world.
I had just enough time to explore the island of Bali from north to south and east to west. I got acquainted with their culture, explored some impressive places, and made many friends while there. It is an island that deserves to be visited at least once in a lifetime. I confess that I've been there three times and I'm already planning my next trip, as Bali is an unforgettable destination!
I have listed the 15 top-rated things to do in Bali that I find most interesting on the island that I'm sure you'll want to visit on your trip. Read on!
Things to Do In Bali
1. Ubud Palace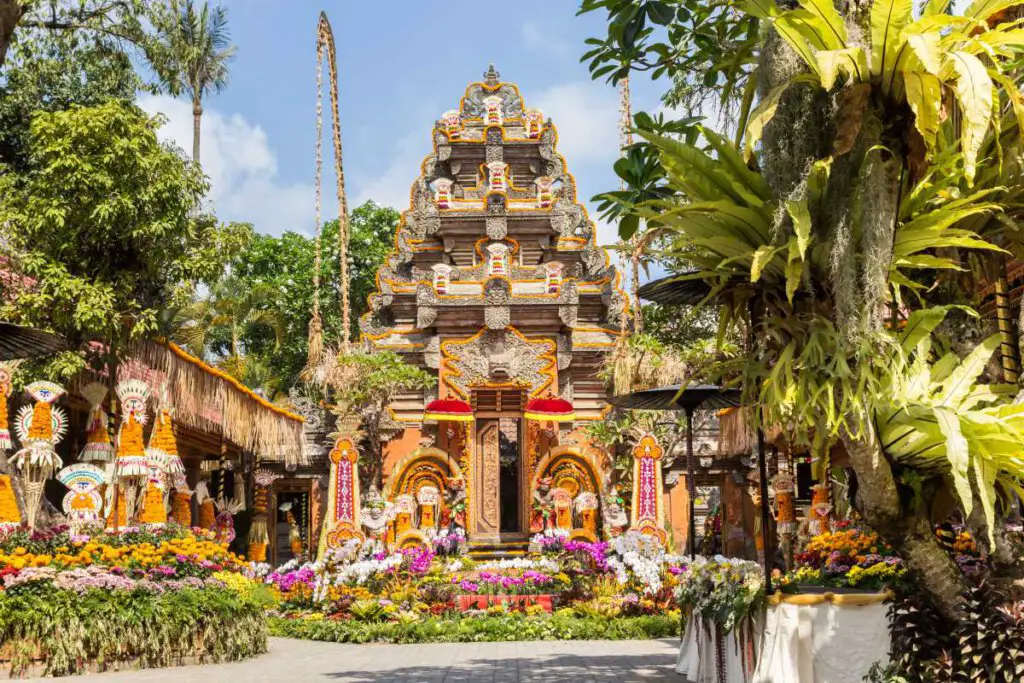 I confess that Ubud is my favorite area in Bali. This is because here you can find the local culture in the most authentic way combined with a very pleasant atmosphere, surrounded by forests, as well as unmissable Bali sights.
You will definitely want to get lost in the streets and enjoy visiting some of the region's sights. And during your tour, you will pass several temples, and it is not difficult to find offerings in the streets of Ubud. They are part of the Hindu-Balinese religion, very strong and present on the island.
In the heart of Ubud, on the main street, I recommend you visit Ubud Palace. It is one of the most important places in the area, with traditional Balinese architecture and a charming garden. The place houses much of Bali's art, dance, and literature.
2. Tanah Lot Temple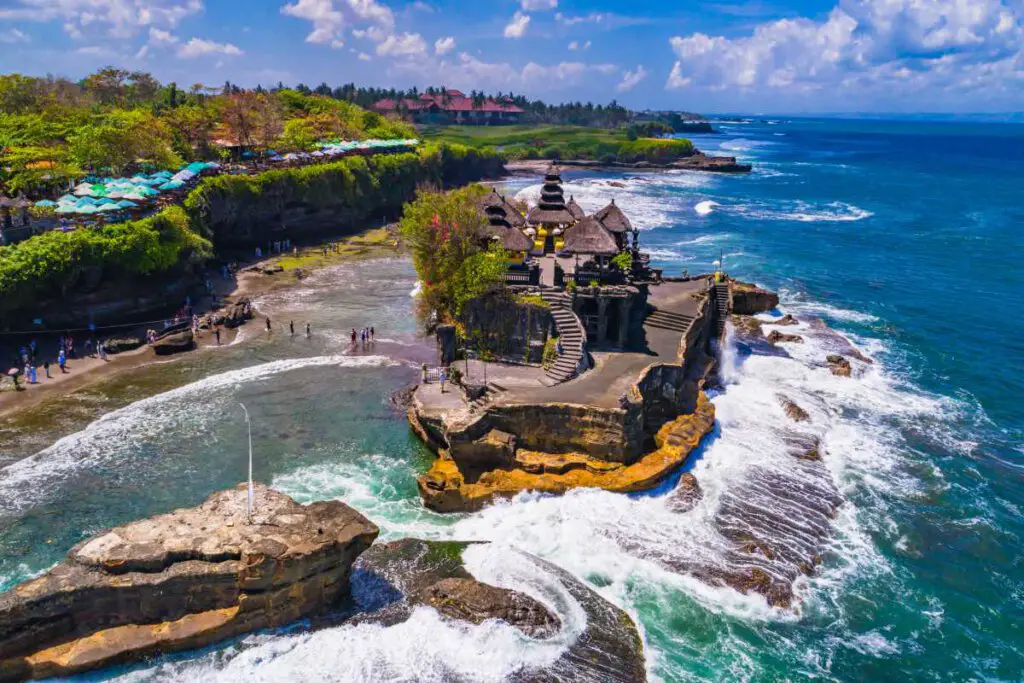 Unquestionably, Tanah Lot is one of Bali's top attractions, especially at sunset. It's worth booking a sunset-guided tour of the Tanah Lot Temple. But beware, this is obviously the time when everyone goes there. So the traffic is chaotic, and the journey can take hours.
This temple is undoubtedly one of the most exotic on the island, as it was built on top of a rock formation right in the middle of the sea. The view is very beautiful both for those outside looking at the construction of the temple and for those going there, an action that is only possible when the tide is low. So it's worth checking before the tide times if you want to walk to the temple.
3. Rice Terraces Jatiluwih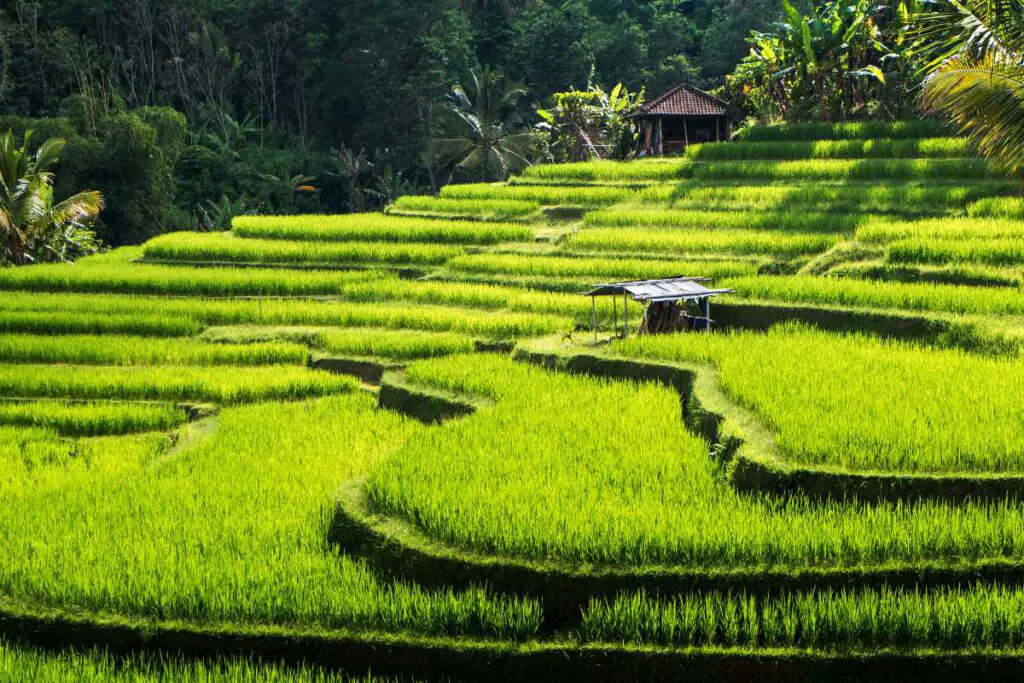 This is one of the attractions that I think is the most popular in Indonesia. This is because, among some rice fields available in Bali for visitation, I like Jatiluwih's observation decks because it is located on top of a hill and surrounded by mountains. With this, when you are at the top of the rice field, you can catch a glimpse of the views from the terraces, the sunlight falling on the fields, and the mountains in the background.
As if that wasn't enough, Jatiluwih is Bali's largest rice field and is a UNESCO World Heritage Site. I really think it's worth visiting because it's different from what we usually see in other tourist cities and because of its cultural importance for the country.
4. Mount Batur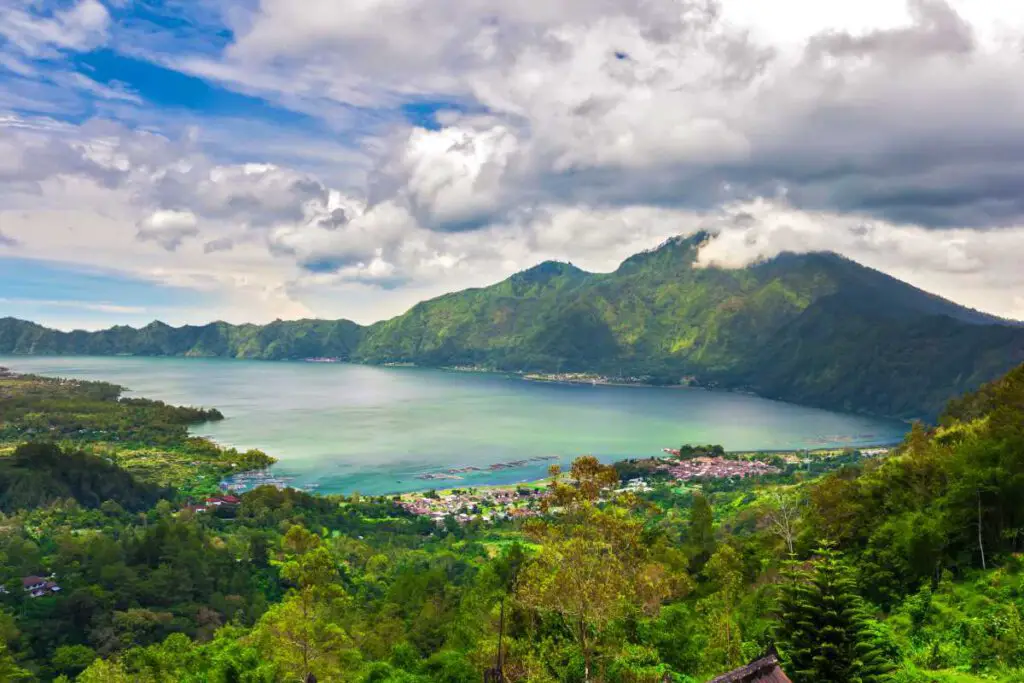 Just as I commented on rice terraces being a part of local life in Indonesia, so are volcanoes. And if you like to be in contact with nature, the tour to Mount Batur is a must, as it is one of the main Bali attractions in Bali. It was definitely one of the tours I enjoyed most on the island.
At first, I was a bit reluctant to take the tour as it starts at 3 am. But when I was there at the top with the very affectionate local guides, having a typical breakfast and seeing the first lights of the day around the mountains and lakes of the volcano, the emotion hit, and I was very grateful for having left the laziness aside.
Getting to Mount Batur is not easy, and I found the trail quite complicated to do alone. That's why I highly recommend that you hire one of the many tours available in Bali, especially at agencies in Ubud. Tours usually pick you up at the hotel, serve breakfast and even lend you a flashlight, which you'll need at the beginning of the trail at dawn.
I just remember that you need moderate physical preparation for the trail, as the climb of about 1700m is quite steep in some parts. If you can't get to the top, there is an intermediate stop where you can also watch the sunrise with an incredible view.
5. Monkey Forest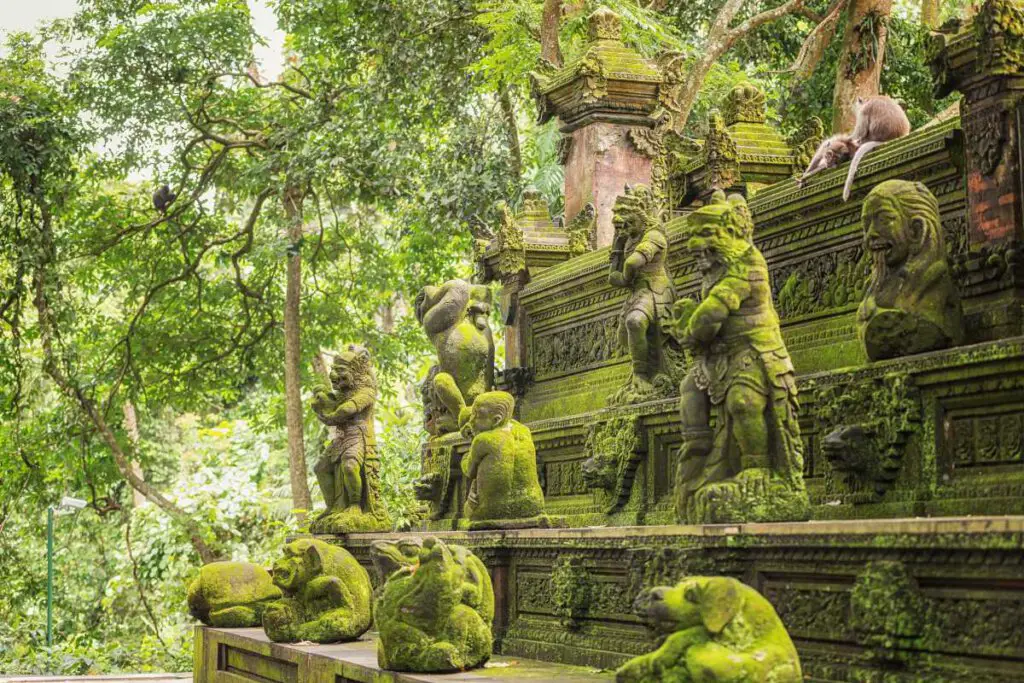 This is another unmissable Bali attraction, especially if you, like me, are a lover of monkeys. The famous Monkey Forest will be able to occupy your time thanks to hundreds of monkeys that live there undisturbed.
Although the temptation to play with monkeys is very strong, remember that they are still wild animals. Therefore, always try to pay attention to your luggage. I witnessed how a monkey grabbed a slipper from a Chinese tourist and ran away into the forest with it. It was both funny and sad for the naked tourist.
Therefore, stay at a safe distance from them and be sure to attach anything like a camera to your body. Anything that can be grabbed, pulled out of you (for example, sunglasses, a water bottle, or a hat), even sometimes slippers, will be instantly stolen by the monkey. Monkeys grab everything they can from people.
6. Ubud Central Market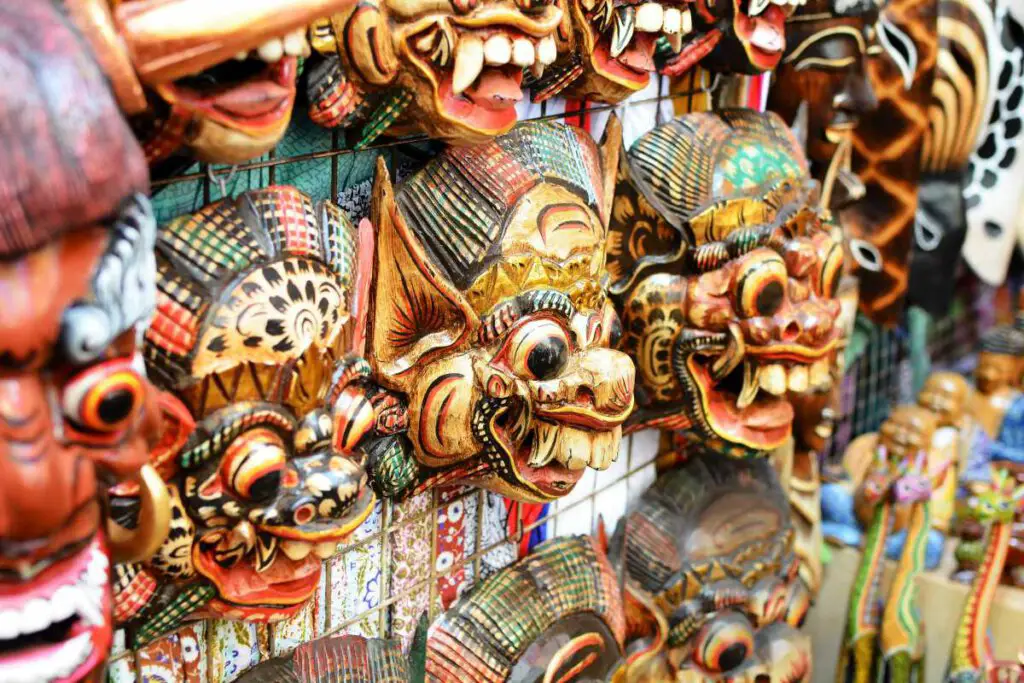 Another very interesting Bali attraction in Ubud is the Central Market. I liked it not only because it's a tourist attraction, but also because it's very popular with the locals. In it, you can find traditional fair products such as fruits and vegetables, spices, natural products, clothes, and many craft items at good prices. Great for securing those souvenirs from Indonesia! Just be prepared for the adventure, as much of the market is pretty disorganized. Even so, the local Bali experience is worth it.
7. Uluwatu Temple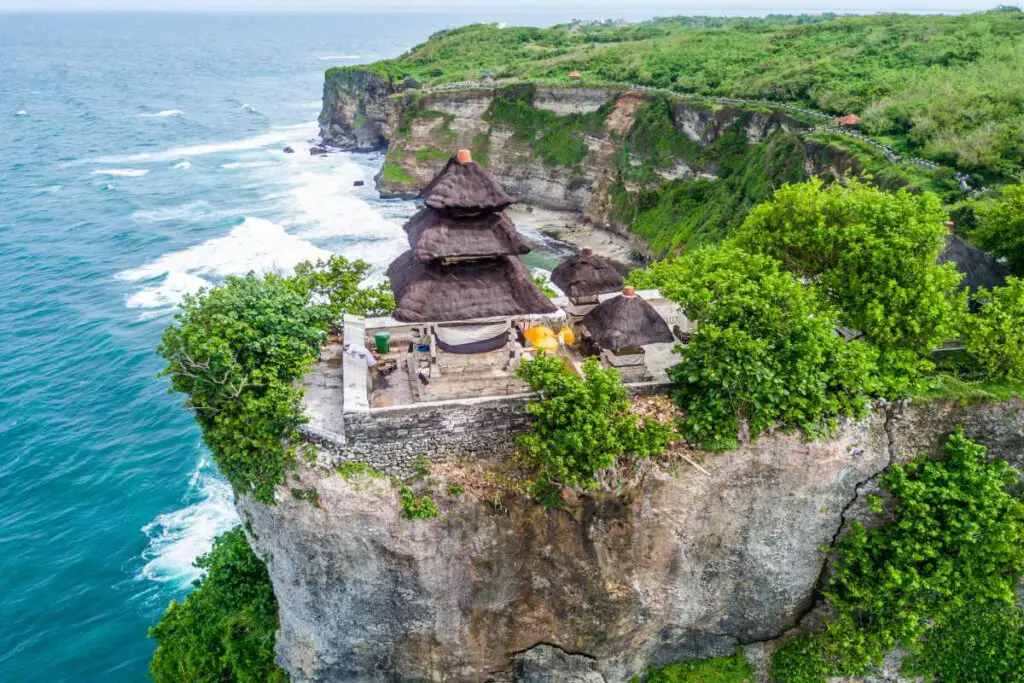 The main attraction for visiting the Uluwatu Temple is undoubtedly its location. It stands on the edge of a cliff over 70 meters high at one end of the island, ensuring a truly extraordinary look. Without a doubt, it is one of the main tourist attractions in Bali.
The entire park is very beautiful and preserved and has incredible views of this region. Plus, it's still one of Bali's top places to see the sunset. It can be a great walk after the beach, as the Uluwatu region is surrounded by fantastic beaches such as Padang Padang, Tomas Beach, and Bingin Beach.
Also, keep an eye out for the wild monkeys you'll run into there, as you won't want to see your belongings falling down the cliff. And like Ubud Palace, there is also a traditional Balinese dance performance here. The attraction here is the visual. The theater is open-air, and you'll watch the dance with a view of the ocean in the background.
8. Tembeling Forest in Nusa Penida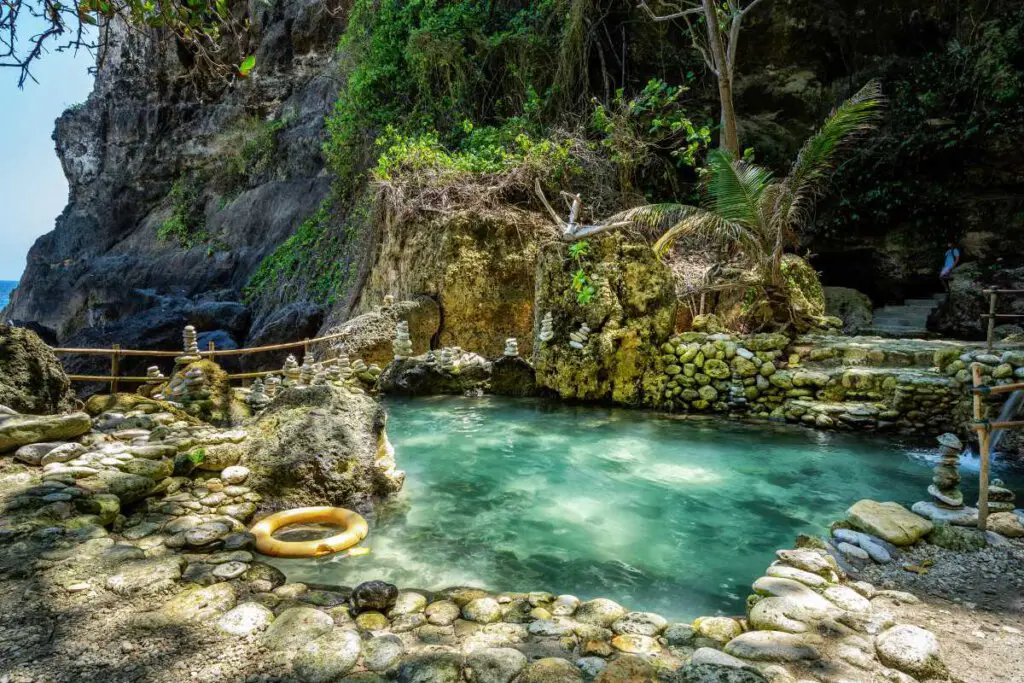 The Tembeling Forest is one of those breathtaking places in Nusa Penida. Inside, you'll find the beach, natural pools, including one that looks like a Jacuzzi, and you'll really believe you've found a piece of paradise for yourself. That's because Tembeling isn't as explored by tourists as the other most popular beaches and waterfalls in Bali. So I think every effort to get here will be very worthwhile!
Tembeling Forest is located in the southwest part of Nusa Penida, very close to the Banah Cliff lookouts, which can be part of your itinerary on the same day. The region also has the paradise of Kelingking Beach, one of the best swimming beaches in the world.
9. Nungnung Waterfall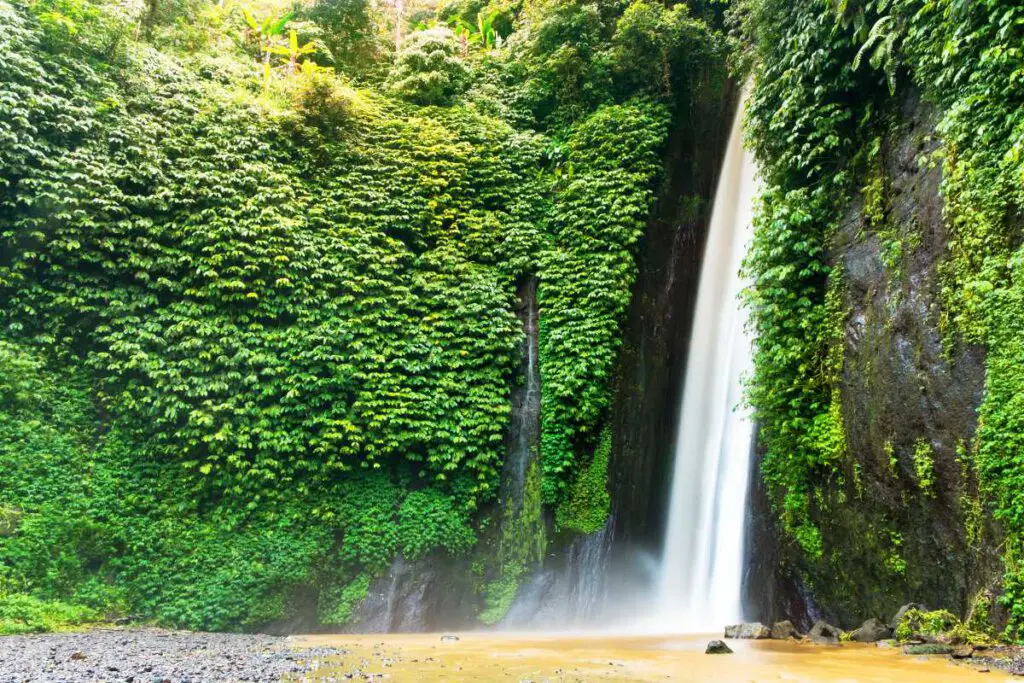 In addition to the famous and beautiful beaches, Bali also has amazing waterfalls, which, unlike the beaches, are still not so popular with tourists and are a delightful tour.
Among the many waterfalls I've visited, Nungnung is one I can't leave out of this list of Balinese attractions. It's hard to think of how you can explain it, but think of a giant waterfall, nice natural pools, and the water falling hard being the only noise you'll hear. It's just like a movie set!
The 500 steps to get to the waterfall won't even get you tired because of how beautiful it is. Nungnung is about 35 km from the center of Ubud.
10. Temple of the Sacred Fountains (Tirta Empul)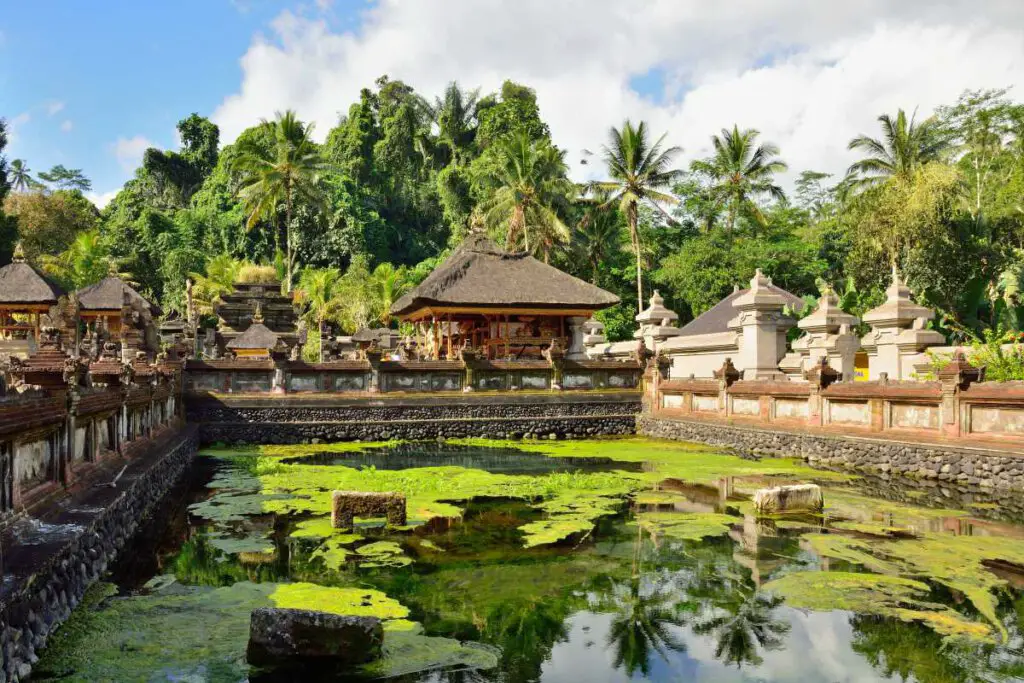 It is said that there are over a million temples in Bali. They're scattered all across the island, and every family has their own temple to worship at! Tirta Empul was one of my favorite places I visited because it's so beautiful here. There are people bathing under fountains as they pray by them too, which creates an environment where you can admire the beauty of this Hindu Temple while learning about Balinese culture.
In addition, it's a good tour for those who want to renew their energies and delve into the beliefs of the Balinese culture and discover a temple that stands out from the rest.
11. Uluwatu Beach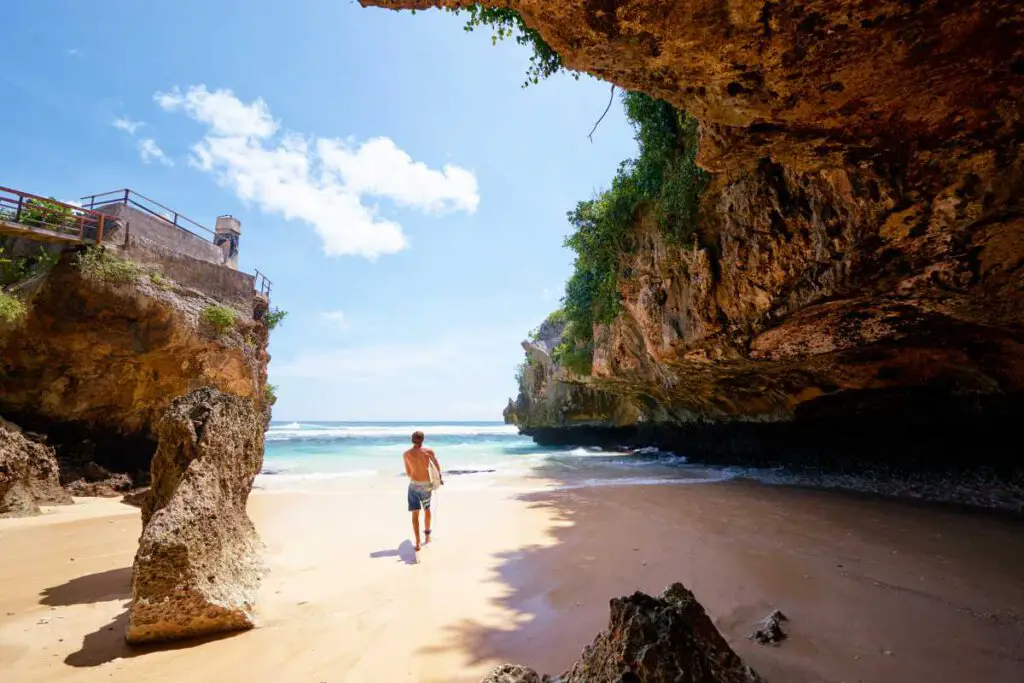 Uluwatu Beach is one of the most beautiful beaches in Bali, popular with tourists and surfers. It is in front of a huge stone wall where there are some bars and restaurants that have a sensational view of the region.
The beach has a kind of cave when you reach the sea, and it's a different and very beautiful place. During high and low tide, the appearance of Uluwatu Beach can vary greatly. The beach is usually visited by surfers because it has good waves, but also by many people who want to enjoy the wonderful view of this region. Uluwatu Beach is worth visiting on the same day as you visit Uluwatu Temple, as both are close.
12. Bali Museum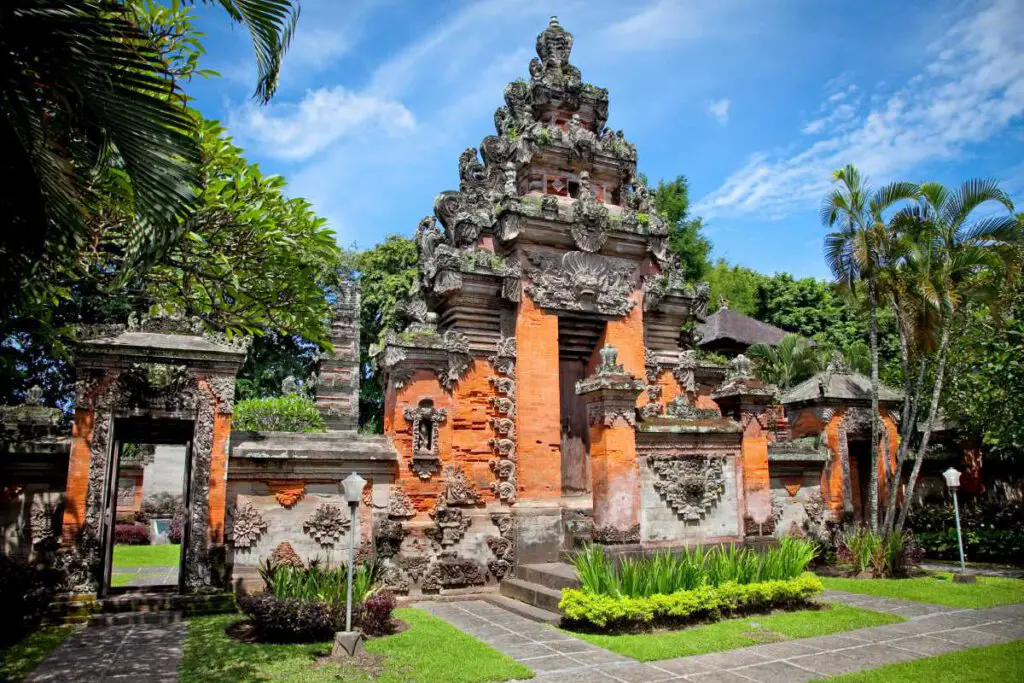 The Bali Museum serves as the repository of important cultural artifacts from the island. It stands near to the site of Denpasar's old Royal Palace. The Bali Museum follows traditional Balinese architectural elements. A robust rock facade consisting of curls and swirls and pillars and rock steps leading to the entrance.
Exploring the museum isn't confusing, as many tourists claim, as it is divided into four sections, each having its own unique displays.
The Tabanan section is where you'll see wooden masks that Balinese Hindu monks used. The Karangasem section pays tribute to the genius of Balinese sculptors and painters. The Buleleng section makes you understand the beauty of traditional Balinese textiles. And the Timur section is where you'll see the Bronze Age Balinese spear and ceremonial drum.
13. Seminyak Beach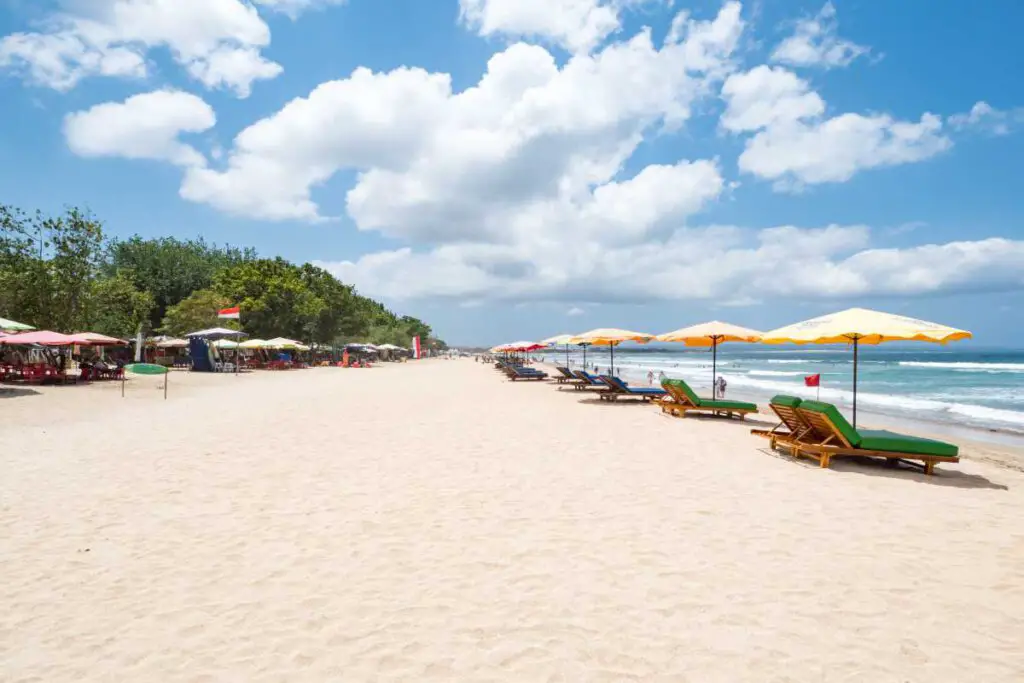 Seminyak beach is Bali's most spacious beach. Its shoreline spans for 3 kilometers, so the recreational options that are available for you never run out. You can play volleyball with other tourists, rent a bike and travel along the shore, go swimming, head to the wavy spots of the beach and surf, etc.
The sunset is the highlight of Seminyak Beach. Hang around and watch as the horizon and the sea adapts to the orange color of the sun. While watching this, get a fire ready because a sumptuous feast of roasted goods is an option before returning to the hotel.
14. West Bali National Park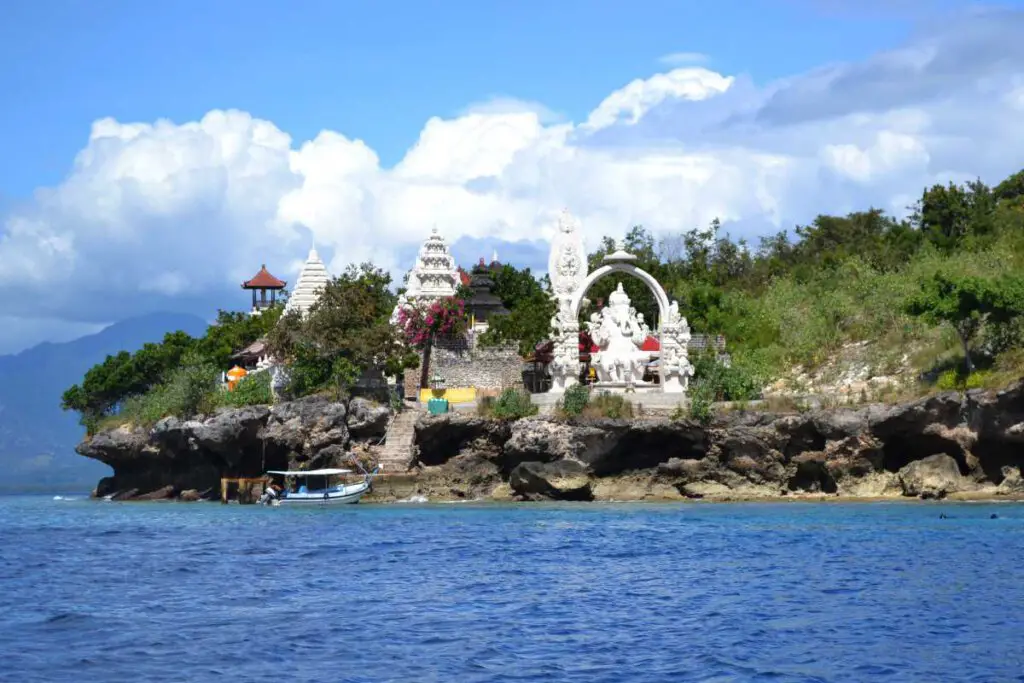 West Bali National Park is a protected area in Bali consisting of a seaside area and a forested area. It's a place you need to visit if you want to do a lot of things on a single trip.
If you go to the seaside area of the National Park, you'll enjoy guided snorkeling tours with guides that know where most of the fishes love to hang out. On the other hand, the forested area is where you'll enjoy guided tours for seeing Black Monkeys, Bali Starlings, and deer.
Before heading home, take a walk on the shoreline because there's always something for you to see. The seaside environment of West Bali National Par is very relaxing. Thus, walking around is a great way to decide where to go next.
15. Waterbom Bali
To complete my list of 15 Bali top attractions, Waterbom is another essential place to visit. This is a 3.8 waterpark that features humongous slides for children and adults. It's famous for its contraptions that follow international safety standards. Moreover, the pool is filtered using saltwater chlorination, ensuring that children don't get skin disease or allergies even if many are taking a dip.
This waterpark is close to other attractions, so visiting will be worth your time. On the northwest is Kuta Beach, where you can sunbathe. Surrounding it are simple restaurants serving Indonesian seafood, noodles, and desserts. If you head southwest of the waterpark, there's Jerman Beach, where you can meet other foreigners.
In summary
Bali's attractions make it an exceptional destination that will not disappoint any traveler. Nature is very present throughout the island and exudes beauty and diversity, with beaches, waterfalls, natural pools, trails, and volcanoes, added to many temples and dancing.
All of this with a unique and very present culture on the island. The Balinese attractions will always make a great trip for all types of travelers, whether you're backpackers traveling alone, with friends, couples, and even families looking for a good hotel structure and resorts.
If you want to know when is the best time to visit Bali check our article The Best Time to Visit Bali and for some of the best beaches read 14 Top-Rated Beaches in Bali