The little-known province of Phatthalung is located in the south of Thailand and is often overshadowed by its more popular neighbors. But what Phatthalung lacks in fame, it more than makes up for in its beauty and charm.
And the best part is that you'll still find plenty to keep you occupied and entertained here at a fraction of the price. So, to help you make the most of your time, I've compiled a list of the 10 best things to do in Phatthalung. Read on!
Things To Do In Phatthalung
1. Take A Stroll Through Phatthalung Town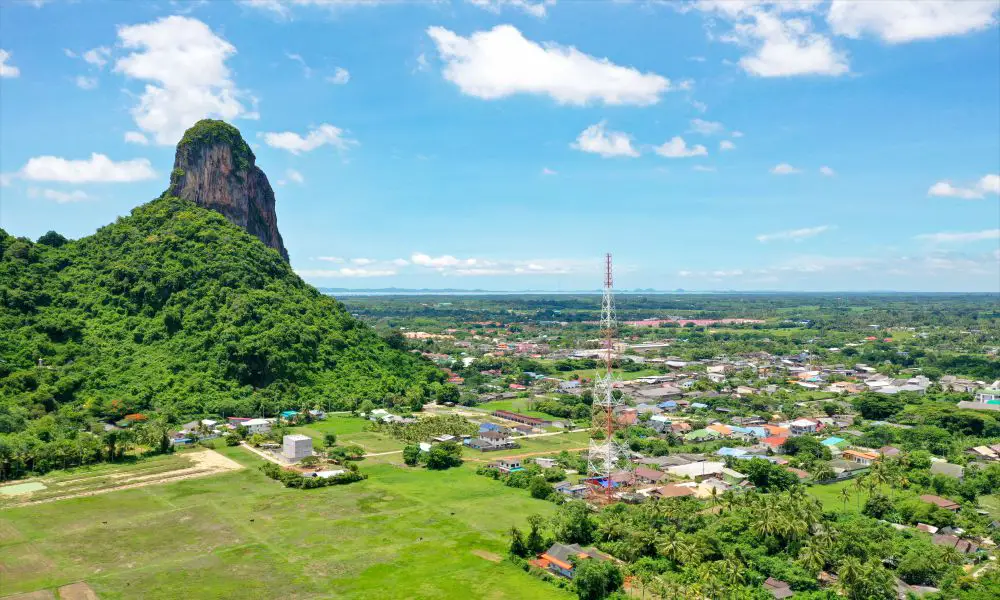 The best way to get to know a city is to simply walk around and explore. And that's exactly what you should start with if you're wondering what to do in Phatthalung.
The city center is relatively small, so it won't take you long to walk around. And as you do, you'll be able to come across quiet streets that are lined with old houses, picturesque temples, and friendly locals. The town is also filled with quaint cafes and restaurants serving traditional Thai food and global cuisine. 
You don't need a guide to explore Phatthalung town, but if you want to learn more about the history and culture of the city, then you can join a guided tour. These tours are led by locals and are a great way to get an insight into everyday life in Phatthalung.
Read More: Best Things To Do In Nakhon Pathom
2. Go Birdwatching At Thale Noi Bird Sanctuary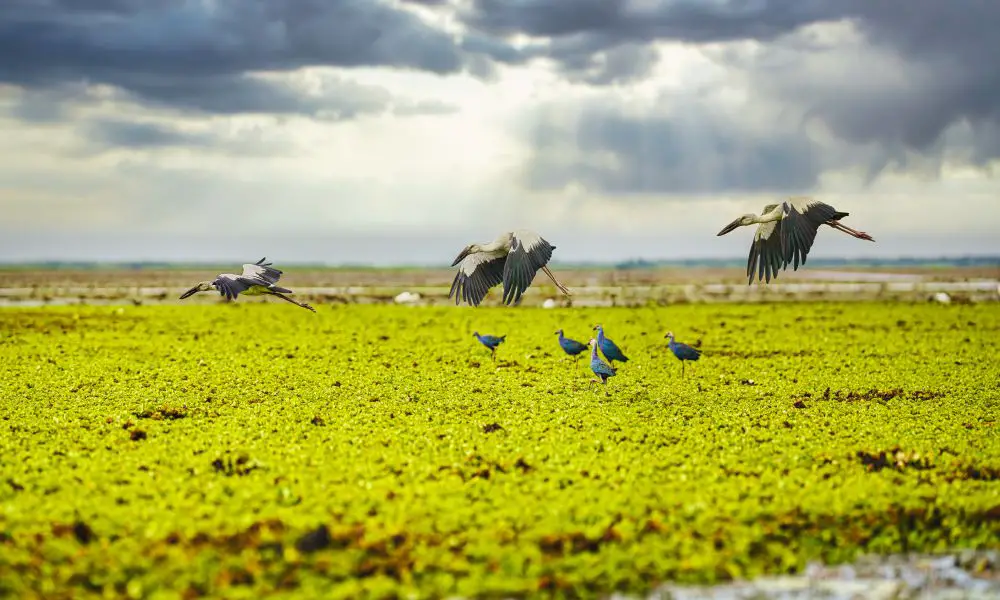 If you love nature and birdwatching, then you'll enjoy a visit to Thale Noi Bird Sanctuary. This is one of the famous attractions in Phatthalung and is a great place to see some of Thailand's rarest birds.
The sanctuary is home to over 200 species of waterbirds, making it a birdwatcher's paradise. You can see migrant birds from as far away as Siberia, as well as local Thai birds. Popular birds that you might see include the great cormorants, Chinese pond heron, black-winged stilt, lesser whistling ducks, pheasant-tailed jacanas, and many more.
You can take a boat tour of the sanctuary, which lasts around 1.5 hours and see the birds up close. The tour guides are very knowledgeable and will be able to tell you all about the different species of birds that you'll see.
The best time to visit Thale Noi Bird Sanctuary is from November to March, as this is when most birds are in the area. However, you can still see plenty of birds outside of this period.
3. Visit Khao Chai Son Hot Springs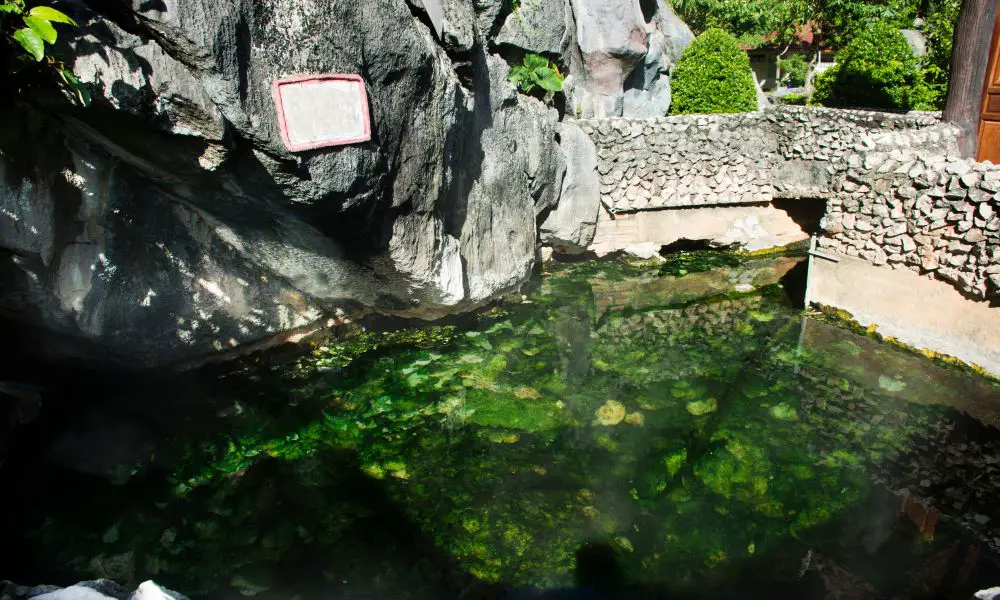 Feeling stressed out? Soak your worries away at Khao Chai Son, the hot springs located in the village of Khao Chai Son. This is the best place to relax and rejuvenate your body and mind. The water is said to have therapeutic properties making it one of the most popular things to do in Phatthalung.
The water flows from a natural spring at a temperature of about 60 degrees Celsius (140 degrees Fahrenheit). So it's not too hot, but just hot enough to soothe your muscles and relieve any aches and pains. Plus, the setting is just gorgeous, with lush greenery and mountains in the distance.
The hot springs are located in a beautiful resort that provides visitors with everything they need for a relaxing day. Therefore, you can find several services such as massage, restaurants, and accommodation.
Read More: Best Things To Do In Sukhothai
4. Cross The Chalerm Phra Kiat Bridge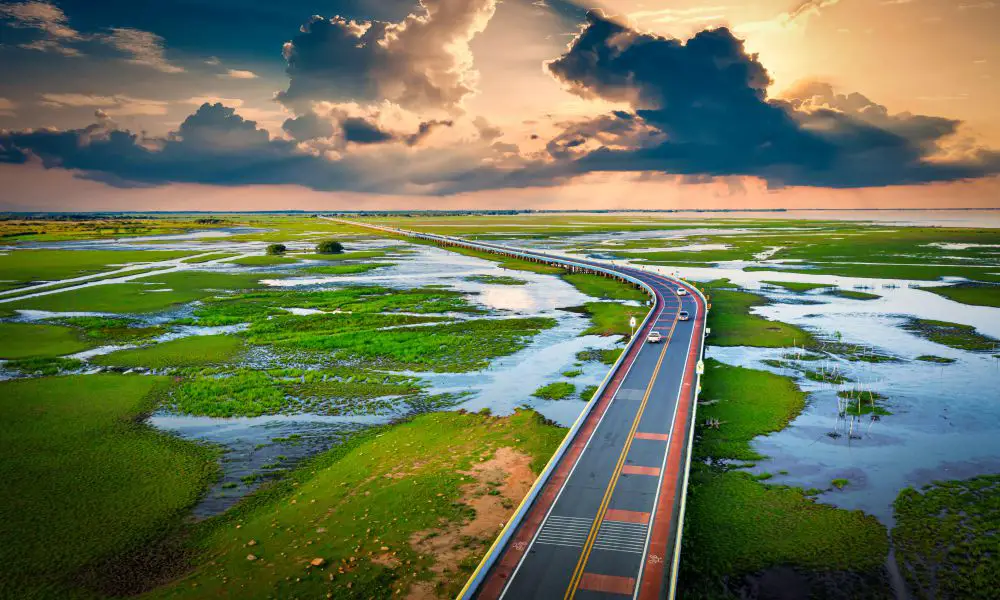 You can't go to Phatthalung without crossing the Chalerm Phra Kiat Bridge, which spans the Wang Tanot River. At 5.5 kilometers (3.4 miles) long, it's the longest bridge in Thailand and one of the most impressive things to see in Phatthalung.
The bridge connects two provinces and is popular with locals and tourists who come to enjoy the beautiful views of the river and the fishing villages. Although the bridge is open to vehicles, it's also a popular spot for pedestrians and cyclists.
It took me about half an hour to walk across the bridge, and I stopped several times to take photos and enjoy the views. I even saw some people fishing from the side of the bridge, which was a really neat sight. So if you're looking for fun things to do in Phatthalung, be sure to add crossing the Chalerm Phra Kiat Bridge to your list!
5. Shop At The Train Station Night Market
You all know that Thailand is famous for its night markets which are one of the best things to do in any city. And if you thought that Phatthalung didn't have a night market, then you were wrong!
The Train Station Night Market is located directly opposite Phatthalung Train Station. It's a large market, with over 200 stalls selling a variety of things such as clothes, souvenirs, food, and much more.
I was surprised by the range of things on offer at the Train Station Night Market. Expected to find mostly cheap souvenirs and clothes, but there were also a lot of unique items that I hadn't seen before. I even found some great gifts for my friends.
The food stalls are definitely worth checking out, as there's a wide range of traditional Thai dishes and snacks on offer. One food you must try is turmeric-infused crispy fried chicken, which is found in one of the popular stalls.
There are more than enough things to keep you busy at the Train Station Night Market, so make sure you add it to your list of places to visit in Phatthalung!
6. Pay Your Respect To Phraya Thukkharat (Chuai) Monument
Phra Maya Chuai was a monk who is revered for his role in defending Phatthalung from Burmese invaders. And when he completed his mission as a monk, he was appointed to be Phraya Thukkharat by King Rama I to help the city lord. A Phraya is a high-ranking nobleman in Thailand, and his title was equal to that of a city lord.
Today, he is considered one of the most important historical figures in Phatthalung, and his monument is one of the city's most popular things to see. The monument is located at the Tha Miram intersection, and it's easy to spot with its large statue of Phraya Thukkharat standing.
Read More: Best Places To Visit In Thailand
7. Hike Up Khao Ok Talu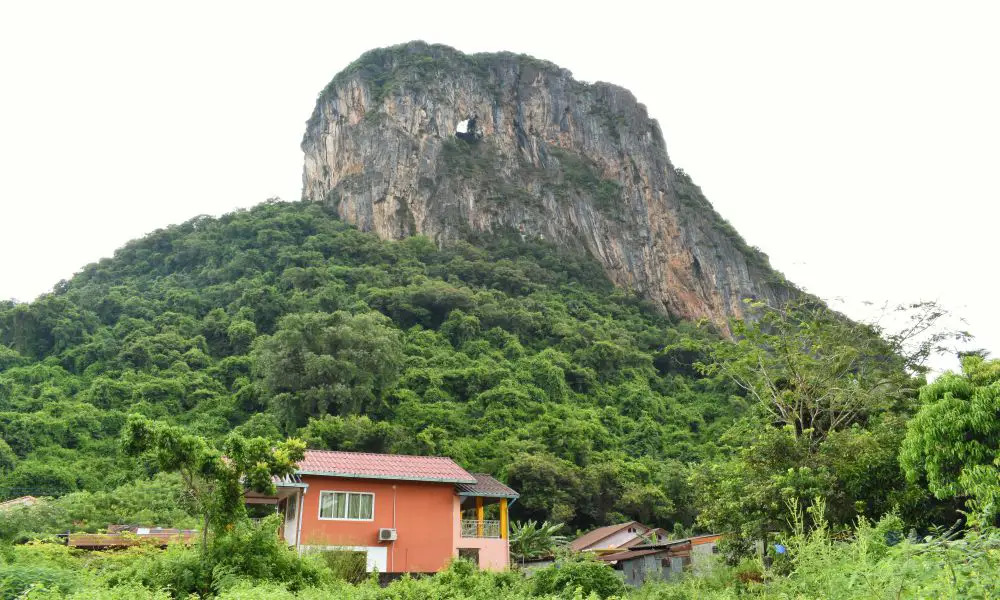 One of the most recognizable attractions in Phatthalung is Khao Ok Talu, a limestone hill located less than a kilometer behind the town's railway station. At just over 250 meters (820 feet) tall, this hill is covered in lush forest and is a popular spot for hiking and picnicking.
The hike to the top of Khao Ok Talu is relatively easy, as a stairway leads all the way to the summit. However, there are also some steep sections and uneven surfaces, so be sure to wear proper footwear and take your time.
The views from the top of Khao Ok Talu are simply breathtaking, and you can see for kilometers in every direction. I highly recommend making the hike up to the top of this hill, as it's one of the best things to do in Phatthalung.
8. Marvel At Grand Canyon Phatthalung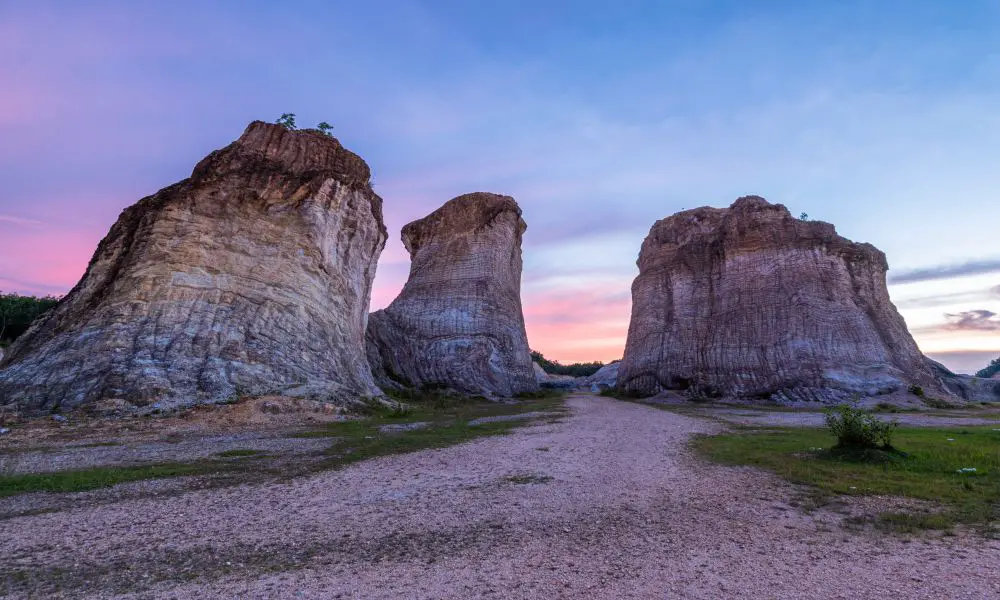 The name "Grand Canyon" might make you think of the famous US landmark. But did you know that there's also a Grand Canyon in Phatthalung? However, don't expect to find the same red rocks and desert landscape.
The Phatthalung Grand Canyon is not as grandiose as its American counterpart, but it's still a beautiful and fascinating place. The canyon was formed partially by mining operations, which have since been abandoned. Now, the only things left are rock formations that have been carved out by years of erosion.
The ground is also filled with shallow water, which reflects the sunlight and creates a surreal atmosphere. This makes it one of the most unique things to see in Phatthalung.
There are several cafes and restaurants located near the canyon, so you can take a break and relax with a drink while enjoying the views.
9. Visit Phra Phutthanirokhantarai Chaiwat Chaturathit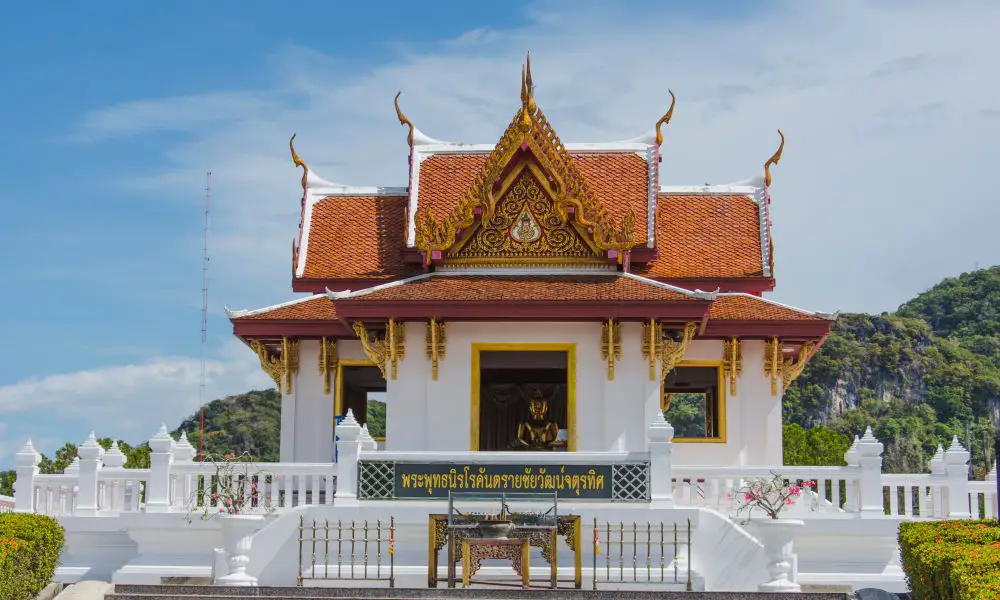 You can't come to Phatthalung without seeing Phra Phutthanirokhantarai Chaiwat Chaturathit, one of the most important Buddhas in the province. This Buddha image was donated by His Majesty King Bhumibol Adulyadej to the province in the late 1960s.
It's a beautiful bronze statue in meditation posture and is sacred to the locals of Phatthalung. Many people come to worship and make merit at this Buddha image, which is housed in a square pavilion that is between the provincial court and the hall.
Don't expect to see much on this site, as it's mostly just the Buddha image. However, it's still definitely worth a visit if you're interested in unique Phatthalung attractions that relate to Buddhism and culture.
10. Enjoy Phatthalung Nighlife
When most people think of Phatthalung, they don't think of it as a place with a vibrant nightlife scene. Of course, it's not as happening as Bangkok or Pattaya. However, there are still plenty of fun things to do in Phatthalung at night.
You'll find that most of the nightlife is concentrated around the Train Station Night Market. This is where you'll find a lot of bars, restaurants, and street food stalls. It's the perfect place to grab a bite to eat and have a few drinks. One of the most popular bars in the area is called "Happy Variety," which is a great place to meet new people.
If you're looking for something a little more low-key, then you can simply walk around and explore the city. Or, you can visit one of the many karaoke bars and sing your heart out.
In Summary
Although Phatthalung is often overshadowed by the more popular tourist destinations in Thailand, it's definitely a place that's worth visiting. And as you can see, there are so many things to see and do in Phatthalung, and you're sure to have a great time exploring all that this city has to offer.