If you're in Thailand and want to experience the best beach resorts, simply head to Phuket. In Phuket are 30 beaches and the resorts that operate on them have different gimmicks for attracting tourists. But as far as the gimmicks go, when you should visit to make the most of your time?

Thailand is available all year round. However, some activities like snorkeling or scuba diving are better done on specific months. Not to mention that there are annual festivals too that don't take place at random. With that being said, the answer to your question is you can visit anytime, but prioritize coming on a specific month to get the most of your vacation.

With that being said, let me help you make your travel plan more on point. In this travel guide, I'll show you where to go – calendar style!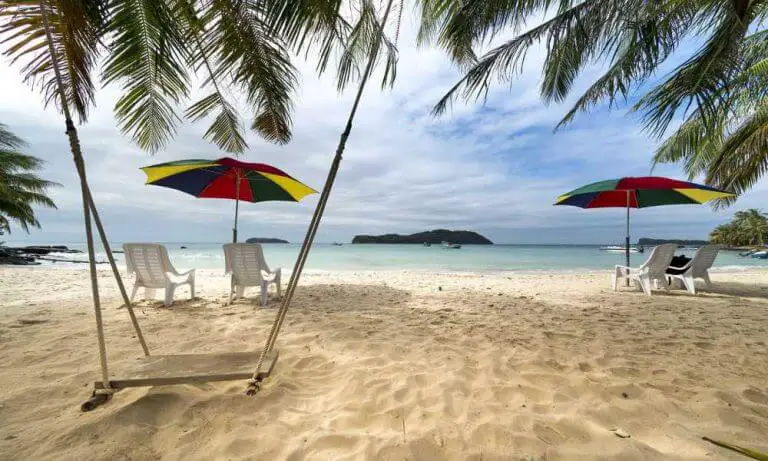 January frees Phuket from the drowsiness of the monsoon. During this time, it only receives about 40mm of rain that lasts only 1-3 days. Sometimes, raining might last for 6 days. However, this doesn't occur the whole day but occurs as a fluctuating period of a sunny day and rainy day.

January-February's hotness is agreeable for most tourists, especially to those living in Europe and the United States. The environment isn't arid, and the average temperature rests between 22 degrees Celsius or 27 degrees celsius. You may not get a good tan. However, the sun is very friendly on the skin, and doing outdoor activities won't be uncomfortably hot.

If you choose to come in January or February, be sure to bring at least one or two jackets for the rainy days. A sunblock is optional because the sun isn't that hot. You might also want to buy an umbrella to combat the occasional rain. You should also bring quick-drying clothing.
The Best Beaches of Phuket in January-February
Freedom Beach is excellent during January. The seawater is quite warm, and the shore is very bright. You'll easily access this if you're in Phuket's Patong beach. As for me, I checked in the Avista Hideaway. From there, Freedom Beach is only a walk away, and getting to it only required me to walk over a remote rocky trail.

The start of January is the best time to go to Freedom beach. This is when tourists aren't that many as many are still busy preparing for their travel plans after the new year holiday. People start flocking in the middle of January. Nevertheless, Freedom beach is still peaceful.

March is by far the worst, at least for me. When I visited human garbage, and everywhere, it's just impossible to escape them wherever I went. They're on the rocks, the nearby trees, and on the shore. There is also debris that the sea washed out.
The Tri-Rang beach provides a quick escape from Phuket's crowd during late January. This is a hidden beach resort that only those who are familiar with the Merlin Beach Resort can access. Merlin Beach resort is a short dirt road traversable by foot. Follow that at Tri Rang beach will warmly welcome you.

Tri Rang beach has a hefty number of coral debris lying on the sand. These color the shores in pink, brown, black, and white shades. On it are huts where you can order a glass of margarita, a cocktail, or any other drinks while having a massage. If you have an instrument with you, this spot is also great for composing short music as it's very quiet.
Phuket Festival In January or February
The Chinese New Year is the most anticipated event in Phuket during January. Don't go wondering when the Old Phuket Festival happens because it's already fused with the Chinese New Year Celebration at Phuket each January 25th. The celebration provides a wonderful balance between Chinese and Thai culture.

There are dragon dances, dragon boat races, and a street show of Chinese delicacies. To make way for the Thai, there are Muay-Thai competitions held. Popular celebrities in Thailand also come to provide entertainment.

To experience this, book a stay on any of the hotels on the central portion of Phuket Road and near to the Tourism Authority of Thailand Phuket branch.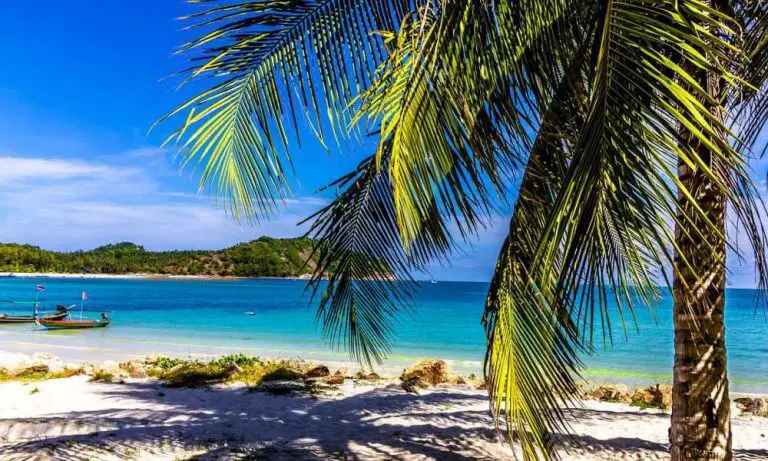 Januaries and Februaries in Phuket are pretty much the same. That's why I'll skip to March, for this is the month where the heat reaches the extreme.

March is the start of Phuket's hot season. It still receives 40mm of rainfall, but raining isn't as prevalent as raining in January. Phuket's skies are very clear during March. The sun can quickly give anyone a good tan with only 3-4 days of sunbathing. The beaches are also very breezy and allow for a wonderful parasailing experience.

Be sure to bring cool and light-colored clothing if you decide to come in March. Raining rarely happens, so there's no need to bring a jacket or any other clothing that will keep you warm and dry. Instead, be sure to prepare a good sunblock cream as the sun literally beats down on everyone. Consider bringing a parasol because this can get very expensive on the resorts.
The Best Beaches of Phuket In March-April
Nai Yang Beach is on the northern portion of Phuket. Nai Yang has an 11-kilometer shore so consider coming for a good tan. Many come to this beach due to its well-balanced landscape. For example, its shore is long and wide, and on the far side are Casuarina trees and coconut trees that provide shade in the afternoon.

Taking a walk is good too due to the sunny environment of Phuket in March. About 4 minutes away from Nai Yang is the Pearl Village Hotel. You can check in here if the resorts in Nai Yang are fully booked. I don't consider this a luxury hotel. However, you might love its very green setting.
Surfers don't come to Phuket until October where most of the beaches display the challenging barrels. March isn't the ideal month to go because the beaches are very calm. Even so, if you want to serve but visited Phuket during this month, Nai Harn beach is worth the try.

Waves in Nai Harn Beach aren't particularly strong or big. However, they pack enough force to propel the surfboard for you to practice maneuvers. These waves are very safe for beginners and if you are, consider practicing in Nai Harn beach before practicing anywhere else in Phuket.

Nai Harn also provides a seaside dining experience from the nearby restaurants. Please don't ignore the Asian seabass on the menu even though it's a bit expensive. Thai cooks roast this, then bath with a simple sauce made out of spiced lemon juice. A refreshing salad side dish or rich fried rice side dish goes with it.
Phuket Festival In March or April
The Two Sister's Festival is an annual celebration in Phuket that's held in the Heroine Monument of the Thalang Area. This plays a central role in the Thai people's cultural heritage living in Phuket and Phuket's history.

This festival is held on every 13th of March. Consider coming to join the running marathons, biking marathons, and the hefty display of cheap Thai street food.

The main event is the reenactment of the Burmese invasion. This is to show locals how two women helped in the Siamese-Burmese war. The show's choreography is very notable, and you'll see a lot of effort poured into the costumes, dialogue, and other detail.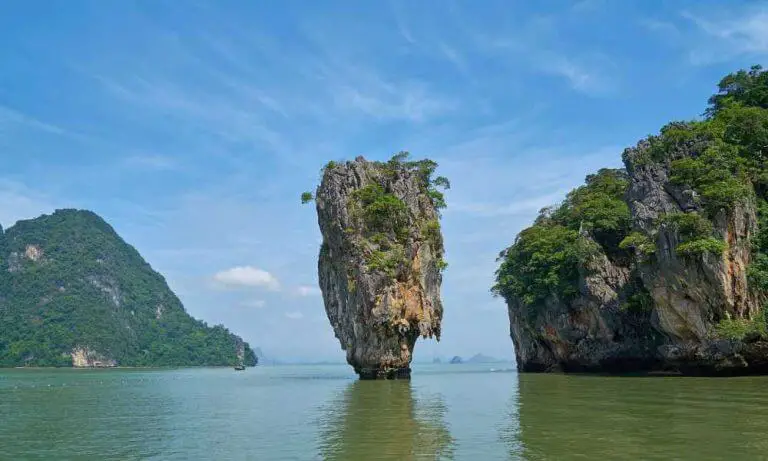 Phuket is very hot and dry from March until mid-April. So what you'll do in March also applies to the next month. However, be prepared to change your travel necessities if you decide to visit in May. Phuket can be a bit rainy during this month due to the coming of the monsoon.

Raining is only common on the Phuket mainland during May. That's why you should bring thin, water-resistant clothing for arriving at the airport on a rainy day. Even so, rains happen briefly and usually only in the morning or evening. And for the rest of the time, Phuket remains sunny.

Rains don't occur on the beach. However, expect some cloudy days. Even so, don't worry because the beaches remain bright despite this. You don't need to rent a parasol most of the time. Weather doesn't affect the water temperature and remains at 30 degrees celsius, just like March and April.
Best Beaches of Phuket In May-June
A hidden gem in Phuket that's wonderful during the cloudy days is the Kamala beach. You'll easily access this beach if you check in or rent a house in the nearby village of the same name. Kamala's shore extends up to 2 kilometers. Beach resorts aren't that many, so you won't see many cottages or plastic recliners on the shore, which disrupts the view.

Sundown is when Kamala becomes very picturesque, especially if the sky is a bit cloudy. The orange light from the sun illuminates the cotton-like clouds, and your eyes may feast on this view for hours as you're sitting on the soft sand while the wind whispers.
June is when the surfing season in Phuket starts. For the best waves, go to Kata beach. Waves in Kata are great for intermediate surfers who are mindful of drowning. Waves here are big but aren't very violent. Furthermore, locals are always ready to look out after foreigners for the right price.

By the way, Kata beach is composed of two parts; Kata Noi and Kata Yai. Both are great for snorkeling. These allow you to see color fishes without going into the deeps. Just a few meters from the shore are small coral formations where fishes treat as their spawning grounds.
Phuket Festival In May or June
There are no cultural festivals in Phuket in May or June.
July is the month when the weather in Phuket becomes a bit disappointing. Rain pesters almost half of the month. The temperature starts to drop but necessarily cold. Humidity can deal common colds to anyone who is not acclimated with Phuket's topography. The beaches become a bit lonely too but still suitable for bathing. However, their vibe isn't the same as the vibe of January-May.

But this doesn't mean that Phuket isn't fun in July. Aside from the beaches, there are still other attractions that you can go to. With that being said, decide to spend more on traveling instead of the recreational activities that the beaches provide.
Best Things To Do At Phuket In July
Take The Chalong Bay Distillery Tour
Chalong Bay Distillery is a company that specializes in making run out of Thai sugarcane. Take the tour and discover how a century-old French rum-making technique is very popular in Thailand and other countries. You may interview craftsmen and ask how each contraption work. After the tour, you can go to Chalong Bay and take photos of its scenic spots.
Take A Picture of The Phuket Budda
Phuket Buddha is one of the things that symbolize the rich Thai culture in Phuket. People across varying regions of Thailand come to pay homage to it. You'll commonly see university students and high school graduates offering sacrifices for good fortune. This Budhha is 45 meters tall and can be easily seen from afar.
Another cultural tourist attraction in Phuket is the Grand Pagoda. This is a grand temple in Watt Chalong. It became famous after two locals had a consecutive streak of good luck on a lottery after paying homage. I know that you're not Buddhist. However, the Grand Pagoda is worth visiting for its a building like no other with its golden, white, and red colors.
There are no notable Phuket Festivals in July.
Phuket In November-December
August-October is not an ideal month to visit Phuket due to the rains. That's why I'll skip these and proceed to talk about Phuket in November-December. Late November is when Phuket starts to become lively once again. November's energetic environment reaches its limit in the middle due to the arrival of many tourists who come to realize their Christmas vacations.
All of the beaches that I mentioned earlier are ideal if you're in Phuket during November or December. However, be prepared because the prices will bubble up. It's common for food and accommodation to get expensive without warning. With that being said, your expenditures will exceed your expenditures at your last visit during the previous months.
That's all for when is the best time to go to Phuket. Don't forget to share this article with your friends if you found it helpful.