Many people think of Nakhon Pathom as a sleepy province with not much to do. But do you know that Nakhon Pathom was once an important city since the Dvaravati Kingdom?
Still, there are many things to see and do in Nakhon Pathom for those who love history and want to explore more about Thailand's culture.
Therefore, you should consider spending a day or two if you are ever in the area. And to help you plan your trip, I have listed the 12 best things to do in Nakhon Pathom you shouldn't miss.
Tourist Attractions &Things To Do In Nakhon Pathom
1. Visit The World's Tallest Buddhist Stupa (Phra Pathom Chedi)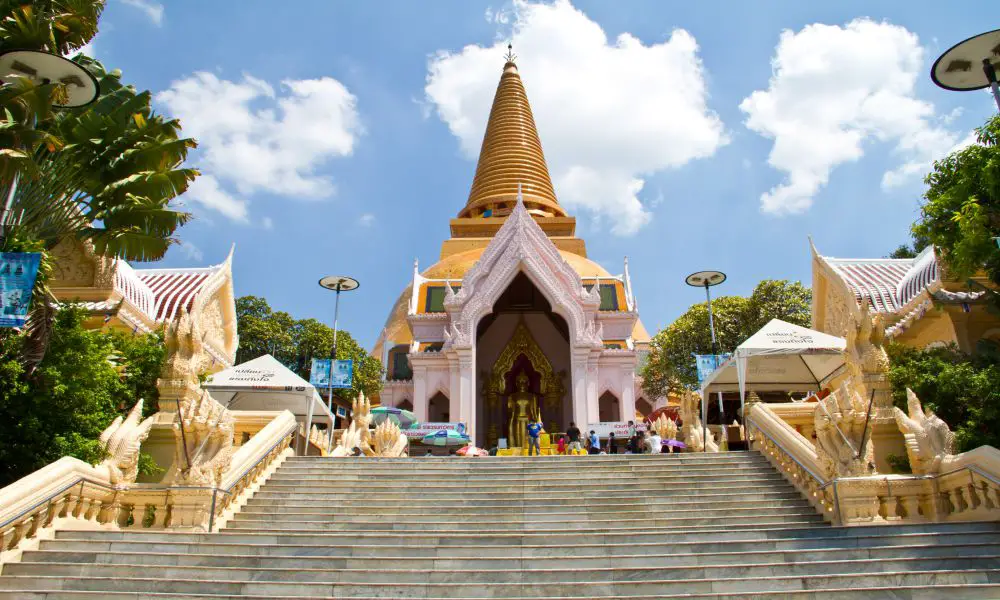 The first thing on my list of things to do in Nakhon Pathom is to visit the world's tallest Buddhist stupa. The Phra Pathom Chedi is a must-see for any first-time visitors.
It is 120 meters tall and dates back to 325 BCE, making it one of the oldest structures in Thailand.
The chedi is an important pilgrimage site for Thai Buddhists and is said to contain a relic of the Buddha. It's also a popular spot for Thai people to come and make merit. 
You can also pay respect to the huge bronze statue of Buddha standing in Sukothai-style. 
Many Thai people come here to pray and make offerings, especially on special occasions such as Songkran (Thai New Year).
There is a lot to see at the Phra Pathom Chedi complex, so make sure to give yourself plenty of time to explore.
And if you want to learn more about the history and significance of the chedi, there is a small museum on site that is definitely worth checking out.
Read More: Best Things To Do In Mae Hong Son
2. Phra Pathom Chedi – Museum
After you have visited the chedi, drop into the small on-site museum at the temple precinct's east entrance.
It's nothing spectacular, but it gives an overview of the history of the chedi and has a number of interesting artifacts on display, including statues of Buddha, stone tablets, coins, and other items showcasing the history and culture of Thailand.
This is a good place to learn about the legend of the chedi, as well as the architectural history of the temple.
For this reason, it's worth spending a few minutes here before or after your visit to the chedi.
After all, it's one of the famous attractions in Nakhon Pathom that you shouldn't miss if you are in the area.
3. Eat Your Way through Ong Phra Pathom Chedi Market
There's no better way to get to know a place than through its food, and at Ong Phra Pathom Chedi Market, you can do just that.
This is the best place to try local specialties like Hoi Tod (fried mussel), Kai Yang (grilled chicken), a hearty soup made with beef, pork, or offal and served with a side of meatballs, greens, and bean sprouts, and Khao Lam (bamboo-steamed rice).
This food market is located west of the temple complex and is open every day from dusk until dawn.
It's a great place to wander and sample the local fare, and you'll surely find something to your taste.
Read More: Best Things To Do In Sukhothai
4. Learn More about the History of Thai Films at the Thai Film Museum
Are you a film buff? If so, you'll want to add the Thai Film Museum to your list of things to do in Nakhon Pathom.
This museum is dedicated to Thai film's history and spread out over three floors. 
Here, you can learn about the early days of Thai cinema and see some interesting memorabilia, such as vintage film posters and projectors.
There is also an exhibition of Mitr Chaibancha, one of Thailand's most famous actors, who died in a tragic accident while filming "Insee Thong" (Golden Eagle) in 1970.
There are other exhibits dedicated to other popular Thai actors and actresses and films that have been particularly influential in Thai cinema. 
One of the interesting exhibits that impressed me was the old way of watching films (more like moving pictures) called the Raree Show.
This was a form of entertainment in the early 1900s, where people gathered around to watch a film projected onto a small screen from a large box containing the film reel. 
This is a great museum for film buffs and history buffs alike, and it's one of the more unique things to see in Nakhon Pathom.
Read More: Best Things To Do In Phatthalung
5. Attend Phra Pathom Chedi Festival
Feeling adventurous? Why not join the locals in celebrating one of Thailand's biggest festivals at Phra Pathom Chedi?
The festival is held annually in the month of November, and it is a great way to experience Thai culture.
During the festival, people from all over Nakhon Pathom and Bangkok would flock to the temple square to enjoy various traditional Thai performances, food, and games.
Most of the activities center around the main stupa, where people offer flowers and candles to the chedi.
There are also a few stalls set up selling Thai handicrafts and souvenirs, so it is a great place to pick up some gifts.
I had the opportunity to attend the festival a few years ago, and it was a lot of fun. The atmosphere was very festive, and everyone was in a great mood.
This was definitely one of my favourite things to do in Nakhon Pathom.
6. Have Fun At Rose Garden Thai Village
The Rose Garden Thai Village is a great place to learn about and experience traditional Thai culture.
Set in a gorgeous park-like setting complete with ponds, the village is home to beautiful Italian-style gardens, a mini floating market, a handicraft market, and an outdoor food court.
The village is home to a number of shows which showcase different aspects of Thai culture, from traditional dance and music to elephant shows.
The village is also a great place to pick up souvenirs, with a wide range of traditional Thai handicrafts on sale.
What's more? If you wish to spend a night or two in the village, there is a riverside hotel on-site where you can stay.
This makes it one of the best places in Nakhon Pathom to experience traditional Thai culture.
7. Explore Jesada Technik Museum
Are you a fan of antique cars? If you are, head over to the Jesada Technik Museum, where you can find over 500 classic and vintage cars and motorcycles.
The museum is the brainchild of Jesada Deshsakulrith, who is a businessman and collector.
Take your time to explore the different sections of the museum, which are dedicated to different themes. For example, there is a section on classic Thai cars, as well as a section on classic American cars.
There is also a section on Thai motorcycle taxis, which are a common sight on the streets of Bangkok.
The highlight, for me, were the 1950s sports cars, a single-person helicopter, and a micro BMW Isetta. 
You can easily spend a few hours at the museum without boredom. So, if you are looking for fun things to do in Nakhon Pathom, this should definitely be on your list.
8. Tour The Sanam Chan Palace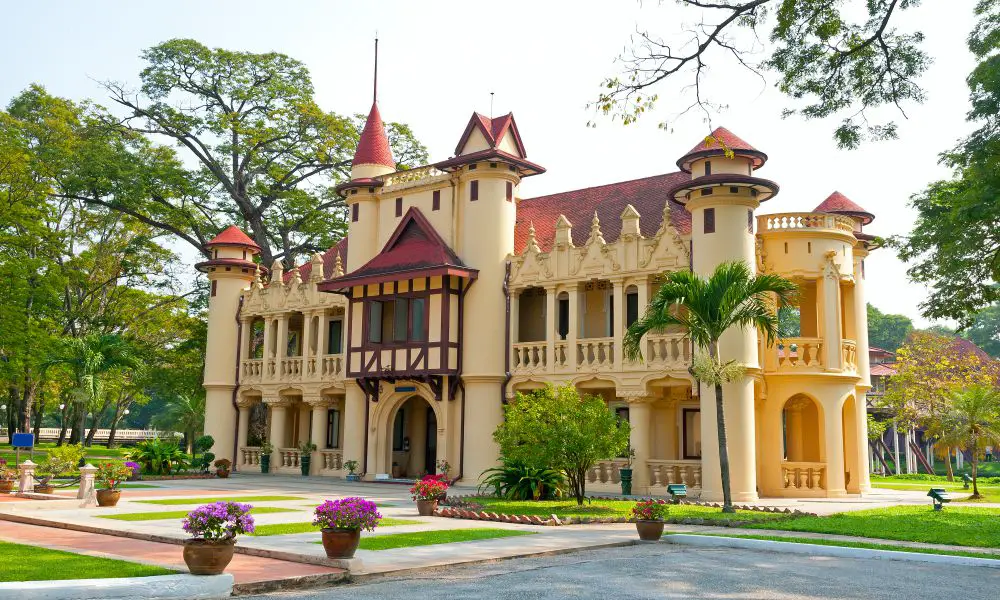 The Sanam Chan Palace is a grand palace complex built during the reign of King Rama VI.
The king and his family used it as their summer residence. The palace was built in a classical Thai style with Western influences. It is set in a large park, with several buildings that are open to the public, including the Phiman Pathom Hall (where the king had a vision of Phra Pathom Chedi) and a number of ornate halls that were used as melting rooms and theatres.
The complex's highlight is the Hindu god Ganesha statue in the audience chamber. The statue has the head of an elephant with a human body and four arms. 
You can also see a number of artworks and artifacts in the complex that belonged to the king and his family.
The Sanam Chan Palace is a great place to learn about the history of Thailand and the Thai monarchy.
It is also a beautiful complex to wander around, with many photo opportunities. So be sure to include it on your list of things to see in Nakhon Pathom.
9. Shop Until You Drop At Tawarawadee Sri Night Market
One thing you'll quickly learn about Thailand is that the night markets are not to be missed.
They come alive after sunset, when locals and visitors alike descend upon them for an evening of shopping, eating, and socializing.
The Tawarawadee Sri Night Market is the main night market in Nakhon Pathom, and it is a great place to find souvenirs, clothes, Thai handicrafts, and more.
The market has not only great shopping, but also a food court with a wide variety of Thai and international dishes.
You can sample some of the local specialties like Khanom jeen nam ngiao (rice noodles in red pork and tomato soup) or pad Thai (stir-fried rice noodles).
Attending a night market is also a great way to experience the local culture and get a feel for the city's nightlife.
This makes it one of the best things to do in Nakhon Pathom, as it will give you a taste of the Thai way of life.
The market is open from 4 pm to 10 pm on Saturday and Sunday.
10. Shop At Wat Lam Phaya Floating Market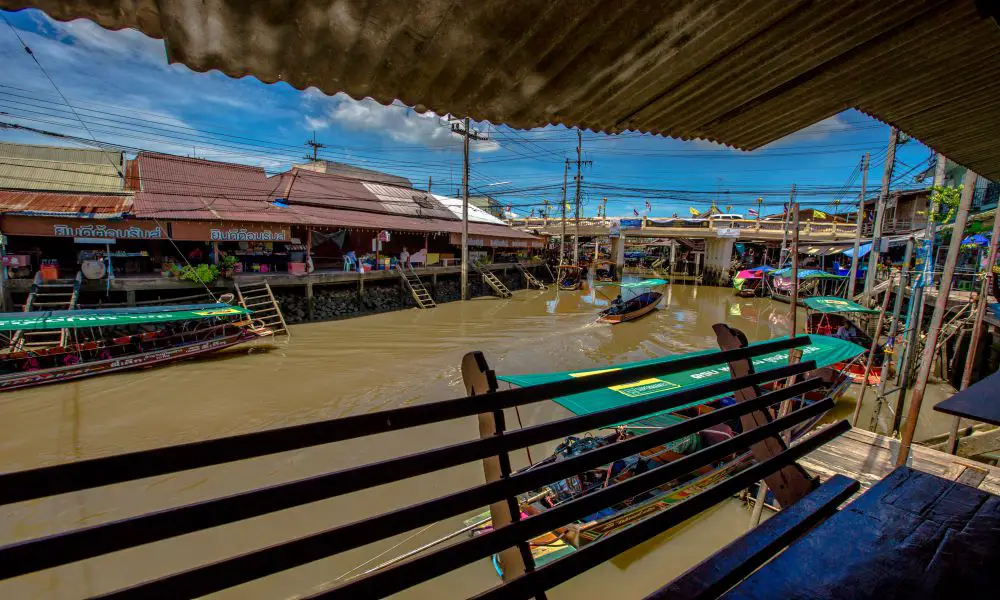 Head to the Wat Lam Phaya Floating Market to experience a more authentic side of Thailand.
Unlike other tourist-oriented markets in the country, this is a working market where locals come to sell their produce and goods.
This makes it the perfect place to find authentic Thai souvenirs, such as handicrafts, silk fabrics, and traditional snacks.
The market is located in front of Wat Lam Phaya Temple, and you can take a boat ride around the market to get a better view of all the stalls.
Be sure to try some of the traditional Thai sweets on offer, such as Khanom mo kaeng (banana in coconut milk pudding) and Khanom chan (coconut jelly).
I spent a good couple of hours browsing the market and left with some great souvenirs.
What impressed me the most about this market was the friendly atmosphere and the fact that it wasn't too crowded or touristy. Plus, the prices were very reasonable.
There is also a museum at the market that displays a range of traditional Thai objects, such as musical instruments, farming tools, and pottery.
The museum is housed in a teak building just near the market entrance.
11. Marvel At The Arts Of Woodland Muangmai
Words cannot do this place justice, you'll just have to see it for yourself. In fact, this is probably the best place in town to learn about the stories and legends of Thai through hand-sculpted wood.
The woods are curved into beautiful designs and are extremely detailed. Some of the carvings date back hundreds of years and are divided into different categories that tell local Thai tales.
The different categories include animals, humans, and religious figures. Taking a guided tour is the best way to learn about the different woodcarvings and their meanings.
The tour takes about 1-2 hours, and you'll learn about the local area's history and culture.
I was impressed by the woodcarvings' level of detail and the stories behind them. This is one of the best places to visit in Nakhon Pathom if you're interested in learning more about Thai culture and history.
12. Visit Wat Sisrathong
Thinking of the best things to do in Nakhon Pathom, a visit to Wat Sisrathong is a must.
This temple is one of the most important in Thailand and is dedicated to Phra Rahu, the black-faced god of darkness.
Legends describe Phra Rahu as a moody god who loved swallowing his brothers; the sun and the moon, causing an eclipse.
The eclipse was a bad omen as it would cause financial harm and disaster to the people. In order to appease him, the villagers would make sacrifices to the god.
This is why, to this day, visitors come to Wat Sisrathong with offerings such as black beans, black sticky rice, or black coffee.
They believe that by doing so, Phra Rahu will grant their wishes and erase bad luck. I don't know whether the offering works, but the temple is worth visiting.