Cancun is a destination that will tantalize the senses and ignite your inner explorer.
With its endless stretches of white sand beaches, vibrant nightlife, and exotic cuisine, it's no wonder why this Mexican paradise has become one of the most popular tourist destinations in the world.
But there is so much more to Cancun than just the usual beach-going activities; from exploring the ancient ruins of Chichen Itza to discovering majestic cenotes or even thrilling theme parks, there is something for everyone here.
Here are 25 of the best things to do near Cancun – an experience like no other that sparkles with life and adventure, like crystal clear waters glistening in the sun.
Best Things to Do near Cancun
1. Visit Chichen Itza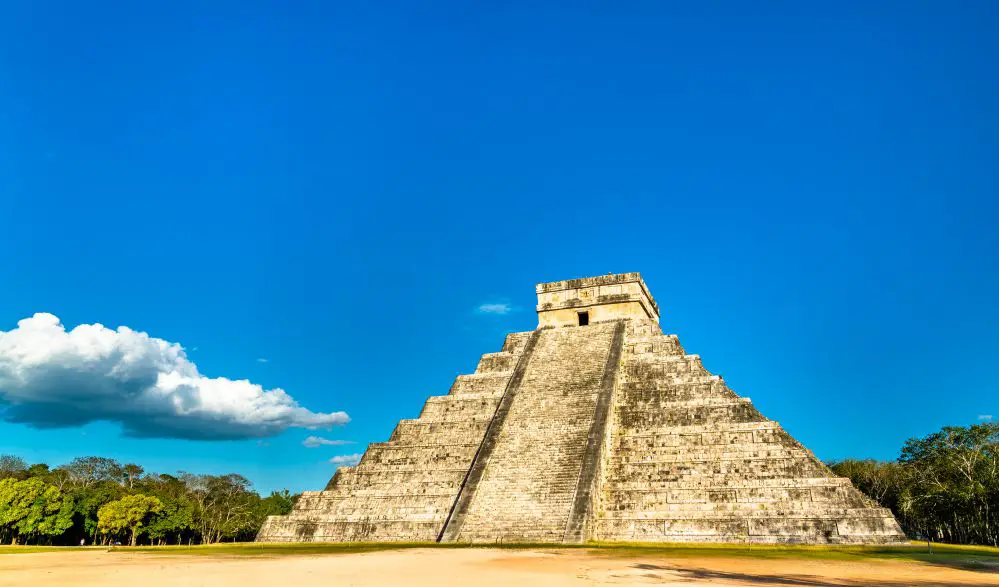 Are you ready to explore one of the most iconic monuments in all of Mexico?
Look no further than Chichen Itza, a UNESCO World Heritage Site and an awe-inspiring architectural feat.
Located only two hours away from Cancun, this ancient city beckons with its fascinating history and incredible architecture.
Join us on a guided tour as we explore El Castillo, The Temple of Warriors, and The Great Ball Court – each offering a unique insight into the Maya civilization. And don't forget to stop by Valladolid on the way back for another slice of Mexican culture!
Don't miss out on this once-in-a-lifetime opportunity – book your trip to Chichen Itza now!
2. Visit the area's famous Cenotes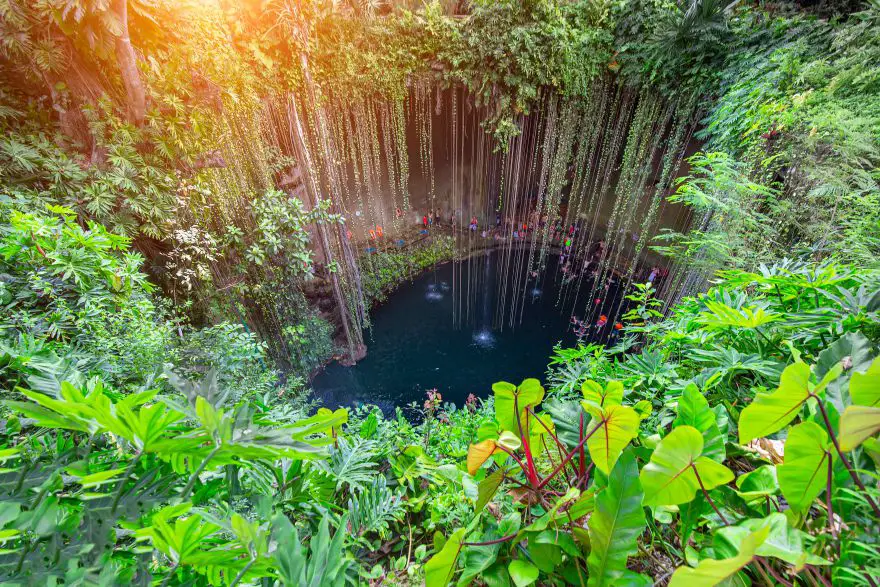 Take a break from the everyday and explore the stunning natural wonders of the Yucatan Peninsula.
From Dos Ojos to Gran Cenote, Cenote Zacil-Ha to Calavera Cenote, Ik Kil to Suytun Cenote, Hubiku Cenote – and more – there are limitless opportunities for adventure when you take a dive into the magical world of cenotes.
Explore underground caverns, open-air lagoons, and cliff jump amidst brilliant blues and greens.
Feel the thrill of swimming with friendly fish and turtles, then bask in the sun on platforms or zip lines while taking in the lush surroundings of Mexico's most picturesque destinations.
Whether you travel alone or with family, these one-of-a-kind sites will create unforgettable memories that last long after the vacation is over.
Make your way to the Riviera Maya and get ready to be enchanted by the beauty of Mexico's cenotes!
3. Swim in underground caves at Rio Secreto
Discover the hidden beauty of Rio Secreto: a secret paradise, where you can explore and swim in ancient caves surrounded by crystal-clear waters, mesmerizing stalactites and stalagmites, and wildlife.
Take a journey to this mysterious destination, let go of your daily worries and submerge yourself into a world of freedom and adventure, while learning about its history and geology.
Let the gentle flow of water guide you through these magical chambers as you experience pure darkness with nothing but the sweet sound of your own breath.
Come and enjoy this natural marvel from 9 am to 3 pm and get lost in a realm of captivating wonder just 90 minutes away from Cancun.
Read more: Things To Do In Cancun
4. Experience a Day of Adventure and Fun at Xcaret Park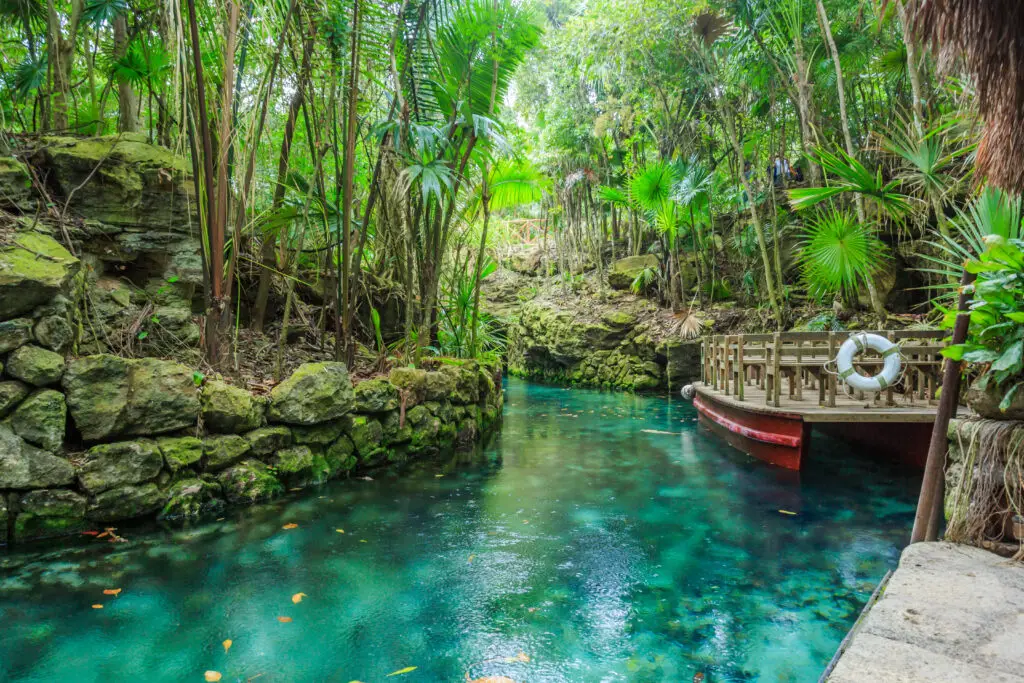 Spend the day at Xcaret Park and discover something new! With over 50 unique attractions, there's plenty to explore.
From swimming in underground rivers and relaxing in natural hot springs to exploring ancient ruins, snorkeling in the world's second-largest coral reef, mingling with friendly residents at the Coral Reef Aquarium (with over 5,000 living organisms) or zoo, learning a thing or two from the on-site Bromeliad Museum, and taking a front-row seat to watch a traditional Mexican dance or theatre show – you'll never be bored!
And if that weren't enough, did you know that Xcaret Park is home to one of the largest butterfly gardens in Mexico? With twenty colorful species, it's sure to bring out your inner child.
5. Relax and Unwind in the Stunning Scenery of Isla Holbox
Isla Holbox is the perfect destination for anyone looking to escape the hustle and bustle of everyday life.
A whopping 75 percent of this small island off the coast of the Yucatán Peninsula is made up of wild mangroves, making it a hiker's paradise – offering plenty of trails with hidden lagoons that could be home to some incredible wildlife sightings.
From its sandy streets, colorful buildings, and famous bioluminescent waters, Isla Holbox has a definite bohemian vibe – you can even take a dip in the turquoise waters of Playa Punta Cocos, one of the most beautiful beaches in Mexico!
Plus, between May and September, you can go on whale shark tours and experience an unforgettable adventure. Getting to Isla Holbox from Cancun is easy enough, so why not stay a little longer than just a day?
6. Spend a Day at Laguna de Kaan Luum
Located just two hours from Cancun, this tranquil lagoon is one of the region's best-kept secrets – and it features some remarkable sights.
The shallow water of the lake hangs over a deep cenote, creating a stunning gradient-like color effect that'll leave you mesmerized. If you're looking to take a dip, head to the shallower part of the lagoon where there are plenty of fish swimming around.
It's also the perfect spot to set up your paddleboard or hammock, so don't forget to snap an envy-inducing Instagram photo while you're at it! For those who want to learn more about the area, did you know that Laguna de Kaan Luum has been designated as a protected ecological reserve?
This means that visitors can enjoy the natural beauty of the lagoon without fear of any damage being done to its delicate ecosystems.
7. Day trip to beautiful Isla Mujeres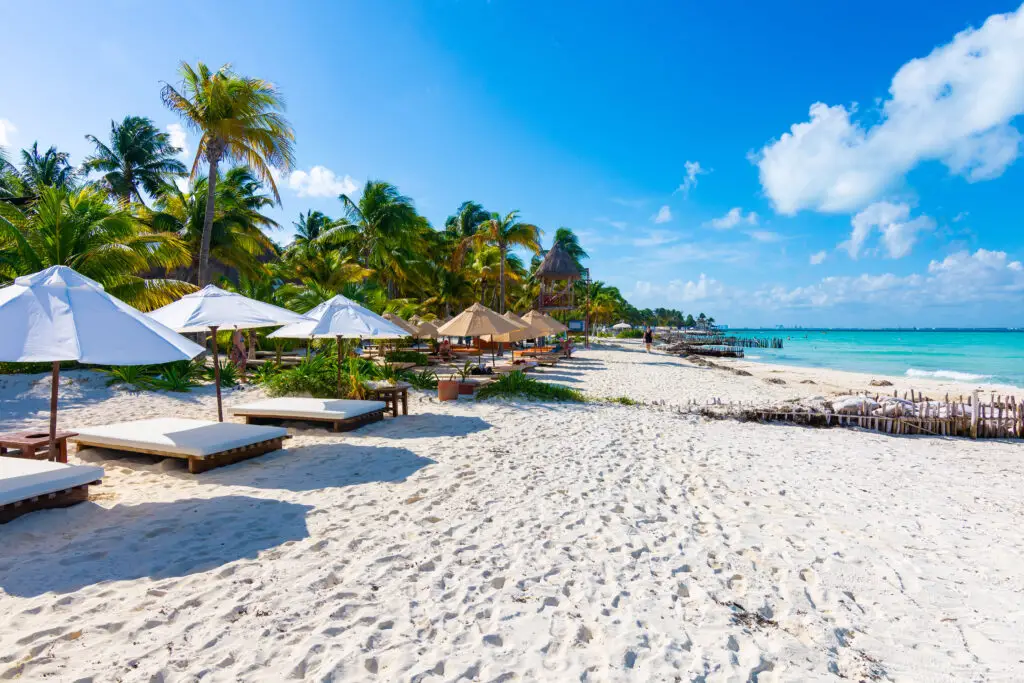 From the hustle and bustle of mainland Mexico, a day trip to Isla Mujeres is the perfect escape.
With its whitest sand, clearest water, and most beautiful sunsets, this tiny island paradise – just four miles long and half a mile wide – offers an impressive array of activities and attractions for everyone!
Take your pick from world-class snorkeling and scuba diving, swimming with dolphins, exploring Mayan ruins, ATVing around the island, going on a glass bottom boat tour, zip-lining through the jungle canopy, or simply kicking back and relaxing on one of Isla Mujeres' many idyllic beaches.
Make sure you take time out to visit Playa Norte, the most Instagrammable of Isla Mujeres' beaches.
Here, the flailing palm trees, gentle waves, and ultra-soft sand embody what summer vacation is all about.
When hunger strikes, there are plenty of excellent restaurants to choose from, but for the best views (and photo ops), make your way to Sunset Grill.
Don't miss out on Garrafon Reef Park & Beach Club either – located on the island's southernmost tip, here you can find a natural swimming pool, coral reef snorkeling area, zip-lining, kayaking, walking trails, sculpture garden, dolphin encounters, ancient temples, and luxury hotel facilities.
So, why not treat yourself to an unforgettable day trip to Isla Mujeres? Whether you want to relax in style or explore the wonders of nature, you're guaranteed to have an amazing experience.
Just remember to bring your camera… and capture all the beauty of this place.
8. Relax at the Akumal Beach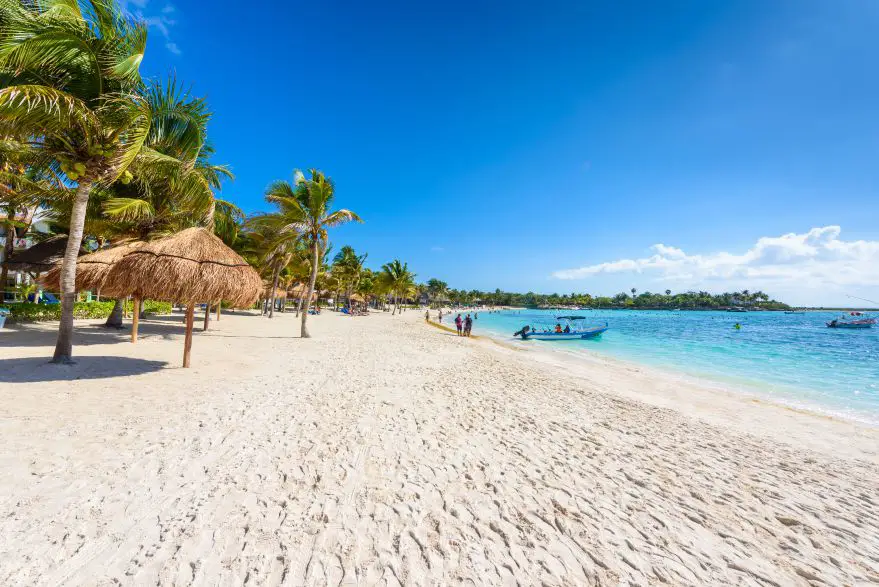 Akumal Beach, is a pleasant paradise boasting stunning views, crystal-clear waters, and an abundance of activities.
Here, you can truly let go of your worries and enjoy a day of restorative relaxation.
From snorkeling with turtles in its gentle waves to scuba diving along its vibrant reefs, there's something for everyone beneath the surface — not to mention plenty of opportunities to explore above it too.
Stroll along the sandy shoreline, take a sunset sail aboard a catamaran, or simply lounge on a beach chair with a good book and cold drink in hand; whatever activity suits your fancy, Akumal is sure to satisfy.
For those seeking true serenity, here are four reasons why Akumal Beach should be at the top of your list:
1. Peaceful atmosphere – With white sand beaches and palm trees providing shade, this tranquil spot remains relatively quiet despite its increase in popularity.
2. Year-round sun – Thanks to its close proximity to the Yucatan Peninsula, visitors can expect warm temperatures throughout the year.
3. Abundant marine life – Grab some snorkeling gear and swim out to the reef to witness colorful fish up close.
4. Incredible visibility – The clear waters make for excellent scuba diving conditions, with visibility reaching up to 30 meters deep.
Soak up that glorious sunshine and experience complete freedom like never before at the majestic Akumal Beach.
9. Explore Tulum Archaeological Zone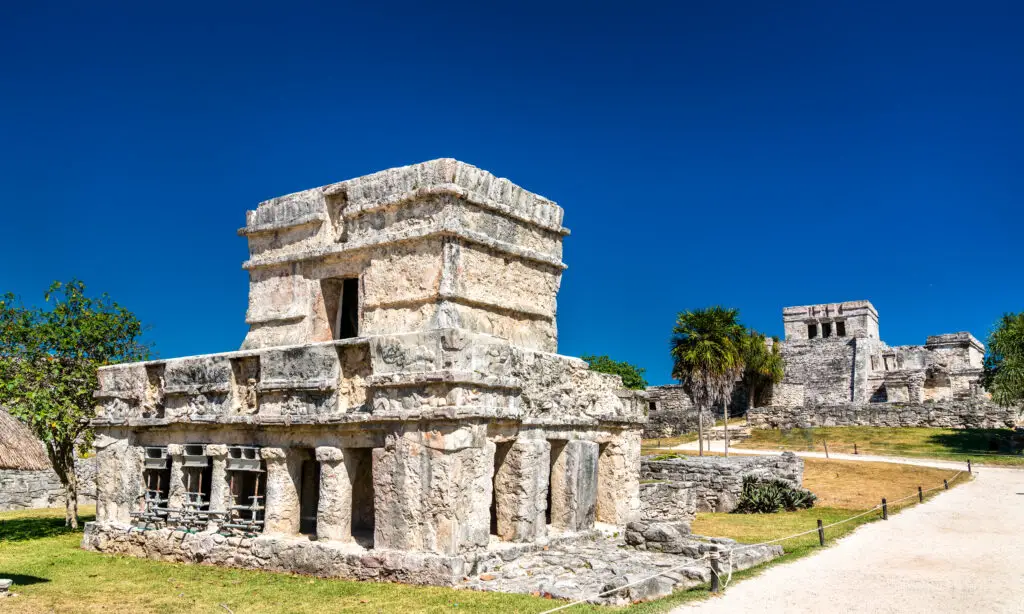 Explore the ancient Mayan city of Tulum, like stepping into a time machine and being transported back in history.
Situated atop a dramatic cliff overlooking the glittering turquoise waters of the Caribbean Sea, this former trading post was once home to many civilizations throughout its reign in the heights of the empire.
With its impressive structures, such as the Temple of the Frescoes with its well-preserved murals and the 7.5-meter El Castillo, it's no wonder why it remains one of the most popular day trips from Cancún.
As you make your way down to the ruins' lower level, you'll find a host of smaller temples and dwellings alongside an expansive stretch of white sand beach – making for an unforgettable experience.
Whether you opt for a half or full-day tour, you'll be sure to feel liberated while exploring the captivating mysteries of this historic site.
10. Visit the island of Cozumel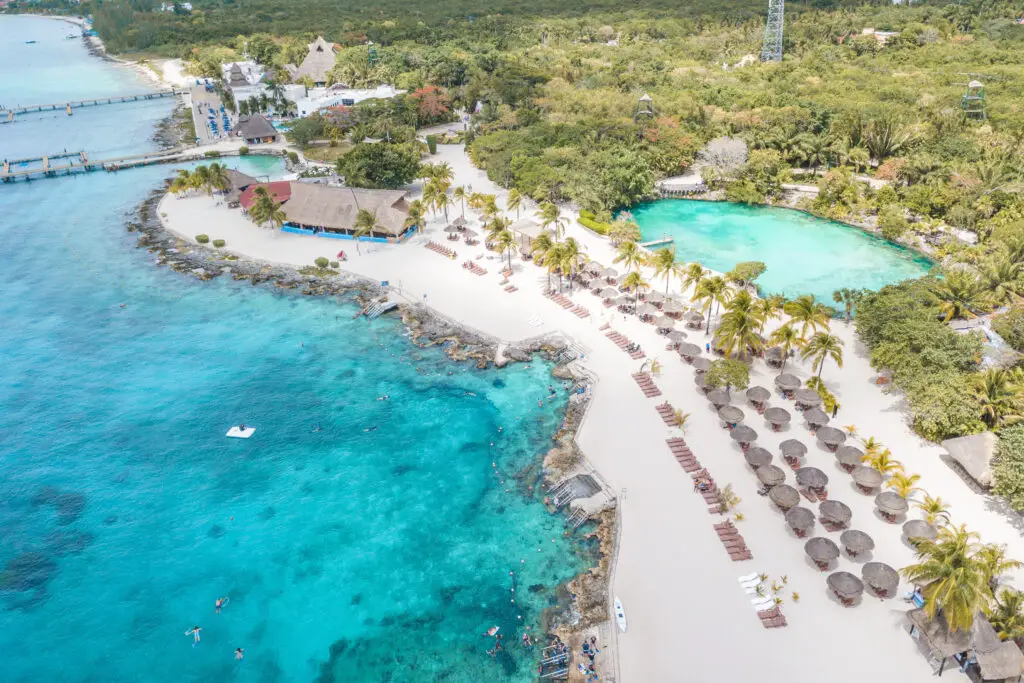 If you're in search of a truly unique and unforgettable experience, look no further than Cozumel!
Just 45 minutes away from the bustling city of Cancun by ferry, this small island off the coast of Mexico's Yucatan Peninsula offers an array of activities for everyone.
From snorkeling and scuba diving (rated among the best in the world!) to stand-up paddleboarding, ATV-riding, paragliding, and jetboating, there are plenty of thrilling ways to explore the area.
Nature lovers can take advantage of Punta Sur – the largest ecological reserve on the island with over 1000 hectares to explore – or check out Chankanaab where they can witness sea lion shows and even swim with dolphins.
There's also San Gervasio Mayan archaeological site, as well as the Cozumel Museum, which provides insight into the history of the island.
And don't forget to sample the delicious local cuisine – think fresh seafood, tacos galore, and all the guacamole your heart desires.
Relax on one of the many beautiful beaches such as Paradise Beach, Mr. Sanchos Beach Club, or Coconuts Bar and Grill, or book a tour with one of the reputable companies that bring visitors from Cancun to get a highlight reel of all the best things to do in Cozumel.
With so much to offer, a visit to Cozumel is sure to be an unforgettable adventure!
11. Visit the amazing Xel-Ha Park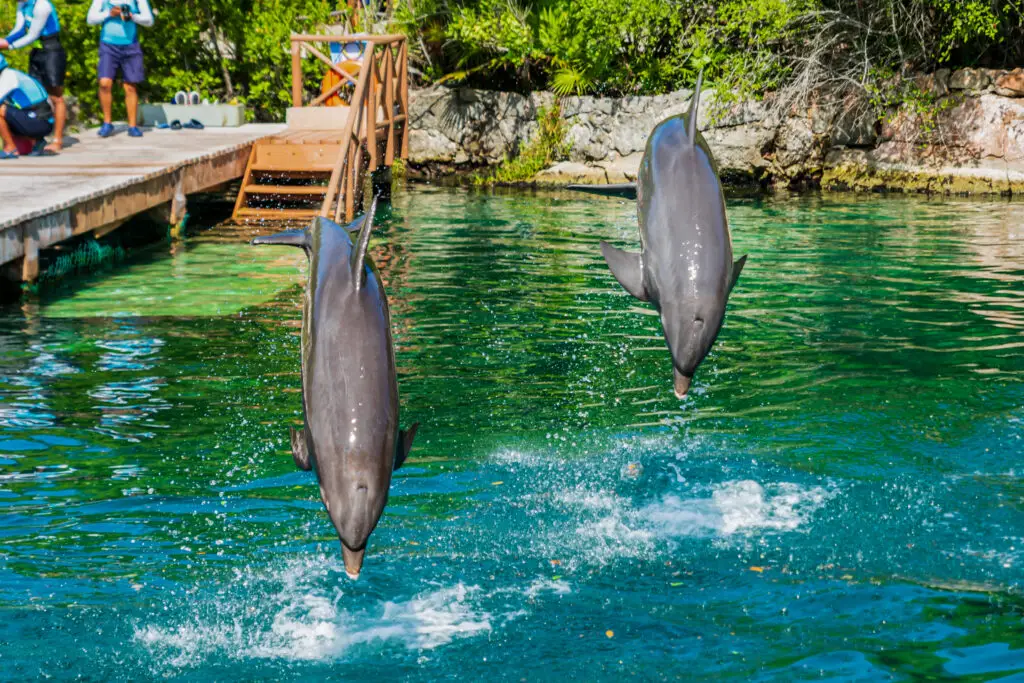 Take a dive into the incredible Xel-Ha Park, where nature meets adventure.
Located in Mexico's Riviera Maya region, this eco-archeological-park cross adventure-playground offers something for everyone, from rich cultural experiences to thrilling rides and activities.
Home to over 100 species of birds, iguanas, fish, and other wildlife, Xel-Ha is the perfect place to explore and observe the beauty of nature.
Plus, there are plenty of adrenaline-pumping adventures, like climbing the 5-meter Cliff of Courage or zipping down the 98.5-feet-high waterslide. And if you want an unforgettable experience, upgrade your visit with options like swimming with dolphins and manatee encounters.
With all-inclusive food and drinks included in the admission price, Xel-Ha makes it easy to enjoy your day without worrying about anything else!
12. Enjoy a day at Cozumel's Paradise Beach
Are you ready for an escape to the Caribbean-like turquoise waters of Paradise Beach, just a 35 minutes ferry ride from Playa del Carmen? This stunning beach on Cozumel Island is one of the best near Cancun and has everything you need.
Soak up the sun or take a refreshing dip in the crystal-clear water before trying out one of the many activities available – rent some snorkeling gear to explore the nearby reefs, go parasailing, banana boating, or try stand-up paddleboarding!
If that's not enough, there are henna tattoo stands, pools and plenty of delicious Mexican food options, including vegetarian and vegan dishes.
The ultimate way to relax at Paradise Beach is by renting umbrellas, sun loungers, water hammocks and day beds – all while being served à la carte menu with delectable treats.
With its idyllic white sand and crystal clear turquoise water, it's easy to see why this is one of the most popular spots near Cancun.
13. Exploring the Sian Ka'an Biosphere Reserve
Exploring the Sian Ka'an Biosphere Reserve is like entering a portal to heaven. With its vast array of biodiversity – from mangrove forests and rainforests, to wetlands, beaches, and coral reefs – this UNESCO World Heritage Site has something for everyone.
Not only will you find yourself surrounded by nature's splendour, but you'll also be able to explore some of the Maya archaeological sites dotted around the reserve, as well as remnants of the early 20th-century Decauville railway Vigía Chico-Santa Cruz.
For those who are looking to truly immerse themselves in the beauty of the Sian Ka'an Biosphere Reserve, nothing beats a guided tour.
Whether you choose to spend your day lounging on Punta Allen's white sand beach or embark on an overnight camping trip deep within the jungle, there is no shortage of activities that can be enjoyed here.
And with hundreds of species of birds fluttering through the canopy, crocodiles lazing about in the mangrove swamps and turtles playing in the vibrant shores, it's easy to see why the name "Gate of Heaven" fits so perfectly.
So if you're looking to experience unparalleled natural beauty and soak up every bit of history that the Sian Ka'an Biosphere Reserve has to offer, book a tour today and start planning your ultimate adventure!
14. Increase the adrenaline at Selvitica Park
Are you looking for an adrenaline rush like no other? Look no further than Selvatica Park, the ultimate destination for thrill seekers and adventure lovers.
Set in the jungle about 50 minutes from Cancun (directly inland from Puerto Morelos), this incredible park offers over 12 zip lines, some of which go up to a kilometer long.
Plus, if that isn't enough, there are ATV and buggy rides, Bungee Swings, Tarzania Coasters, and off-roading adventures that will take your breath away!
And with a whopping 10,000 visitors every year, it's clear why Selvatica Park is one of the most popular extreme destinations around.
Not only can you get your heart racing, but you can also slow down and relax with a Swim-In experience in the "NaturAll environment".
Here you'll have the chance to explore and snorkel in a cavernous cenote as well as kayak through the largest open-air cenote on the peninsula – a slower-paced yet equally memorable way to take in the beauty of the Mexican jungle.
So come on out and enjoy all that Selvatica Park has to offer – guaranteed to be an experience you won't soon forget!
15. Explore the Xplor Adventure Park for a day
If you're looking for the ultimate adrenaline rush, then Xplor Adventure Park is the place to be.
Situated an hour from Cancun in the Riviera Maya, this all-encompassing day out is sure to keep your heart pumping with its myriad of activities.
From soaring through the treetops on zip lines and roaring around the jungle in amphibious vehicles, to exploring caves and cenotes by foot or raft—there's something for everyone.
And if you're feeling a bit fancy, why not add some VIP experiences such as swimming with dolphins, wine pairing at the Xcaret Wine Cellar or even a spa treatment?
At the end of the day, refuel with the all-you-can-eat buffet dinner before heading back to your hotel for a much deserved rest.
To make the most of it and get the best bang for your buck, book online in advance and consider one of the many combination options—the possibilities are endless! So don't delay, let your inner daredevil loose today and jump right in to Xplor Adventure Park.
16. Go swimming with Whale Sharks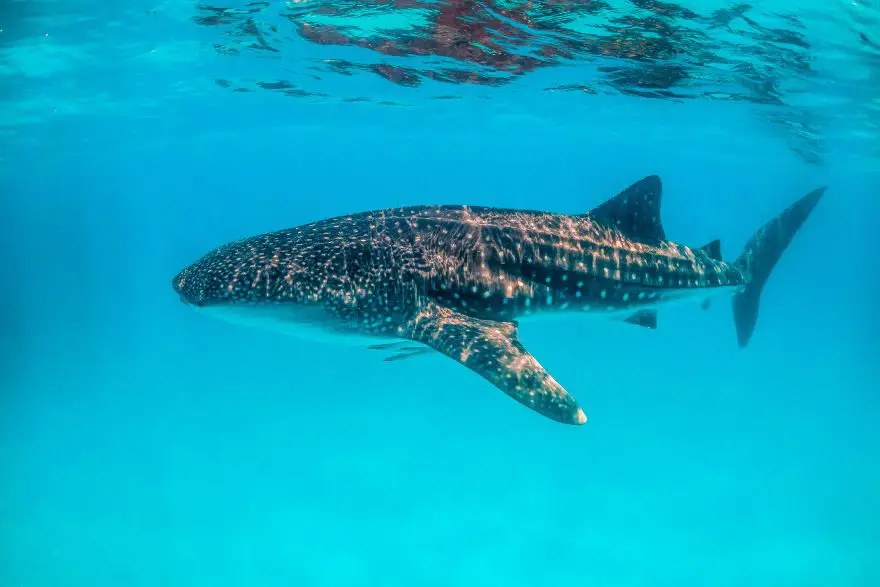 Ready to turn your vacation dreams into reality? Take the plunge and go swimming with whale sharks!
An unforgettable experience, this once-in-a-lifetime opportunity sees you donning a wetsuit, snorkel and mask in order to get up close and personal with these gentle giants of the sea.
Every year between May and September, these majestic mammoths can be found just off the coast of Cancun, where they come to feast on fish eggs in the warm waters of the Caribbean Sea.
Tour companies offering whale shark swimming experiences typically include hotel pick-up and drop-off, as well as all the necessary gear – so all that's left for you to do is jump in and enjoy the ride.
And rest assured, despite their imposing stature, whale sharks are harmless to humans and actually quite docile; making them the perfect animal encounter for thrillseekers alike.
Once you've had your fill of incredible memories, take some time to relax on the beach (usually Playa Norte beach on Isla Mujeres) and tuck into a hearty lunch (usually fresh ceviche and sometimes accompanied by an open bar).
Then it's back to your hotel for a night out on the town – talk about living life to the fullest!
17. Take part in a thrilling speedboat tour through the Jungle Mangroves
Set off on an exhilarating journey through the lush mangrove jungles of Nichupte Lagoon, and feel the wind in your hair as you speed along.
Soar past towering trees and watch out for exotic wildlife like birds, reptiles, and mammals that call this natural habitat home.
Your guide will whisk you away to hidden canals and secret inlets, giving you a glimpse into Cancun's Hotel Zone skyline in the distance.
Feel the thrill of taking the wheel yourself, or just sit back and relax while taking in all the beauty around you.
Stop at one of the many small islands dotting the lagoon and take a refreshing dip in the crystal-clear water.
Relax on the beach, explore ancient Mayan ruins, and let the tranquility wash over you.
For those looking for something extra special, snorkel through coral reefs and visit the Cancun Underwater Museum where you can discover sunken sculptures 30 feet deep.
Experience the joy of discovering the wonders of the Nichupte Lagoon with a thrilling speedboat tour!
18. Refresh yourself by taking a dip in the Kantun Chi cenotes
Refresh yourself with an invigorating plunge into the majestic, crystal-clear waters of Kantun Chi's cenotes – a truly exhilarating experience that will leave you feeling like a new person!
The five open cenotes range from being illuminated by underwater lights to boasting colorful fish and providing plenty of sunshine.
Plus, as an ecological reserve, there are many opportunities for birdwatching and wildlife walks.
With guided tour options ranging between three and four hours and including a tantalizing 3-course menu, Kantun Chi offers both an exotic and relaxing day away from the beach.
19. Visit to Isla Contoy
A visit to Isla Contoy is like stepping into a secret paradise. Its lush mangrove forests, crystal clear waters, and abundance of wildlife make it feel almost otherworldly – as if you've been transported to an untouched corner of the world.
Birdwatchers will be in their element here; over 150 different species have been recorded on the island, including great blue herons, snowy egrets, frigate birds, and pelicans.
For those looking for some underwater adventure, snorkeling or diving off the nearby coral reefs promises sightings of rays and fish galore.
With just a handful of tour operators offering trips to the island, advanced booking is recommended to guarantee your spot in this hidden slice of heaven. Plus, why not combine it with a trip to its more famous neighbor, Isla Mujeres? Freedom awaits!
20. Wander through the Muyil Archaeological Site
Take a step back in time and explore the mysterious ruins of Muyil. Lose yourself among the ancient plazas, temples, and dwellings that have stood for centuries and marvel at the majestic Castillo – soaring 57 feet high and offering breathtaking views across the surrounding jungle.
Join a guided tour to learn more about the site's history spanning back to the 4th century, or venture further into the nearby town of Tulum and discover beautiful beaches and other archaeological sites.
As the sun sets, linger for a while longer and watch as the shadows deepen and the night takes hold. Feel yourself reconnecting with nature in all its glory, only adding to the sense of awe and wonder that Muyil evokes.
Let the silence envelop you and marvel at the sheer magnitude of the past – its secrets hidden within the crumbling walls and sprawling plazas.
Whether you're looking for an educational experience or just want to soak up the atmosphere, Muyil is the perfect place to get lost in wonder.
21. Explore the ancient Maya at the Ek Balam Archaeological Site
Unlock the mysteries of an ancient civilization at Ek Balam, one of Mexico's most revered archaeological sites.
Here you will find the majestic Acropolis – standing tall at 98 feet (30 meters) – and other awe-inspiring structures that have been preserved throughout the ages.
Learn about the impressive construction efforts that went into creating such a grandiose structure, and be amazed by the unique architecture and engineering feats of the Maya people.
Take a guided tour to get an intimate look into the craftsmanship and engineering feats of the Maya people, as well as climb the tower to enjoy breathtaking views of Chichen Itza and Coba from 35 and 40 miles away respectively!
Every step taken here will leave you feeling as though you have traveled back in time.
Don't miss this opportunity to explore the past and discover the secrets held within Ek Balam.
22. Kayak through the Nichupte Lagoon
Experience the exhilaration of freedom when you kayak through the Nichupte Lagoon.
Feel the walls close in around you as you paddle your way through this confined area of murky waters, yet experience a sense of liberation within its confines.
Take in the sights, sounds, and smells of nature as you make your way through the lagoon.
Feel the sun on your face and the wind in your hair as you glide by the colorful foliage that lines its shores.
Keep an eye out for any wildlife that may be lurking about, such as manatees, turtles, and even crocodiles!
For a truly unique experience, take a night kayak tour and marvel at the stars above while listening to the gentle lapping of the waves against your boat.
There's no better feeling than the peacefulness that comes with being surrounded by the beauty of nature.
23. Explore beatiful Valladolid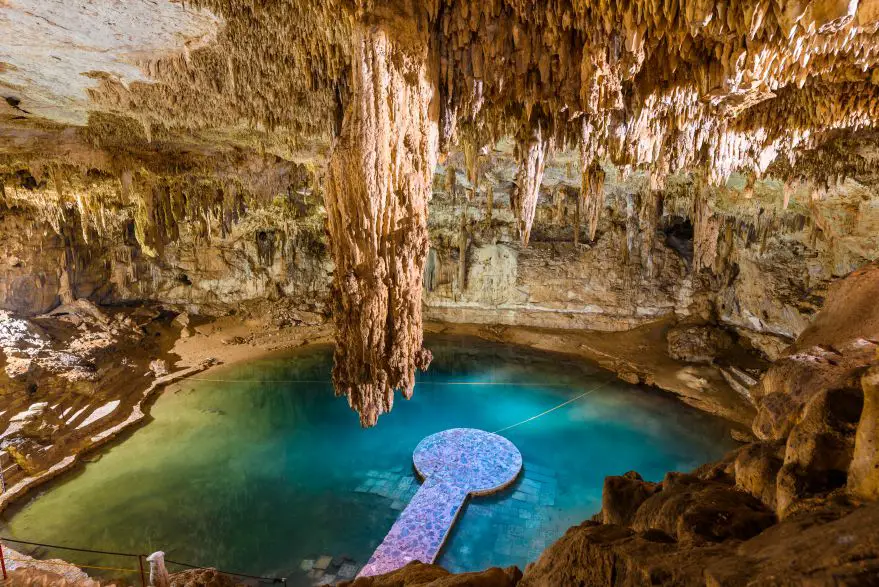 Escape to the charming and vibrant city of Valladolid for an unforgettable experience!
From strolling through the central square and visiting the San Bernardino de Siena Convent, to cooling off in a cenote or learning about the area's history at the Casa de los Venados Museum, you won't be disappointed with the range of activities available.
Indulge in local specialties like papazules and panuchos while you take a leisurely stroll down Calzada de los Frailes – a cobblestoned street lined with beautiful pastel-colored buildings.
Or opt for one of the guided tours from Cancun which include stops at Chichen Itza, Ek Balam ruins, and a dip in either Cenote Ik-Kil or Cenote Xcajum. Wherever your curiosity takes you, make sure to explore Valladolid and all it has to offer!
24. See the monkeys at the Akumal Monkey Sanctuary
If you love animals, this is the place for you! The Akumal Monkey Sanctuary in Mexico's Riviera Maya is home to a troop of dozens of primates from all over the world – rescued and now living semi-wild in the protected jungle.
From Madagascar's beautiful lemurs to families of speedy spider monkeys, there are more than 200 critters from 55 different species (including macaws, snakes, and zebras).
Experience the thrill of interacting with these amazing creatures as you feed them, take photos, and even get one or two leaping onto your shoulder if they're feeling playful.
This isn't just about observing animals; you'll also be part of typical Mexican adventure activities like ATV excursions, cenote swims, and guided tours.
And every penny of entry fees goes to supporting the sanctuary's efforts to keep these animals safe.
The sanctuary provides an incredible opportunity to learn about these fascinating creatures – their habitats, diets, social structures, and more.
It's no wonder that so many animal lovers find themselves drawn here.
25. Visit the temples and pyramids at the Coba Archaeological Zone
Dive into a world of ancient history and hidden beauty with the Coba Archaeological Zone.
Located in an awe-inspiring jungle, it is one of the largest cities to have ever been found in the Americas.
With evidence dating back to 600 AD and home to around 50,000 inhabitants at its peak – this site is brimming with stories waiting to be told.
Explore an incredible network of stone causeways (or sacbeob) plus temples, pyramids, and palaces as you learn about the Maya.
Though much of this area remains untouched, there are some key points that shouldn't be missed.
The Nohoch Mul pyramids offer the chance for visitors to climb the tallest structure, standing 138 feet high and being the biggest pyramid in Yucatan.
Plus, don't forget to take time to relax by the nearby Coba Lagoon, surrounded by lush greenery and offering a tranquil escape from reality.
Tours provide the ultimate way to experience all that Coba has to offer. Guided options make transport easy, while still giving access to plenty of fascinating facts and tales about the region.
You will also get to see other amazing spots such as Tulum and cenotes. So why not venture out on an educational journey and discover this unique part of Mexican culture?