From the fairytale-like landscapes of Scotland's Isle of Skye to the stunningly picturesque Italian Lakes, Europe is home to some of the most awe-inspiring natural wonders in Europe.
Whether you're looking for an outdoor adventure, a romantic getaway or simply seeking out timeless beauty, these 37 breathtaking sites will take your breath away!
From the mesmerizing Northern Lights of Norway to the ancient glaciers of Iceland and from the tranquil fjords of Serbia to the mystical caves of Romania, explore Europe's majestic terrain with this list of one-of-a-kind natural wonders that have been marveled at by generations past – and will be sure to enchant modern travelers too.
Natural Wonders in Europe
1. The Tuscan Countryside, Italy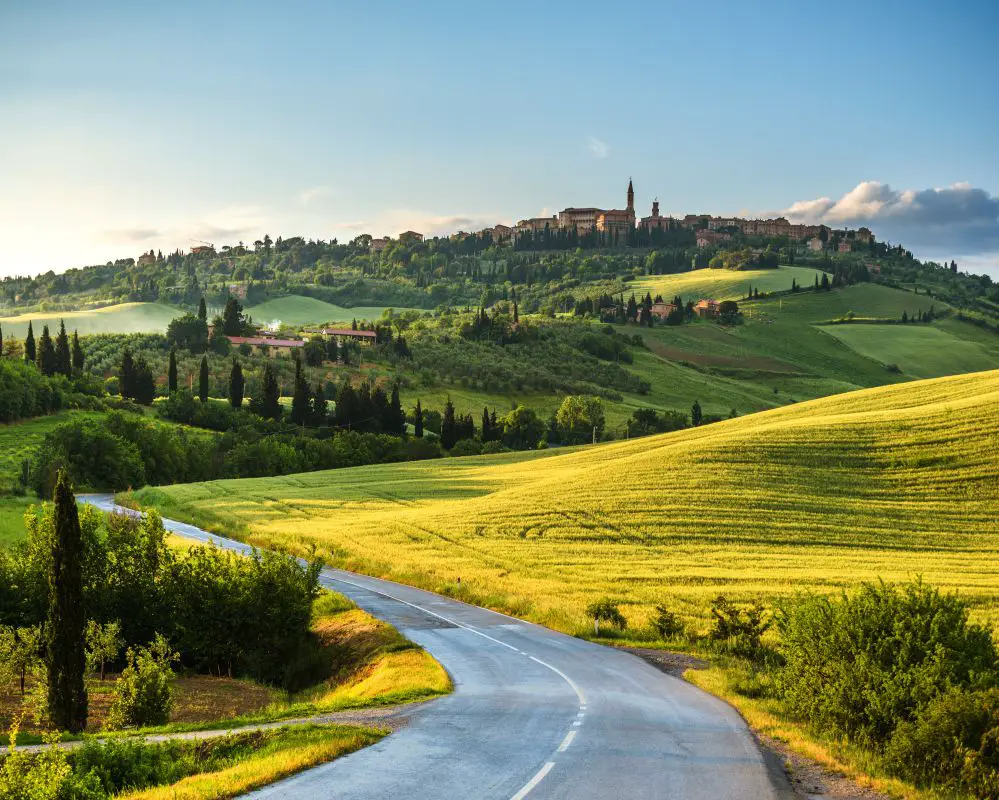 Few vistas are as idyllic and alluring as that of Italy's Tuscan hills.
Lined with cypress trees, textured with patchwork vineyards and dotted with rustic farmhouses, the countryside is all at once rural, manicured and serene, while its vibrant shades of green and yellow are a feast for the eyes.
The Val d'Orcia, encompassing Siena, Pienza and Montalcino, is one of the loveliest parts of the region, boasting over 1 million visitors each year who come to explore the area's diverse cultural and natural offerings.
History in these lands can still be savored slowly in a landscape that seems drawn by the hand of an artist.
Chianti offers travelers unusual itineraries through woods, vineyards and isolated villages, while the Terre di Siena offer fascinating scenery expressed in the sculpted forms of the Crete Senesi.
Meanwhile, the Valdichiana has represented the agricultural soul of Tuscany for centuries, and the villas of the Piana di Lucca provide lush gardens for those looking for a relaxing escape.
See also Best Places to Visit in Europe
2. Svalbard, Norway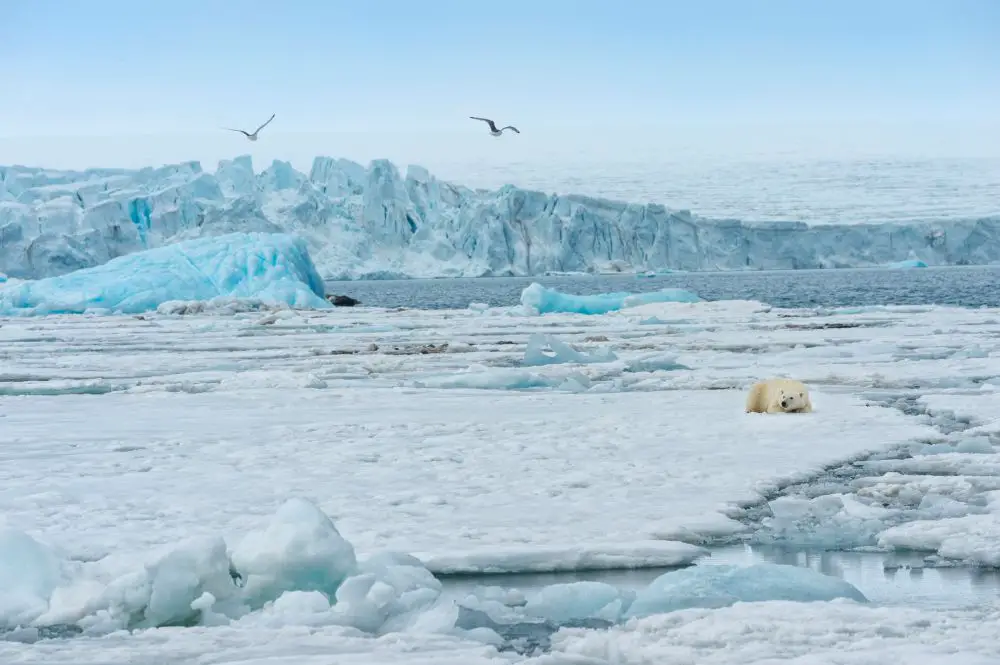 Svalbard, Norway is a land of freedom and adventure. From the stars of the night sky that light up during the Polar Night to the wild animals that roam its untouched tundra, this archipelago offers an unmatched arctic paradise for those seeking something different in life.
Surrounded by glaciers, Svalbard's unique landscape has captivated adventurers since it was first used as a whaling base centuries ago.
Whether you are looking for a peaceful getaway or an adrenaline-filled journey, you can find it here.
The residents of Longyearbyen know this all too well, spending their days exploring the open landscapes, socializing at pubs and restaurants, and taking in the dramatic seasonal variations.
With so much to offer, it's no surprise why many who visit Svalbard fall victim to the "Polar bug" – the irresistible desire to keep coming back.
3. Capri's Blue Grotto, Italy
Nestled away on the enchanting island of Capri in Italy, lies one of nature's most spectacular marvels – the Blue Grotto.
This awe-inspiring natural sea cave is roughly sixty meters long and twenty-five meters wide, with a seemingly impenetrable entrance only two meters wide.
To access this remarkable sight, you must board a small rowboat that can carry up to four passengers at a time; then, laying back along the bottom of the boat, your skipper will guide you through the opening using a metal chain attached to the cave walls.
Once inside, you'll be captivated by the breathtakingly vibrant blue hue that radiates from within the cave, created by sunlight passing through an underwater cavity and shining back up through the water – a feeling akin to being freed from the shackles of reality.
The best times to visit are between noon and two for the strongest light effect, although mornings also offer stunning reflections.
Be sure to avoid overcast days when the effect is much less dramatic. In the afternoon, there tends to be less of a wait but the seas may become too rough to enter, so plan accordingly!
4. Swiss Alps, Switzerland
Switzerland's Swiss Alps are a sight to behold, like an artist's masterpiece painted in shades of white and blue.
The alpine countryside is awash with breathtaking mountain peaks that reach up into the sky like pointing fingers beckoning visitors to explore its majestic beauty.
From hiking trails to skiing slopes, camping spots to crystalline lakes, these mountains offer endless opportunities for adventure.
And with its rich culinary heritage, you can be sure to find something delicious to enjoy while taking in the stunning views that this country has to offer.
5. Santorini, Greece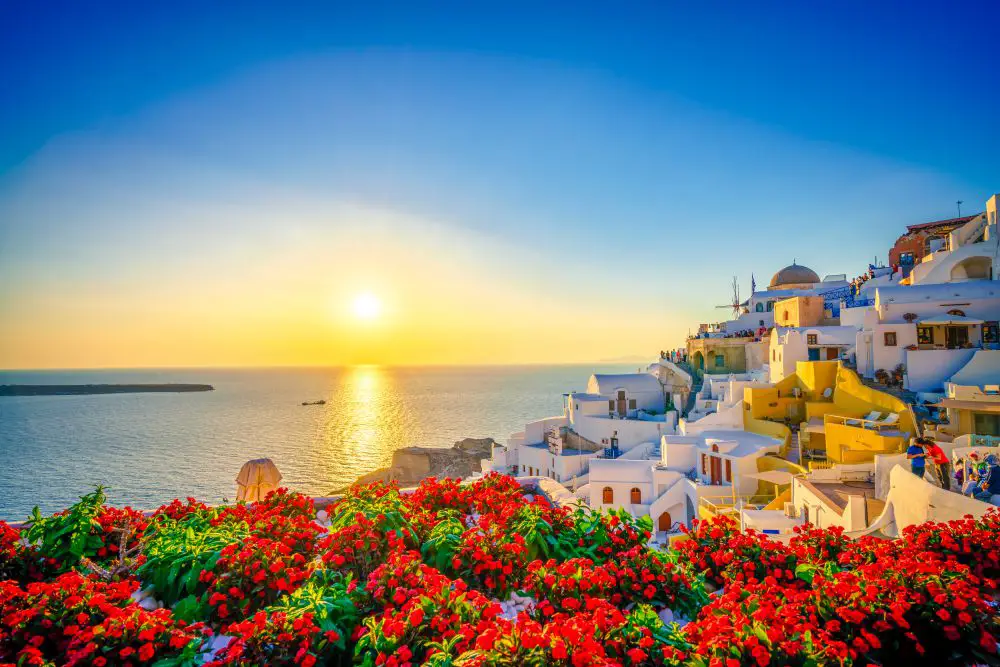 For those seeking a destination that combines the beauty of the Mediterranean with adventure, Santorini is it.
From stunning sunsets to rugged red cliffs and turquoise waters, this Greek island paradise offers something for everyone.
Whether you're looking for an adrenaline-pumping experience or a relaxing and romantic getaway, there are plenty of activities to keep you entertained, ranging from scuba diving and hiking to wine tastings, ocean cruises, and exploring ancient ruins.
Soak up the rays on one of Santorini's many black sandy beaches, savor a glass of local wine while watching the sun sink into the shimmering sea, or marvel at the centuries-old windmills that stand watch over the vineyards below – whatever you choose, your vacation in Santorini will be truly unforgettable.
6. Meteora, Greece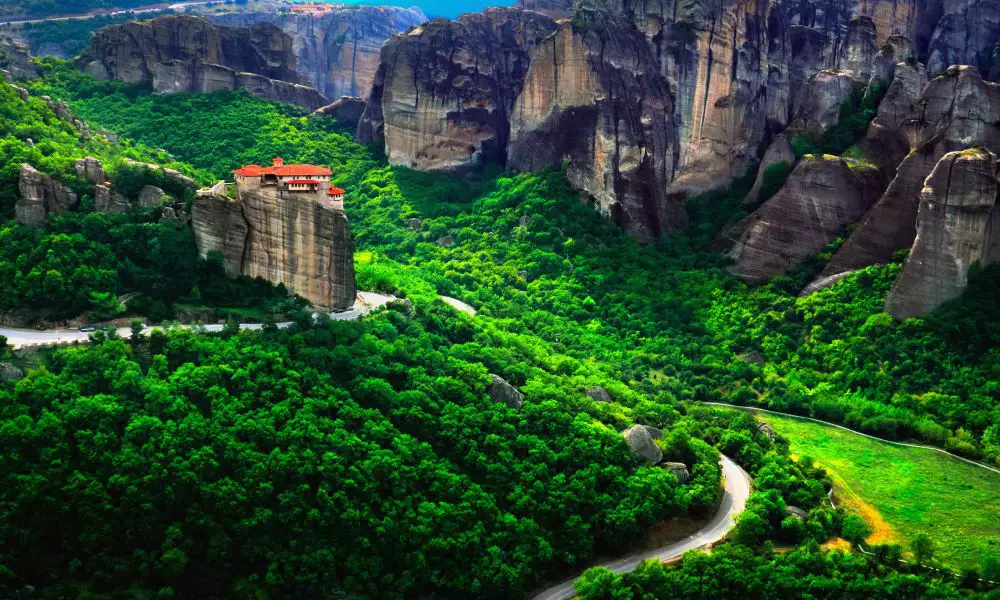 Nestled in the heart of Greece, Meteora is a breathtaking and awe-inspiring sight that will take your breath away.
Sitting atop majestic rocks reaching up to 300 meters high, the monasteries of Metéora appear as if they are suspended in mid-air, creating an almost magical atmosphere.
Once boasting 24 different monasteries, there are now only six still occupied, but these sites remain some of the most unique attractions in all of Greece.
Exploring the sacred sites of Metéora can be done on foot, allowing you to experience the wonders of this place firsthand.
But it's important to remember: while this might be one of the top things to do for tourists, for the monks living here, these structures are places of meditation and prayer, so respect and reverence should always be paramount.
As the old adage goes, "you reap what you sow"; treat this place with care and you'll reap the rewards of unbridled freedom and joy.
From hiking between the monasteries to taking in the incredible views from the heights of Metéora, there is much to see and do here.
Get ready to embark on an unforgettable journey when visiting these iconic landmarks – declared by UNESCO as World Heritage Sites – and discover why so many have been captivated by the beauty found at Metéora.
7. Land's End, England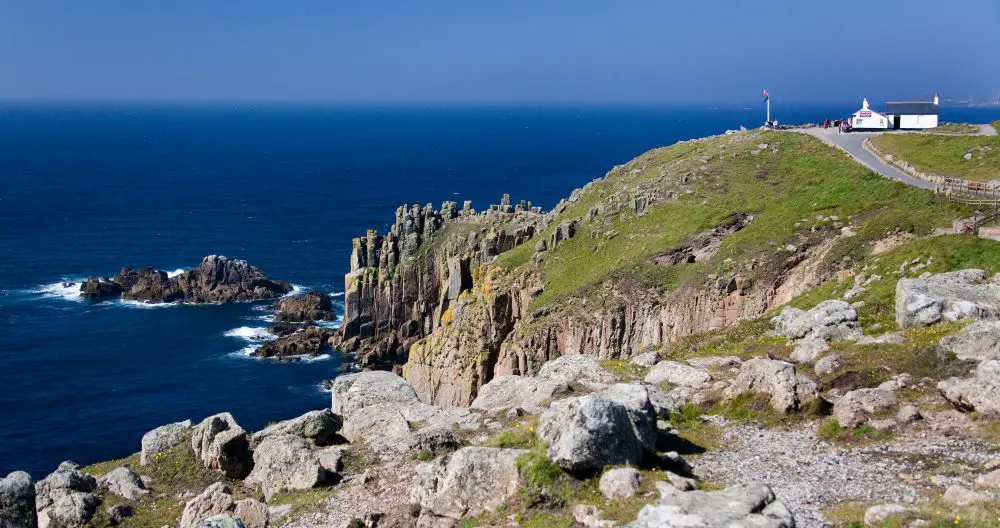 Land's End in England, the most westerly part of this little island, is a place that has been around since time immemorial.
Although it may now be seen as a cheesy tourist attraction, its breathtaking views, scenic walks and iconic signs make it an incredible destination for all who venture there.
It is here, on the rocky coast with its granite cliffs jutting out over the Atlantic ocean, where one can see the Longships Lighthouse and even the Isles of Scilly far away.
It was once called Belerion by the ancient Greeks, meaning 'the shining land' or 'place of the sun', and it became a popular tourist destination during the Victorian era.
Nowadays, Land's End remains a must-visit location, full of beauty, history, and freedom – a chance to explore the edges of Britain and connect with nature.
8. Cueva de los Verdes, Spain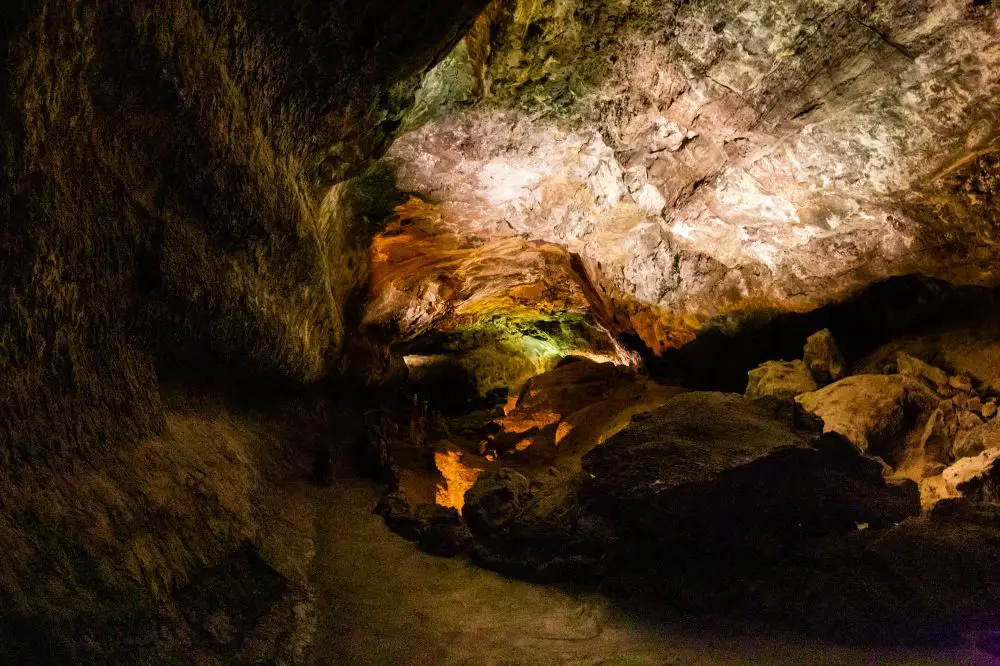 Have you ever wondered what it would be like to journey deep within the earth, and discover a hidden wonder?
Look no further than La Cueva de los Verdes in Spain. Located in the north of the island and integrated into the vast volcanic landscape of Malpaís de la Corona, this 8-kilometer long cave is filled with mysterious vaults, lagoons, and fascinating rock formations.
Once used by locals as a refuge from Berber pirates, and its name comes from a family that kept their livestock nearby. Today it draws visitors from around the world to experience its magical atmosphere.
Visitors can explore the Sala de las Estetas, the Garganta de la Muerte, and the Puerta Mora—all part of a unique tour featuring lava channels, solidified drips, and other stafilites.
There are also concerts held in the Auditorium, an impressive space renowned for its acoustic conditions. So why not take a magical journey through the depths of La Cueva de los Verdes and experience a freedom unlike any other?
9. Algarve, Portugal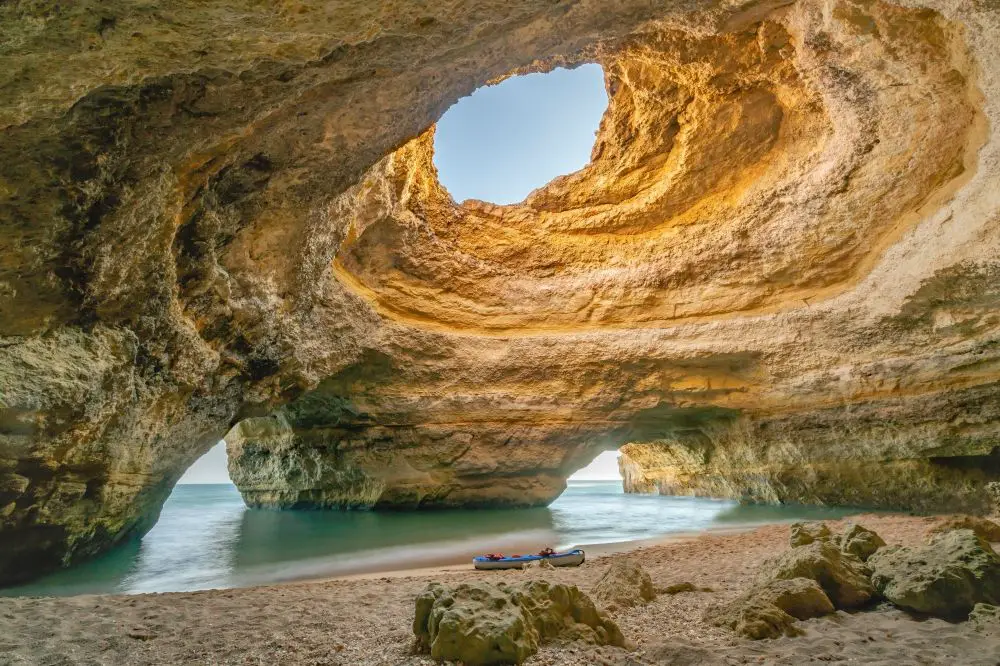 The Algarve, Portugal is a top destination for travelers looking to experience all that Europe has to offer.
From its crystal clear lagoons and stunning beaches, to its rolling vineyards and vibrant culture, the Algarve has everything.
Not only is it home to popular tourist hotspots such as Faro, Silves, Albufeira, and Portimão, but it also provides easy access to neighboring countries like Spain and Gibraltar.
In fact, did you know that the Algarve region is just a short drive away from Seville, Cordoba, and Lisbon?
With so many amazing sights and activities available in such close proximity, it's no wonder why the Algarve has become one of Europe's most sought-after destinations!
10. Ordesa y Monte Perdido National Park, Spain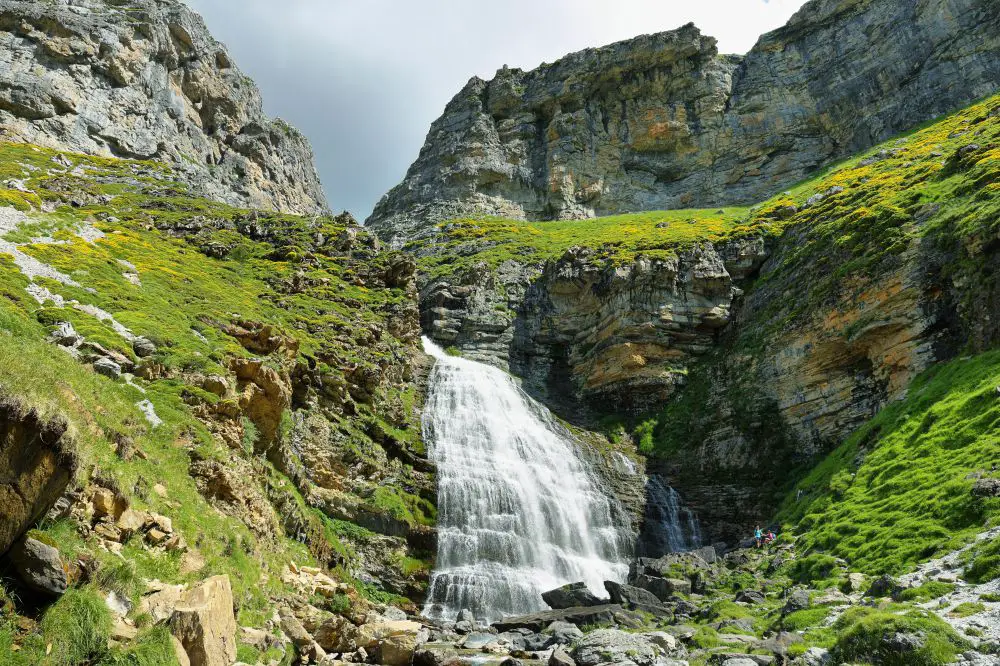 Ordesa y Monte Perdido National Park in Spain is a majestic paradise of nature, rich with an abundance of life and beauty.
It is a place where you can feel the freedom of soaring above meadows and forests, breathtaking gorges, glaciers, and snow-covered peaks that are glistening reminders of time immemorial.
The park is home to diverse ecosystems ranging from limestone karst formations such as karren, sinkholes, and caves to lush beeches (Fagus sylvatica), Abies alba, pines (Pinus sylvestris), oaks (Quercus subpyrenaica) and birches (Betula pendula).
At higher elevations, the mountain pine (Pinus uncinata) dominates, providing a picturesque backdrop for the Edelweiss (Leontopodium alpinum), which has become a symbol of this magical place.
Although it was once inhabited by the now extinct Pyrenean ibex, the park continues to provide refuge to many species, including the Pyrenean chamois and other endemisms.
Ordesa y Monte Perdido National Park is truly a mesmerizing sight, one that will leave visitors with a sense of awe and wonderment.
11. Piscinas de Punta Mujeres, Spain
Welcome to the natural paradise of Piscinas de Punta Mujeres in Spain! This place is a dream come true for anyone seeking an escape from their daily lives, with its pristine turquoise waters and breathtaking views of the vast ocean.
Take advantage of this unique opportunity and dive into the lush, salty depths as you explore two kilometers of diverse swimming pools, some protected from the open seas.
Enjoy the sun-kissed lava rocks beneath your feet, marvel at the traditional white-washed fishing village nearby, or take a break and relax at one of the many restaurants or play areas.
Let go of all the worries of the world and bask in the beauty of nature's greatest gift—Piscinas de Punta Mujeres.
12. Douro River Valley, Portugal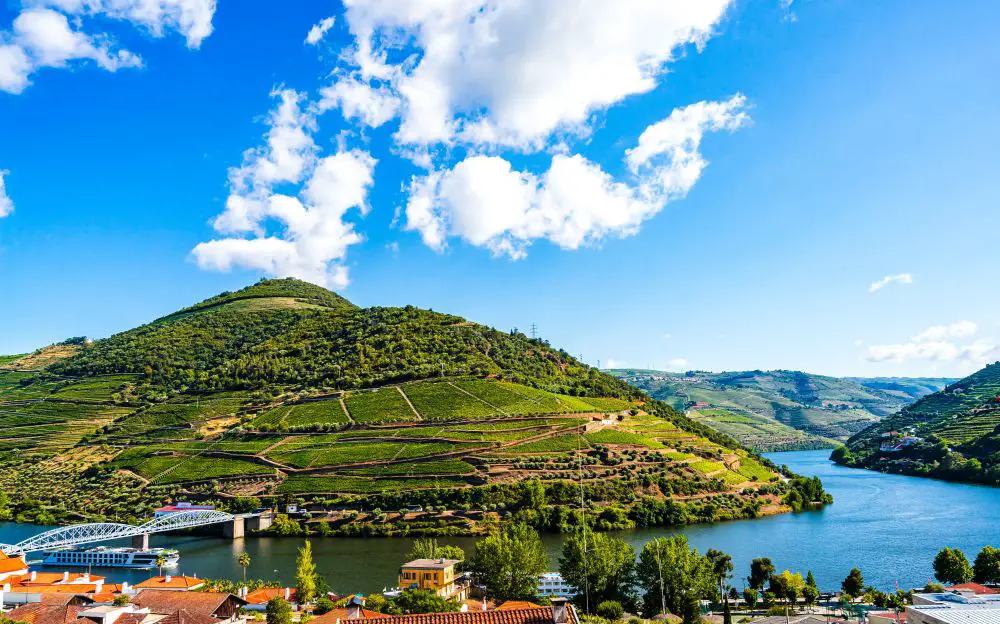 The Douro Valley in Portugal could easily be called a fairytale come to life, with its stunning landscapes and enchanting vibes.
With so many ways to explore the region – by road, rail, boat or even helicopter – there is no shortage of magical moments to capture.
Start your journey in Vila Nova de Gaia, where you can visit the Port wine lodges and sample the delicious nectar.
Then head over to Peso da Régua for a visit to the Douro Museum, and don't forget to stop by Lamego to admire the breathtaking views from Nossa Senhora dos Remédios. In Pinhão, take time to appreciate the railway station's eye-catching tiles that depict the vineyards.
Make sure to make a detour on the south bank to Numão Castle for some picturesque views over the skyline.
And if you're looking for something more off the beaten path, head east to Vale do Coa Archaeological Park – an open-air rock art gallery listed as a World Heritage Site – and see the accompanying museum in Vila Nova de Foz Coa.
As you reach Barca de Alva, you will enter the International Douro Natural Park, which runs along the river between Portugal and Spain.
Here, the river winds its way through the escarpments like a storybook scene, offering a unique glimpse into this ancient demarcated wine region.
There's no better place to experience the fruits of Man's labor than the Douro River Valley, with its lush green vines in summer and warm flames of autumn. It truly is a sight to behold!
13. Las Médulas, Spain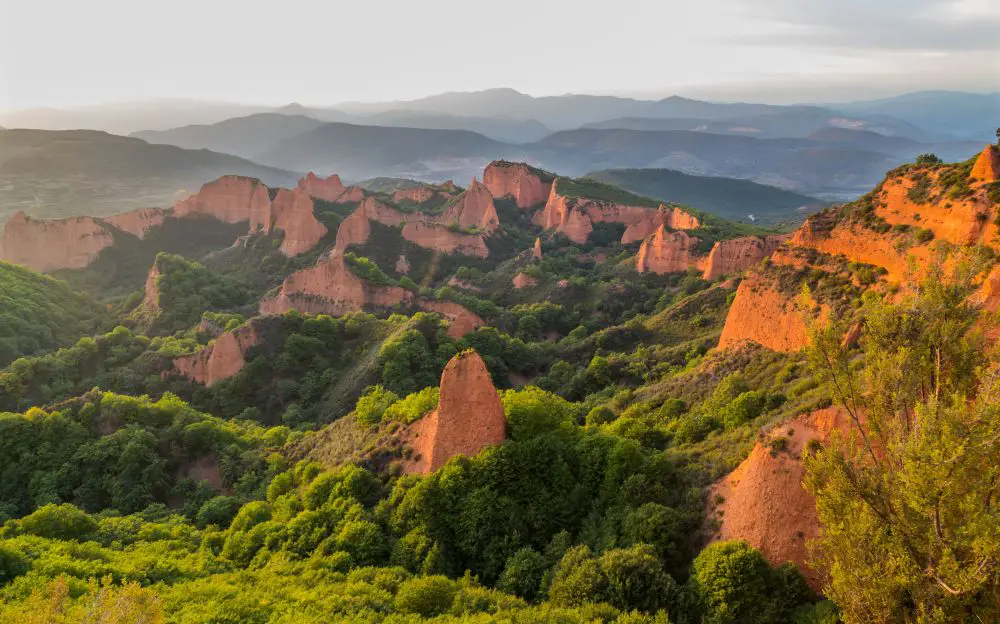 The small mountain town of Las Médulas, Spain is a place unlike any other. Nestled in the region of El Bierzo, Leon, it marks the natural beginning of an ascent to the unique cultural landscape of Las Médulas – declared a World Heritage by UNESCO.
As you take in the serrated relief of this area, marked by red clayey mountains and covered by chestnut trees, you can't help but marvel at what the Romans achieved two centuries ago when they established their gold mine here.
Using their ingenious 'ruina montium' system, which employed water force to crush down the soil and expose the gold, they created an unusual landscape full of erosion gullies, towers and underground galleries.
To get a better view of the whole place, head eight kilometres away from Las Médulas to the viewpoint of Orellán.
Once back in the town you can visit the archaeological learning centre for more information about the history of this singular Roman site.
You can also explore nearby places such as Villafranca del Bierzo, Cacabelos or the monastery of Santa María de Carracedo.
All these places are on the legendary Camino de Santiago (Pilgrim's Road to Santiago de Compostela), so you will be sure to feel a sense of freedom while exploring them.
14. The Black Forest, Germany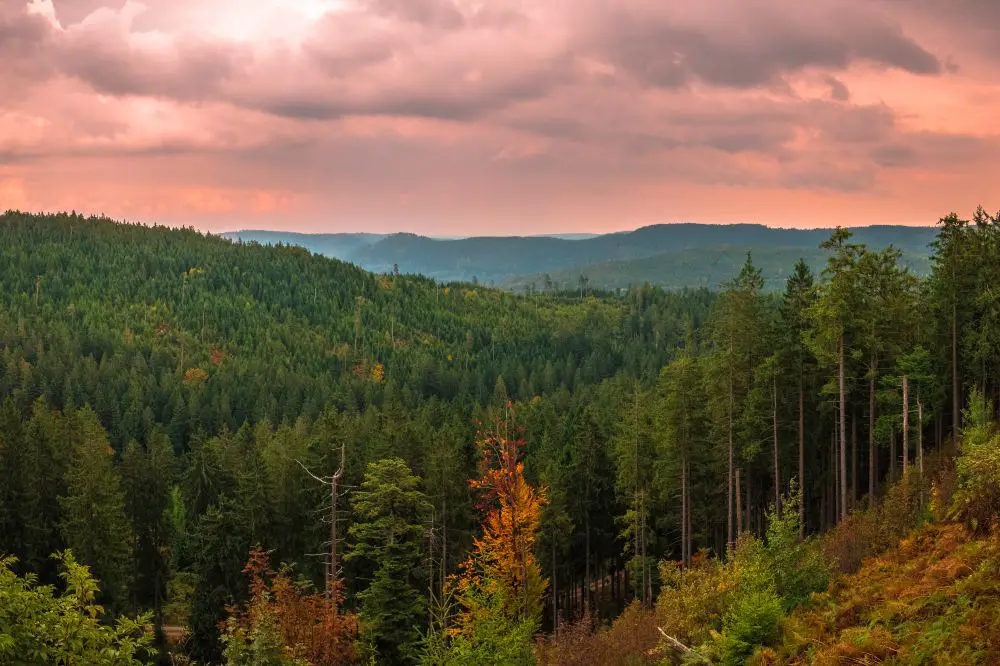 The Black Forest in Germany is a place that has outstanding beauty. Whether it's sampling the local culture and traditions, taking in the breathtaking views of the Valley, or enjoying some of the many outdoor activities on offer, it's no wonder why this region attracts thousands of visitors each year.
Take a walk down one of the meandering hiking paths to get a real feel of what life is like here, or take a ride on the famous cuckoo clock cable car for an unforgettable experience.
No matter how you choose to explore, the Black Forest will provide countless opportunities for relaxation and adventure.
15. Spreewald Forest, Germany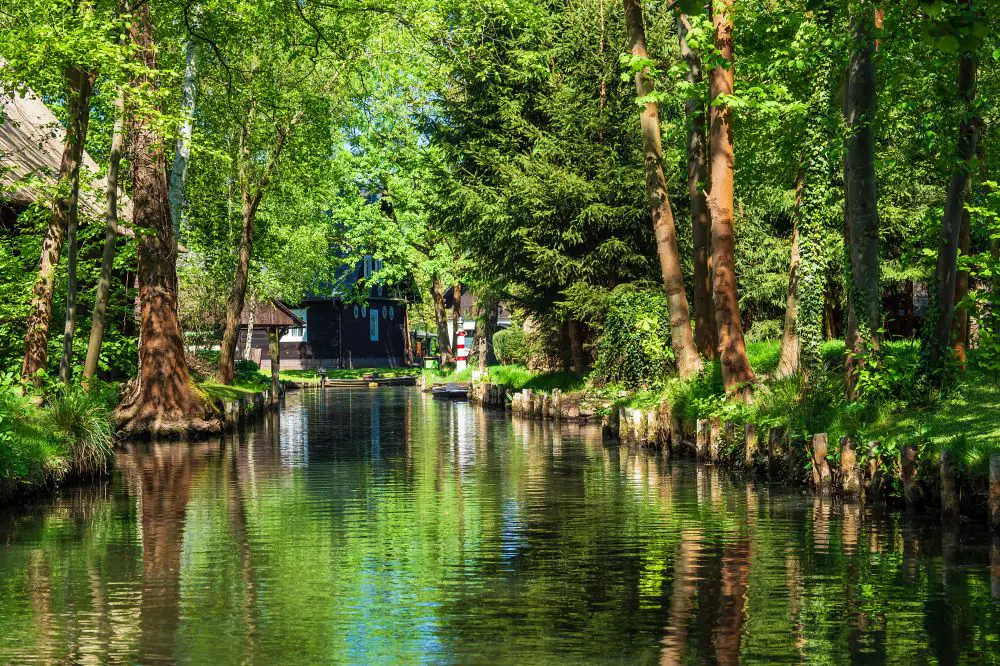 Nestled in the rolling hills of Brandenburg, 100 kilometres southeast of Berlin, lies a landscape that has managed to remain largely untouched by human intervention despite centuries of habitation.
Welcome to Spreewald Forest, an enchanting UNESCO Biosphere Reserve known for its winding canals, traditional Sorbian villages and spa resorts.
The unique charm of Spreewald is best enjoyed when exploring its network of meadows, fields and forests with a variety of waterways cutting through them.
Here you'll find rare wildlife ranging from black storks to otters and beavers, as well as the customs and traditional costumes of the local Slavic Sorbs/Wends people who live here.
Discover this magical land on a day or multi-day trip through bike paths, canoe trails or traditional Spree Forest barges. It's an unforgettable experience that will bring out the sense of freedom hidden deep within your soul.
16. Lake Konigssee, Germany
Did you know that Lake Königssee in Germany is one of the only larger lakes in Central Europe that has no roads or trails around it?
Nestled at the foot of Mount Watzmann and surrounded by steep mountains, its emerald green waters are a true masterpiece of nature.
Come experience the peace and quiet as you board an electric passenger boat to explore the lake, or witness the world-famous echo when the boatman plays his trumpet against the rock face!
17. Isle of Skye, Scotland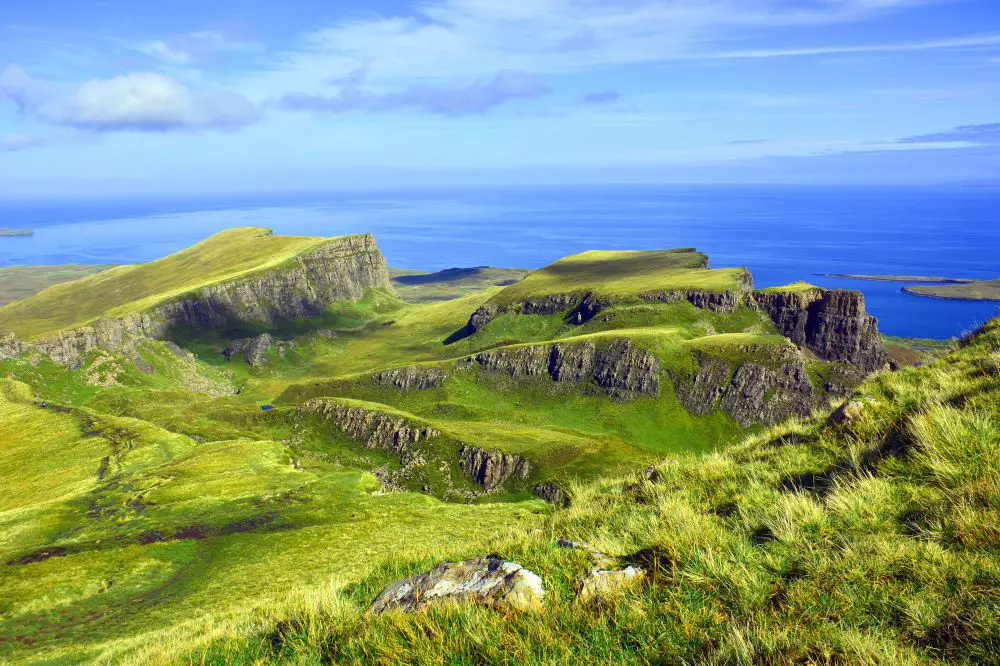 The Isle of Skye, Scotland is a place that can bring out the sense of freedom in all who visit.
From its soaring peaks and dramatic geology to its colorful harbour and local craft shops, this island has something charming.
Its history is filled with stories of clan battles, Jacobite risings, and Highland clearances – yet it has also been a source of inspiration for poetry, songs, novels, and films.
Take a trip to the Cuillin Hills or explore Trotternish for strange peaks and peculiar rock formations.
Visit Dunvegan Castle or The Quiraing for an extraordinary experience.
Whether you are looking for adventure, relaxation, or simply a change of scenery, the Isle of Skye will be sure to captivate your heart.
18. The Giant's Causeway, Northern Ireland
The Giant's Causeway in Northern Ireland is a mesmerizing sight, like an enchanted portal that beckons visitors to explore its mysterious and majestic beauty.
Its 40,000 interlocking basalt columns stand tall as a testament to mother nature's power and creativity, and it's no wonder UNESCO declared the site a World Heritage Site in 1986.
It's as if time has stopped here, frozen in place for eternity; one could get lost gazing at its towering formations, imagining what secrets they may hold.
It's truly a magical experience – one that anyone with a subconscious desire for freedom should take the opportunity to behold.
19. Cliffs of Moher, the Republic of Ireland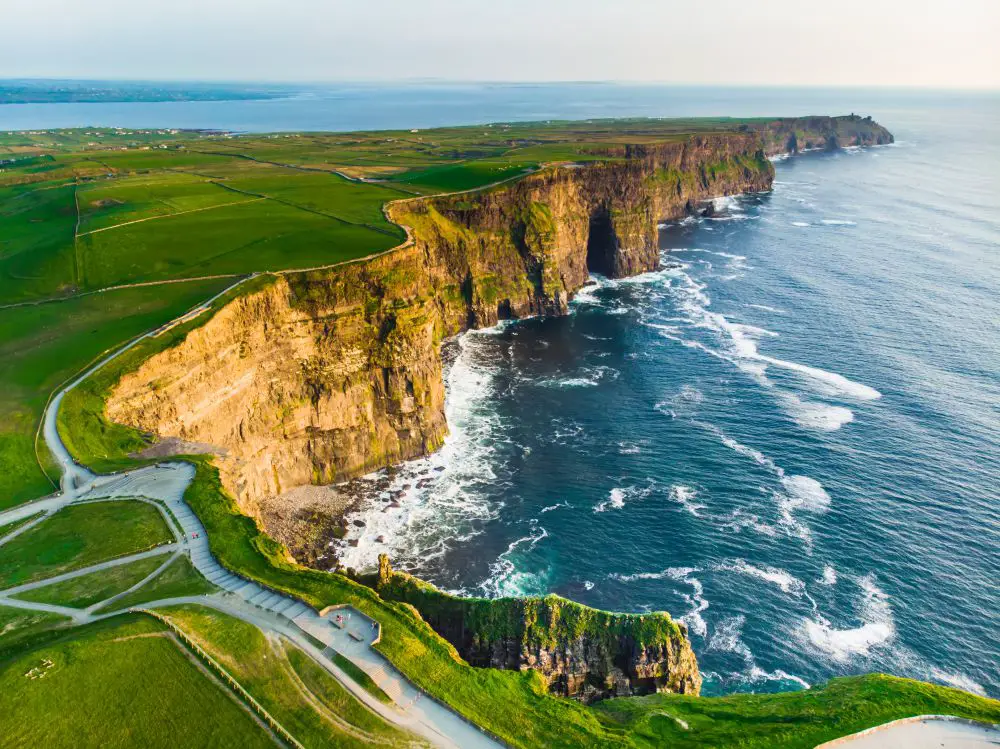 The Cliffs of Moher in the Republic of Ireland are one of the most stunning natural wonders on the planet.
Rising to a staggering 214 meters above sea level, they offer unparalleled views of the Wild Atlantic Way and the Aran Islands beyond.
Not to mention their incredible array of flora and fauna: puffins, razorbills, kittiwakes, peregrine falcons—all living among delicate sea campion, blushing sea pinks and wildflowers.
It's no surprise that these majestic cliffs have inspired countless myths and folklore throughout history.
But perhaps the most awe-inspiring statistic is this: over 1 million people visit the Cliffs of Moher each year, making it one of the most visited tourist attractions in all of Ireland!
So if you're looking for an unforgettable experience full of myth, magic, and sheer wonder, make sure to add the Cliffs of Moher to your bucket list!
20. Lake District, England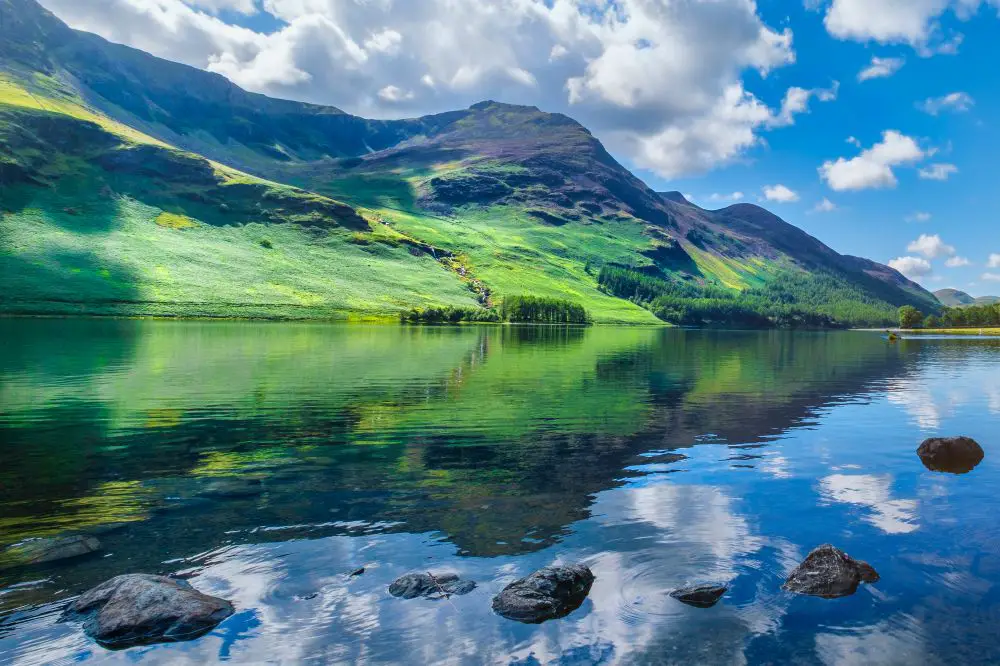 The Lake District in England is a beautiful and tranquil area, full of natural beauty that lures visitors from all over the world.
From its majestic mountains to its crystal clear lakes, it's easy to see why this National Park has become so popular amongst outdoor enthusiasts.
Take a walk along one of the many hiking trails or explore the region by boat; whatever activity you choose, you're sure to create lasting memories in this stunning landscape.
Whether visiting for an afternoon or a week-long stay, there are countless experiences to be had in the Lake District – the perfect destination for those seeking adventure and relaxation.
21. Seven Sisters, Sussex, England
The Seven Sisters in Sussex, England is a breathtaking sight to behold. It's a stretch of sea-eroded chalk cliffs that run between the River Cuckmere and Beachy Head, a stunning headland rising up from the English Channel coast.
The dips or swales that separate each crest are remnants of dry valleys in the chalk South Downs, slowly being washed away by the waves.
Just east of Cuckmere Haven lies the first peak, Haven Brow, followed by Short Bottom, Short Brow, Limekiln Bottom, Rough Brow, Rough Bottom, Brass Point, Gap Bottom, Flagstaff Point and Flagstaff Bottom, Flat Hill, Flathill Bottom, Baily's Hill, Michel Dean, Went Hill Brow, and finally Birling Gap.
Beyond this lies Belle Tout Lighthouse and Beachy Head, with its own lighthouse marking the latter.
A walk along the South Downs Way provides an extraordinary view of these majestic cliffs as it takes a very undulating course alongside them.
From sheep farms to historic landmarks, many places nearby take their names from the iconic Seven Sisters.
22. Cheddar Gorge, Somerset, England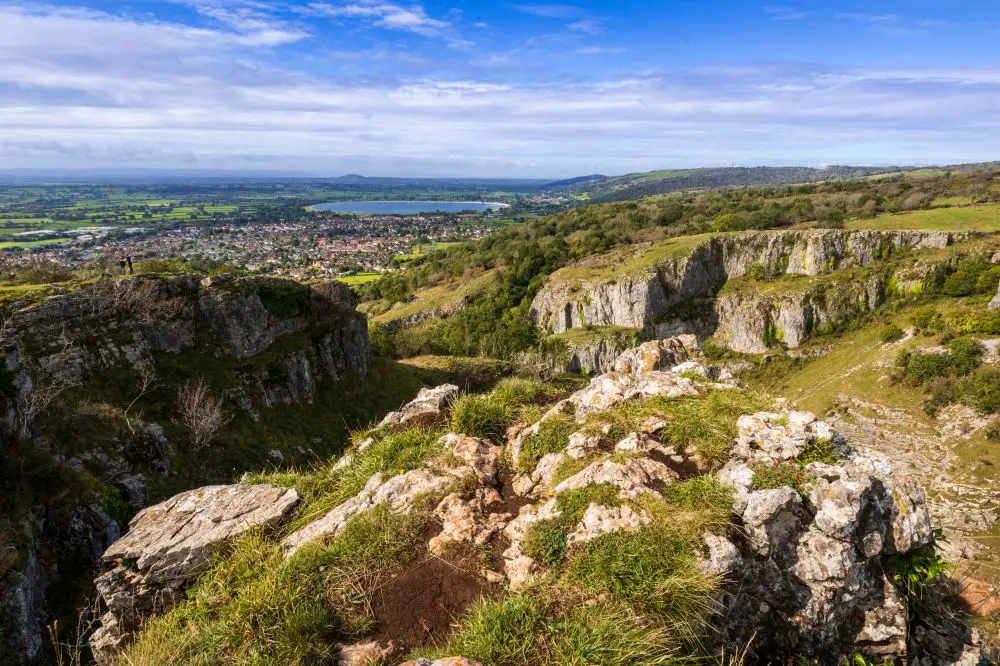 If you're looking for a truly thrilling and one-of-a-kind experience, head on over to Cheddar Gorge in Somerset, England.
Here, among the spectacular cliffs and extraordinary show caves awaits an adventure of a lifetime.
With its prehistoric secrets and fascinating history, it's no surprise that this area has been designated as an Area of Outstanding Natural Beauty and Site of Special Scientific Interest.
Immerse yourself in nature, wildlife and history with the Cheddar Gorge and Caves Day Ticket which provides access to six great attractions – Gough's Cave, Cox's Cave, Jacob's Ladder, Cliff-Top Walk, Museum of Prehistory and Beyond the View.
Each one offers something new and exciting, from beautiful rock formations and stunning features to audio tours and cinematic journeys.
And if you need a break or want to refuel, why not enjoy refreshments at Gough's Café while taking in the breathtaking views of the gorge?
So what are you waiting for? Experience the freedom and beauty of Cheddar Gorge and embark on a perfect all-season day out in Somerset.
23. The Dolomites, Italy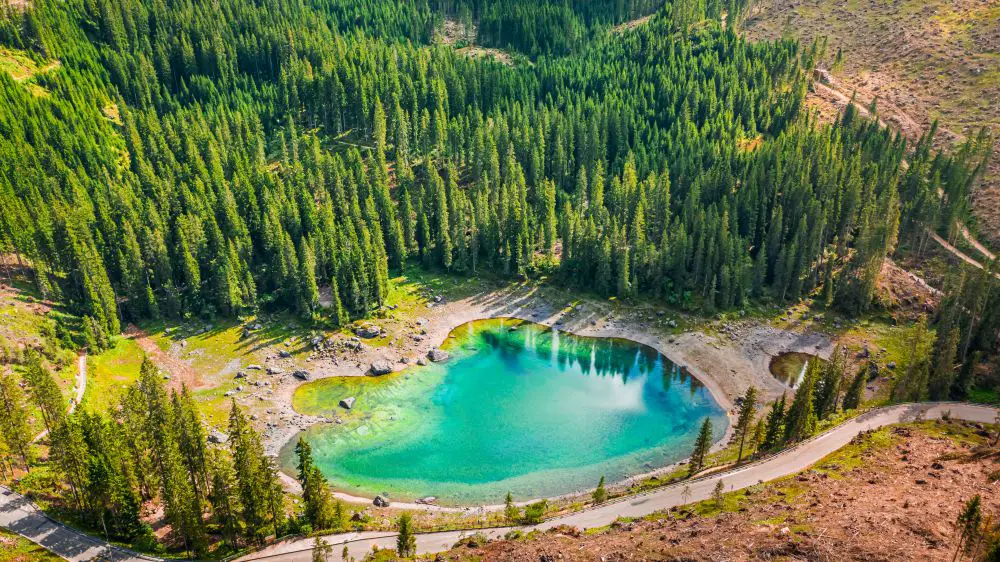 The Dolomites in Italy are a paradise of beauty and diversity, offering something unique for each season.
From the Christmas markets of winter to the crystal-clear waters of Braies lake in summer, there is an endless array of activities and experiences awaiting those who visit this magical region.
And what's more, you can explore the culture and history of the area with one of the world-renowned Messner Mountain museums, or sample some of Italy's finest wines from Valle Isarco.
Whether you're looking for adventure or relaxation, the Italian Dolomites offer an unforgettable holiday experience that will free your spirit and leave you wanting more.
24. The Amalfi Coast, Italy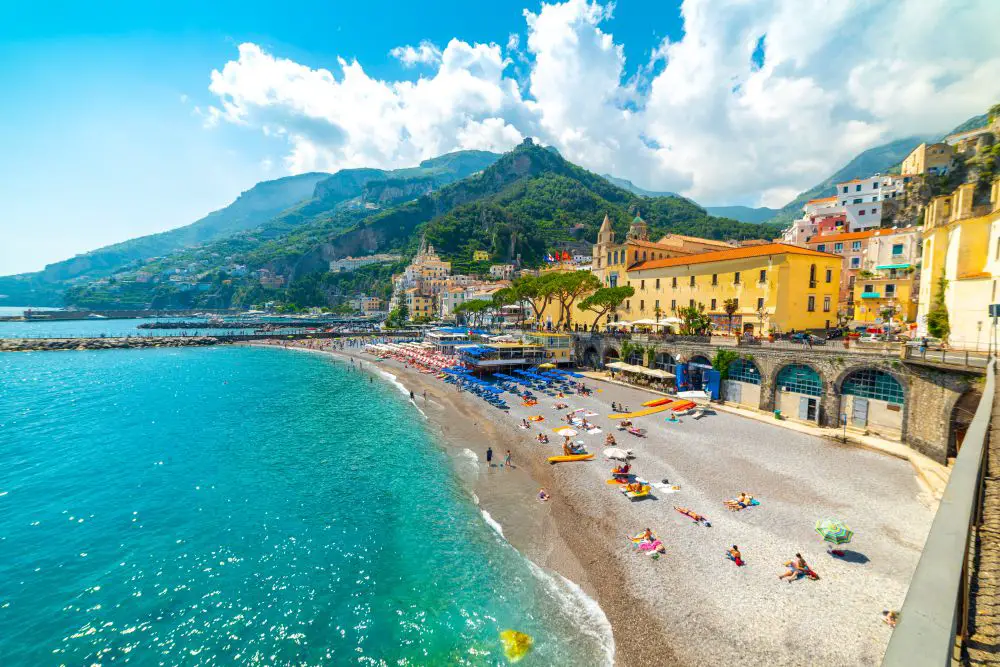 The Amalfi Coast is a jewel of the Mediterranean, glittering in its beauty like an emerald. Its winding roads and winding coastline serve as a reminder that freedom can be found in unexpected places.
With each town having its own unique character, from glamorous Positano to sleepy Furore, it truly has something for everyone.
Whether you want to lounge on the beach or explore quaint villages, the Amalfi Coast will take your breath away with its stunning views and captivating culture.
With its lush hillsides, crystal-clear waters, and vibrant culture, the Amalfi Coast is truly one of Italy's most magical places.
From kayaking in Minori to exploring the atmospheric streets of Ravello, the possibilities are endless when it comes to discovering all that the Amalfi Coast has to offer.
So come and find your own corner of paradise on this enchanting stretch of Italian coastline.
25. Gorges du Verdon, France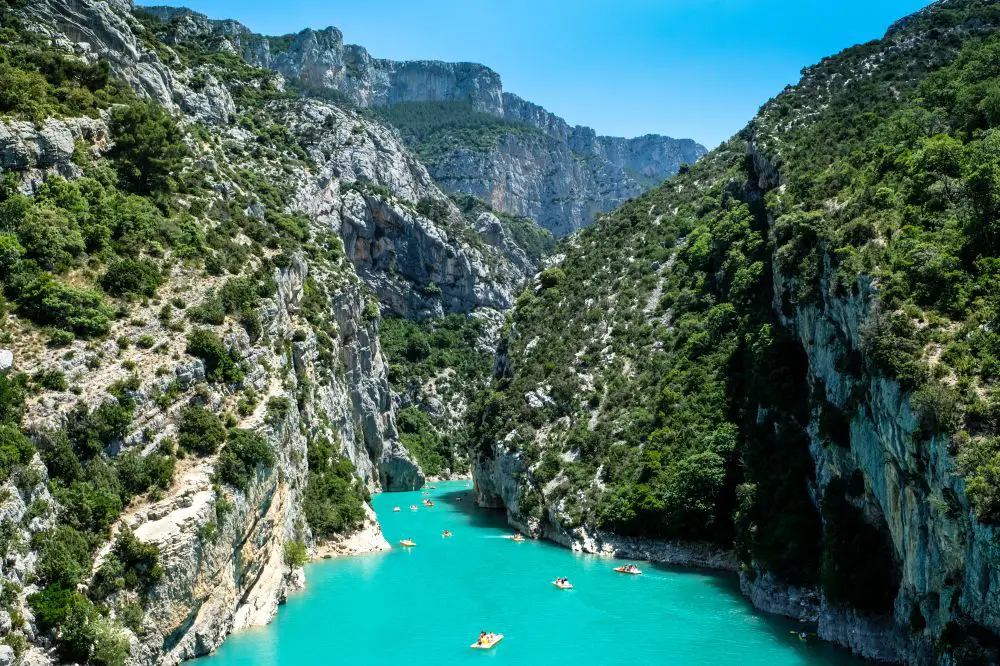 The Gorges du Verdon, France – an area of spectacular beauty and adventure. Here you can explore the magnificent limestone canyon carved by a river flowing from the snowy peaks of the Alps.
Take a road trip around the edge of the gorge in a car or bike, go hiking along the exhilarating trails or admire the bird life, including vultures and eagles.
Or why not try something different and paddle up the bottom end of the gorge in a canoe or kayak?
The Gorges du Verdon is an experience like no other, offering freedom that will satisfy your subconscious desire to discover new things.
26. Dune of Pilat, France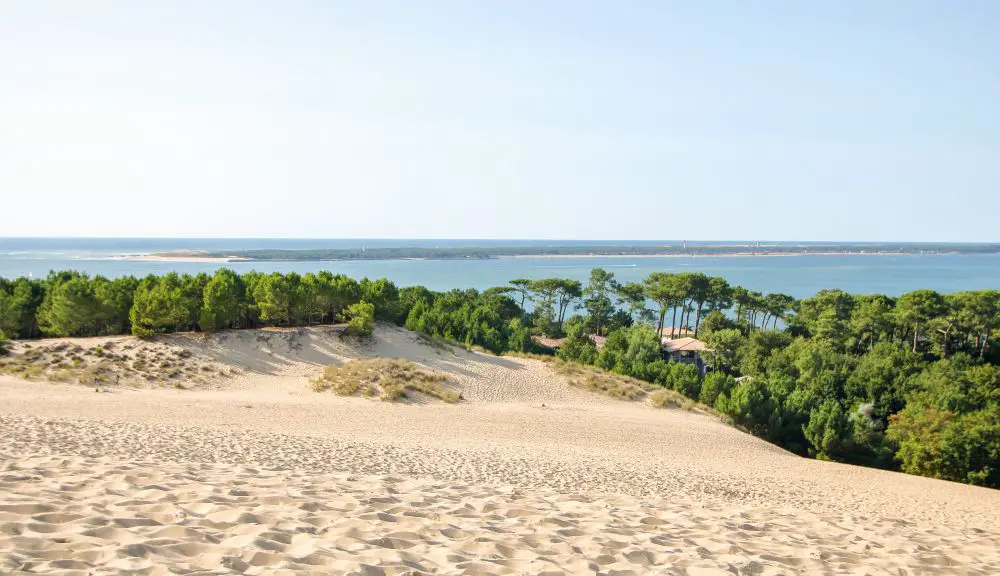 Have you ever dreamed of visiting a place where nature has created something so extraordinary and breathtaking that it leaves an impression on all who experience it?
The Dune of Pilat in France is one such place, and it's calling out to you! This majestic dune has been standing for thousands of years, evoking a sense of timelessness and inviting visitors to explore its beauty and freedom.
What makes this ancient monument so special, and why do people keep coming back for more?
Come discover the mysterious power of the Dune of Pilat and unlock its magic! From the stunning views of the Arcachon Bay to the easy access from highways and car parks, the Dune of Pilat offers something for everyone.
There's no better way to escape the hustle and bustle of everyday life than by immersing yourself in the awe-inspiring beauty of this unique natural site. So come join us and unlock the grandeur of the Dune of Pilat!
27. Lake Hallstatt, Austria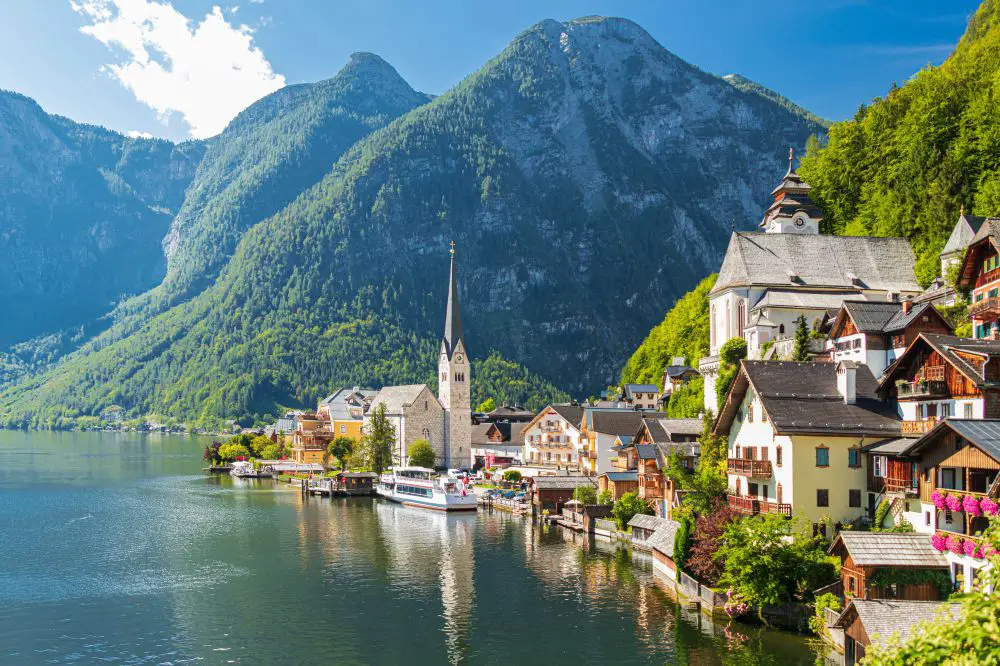 Nestled at the foot of the majestic Dachstein Mountains, Lake Hallstatt in Austria is a place of unparalleled beauty.
From its crystal-clear waters to the stunning backdrop of snowcapped peaks, it's easy to see why this town has been attracting visitors for centuries.
But there's more to Lake Hallstatt than just breathtaking views. This small Austrian village is home to an ancient salt mine which dates back over 7,000 years.
The sheer longevity of the mine and its connection to prehistoric peoples have earned it the name "Hallstatt Culture" – an archaeological culture linked to Proto-Celtic and early Celtic people of the Early Iron Age in Europe.
The lake also serves as a hub for outdoor adventure activities like hiking, boating, and fishing, making it an ideal destination for those looking to escape the hustle and bustle of everyday life.
But beware – with 800,000 annual visitors, you may not find the solitude and tranquility that you were seeking!
So whether you're looking for history, adventure, or simply a break from reality, Lake Hallstatt promises something for everyone.
With its mesmerizing scenery, rich cultural heritage, and special blend of natural and manmade wonders, it's no wonder so many people flock here every year.
28. Eisriesenwelt, Austria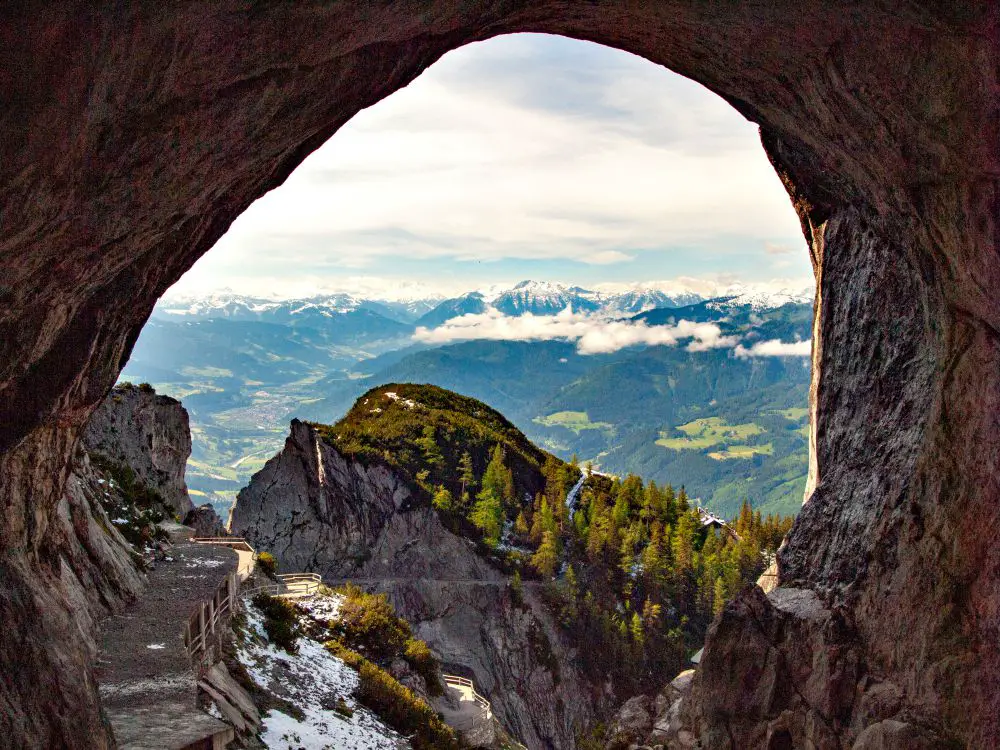 The Eisriesenwelt, located in Werfen, Austria, is a natural wonderland of limestone and ice.
Its 42km stretch is a destination that beckons explorers from around the world to take part in an unforgettable adventure.
With its snow-capped peaks and icy caverns, it's easy to see why this magical place has become so popular amongst tourists.
A journey into the depths of Eisriesenwelt promises a chance to break free from the mundane and explore a realm of beauty and mystery.
29. Vatnajokull Glacier Ice Caves, Iceland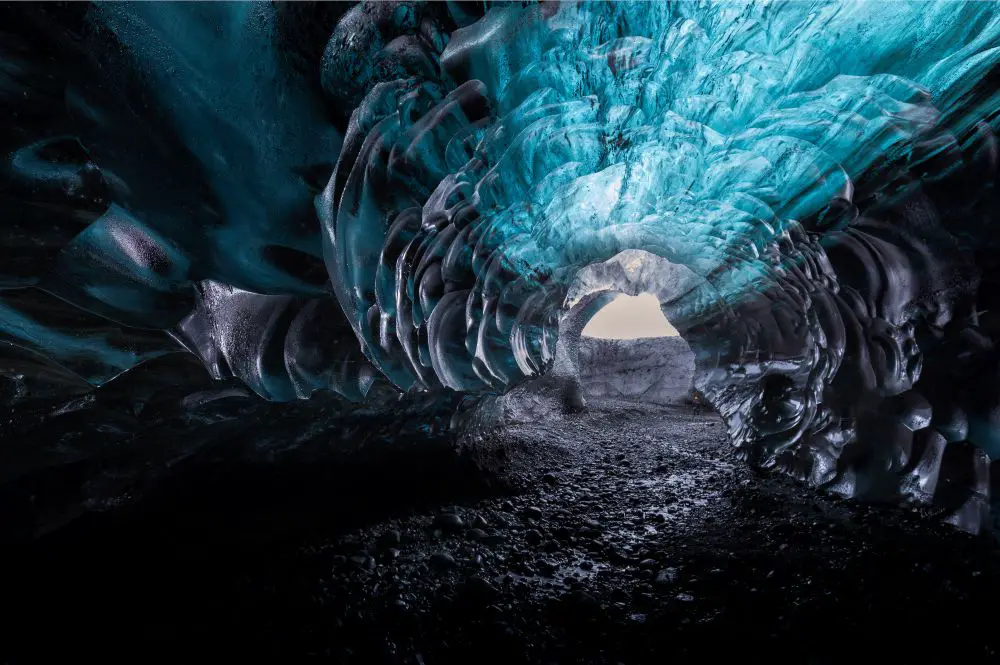 Vatnajokull Glacier Ice Caves, Iceland is a portal to another world – one of awe-inspiring beauty and surrealistic landscapes.
It's like stepping into an alternate universe filled with crystalized formations that shimmer and glisten in the light.
As if frozen in time, these ice caves offer visitors an escape from reality as they explore an ever changing landscape of natural wonders.
With each passing winter and summer, the glaciers move and reshape the face of this magical place, unveiling hidden secrets and breathtaking views.
Come unlock your inner explorer and experience something truly unique at Vatnajokull Glacier Ice Caves!
30. Gullfoss, Iceland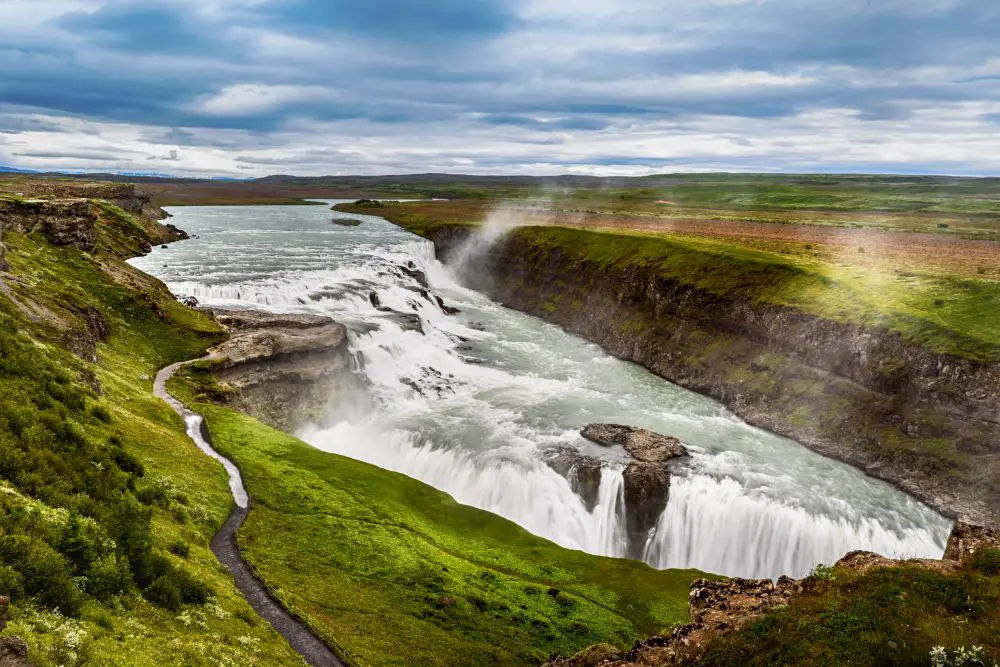 Gullfoss, Iceland, a breathtaking spectacle of nature's raw power and beauty. Towering canyon walls on either side reach up to 70 meters (230 feet) as the Hvítá river thunders down two stages of cascades – 11 meters (36 feet) tall followed by 21 meters (69 feet).
In summer, 140 cubic meters (459 cubic feet) per second of water surges through, while in winter it slows to 109 cubic meters (358 cubic feet).
Visitors can expect to be drenched by its mighty spray should they get too close!
This iconic waterfall is part of the highly popular Golden Circle sightseeing route, which also includes the nearby Geysir geothermal area and pingvellir National Park.
But that's not all; from Gullfoss you can embark on incredible activities such as ascending Langjökull glacier for a snowmobile ride along its gleaming surface or explore its ice tunnels.
All this within two hours from Iceland's capital city.
If you find yourself dreaming of freedom, why not make your dream come true at Gullfoss? With its spectacular display of nature's might and beauty, it won't disappoint!
31. Preikestolen, Norway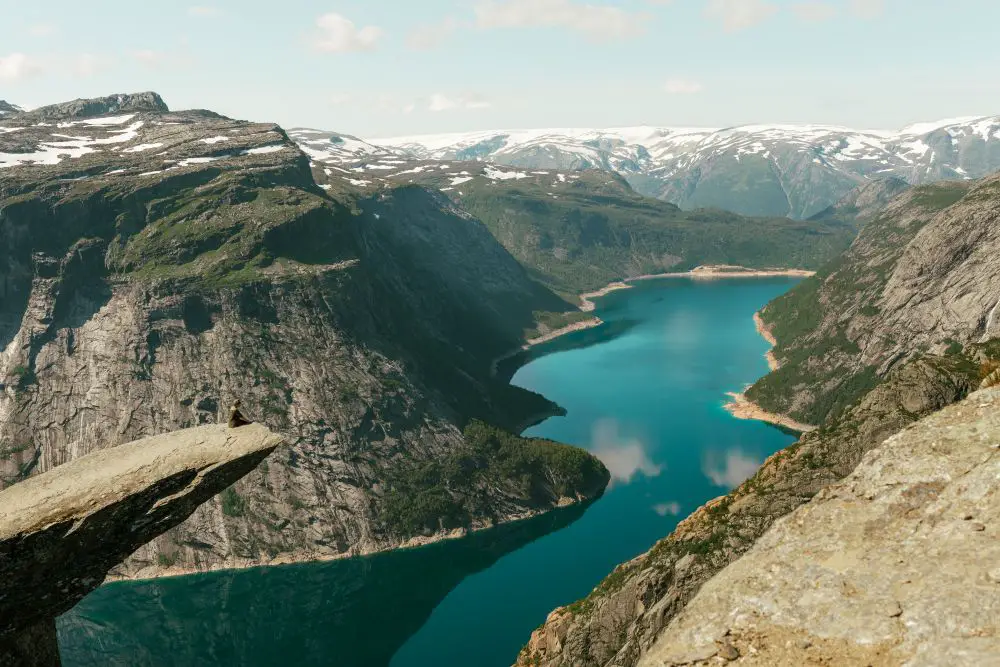 Preikestolen, Norway is one of the world's most popular mountain hikes and a top destination for nature-lovers.
Every year, more than 300,000 hikers make their way to Preikestolen, which towers 604 metres above the Lysefjord.
Whether you join one of the guided tours that run daily from April to October (subject to weather conditions), or take a sightseeing boat on the fjord, or both – this moderately demanding eight kilometre round trip offers breathtaking views and a chance to experience a bit of magic as the sun rises over the cliff.
The nearest places to stay are Preikestolen Fjellstue and Lilland Hotell; alternatively, you can stay overnight in Stavanger and take a boat trip on the Lysefjord.
While the hiking season lasts from May to October, with special equipment and preferably a guide, it is possible to reach Preikestolen year-round.
So why not get out and explore some of nature's finest offerings!
32. The Matterhorn, Switzerland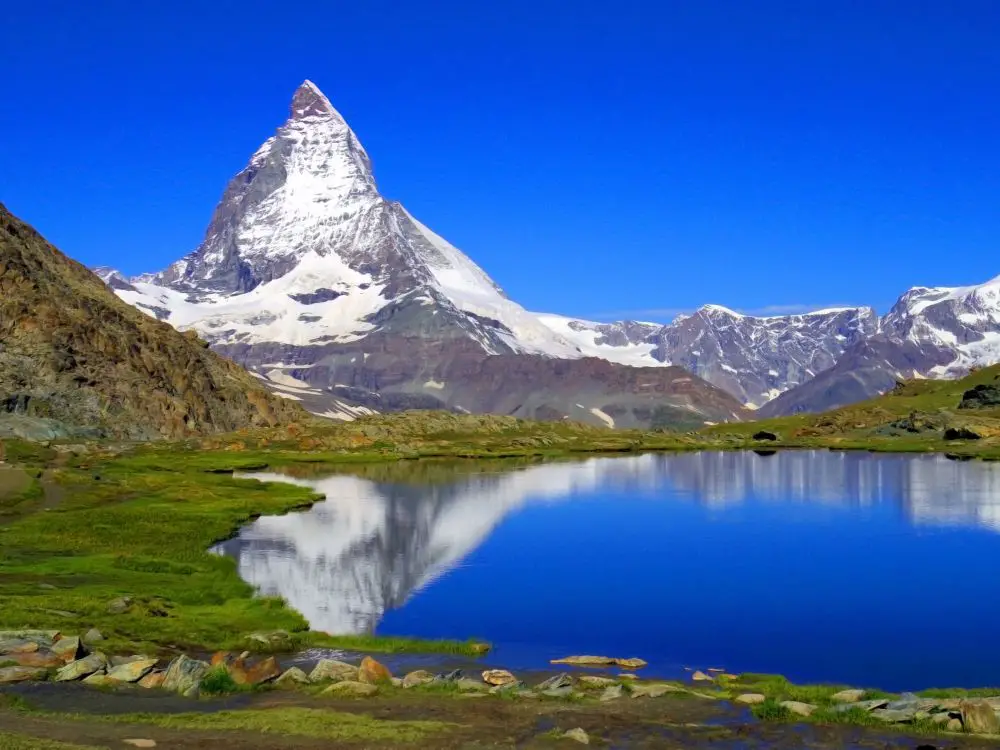 Have you ever heard about the iconic Matterhorn in Switzerland? It stands alone on the horizon, and is a magnet for alpinists.
With its ideal proportions and rugged rock with magical light, it's no surprise that this triangular cragged rock draws so many people to its breathtaking view.
On a clear day, you can see up to six different countries from the summit! Not only that, but the Matterhorn has also seen over 3,000 successful ascents since its first climb in 1865- making it one of Europe's most conquered peaks.
So if you're looking for a nature holiday at the foot of this majestic mountain, then the Matterhorn should be your next destination.
33. Sarek National Park, Sweden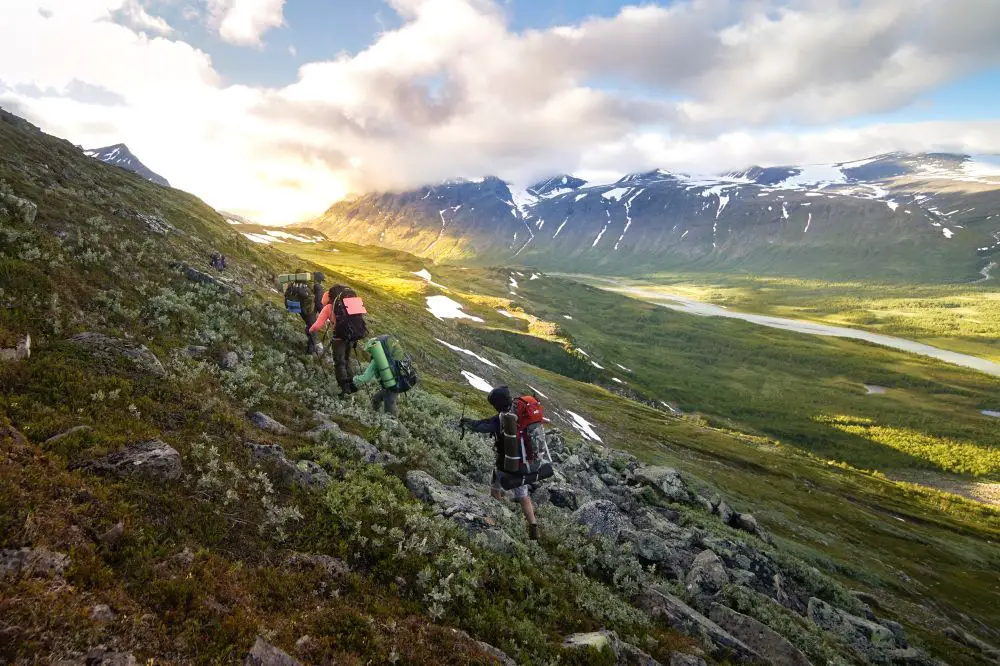 The sprawling vistas of the Sarek National Park in Sweden are an allegory for freedom, a picture of possibility and potential.
Sweeping glaciers, towering mountains, deep valleys and wild river beds all give voice to our subconscious desires for independence and autonomy.
It is a place where the Sami people have roamed since time immemorial and remain a fixture of the landscape.
The park offers a glimpse into Sweden's geological history and is home to large elk and predators alike.
Step into this land and you will find yourself surrounded by the beauty of nature and the promise of adventure – a powerful reminder that true freedom lies within us, waiting to be unlocked.
34. Plitvice Lakes National Park, Croatia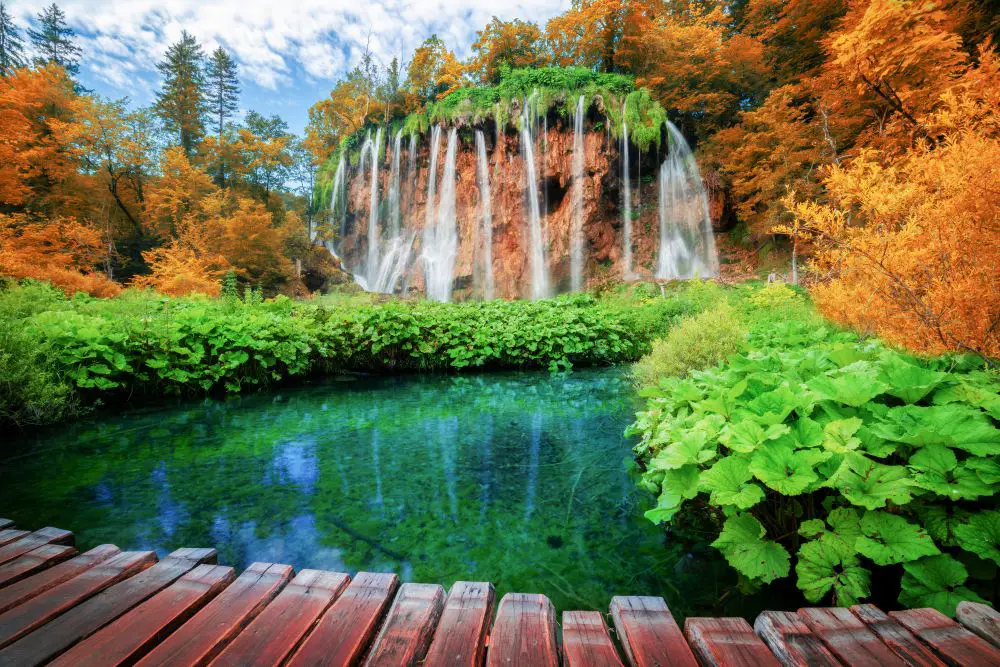 The Plitvice Lakes National Park in Croatia is an incredible destination for nature lovers. With its sixteen interconnected lakes, numerous waterfalls and lush vegetation, it's no wonder why this area was designated as a UNESCO World Heritage site in 1979.
Stretching across 300 square kilometres, the highest point of the park reaches 1280m while the lowest drops to 380m.
Visitors can explore the trails that snake around the different lakes, admiring the stunning scenery and wildlife such as deer, bears, wolves, boars and rare bird species.
Veliki Slap, the largest waterfall, is also an impressive sight at 70m tall. For those wanting to get a better sense of the beauty of the park, the official website offers a virtual tour filled with astounding scenes.
So if you're looking for some peace and relaxation, or just want to appreciate the wonders of nature, then Plitvice Lakes National Park should definitely be on your list!
35. The Caves of Aggtelek Karst, between Hungary and Slovakia
The Caves of Aggtelek Karst, between Hungary and Slovakia, are a spectacular site to witness the wonders of nature.
Here, countless caverns and crevices conceal an incredible array of geological formations and landscapes, spanning millions of years.
With more than seven hundred caves in total, this karstic system offers unparalleled opportunities to explore its intricate depths and discover the secrets that have been hidden away from glacial and tropical climates alike.
From Baradla-Domica's stalactites and stalagmites to Dobsina Ice Cave's majestic displays of ice sculptures, every turn reveals something new and captivating.
As well as being an awe-inspiring natural phenomenon, the Caves of Aggtelek Karst provide a unique opportunity to study the interactions between surface and subsurface processes, making it an ideal field laboratory for geologists and biologists alike.
For anyone seeking to uncover the mysteries of Mother Nature, there is no better place to look than at these astounding Caves of Aggtelek Karst.
36. Vintgar Gorge and Lake Bohinj, Slovenia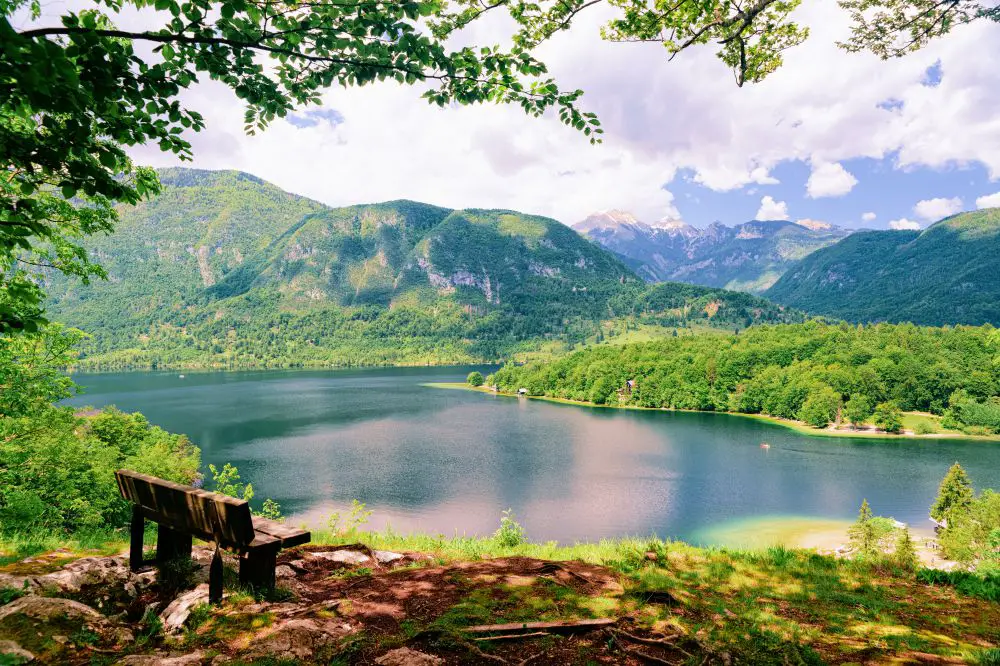 Vintgar Gorge and Lake Bohinj, Slovenia are two jewels in the crown of Slovenian natural beauty.
From the emerald waters of the Radovna River to the majestic snow-capped peaks surrounding Lake Bohinj, this area is a dreamscape that provides an escape from reality like no other.
Whether you're looking for peace and tranquility or an adrenaline-pumping adventure, Vintgar Gorge and Lake Bohinj will certainly not disappoint.
With its stunning vistas and breathtaking surroundings, Vintgar Gorge and Lake Bohinj provide a unique opportunity to explore nature at its finest and truly let go of your worries, allowing you to reconnect with yourself and experience the joy of true freedom.
37. Mystical Caves of Romania
Mystical Caves of Romania is a place like no other. It's a place where ancient and mysterious secrets are hidden within the depths of its rocky walls – just waiting to be discovered!
The area, located on Ivanetu Crest in Buzau County, holds an impressive 30 cave settlements spread over 5 square km between Alunis, Nucu and Bozioru villages.
These caves are filled with fascinating vestiges from past eras; such as the little stone church from Alunis built around 1274 or Dionysius the Spinner Cave (Pestera Dionisie Torcatorul), which contains places for bed, table and a vertical weaver.
Not to mention Fundul Pesterii, the oldest cave settlement inhabited even before Christianity, where 200 symbols are drawn on the walls using the technique of scratching on the wall.
So why not take a journey into Romania's mystical caves and uncover some of its most intriguing secrets? After all, "curiosity killed the cat" – but it can also lead you down a path of wondrous discovery!