What are the best beaches in Cancun? After all, those who travel to this region, in addition to all-inclusive resorts, and theme parks, also want to check out beaches with that beauty of the Caribbean Sea.
The city of Cancun has 22 kilometers of crystal clear waters, white sand, a radiant sun, and a pleasant sea breeze. Accompanied by hotel architecture, with multiple accommodation options, Cancun is the ideal destination to enjoy vacations. It is the perfect place to enjoy a day swimming on the beach, drink your favorite drink, and explore the refreshing Caribbean Sea.
In this article, I will show you a list of the 12 best beaches in Cancun and give you my insights about them. Read on!
Best Beaches in Cancun
1. Playa Delfines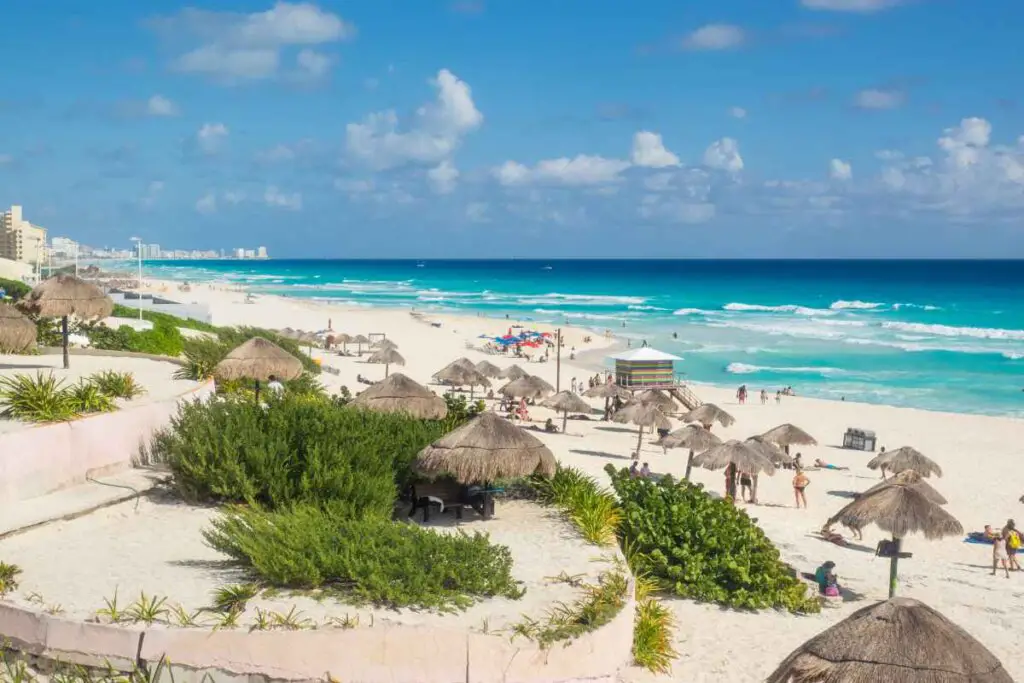 I start my list of the most beautiful beaches in Cancun with Playa Delfines. It is a Blue Flag certified and an inclusive beach. With this, I mean that its services are adapted for wheelchair access.
The beach has several attractions, but certainly one of the best is watching the dolphins that always swim very close to the sand. This allows for direct contact with beach visitors. And there is also a viewpoint, El Mirador, from where you can take beautiful pictures of the Cancun landscape and sign.
Playa Delfines is a practically wide and long beach, and like the other beaches in Cancun, its sands are white, and the water is crystal clear, making it the ideal place to rest and relax. However, this beach is not so calm, but nothing out of the ordinary. The waves are medium, and there are always lifeguards scattered along the seafront.
Although you won't find shops and restaurants, Playa Delfines has many street vendors selling authentic Mexican food. I found this beach to be mostly frequented by the local population, so the food is quite traditional and much cheaper than in other places.
2. Playa Tortugas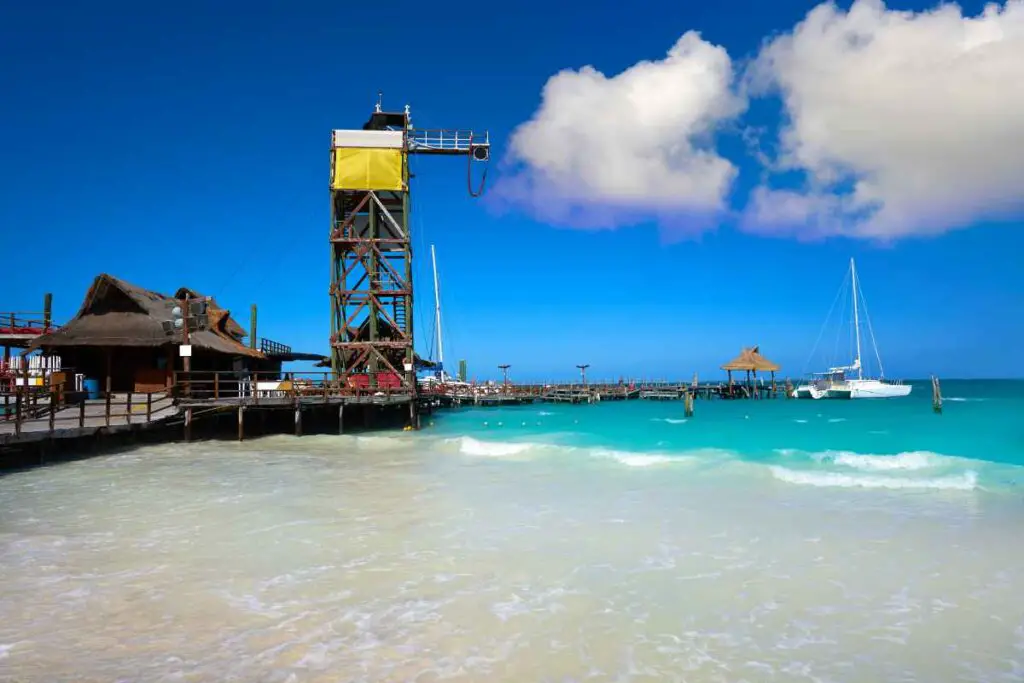 Playa Tortugas is a classical beach in Cancun. It offers you everything you need to have a wonderful day, as it has attractions for everyone. In addition, it is also a perfect place to spend a quiet day swimming, diving, or snorkeling.
Known for its beautiful natural landscape, Playa Tortugas has the perfect combination of sun, calm Sea with crystal clear water, and white sand. And speaking of the Sea, it is super calm, with few waves and shallow bottom. That's why the beach is also popular for families with children. Around the beach, there is a wide variety of bars and restaurants where you can taste the most diverse types of seafood and fish.
The colors of the Sea are there, but I confess that, for my taste, I think the beach has too much infrastructure. The excess of constructions (not all of them in good taste), in my opinion, ended up damaging the natural beauty of the place.
The beach itself is quite busy, both day and night. During the day, there is no shortage of activities on the seafront, such as diving, snorkeling, swimming, or volleyball games. At night, the movement is due to the bars and restaurants scattered all over the beach and downtown.
3. Playa Chac Mool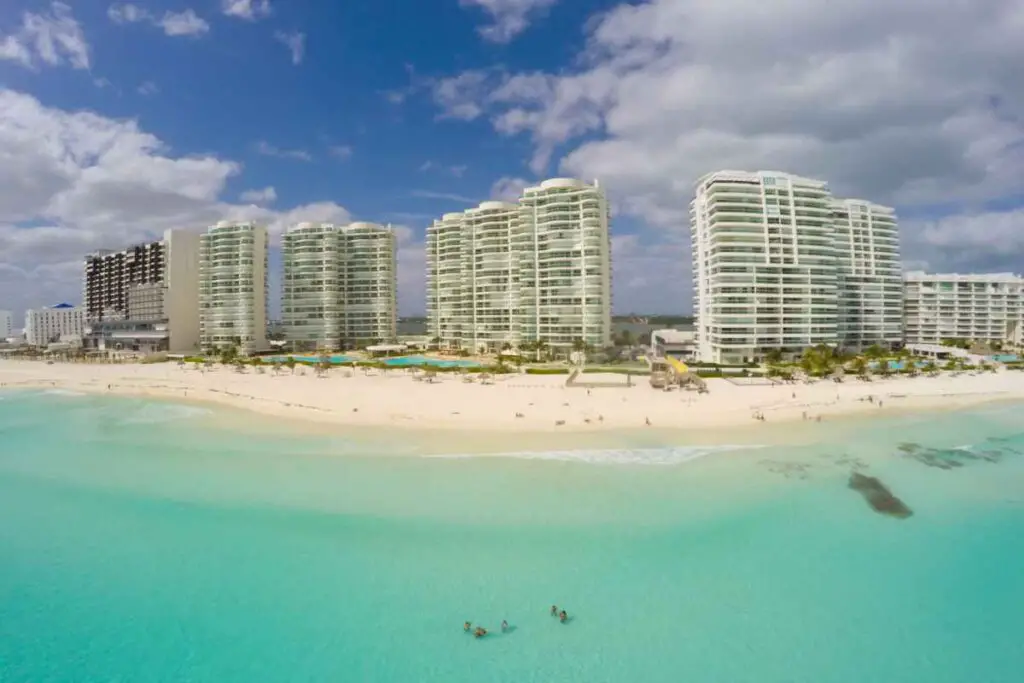 Another of the most beautiful beaches in Cancun is Playa Chac Mool, located 10 kilometers from the Hotel Zone. It is characterized by its turquoise waters with rough waves, perfect for surfers and lovers of water sports in general. However, there is a section with a sandbar that allows you to enjoy the tranquility of the water at a very shallow depth.
Chac Mool beach is relatively quieter compared to Tortugas or Delfines beaches. However, it has several restaurants which are most frequented and known in the region. In addition to the restaurants, there is also the charming black craft market, where you can find a variety of Mexican handicraft items.
Another attraction of Playa Chac Mool is the turtle nesting that occurs from August to November, and that you will probably find it interesting to see if you visit it during that season. And unlike other beaches in Cancun, the name of this beach is of Mayan origin and is due to an ancient human sculpture that is represented lying down.
4. Playa Caracol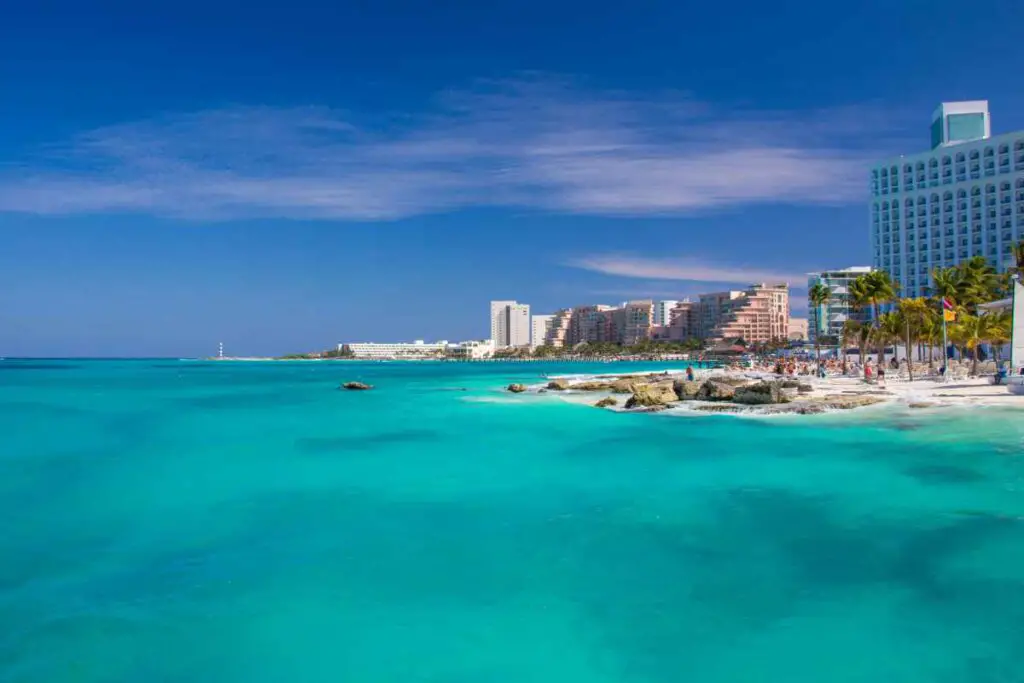 Playa Caracol is classified by many as one of the best beaches in Cancun, the perfect place to rest and enjoy nature.
Playa Caracol is a small beach with a beautiful calm sea and crystal clear water, ideal for snorkeling and admiring the vast marine fauna that inhabits the region. You can swim with three different species of sea turtles in their natural environment.
With its intimate atmosphere, this beach is frequented by couples on honeymoon who seek tranquility and a beautiful natural landscape. In addition to couples, it is also a favorite and much sought after by families, tourists, and locals. In addition, Playa Caracol has a beautiful viewpoint, which offers a beautiful panoramic view of the beach. Although small, there are many hotels and restaurants that offer excellent deals.
Of the beaches in Cancun that I visited, this was one of the worst to park. There is a small alley with very few spaces. The alternative is to park at the Shopping Forum by the Sea (where the Hard Rock Cafe and Coco Bongo are located) and walk there. In front of the beach entrance, there are some parking spaces available on the street.
5. Playa Langosta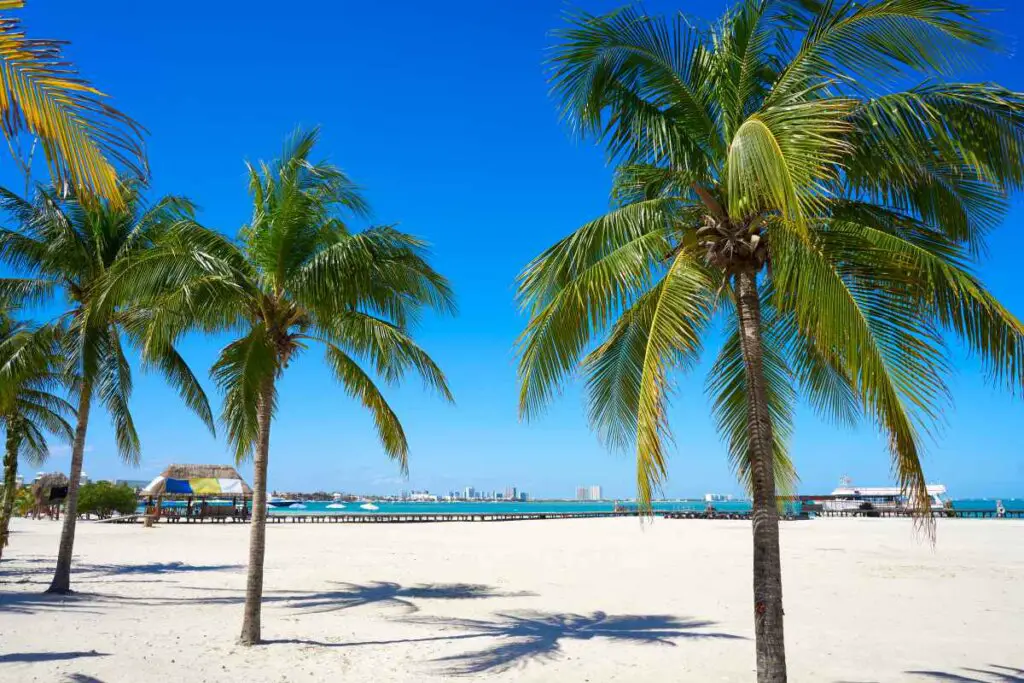 Playa Langosta is one of the most beautiful best beaches in Cancun, perfect for a relaxing afternoon and even a walk on the sand.
I'm not exaggerating, but when you step on this beach, you will feel like you are in the Caribbean! As it is not such a popular beach, Playa Langosta is quieter, being perfect for enjoying with the children.
What I loved about Playa Langosta is that it has space for everyone on the beach. If you prefer tranquility, look for a spot close to the shade of the trees. If you like the action, you can mix with the locals, as fun is guaranteed.
With excellent options of bars and restaurants, Playa Langosta is basically frequented by locals. However, lately, it has been attracting a lot of attention from foreign tourists. And for all its amenities, Langosta beach is considered one of the most beautiful beaches in Cancun.
6. Playa Punta Nizuc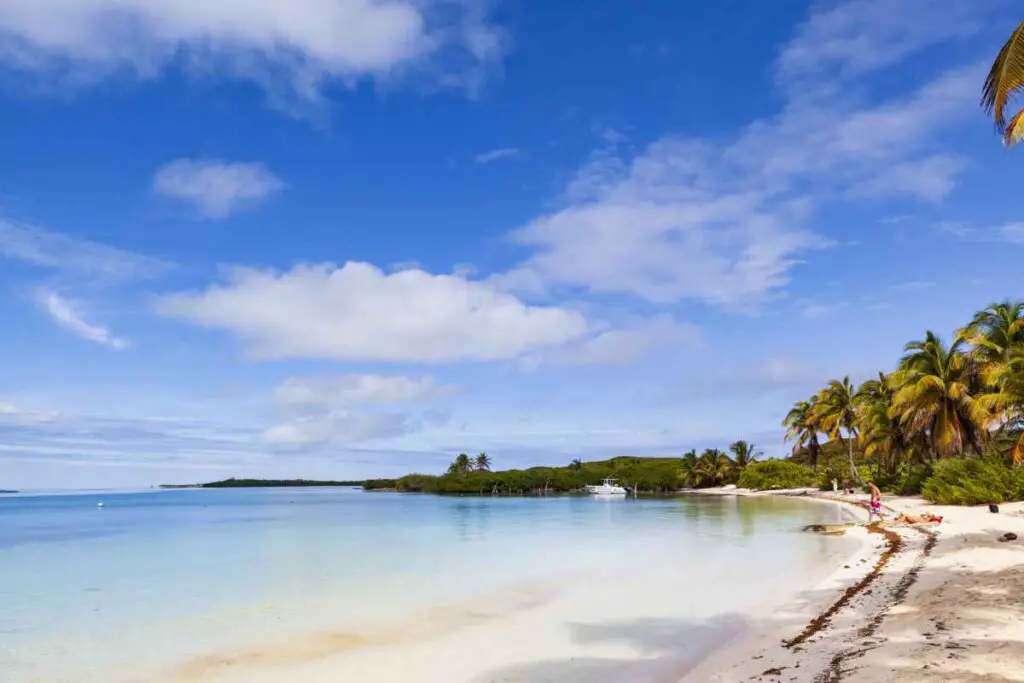 Playa Nizuc is one of the less crowded Cancun beaches, despite its great beauty. Being less touristy, this beach was among my favorites as it was quiet and away from the hustle and bustle of other beaches in Cancun.
Playa Punta Nizuc remains in an atmosphere of tranquility, with crystal clear waters and white sand. In addition, it is shallow, making it ideal to go with the family. In fact, if you travel with your pet, you will be delighted to know that they are admitted here. However, you must comply with some rules, such as preventing your pet from disturbing other visitors in the place or harming flora.
Playa Nizuc has a viewpoint and a free parking lot where there is a sculpture of Chac Mool. There is also an area with wooden palapas to eat and bins. I consider this beach to be a very well-kept little secret.
7. Marlin Beach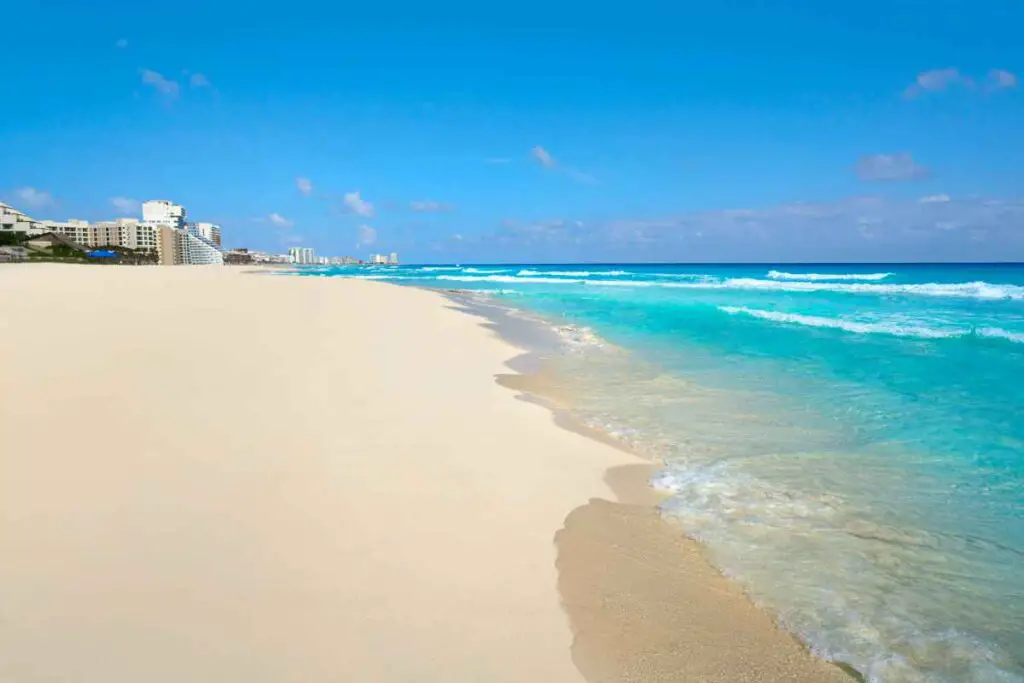 This beach is practically in front of Shopping La Isla, so much so that I parked my car at the mall and walked there. But the walk is a bit long. I suggest going by car and parking closer. There are no parking spaces, but you can park on the streets near the beach entrance.
Access is via an uneven wooden deck structure, which starts at the top and reaches the sand. There is also a bathroom and some benches to rest there.
This beach is one of the best for people with different abilities, as it has a ramp to facilitate access to the beach. It is a quiet beach in terms of the number of visitors since it is located behind a square. Not many tourists come to this beach.
The beauty of this beach is that it has ample spaces to relax. You can rent an umbrella and a lounge chair or simply put your blanket and sunbathe at ease. One of the best characteristics of this beach is that it has the Blue Flag distinctive. That is, it meets the international standard in terms of water quality, safety, and services. This makes Marlin beach one of the best beaches in Cancun to spend a quiet day and watch the beautiful sunset.
It has a wide variety of restaurants, bars, and convenience stores where you can buy what you need to enjoy a pleasant picnic.
8. Playa Norte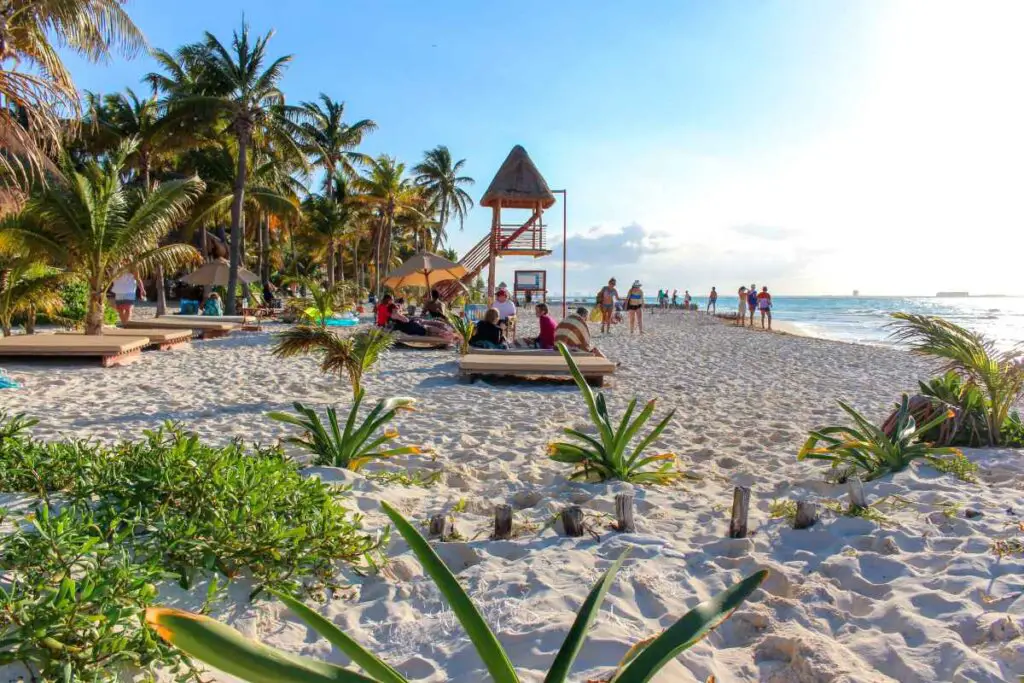 Playa Norte, located in the northern part of Isla Mujeres, is a true spectacle, being classified as one of the best beaches in Cancun and the Mexican Caribbean. This is because it is the most recommended beach in the northern part of the Island, very close to the town.
Its waters, in addition to having the characteristic crystalline color of the Caribbean Sea, are calm and shallow, ideal for relaxation and to see fantastic colorful reefs very close to the shore. A few meters from the shore, you will find very good hotels, craft stalls ideal for shopping, restaurants, and places to rent chairs, tables, and umbrellas and spend a nice day.
9. Playa Maroma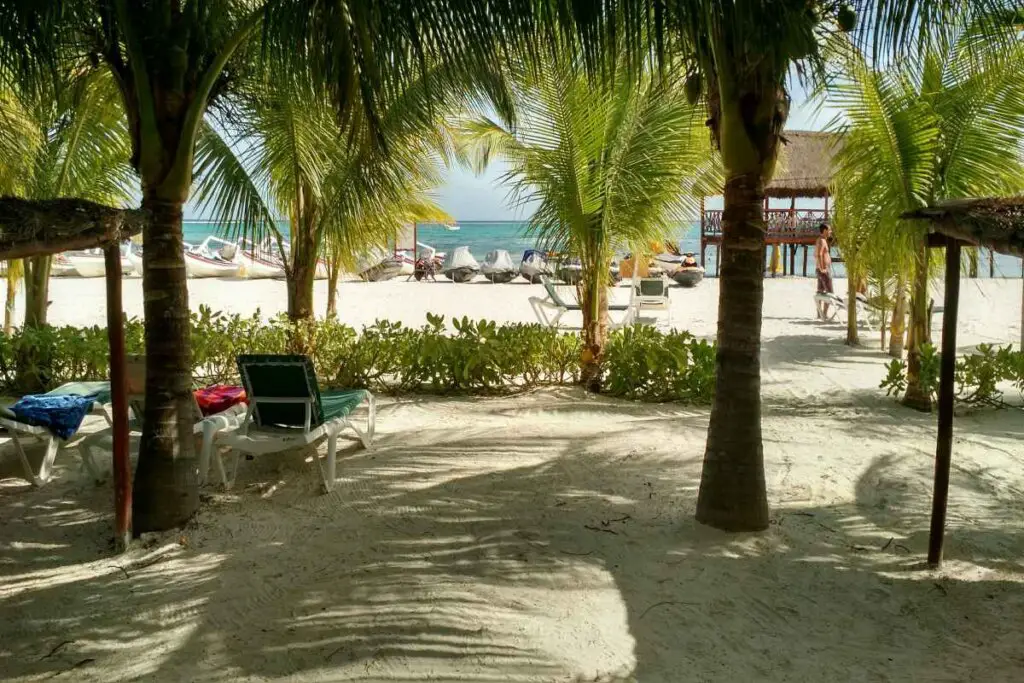 Like all Cancun beaches, Playa Maroma is characterized by its beautiful shoreline, clear waters, and coral reefs. One thing that stands out about this beach is that many tourists do not know it very well, which makes it the perfect place to see colorful fish swimming at your feet as you get into the water.
Being further away from the city, the atmosphere is calmer. But it also has all kinds of facilities: there are many beach clubs where you can spend the day, and it is also an ideal beach for snorkeling. If you want to pamper yourself, you can stay in the fantastic villas over the water of the Dorado Maroma resort.
If you just got married or are traveling with your partner, I highly recommend that you come here. Playa Maroma is one of the most romantic destinations to enjoy in Cancun.
10. Ballenas Beach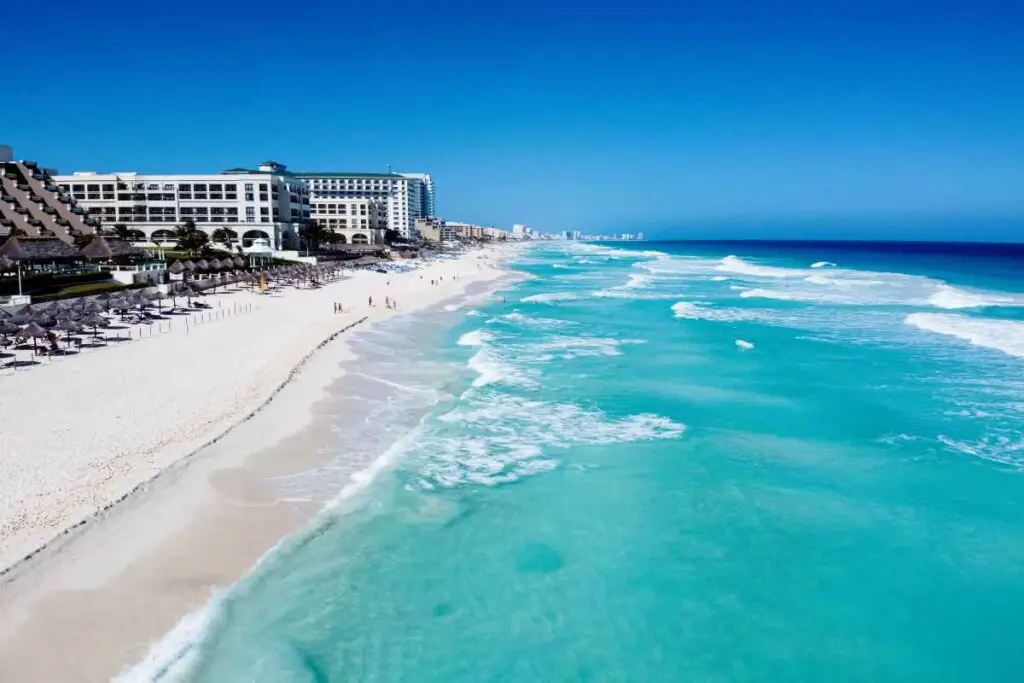 Ballenas beach is one of the most beautiful Cancun beaches on its own merits. In addition to the beauty of its delicate white sand, Playa Ballenas has simple and progressive access to the interior of the Caribbean Sea. It is a harmonious and peaceful beach, ideal if you want to enjoy tranquility, away from the rowdy crowd.
This beach is also perfect if you are a fan of nautical sports, such as surfing because it has moderately strong waves. But if your plan is not to play sports, then you can also settle in to sunbathe on a lounger and enjoy the view that is quite pleasant.
Playa Ballenas is a public beach, although many may think otherwise, as it is located between two hotels. But although the Hard Rock Hotel and the Secrets Hotel are erected at both ends of the beach, they do not limit your access. It is, for sure, one of the best beaches in Cancun that I recommend visiting.
11. Playa Linda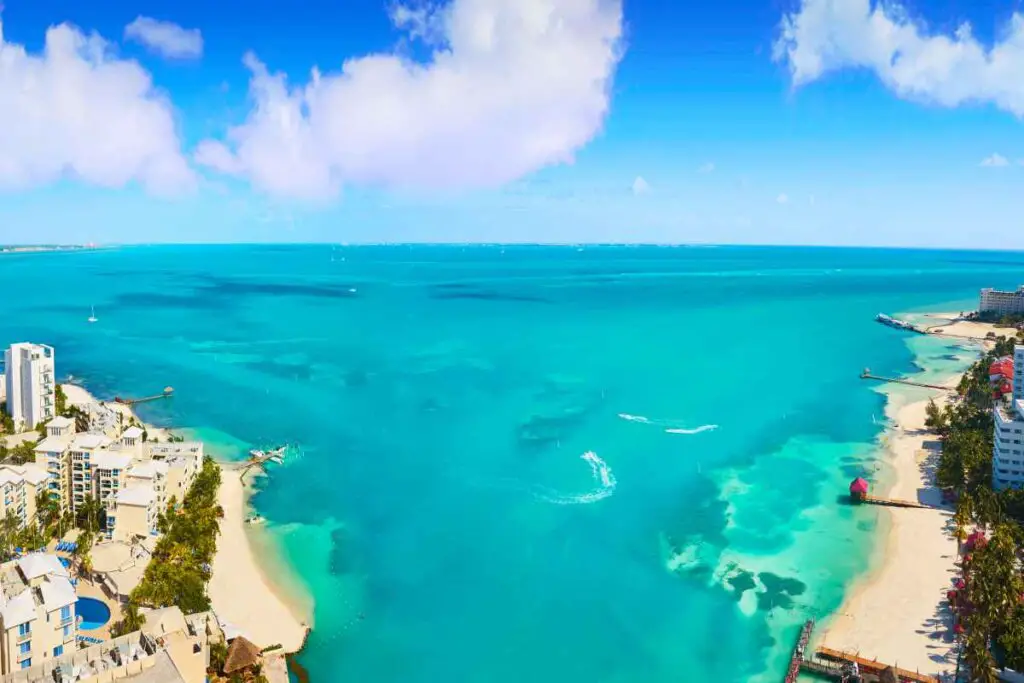 Its greenish-blue waters are one of its main attractions. And this is because, at this point, the Sea meets the waters of the Nichupte lagoon. It is another perfect beach to bring the little ones since its waters are the calmest of all the Cancun beaches and in the hotel zone, which allows you to feel the tranquility of the Sea at all times.
At night, there is a pirate ship event that will keep you active, in addition to being able to sail to Isla Mujeres and enjoy a different night among so many activities that Cancun gives you. It is without a doubt one of the best beaches in Cancun and one of the most visited by tourists at any time of the year.
12. Playa Gaviota Azul, Cancun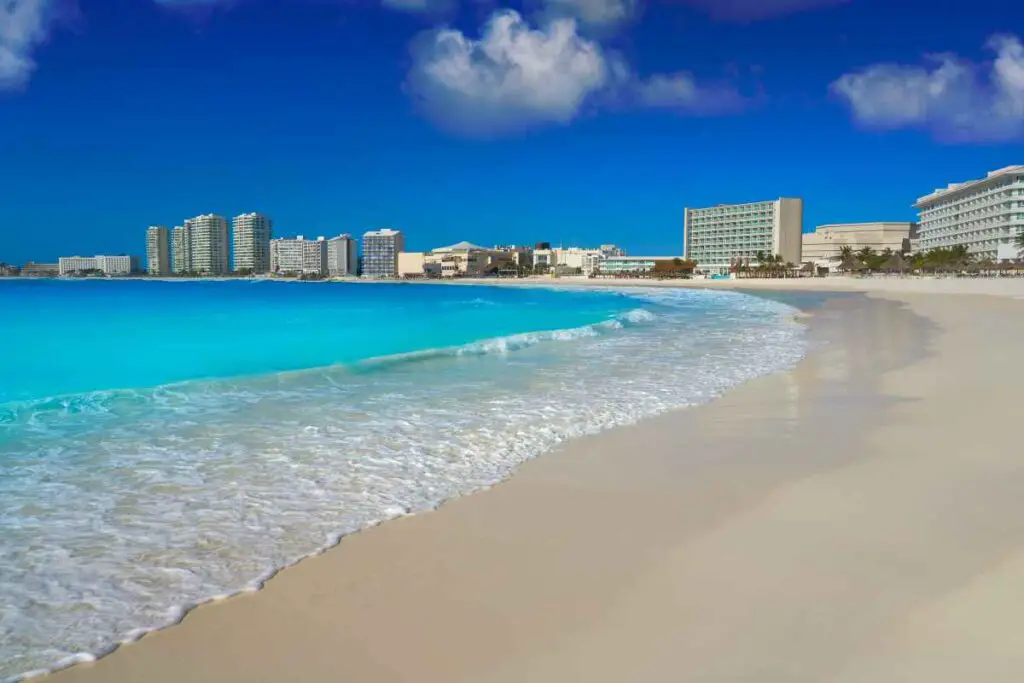 Who would have thought that in a small street, next to the entrance to Coco Bongo and all the action in the region, there would be access to one of the best Cancun beaches? Playa Gaviota Azul is a popular beach with young people looking for intimate and perfect places to relax and have fun. But I think I found many young people because when I visited it was Spring Break time.
This beach has a shallow depth and calm waves, which makes it safe for everyone. Of course, this tranquility is not limited to just swimming or snorkeling, as the place lends itself to kayaking, driving jet skis, and having fun in the so-called banana fun Cancun.
Like the rest of the best beaches in Cancun, it has services such as lifeguards, rental of lounge chairs and umbrellas, handicraft markets, and easy access to local shops.