One of the things that, as a tourist, I enjoy the most is undoubtedly enjoying the beach. And among the most popular beach destinations, I can recommend Huatulco.
Let me tell you that it is truly one of the most beautiful and, in my opinion, one of the calmest. If you want a quiet vacation on the beach without so many tourists, Huatulco is definitely the option for you. 
There are 36 magnificent beaches with a paradisiacal atmosphere that are concentrated in its nine magnificent bays. These are coastal areas with crystal clear waters and abundant sunshine that captivate both national and foreign visitors.
In this post, I will give you a list of the 11 best beaches of Huatulco so that you can have the best trip. Read on!
Best Beaches in Huatulco
1. La Entrega Beach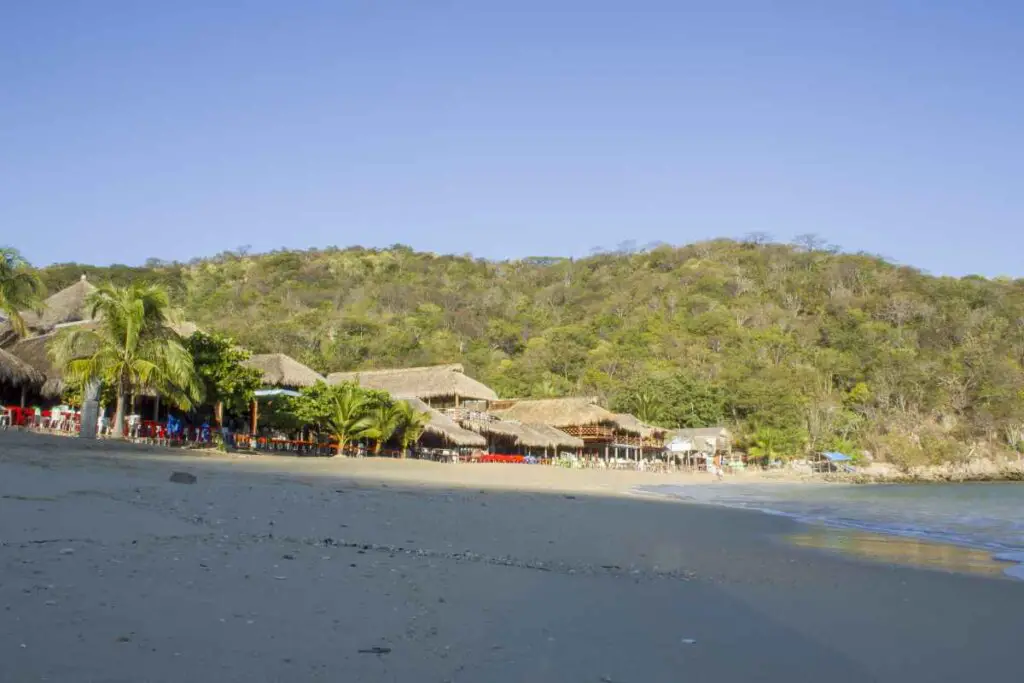 Playa la Entrega is located in the Bay of Santa Cruz and is considered one of the most beautiful beaches in Huatulco, captivating everyone who visits it. And with its incredible underwater ecosystem, it is often compared to a natural aquarium.
La Entrega beach is perfect for spending a day of rest and relaxation. The soft white sand is washed by crystal clear emerald green waters. The waters here are calm and clear, perfect for swimming, snorkeling, or diving.
The aquatic life on this beach is astounding, thanks to its offshore coral reef. You can rent a snorkel from one of the beach vendors to dive below the surface and see the colorful fish fleeing among the coral formations. 
You will be surrounded by mischievous roncadores, tiny silvery fish that move in large schools. Also, you will be able to observe the sunfish, which inflates to defend itself. And by renting an aquatic camera, you can take pictures to immortalize your memories.
As the sun sets, I recommend enjoying the famous seafood of the region in one of the many restaurants that line the waterfront.
2. Maguey Bay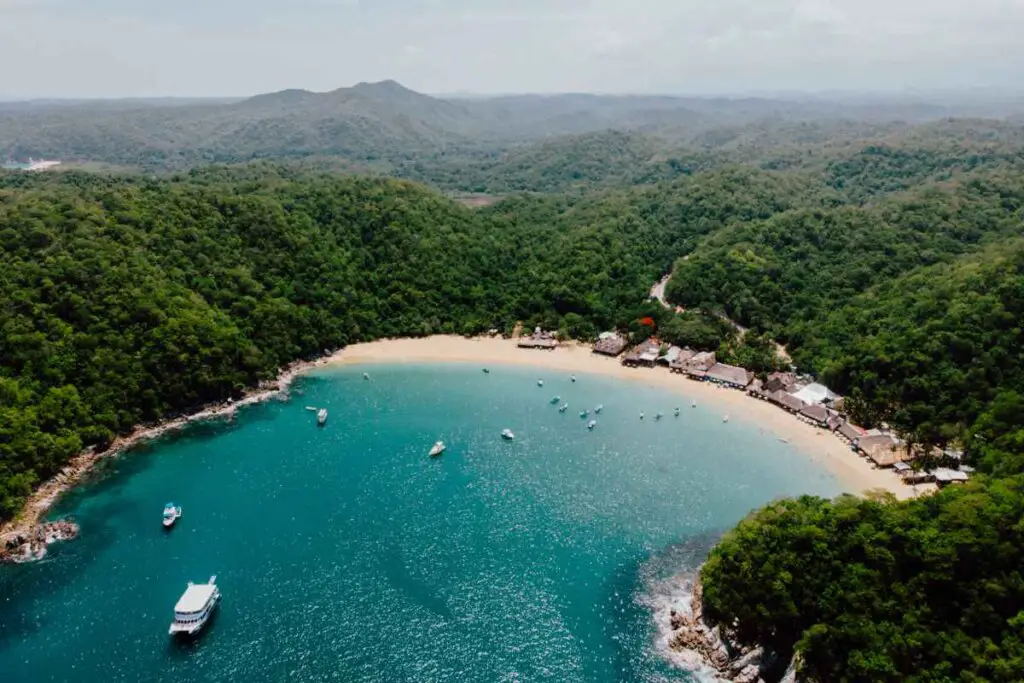 This Bay is one of the smallest in Huatulco, so it has only one beach that bears the same name. However, it presents a beautiful landscape in which its soft white sand predominates, contrasting with the sea, which here takes a blue-green color. The wave is quite soft and manageable, making it an attractive option for those who like a calm and relaxing swim without the stress of fighting with the waves.
In the surroundings, you can find a large number of establishments that offer various services, among which I can mention water sports, showers and restaurants.
Although it is a bit crowded, you will have a great time. You will find locals who offer you a ride on the banana boats or trips along the nearby coasts and to see the rock formations, such as the one known as "the stone face."
A plus of this beach is the immense natural wealth it has in terms of biodiversity. If you are passionate about nature, here you will enjoy the great variety of plant and animal species that abound. I can assure you that you will have a lot of fun and you will be fascinated with the place.
3. Chahue Beach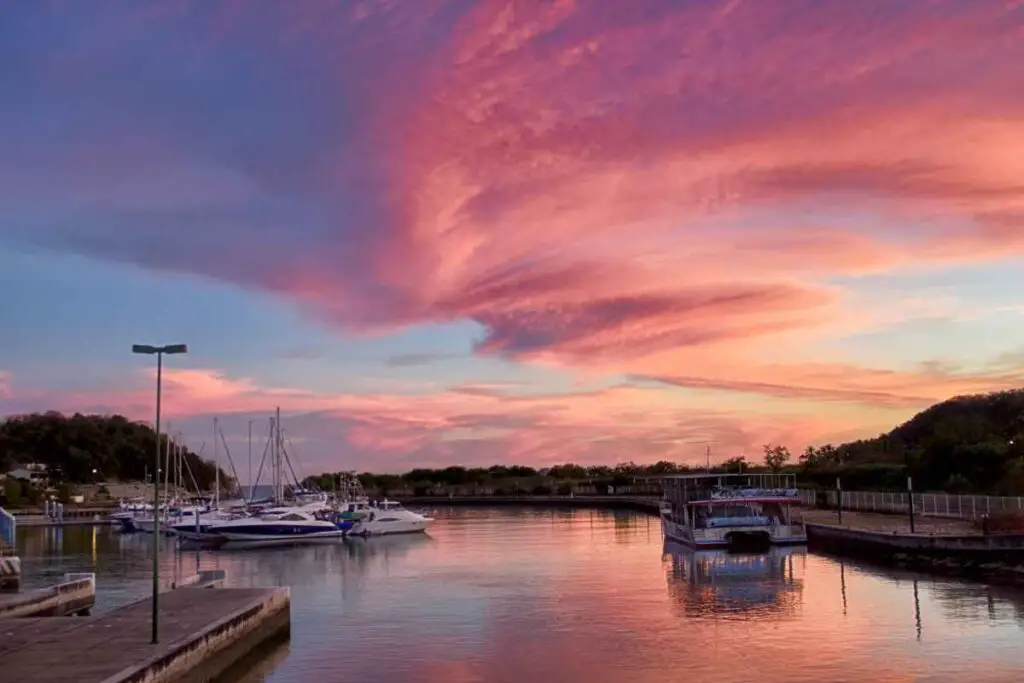 Chahue Beach is one of the largest and most popular in the Bay, and one of the best beaches in Huatulco, being internationally certified by the United Nations Environment Program (UNEP).
You will love to feel its warm sand between your feet while you observe its crystal clear waters. The waves are moderate, not as gentle as other beaches in the region, but I promise you will enjoy a good swim. The important thing is to be cautious and be attentive to the safety flags.
It has free parking and is one of the best beaches in Huatulco for snorkeling. Here you can also rent fishing equipment, and you will find a wide range of beach establishments with a very rich menu based on seafood and fish.
Very close to the beach is Crucecita town, where you can find accommodation among the hotels there. Here you can also taste the specialties of the sea in the various restaurants nearby. What I love about this beach is that there are establishments for all tastes and budgets.
4. Bahia San Agustin
It belongs to the Bay of the same name and is one of its most beautiful beaches in Huatulco. This beach is highly appreciated by tourists, for being little frequented and for being one of the quiet beaches in Huatulco. This is because about 17 kilometers of the access road is not tarmacked, but both shared taxis and buses leave you nearby the place.
Its sand is white and soft. Its waters are crystalline with an intermediate color between blue and green. It has little waves, so you can swim calmly. In addition, its gentle waves and the depth of the water make it one of the best beaches for diving and snorkeling in Huatulco.
Here you will find establishments that offer you excellent fish and seafood dishes. Some of these places also offer modest accommodation options, in case you decide to stay and enjoy one more day of this beautiful beach.
If you want to know the rest of the Bay, you can rent one of the boats that offer this service. Bahia San Agustin is an excellent option to spend a day at the beach away from the hustle and bustle of the city.
5. Playa Organo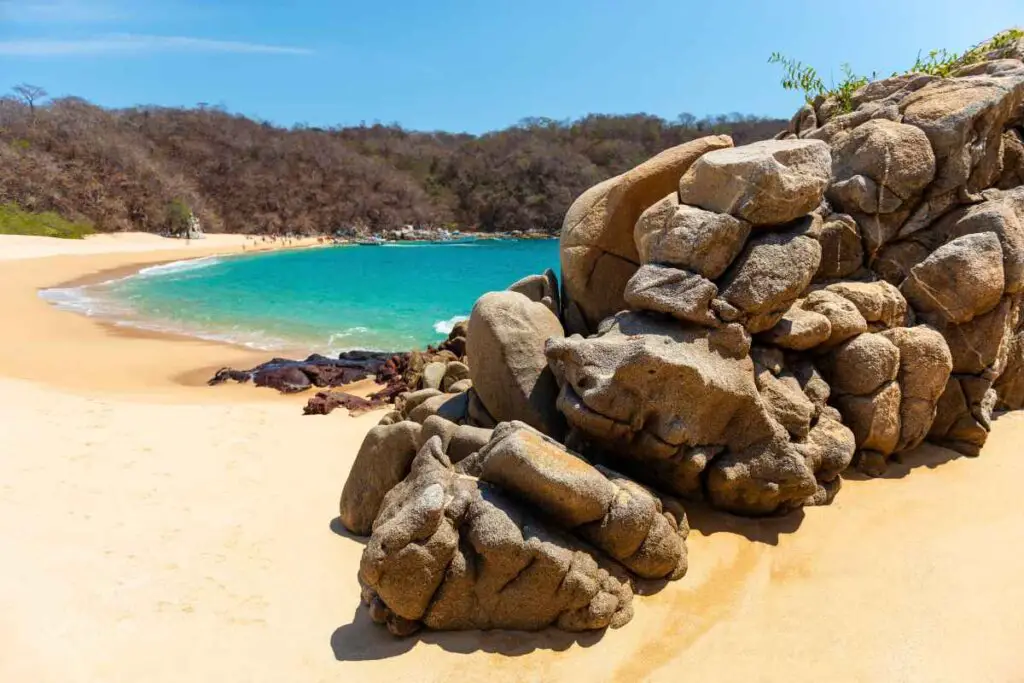 Recommended by travelers who classify it as a jewel, this beach in Huatulco is perfect for travelers looking for a little corner where they can be in privacy and in contact with nature.
Playa Organo boasts of crystal clear waters, and its sand has a golden color with a fairly fine texture. You can notice the bits of coral and shells mixed with the sand that make it a little thicker. During the hours of intense sun, the water shines a turquoise blue color. And as the day goes by and dusk arrives, the beach takes on a greener color due to the shades of the rays.
Due to its geographical location and the fact that there is no direct road to this beach, accessibility can be in two ways. The first is by sea, and the other is by land. Getting to Organo beach by sea (which I did) is attractive and offers a more general perspective of Huatulco. This is because on tour you will have the opportunity to see some of the other bays or be lucky enough to see animals such as turtles and dolphins.
On the other hand, if you have enough time and more desire to explore the natural ecosystem of the place, the most advisable thing is to take a path on foot. It is cheaper and gives you the experience of entering the low deciduous forest and with it observe the biodiversity it offers.
6. Bahia de Cacaluta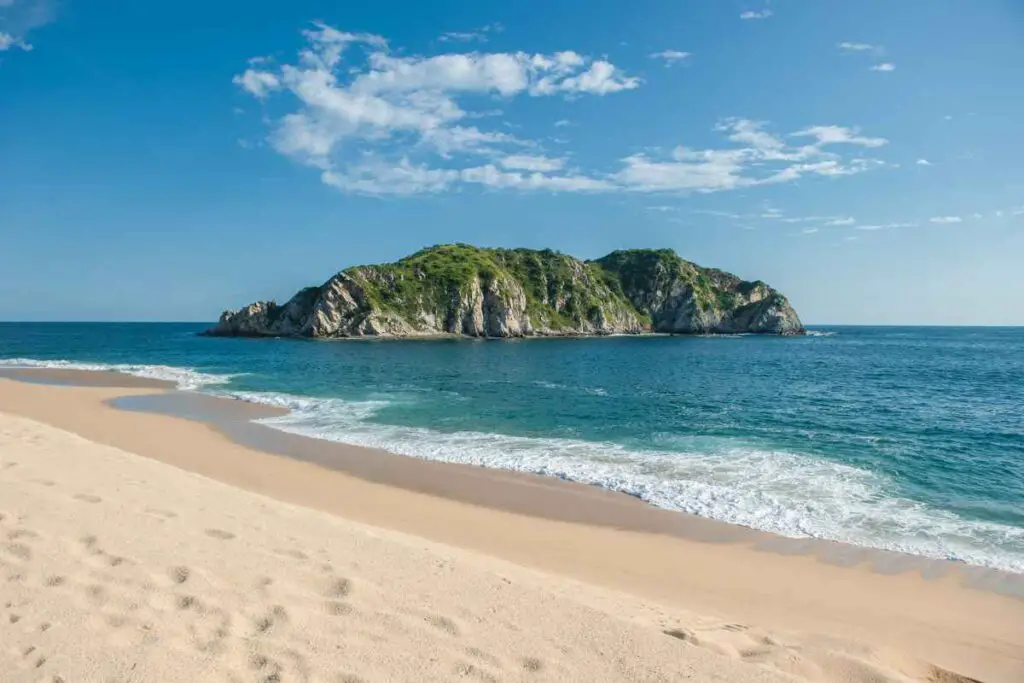 One of the largest bays in Huatulco is Cacaluta Bay, and it is in turn made up of two beaches: Cacaluta and Arroyo. Because it belongs to the Huatulco National Park, it is considered a protected area.
Cacaluta beach has a coastal strip of approximately one kilometer. It is surrounded by a lot of vegetation, and it is one of the best beaches in Huatulco. The sand dominates the place, and its golden color mixes with the intense green of the vegetation.
Although it is a bit difficult to reach this Bay, either by sea or a twenty-minute walk through the forest, it is worth the visit as it is one of the virgin beaches in Huatulco.
What I have to emphasize when visiting this beach is that you need to bring everything you need to spend the day, since there are not many services to enjoy. Of course, you will love being on one of the quiet beaches in Huatulco. And if you recognize the beach, it's because the Mexican film "Y tu mama Tambien" was filmed, released throughout the world in 2001.
7. Tangolunda Beach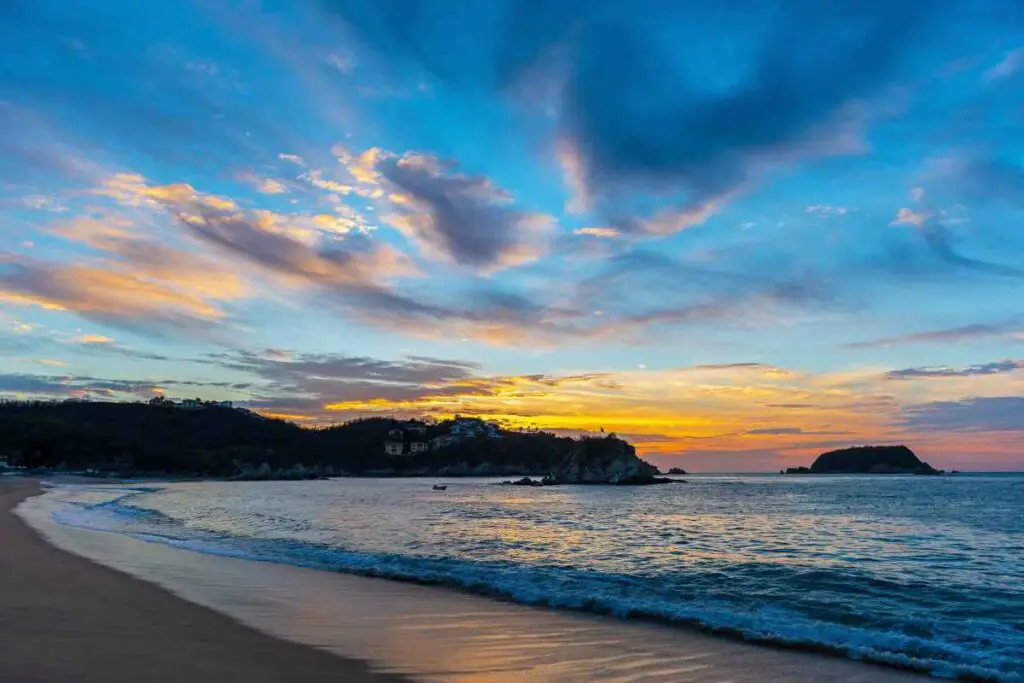 One of my favorite bays in Huatulco, without thinking twice, is Tangolunda. I have never had the opportunity to see a landscape as dazzling and imposing as this one. The beauty of the place is not only in the crystal clear waters and blue like the sky itself, but also in the small rocky islands that are found off the coast. These also create a barrier against the breeze, which makes the sea on the shore calm a truly dazzling scene.
Focusing a little more on the beach of this destination, Tangolunda has fine and soft sand. Also, another of the things that I really enjoy about the place is that it is a fairly quiet and not very crowded beach. So you can go with your family and friends and relax, as it should be!
Another of the activities that you can carry out in Tangolunda is to rent a small boat so that you can get a tour of the bay while you enjoy the sea that splashes you and the breeze that will refresh you.
This beach is divided into two sectors: a private one (for guests of some of the surrounding hotels) and a public one (open to everyone). So if you are not staying in one of those hotels, you can still enjoy this excellent beach.
8. Santa Cruz Beach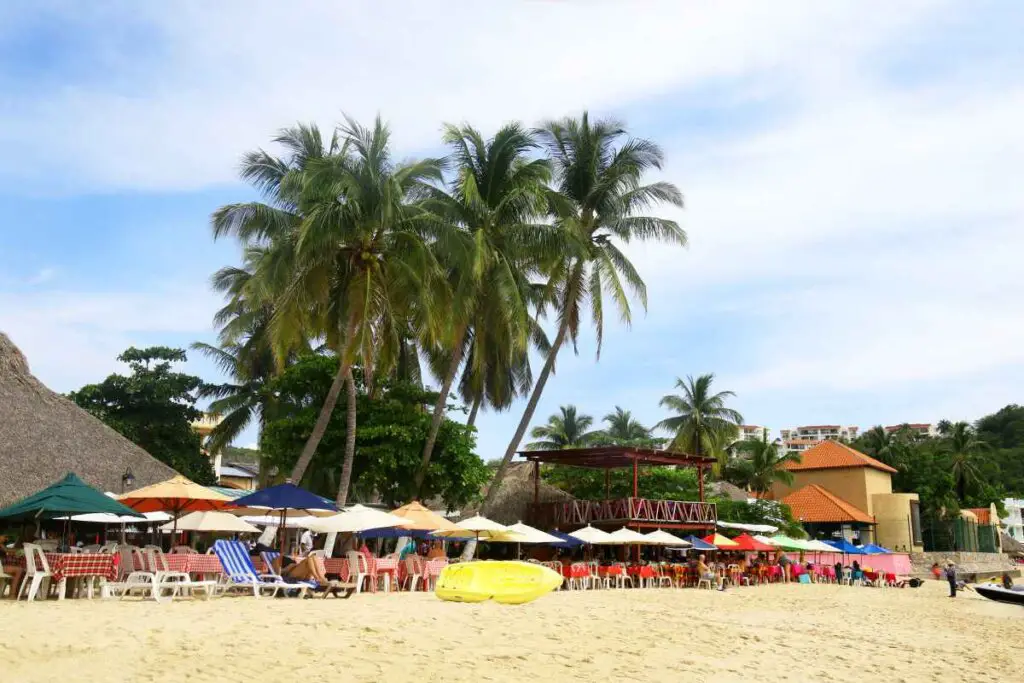 It is located in the Bay of Santa Cruz and is one of the most visited beaches in Huatulco. It has white sands, and its crystalline waters have a very attractive turquoise color. The waves are light, which makes it the ideal beach for families, especially those traveling with young children.
If you want to explore the depths of the seabed, you can rent snorkeling equipment and enjoy its great biodiversity. And on the shore, there are several restaurants that specialize in fish and seafood, where you can taste excellent dishes prepared with fresh ingredients.
The beach has a dock from which you can hire one of the tours that make excursions to the rest of the Huatulco bays. Or, you can rent a watercraft or hire one of the tourist boats that offer their services there.
9. Tornillo Beach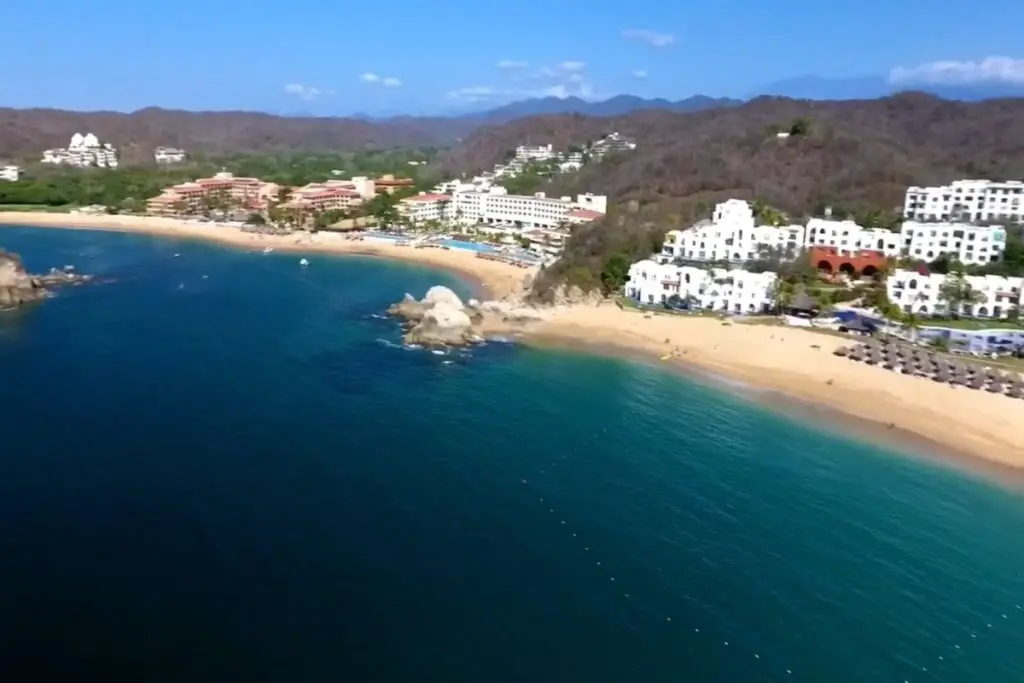 Tornillo beach is another of the beaches of the Tangolunda bay, where several of the best hotels in Huatulco are located. Its crystalline water is of emerald green color, with a gentle current as well as its waves. In addition, it has a gentle slope as well as soft sand, making it an ideal coastal corner to sunbathe and enjoy in the company of the whole family. Its fine white sand makes it excellent to enjoy a walk on the shores of the beach.
While on a beach, some of the great watersport activities that I recommend are kayaking, swimming, sailing, snorkeling, and diving.
10. Playa Conejos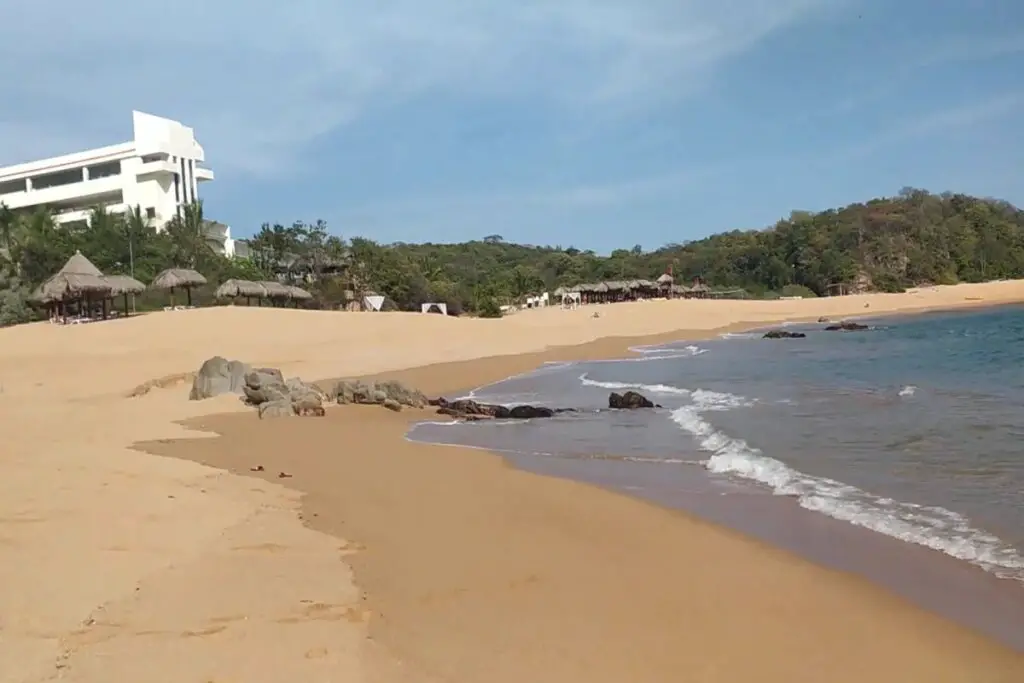 Playa Conejos belongs to the Bahia Conejos and is among the best beaches in Huatulco. Its warm waters are crystal clear and shallow, with shades ranging from blue to green. In addition, it is one of the quiet beaches in Huatulco.
The waters around this beach are quite calm. This makes the beach an ideal place to take children. You will not have to worry that they have problems with the current since it is very little. I assure you that your children will love the refreshing and crystal clear water of this beach.
One of the things that I do recommend is to bring a lot of sunscreens since the sun hits the beach directly. This is quite strong until approximately four in the afternoon when it begins to go down. So if you go in the morning, be very careful with those burns. Nobody likes to be red as a tomato.
And if you are fond of nature, you will feel exceptionally good, since this beach is full of plant species such as mangroves and birds such as seagulls, pelicans, and herons. If you love diving, in its depths, you will be able to observe various species of fish such as tuna and goldfish.
11. Arrocito Beach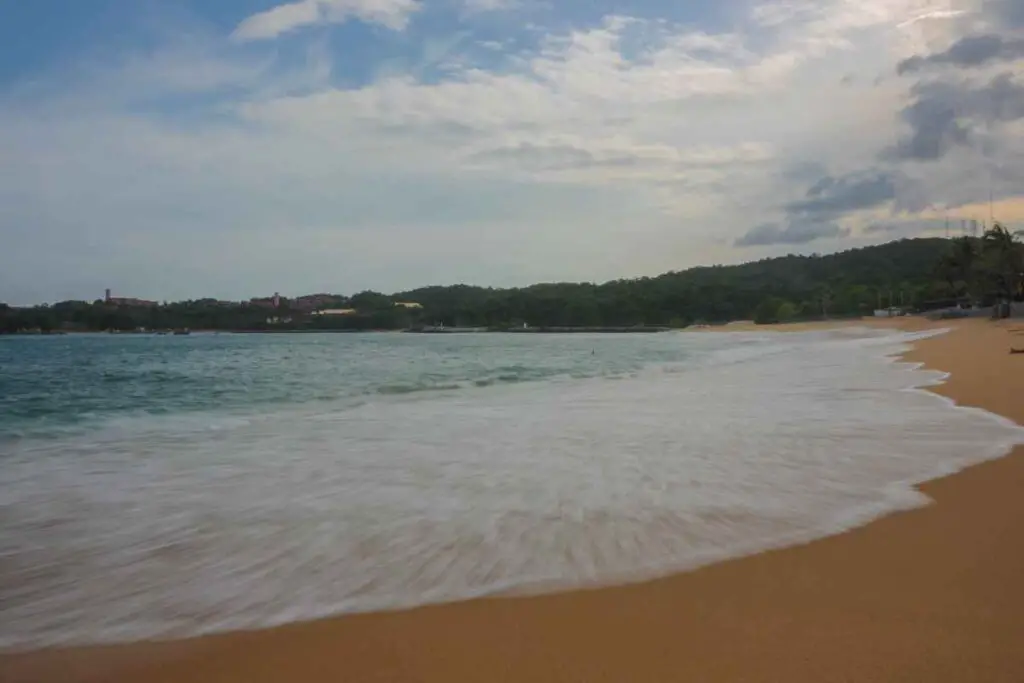 Arrocito Beach is a very busy beach located three kilometers from Tangolunda Bay. Its crystal clear waters encourage you to enjoy a pleasant bath. The waves are almost zero, but it has medium waves in certain seasons. Its sand is slightly thicker than other bays, but it is still quite fine and comfortable to feel on your feet.
The surrounding landscapes are very striking and beautiful, as there are rocky elevations bordering the beach that allow another type of landscape that is not usual to observe on the coasts.
In addition to being ideal for long walks or simply lying down to sunbathe, you can also enjoy other activities such as renting a sailboat or the necessary equipment for diving and snorkel.
Although in high seasons there are a lot of tourists, you will always find a little corner to enjoy the beauty of this beach. And for the lovers of food, there are plenty of food and drink options offered by street vendors.