I have been fortunate enough to visit some of the best beaches in Ohio, and I wanted to share with you my experience so far.
I had such a good time in Ohio, and there were so many things that I did, like visiting Cedar Point Amusement Park, going on an amazing boat tour of Lake Erie, and having dinner at Great Lakes Brewing Company. But what made me fall in love with this state was the beautiful beaches.
In this guide, I will share my experience with you and tell you about the 14 Best Beaches in Ohio. I hope this list will help you find a place that has great water quality and is easy to get to! Read on!
Best Beaches in Ohio
1. Headlands Beach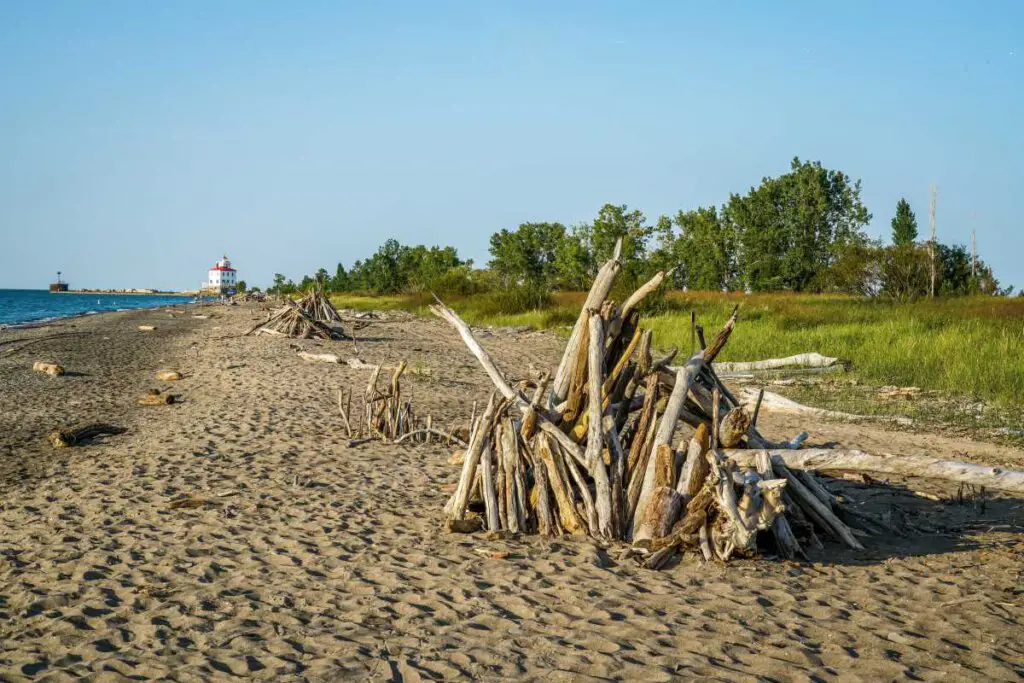 I chose Headlands Beach as the number one spot for best beaches in Ohio because of its spacious and clean shoreline, very few people on a typical day, and availability of water sport activities.
This beach is located on Lake Erie and has great views along its shores, including sand dunes and gorgeously blue water. There are also rock formations in some areas where you can hike through to see amazing views from above.
There aren't many amenities at this location aside from picnic tables, grills, and bathrooms. It doesn't have its own parking lot either, so you'll need to park along the side of the road during peak times. However, Headlands Beach is a must-visit if you want to experience something truly special while staying within the Ohio border.
Address: 9601 Headlands Road, Mentor/ Ohio
Accommodation: Best Western Plus Lawnfield Inn & Suites
2. Geneva State Park Beach
My next best beach in Ohio is the stunning Geneva State Park Beach. It's located on Grand Lake, and it has a fabulous view of the lake as well as access to hiking trails through the state park forest.
The water here is so clear and refreshing! I love to see the reflection of the trees above me when I swim out into deeper waters. There are plenty of lifeguards here, which makes it even safer for kids to enjoy themselves. I also saw many people bringing their dogs with them since there's also a dog beach nearby that everyone loves!
The scenery at this beach makes up for any lack of amenities like changing rooms or restrooms, though there are picnic tables available for relaxation purposes. I would recommend bringing your own snorkeling equipment if you plan to snorkel because that's what I did and found lots of fun stuff! The water was clear enough, which made me happy. Also, please note no alcohol is allowed here! So bring sandwiches instead.
Address: 4499 Padanarum Road, Geneva/ Ohio
Accommodation: Hampton Inn Ashtabula
3. Cedar Point Beach
I love the sand and sun. And what do I love even more? The fact that Cedar Point Beach is one of my favorite beaches in Ohio!
Located at the east end of Cedar Point Amusement Park, this public beach is a favorite amongst families and thrill-seekers. It's open only in the summer months (June to September), which makes it all that more special since most Ohio beaches are free year-round!
I enjoyed riding on the roller coasters, and when I was not riding the rides at Cedar Point Amusement Park, I was on a lounge chair in my favorite swimsuit with a good book. However, there's one big downside to this amazing beach: it's only open for part of the year! Therefore, it is worth planning your Ohio summer vacation around visiting this beautiful place.
Address: 1 Cedar Point Drive, Sandusky/ Ohio
Accommodation: Comfort Inn 
4. Old Field Beach
Going to this beach is a must if you're visiting Ohio. It is an easy drive from any of the major cities, and it has some really great features that will make your trip here worthwhile.
I was impressed with how clean it was, and there were no crowds whatsoever, which is rare for a public beach. There is also ample parking available on-site, making this one of the safest places to swim.
One thing to note about Old Field Beach is that dogs are allowed on leashes. But if you bring yours with you, then be sure to clean up because there can occasionally be fines associated with not picking up after your pets! This beach also doesn't allow alcohol, so keep that in mind when planning out what days to visit and respect their rules at all times. With all said, though, I am definitely going back soon and would recommend it to friends as well!
Address: 13156 State Route 235 N., Lakeview/ Ohio
Accommodation: Maumee Bay Lodge
5. Nickel Plate Beach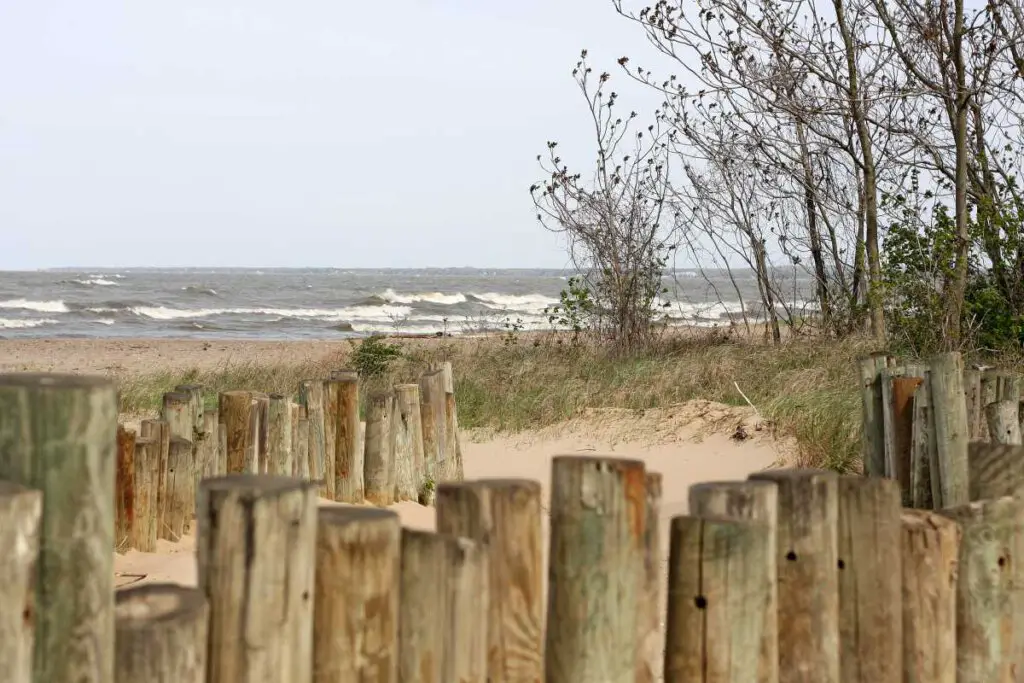 I was unsure whether or not to include Nickel Plate Beach on this list since it does not have the top-notch amenities of some other beaches in Ohio. However, its central location makes it a favorite place for many people who enjoy picnicking and relaxing at Lake Erie.
Nickel Plate Beach is located between Sandusky and Vermilion. It has easy access from both cities as well as ample parking spaces. A playground area with swings allows children plenty of play space year-round, while lifeguards offer safety during summer months when swimmers are visiting the beach.
Basic amenities and a concession area are available as well, but you should come prepared to bring everything you need for the day since no other services exist at this location.
Address: Nickel Plate Drive at Tiffin Avenue, Huron/ Ohio
Hotels near Nickel Plate Beach
6. Euclid Beach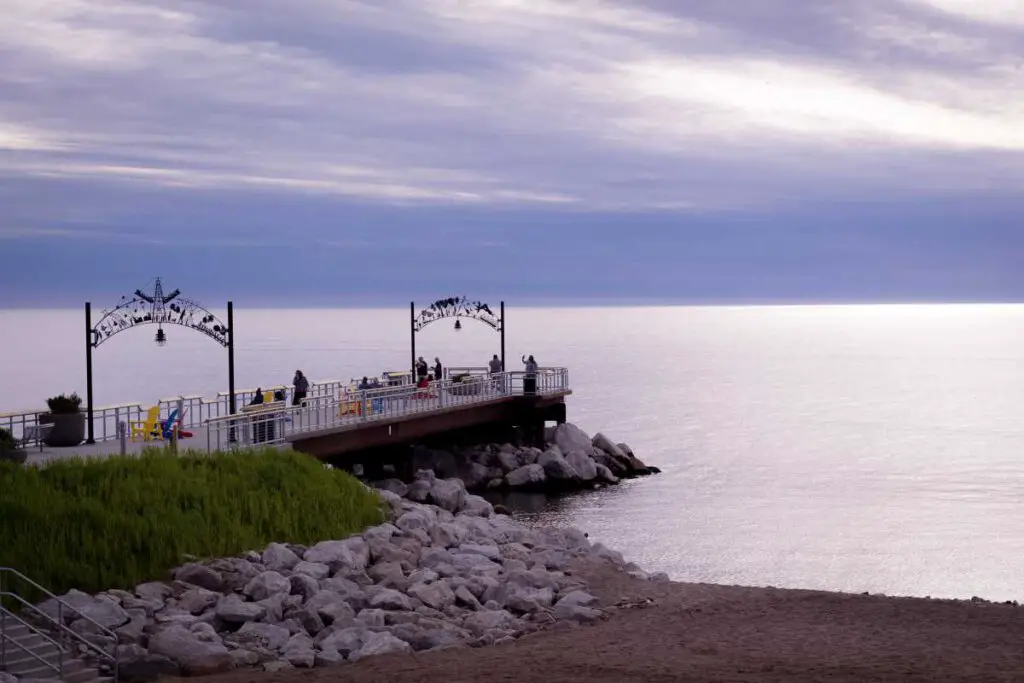 This was another of my favorite beaches in Ohio. Located in Euclid Beach Park, the beach has a great view of Lake Erie, and it was just minutes from Drury Plaza Hotel where I stayed, located in downtown Cleveland.
The sand at Euclid Beach was really nice, very fine, and smooth. It was not like some of the other beaches I visited on this list which had coarser sand or rocks mixed throughout (although they were still beautiful).
The water here has a unique green shade because Lake Erie's waters are so shallow. This means you can actually see your feet when standing waist-deep into the water! There is also an area called "the flats" where people would gather during low tide to dig clams or go fishing.
The best part was that even though I went to this beach during the summer months on weekends, there wasn't very crowded at all.
Address: 850 Euclid Creek Parkway, Euclid/ Ohio
Accommodation near Euclid Beach
7. Huntington Beach
Huntington Beach is located in the city of Huntington, Ohio. It's a public beach that has many amenities for visitors to use. This includes free parking and lifeguards on duty. There are also picnic tables available to eat food items or take a break after swimming on the beach! In addition, there are bathrooms with showers nearby, as well as concessions stands serving snacks right next to it.
The water at this beach is very clear, and often times I saw people snorkeling around looking for fish/shells/crabs, etc. If you're lucky enough, you might even spot some dolphins playing in the water! They love to swim around and show off. Bring your snorkel gear if you want to see them up close because they are really curious about swimmers (although it is not advised that people go out too far alone).
Huntington Beach has a lot of sand space which makes it great for families with kids who like building sandcastles or playing Frisbee on the beach. There are also lots of shade trees nearby.
However, I have to advise you that before coming here, make sure to bring sunscreen, towels, sunglasses/hat, snacks, etc. The more prepared you are, the better.
Address: 28649 Lake Road, Bay Village / Ohio
8. Edgewater Beach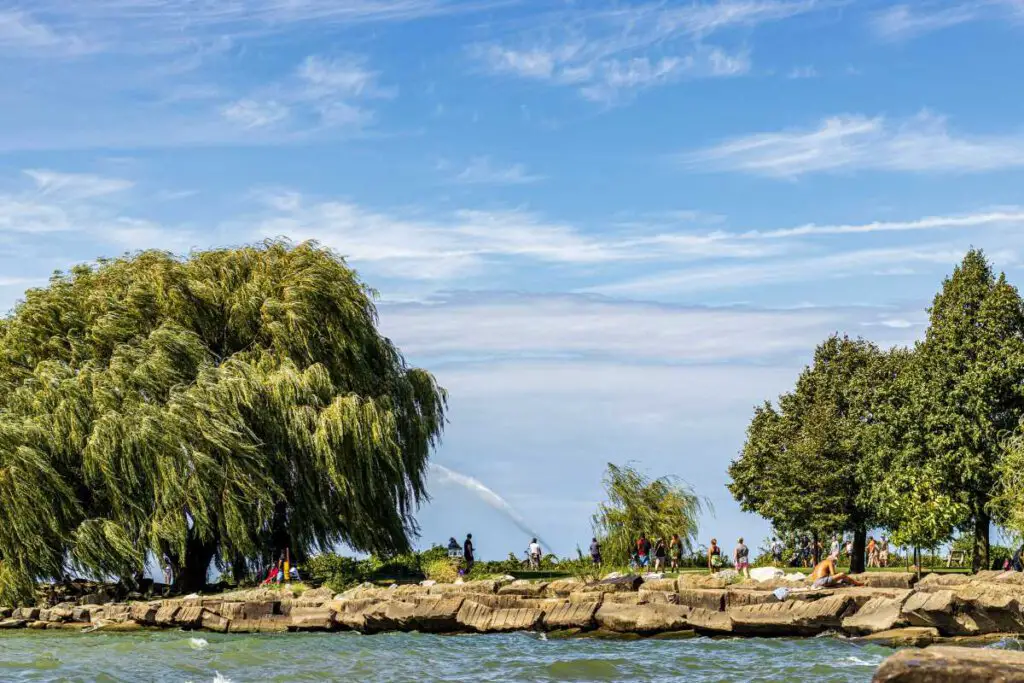 Edgewater Beach is a small beach ranked among the top beaches in Ohio. It has also been listed as one of five Great Lakes beaches, according to Readers Digest, and it's just a short walk from downtown hotels, restaurants, and bars.
I found this beach to be a perfect location for all types of beachgoers. The sand and water are not very deep, making it the ideal swimming spot for children. There is no lifeguard on duty here, but there are several safety precautions taken by city workers. This includes warning signs to stay away from debris in the water as well as sewage treatment facilities that empty into Lake Erie nearby.
By the way, I just learned that this beach is actually a restored wetland. In order to accommodate more visitors, Cleveland city planners transformed this area into a man-made peninsula surrounded by Lake Erie on one side and Edgewater Park on the other. This unique design has created an ideal habitat for several species of fish, including catfish, bass, bluegill, and perch, which you can find during your next visit!
Address: Cleveland, OH 44102, United States
Accommodation: Hyatt Place Cleveland 
9. Camp Perry Beach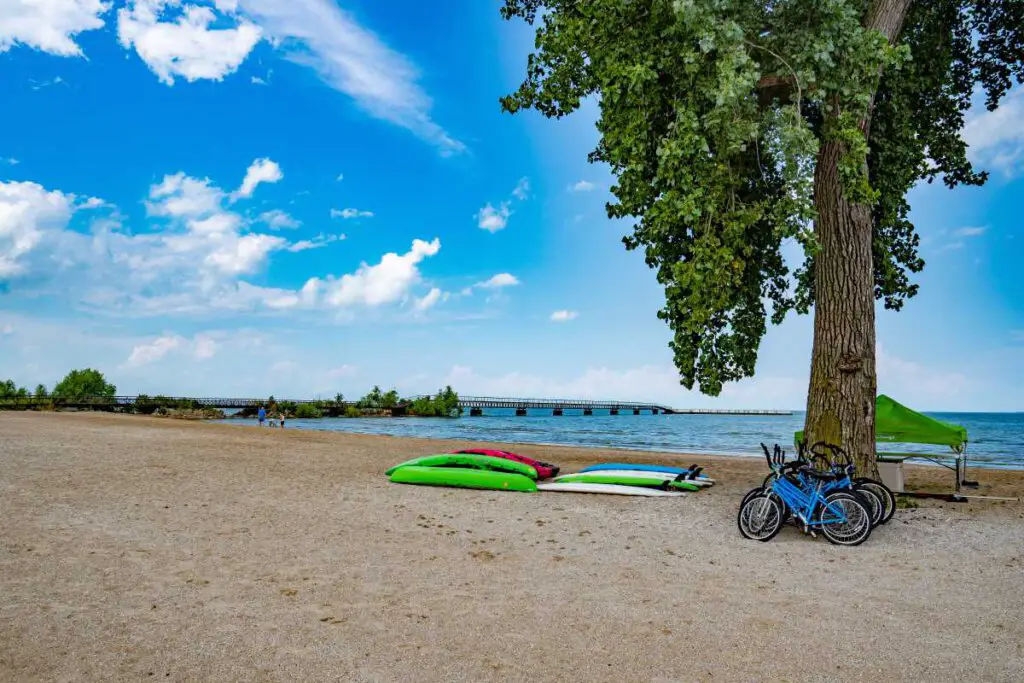 I have been to Ohio many times, but I have never visited this beach. In fact, it is one of the best beaches in Ohio that you can go to if you are looking for a nice place with clear water and tons of scenic beauty.
Although it's not a very well-known spot, Camp Perry Beach offers some amazing views while also being great for people who want to get away from larger crowds at other Ohio beaches. Plus, there are plenty of activities here such as camping or fishing, which makes going out on the weekends even more fun!
This beach is also found right along Lake Erie, which also happens to be Ohio's largest lake. This makes it a great place to stop if you're in Ohio.
Address: 1000 Lawrence Rd., Bldg. 600 Port Clinton, OH 43452
10. Salt Fork Beach
Salt Fork State Park is located in Guernsey County, Ohio. In 1979 it was named a state park and has been known as the "Best Beach on Lake Erie" since 1983.
The beach area of Salt Fork offers many amenities to its visitors, including changing rooms, showers, picnic tables, grills for cooking out, and a concession stand that sells food items such as hot dogs or hamburgers. There are also restrooms at this location with handicap access available. There are two boat ramps near the shoreline where boating enthusiasts may launch their boats into the water from March through October each year when weather permits.
In addition to these great features, there is an expansive fishing pier at Salt Fork, which extends over 200 feet into the lake. This pier is a great place to fish for those who love fishing and want to try their hand at catching some of Lake Erie's most popular catches, such as walleye, steelhead trout, or salmon.
Many people come from all over Ohio every summer season to enjoy this spectacular spot along the coastline, which offers beautiful views, clean water perfect for swimming, and many fun activities that can be enjoyed both on land and also out on the water itself. It's definitely one of the top beaches in Ohio you have to visit.
Address: 14755 Cadiz Road, Lore City / Ohio
Accommodation: Salt Fork Lodge 
11. Beulah Beach
This was also one of the best beaches in Ohio that impressed me. It's quiet, and it has a definite relaxing atmosphere, but there are enough activities to keep you excited!
The best thing, in my opinion, is that you can swim straight out into this body of water without ever having to touch land again. However, I know some people might be nervous about swimming so far from shore. Therefore, I suggest renting kayaks or paddleboards.
I think Beulah Beach has what you need for an awesome day at the beach: access to Lake Erie, sunbathing areas with chairs/towels provided by concession stands, restrooms nearby, and a snack bar with food/drinks at reasonable prices.
Address: 6101 W Lake Rd Vermilion, OH 44089
12. Alum Creek Beach
I found the Alum Creek beach different from other beaches in Ohio because of its beauty and serenity.
The water was so clear that I could see fish swimming around my feet while I was standing on the sandy bottom, which made it feel like I had my own private pool to play in!
The sand here is also very clean and soft, making it a great place for families with young kids or anyone looking to relax at the beach without any trouble. I would definitely recommend this beach if someone asked me where they should go during their visit to Columbus!
Address: 3305 S. Old State Road, Delaware / Ohio
Places to stay near Alum Creek Beach
13. Conneaut Township Park Beach
This was also one of my favorite beaches in Ohio for its clean and clear, with plenty of parking. The water is shallow for a long way out, which makes this beach great for families to enjoy the water together.
In addition, there is a park surrounding this beach with a playground area, trails for hiking and biking, picnic shelters. The beach itself is about one mile long with the usual amenities, some restrooms (attendants may be on duty in season), changing areas-showers at these beaches are free of charge to swimmers if you bring your own soap or shampoo.
Address: 480 Lake Road, Conneaut / Ohio
14. East Harbor State Park Beach
Finally, I end my list of the best beaches in Ohio with East Harbor State Park Beach. Sandusky is a beautiful city, and this beach is so close to enjoy all the fun here! The water of Lake Erie has an amazing blue color, which makes it perfect for swimming or boating around too!
This area also offers several activities like volleyball courts, horseshoe pits, and playgrounds. This park has many other great things to do, including camping! By the way, the space is up for reservation up to one year before your trip date. These are great spots that can accommodate groups of 30-300 people, offering electricity, grills, and large charcoal grill areas and restrooms nearby. The whole day would be perfect for spending relaxing by the beach.
Address: 1169 N. Buck Road, Lakeside-Marblehead / Ohio
Accommodation: The Island House Hotel