I've always been fascinated by waterfalls. The sound of the rushing water, the smell of pine trees, and the feeling of cool mist on my skin make for an immersive experience like no other. I've been to a few in my life, but I recently took the time to go on a tour to waterfalls in Ohio which was amazing! And I can confirm that Ohio is home to beautiful waterfalls! There is something about them that makes me feel like all my worries disappear for a while.
So it's only natural that I want to share my love of this state with you guys. And in this post, I will give you a list of the 12 best waterfalls in Ohio to visit this summer. Enjoy!
Best Waterfalls in Ohio
1. Charleston Falls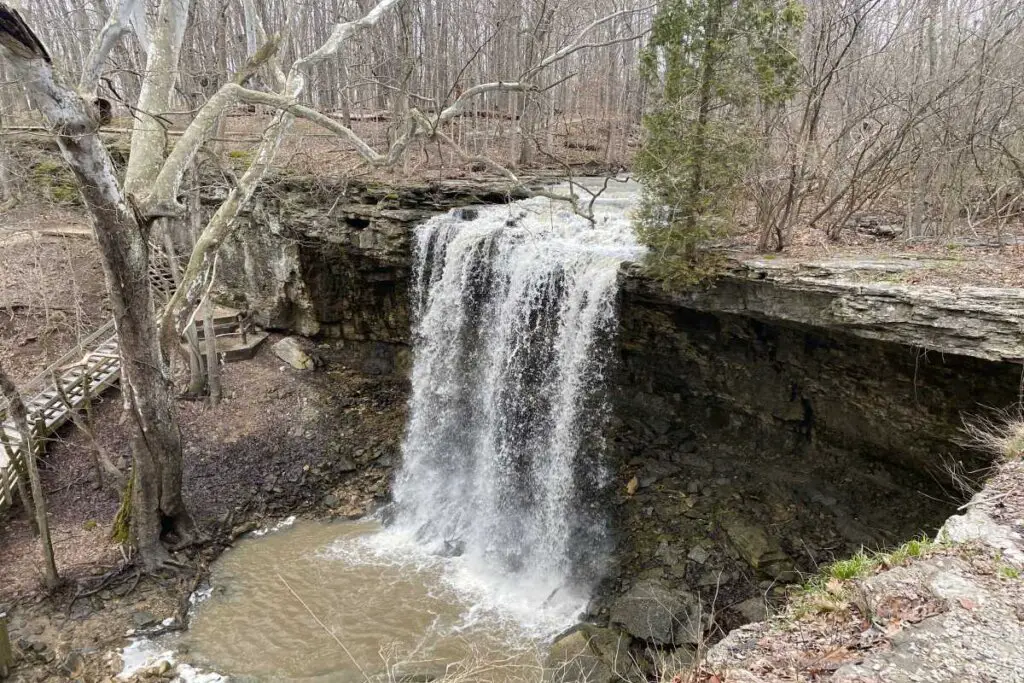 The first time I looked at the photos of Charleston Falls, I assumed that it was just some sort of average waterfall. My goodness! It turned out to be one of the best waterfalls in Ohio.
The best part about Charleston falls was that it had a very large pool at its base, which made for great swimming. There were also many different areas to explore along this waterfall hike, so if you are looking to stay busy, definitely check out this location.
The best view of the fall is from inside the cave behind it. This provides an entire wall covered in water, and you can stand under or next to it while still enjoying your time by exploring all over the surrounding rocks and caves up above on top of where there's just water dripping down through them instead. It feels like something straight out of Jurassic Park with how gorgeous everything looks around here!!
Address: 2535 Ross Rd, Tipp City, OH 45371, USA
2. Hayden Run Falls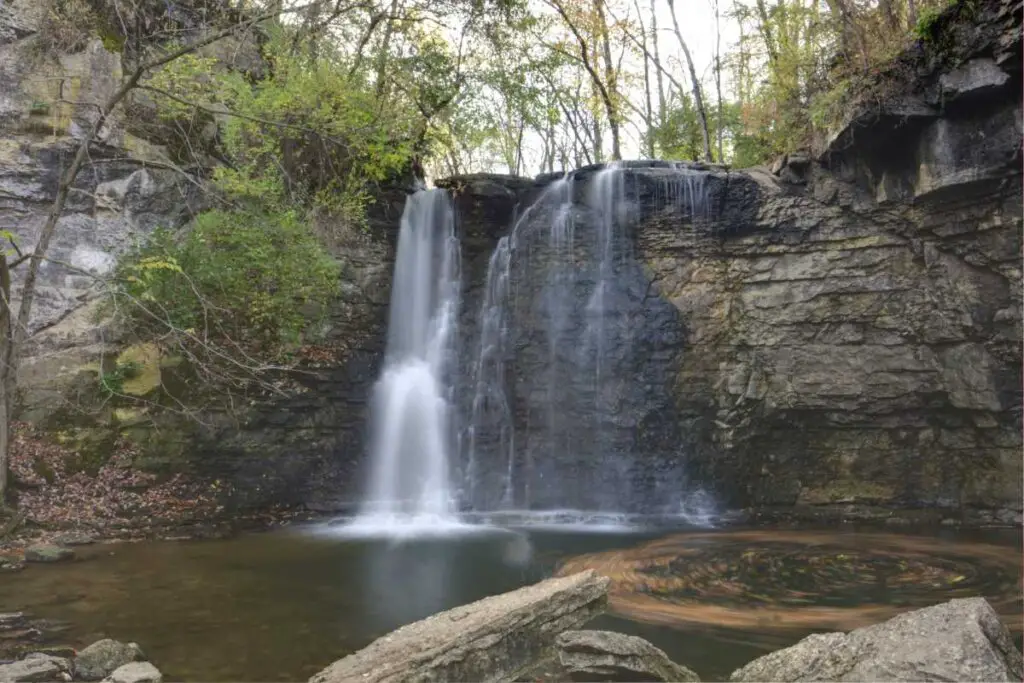 Hayden Run Falls is located west of the Griggs Reservoir Bridge, and it's a great place to go. This beautiful cascade of water is surrounded by an old forest as well as trails for hiking. But if you feel like getting out there on those trails, then I suggest you take bug spray with you because Ohio has been having quite the mosquito problem lately!
Hayden Run Falls is 35 feet high, and it's a beautiful sight to see. In addition to being an outstanding waterfall with supernatural surroundings, I found some great picnic spots where I enjoyed my lunch while enjoying nature at its finest. There is even a trail down by the falls. So if you want something more than just viewing from above, go ahead and hike your way down for a closer look!
Hayden Run Falls is best in the spring when there's more water flowing, but it was still pretty during my December hike. Although I would like to return for a better view of the falls (it looks even prettier on Google images), I'm glad we got to see this natural beauty at all!
Address: 4326 Hayden Run Road, Dublin, Ohio
3. Chagrin Falls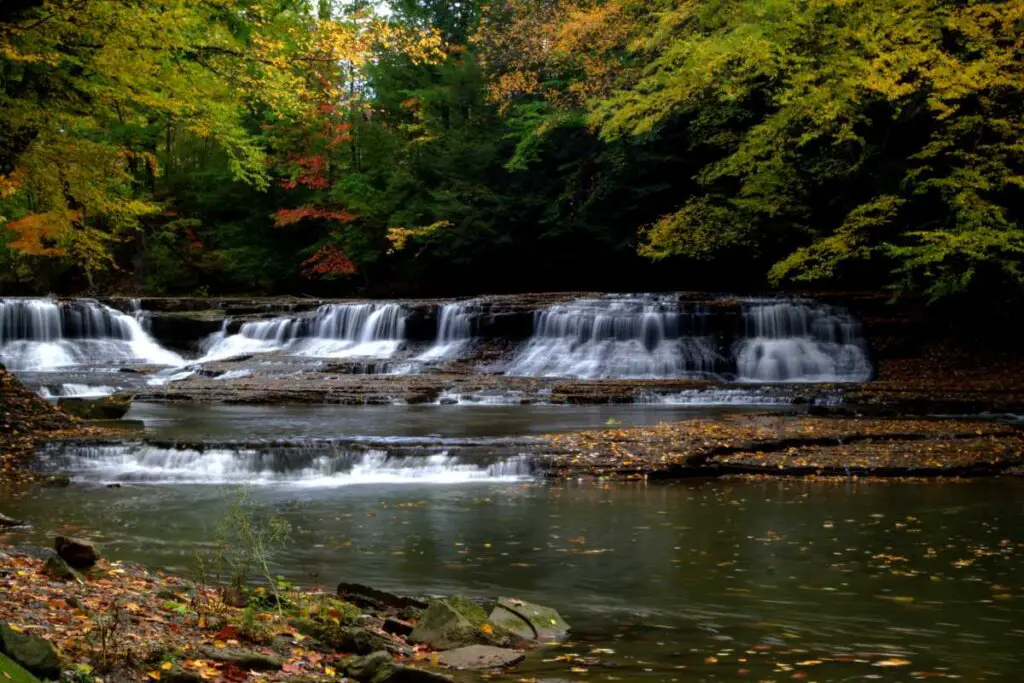 I was fortunate enough to hike up this fall, which makes it one of my top favorite waterfalls in Ohio. It is located on the Chagrin River and has a drop of about 50 feet, making it easy to see from above or below (which I highly recommend).
This fall is very powerful with its current! Alongside the river, there are lots of rocks that provide seating if needed for rest. There were several people visiting when I went, and we were crowded at the viewpoint as everyone wants an amazing experience at these locations.
There are other two other vantage points. The first vantage point I found was a short hike from the viewpoint and provided an amazing close-up view of this fall. The second is about two miles downriver and has another fantastic, yet more distant, view of it as well!
In addition, there were other things to do around as well, such as going into caves or exploring trails by myself.
Address: Main Street Bridge Waypoint: Chagrin Falls, OH 44022
4. Cedar Falls
I first learned about this waterfall from a friend of mine who showed me pictures. So I decided to check it out for myself but was surprised by how difficult it is to get there! It requires a short hike up a hill. However, I was rewarded with amazing views once I reached the top.
Cedar Falls is beautiful and very large, making it one of my favorites so far. With an average height of 90 feet high, this waterfall offers many photo opportunities for you adventurers out there. This fall also has three different viewpoints, but nothing beats being right next to it with breathtaking beauty surrounding you everywhere you look!
At the base of the fall is a large pool where tourists are welcome to swim for free! If swimming isn't your thing, there is no need to worry because you still get spectacular views by just standing next to the edge and admiring its beauty.
I would recommend going during the week if possible as it is best to avoid all of the crowds and have a more private experience rather than being surrounded by people you don't know!
Address: Hocking Hills State Park, 19852 State Route 664 S, Logan, Ohio
5. Cascade Falls
This is the only Ohio falls I visited that did not require me to hike up a mountain to get there. It is located right off the road and very easy for anyone to access, so if you are not an avid hiker or do not have much time on your hands, this would be best for you.
This fall is about 40 feet high and provides a great deal of beauty. It offers three vantage points to see the waterfall. Each one is different but equally as beautiful. If you are looking for a scenic view, I would recommend checking it out at all three vantage points to get the best views possible!
The best point, which I think was my favorite, provides a more close up at the fall, which is from the cave behind the waterfall. In addition, you can view it from above or below it for more spectacular views.
Address: State Route 282, Nelson Township, Ohio
6. Paine Falls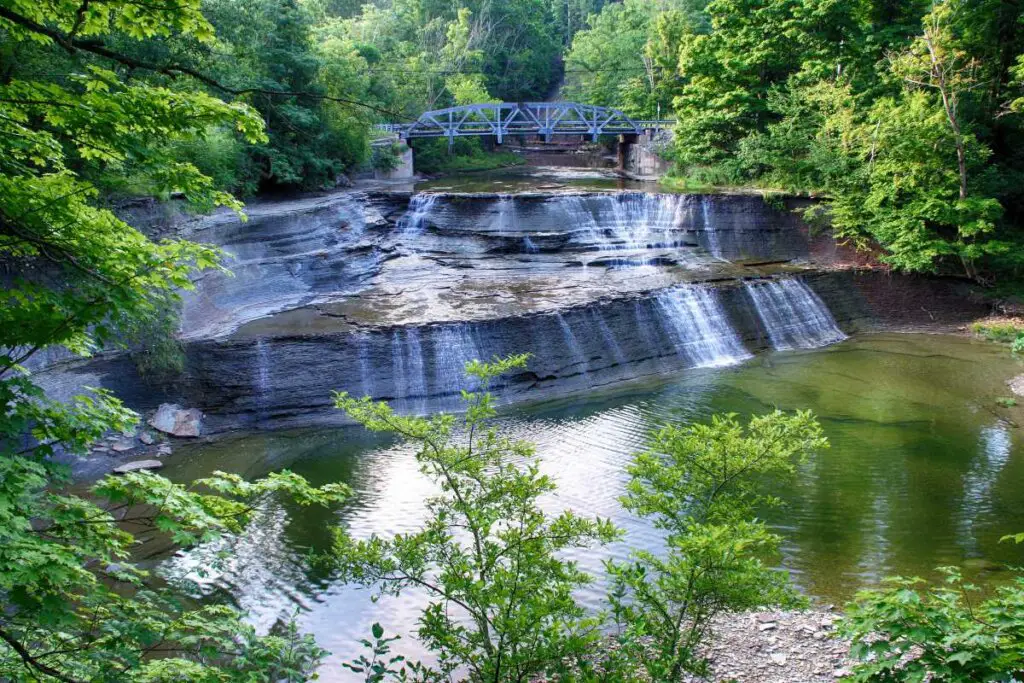 This is also one of the best waterfalls in Ohio that I visited. It's a short, easy hike with scenic views of the falls and a gorge all throughout your journey. This is also one of the most popular Ohio waterfalls since it is easily accessible from Columbus!
Seeing the water flowing down the rocks was very cool to see, and I couldn't resist taking some photos. Visiting this waterfall would be perfect for families with younger kids who are looking for somewhere new to explore. This is because it offers great scenery within an easy hike!
However, it gets crowded on summer weekends, so try coming during the week or early in the mornings if you want some more peace and quiet while enjoying your time at Paine Falls!
Address: 5570 Paine Road, Leroy Twp, Ohio
7. Ash Cave Waterfall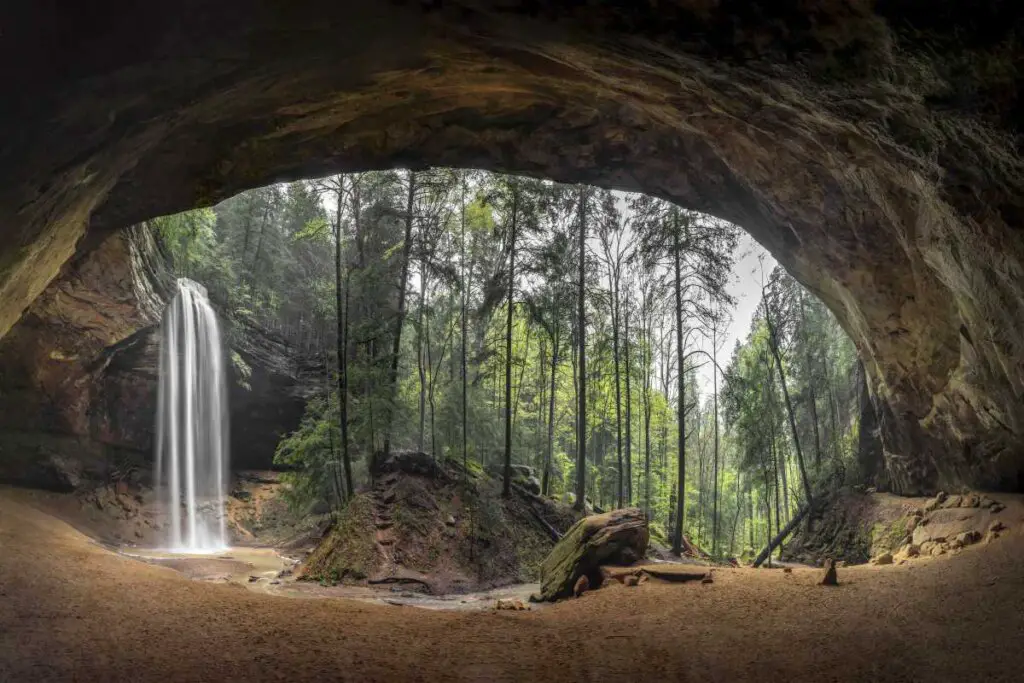 I can't deny my love for this waterfall. It is also my best friend's favorite too! This is because it is the most majestic and gorgeous falls in Ohio. It is also probably one of the unique waterfalls I have ever seen, which makes it very hard to compare with other ones in this state.
Ash Cave Waterfall provides a great deal of beauty because it cascades down from 60 feet high into a cave underneath! In addition, walking around the area, I saw all sorts of smaller water features such as small ponds and trickling streams.
By the way, Ash Cave itself is not a waterfall but rather a large cave with an opening at the top where you can see directly outside to view the falls from above. This provides some truly spectacular shots!
However, this also brings me to my next point: Ash Cave Falls can be dangerous! The rocks on either side of your vantage point are wet from being exposed to mist from the waterfall, so they get slippery when stepped on or touched while taking pictures/videos. Therefore, take precautions before going to this waterfall to be safe!
Address: Hocking Hills State Park, 27291 State Route 56, South Bloomingville, Ohio
Accommodation: Cabins by the Caves
8. Buttermilk Falls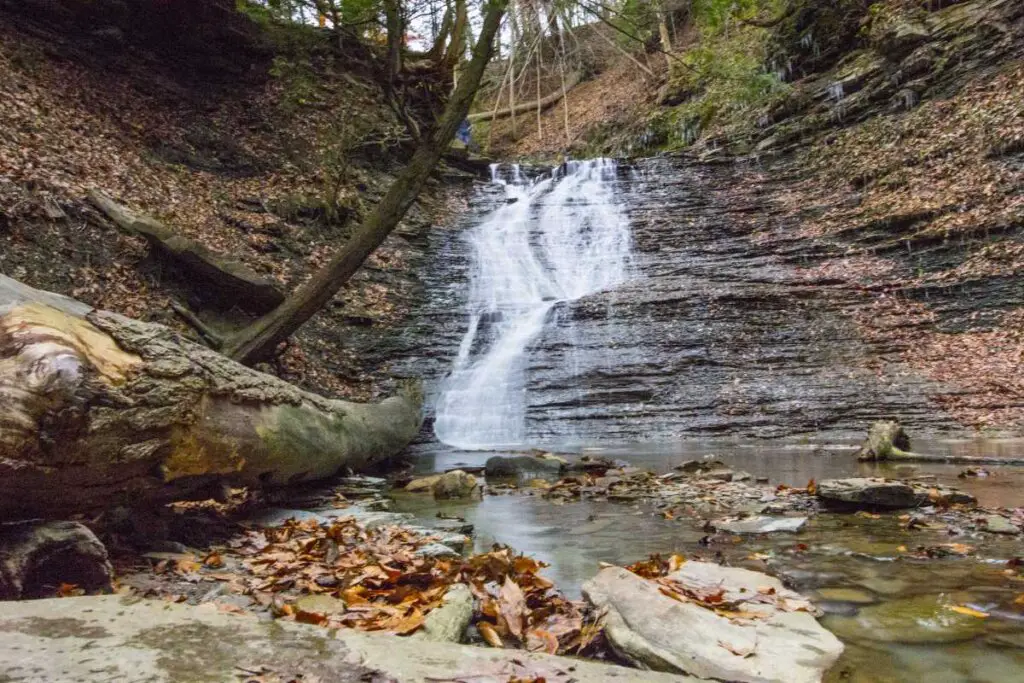 This is the most well-known fall in Ohio. It was actually used as a filming location for The Last of The Mohicans, which may be why it is so popular with tourists and visitors to this day!
However, I really wanted to include Buttermilk falls on my list of best waterfalls in Ohio because not only does it provide beautiful views but also amazing hiking trails.
There are three different hikes you can take that will give you even more spectacular views than just seeing the waterfalls at its base would.
The longest hike takes about four hours round trip and gives you views from above all aspects of the waterfall, including multiple vantage points along each trail throughout your journey! This means if one view is crowded, another one probably won't, giving everyone equal chances at the best views.
Address: 2001 West Boston Mills Road, Brecksville, Ohio
9. Greenville Falls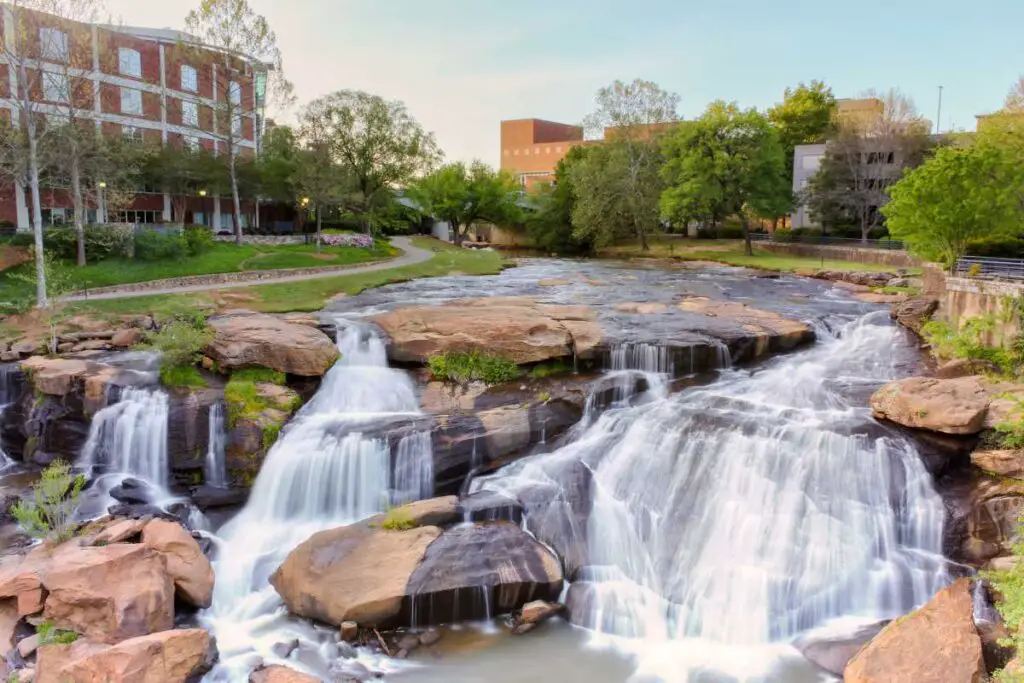 This is by far one of the best waterfalls in Ohio that I have visited. It provides a total of four different views, each with its own beauty and charm.
From the first vantage point, you can see just how magnificent this fall actually is! It cascades down into the most serene pool below it that looks like something out of a painting or movie scene!
The second view allows for an even closer look at the falls from above them. The best part about this spot is that there are stairs leading right up to it which allow you to get almost under them and take pictures without having to climb any dangerous rocks along the way (which was great since I was all terrified).
The best view of all is the third one, which provides a close-up look at the top of this fall that makes you feel like you are on another planet. I had never seen anything quite like it before and was completely in awe! To get to this spot, I did have to climb down some rocks and hike back into the woods for about fifteen minutes or so, but it definitely made me feel more adventurous than usual!
The best part is that after hiking through these beautiful trails along the river bank, I was finally rewarded with yet another amazing vantage point from above, looking right down upon these falls. It was such an incredible experience seeing them from every angle possible and getting some great pictures.
Address: 9140 Covington-Gettysburg Road, Covington, Ohio
10. Amphitheater Falls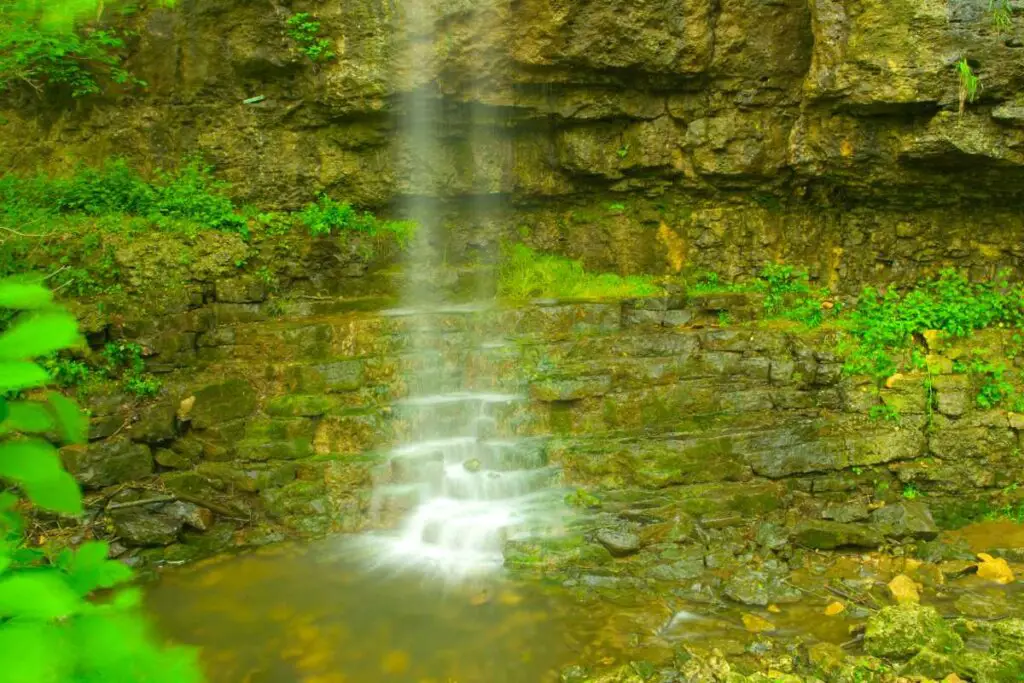 Located in Clifton Gorge State Nature Preserve, this was one of my best finds while exploring the top waterfalls in Ohio.
The trail to this waterfall starts off as an easy flat hike that is an out and back type of trail as well as wheelchair accessible. There are stairs, but they're short, so it shouldn't be too difficult for those older or less mobile hikers either. However, if you have knee issues or bad ankles, then skip this particular waterfall.
This waterfall has plenty of space for pictures which makes it perfect if you're looking for good Instagram pictures. I visited this waterfall right around the time that the leaves were starting to change colors which made for a great backdrop!
The best part about this waterfall was definitely how close I could get without actually going into the water. I just had to admire it from above! You can walk up next to the fall itself if you want, which I did for some pictures before hiking all the way back to where I started. This is another waterfall best viewed in the fall, but it's still beautiful in other seasons too!
Address: Clifton Gorge State Nature Preserve, 2381 State Route 343, Yellow Springs, Ohio
11. West Falls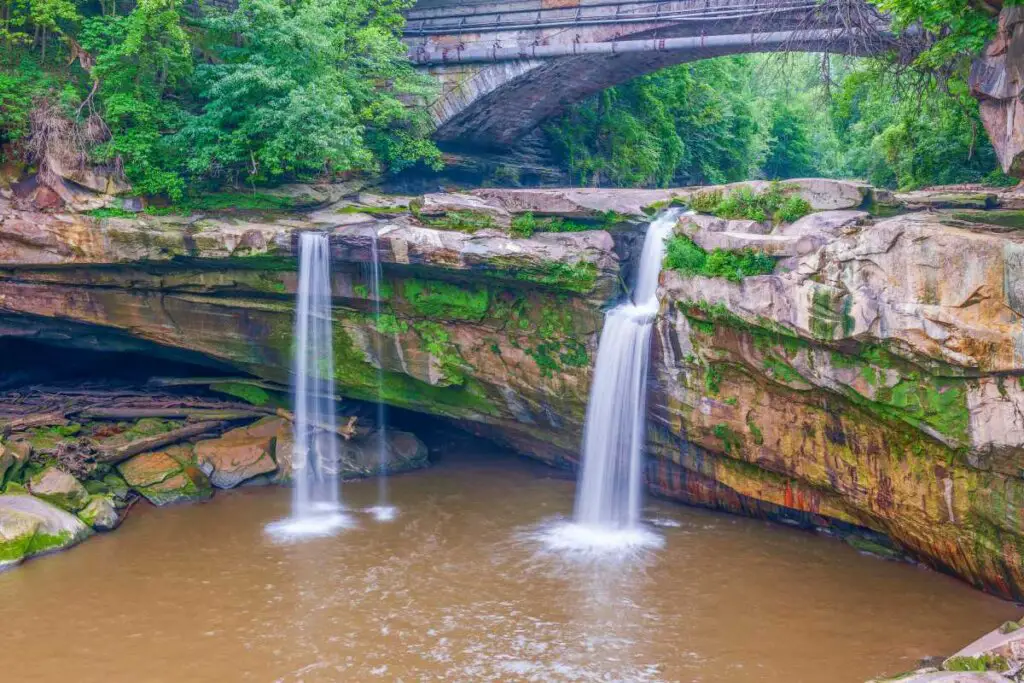 This is one of the best Ohio waterfalls because it provides a unique view that you can't find at other waterfalls. There are two trails to West Falls, but I recommend going on the main trail and not taking the side trail. It will take you up further up for even better views!
The best place to see this waterfall would be from above, where there is a bridge built over it. You wouldn't want to miss out on seeing its huge drop or how it cascades down below into a pool filled with people swimming during the summer months! This makes for great pictures as well, so don't forget your camera!
In addition, there's another lookout point right next to here which also gives spectacular views if that suits your liking best. However, I would recommend going on the main trail and checking it out from above if you want to get a view of East Falls as well!
East Falls is similar in size compared to West falls, and both waterfalls are equally beautiful, so make sure you pick either one or check them both out for your best experience at this site!
Address: W Falls Trail Elyria, OH 44035, USA
12. Lanterman's Fall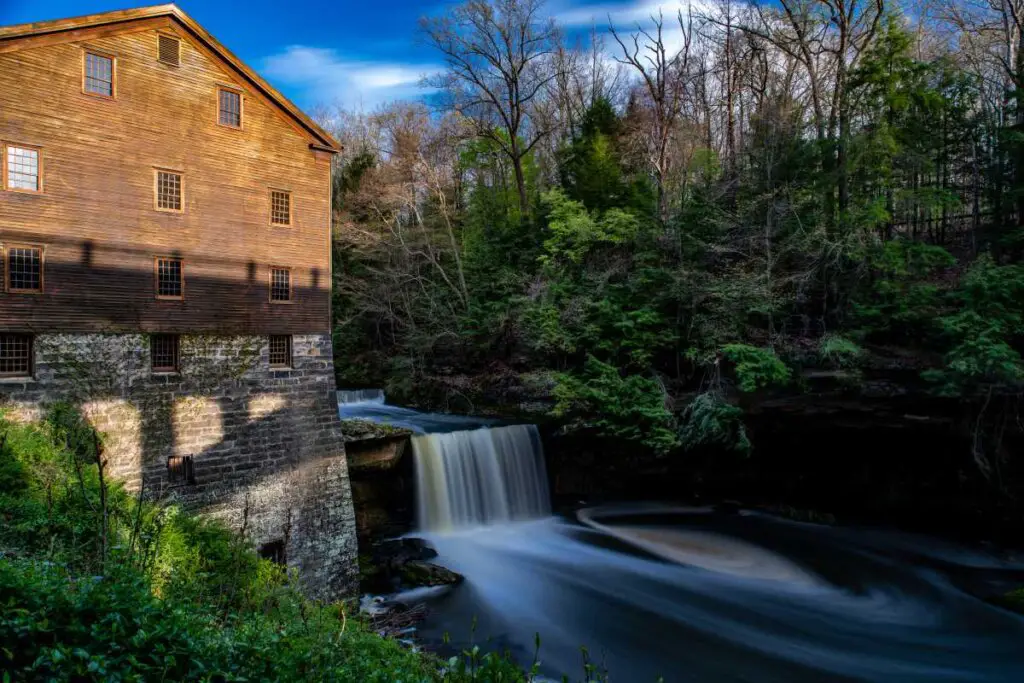 This is best known as one of the best waterfalls in Ohio. It has an amazing height of 20 feet, and you can access it very easily through a stairway that takes you right down to its base.
With this waterfall, there are many vantage points from which to view it, similar to Cascade Falls listed above! I liked being able to see it from underneath with some great rocks for sitting on nearby so I could enjoy more of the scenery around me while taking a break from climbing back up these mountains. The trail going downhill was also pretty steep but manageable if you have good hiking shoes.
In addition, there are several lookout areas where anyone who wants his own personal space can find their perfect spot along the path leading away from the waterfall.
The best part of this waterfall was the fact that you could climb behind it! There were many crevices and caves where I felt like a true explorer climbing around on rocks to find beautiful views from above, below, or through one of its tunnels.
This is probably my favorite spot due to how much fun it was getting inside the cave with all these amazing waterfalls surrounding me. It provides even more spectacular scenery than being able to see them down here at their base level!
Address: 1001 Canfield Rd, Youngstown, OH 44511
In summary
All in all, the best waterfalls are often some of the best natural wonders that Ohio has to offer. They vary from easy hikes like Cascade Falls to mountains where you will need days and energy (and good hiking shoes if it involves rocks). So, no matter who you are traveling with, these 12 best waterfalls in Ohio provide something for everyone!
More related articles 12 Top-Rated Hiking Trails near Columbus, OH and 14 Top-Rated Beaches in Ohio