I have always wanted to visit the great state of Oklahoma, but I never knew that it had so many waterfalls. The best part? They are all within driving distance!
One day I was scrolling through my Facebook feed and saw a post about beautiful waterfalls in Oklahoma. The next thing you know, I am packing up my bag to head out on an adventure. And I can confidently say that this is one time where being spontaneous paid off big time! I found plenty of stunning waterfalls here, and they're all different from the next one.
In this guide, I'm going to give you a list of 14 best waterfalls in Oklahoma. I guarantee that visiting them will make your next trip to Oklahoma one you won't forget. Enjoy!
Best Waterfalls in Oklahoma
1. Turner Falls, Davis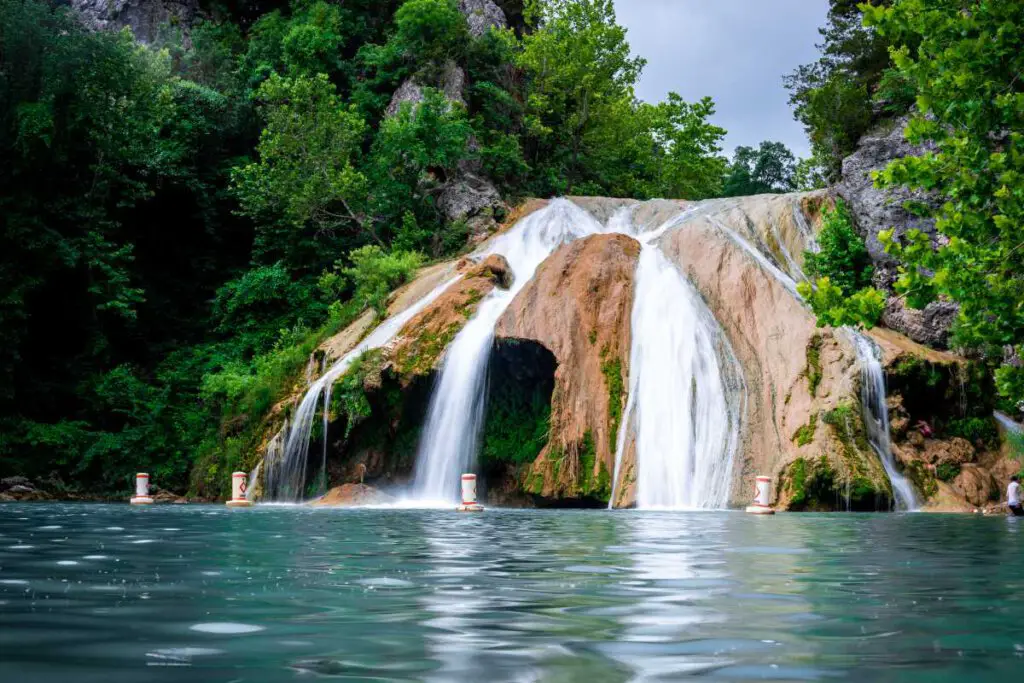 I decided to start my Oklahoma waterfalls tour at Turner Falls. I had heard of the falls before, and I wanted to see what all the fuss was about.
The waterfall is located near Davis, Oklahoma. It is the highest in Oklahoma at 78 feet high! The hike from the parking lot to Turner Falls was only about a mile, and I was able to get some beautiful images. As I hiked down to the falls, I passed a beautiful overlook where I got an up-close view of the water cascading over rocks before it reaches its final destination below.
There are also several trails that lead up closer to the top. However, remember that hiking on wet or icy surfaces could be very dangerous even with proper footwear and equipment (which I did not have), especially when trying to climb rocky areas like this.
There are picnic tables at the parking lot if you're willing to make this your lunch spot after hiking around in nature for a while. I'd love to come back in the winter when there's more water flowing through it so that I can really see all of its beauty!
Address: I-35 & U.S. Highway 77, Davis, Oklahoma
Read More: 16 Top-Rated Tourist Attractions in Oklahoma State
2. Bluestem Falls, Pawhuska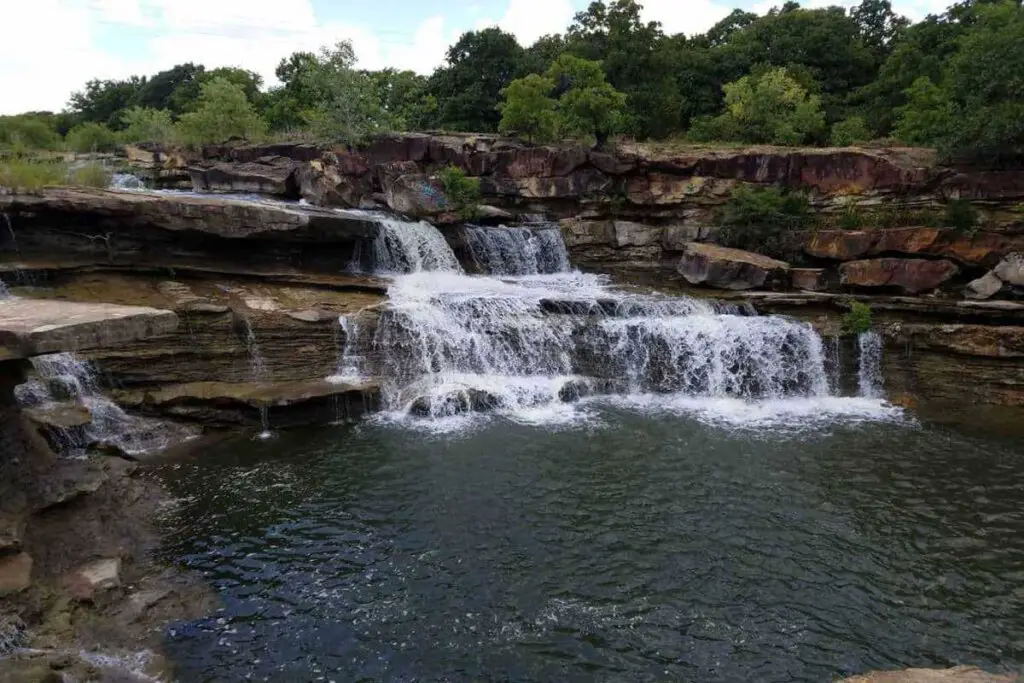 Bluestem Falls is one of my favorite waterfalls in Oklahoma so far. The reason I like it so much is because of its location, which makes for a great day trip if you're looking to explore more waterfalls in the area.
It took me around 10 minutes to get there from Frontier Hotel, where I was staying. Once you park your car at the gate entrance, you'll want to start walking uphill on top of the ridgeline until you come across several trails that lead downhill towards the creek below where the actual fall takes place.
There's a better view of this fall from above as well, but hiking down to the creek offers up some dramatic views you can't get anywhere else. It was still early in the morning when I got there, and it made for some beautiful photos with fog filling up the surrounding valleys.
If you're looking to visit more waterfalls in Oklahoma, Bluestem is definitely one that shouldn't be missed! Even though it might not be as convenient or popular as Turner falls, its scenery makes it stand out way more than any other waterfall around Stillwater/Davis/Arbuckle mountain region.
Address: Co Rd 4275, Pawhuska, OK 74056, USA
3. Sand Creek Falls, Pawhuska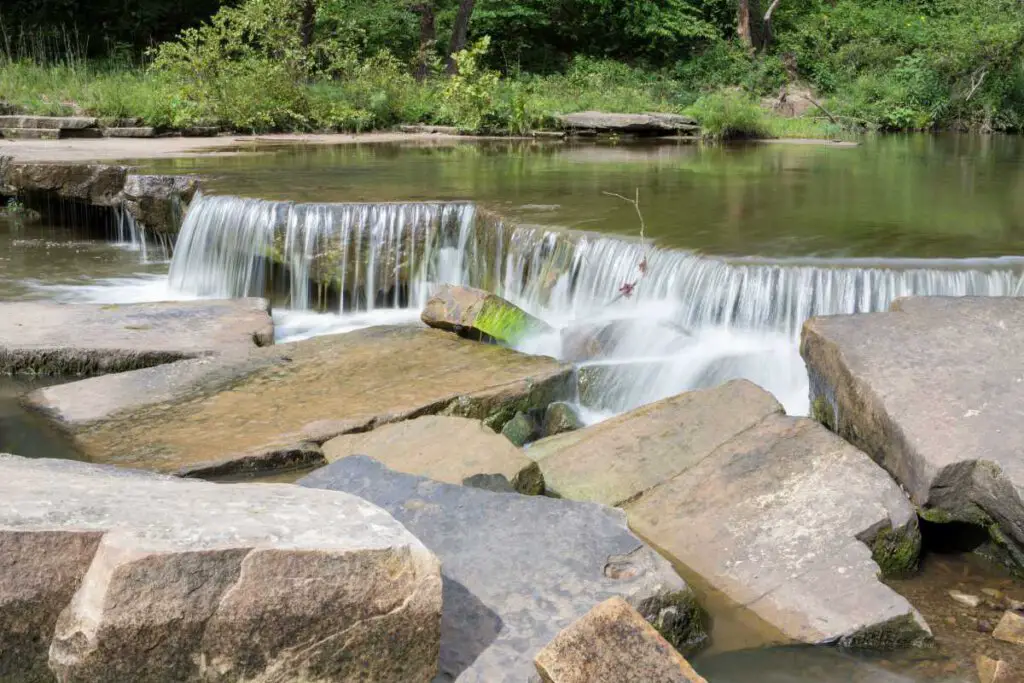 Sand Creek Falls it's amazing waterfalls in Oklahoma. It's not as tall or majestic like Turner falls, but if you're looking for a good photo opportunity, this is where it's at!
Sand Creek Falls has a 12-foot plunge and has a pool at its base that allows visitors to swim or wade during warmer weather. Sand Creek also feeds into the park's swimming lake, making it very accessible for swimmers! The falls can be reached from multiple trails inside Turner Fall's State Park, as well as an easy paved walkway.
Besides local wildlife like squirrels and blue jays, I also had a few visitors while here. There were two turtles that came up to me with their heads poking out of the water before they swam away in search of food or shelter. It was definitely one of my favorite experiences during this hike because not only is it entertaining, but you never know what creatures are going to show up next!
Address: 2131 Osage Hills, Park Rd, Pawhuska, OK 74056, United States
Read More: 12 Top-Rated Weekend Getaways in Oklahoma
4. Cache Creek Falls, Davis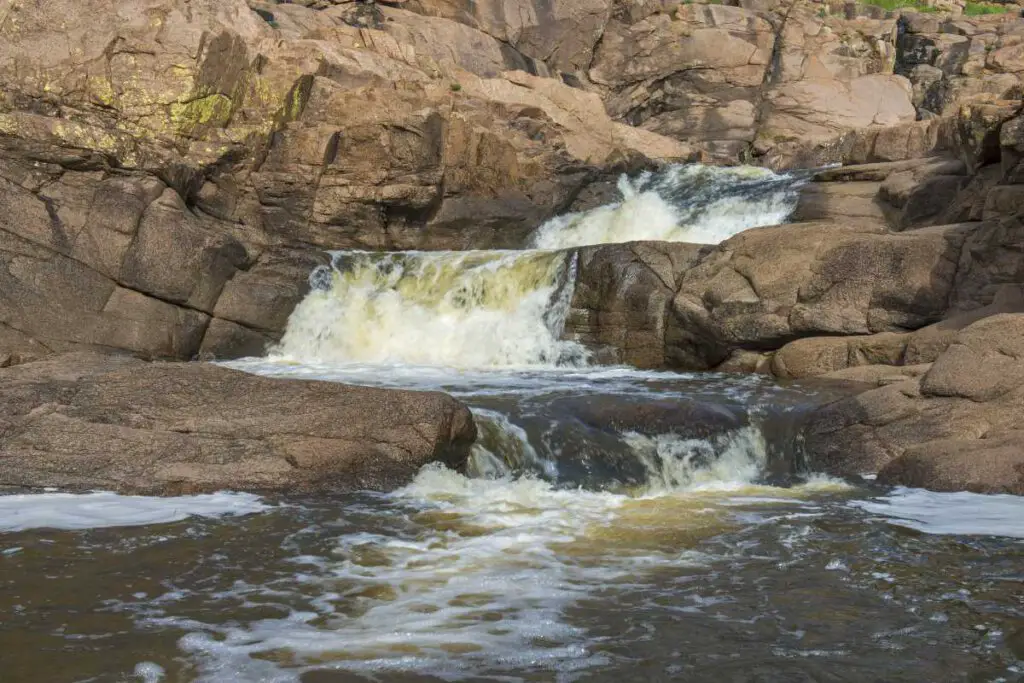 Cache Creek Falls is another waterfall in Oklahoma that's not too far away from Turner falls. I would say it's one of the most popular waterfalls in this area, especially given how easy it is to get to and its close proximity to other well-known waterfalls such as Turner Falls.
The hike down isn't very strenuous at all, so even beginners shouldn't have a problem exploring this beautiful spot on Cache creek. I was able to capture some beautiful photos on my way down to the falls, but I had an even better view of it from above, where I could admire its beauty in full.
You can best see Cache Creek Falls during the winter months when there is more water flowing through it, making for a more dramatic image with mist rising off of it.
5. Presbyterian Falls, Broken Bow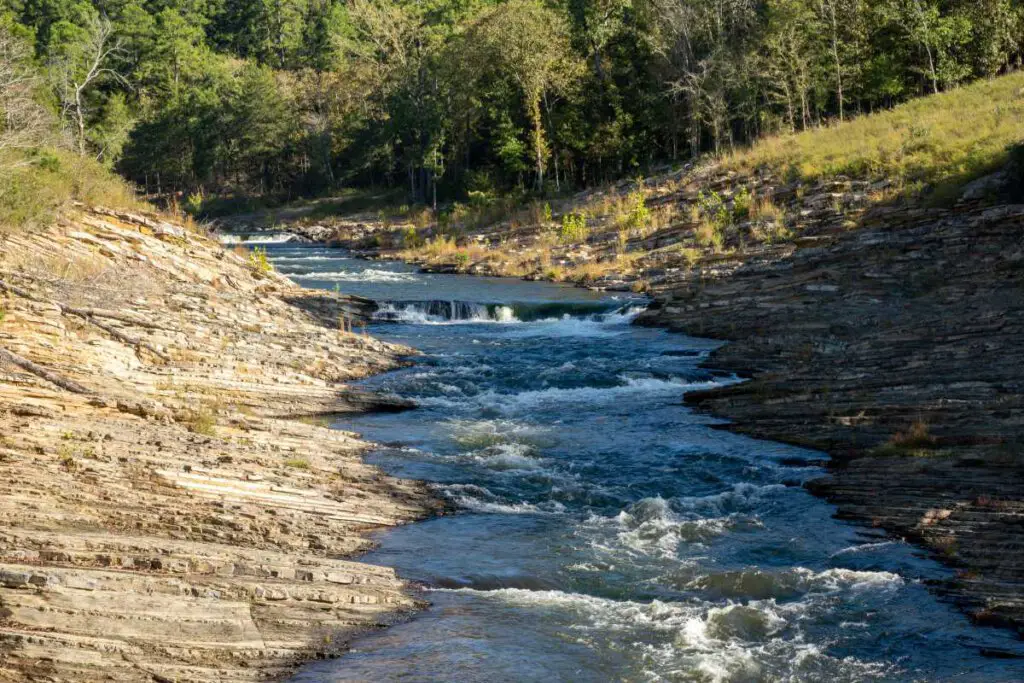 This is one of the most unique waterfalls in Oklahoma. I was a little skeptical when someone told me about it, but once I saw pictures, my jaw dropped! It's definitely not an easy hike to get there, and I probably wouldn't recommend going out there alone because you have to climb up rocks that might be slippery from rain or recent flooding.
However, the location is pretty cool because you have to climb down underneath a large rock formation in order to get under the falls.
Just like most Oklahoma waterfalls, Presbyterian Falls is best viewed after rainfall or during springtime. So I recommend checking their website before visiting because sometimes they close certain attractions if conditions aren't great enough for visitors (like high winds). But even on rainy days, I think it still looks amazing and would be worth seeing.
Address: Presbyterian Falls Oklahoma 74734, United States
6. Beavers Bend Waterfall, Broken Bow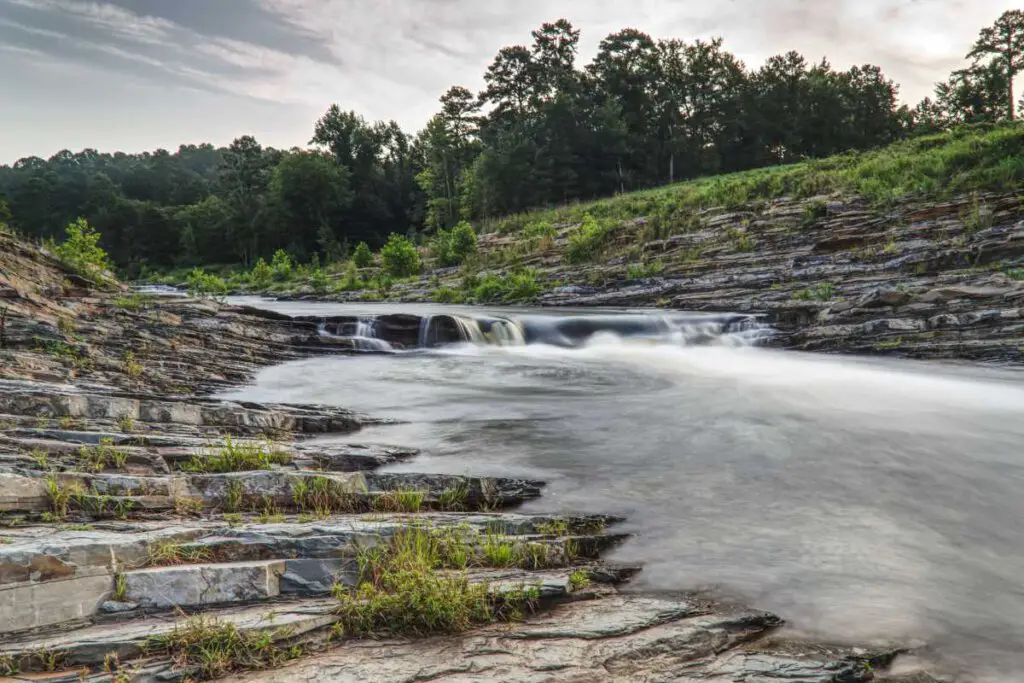 The best waterfalls in Oklahoma are not just about the size of the falls. The best ones have a little more to them than that, something unique and interesting. And I think Beavers Bend Waterfall is one that all people should see at least once before they die.
This waterfall is pretty high up on my list because it has some great features that make it very unique. It is a hidden gem in the state because not many people know about this waterfall and how impressive it really is.
It's best to hike down into the gorge and get up close and personal with Beavers Bend Waterfall for best results. It's best to visit the waterfall early morning or late afternoon, as it can get pretty crowded during mid-hours.
There are restrooms located nearby if you need them after hiking down into the gorge below. The best time of year to visit is when there isn't snow on the ground because it can make hiking difficult, if not impossible.
Read More: 15 Best Italian Restaurants in Oklahoma City
7. Talimena National Scenic Byway Waterfall, Arkansas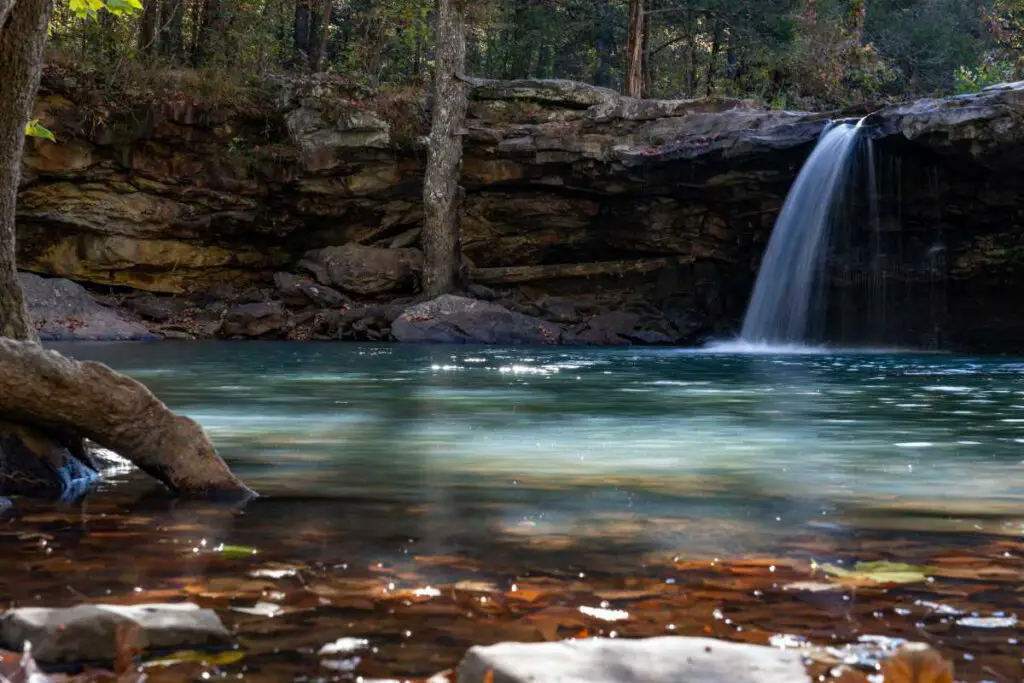 I was unsure if I was going to make it on this trip, but as luck would have it, the weather held up, and I was able to hit a few more of my target waterfalls for the day.
The waterfall along Talimena National Scenic Byway is also one of my new favorites! The water of this falls plunges into an incredibly blue pool that you can swim in.
I was able to capture this image at the best time of day where I got a beautiful reflection off of it and also had some nice blue sky as well. This pool is great for swimming, and I even saw another photographer that brought his drone along, which was able to get an aerial view of the falls!
One thing to note about this waterfall is that it can be hard to access. There are no trails or directions to go here, so the best bet is just to follow the Byway and stop at each overlook!
8. Medicine Park Falls, Medicine Park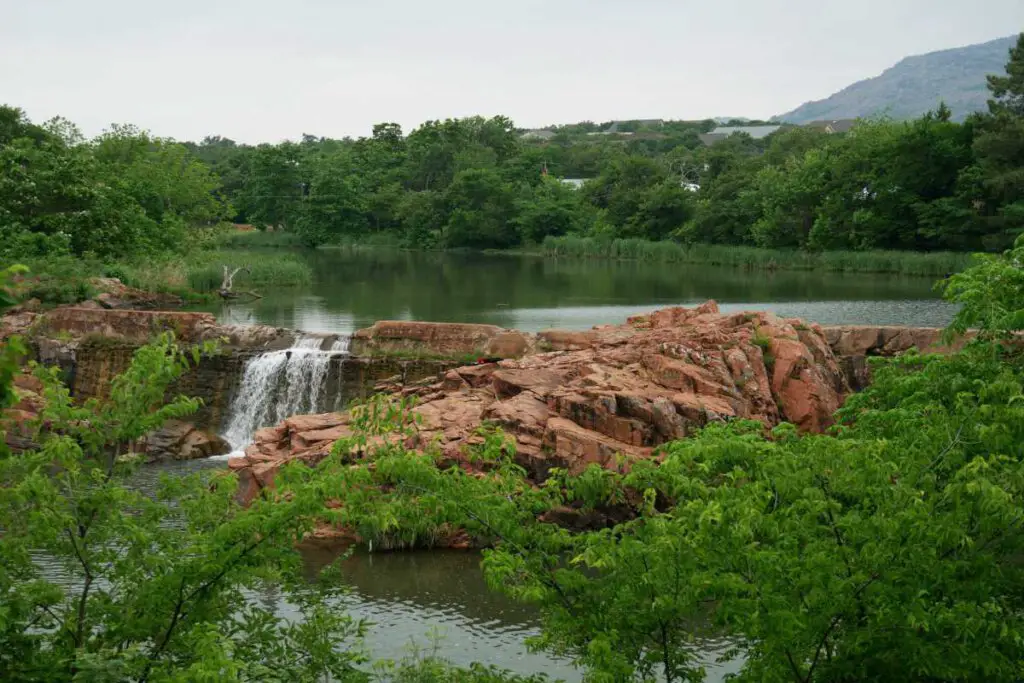 Medicine Park is a small town with an amazing waterfall. It was only minutes away from my hotel Echo Canyon Spa Resort in Davis. By the way, I had to check out these falls during my stay up there for the weekend.
There's a small parking lot and lookout point to see the falls from above, but if you're looking for a better view of this waterfall, I recommend walking down. There are stairs to the left of the parking lot that will lead you down towards it.
As I took my steps closer, I noticed what looked like a cave in between two huge rocks where water was flowing out from. I spent around 30 minutes exploring this place and the surrounding area, which has a ton of hiking trails. I highly recommend staying overnight and camping out here because there's so much to explore!
9. Natural Falls, Ozarks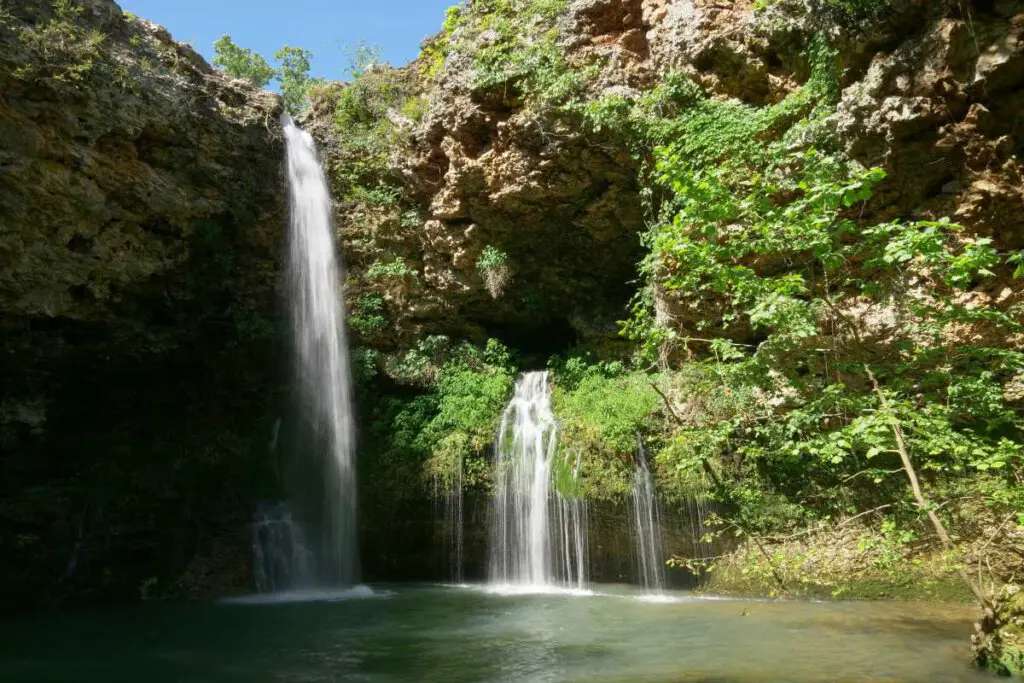 Natural Falls is the perfect place to visit if you're looking for a gorgeous waterfall. It has multiple falls within its vicinity, so it offers plenty of different views depending on which path/trail you choose to take when exploring this area.
The main part of Natural Falls begins at the top, where water flows down over the rocks in a dramatic fashion. It's not too tall, so it might be difficult to get good photos of this fall when water isn't flowing well or at all.
If you continue walking past Natural Falls, there are other falls to explore as well along trails that will take you up above and behind some of these smaller waterfalls. I'm planning to come back at some point in the future when there is more water flowing over these falls. But even though they looked dry during my visit, you can't deny how gorgeous this area looks no matter what time of year it is!
There are also other trails that will take you further into Natural Falls if you want to explore more of this area. It's definitely a great place to go hiking and exploring if you're looking for the best waterfalls in Oklahoma that are off the beaten path. There's a lot to see here, so if you have the time, it's worth checking out!
Natural Falls State Park: 19225 E 578 Rd Colcord, OK 74338
10. Bricktown Falls, Oklahoma City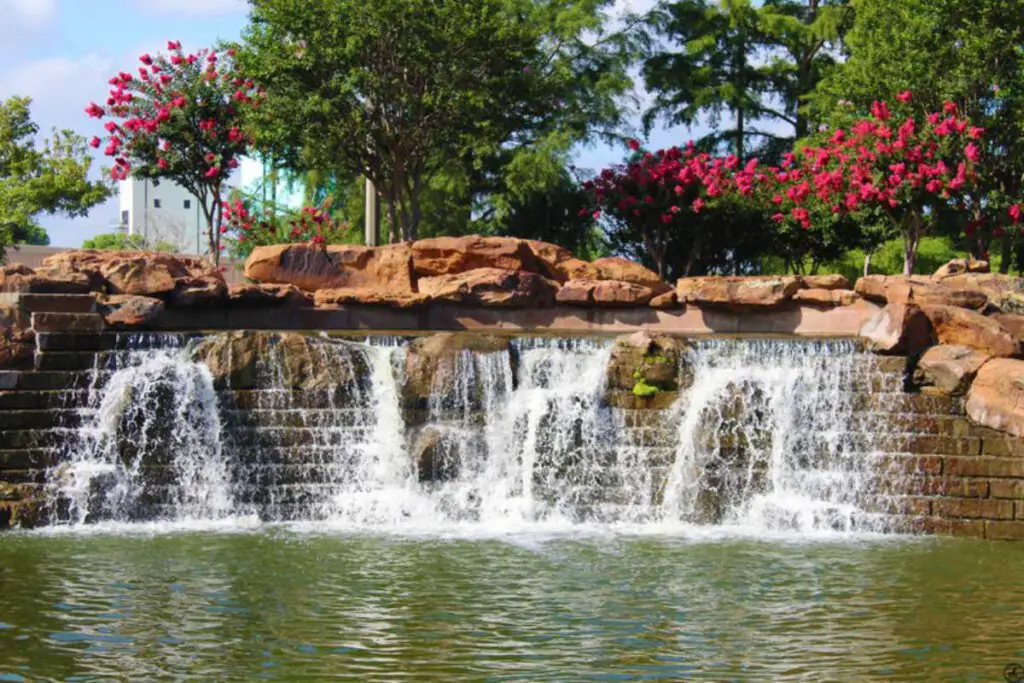 Another place I visited while in Oklahoma was Bricktown falls. This one is a little different from others because it's actually inside of a man-made Water Park resort complete with slides, beaches, and even cabanas if you're looking to get away from the hot sun for a while.
The best way to see this fall is by taking the stairs down to the water below. Just be careful because it can get slippery, and sometimes there is a strong current coming through, so you'll want to make your way back up as soon as possible if that happens, or else risk getting swept away by a powerful stream!
From what I've heard from other visitors, this fall has gotten a little bit more crowded over the last few years, but it's still a place that shouldn't be missed by anyone in Oklahoma for its surrounding scenery and amenities.
11. Centennial Park Waterfall, Tulsa
Centennial Park Waterfall is one of the most underrated Oklahoma falls. It's located just a few miles outside of Tulsa, and it requires no hiking at all to see this waterfall up close and personal!
While there aren't any trails leading down to where you can get a better view, it still offers some pretty unique views as well from the top. When you first approach the waterfall from the parking lot, it's hard to tell where exactly this waterfall is located because there are several other smaller ones in the same area as well.
The best way to find Centennial Park Waterfall is simply by hiking uphill on a small trail that leads towards one of those mini waterfalls. When you get close to the top, it's actually pretty amazing how much water is flowing through this whole area!
12. Roman Nose State Park Waterfalls, Watonga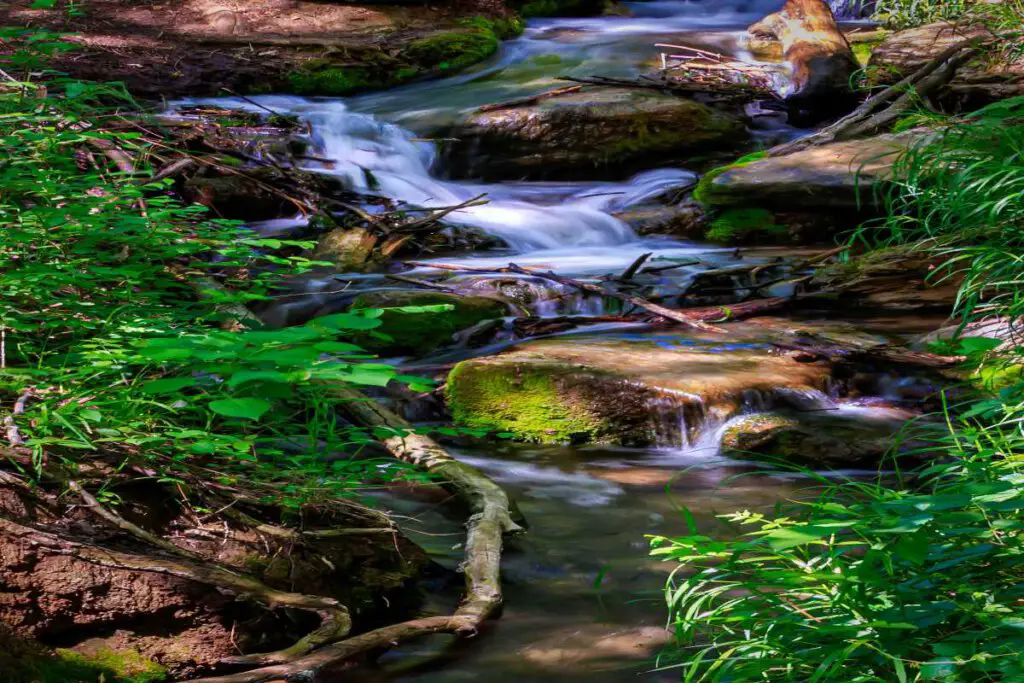 If you're looking to cool off, head on over to the best waterfalls in Oklahoma at Roman Nose State Park. With all of their trails leading down towards the falls and different vantage points along its banks, it's hard not to get any good pictures here! The best part is that admission is free here too!
During my visit here, I took a short hike down the hill to get some photos of the falls from different angles. There are plenty of trails that lead towards it, allowing you to choose how best you'd like to view them.
If you're looking for more than just waterfalls in Oklahoma, though, I recommend visiting during spring when everything is in full bloom! Even though it was June when I visited, the flowers were still in full bloom and made for some great photos!
I'm already looking forward to my next trip back here so that I can check out the trails further to see if there's anything else cool hidden along with them.
13. McGee Creek Cascades, Atoka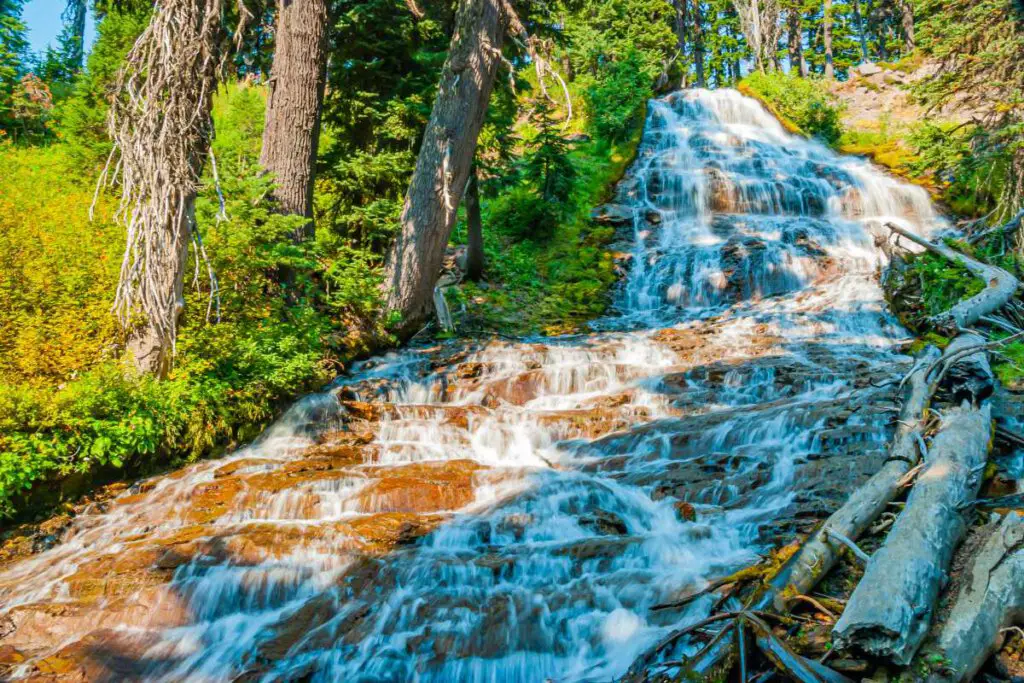 McGee Creek Cascades is a hidden gem in Oklahoma. When I first arrived at McGee Creek Cascades, I was completely blown away by the beauty of this place. It is best viewed in the late fall months when there is more water flowing through it.
The best way to get a view of McGee Creek Cascades is by hiking the trail all the way up past it and enjoying its beauty from above. From here, you can see where the creek cascades down over layers of rocks before reaching a calm pool at the bottom. I would highly recommend checking out this place if you are looking for a peaceful place to hike and enjoy nature.
14. Heavener Runestone Falls, Heavener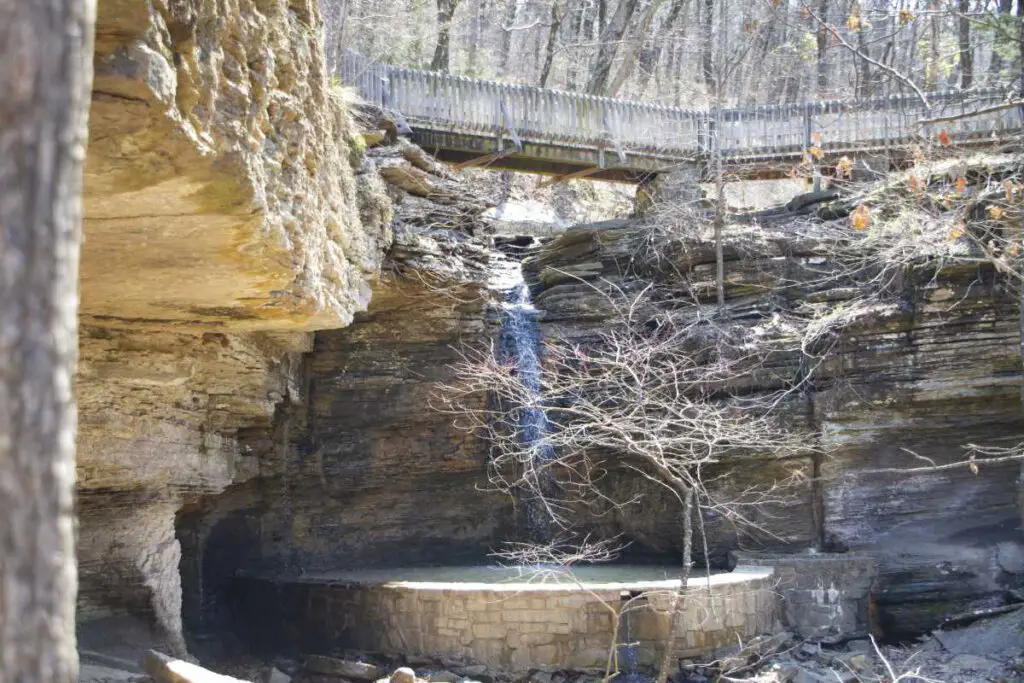 I end my list of the top waterfalls in Oklahoma with Heavener Runestone Falls, which is a bit out of the way but well worth it. The reason I like this waterfall is that it's pretty much a hidden gem that is yet to be discovered by many people. It's one of those secluded hidden gems where you feel like you are somewhere completely different and don't even realize you're still in Oklahoma or anywhere close to it.
The hike here might take you around 30 minutes or slightly longer, depending on your pace. But once you reach the bottom, it'll make everything you just went through completely worth it. This waterfall offers a beautiful view from above as well, but what makes this one so unique is the amount of history that surrounds its origin and existence throughout time.
There are several other waterfalls in the area you can visit too if this one doesn't interest you enough. And I recommend checking out all of them during your stay just in case you get tired of this one.
Even though there are other waterfalls in Oklahoma that might seem more appealing, Heavener Runestone falls is definitely the best waterfall I've been to so far. It's a hidden gem when compared to others out there!
In summary
These are some of my best waterfalls in Oklahoma! I was surprised to see how much beauty Oklahoma had to offer, but I guess you never know what to expect from Oklahoma until you see it for yourself. So, if you're looking to visit waterfalls in Oklahoma, these are some of the most beautiful ones around.