Do you love the beach? Or do you like to watch it on T.V.? Either way, I'm sure that there's one thing we can all agree on: beaches are awesome. They're always warm and sunny, they have relaxing waves for days, and some of them even have ice cream stands! What more could you ask for in a vacation spot?
I went on a week-long vacation to explore some of the best beaches in New Hampshire. The state is small, with only 1 million residents, and it has the second-lowest population density of any U.S. state behind Wyoming. So, if you're looking for fewer people and more nature, then this is probably the place for you!
In this blog post, I have put together a list of my 6 Best Beaches in New Hampshire. And with clean water and long stretches of sand, all six of these beaches should be on your radar this summer!
Best Beaches in New Hampshire
1. Hampton Beach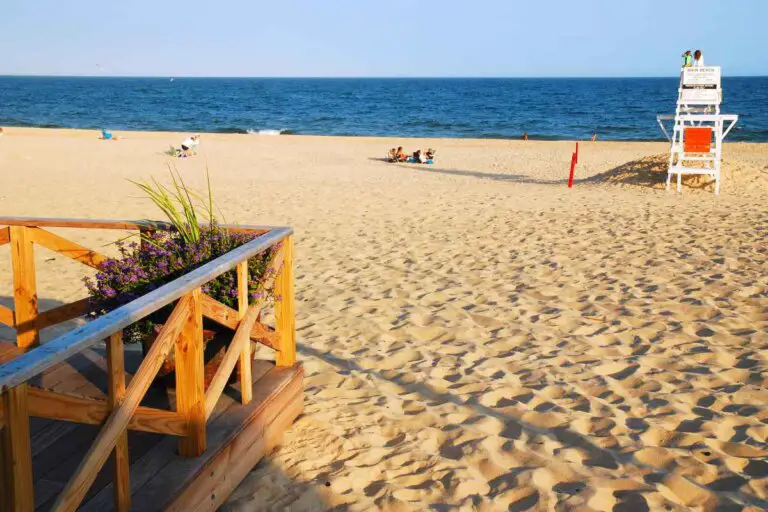 I was very excited to visit Hampton Beach. I had read about the spot on various travel websites and had it fixed in my mind as a must-see destination for this New Hampshire trip.
I arrived around 10 o'clock, so there was ample parking space still available. But if you are coming during high season, you should definitely go early to get free parking. You can also park for free on some of the side streets by the beach, but make sure you don't block any driveways. There were plenty of people out and about and lots of shops and restaurants to check out. So I only spent a few hours at the beach, to later explore the area.
The sand at Hampton Beach is soft and very fine. And I can see why it is ranked as one of the best beaches in New Hampshire. The beach was full of families, kids (of all ages), pets, fishermen, bikers, etc., everyone seemed to be enjoying themselves!
If you are into watersports, there are several rental shops that offer just about anything you need for the sea: bicycles, kayaks, paddleboards, jet-skis, etc., as well as fishing equipment.
There are public restrooms available all along. So once again, I didn't have to pay any fees or use to get access. There are also lifeguards on duty during the summer, so if you are worried about your children, this is a good place to let them play.
Address: Ocean Boulevard, Hampton, New Hampshire
2. Weirs Beach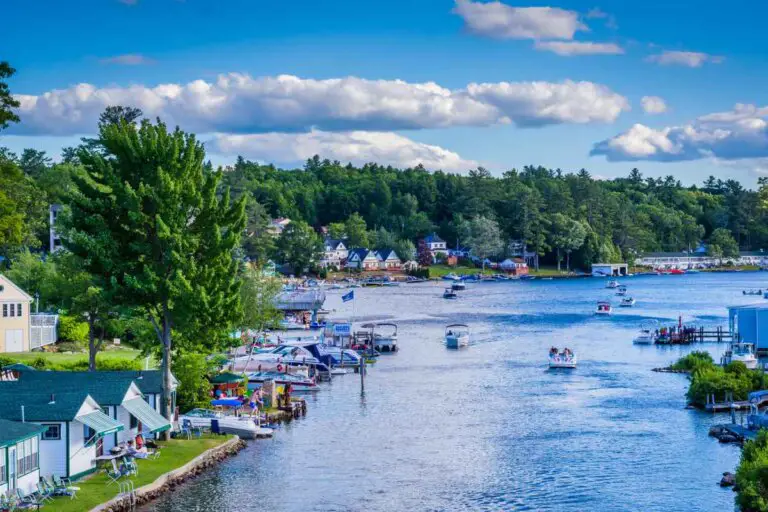 Weirs Beach is a rather large beach area, which can be a bit confusing for first-timers. There are numerous restaurants and gift shops that line the streets leading up to the beach. So even before you arrive at the sand, you already have lots of things to check out in this seaside town!
The sand is also soft and fine here, similar to Hampton Beach. I saw a lot of people just enjoying themselves by playing volleyball or going for a jog! There were also many lifestylers (what I like to call people who spend the whole day at the beach) with their little shelter, table, and chairs all set up for a full day of sunbathing.
Still, the atmosphere here is fantastic! And you can rent just about anything you need for your water sports activities: kayaks, paddleboards, jet skis, etc., as well as fishing equipment.
At the end of the beach, there is a free public pier that you can fish or simply enjoy the nice views. It's also possible to rent paddleboards and surfboards here. The waves were rather rough when I visited, but I'm sure it's quite peaceful out on this pier once the sunsets.
This was also one of my favorite beaches in New Hampshire! It has something for everyone: great atmosphere (especially during peak season), lots of activities (watersports, etc.), great food/shop options, not too crowded, etc.
As earlier said, there are plenty of restaurants around serving local and international cuisines. However, if you want to avoid lines or having to eat inside, then I would recommend bringing your own food to the beach.
Address: Lakeside Avenue, Weirs, New Hampshire
3. Wallis Sands State Beach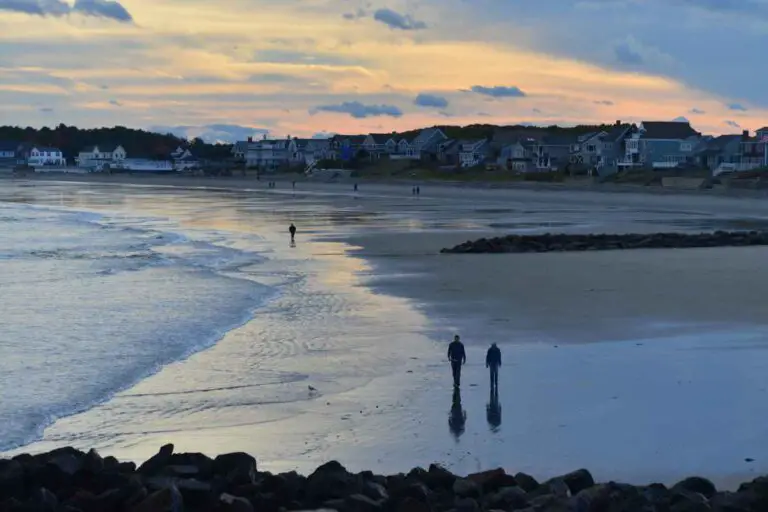 My plan for the next day was to check out the small town of Rye and then drive up north along the coast. As I was driving past Wallis Sands State Beach, which is free and has a lot of parking space available, it seemed like an excellent spot to spend another few hours.
You can walk down onto the sand from different parking areas; there are no stairs or hills, so it's pretty easy. The shoreline and the view in every direction are breathtaking. And if your visit is during low tide like I was, you can walk for miles along the open sands, creating many opportunities to explore this pristine environment.
The sand here is lovely and soft too, but not as soft and fine as Hampton Beach. So keep this in mind when choosing where to go with your kids. However, it's still beautiful, and there are fewer rocks/pebbles. There are also public restrooms and a grocery store nearby, so you don't have to carry your lunch with you.
There were lots of families at Wallis Sands when I visited because it is a nice and safe spot for children. I enjoyed the water; it was clean and calm, plus there were no waves or undertow (which was great!). So I would recommend this beach to anyone traveling with kids.
My outing here was still very enjoyable, and I had lots of fun playing on Wallis Sands State Beach. In fact, we had lunch right at one end of the open dunes. It was very quiet, and not too many people around as they were spread out along the shoreline. So it really doesn't matter where you decide to have your picnic or how long you stay, but I can guarantee you will have a great time!
Lastly, keep in mind that the parking lot fees vary depending on how long you stay: $2 per hour, $10 maximum per day, but no permit required after 4 pm. You can also pay by your mobile phone or online via The Parking Mobility System. In addition, there are bathroom facilities available.
Address: 1050 Ocean Blvd, Rye, New Hampshire
4. Ellacoya State Park Beach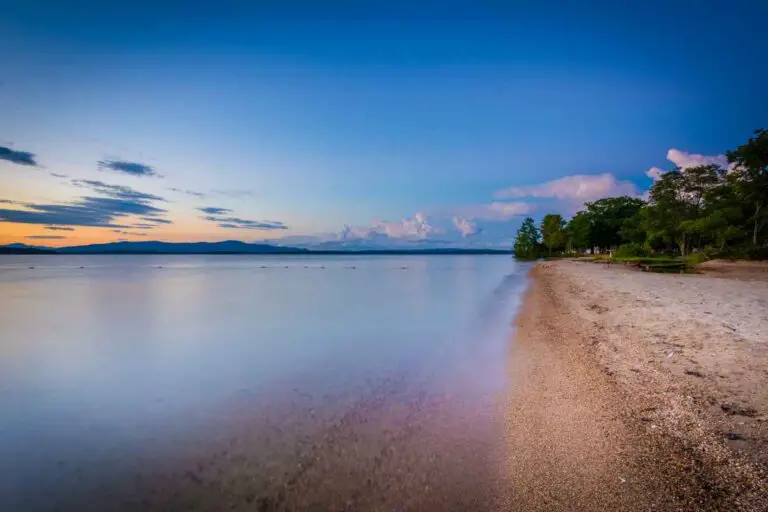 After only spending a little over an hour at Wallis Sands State Beach, I decided to drive and explore other New Hampshire beaches. I was planning on going to Winnipesaukee after this visit, but it turned out that Ellacoya State Park Beach was much more beautiful! It was recommended by my friend who is from New Hampshire and had visited it before, so my expectations were high.
Surrounded by tall pine trees, there is plenty of shade available which makes the place feel very secluded. And if you are looking for privacy, this is perfect for you since the whole area is pretty small with not too many people around. The sand here is soft and fine like sugar, which makes it really comfortable to walk on. There are also rocks at the shoreline where you can sit and relax.
Unfortunately, there are no shops or restaurants nearby. So don't expect any food stands at this location. But you can always bring your own food and drinks. There is also access to kayaks and paddleboards here which can be rented up at Ellacoya State Park Marina (about 3 miles east of the Ocean). The rest of the facilities here are all top-notch: bathrooms, showers, picnic areas, etc., so no need to go hungry or dirty.
In addition, Ellacoya State Park Beach is one of the best beaches in New Hampshire for camping because it offers several campsites with fire pits already available. And since the park is situated next to Lake Winnipesaukee, fishing is very popular here. So remember to pack your gear if this sounds like something for you.
Overall, I would say if you are planning a visit to New Hampshire, make sure you include Ellacoya State Park Beach in your schedule! You won't regret it. After spending hours at the beach here, I was already looking forward to coming back the next time I'm in the area.
Address: 266 Scenic Road, Gilford, New Hampshire
5. Odiorne Point Beach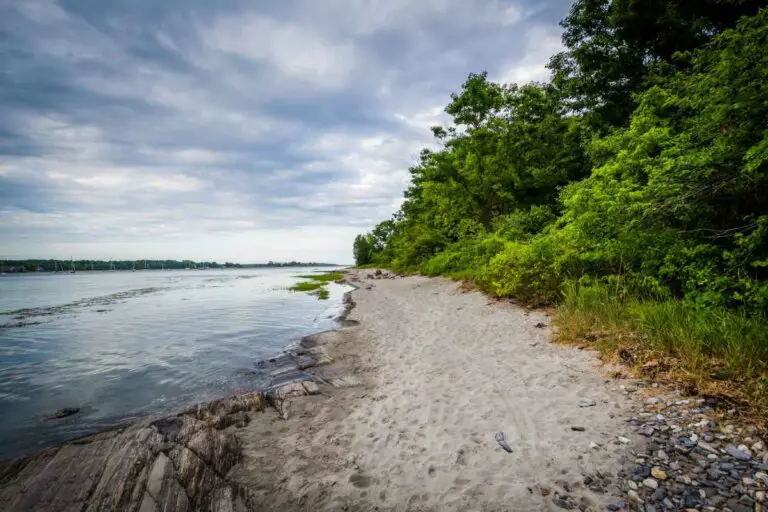 Since I had actually planned to visit this beach after Ellacoya State Park Beach, I didn't have high expectations. But it was actually my best beach in New Hampshire!
Odiorne Point Beach is located on the ocean side of Odiorne Point State Park, South of Rye Harbor. It is very small but also has a unique setting with pine trees surrounding the sand. There are several parking lots that you can use if you want to spend more time there. However, they are all pay-per-use, so make sure you bring cash with you!
I recommend showing up early at this beach, as it seems like this beach gets really crowded during the high season. But I visited mid-week in July and had no problems at all! The sand was not very soft here, but still fine enough for laying out or playing in. There were quite a few people fishing off the rocks (you might want to bring some snacks/lunch since there are no food facilities here).
There are very few restrooms available. The closest one to the beach is about a 5-minute walk away from the main entrance, but it is only open during the summer months. There is then another public restroom available right next to where you can park your car at the pay-per-use lot at the main entrance, which was closed when I went there.
I did not see any lifeguard on duty here either, so be aware of that if you are coming here with young children or if you are concerned for your own safety.
Overall, my experience at Odiorne Point Beach was great! It's definitely worth checking out! And if you want to check out another spot along this coastline afterward, the park offers over 3 miles of trails and scenic views (which is what I did).
Address: 570 Ocean Blvd, Rye, NH 03870, USA
6. Jenness Beach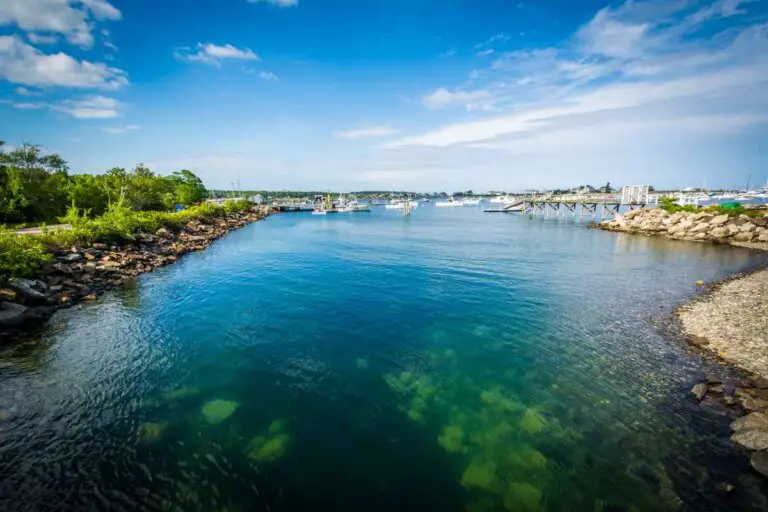 Jenness Beach was my last stop on the New Hampshire beaches tour. It is located between Rye and Hampton, just south of Hampton Beach. The beach has beautiful white sand, clear blue water, and lots of shells to collect! I saw several people with buckets full of them!
The water here was a bit rougher than other beaches in New Hampshire, but still manageable if you want to get in for a swim. So, this is also a great place for kite-surfing! I loved how I could walk around the beach when the tide was low. There were just mountains of sand everywhere!
I took some time to walk around the area; it's very green and beautiful. You could see all kinds of sea creatures at the bottom of the sea from the shore, which was really awesome! I checked out all the shops along Jenness Avenue, where most of them were craft or souvenir shops. There were also plenty of restaurants if you feel like having a bite after a day at the beach, though be prepared: they are all very pricey!
Jenness Beach also has public restrooms for those of you who can't live without one! Also, lifeguards are placed on duty from 10 am-5 pm during the summer months. Unfortunately, the parking lot at Jenness is small and fills up quickly. But again you can park along the side streets by the beach if you don't mind a short walk. And make sure you stay out of driveways and private property!
I only had a short stay here as well, but next time I visit New Hampshire, I will definitely plan an entire day around this destination.
Address: 2280 Ocean Blvd, Rye, New Hampshire