Do you love hiking? Do you want to find some new trails near Columbus, Ohio? Maybe it's time for a change from all those hours on your computer screen and start hiking.
Hiking is a great opportunity to explore the outdoors and experience nature in a way that's not possible from behind your desk. In Ohio, there are plenty of hiking trails near Columbus for you to choose from. The best part about it is that there are always trails waiting for you to venture out and discover them. Whether you're looking for a quick hike, an all-day adventure, or something in between, there's bound to be a trail that suits your needs.
In this post, I've compiled a list of the 12 Best Hiking Trails Near Columbus, OH, for you to check out. I settled on the following list based on my preferences and what other hikers told me were their favorites. Read on!
Best Hiking Trails Near Columbus, OH
1. Camp Chase Trail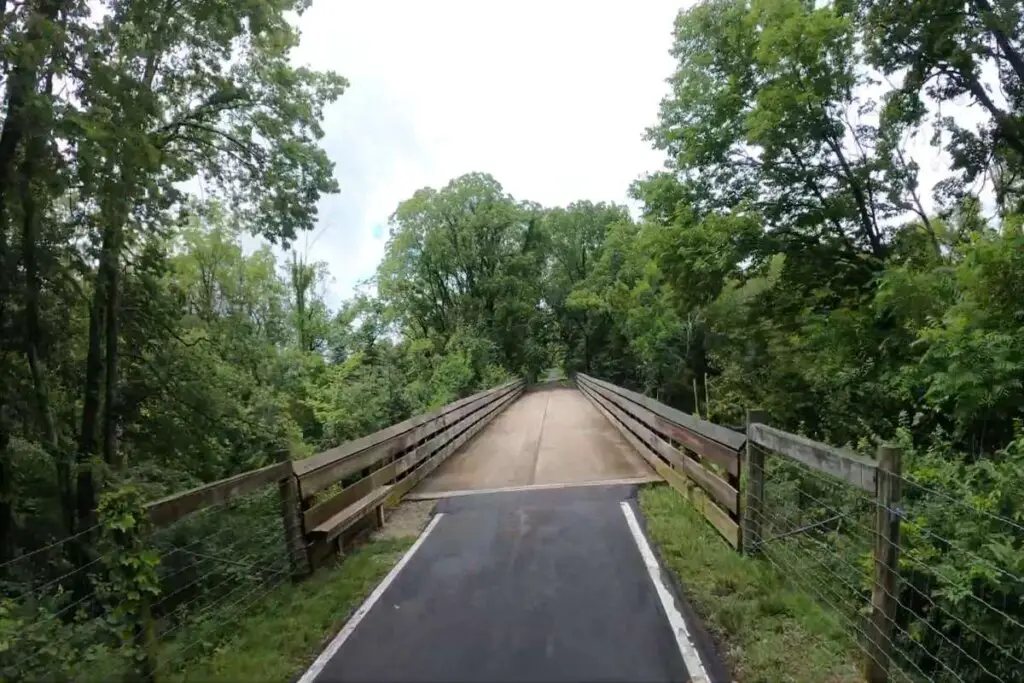 The Camp Chase trail is one of the best hiking trails in Ohio to visit if you don't want to do anything strenuous or simply want a nice walk through nature.
For about 10.9 miles, this paved hiking path takes you straight south through woods and meadows. Along the way, there are some benches where you can stop and take a rest. The path is mostly flat except for a couple of short hills on each trail that gives you some relief from all the flatness. You should know that this area does get busy during peak hiking season. But if you go early in the day as I did, there won't be too many people around.
The only downside to hiking here is that there aren't any views along these hiking paths. But hiking along a wooded trail is nice for some people as it's easier to lose yourself in nature.
Note: Camp Chase Trail was actually a training ground for Union soldiers during the Civil War. It was also a Prisoners Of War camp during the war involving Confederate soldiers.
I find this history interesting. So, if you want to learn more about it, there are historical markers on the hiking trails telling you what happened at each place (i.e., how many prisoners were held there or where the battle occurred).
Address: 275 S. Wilson Road, Columbus, Ohio
2. Scioto Mile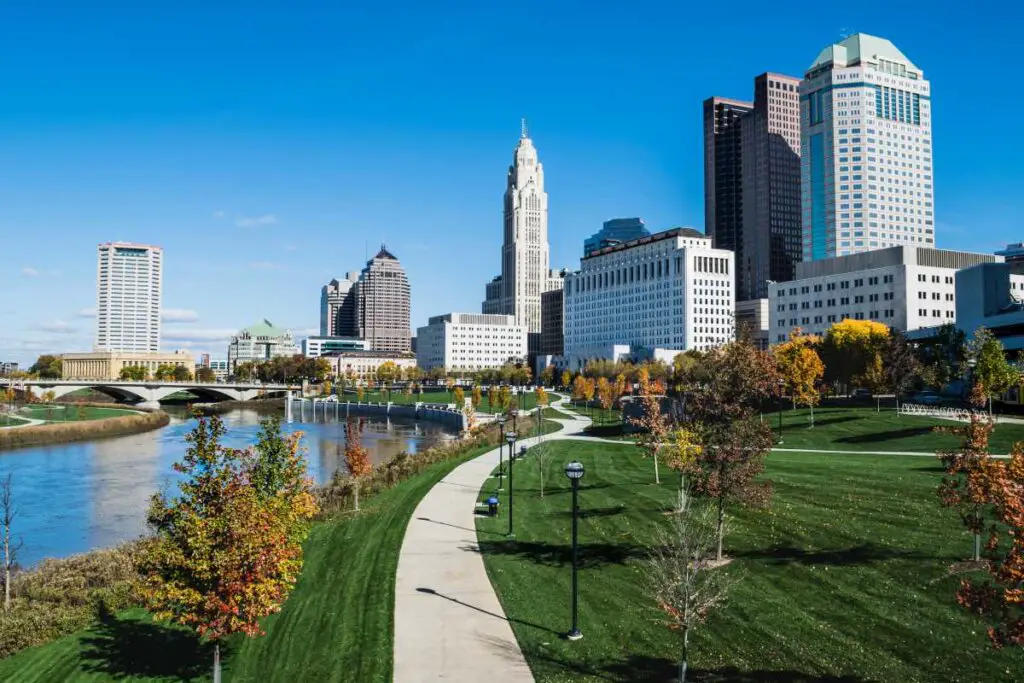 The Scioto Mile Trail is located near downtown Columbus, Ohio. It's an excellent hiking trail for people who are looking for something closer to the city.
This hiking trail follows right along the river in downtown Columbus. So, if hiking by water is your preference, you have it here! There are several access points, so hiking this trail can be as long or short as you want it to be.
This is an excellent place to hike for several reasons. First, it's closed off to traffic. Second, it has scenic views of the river. And third, the Scioto Mile Trail is very easy hiking with no real elevation change.
The only downside to this trail is that it can be crowded with joggers or cyclists at certain times (i.e., lunch hours). But if you go at other times, like early morning or after work, there are usually fewer people around.
Hiking on this trail definitely gives you a feel for nature while hiking in the big city.
Address: 233 Civic Center Drive, Columbus, Ohio
Official site: www.sciotomile.com
3. Overlook & Dripping Rock Trail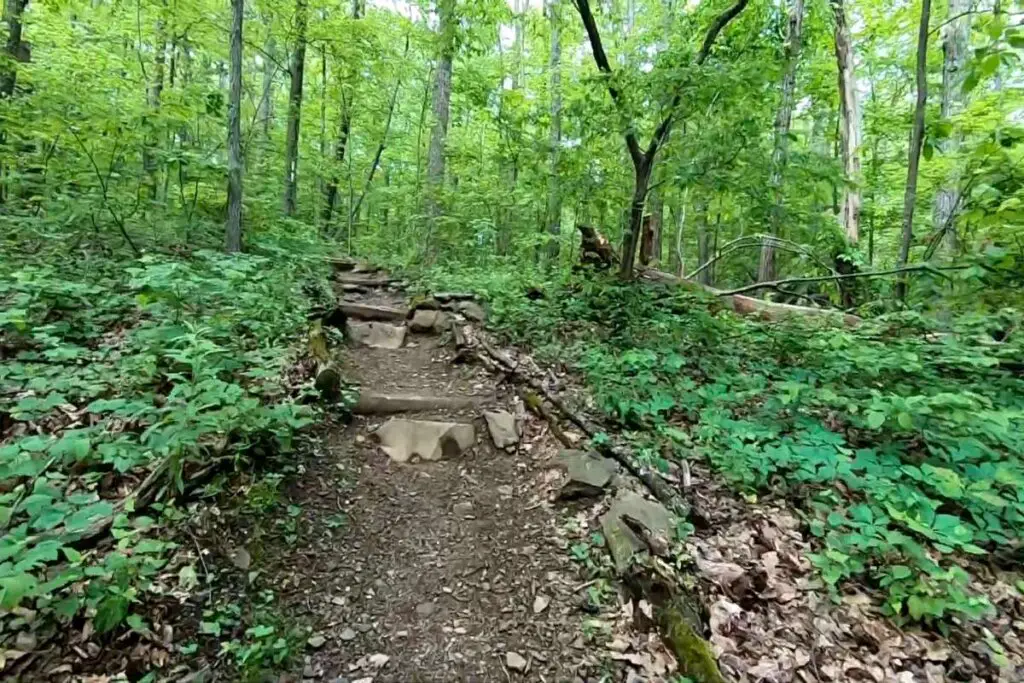 Another of my popular trails in Columbus is the combination of Overlook & Dripping Rock Trail in Highbanks Metro Park. This hiking trail is a nice combination of shaded forest, meadows, and open spaces with a rocky overhang.
The 5.8 miles trail has some steep sections but nothing too scary or dangerous, just lots of steps climbing up and then down again. There are many trees that provide shade, so it's easy hiking even on hot days. Be aware that poison ivy does grow here, so stay on the trail to avoid contact with it since it can cause severe rashes.
There are a few wooden bridges to cross over creeks or dry creek beds. You may also come across several concrete forms that I think were intended for future footbridges, but they don't seem very well used.
The trail goes up and down along at times. So there is some elevation change which makes hiking here pretty good exercise. It takes about an hour to walk this trail, depending on how much time you spend pausing to take photos or just rest.
Address: 9466 US-23, Lewis Center, Ohio
4. Cuyahoga Valley National Park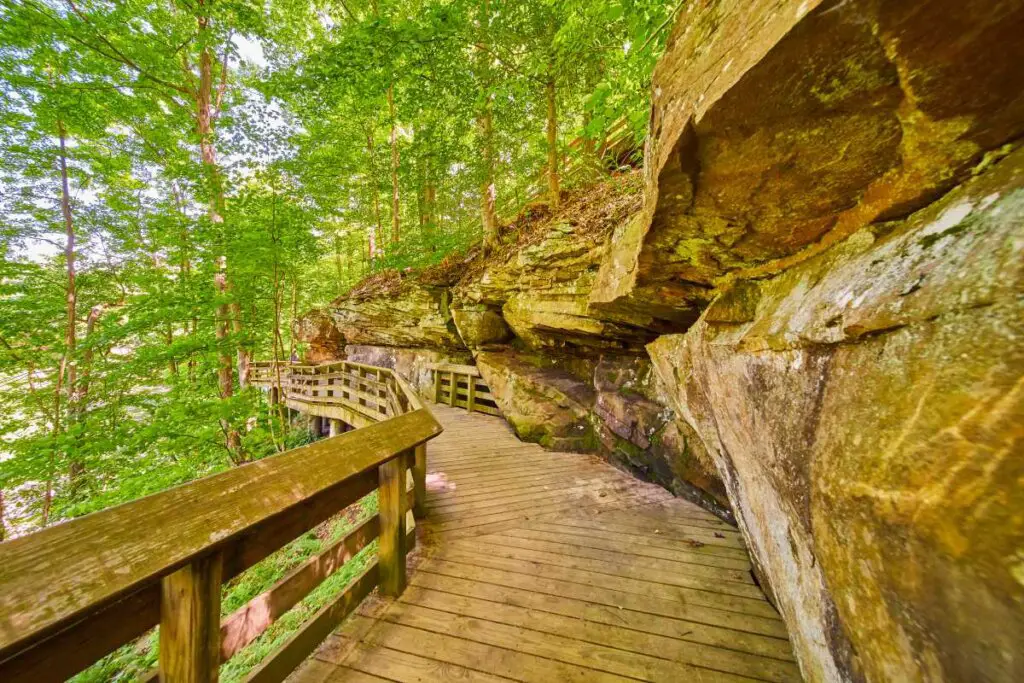 A trip to the Cuyahoga Valley National Park is a great way to escape from city life. The hiking trails aren't too strenuous, and there are some excellent spots for picnics if you feel like bringing a lunch or snacks with you.
There are many hiking trails in this park that range from easy to moderate difficulty. Most of them lead through heavily wooded areas, which makes it a nice cool escape from the summer heat. There are ponds and woods and hills all intertwined with hiking trails.
This park has more than 125 miles of hiking trails to choose from. But my favorite hiking trail was Brandywine Gorge Trail Loop. This hiking trail is about 1.4 miles of rocky trail. The trail takes you through woods, large rocks, and breezes. It will take you an hour or less, depending upon how often you stop to take photos or rest, because it can be strenuous, especially if you choose to go down into the creeks.
Another great hike within this park is the Ledges Trail. It is easy to get on this trail from the Old Carriage Road, which follows along some rocky outcroppings and cliffs carved by glaciers during the Ice Ages. There are a couple of small bridges you can walk across as well as some places where it looks like the earth just slid down the side of a cliff.
Because this park has several trails that lead to stunning vistas, I had no choice but to include it in this list of the best hiking trails near Columbus.
Address: 6947 Riverview Road Peninsula, OH 44264
5. Rocks and Roots Trail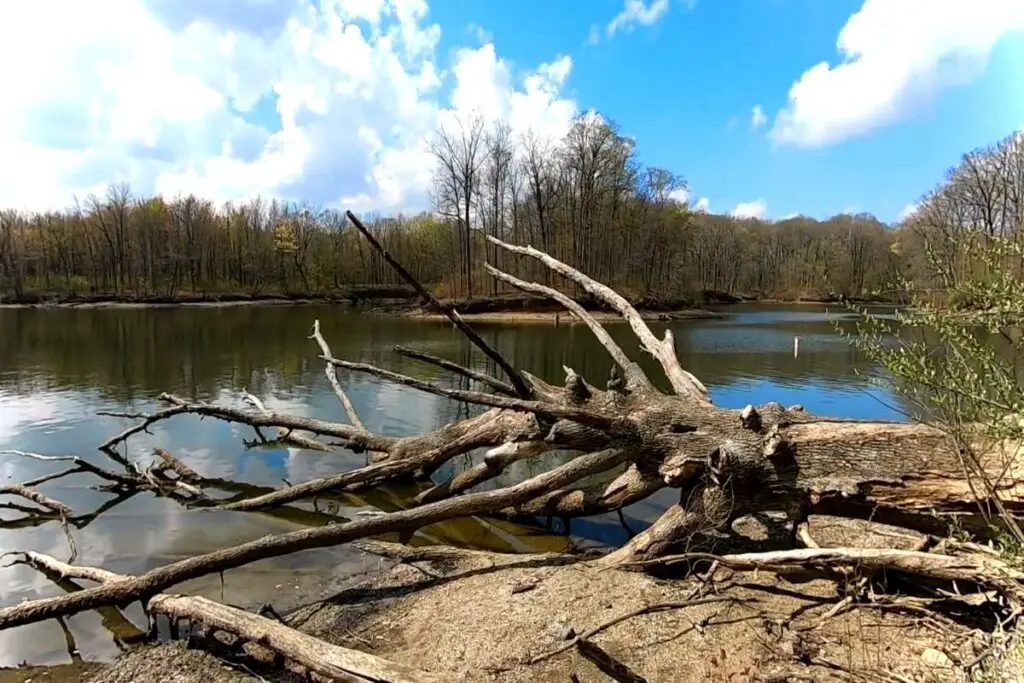 I'm pretty sure most hikers are familiar with this trail, but I will cover it anyway. I believe it is part of the best hiking trails near Columbus because of its beauty and peacefulness.
This trail is located in Alum Creek State Park and is an excellent place to go hiking near Columbus if you want a moderate but not too strenuous workout. The trail has rocks, roots, and tree roots throughout. In some areas, it almost looks like the trees grew up from under the rocks.
The best time to go would probably be spring or fall (I cannot vouch for winter since I almost never hike in the cold months). There are paths that branch off from the main trail. However, if you stay on the best path, Rocks and Roots Trail contours around a hillside that provides some nice views. You will also see some rock walls built into the side of hills, as well as take a few stairs carved into rocks.
Also, be aware that this trail gets very wet and muddy after rain. So hiking shoes are best suited for hiking here since they help keep your feet dry and give good traction on wet rocks/ logs/ roots.
Address: 3615 S. Old State Road, Delaware, Ohio
Official site: www.alum-creek-state-park.org
6. Buckeye Trail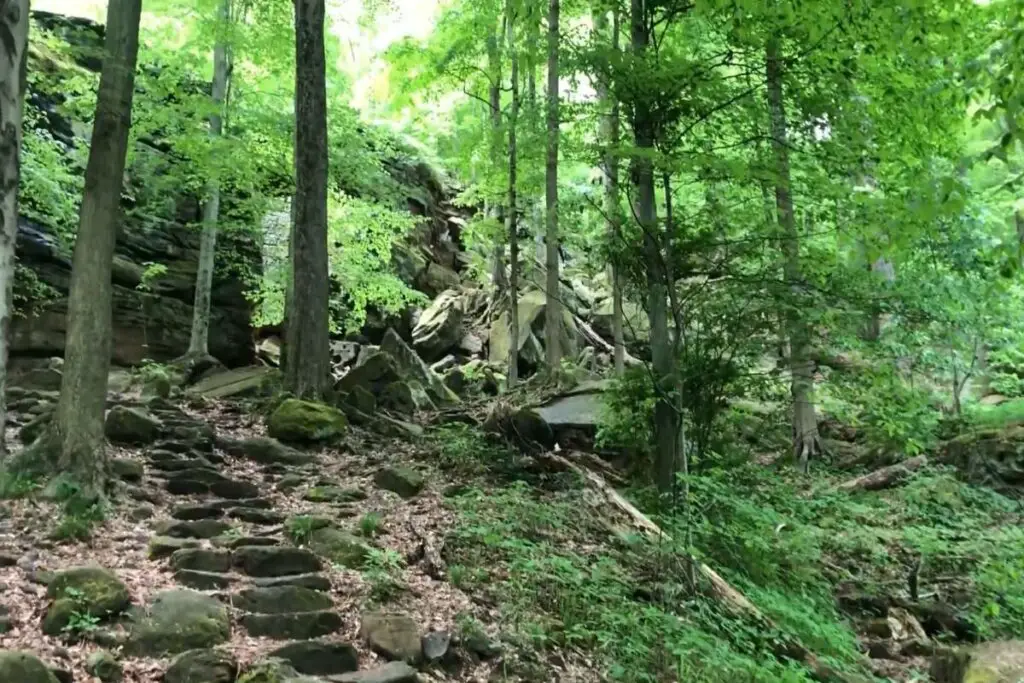 One of the hiking trails near Columbus is part of this loop hiking trail. It's about 20 miles long and can be accessed via Caesar Creek State Park. 
The Buckeye Trail hiking trail traverses through all sorts of terrain (i.e., forest, farmland, wetlands, etc.), so hiking along it is an interesting experience. But you will also be able to see many types of wildflowers, birds, and other wildlife as well. In addition, this hiking trail has lots of shade from the trees.
I found Buckeye trail an excellent hiking trail for several reasons. First, there are some campgrounds along the way where you can stay overnight if you have a hiking permit.
Second, it's well marked so that even new hikers will know where they are supposed to go at each junction offshoot of the main trail. And third, it has wonderful views throughout its 20 miles. I would recommend this hiking trail if you want a longer hike.
Address: 8570 East State Route 73
7. Gahanna Woods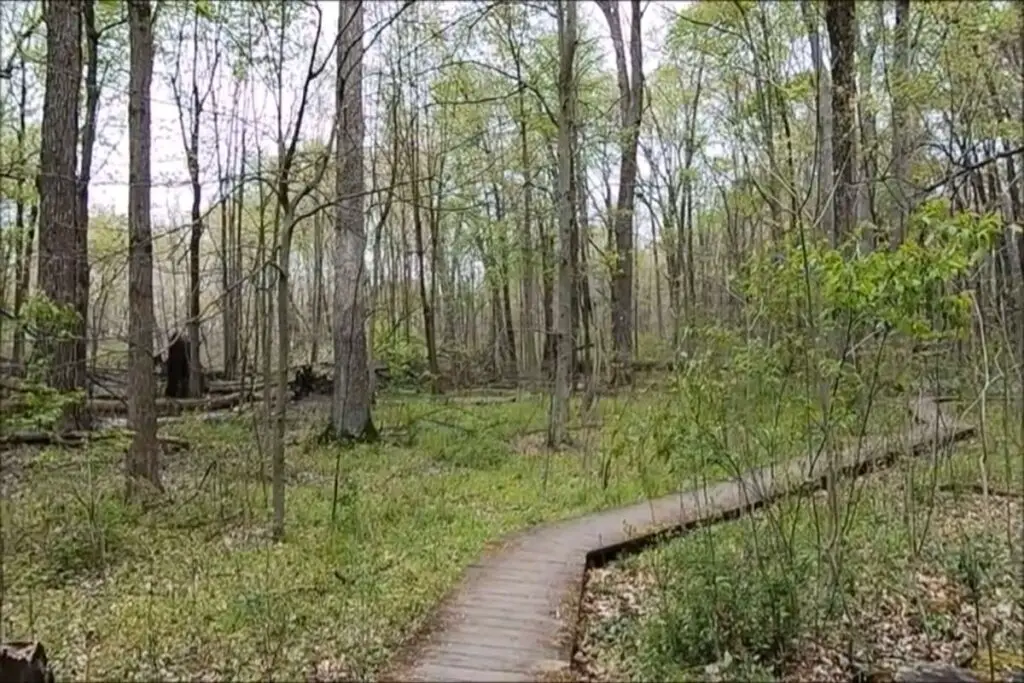 This is a hiking trail in Gahanna, which is about 15 minutes east of Columbus. It's a relatively easy hiking trail but not too short. The hike starts at a parking lot and then takes you into the woods. In addition, it goes through several different habitats, including some meadows, which are always fun to look at because there are often butterflies feeding on the wildflowers. It passes by a creek bed and then goes into an upland forest.
The elevations at this trail are moderate to make this enjoyable for people who are looking for something other than flatland hiking trails. Note that when it rains, this hiking trail is slippery and can get muddy. Therefore, I recommend coming to this hiking trail in dry weather for the best hiking experience.
Address: 1501 Taylor Station Rd, Gahanna, OH 43230, USA
8. Cantwell Cliffs Loop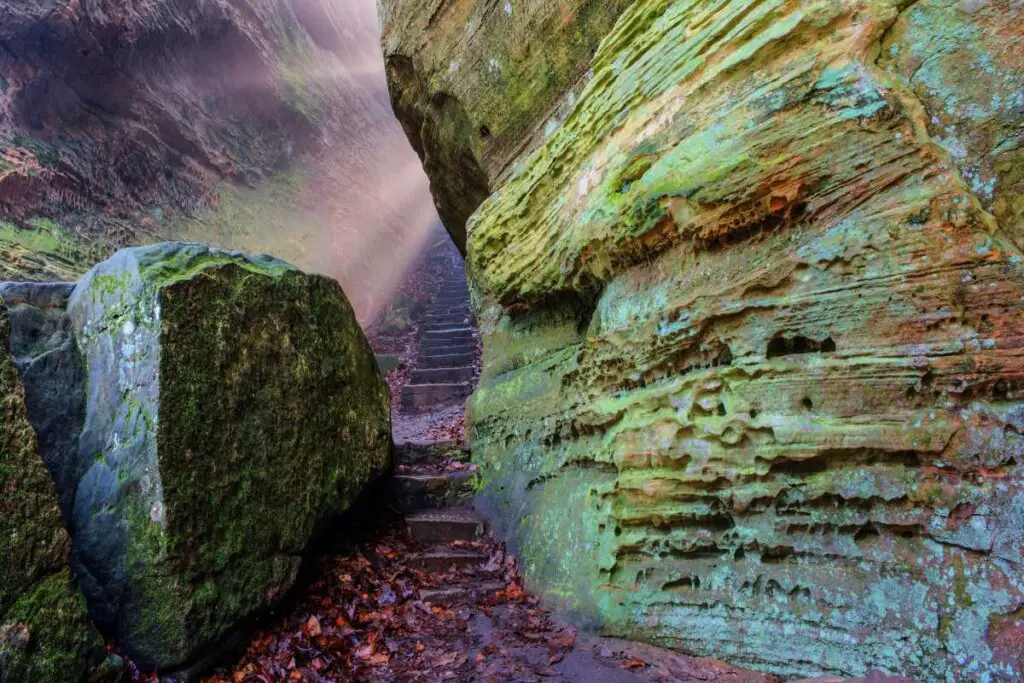 This hiking trail is located at the Hocking Hills State Park, about an hour outside of Columbus.
It's a 1.8-mile loop that provides different hiking experiences. The first half of it winds through forested hills while the last half goes over stone cliffs. I would rate this hiking trail as moderate because you are hiking up and down steep grades on some parts of the trail rather than following a flat path for the entire hike.
I find this hiking trail to be challenging but fun. You can really feel hiking up and down different elevations as you go along the trail. There are also a few rock formations that I found interesting such as Sand Cave which was formed by wave erosion and contained an arch in it. There is also Conkle's Hollow which has a big, deep sinkhole.
Another good thing about hiking here is that there are restrooms at the parking lot before you start hiking, including an outhouse for emergencies! And don't worry if you forget any hiking essentials because there is a hiking store at the entrance of the hiking trail.
If you like hiking and want to see what hiking is like near Columbus, then I definitely recommend this hiking trail.
Address: OH-374, Rockbridge, OH 43149, United States
9. The Hemlock Trail
I have to say that hiking the Hemlock Trail is probably my overall favorite hiking experience in Central Ohio. The Hemlock Trail itself is located in Clear Creek Metro Park, and it's the shortest hiking trail at that park (1.5 Miles).
The reason why this is my favorite hiking trail near Columbus, OH, has to do with both its history and its spectacular views. It just so happens that the Hemlock Trail runs along a ridge that was once used by Native Americans as a lookout for watching for enemies or hunting animals. They would have been high up enough to see what they needed from here.
There are lots of wildflowers (for those who like to hike in the spring), waterfalls (for those who like hiking with nature sounds), tall Hemlock trees (for those who like hiking in the shade), nice elevation changes, three small waterfalls (the largest being 4ft tall), gorgeous rock outcroppings, and plenty of wildlife to see (I've seen deer, squirrels, and birds).
I can assure you there would be something here to enjoy no matter what your preferences when hiking are. And even though this isn't a very long hiking trail, it still has some elevation change which means that hiking here wouldn't be boring.
Address: Clear Creek Rd, Rockbridge, OH 43149, USA
10. Clifton Gorge State Nature Preserve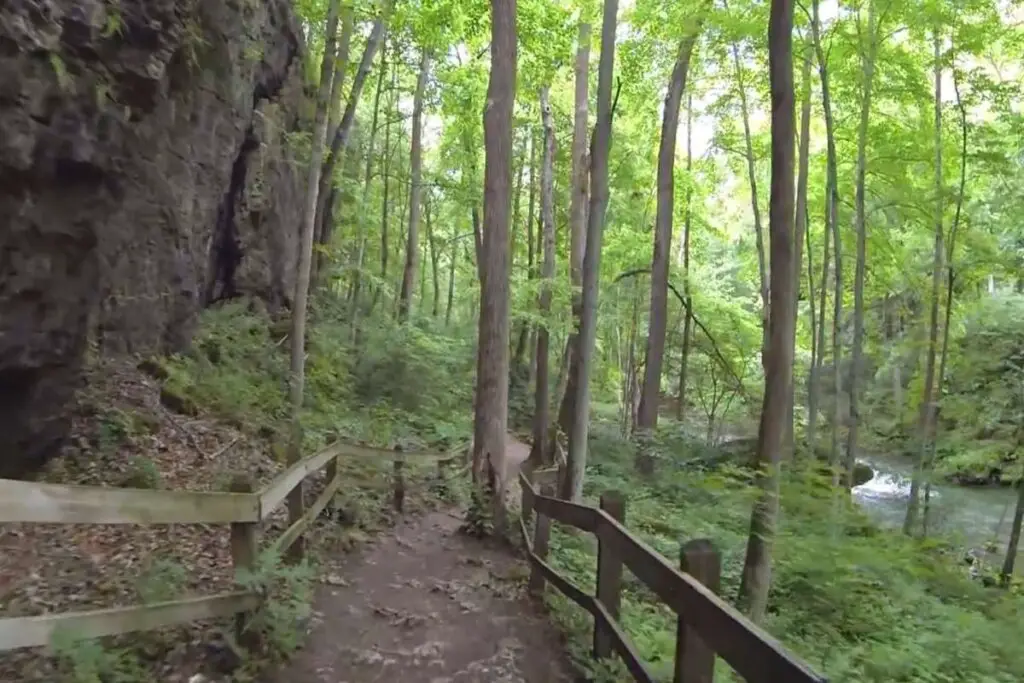 Clifton Gorge is definitely one of the best hiking trails near Columbus because it is known for its beauty (hence the name). There are various hiking trails that will take you to different features around the nature preserve.
It is particularly nice here because you get good views of the river itself as well as waterfalls, steep cliffs, and wildflowers. Also, it's not too far from Columbus (a 1-hour drive).
The trails are surrounded by lush ferns and moss-covered fallen trees, lending to the natural feel of hiking in a gorge. The trails are very well marked and have great signs at the trail intersections, so it's easy to stay on track. Lots of stairs, though, due to the limestone cliffs, but they are good.
And finally, one thing about this park that is very cool (in addition to all the hiking trails) is that there are areas where you can jump off rocks into deep pools in the gorge below (although I advise only jumping if you know how deep it is).
Address: 2381 State Route 343, Yellow Springs, Ohio
11. Denison Biological Reserve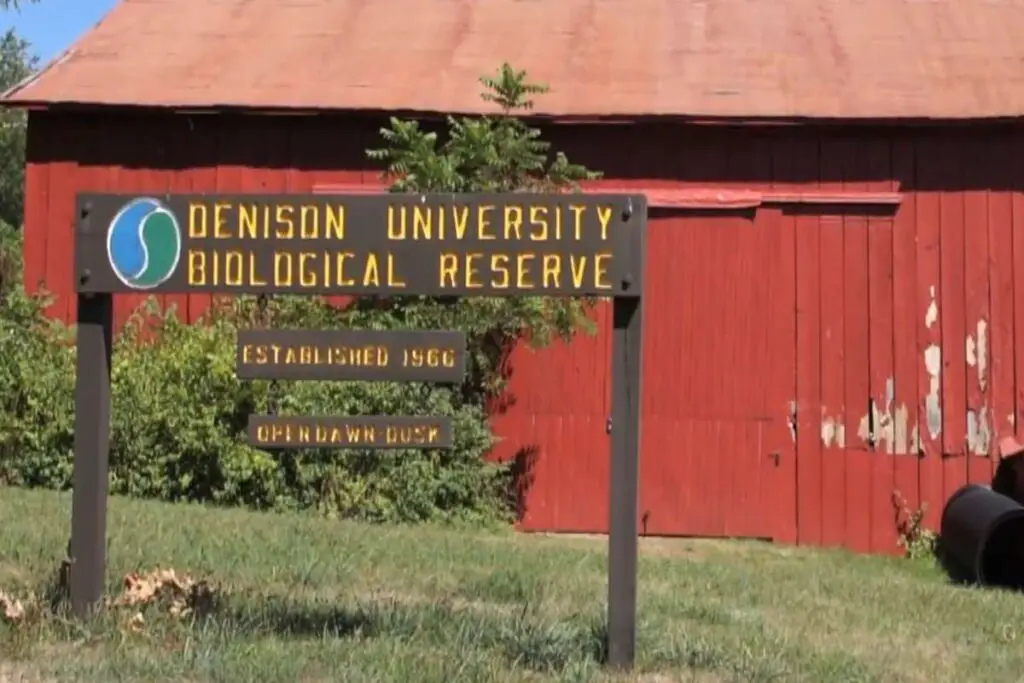 The Denison is a bit out of the way for most hiking enthusiasts. But if you are a bird watcher or just enjoy hiking along wooded trails, this is a great place to go.
The scenery at this hiking/ birding preserve is truly stunning! There are ponds that you can see from the hiking trails, and they reflect the sunlight off their waters in such a pretty way.
The hiking trails are all gravel or dirt and typically narrow. This isn't too much of a problem because they aren't very busy with people hiking here. The trail system includes hiking trails that wander through meadows, wetlands, forested areas in addition to hiking around the ponds. There are many benches along the hiking trails, so you can stop and take a rest when need be.
There is also a nice gift shop on site where you can purchase souvenirs or books about birds if that interests you. Of course, if hiking doesn't interest you, then there are other things to do at the Denison, which include fishing in some of their ponds, picnicking, or just enjoying the view.
I think hiking at this location is best in the springtime when all the wildflowers are in bloom. But whatever time of year you go hiking here, it will be a good experience, and I recommend it for anyone looking to get out and explore nature!
Address: 1760 North St NW, Granville, OH 43023, USA
12. Big Run Park Loop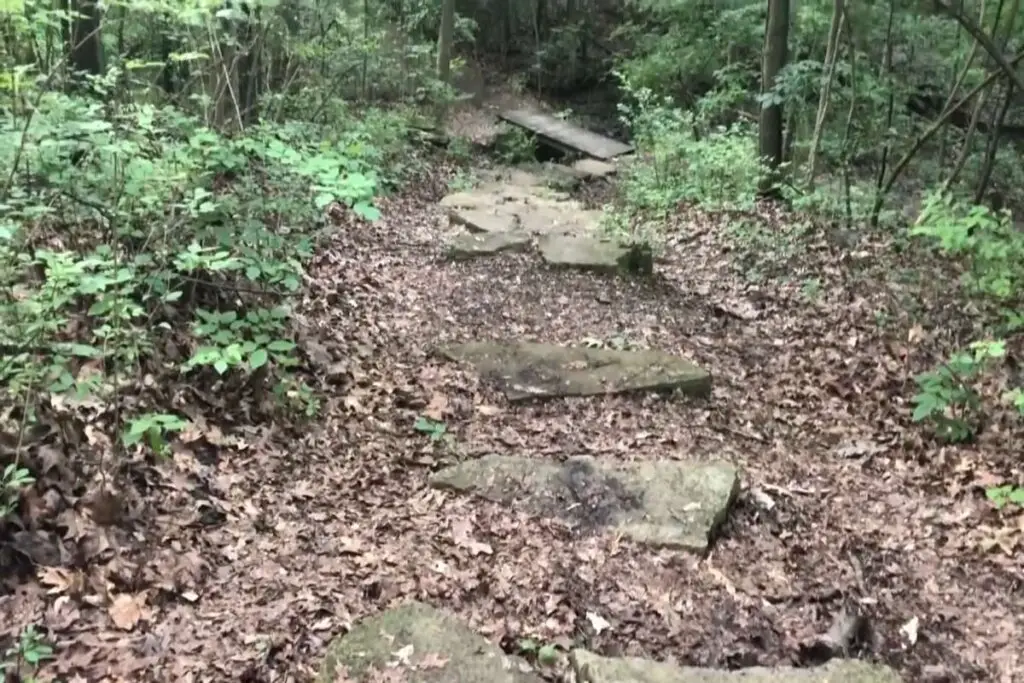 This is a shorter trail, just about 3 miles total. However, it does have some nice elevation changes and fairly dense woods to navigate through. There are several paths that lead down to the creek, but they can be tough to spot since they don't go very far before they end.
I like this area because it has such a variety of different types of trails (loop, straight path, switchbacks). Plus, there are some great ridges and views at the top. In addition, throughout this hiking trail, you are shaded by trees. You will see some evidence of deer and other wild animals along the way (i.e., droppings).
This hike takes about 1-2 hours, depending on how fast or slow you go. There are several benches so if you need to rest you can do so easily here without having to sit on the damp ground somewhere.
Address: 4201 Clime Road, Columbus, Ohio
In summary
When planning your next adventure, keep this list of the 12 best hiking trails near Columbus in mind. Whether you're looking for an easy stroll or something more challenging with some great views, I hope this list helps narrow down the search!