Oregon is a great place to visit, and if you're looking for a unique experience, why not try soaking in one of the state's famous hot springs?
Known as one of America's best-kept secrets, Oregon offers many hidden gems that will leave you feeling relaxed and rejuvenated. From volcanic pools to private retreats, there are plenty of options if you want to escape from your everyday life and experience something new. Whether you're looking for a place to relax or an excellent way to cool down, there will be something perfect for you.
In this post, I will share with you my list of the 10 Best Hot Springs in Oregon that I have enjoyed during my travels. All of them are worth a visit and will give you that spa-like experience without having to leave the state!
Best Hot Springs in Oregon
1. Umpqua Hot Springs, Umpqua Wilderness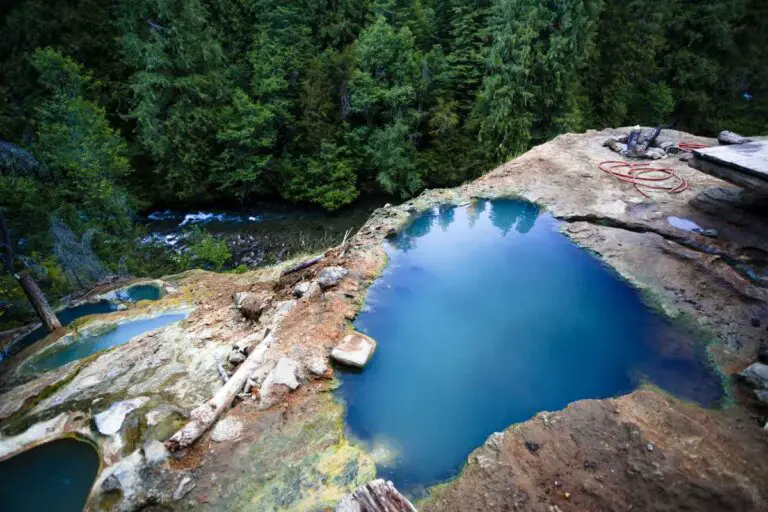 Umpqua Hot Springs was by far my favorite hot spring in Oregon. It is located in the Umpqua National Forest, about an hour and a half from Eugene.
Situated along the banks of the Umpqua River, these hot springs are feature three cascading separate hot pools. The pools increases in temperature as you make your way up the river. Two hot springs are located right next to each other, whereas the main hot spring is a bit further away from the others.
As well, if you're worried about people not respecting others because this is a clothing-optional area, don't be! I went during the middle of July on the weekend with lots of other people around, and I didn't see any nudity anywhere except on the pools alone. This was awesome because it meant that nobody felt the need to "get cozy" outside the pools.
The best part about Umpqua Hot Spring? The quarter-mile hike from the parking to the springs was stunning, although steep. In addition to soaking, there were also people camping at the nearby Toketee Campground. The campsites neighbored Umpqua Hot Springs and looked like the perfect place to relax before hitting the trail.
There are two things I would note about this place: first, there are no barriers between the pools, so be careful when walking around. Second, I would advise bringing some water shoes because some of the rocks are really jagged/sharp, and they hurt! But other than that, I loved this pool!
2. Bagby Hot Springs, Mount Hood National Forest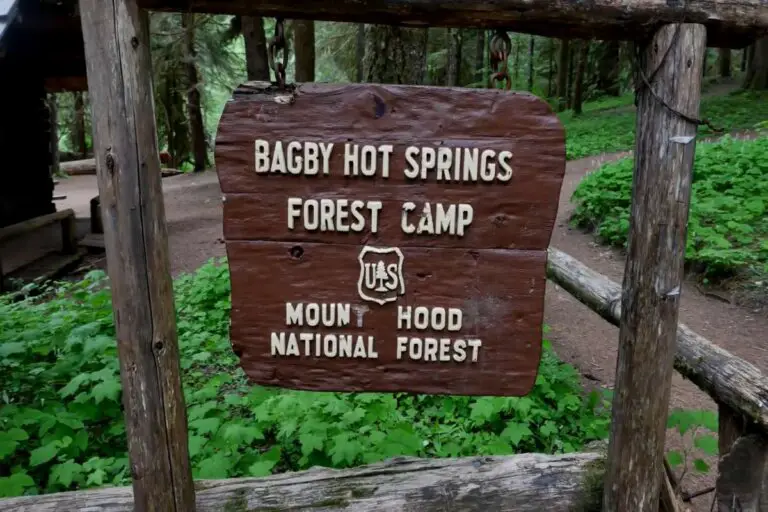 This hot spring was also the highlight of my trip! I was looking forward to this spring all day long since I had heard so many amazing things about it. And I was not let down. The hot springs were hot and comfortable.
To get here, you need a 4WD or high clearance vehicle because of the forest roads. However, the road only gets rough-and-tough near the hot springs. So you'll probably make it up there even if your car isn't officially considered "high clearance."
This hot spring features three distinct bathhouses, each with various soaking options. The most impressive ones are five private stalls, where I got to see a handful of manmade cedar log tubs. The temperature was perfect (not too hot), and it was extremely relaxing.
In addition to the main hot springs in this area, there are other soaking spots where you can go to relax. One of them is in the six-foot-round community tubs, perfect for an evening soak.
The nearby campsites are very popular as well. So if you're planning on staying overnight, make sure that you claim your spot early in the evening before dark. There were hot showers and bathrooms as well.
This place was incredible, and I think it is one of the most popular Oregon hot springs. I definitely recommend this as a must-see on any Oregon vacation.
3. McCredie Hot Springs, Willamette National Forest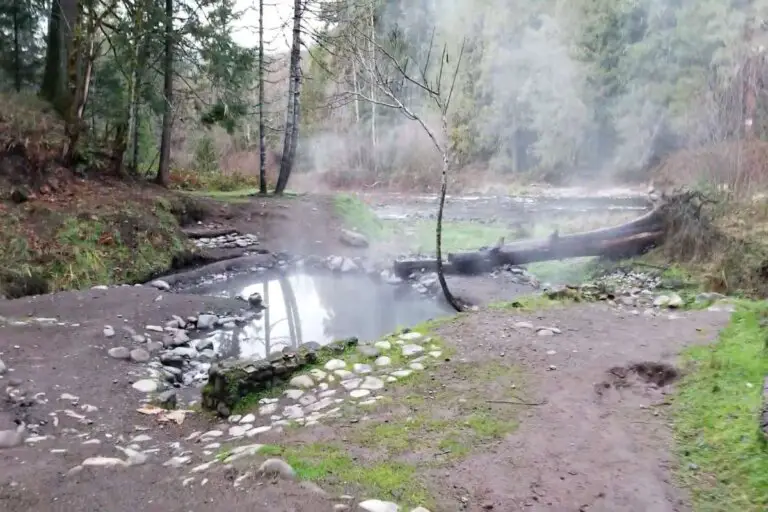 McCredie Hot Springs is situated in the Willamette National Forest, about 30 minutes from Eugene. The pools are built right next to a forested area, which makes it special to soak in hot springs surrounded by trees and nature!
The McCredie pool is definitely smaller than other Oregon hot springs I've seen. But it was still nice for a quick soak. Also, there were several pools ranging from cold to hotter temperatures. So you can pick out your favorite one depending on how warm you want the water to be!
The hot springs themselves are clothing optional, and many soakers do decide to soak completely naked, so don't be surprised if you arrive and see more than you bargained for!
There's also a campground right next to McCredie Hot Springs. So if you're spending the night, this would be a good option. The parking has a few spots, and I saw people stop by the springs on their way through to the nearby campground. So, just be sure to arrive early because it can get busy!
The place was very peaceful and not too busy during this time. Since it was summertime, I was expecting more people around, but it wasn't crowded at all. It's perfect for a romantic getaway with that special someone or just chilling with friends.
4. Terwilliger Hot Springs, Willamette National Forest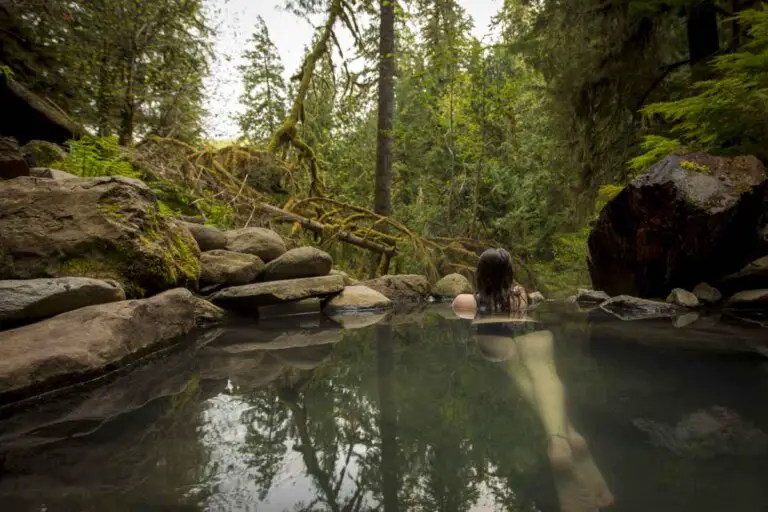 Terwilliger hot springs is another hot spring that I have heard many great reviews about. However, this hot spring was slightly underwhelming compared to the other hot springs in Oregon because of wildfires and rockslides that had happened in recent years.
That being said, it is still a gorgeous hot spring tucked away in the middle of nowhere. It features five pools of various sizes, some more private than others, along with three hiking trails through the surrounding forest. The hot springs are extremely clean and well maintained! This is definitely one hot spring where you can let your guard down and just relax without worrying about people around you misbehaving!
Each pool had its own temperature, so depending on what you prefer, I would suggest going to all the pools because they are very different! I arrived early in the morning, and it was quiet enough for me to choose the one that suited me!
Another thing I loved about these hot springs was the trails around them! The hot spring itself was easily accessible through a quarter-mile hike from the parking lot. It's a beautiful trail with gorgeous views of lush vegetation all around you! Definitely take this hike if you're planning on visiting.
One thing to note about Terwilliger Hot Springs: bring your own water shoes to combat the sharp rocks around the hot springs. Overall, I think that this is one of my best hot springs in Oregon because it's just so secluded and quiet! It is worth your time, and I guarantee that you will have a great experience here!
5. Belknap Hot Springs, Willamette National Forest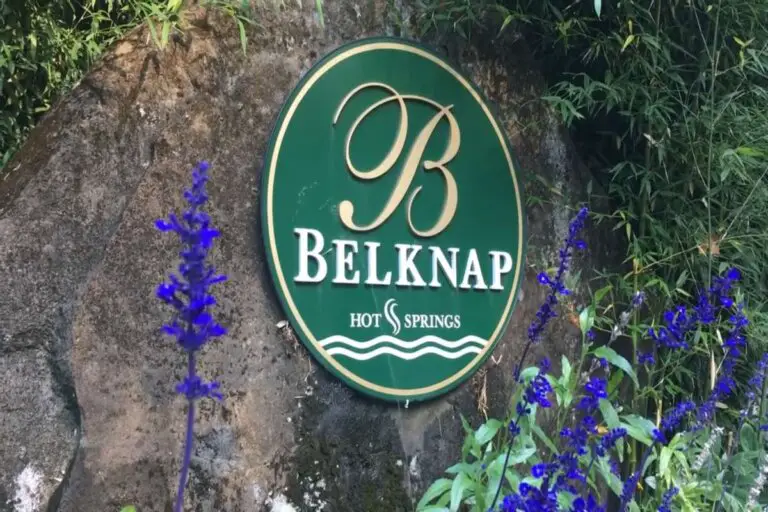 This hot spring was a little bit over an hour from where I was staying in Eugene. Despite the hot temperatures, I wanted to make the hike out there since it is one of the best hot springs in Oregon.
These hot springs at Belknap are classy, clean, and luxurious. It features two pools (one upper and lower). The lower hot spring is used by day-use visitors who pay an hourly or all-day pass. And if you are an overnight guest at the resort (which you should be!), then your hot spring experience will be great since you will have access to both springs.
The hot pool was extremely clean and relaxing. It definitely became one of my favorite spots during my trip. You can take as long as you like to soak in this hot spring, but I recommend getting there early if you want to claim one of the couches. In addition, the resort has an upscale vibe with restaurants, lounge chairs that are heated underwater, saunas, and steam rooms for ultimate relaxation.
Note that this hot spring gets pretty crowded during the summer months. So if you plan on staying overnight, then get there early. But if you find the rooms fully booked, this resort also provides tent spaces and RV hookups.
6. Hart Mountain Hot Springs, Hart Mountain National Antelope Refuge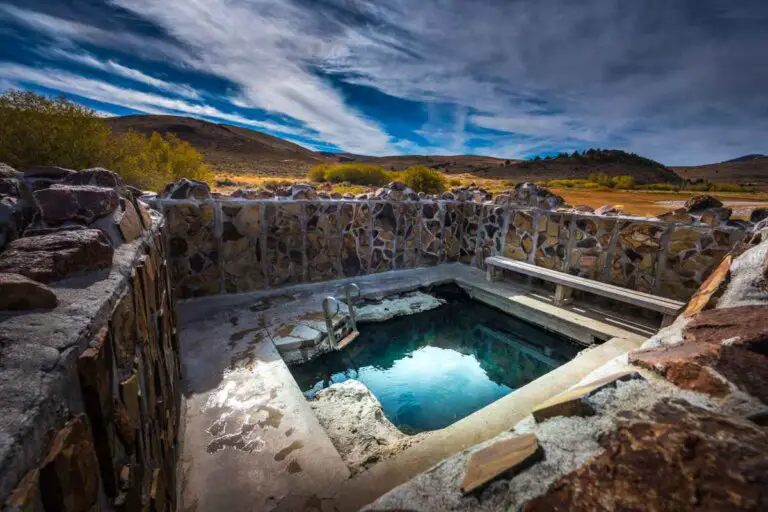 This hot spring is located in the remote area of southern Oregon, and it definitely feels like you're in the middle of nowhere. It is very hot and bubbly, which makes it unique from other hot springs in Oregon.
Hart Mountain hot springs have one main hot spring pool that features landscaped rocks. The hot spring itself is quite impressive with its ability to capture your eyesight with all the steam rising from the water. It was also surprisingly clean, which made soaking in this hot pool all that better!
In addition, there is also a small hot tub near this pool, perfect for enjoying the views of the surrounding vast and open landscape. Also, camping is allowed at the hot spring campsite nearby! Though if you choose to camp here, please be aware that this place has hot weather. So bring plenty of water.
I highly recommend this hot spring for anyone who wants to enjoy a hot soak surrounded by nothing but nature. It was a great place to escape from the busy world and truly appreciate the beauty of Oregon.
7. Paulina Lake Hot Springs, Central Oregon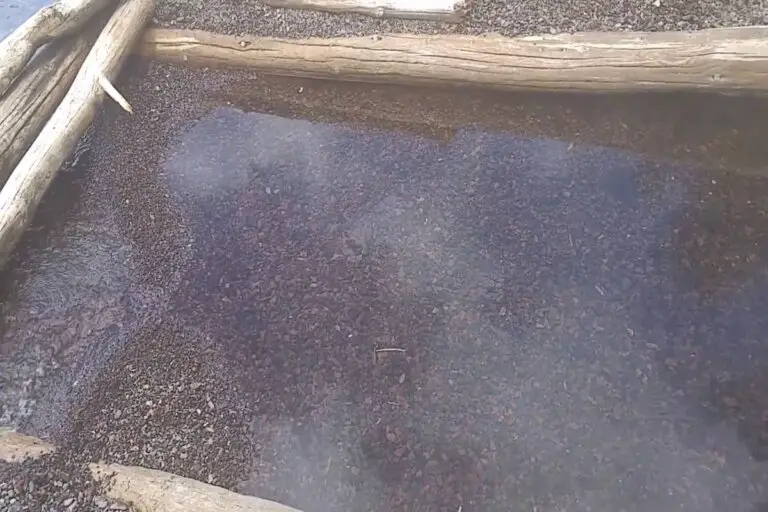 Paulina Lake Hot Springs is located in Oregon's Newberry National Volcanic Monument. This means there are tons of hiking trails all around! To get to the hot spring, you need to complete a two miles hike on the shoreline of Paulina Lake. Along the way, you'll get to enjoy the beautiful landscape of the area.
Once you arrive, the sight of small soaking spots around will make you want to take your time and relax in each hot spring pool. The hot springs are hot but not scorching hot because the waves of Paulina Lake cool them. It felt amazing soaking in the spring with the incredible view of the lake. As an added bonus, you can view Paulina Peak and the surrounding volcanic landscape while soaking in your hot tubs.
The hot spring has a great backcountry camping area, so you can stay the night and have some fireside hot spring fun!
The surrounding forest was incredibly scenic as well, so make sure to check out the hiking trails right around the springs. Overall, Paulina Lake Hot Springs was an awesome Oregon hot spring, and I will definitely visit again!
8. Breitenbush Hot Springs, Willamette National Forest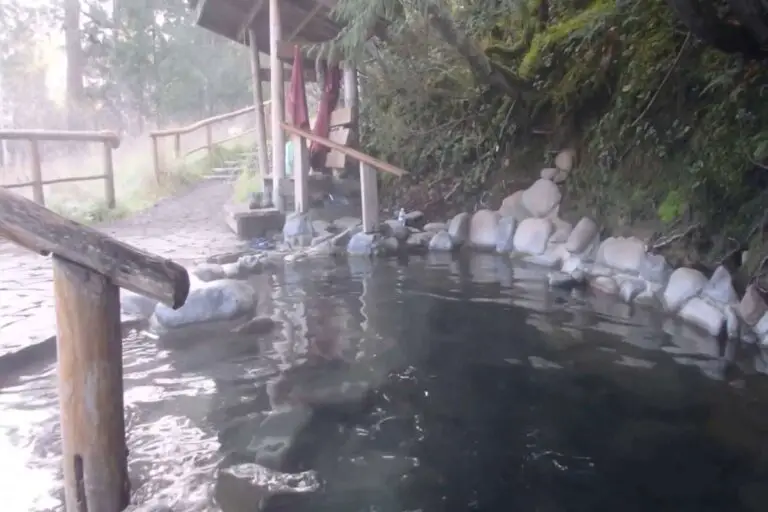 My next hot spring adventure took me to Breitenbush hot springs. To get to the hot springs, you need to hike into the deep forest for about half an hour or so. Bring your own water because there's none available on the trail.
Breitenbush hot springs is located in the Willamette National Forest, just a distance away from Mount Jefferson. It features three hot springs, a handful of hot tubs, and one hot pool. The hot springs are big enough to accommodate up to six people in each tub.
This hot spring was one of my favorite hot springs in Oregon for several reasons, most importantly because it's clothing-optional. It felt very relaxing to soak naked in the natural thermal pools with other people. After about an hour, you don't even notice that there are other people around because everyone just lets their guards down and gets into the zone of relaxation.
And unlike other hot springs in Oregon, this one is a bit developed. This is because it has temperature-controlled waters (101, 105, 108°F pools), restrooms, showers, and nearby dining and lodging options.
There are also yoga classes and workshops on massage therapy, Buddhism, self-care practices, and spirituality. There's even something called "hot tub dance therapy." So, if you're looking for Oregon hot springs with lots of options, Breitenbush Hot Springs is just the place.
9. Ritter Hot Springs, Long Creek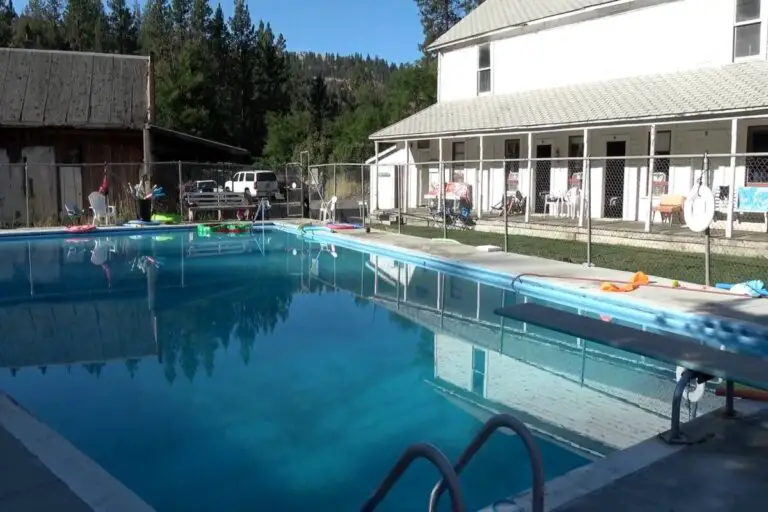 Ritter Hot Springs is one of the best hot springs in Oregon and is popular for its unique dipping pools in the middle of the Fork of the John Day River. This hot spring gets its name from the nearby Ritter Mountain Range. Water flows down the mountain at over 100 degrees Fahrenheit into four partially enclosed concrete soaking pools that vary in size based on water flow rates.
The hot springs are clothing optional. However, you will be surrounded by others who may not share your mindset about clothes (so don't be shy). During my time there, I saw all sorts of people, some nude and some clothed. No one seemed to be the least bit phased by what others were wearing or not wearing.
This hot spring is located in a deeply forested area. The hot springs are large and have some great features, including benches, sloping rock-filled pools for easy entry/exit, flat rocks surrounding one pool perfect for laying on or sitting between while enjoying your soak.
This hike takes about 22 minutes from the parking lot at Ritter Hot Springs trailhead. Note that this hot spring is often full of people during weekends throughout the summer months. But trust me, it's worth the wait.
10. Bigelow Hot Springs, Willamette National Forest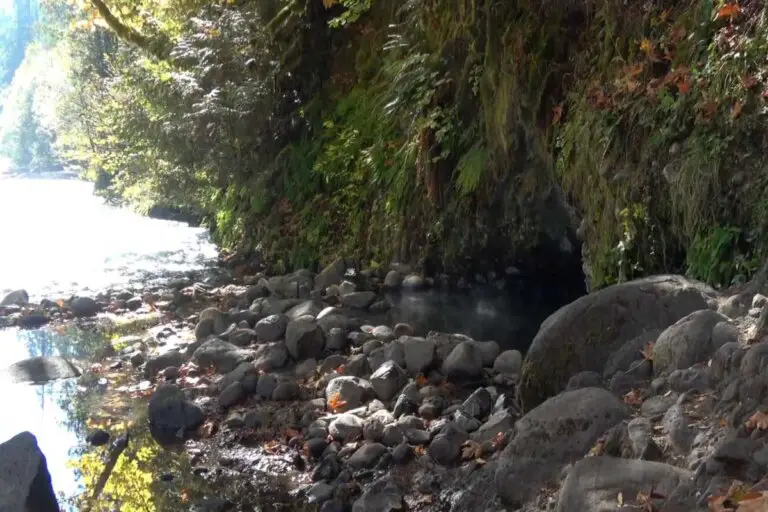 Bigelow hot springs are located in the upper McKenzie River watershed, within Willamette National Forest.
It took me about an hour to reach Bigelow hot springs from Eugene. The spring itself is slightly off the trail and requires a short walk through the woods to reach it. And once I arrived, I couldn't stop smiling. The hot spring was hot, but not too hot that you couldn't get in. Plus, there were hardly any people there!
This spring features one human-made rock circle hot tub, which was very comfortable. A hot spring flows into one side of this circle hot tub and then exits on the opposite end. Basically, hot water is flowing in and out of this hot tub. And because it's shaded from direct sunlight, it remains cool even on hot summer days. However, note that the hot springs can get pretty hot. So check before jumping in!
In terms of visiting this place, I would say that it's worth coming here if you have plenty of time on your hands. But if you're looking to visit a hot spring during a weekend trip quickly, choose one of the other hot springs in Oregon!