All-inclusive vacations have become the norm for travelers looking to unwind. And it is no different when you visit this Nicaragua. This country is well known as an affordable destination to visit. Its beaches attract tourists from all over the world. But what sets them apart is their ability to provide a seamless blend between nature and luxury living.
There are many great options for beach resorts in Nicaragua: some with party scenes and others more serene. The best part is that you have plenty to choose from for any budget. But which beach resort should you choose? With so many resorts, it can be difficult to select one.
Fortunately, I've been lucky enough to visit this beautiful country and its gorgeous beaches. So, if you're wondering where to go, I suggest checking out these 15 top beach resorts in Nicaragua that are perfect for you!
Morgan's Rock Hacienda and Ecolodge is probably one of the most unusual Nicaragua beach resorts. It's in a totally natural setting, located deep in the jungle among mountains and rainforest.
All the rooms are in cottages that blend into the surroundings with their rustic wood construction and thatched roofs. The rooms also have high-tech air conditioning and lots of windows for plenty of natural light and ventilation.
My favorite parts of the resort were the views and the food! The view from my room was stunning! And I loved every single meal we had. They were all delicious! There's even a good variety here so everyone can find something they like!
I would definitely recommend this place for a fun-filled yet relaxing vacation with your family.
2. Calala Island, Calala Island
Calala Island is a private island located near the coast of Nicaragua, off the southwestern tip of Big Corn Island. This five-star resort is one of the best beach resorts in Nicaragua.
There are four suites here which are spacious and comfortable with private balconies where you can take in the amazing views of the ocean. The suites are decorated in a modern style with bright colors that complement the nice wooden furniture. In addition, each suite comes with a free pass for water sports facilities which include kayaks, snorkeling gear, paddleboards, boogie boards, and more.
The dinner here is four-course, and it's absolutely delicious. Their breakfast and lunch buffet is also great, with a huge range of food to choose from. The staff here were also wonderful and attentive. They always gave me the best recommendations on where to go and what activities to do during my stay here.
The main downside to Calala Island is that you will need a boat or a helicopter to get there. But if you don't mind spending extra for convenience and luxury, then I would definitely recommend checking out Calala Island Resort & Spa!
3. Hacienda Puerta Del Cielo Ecolodge & Spa, Camino de los Bueyes
Hacienda Puerta Del Cielo Ecolodge & Spa is a five-star adults-only resort best known for its gorgeous beachfront location, traditional architecture, and abundant wildlife.
Accommodation here is in suites and stand-alone casitas. The rooms are huge and luxurious, with a very romantic ambiance. They also have an outdoor deck where you can take in the views of the surrounding mountains. In addition, they have nice chairs and hammocks to just sit back and relax.
The resort has a spa, a boutique, a yoga studio, and more. It's focused on being an eco-friendly resort. They try to conserve water, use solar energy, and they also have recycling facilities. They also offer a variety of tours like horseback riding, bird watching, or exploring nearby waterfalls.
One downside to Hacienda Puerta del Cielo Ecolodge & Spa is that there's no pool on-site, but they do have an outdoor Jacuzzi.
4. Villas de Palermo Hotel and Resort, San Juan del Sur
The Villa de Palermo Hotel and Resort is a boutique hotel located on the Pacific coast of Nicaragua. The resort's cool ocean breeze and gentle sea breezes will help you relax as soon as you arrive.
The rooms here are simple but tasteful, with blue-tiled floors, white walls, and dark wood accents. All have ensuite bathrooms and balconies, so you can enjoy the fresh sea air. In addition, each room has a full kitchen equipped with a blender, coffee maker, and microwave oven.
The resort restaurant serves fine gourmet food for breakfast, lunch, and dinner. There's also a bar where you can enjoy cocktails while enjoying the view of the Pacific Ocean.
Overall, this is one of the best resorts in Nicaragua, so it's not hard to see why it is rated amongst top-rated resorts. You get great service for what you pay, plus everything here is very well maintained. I would definitely recommend staying here if visiting Nicaragua!
5. Pelican Eyes Resort & Spa, San Juan Del Sur
Another great resort that I would recommend is Pelican Eyes Resort & Spa. Again, it's a little pricey, but not that pricey.
The resort has both rooms and villas. The rooms are nice with dark wood furniture and tasteful decorations. The villas, on the other hand, have two floors with larger balconies that allow you to appreciate the amazing views of the ocean truly. The rooms and villas are pretty close to each other, but there's a little trail that you can take, which is more private and secluded (and very relaxing).
The resort has two restaurants, one of which serves vegetarian fare, as well as bars that serve up tropical drinks to help you start your vacation right. There are also three infinity pools for relaxing. If visiting during whale season (December through March), you may even be able to spot some whales from the resort's pier.
Pelican Eyes is more of an all-inclusive resort than just a hotel. The food is good, and there are lots of activities on offer, such as kayaking, stand-up paddle-boarding, and more.
6. Yemaya Reefs Colibri Boutique Hotel, Little Corn Island
This is an absolutely gorgeous resort with a very laid-back and relaxed atmosphere. I loved how it wasn't too big, because I could definitely get to know other guests easily during my stay. The staffs were incredible as well; they were all so friendly and helpful!
The rooms were very nice and spacious with a huge bed and an open bathroom concept. There were also daily activities available at the resort, so it wasn't all about relaxing by the beach or pool.
I had some of the best food on this island during my stay. They offered "a la carte" dining, where you could order whatever you wanted off their menu without having to go through a buffet line first. Some of my favorite dishes there was the local fish dish that came in a coconut curry sauce, grilled snapper, steamed vegetables, and homemade ice cream!
There are some great excursions you can take while staying on Yemaya Reefs Colibri Boutique Hotel
. They have snorkeling trips to another island, sunset cruises, and more. It's also really close to San Juan del Sur, so I had a number of day trips available as well!
7. Rancho Santana, Carretera Las Salinas
Rancho Santana is a very relaxing place to stay. It's perfect for families, groups, and couples alike. The accommodations were simple but comfortable with an on-site restaurant and bar.
The pool was massive and included a swim-up bar and plenty of lounge chairs to accommodate guests. Activities available include kayaking, snorkeling, hiking, etc. I found the staff to be friendly and helpful while I was there. They had great suggestions of places to explore in Nicaragua!
My favorite part of Rancho Santana Resort was definitely its location: right on the beach! The main downside is that it wasn't walking distance from any other restaurants or bars, which means that you need transportation if you want to get around. However, it was worth the extra money to have a quiet, relaxing vacation.
I'd definitely recommend checking out Rancho Santana Resort if you are looking for upscale beach resorts in Nicaragua!
8. Jicaro Island Lodge Granada, Granada
Jicaro Island Lodge Granada is another of the top resorts in Nicaragua located in the middle of Lake Nicaragua.
Accommodation here is in two-story casitas, which are spacious with modern furniture, air conditioning, and beautiful views of the lake. Every room also has its own private balcony where you can sit down to enjoy the view of Nicaragua's nature or take a dip in their infinity pool which is perfect for relaxing.
There's also the main restaurant (with buffet breakfast included) where you can order mains or tapas for lunch and dinner. The food here is pretty good. The staffs were great also! They were very attentive and went out of their way to help me with any requests I had, whether it be booking tours or getting dinner reservations.
9. Real InterContinental Managua at Metrocentro Mall, Managua
Metrocentro Mall is the largest shopping mall in Central America. It has a lot of shops and restaurants inside, and the Real InterContinental Hotel is part of it too. This hotel is one of the top beach resorts in Nicaragua.
The rooms at this hotel are very nice, with clean white sheets on the bed and plenty of pillows to choose from. Some rooms come with Jacuzzi tubs for two people. The bathrooms are also spacious and modern-looking, with rainfall showers that I absolutely adore. Just outside your room is where you access the pool area.
They have three restaurants, bars, a pool, gym facility, spa & wellness center, as well as laundry facilities. And if you plan on doing some shopping or sightseeing in Managua, this is a good hotel to check into since it is connected to a lot of stores and restaurants.
10. Gran Pacifica Beach and Golf Resort, Managua
Gran Pacifica Beach and Golf Resort is a great place for families who want to relax in luxury. It boasts of Spanish-colonial-style architecture, beautiful resort grounds, and upscale amenities.
All accommodation is in one or two-bedroom beachfront suites with panoramic sea views. The suites themselves are very spacious and decorated in a modern style with sleek wood furniture and plush bedding. They even have large dining areas and fully-equipped kitchens.
Gran Pacifica also has several children's activity centers where your kids can play and make new friends while you're busy relaxing. Don't forget to try their delicious ice cream parlor too! There is something for everyone here at Gran Pacifica Beach and Golf Resort.
I recommend this resort for families who want to feel pampered without having to leave the property or bust their budget. It's truly one of the best luxury resorts in Nicaragua.
11. Aqua Oceanfront Resort and Residences
Aqua Wellness Resort is another great place to stay. It's about an hour outside of Managua, which makes it secluded and quiet most of the year.
Accommodation here is in treehouses with fantastic views of the pretty tropical forest setting. The rooms are really cozy and comfortable with rustic touches. The showers are hot, and the beds are comfy. What else could you need?
The food here is also great. The chef took special requests during my stay (which was only three nights). They even had gluten-free options, which I appreciated because it's difficult to find foods like that at most resorts in Nicaragua.
I loved Aqua Wellness Resort because of how quiet and secluded it is. Perfect if you just want to relax away from all the noise! Also great for couples who want privacy while being pampered too!
12. Contempo Hotel, Managua
The Contempo Hotel in Managua, Nicaragua, offers all the comforts of home with an added touch of luxury. It's only 6km from the airport, so it makes for a nice landing spot after your flight.
This is one of the best resorts in Nicaragua you can stay since everything is top-notch. The beds are comfortable, and there are ample pillows and plush bathrobes in the bathroom. All rooms have their own balcony, which is great for watching or taking some time out after a long day exploring this vibrant city.
Breakfast is included every morning at the on-site restaurant, where you can try delicious meals. Round out your day with a cocktail or three in the outdoor bar, and then take some time to relax at the poolside spa.
13. Hotel Victoriano, San Juan Del Sur
Another great resort in Nicaragua is Hotel Victoriano. This hotel actually has villas that look like cabins with their own private patios and outdoor seating areas.
The rooms at this hotel are spacious and modern, with comfy beds. There's also a table to enjoy your meals on while you can take in the amazing views of the ocean just outside your room.
There's both an indoor and outdoor dining area for breakfast, lunch, and dinner. Everything is fresh and cooked to perfection. The dishes here are beautifully presented as well. You can even get a massage right by the sea or a treatment nearby in the spa before relaxing the rest of the day.
14. Marina Puesta Del Sol, Playa Aposentillo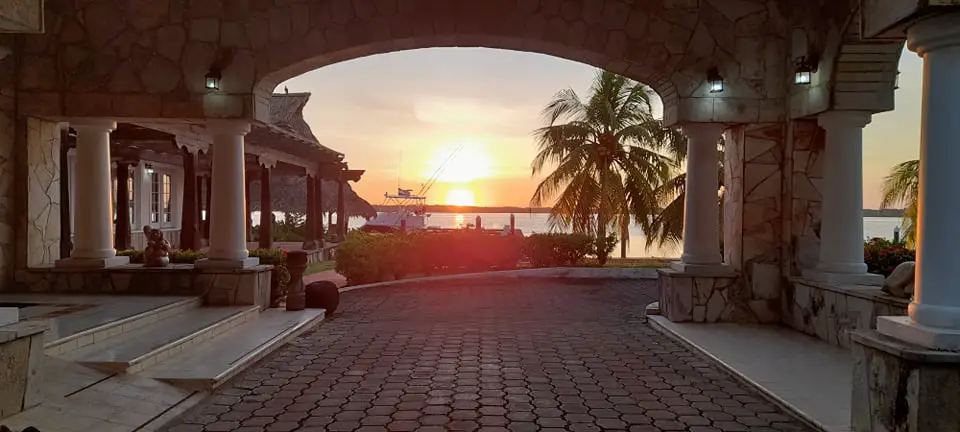 Marina Puesta Del Sol is a luxury resort and spa located on the Pacific Coast of Nicaragua. The resort is six-minute drive from Santa Maria beach, which makes it one of my favorite places in the country!
The resort has 19 suites, each with a private balcony and views of the Pacific. There's also a restaurant and bar for guests who want to enjoy some local cuisine or just unwind with a drink or two. The staff here are incredibly friendly, and they know exactly what to say and do to make you feel comfortable during your stay.
What makes this resort even more special is that they offer complimentary activities every day like kayaking, beach volleyball, workout classes at the gym, and catamaran rides. And for those who want to really pamper themselves, there are hydrotherapy whirlpool tubs in the bathrooms.
Marina Puesta Del Sol is definitely worth checking out if you're looking for a resort that has it all: great location, fantastic amenities, and lovely service!
15. Elements Hotel Boutique, Managua
Elements Hotel Boutique is a small hotel in Managua. It's perfect for travelers who want privacy and pampering, but still want to be close to the beach and nightlife.
The rooms here are very spacious, comfortable, and decorated in a modern style. There's also a small balcony where you can take in beautiful views of the city. The hotel has an all-day dining restaurant that serves up great international cuisine. There is also a bar where you can order cocktails.
I would recommend checking out Elements Hotel Boutique if you're looking for a relaxing but luxurious stay in Nicaragua.
These are the best beach resorts in Nicaragua. So, if you're looking for an unforgettable vacation in Central America, go no further than these resorts. You'll have everything you need for luxury living right next door, so don't wait any longer. Check them out today and pamper yourself at any one of them at least once in your lifetime.