Honduras is a Central American country with a tropical climate, home to dense rainforests, mountains, and coastal reefs. The Bay Islands, famous for scuba diving, lie off the northern coast, and Copan, with Maya ruins dating to 400 A.D., is one of the Western Hemisphere's most important archaeological sites. All of these natural and man-made attractions make Honduras a top tourist destination.
I spent three weeks exploring Honduras, and I was pleasantly surprised by how much there is to see and do in this often-overlooked country.
I toured its ancient ruins, relaxed on beautiful beaches, hiked through the rainforest, and even snorkeled with sharks. And to help you plan your trip, I've put together this list of the 15 top-rated things to do and tourist attractions in Honduras. Read on!
Things To Do In Honduras
1. Roatan: The Best Island in Honduras (Bay Islands)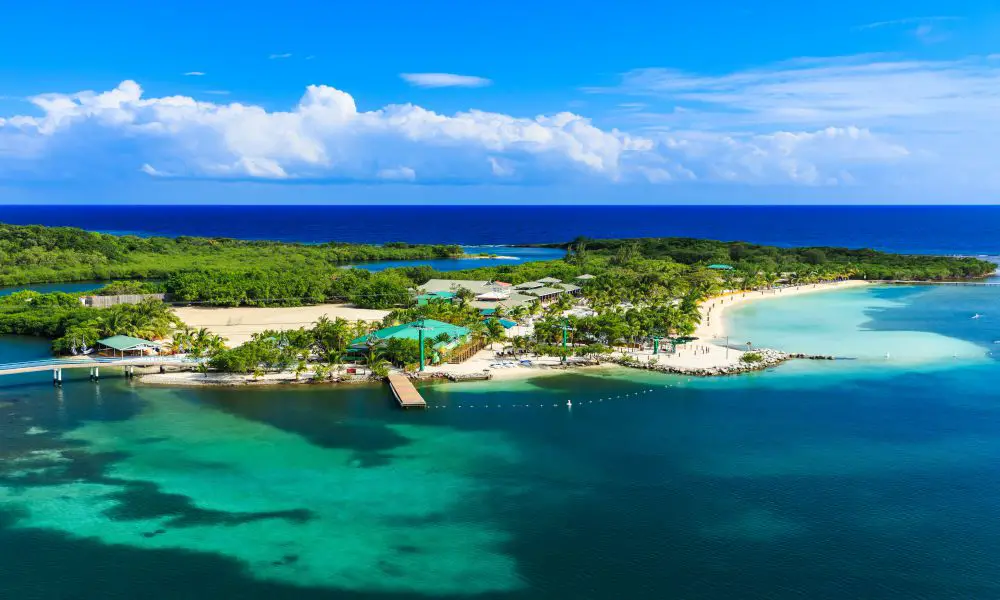 Roatan is an island off the coast of Honduras that is renowned for its white-sand beaches, pristine coral reefs, and turquoise waters. In fact, it's one of the most developed and popular islands in Honduras.
West Bay Beach is the most popular beach on Roatan and is lined with restaurants, bars, and hotels. It's a great place to relax, swim, and people-watch. West Bay is also a top spot for snorkeling and diving, with a coral reef just offshore.
Another top activity on Roatan is taking a monkey tour. These tours take you into the island's jungle to see howler monkeys up close in their natural habitat. This is definitely one of the fun things to do in Honduras, as the tour also includes stops at scenic lookout points.
For those looking for some excitement, Gumbalimba Park offers zip lining, ATV tours, and a bird show. The park also has a beach where you can relax and swim.
In addition to its natural beauty, Roatan is also home to a number of interesting museums. The Rotan Museum traces the history of the region, while the Institute of Marine Sciences has an impressive collection of marine life. There is a lot to see and do on Roatan, making it one of the top tourist destinations in Honduras.
2. Pico Bonito National Park: A Hiking and Adventure Mecca (La Ceiba)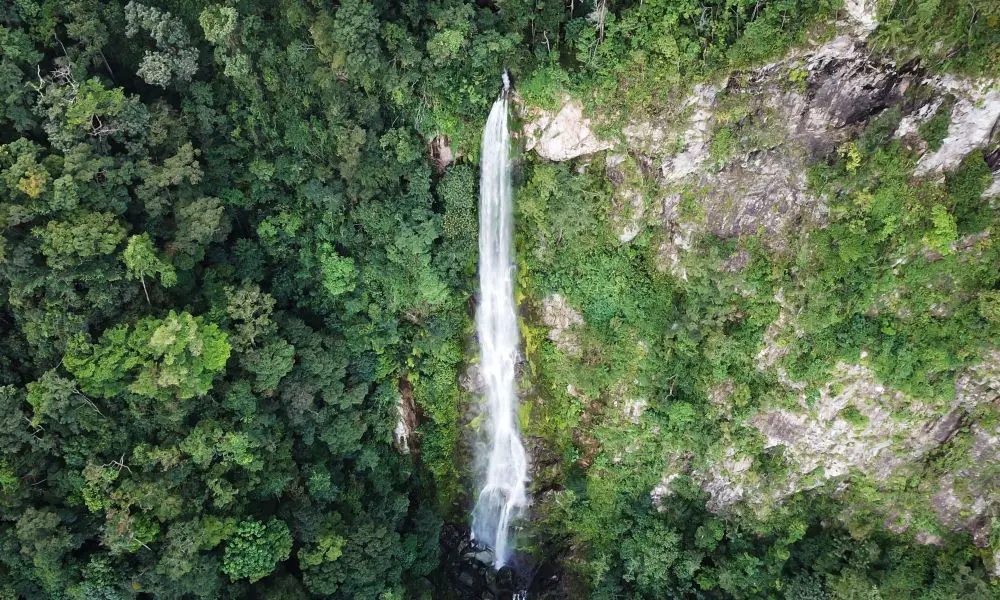 Pico Bonito National Park spans 140,000 acres of pristine rainforest in northeastern Honduras. The topography is diverse, with soaring mountains, rivers, waterfalls, and virgin forests. The national park is also home to an abundance of wildlife and more than 500 species of birds.
This park is popular with trekkers, birders, and adventure lovers. Miles of trails wind through the jungle, past rivers, and waterfalls. Highlights include El Bejuco Falls, Pico Bonito peak (the second-highest mountain in Honduras), and the jungle canopy zipline tour.
Other top things to do in Pico Bonito National Park include horseback riding, mountain biking, whitewater rafting, and canopy tours. You can also go birdwatching as more than 500 bird species have been identified in the park.
If you want to stay overnight in Pico Bonito National Park, camping is an excellent option. There are several designated camping areas, or you can pitch your tent at one of the eco-lodges located just outside the park boundaries. Overall, this park is truly a gem and one of the top tourist attractions in Honduras that should not be missed.
3. Little French Key: A Tropical Paradise (Bay Islands)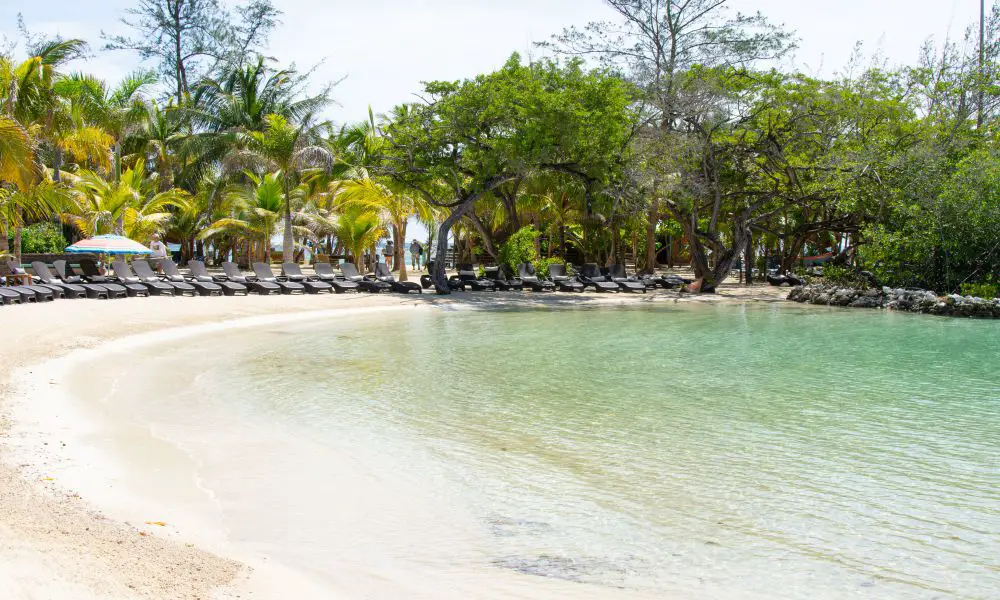 Imagine a Robinson Crusoe-type retreat with thatched roofs, hammocks strung between palm trees, and beautiful beaches lapped by clear turquoise waters. Welcome to Little French Key, one of Honduras' top tourist attractions. 
The tiny island is located in the archipelago's East End and can only be reached by boat from Roatan or Utila. This island's top activities include swimming, kayaking, and relaxing in a hammock with a good book.
If you're looking for a little more action, there's plenty to keep you busy, including swimming with dolphins, snorkeling, ziplining through the jungle canopy, and exploring by ATV. There's also a beachfront restaurant and bar serving fresh seafood and tropical drinks, as well as a small spa offering massage and other treatments.
A few minutes away from the beach is the French Key Animal Sanctuary. The nonprofit refuge is home to hundreds of animals, including iguanas, reptiles, and birds. This is a top spot for animal lovers, especially those who want to get up close and personal with Iguanas.
4. Visit Copan Ruins Archeological Site: The Most Impressive Ruins in Honduras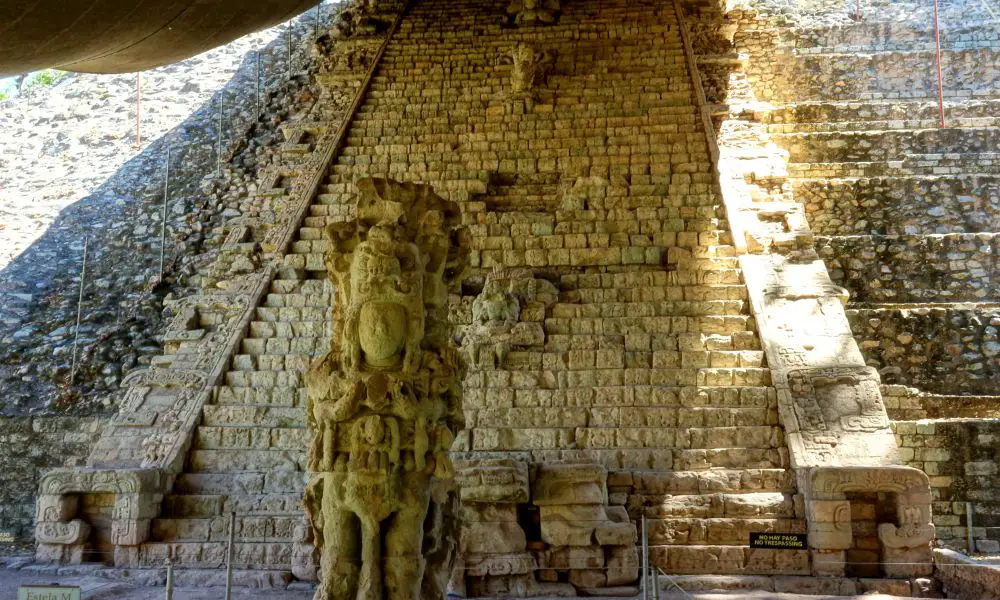 The Maya city of Copan Ruinas is one of the top attractions in Honduras, which was once one of the most powerful kingdoms in the Maya world. Famed for its beautiful stone sculptures and stelae, this site is one of the best places to learn about the Maya civilization.
The main highlights of the site are the Great Plaza, with its huge stelae; the imposing Maya ballcourt, one of the largest in Mesoamerica; the Rosalila Temple, a beautiful structure that was once painted red; and the Hieroglyphic Stairway, a monumental staircase with more than 2,000 glyphs.
Other top things to do at the site include exploring the onsite museum, which has an excellent collection of Maya artifacts, and taking a walk through the Copan Ruins Archeological Park, which is filled with lush jungle and home to howler monkeys.
I recommend taking a guided tour of the site, which will help you make the most of your visit and learn about the history and culture of the Maya people. And be sure to visit the nearby Macaw Mountain Bird Park, where you can see brightly colored macaws and other tropical birds.
5. Roatan Institute for Marine Sciences: A Must-Visit Museum (Sandy Bay)
Have you ever dreamed of swimming with dolphins? If yes, Roatan Institute for Marine Sciences (RIMS) is the place to make that dream come true. This institute is a research and education center that strives to protect the Bay Islands' delicate marine environment.
Dolphin encounters are by far the most popular activity at RIMS, and participants must be at least eight years old. During the 30-minute program, you'll learn about dolphin behavior and get to swim and play with these amazing creatures.
If you're not interested in swimming with dolphins, you can still enjoy the underwater world by taking a guided reef walk or snorkeling tour. These tours are led by expert marine guides and are suitable for all ages and swimming abilities.
And if you're a budding marine biologist, you can sign up for "Dolphin Trainer for a Day." This program provides an in-depth look at dolphin behavior, training, and care.
6. Utila: Another Top Island in Honduras (Bay Islands)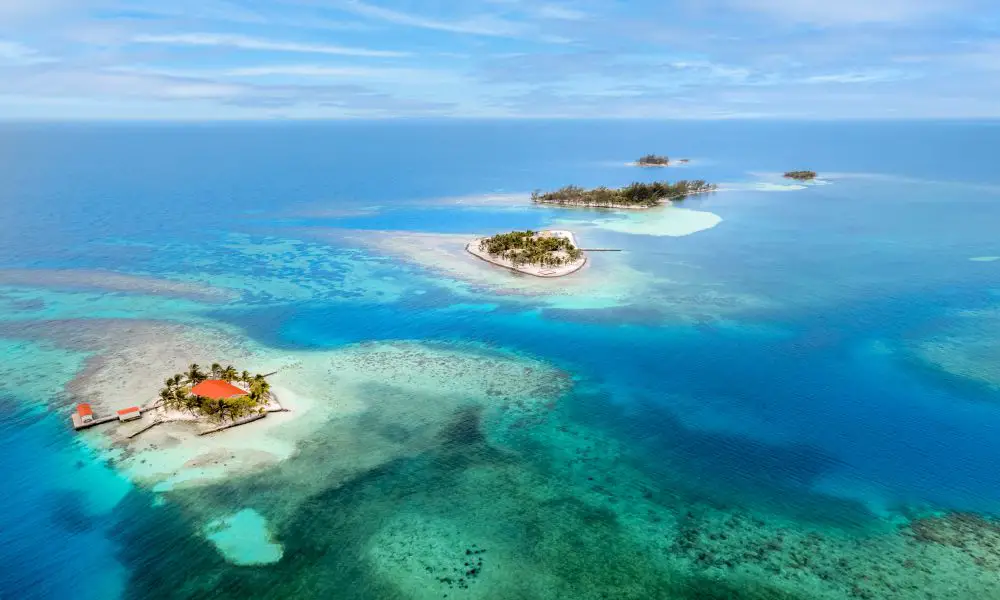 Utila is one of the best places to visit in Honduras if you're looking for an affordable beach getaway. This small island is renowned as a top destination for SCUBA diving, and there are plenty of diving schools to choose from if you want to take a course. Scuba diving is excellent, with plenty of interesting underwater topography, such as walls, drop-offs, and wrecks to explore. If you don't want to dive, you can still enjoy the underwater world by snorkeling.
Utila's top dive sites include The Pinnacle, The Maze, and Duppy Waters. The Pinnacle is an excellent dive site for advanced divers with its many swim-throughs. The Maze is good for divers of all levels and is full of swim-throughs and caves. Duppy means "ghost" in Creole, and this dive site gets its name from the many barrel sponges that resemble ghosts.
When you've had your fill of diving (or even if you haven't), there are plenty of other things to do in Utila. You can explore the island by bicycle or on foot, relax on one of the many beaches, or see the island wildlife at the Iguana Research & Breeding Station.
7. Lake Yojoa: The Largest Lake in Honduras (La Guama)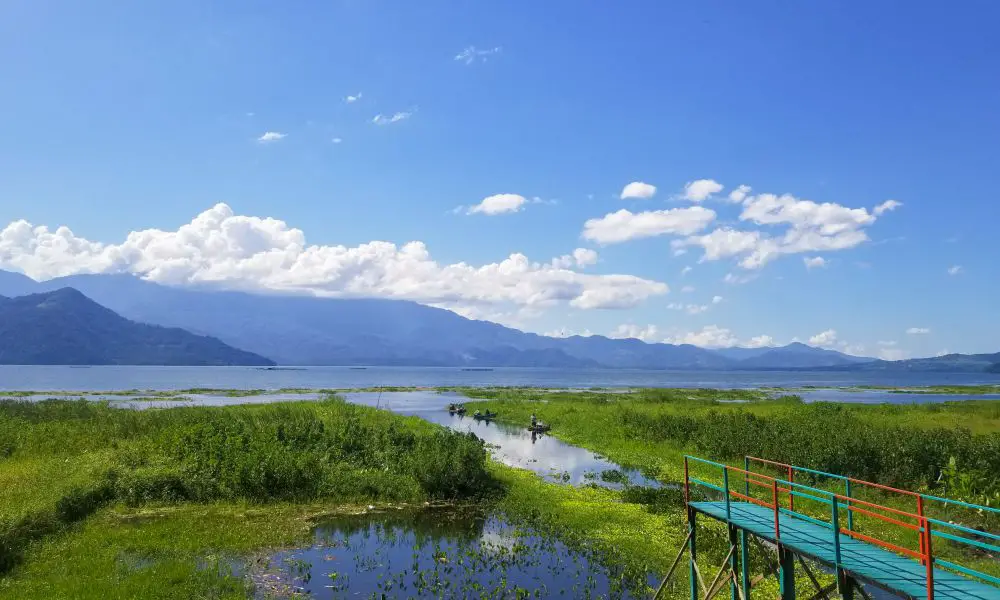 Next on my list of top tourist attractions in Honduras is Lake Yojoa. This country's largest lake is set in a scenic valley surrounded by forested hills. The lake is a top destination for birdwatching, with more than 400 species of birds.
Popular activities on and around the lake include hiking, kayaking/canoeing, and exploring an underground cave system. I found the best way to explore the lake was through hiking. There are many trails that offer stunning views of the lake and its surroundings. Guided kayak and canoe tours are also available and are a great way to get out on the water.
The lake is boarded by two mountainous national parks; Cerro Azul Meambar National Park to the south and Santa Barbara National Park to the north. Both offer beautiful scenery and plenty of opportunities for hiking and birdwatching.
8. Lancetilla Botanical Gardens: A Hidden Gem in Honduras (Tela)
A trip to the Lancetilla Botanical Gardens is one of the top things to do in Honduras for nature lovers and anyone interested in plants, flowers, and trees. The gardens date back to 1927 when United Fruit Company established a banana plantation on Tela Bay. Over time, the company's agricultural scientists collected and planted specimens from all over the world.
Now occupying 4,151 acres (1,680 hectares), Lancetilla is the second-largest botanical garden in Central America and home to more than 2,500 species of fruit trees, palms, flowers, and bromeliads. There are also several butterfly gardens and a zoo with tapirs, monkeys, toucans, and iguanas.
Nature trails wind through the gardens, and you can hire a guide to lead you on tour. You can also take a boat ride along the jungle-fringed canals. The best time to visit is between December and April, when the rains have greened the landscape, and many flowers are in bloom.
If you're interested in learning more about the history of United Fruit Company's involvement in Honduras, make sure to visit the Tela Railroad Museum. This museum is located in an old railroad station and tells the story of the United Fruit Company's role in developing the country's economy and infrastructure.
The garden is situated 7 km (4.3 miles) from Tela, a small city on the north coast of Honduras.
9. Museum of National Identity (Tegucigalpa)
If you're interested in history and culture, top your list of places to visit in Honduras with a stop at the Museum of National Identity in Tegucigalpa. The museum traces the country's roots back to its earliest inhabitants and covers key events in Honduran history.
Exhibits focus on the nation's rich cultural heritage, including its Maya and Lenca history, as well as the influences of the Spanish colonial era. There are also displays of Honduran traditions, music, and art, as well as a section devoted to the country's natural history.
The highlight of the museum is the virtual reality tour of the Mayan Acropolis of Copan, a UNESCO World Heritage Site. The tour uses 3D technology to transport visitors back in time to the height of the Maya civilization. This is a great option for those who don't have time to visit the site in person.
The museum is located in the capital city of Tegucigalpa in a beautiful National Heritage building known as Palacio de Los Ministerios. It's one of the top tourist attractions in Honduras and well worth a visit.
10. Rio Cangrejal: A River Rafting Mecca (La Ceiba)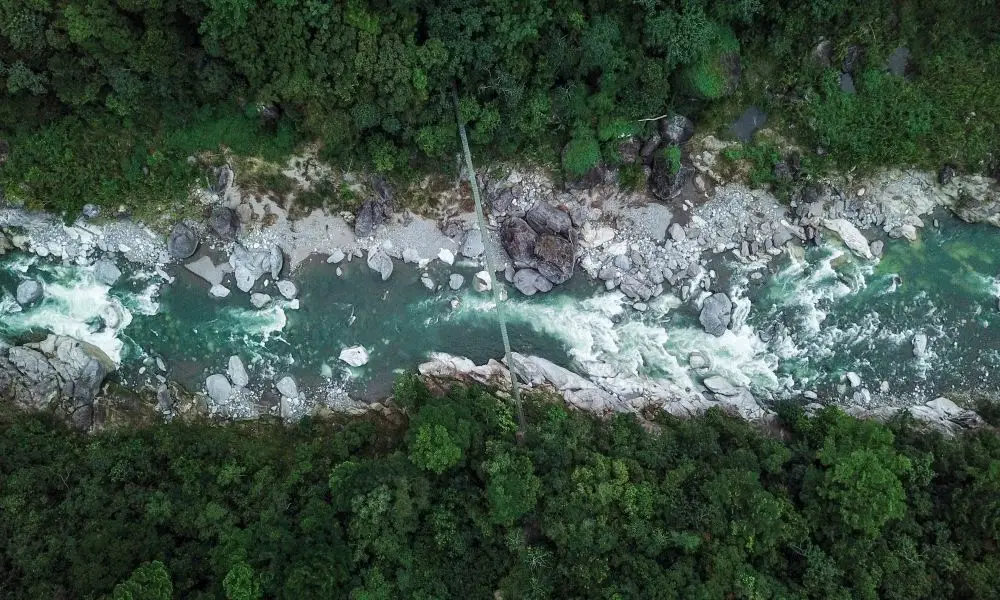 Are you a thrill-seeker looking to get your heart pumping? Why not go whitewater rafting on the Rio Cangrejal? This river is located about a 20-minute drive from La Ceiba, and it attracts plenty of adrenaline junkies looking to conquer its rapids.
The river is suitable for rafters of all skill levels, making it a top pick for families. Beginners can embark on a Class II trip, while experienced rafters can tackle the more challenging Class III and IV rapids. Experienced guides will navigate you through the best sections of the river, past towering cliffs and lush vegetation.
Most tour operators include all the necessary equipment, such as life jackets and helmets, in the price of the trip. You'll also be given a safety briefing before your adventure begins.
I went on a whitewater rafting trip on the Rio Cangrejal with Omega Tours, and I highly recommend them. The guides were top-notch, and I felt completely safe throughout the trip. Although I was a bit apprehensive at first, I had an absolute blast.
You can come to Rio Cangrejal any time as the river is not affected by seasonal changes. This makes rafting here one of the best things to do in Honduras all year round.
11. Rio Platano Biosphere Reserve: A Nature Lover's Paradise (Mosquitia Region)
Designated a UNESCO World Heritage Site in 1980, the Rio Platano Biosphere Reserve is another one of the top attractions in Honduras. The reserve is located in the Mosquitia region, one of Central America's largest tracts of virgin forest.
Encompassing nearly 1.3 million acres (526,000 hectares) of rainforest, mangroves, and rivers, the biosphere reserve is home to an incredible array of plant and animal species, including jaguars, harpy eagles, and howler monkeys.
The Rio Platano flows through the reserve for nearly 100 miles (160 km) before emptying into the Caribbean Sea. A top activity in the reserve is exploring its waterways by boat. You can also hike to remote areas and overnight in one of the local communities, getting a taste of traditional Mosquitia life.
I highly recommend taking a guided tour of the reserve. The guides will help you spot wildlife and teach you about the reserve's ecology and history. Plus, they will also help ensure your safety as illegal loggers and drug traffickers operate in the area.
Due to its remote location, the Rio Platano Biosphere Reserve is not easy to get to, but the journey is well worth it. To get here, you'll need to fly into La Ceiba and then take a boat ride up the Rio Tinto River.
12. La Tigra National Park: A Hiker's Paradise (Tegucigalpa)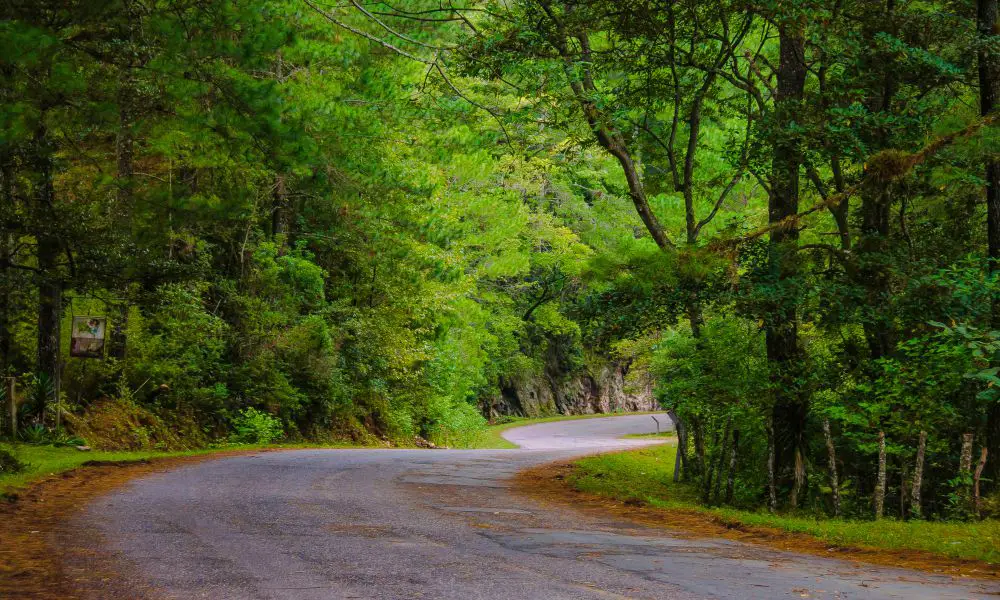 With its misty mountain topography and verdant hillsides, it's no wonder La Tigra National Park is considered one of the most beautiful places to visit in Honduras. A top destination for birding and wildlife enthusiasts, the park is home to an incredible array of fauna and flora, as well as some of the country's top hiking trails.
More than 200 species of birds have been spotted in the park, including the rare resplendent quetzal. With its striking plumage of iridescent green, red, and blue feathers, the quetzal is considered sacred by the Maya and is Honduras' national bird.
You're also likely to see white-faced capuchin monkeys, Baird's tapirs, and Central American agoutis. The park's hiking trails lead to waterfalls, scenic lookouts, and an abundance of wildlife.
La Tigra National Park is located just outside Tegucigalpa, the country's capital, making it an easy day trip from the city.
13. Guanaja: An Island Paradise (Bay Area)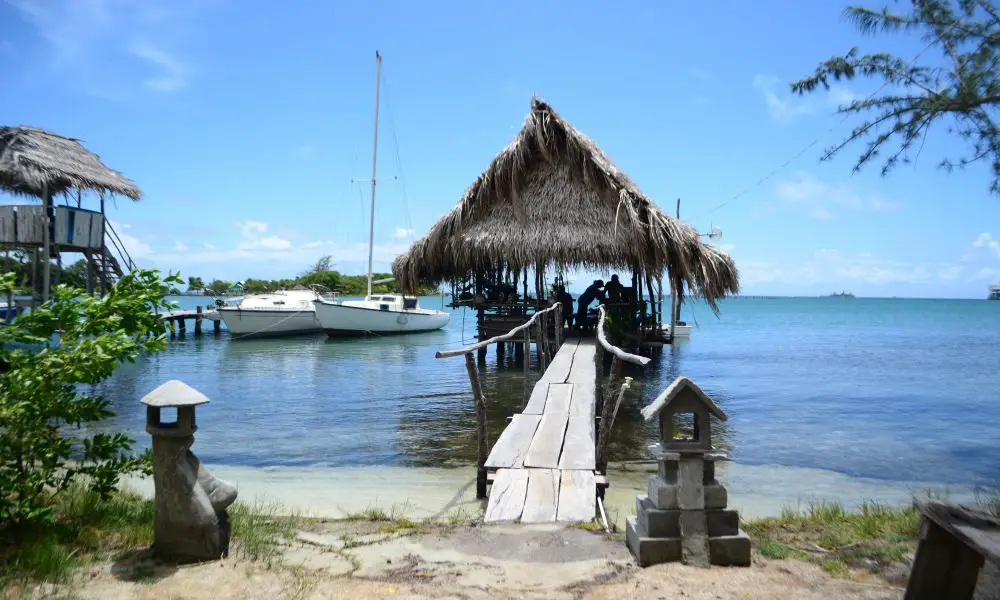 Do you want to get away from it all? If so, consider a trip to Guanaja, one of Honduras's Bay Islands. This small, rugged island, which is only 12 miles (19 kilometers) long and 3 miles (5 kilometers) wide, has a population of just over 5,000 people.
But don't let its size fool you; there is plenty to do in Guanaja. This remote island is a favorite of divers and snorkelers as it is filled with gorgeous coral reefs, dramatic drop-offs, and abundant marine life. You can explore these underwater wonders with one of the many dive outfits in town.
In addition, powdery white sands, swaying palms, and clear waters make Guanaja's beaches to be among the top attractions in Honduras. And away from the water, other top things to do in Guanaja include hiking the island's jungle, horseback riding on the beach, and visiting one of the island's many small churches.
If you want to explore beyond Guanaja's shores, take a boat trip to the nearby Pigeon Cays, a group of uninhabited islands perfect for a day of relaxing on the beach or snorkeling in turquoise waters.
All in all, with its pristine beaches, lush jungle, and laid-back vibe, Guanaja is one of the best places to visit in Honduras if you want to relax and escape the crowds. 
14. Talgua Caves: A Natural Wonder (Catacamas)
Are you looking for the best things to do in Honduras for adventure? A top pick is Talgua Caves, located in Olancho Province, northeastern Honduras.
Discovered in 1994, these caves were used as a burial ground by the indigenous people of the region. And as time passed, mineral deposits from the caves dropped on the remains, making the bones appear to glow. In fact, these caves are also known as the "Caves of Glowing Bones."
In addition to the remains, these place comprises a system of caverns, tunnels, and chambers. Stalactites, stalagmites, columns, and flowstone decorate the caves, and a subterranean river flows through them.
But the caves are not for the faint of heart. They are remote, and the only way to reach them is by a treacherous hike along a rocky, river-crossed path. A guide is essential, both for safety and to bring along some much-needed lights. The reward for your effort is an up-close look at one of Honduras' most impressive natural wonders.
Due to vandalism, the Honduran government has since closed part of the caves to the public. However, you can still explore 500 meters of the cave system with a guide.
15. Comayagua: A Colonial Gem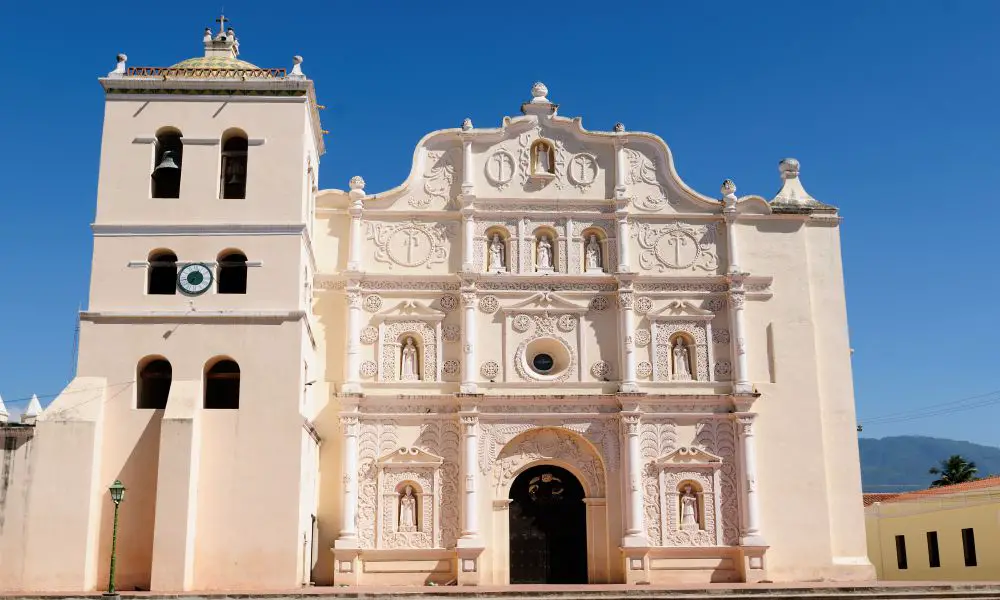 My last pick for top places to visit in Honduras is Comayagua, the colonial capital until it was supplanted by Tegucigalpa in the 19th century.
The town's harmonious Spanish colonial architecture is best admired along the central pedestrian streets. The grandest building is the Cathedral of the Immaculate Conception, built in 1634 and one of the oldest cathedrals in Central America.
Visitors can explore several interesting museums in Comayagua. The top attraction is probably the Museo de Comayagua, housed in a former 18th-century monastery. It has an excellent collection of pre-Columbian artifacts, as well as displays of the history of Honduras.
Other top things to do in Comayagua include strolling through Central Park and admiring the colonial mansions lining the park. Guided tours within some of the mansions are available.
And don't forget to try Comayagua's traditional food. One of the most popular dishes is baleadas, a thick flour tortilla stuffed with refried beans, cheese, and sometimes eggs or meat.
In summary
A trip to Honduras is sure to be action-packed and full of adventure. I have done my best to list some of the top-rated things and tourist attractions in Honduras. It's now your turn to choose your favorite activities and start planning your trip!