Oregon is a state known for its abundance of nature. From the volcanoes to the beaches, Oregon is a place where you can find everything from outdoor adventures to ocean waves.
One thing that many people don't know about this wonderful state is that it has some amazing waterfalls. In fact, there are so many beautiful waterfalls in Oregon that it's hard to choose just one!
But since I have been to a lot of falls in Oregon, I feel like I can talk about them with some authority.
So, in this post, I'm going to share my 15 Best Waterfalls in Oregon. Whether you're looking to hike, camp, or just admire nature from afar, these are great falls to visit!
Best Waterfalls in Oregon
1. Multnomah Falls, Columbia River Gorge National Scenic Area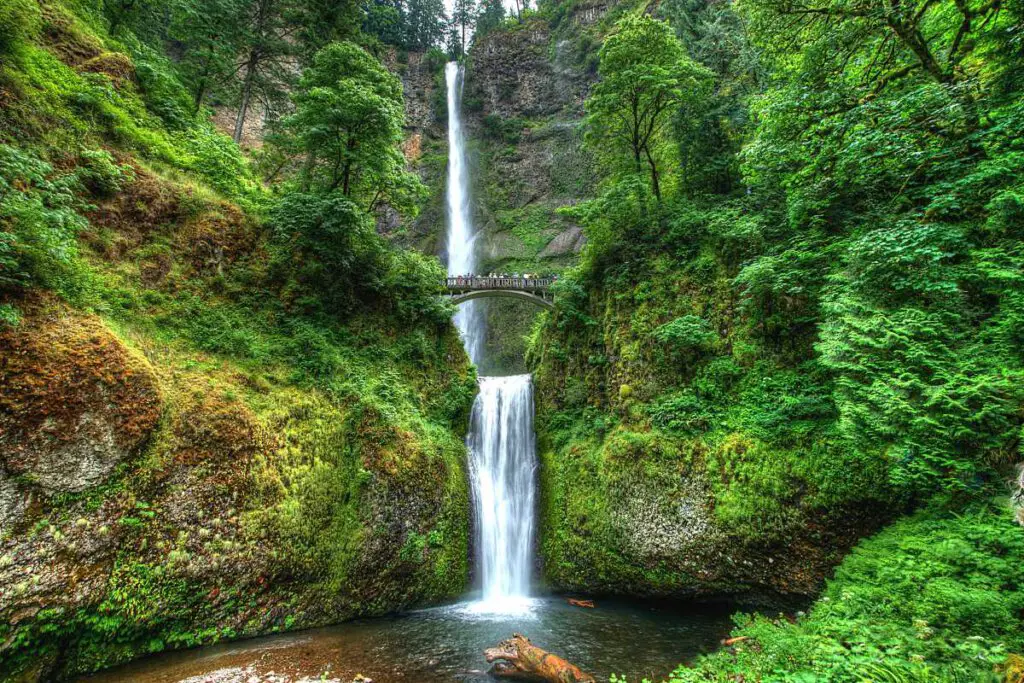 My tour to the most beautiful waterfalls in Oregon started at Multnomah Falls on a misty day. These falls at 620 feet are said to be the second-highest waterfall in America.
The Benson Bridge, which spans across the top of Multnomah Falls gorge with views down into it, gives you a completely different view of the falls than looking up at them from below. But walking down the stairs on either side will give even better vistas of this stunning cascade of water falling into a pool below.
In addition, the trail that leads to Multnomah falls is lined with small waterfalls as well as ponds filled with aquatic plants and wildflowers. In many spots, you can look down from the trail and see fish darting about in these smaller waterfalls.
Multnomah means "uproar" or "confused noise," which probably describes how most people feel about these falls when they first see them! It's a stunning backdrop for a photograph, and I was honored to have the chance to photograph it.
2. South Falls, Silver Falls State Park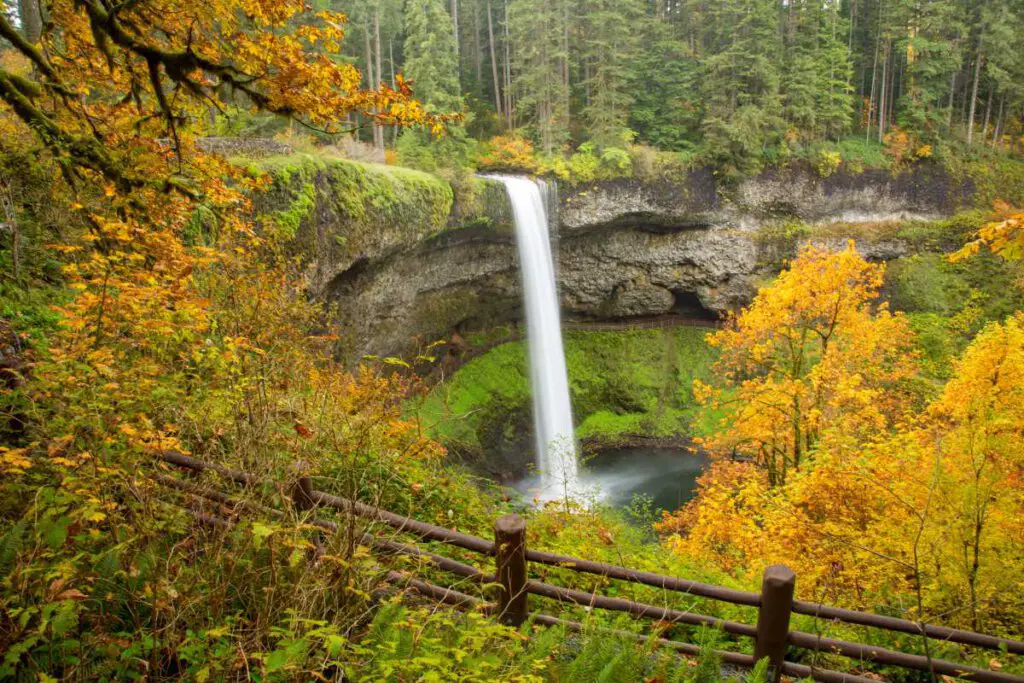 After Multnomah Falls, I continued to South Falls. It is located at Silver Falls State Park in Salem, Oregon. The hike to them is 2 miles long, and it takes about an hour to get there. The falls are part of ten falls that drop a total of 942 feet down Silver Creek Canyon in four tiers.
This was my favorite waterfall for two reasons. First, the trail you take passes by several other waterfalls along the way. Second, the falls are very powerful and mossy, unlike many of the Oregon waterfalls. This was a great find!
The hike ends at South Falls, but you can actually see several tiers worth of smaller waterfalls from below it on either side.
It's definitely worth the trip if you are in Oregon. There are little trails that lead down all around the area. So make sure to follow some of them along the cliff sides to get more views of these beautiful falls. It made for a nice half-day adventure before my drive back into Portland that day.
3. Bridal Veil Falls, Columbia River Gorge National Scenic Area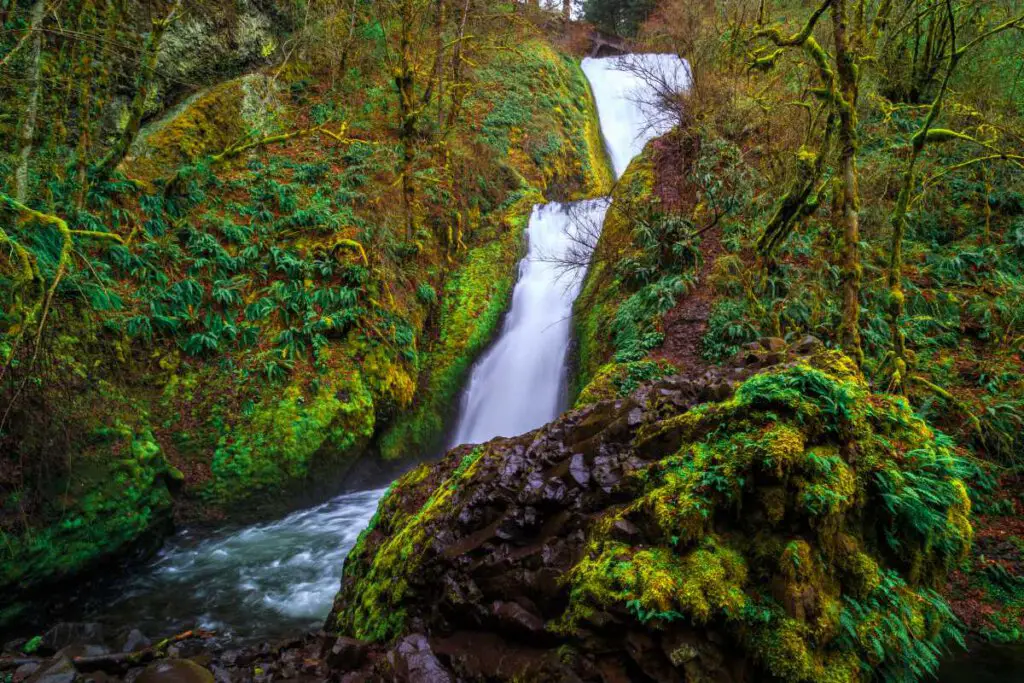 After South Fall, I decided to continue on the south, about an hour's drive to Bridal Veil Falls. It is located at the end of a short trail that leads down into a gorgeous valley surrounded by tall cliffs and waterfalls.
This is another waterfall I would recommend visiting after mid-July because it will be dry before then. But this was one of my best waterfalls in Oregon that I visited for several reasons.
First, there are some small trails that go off to different vista points along the cliff sides. So you can get great views from every angle of this beautiful cascade of white water dropping 150 feet into a blue pool below. Second, being able to walk right up close on exposed rock ledges gives you intimate views of the falls, unlike any other waterfall I've seen.
And third, it has the nicest natural pool around to sit in and relax at the bottom of the falls. Here you can take off your shoes and let your feet dangle in the water.
Because it is so quiet here, this was my favorite place I visited that day. It may not be as famous as Multnomah Falls, but it's well worth a visit if you're ever in Oregon.
4. Sahalie Falls, Willamette National Forest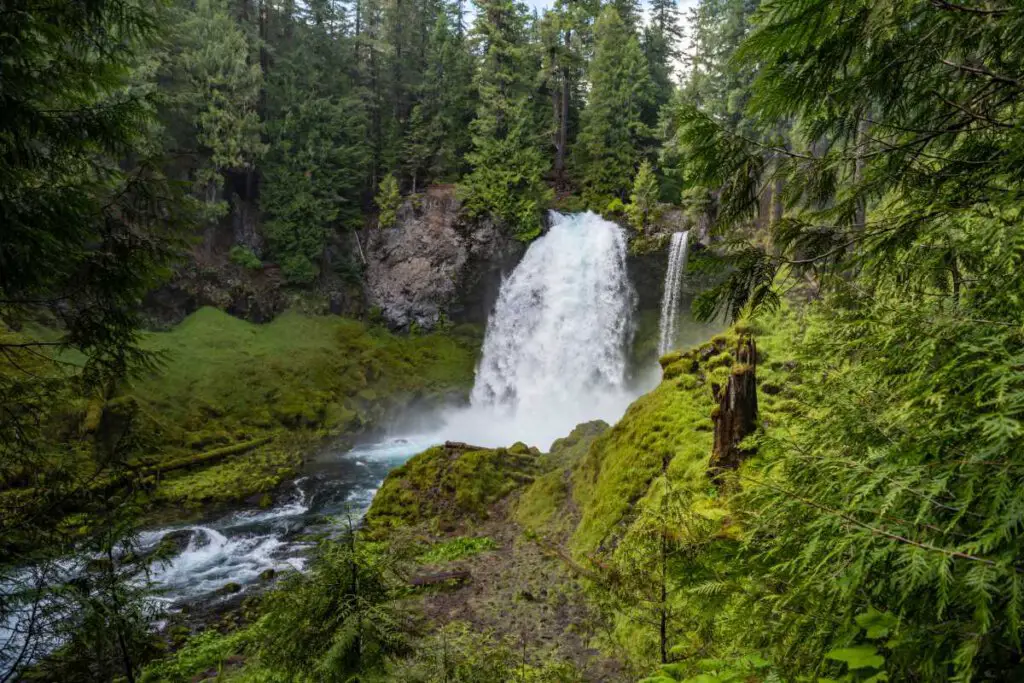 Sahalie Falls is my fourth favorite of the best waterfalls in Oregon, located on the McKenzie River. This waterfall was also incredibly powerful, with a lot of water coming over it. And once again, I was fortunate to have it all to myself! This time there were no other people at the overlook, which made for some nice solitude after being surrounded by so many tourists earlier.
The McKenzie River has carved out a deep valley with basalt cliffs towering above Sahalie Falls. Not only does this view show you the falls from a distance, but you can also get a few shots of it from underneath as well as above. I think this was my favorite view overall.
5. Salt Creek Falls, Willamette National Forest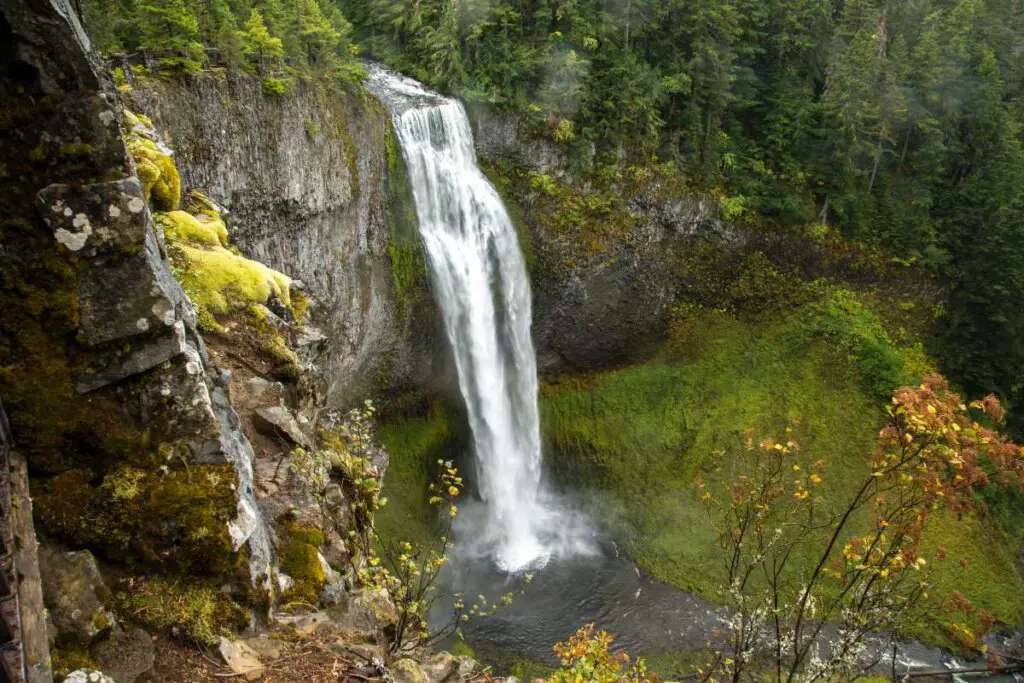 Another of my favorite falls in Oregon was Salt Creek Fall in Silver Falls State Park. This is a set of seven different waterfalls that drop into Salt Creek canyon between Silver Falls and North Falls.
The hike to them is about 8 miles round-trip, but I also did some exploring on the side trails, which increased it to over 10 miles. Searching out these waterfalls really felt like being on an ancient trail because it's so remote.
The area had more trees than any other waterfall, and there were many small pools along the way where you could see trout swimming around. It took me several hours to get all of these falls, but they are all worth it! This was probably my most unforgettable adventure during this trip.
Salt Creek Falls is the main fall in the area. It's a beautiful, powerful waterfall with mossy cliffs rushing down into a large pool below!
The hike here does not have much of an elevation gain, so it's suitable for all ages and perfect for families or hiking buddies. I found it very rewarding to see all seven waterfalls along Salt Creek canyon and would recommend spending at least three hours exploring if possible.
6. Watson Falls, Umpqua National Forest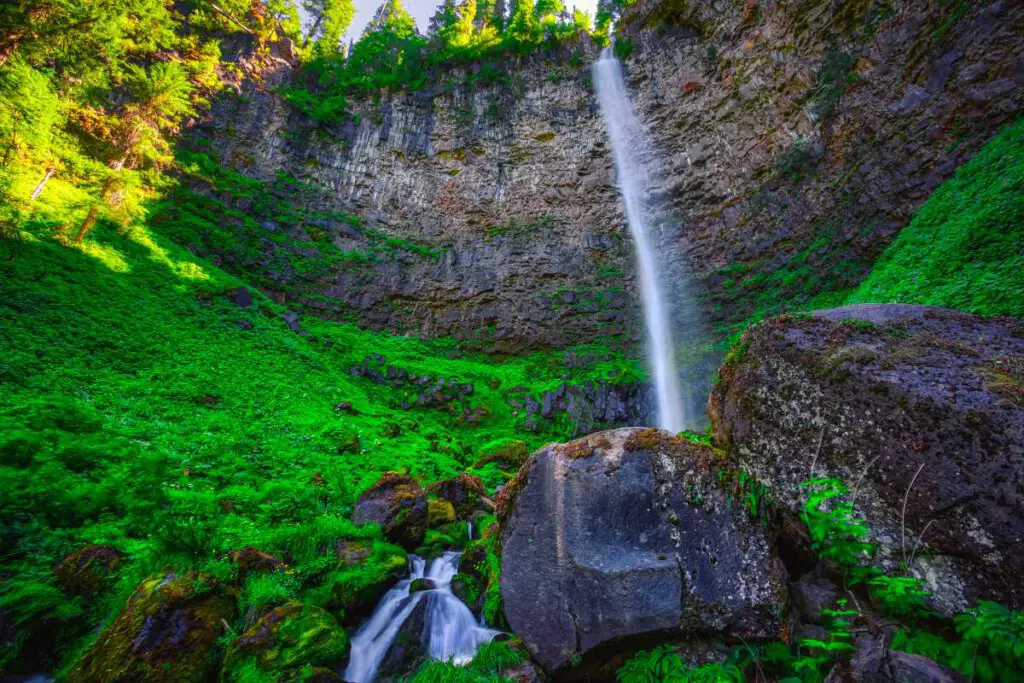 On my way to Crater Lake, I stopped at Watson Falls, which is located in the Umpqua National Forest. Here you'll find an 88-foot waterfall, but this one isn't visible from the main trail.
To reach it, you have to follow a side trail that leads to two other smaller falls first and then gradually brings you back down toward Watson Creek, where the larger fall drops into the pool below.
The view of all three cascades together was incredibly picturesque! It felt like something out of a fairy tale with ferns lining the cliffs above them and mosses growing out between them too. In addition, there were some wildflowers behind them as well, including lupine and bluebells.
This is another spot where it's easy to get lost, so make sure to follow those orange markers! These beautiful falls are an impressive sight, and I highly recommend driving out and seeing them for yourself.
7. Latourell Falls, Columbia River Gorge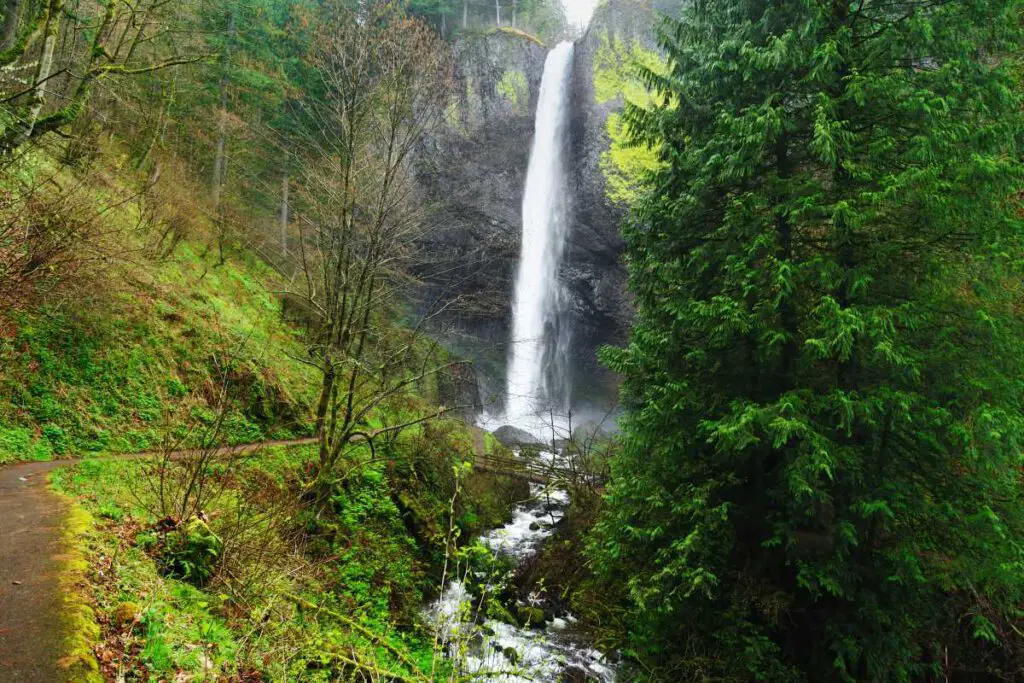 I had actually seen Latourell Falls years ago while doing a hike on the Historic Columbia River Highway Trail. It's part of the Multnomah-Wahkeena Loop and is only about 200 feet high but powerfully broad.
Latourell's charm comes from its location. It is situated in a steep gorge that forces the water into an incredibly fast shade before sending it straight down to the foot of the falls. What I remember thinking was how the large trees were growing right next to each other so closely.
It felt like I could reach out and touch them as I walked by. This gave the feeling that I was walking through some mystical forest where anything could happen, even though it was only 5 minutes from the Historic Columbia River Highway Trail.
And as I mentioned earlier, I absolutely love moss, and this place is covered in it! There are lush green trees growing to either side of the falls, and pines grow right up against them. This setting has a certain charm to it that made me fall in love with it years ago, and that feeling still remains today.
8. Proxy Falls, Willamette National Forest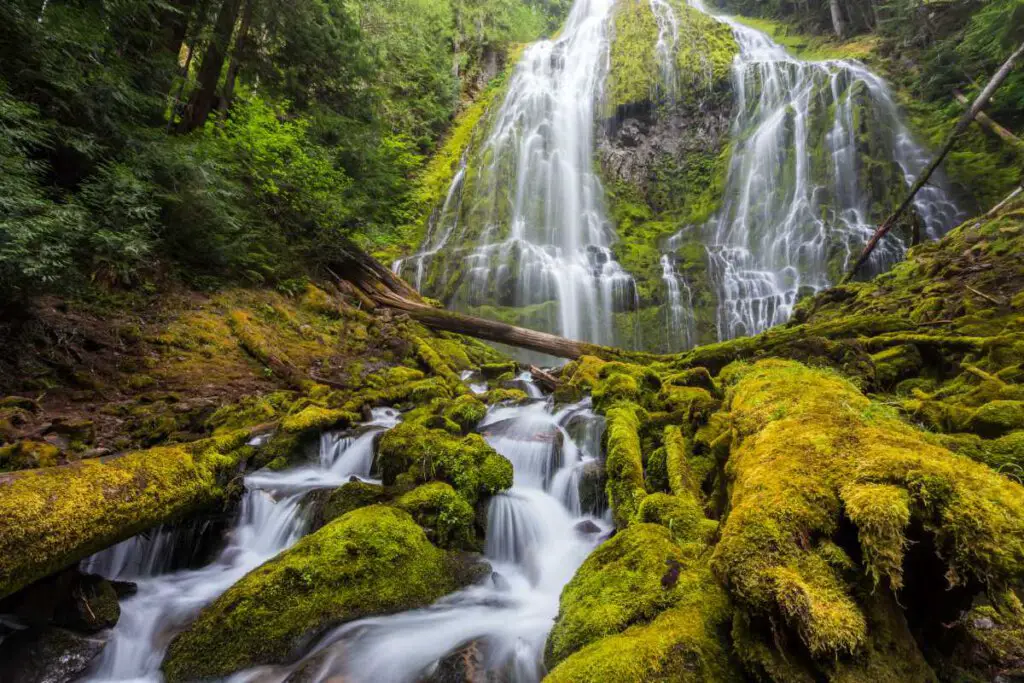 After a quick stop at a roadside fruit stand near Silver Falls State Park, I continued on to Proxy falls. The hike here is not very long or difficult. But it's hot and steep through some dense forest until you reach an old bridge that marks the end of the trail. This bridge hangs over a beautiful cascade on the Little North Santiam River.
Nowhere else have I seen such a lush green wilderness with so many cascades! There were several smaller and larger waterfalls along the main river here, all with abundant vegetation and huge trees. And best of all, this area is part of a protected wilderness.
The closest town is Detroit (about 30 minutes south), but there are no services such as restaurants or grocery stores. So make sure you bring your food and water supply with you before heading down this way.
9. Tamanawas Falls, Hood National Forest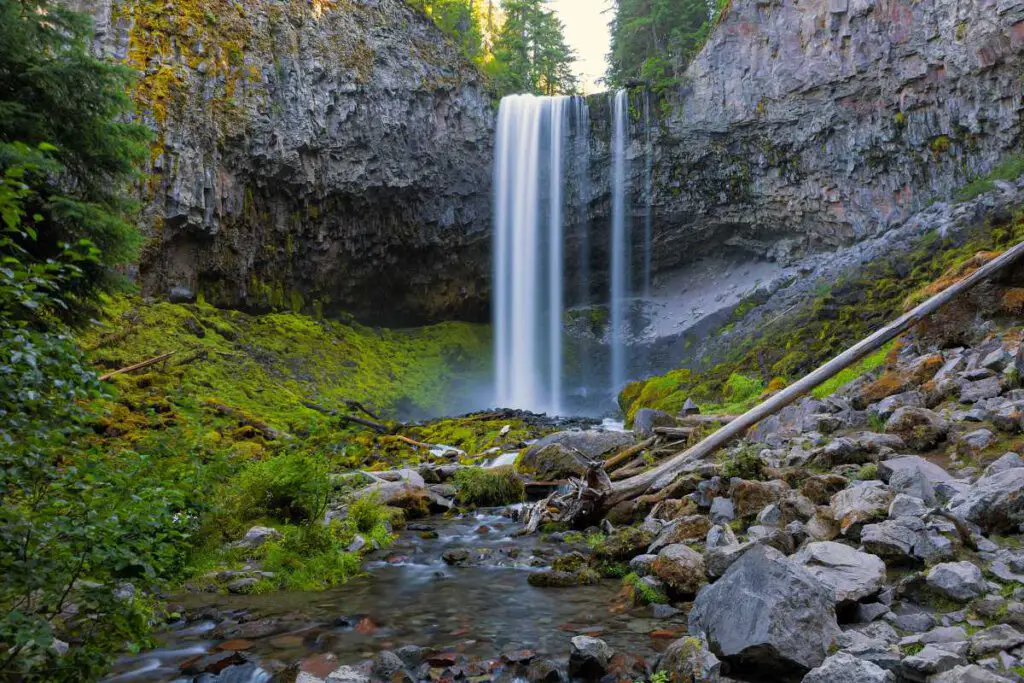 Next, I headed over to Tamanawas Falls, also located in Silver Falls State Park. This waterfall is a total of about 100 feet high, and it's the tallest one in the park. In order to get down into its canyon, you have to climb down a steep set of stairs that look like they were hewn into the side of the cliff face itself.
Tamanawas means "fairy dwelling place," which someone must have thought these falls resembled at some point. The water plunges off a huge rock shelf making for an interesting viewing area. In addition, it has access if you want to swim or play around in those waters! Please note that there are no lifeguards on duty, so be smart and safe if you're entering the waters here.
The pool at the base of the falls was inviting, but I didn't enter it that particular day as it was just me and no one else around. So I decided to take some images instead.
10. Tumalo Falls, Deschutes National Forest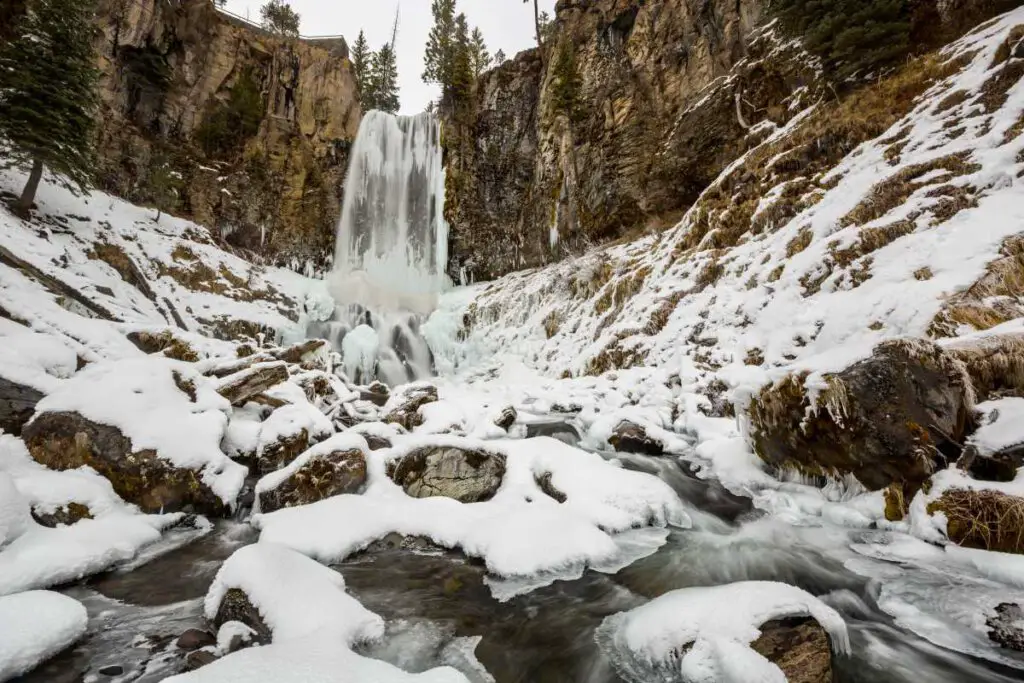 I thought it would be a good idea to stop for lunch at Tumalo Falls before my drive down south. It was very easy to find and had two viewing areas. One on the Bridge of the Gods, which is on the Oregon side, and another on the Washington side.
Both are absolutely amazing with different views. The lower part is narrow, where most of the water flows over, but there are several pools you can swim in during the summer months or if it's warm enough when you visit.
Bright green mosses are covering every rock around while rhododendron bushes grow along cliff sides. And as you climb higher up to the top, there are large cypress trees lining the cliff.
It's a great place to visit if you love waterfalls. And even though it's close to Portland, I couldn't believe how few people were there at first until I realized that most of them were probably stopping by on their way out of town.
So, if you're ever in the area, this is one waterfall that should not be missed!
11. Majestic Falls, McDowell Creek Falls Park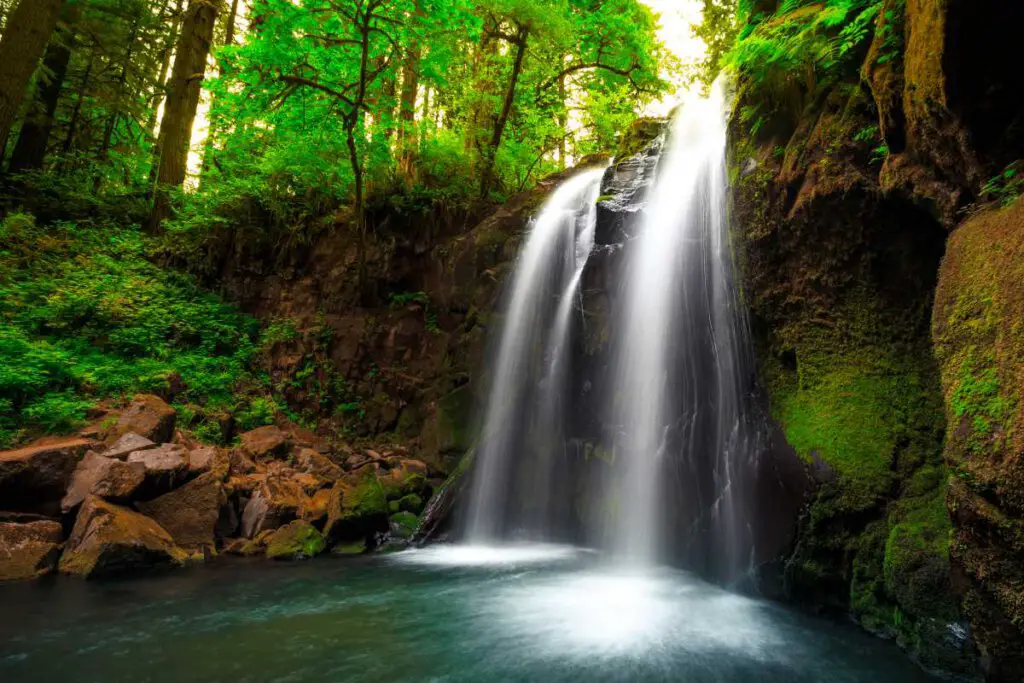 Next on my list of the best waterfalls in Oregon is Majestic falls. These falls were part of the Eagle Creek trail, which is one of the most popular hikes in Oregon.
I started my hike at 7 am to avoid having to deal with too many people along the way. But even then, there were still quite a few groups on their own respective adventures. I hiked about two miles along this trail before I reached these falls, and they were totally worth it!
This is by far one of my favorite falls in Oregon. And I will definitely be returning this summer for better photos when there aren't as many hikers around!
12. White River Falls, Maupin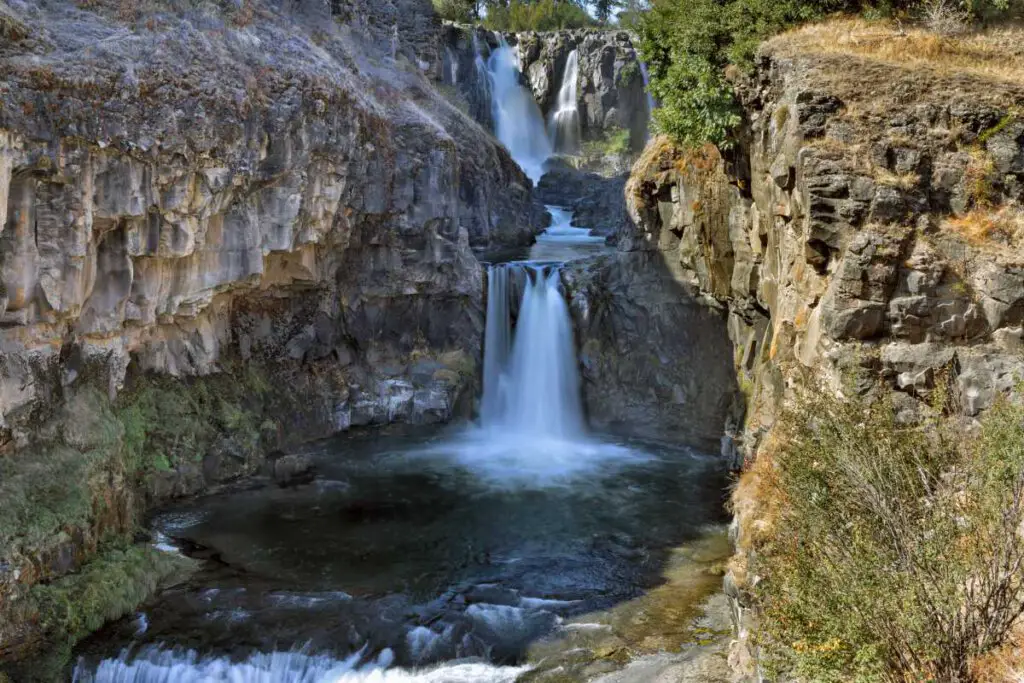 After spending time in Majestic Falls, I made my way to White River Falls. While this waterfall is not the most beautiful of all Oregon waterfalls, it was somewhat special for me because it was part of a dream that I had when I was younger.
In my dream, I traveled to Oregon and was walking around a different national park. I came across a place where the falls were so beautiful that they moved me to tears. When I woke up from this dream, I had a strong desire to visit Oregon someday. Years later, here I was, standing in front of these falls exactly as they had been in my dream!
I'd say it surpassed what I could have imagined too! There were two waterfalls flowing over white rocks into a pool below that looked like glass. There were giant green mossy boulders surrounding the lower tier, which emptied into another larger pool.
What's unique about these falls is they are accessible, unlike many of the waterfall hikes that I had done before. You just park your car and walk around 15 minutes to see it! It's definitely worth the trip!
13. Lake Creek Falls, Blachly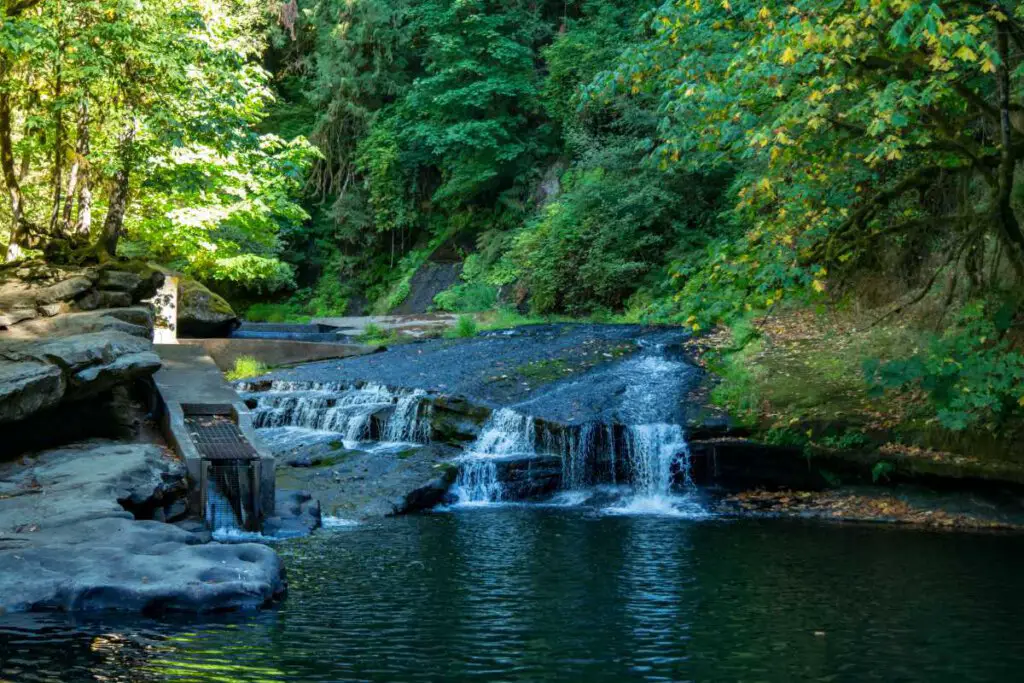 Now on the northern side of the state, I headed to Lake Creek Falls and Natural Area. It's located in Oakridge, Oregon. This is a nice little park with a waterfall that's only about 25 feet high, but it does have some smaller cascades.
The best part is the opportunity here for swimming as there is a deep pool at the base of this waterfall! If you want a quiet spot to swim and enjoy nature, this one isn't bad at all since there aren't many people around except on hot summer weekends.
There are trails all around the perimeter of the park, so make sure to take a walk around and find your own unique perspective on this waterfall!
14. Elowah Falls, Columbia River Gorge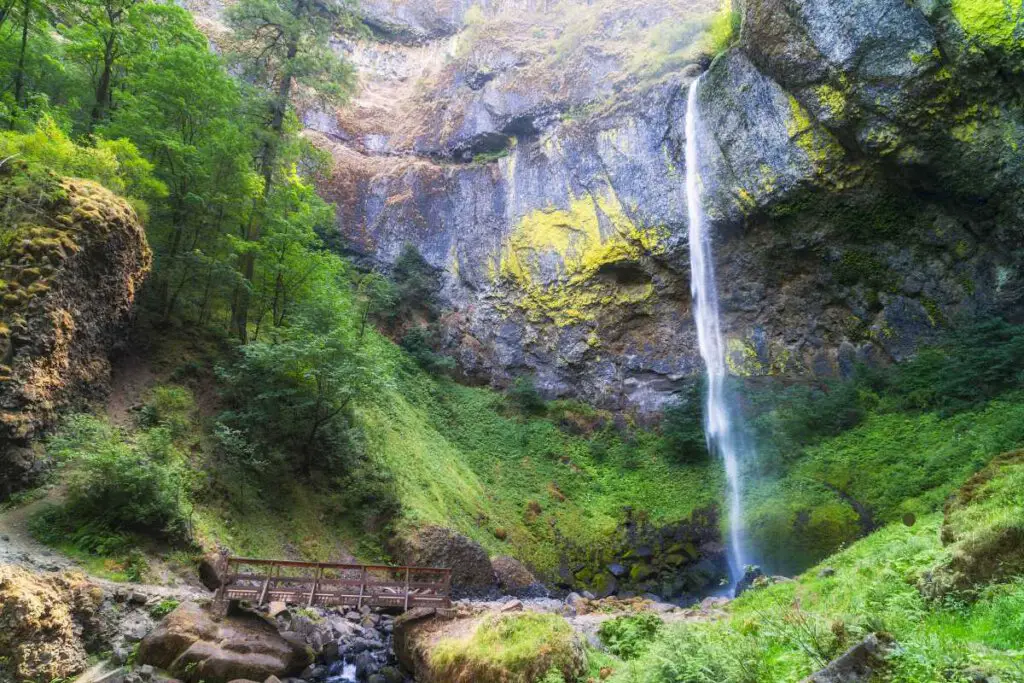 The Elowah Falls is at the end of a three-mile round trip hike in the Columbia River Gorge. What makes these falls so interesting is that they fall 310 feet in five tiers, all with different flow rates depending on rainfall and time of year.
I found this waterfall to be one of the most beautiful around because it had more volume than many other waterfalls I'd seen. And, like South Falls, there was plenty of vegetation growing out from between rocks along cliff sides.
It might take you some work to get here by hiking 3 miles each way. But it's well worth it if you want to see some impressive waterfalls!
15. Toketee Falls, Umpqua National Forest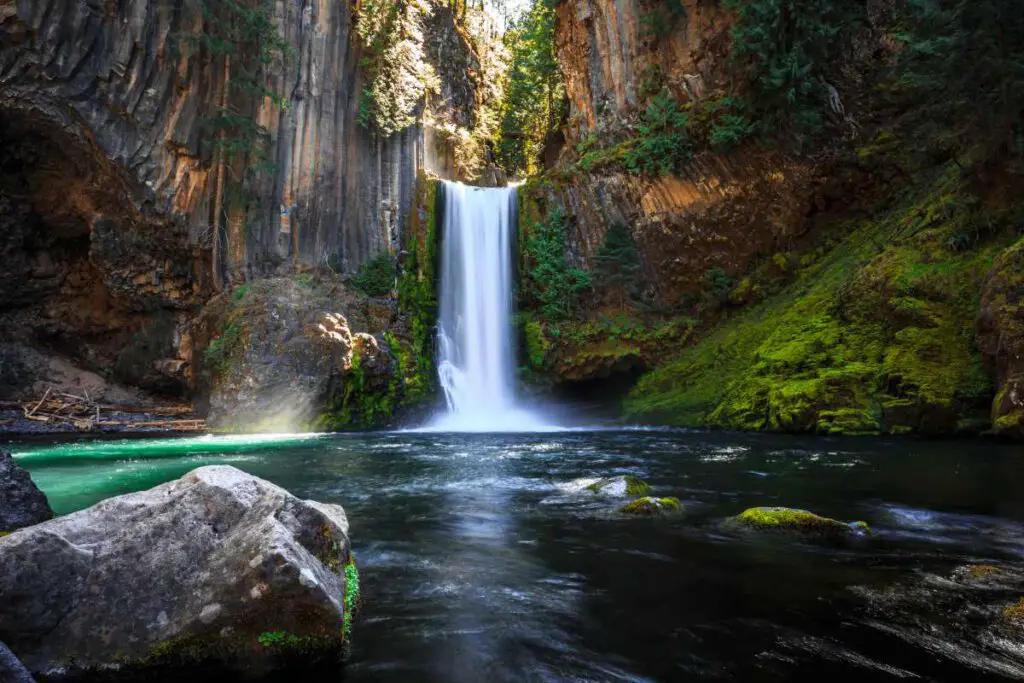 This is the last waterfall I photographed. It was recommended by a friend who had visited the area two years ago and knew that I'd love these falls as well.
Toketee Falls is a part of the Umpqua River, but you can't see it from any roads or trails. So, the only way to get there is by taking a little footbridge across a creek near Lemolo Lake. This area has other small waterfalls worth exploring as well as flowers growing all around the forest floor as far as your eyes can see.
I spent about an hour there just walking back and forth along the many side trails looking for different spots to take pictures from. By mid-July, everything this far north is usually dry, but these falls were still gushing with water making them one of the most beautiful waterfalls in Oregon.