Traveling to Portugal far beyond Lisbon: was my proposal when traveling to that European country. But when planning the trip itinerary, there was always that question: what to do in Portugal.
To begin, Portugal is a small but very beautiful state, with a great history, special character, majestic nature, and magnificent architecture.
For the majority, acquaintance with this amazing country turns into one of the most vivid memories.
There is a perfect place for you in every corner because everything will make you feel like part of the country.
And since it's impossible to see everything, even on multiple trips, I share my favorite places in Portugal. In the text below, I will show you the 22 Best Tourist Attractions in Portugal that are absolutely sensational. Read on!
Tourist Attractions In Portugal
1. Jeronimos Monastery, Lisbon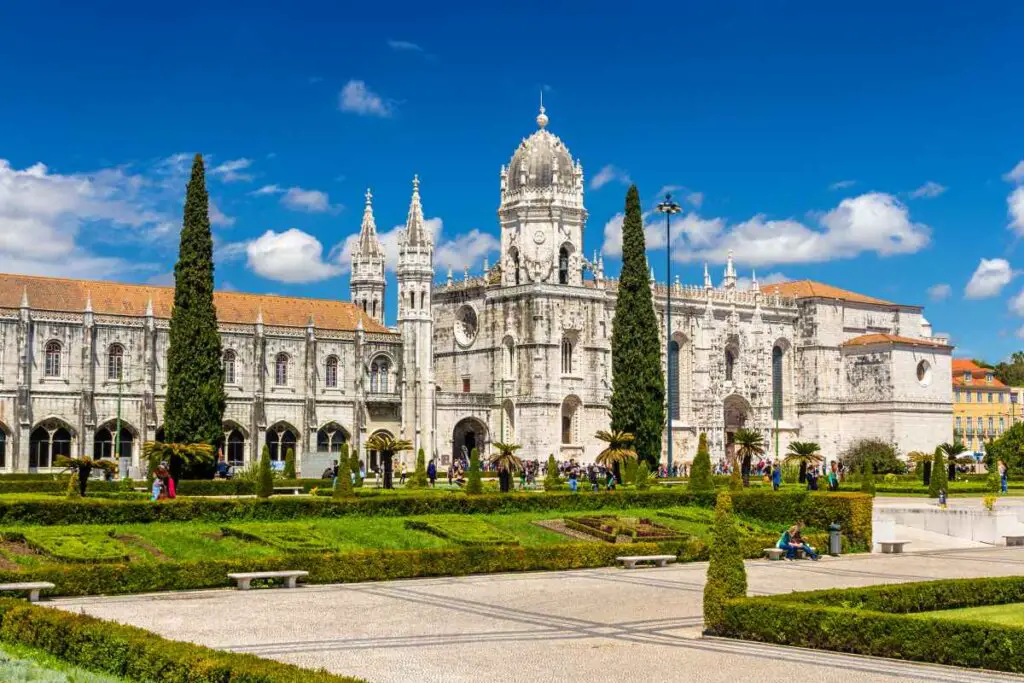 If I could only choose one attraction to visit in Portugal, I would choose the Jeronimos Monastery. It is one of the long-standing monasteries and also the most popular Portugal tourist attraction.
This religious building is located in the Belen neighborhood, 15 minutes from the center of Lisbon.
The Monastery is an architectural masterpiece that has details of the Manueline and Gothic style. For that reason, taking photos of that place is very inspiring. 
Currently functioning as a museum, the site has its service of guides who tell you the story of how the site was financed thanks to the trade taxes with ancient India and many more details.
In addition, the landscape of the Jeronimos Monastery is divided into gardens, pavilions, walkways with picturesque columns, a central fountain, and a nearby mini-park.
On the mini-park are several local restaurants and cafes where you can take a rest before proceeding with the Jeronimos Monastery tour.
Read More: Best Tourist Attractions in Lisbon
2. Visit Sintra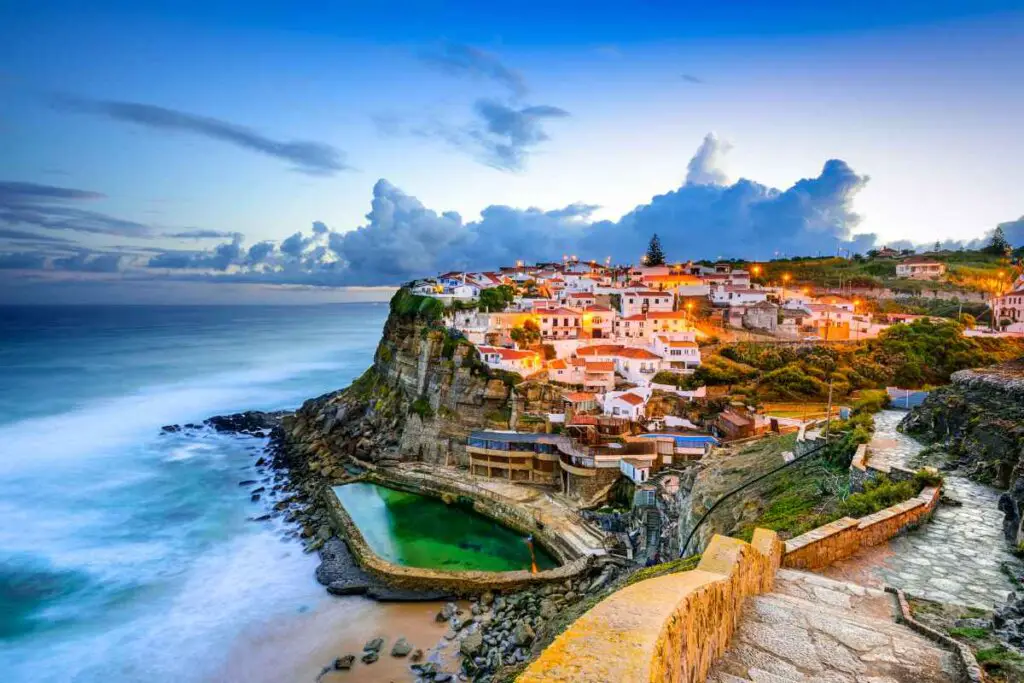 Another place that really interested me is Sintra. This is a colorful tourist center that is popular due to its volcano, located on the top of the mountain, and its leafy tree-filled spaces where strolling is a family attraction. 
This charming green town is listed as a UNESCO World Heritage Site for its beauty and the significance of the historical sites of Sintra, the Old Town, and its surroundings.
The old town is a maze of cobbled streets lined with pastel-colored townhouses. Narrow streets surround a beautiful central square, dominated by the amazing Sintra National Palace. 
The palace complex can be easily recognized from a distance by its huge conical pipes. It dates from the 14th century and is the oldest surviving palace in Portugal.
Read More: Best Tourist Attractions in Sintra and Best Free Things To Do in Sintra
3. Convent of Christ, Tomar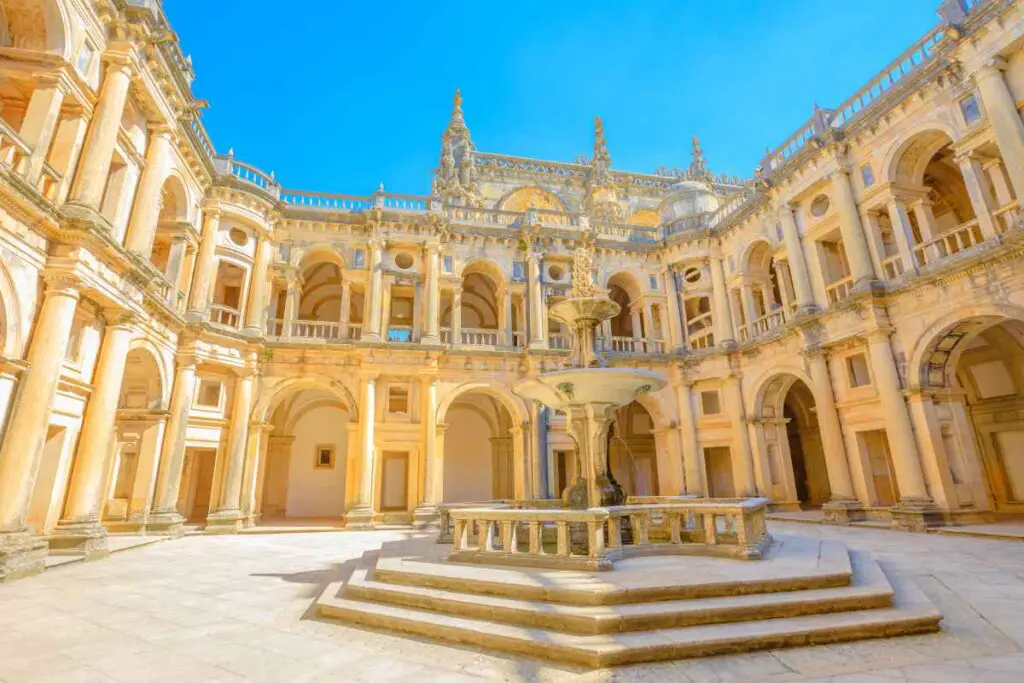 The charming town of Tomar is dominated by a powerful castle that protects the Convent of Christ Monastery, one of the most famous places in Portugal. 
The Monastery was founded in 1160 as the main fortress of the Portuguese Templars and the Order of Knights.
At the center of the complex is Charola, the original medieval Templar church, richly decorated and with all the mysterious symbolism associated with the Order of Christ. 
The chapels were built in the 16th century in the Manueline style. The window by the famous Portuguese sculptor Diogo de Arruda is considered one of the most outstanding architectural elements in all of Portugal.
4. Park and National Palace of Pena, Sintra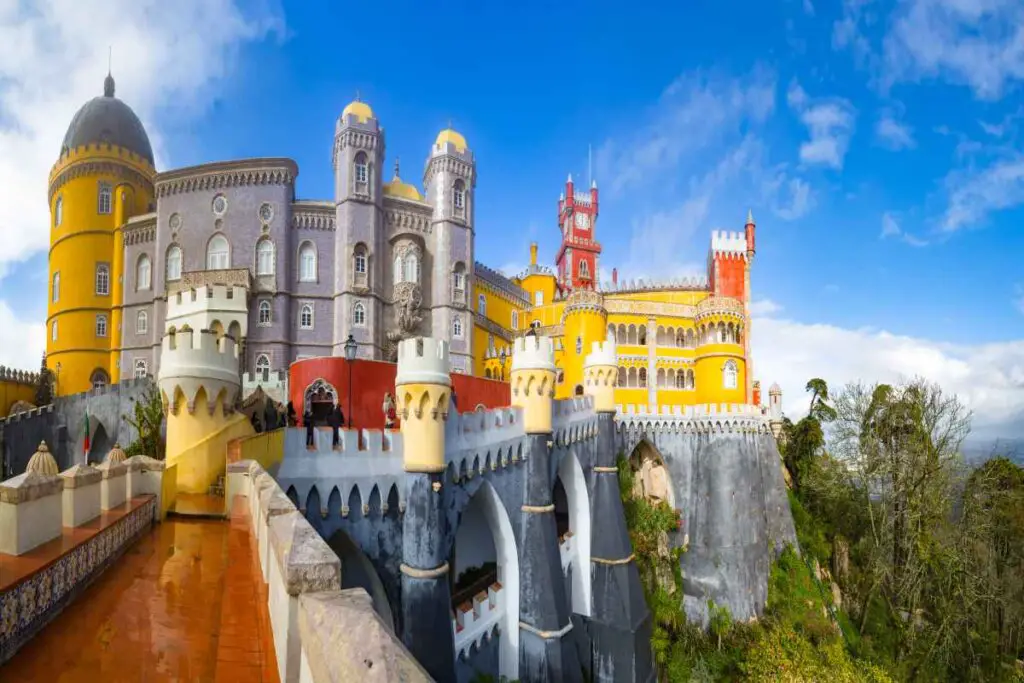 To enjoy the best of Portugal sightseeing, I suggest going to the Park and National Palace of Pena. This is a spectacular construction which is more than 200 years old, known for being the renowned Royal Palace of the Portuguese monarchical family.
I was really amazed by the combination of colors that the palace has will leave you amazed.
Also, I visited statues with mythological characters, which made me feel like I was in a real museum. Inside, the site was restored to mimic the decor that was done a century ago.
The tour is unique and mysterious in the palace because I was able to find hidden paths and secret doors. 
It is possible to go to the other spaces such as balconies, which have panoramic views of the city where you will like to witness a perfect sunset.
As a visitor, I was given the services of guides who tell about how the royal family fled in the era of the Revolution.
As it is a place where tourists from Portugal come to witness the history of royalty, there are restaurants and pubs to have drinks and make tasty international meals.
5. Belem's Tower, Lisbon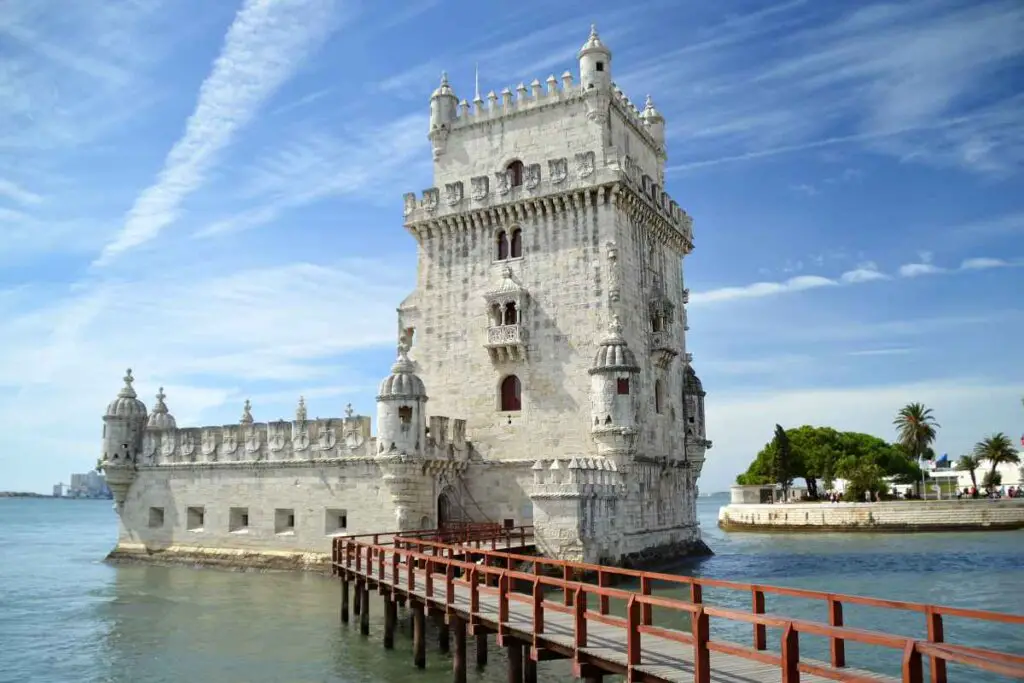 What about Lisbon's most famous postcard? The Tower of Belem summarizes the period of the Great Portuguese Navigations. It's beautiful.
I climbed to the top of the tower after paying $10. I can tell you that the stairs are spiral and very narrow. And the queue to go up is huge. Anyway, the incredible view was worth it.
The monument has a natural beauty because it was built in the waters of the Tagus River. And that is why it seems to float permanently on the water.
I suggest hiring a guide who will give all the historical information that you like, such as the architectural data and its medieval works of art.
I learned several secrets about the Belem tower that I didn't know, such as the fact that it served as a prison more than 400 years ago and as a port for the ships that crossed the world to reach the Indies and establish the world trade in the Middle Ages.
Being among the best places to visit in Portugal, it is surrounded by many restaurants and bars where you can rest without having to go away.
6. Capella Dos Ossos, Evora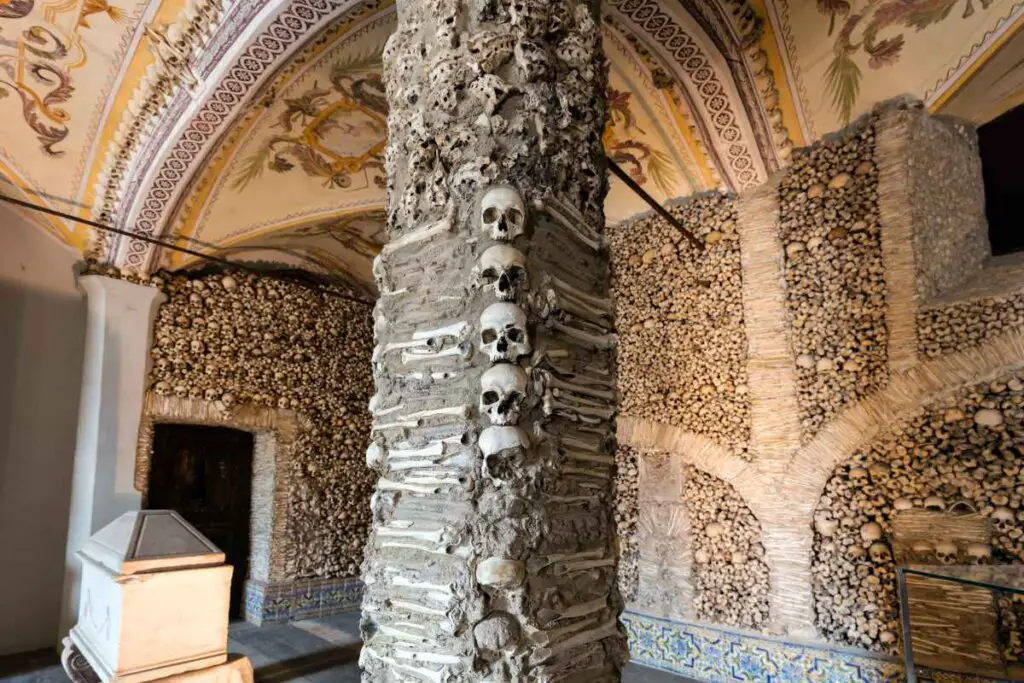 Capella Dos Ossos, or the Chapel of Bones, is among the top attractions in Portuguese that I visited, in addition to being the most mysterious places to visit. 
You should know that this is not an ideal place to visit with children, because in the chapel there are human remains.
On my tour inside the chapel, I saw skeletons hanging from the walls and ceiling. In addition, there were skulls on the ground and the ceiling. I was told the chapel has about 5000 human skeletons that adorn it. 
Aside from the bones, the Capella Dos Ossos also displays the bones of monks. However, they are stored in beautiful coffins instead. 
Another popular display is the mummified corpse of two mysterious individuals that hang on the walls.
All in all, Capella Dos Ossos displays grotesque images of skeletons and corpses to teach people that death isn't fearful.
Instead, it is a part of life itself that makes a living more meaningful and precious. Another famous quote that you can read inside is, "The day that I die is better than the day I was born."
7. The Azores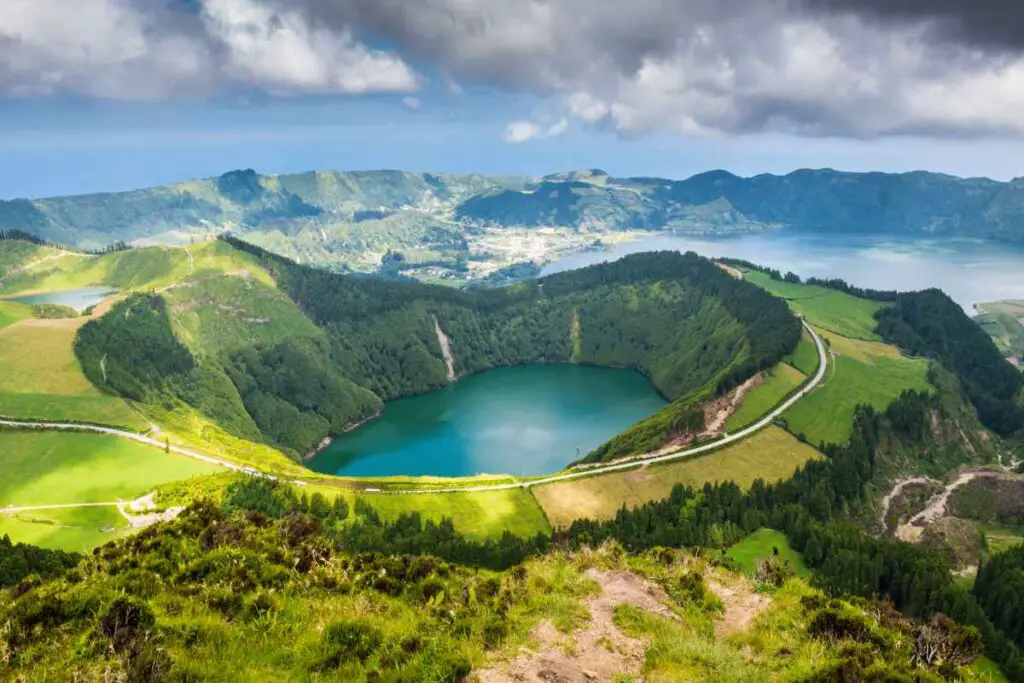 The Azores Islands are a group of beautiful islands famous for being considered paradisiacal destinations in Portugal. To get to the Azores, I recommend taking a flight from Lisbon Airport to any of the airports of the nine Azores islands. The flight takes no more than half an hour.
If you wonder what to do in the Azores, I tell you that the view there is spectacular. The whole place is surrounded by lush mountains and very clear sea water.
And because of that, it is perfect for organizing swimming and resting on the coral sand with a lot of shade. It is also possible to go hiking in the hills because the paths are easy to travel and very short.
My favorite activity on the island was whale watching from the bay. To see them, I suggest hiring a guide that takes you out to sea.
The boat trip can last three hours, but you have a guide who takes you to special places from where it is possible to take photos of the whales and the beautiful ocean.
8. Rossio Square, Lisbon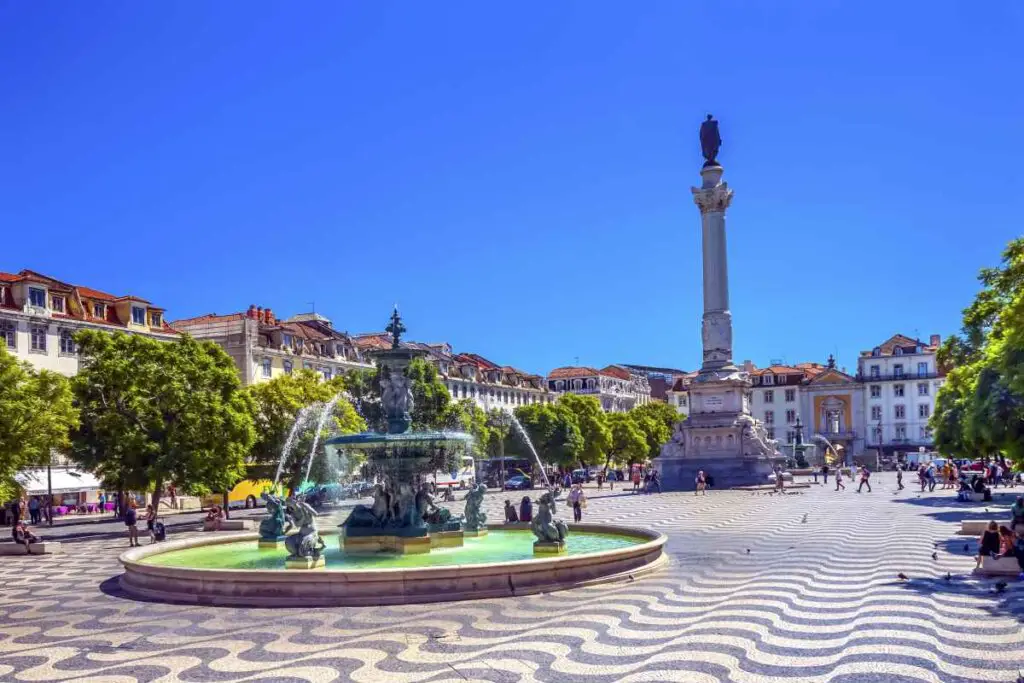 Among the famous places in Portugal to visit that I also recommend is Rossio square. The patterned flooring of Rossio Square in Lisbon mesmerized my eyes.
Rossio Square, which locals call King Pedro IV square, is a lively place where you can shop and get immediate access to nearby top attractions of Portugal. Aside from the patterned flooring, Rossio Square boasts two baroque fountains and a 27-feet monument.
Going to Rossio Square allowed me to see a lot of attractions on a single trip. Nearby attractions to this square are the Rua Augusta, Sao Domingos Church, Figueira Square, Commercio Square, and much more.
9. Cape St. Vincent, Algarve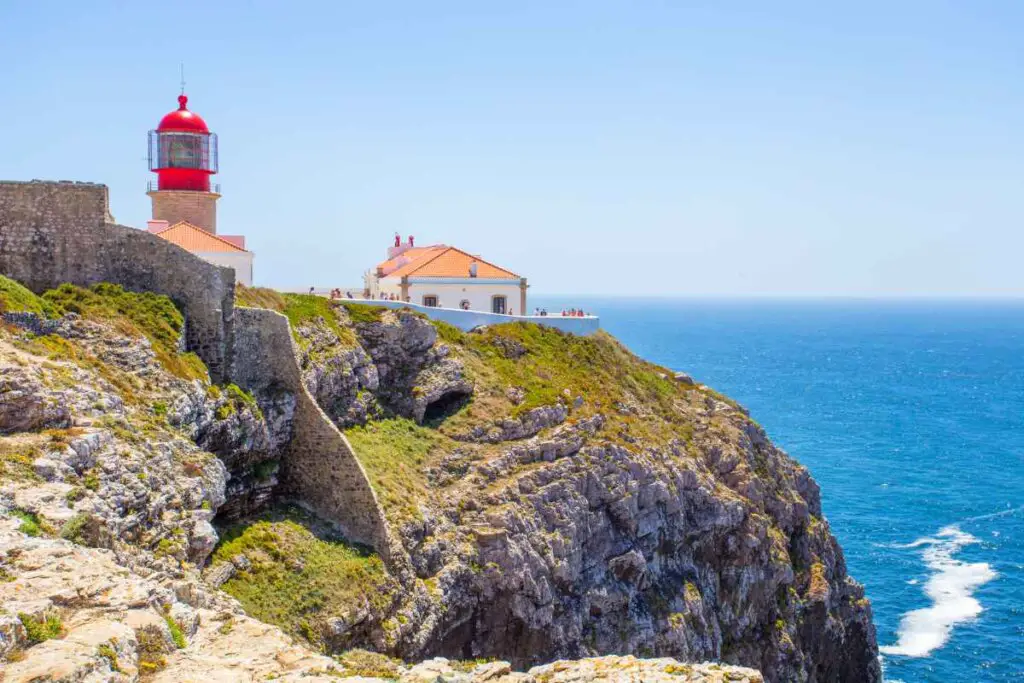 I recommend viewing the best sunset in Cape St. Vincent, which is also one of the top attractions in Portugal. This is also the earliest location in Portugal that people know about.
Ancient Greeks considered it sacred ground. As for the ancient Romans, they believe that it houses the edge of the world.
The sun at dusk looks very glamorous at Cape St. Vincent. As it sets, the distant ocean seems to swallow it. This might look a bit ominous if you view it for the first time. Nonetheless, it's something that you won't experience anywhere in Portugal.
Nighttime is very picturesque with the beams from St. Vincent's lighthouse. This puts the seawater of the Atlantic Ocean alight. Though not open to the public, St. Vincent's lighthouse is popular because lots of ravens, vultures, and griffons settle on it.
Read more: Best Tourist Attractions in The Algarve
10. MNAA National Museum of Ancient Art, Lisbon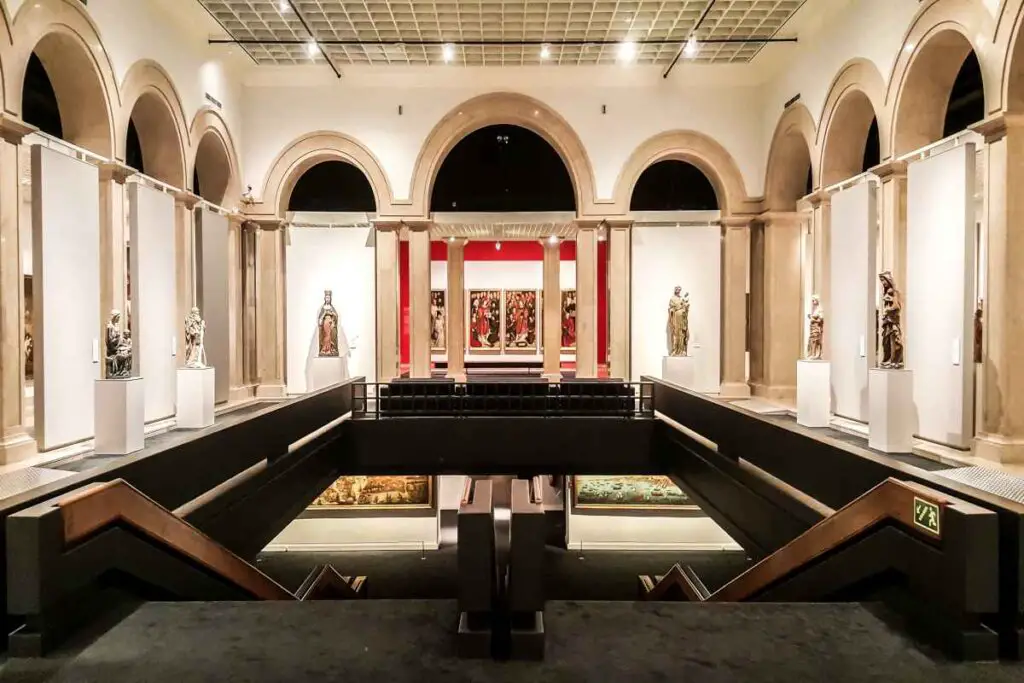 The MNAA National Museum of Ancient Art houses the most important pieces of middle age to baroque art pieces of notable artists in Portugal. I found this museum at the Carmelite Convent in Lisbon.
What makes it unique is its simple exterior design compared to the highly detailed exteriors of most museums in Europe.
Inside the museum, there are prominent pieces of Ancient art like the St. Vincent Panels, Cross of Dom Sancho I, Belem Monstrance, Reliquary, and Table Centerpiece.
What impressed me is the mini-garden that provides a breathtaking view of the River Tagus. So, if you get tired of looking at the artwork, I recommend coming to this garden.
11. Ria Formosa, Algarve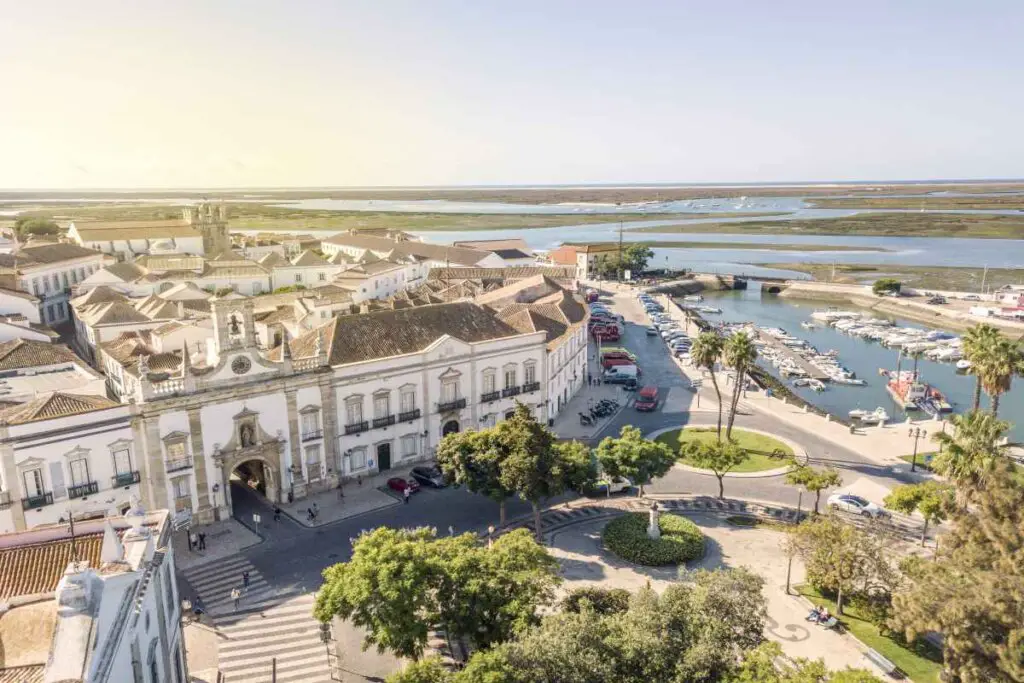 I associate the Algarve tourist destination with the sun, beaches, beautiful villages, and rich fish.
But at the level of nature, it also has an authentic jewel, not so well known, but of great environmental value and important extension in space: Ria Formosa.
It is also a Natural Park and is considered one of the 7 Natural Wonders of Portugal.
The Ria Formosa is actually a very extensive marine lagoon. It is a paradise for birds, both aquatic and migratory species.
Up to 30,000 make a stopover here on their routes from Europe to Africa. And it also has the largest population of seahorses in the world.
Read More 12 Best Beaches in Algarve
12. National Coach Museum, Lisbon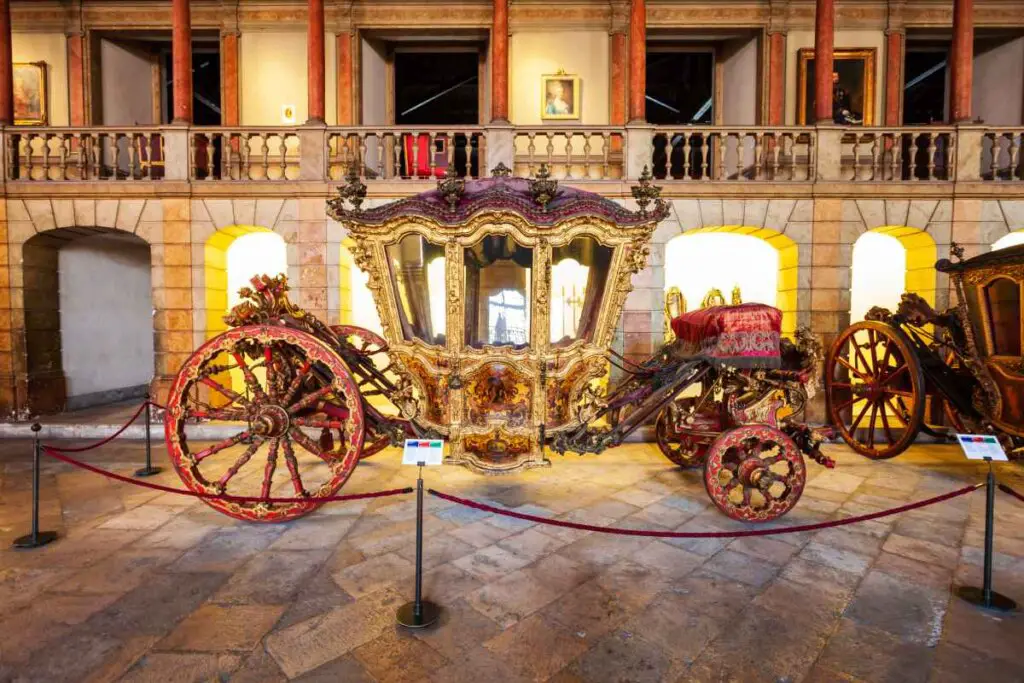 Portugal is one of the European countries that took the elegance of transportation seriously long before automobiles existed.
And for this reason, it has a wide collection of horse-drawn carriages that vary in design and functions.
To see the best carriages in the history of Portugal, I was advised to visit the National Coach Museum.
This museum isn't that expansive. However, it has a complete collection of classic carriages, which date back to the 17th century. 
These carriages once roamed the city streets of Portugal. The most notable carriage of its collection is those of Philip II, Pope Clement XI, and John V. 
13. Castle of Sao Jorge, Lisbon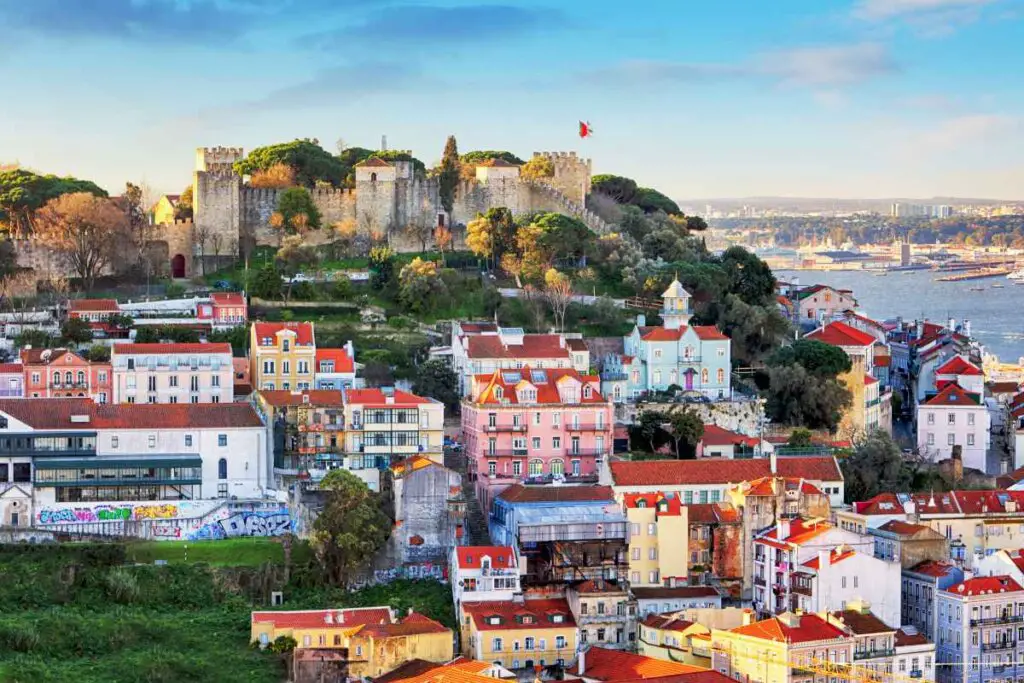 My next suggestion is the Castle of Sao Jorge, which offers a great view into the past of the nation.
This is a fabulous historical and religious construction that is more than 800 years old. It is in a ruined condition on the outskirts of Lisbon and receives the status of a National Monument.
I recommend this place to people who are in love with cultural interest, and those that enjoy visiting museums.
The site has guides who will tell you the religious and political past of the center in times before the existence of Christ.
Another point of interest is the path to the wonderful gardens because it is cobbled and mysterious, magnificent for your photos and memories.
In addition, there are real peacocks that adorn the view and artificial lagoons where you will find ducks swimming. Without a doubt, this is among the famous places to visit in Portugal. 
14. Livraria Lello, Porto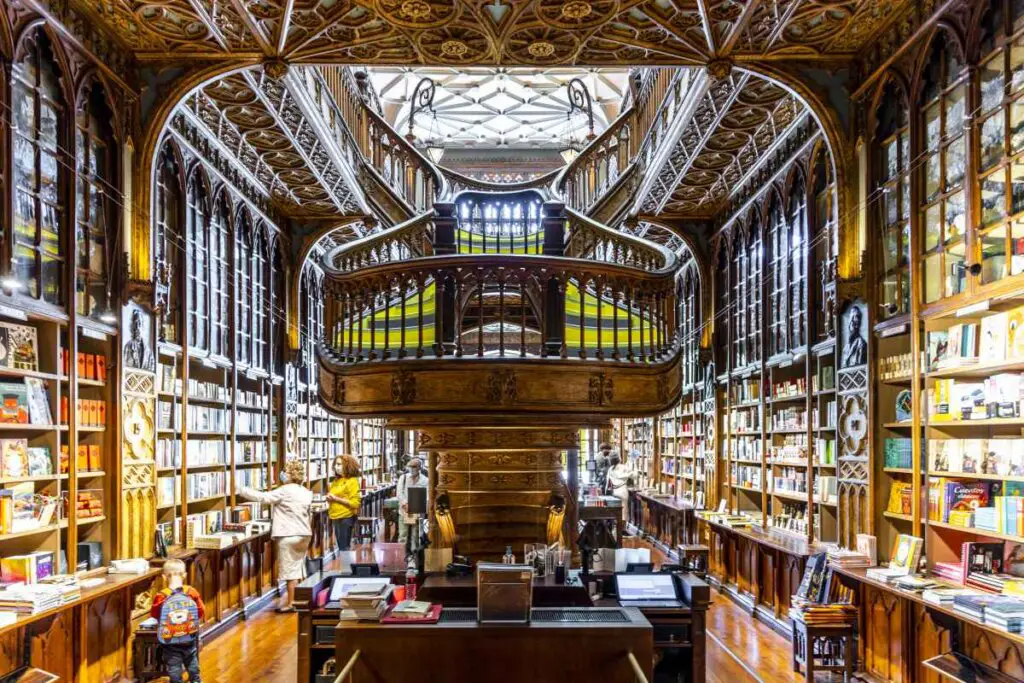 It's rare for bookstores to be one of the attractions of iconic cities. However, the Livraria Lello in Portugal managed to do what seemed to be impossible.
With its grandiose interior featuring Gothic, Manueline, Art Noveau architectural elements, carpeted staircase, and classy bookshelves, the Livaria Lello looks like a royal library.
And this is the primary reason why it's the most iconic bookstore in Portugal and perhaps, even in the entire European continent.
I paid 5 euros to access the library. Unfortunately, this did not cover the price of the books that I was going to read.
I saw that most tourists visit this place to take selfies and groupies on the staircase. It is obvious that the bookstore is very cool, but I also have to admit that it is completely overcrowded with tourists.
Read more: Best Tourist Attractions in Porto
15. Roman Temple of Evora, Evora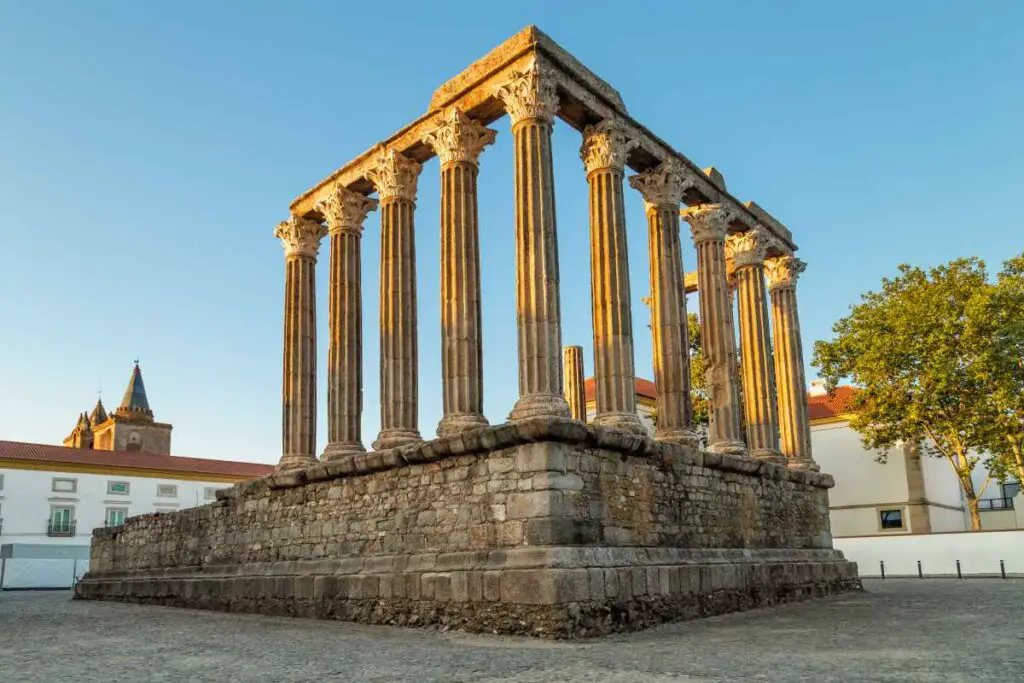 Finally, you can't miss the Roman Temple of Evora. This is a roman temple that is over 2000 years old.
There's nothing much to see since time left the temple in ruins. Nevertheless, some of its structures, like the columns, base, and stylobate, remain intact.
This makes this attraction the perfect place to take photos and enjoy the beautiful architecture of the building. Around this temple are restaurants and bars where you can take a rest.
16. Alcobaca Monastery, Alcobaca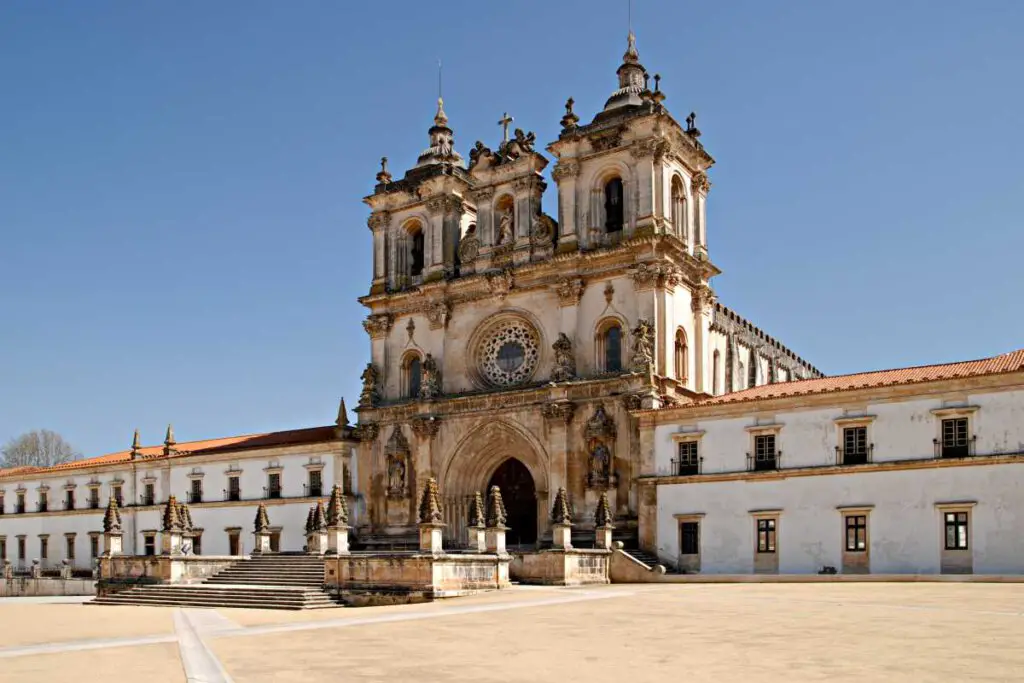 The Monastery of Alcobaca is another religious structure that I visited in Portugal.
The building itself was completed in 1178, which makes it one of the earliest Portuguese monasteries.
And like other famous attractions in Portugal, this monastery has its own charm and can be found near several olive plantations.
Alcobaca Monastery has beautiful white-washed walls decorated with blue tiles. On top of each wall are metal bars that look like olive trees.
This gives the image to the monastery as if it were an island protected by strong boundaries, but at the same time open to all visitors interested in churches or temples.
Today, this site has a museum where visitors can see the architectural details and the history of Portugal through several exhibitions and remains that date back to that time period.
Inside the monastery, there are columns built with marble imported from Italy and other parts of Europe. The interior is decorated with several paintings that depict the lives of saints.
Alcobaca Monastery has many religious objects, including wooden sculptures and antique books. Unfortunately, there are only open to the public on certain days of the week. So, confirm if it's open before coming here.
17. University of Coimbra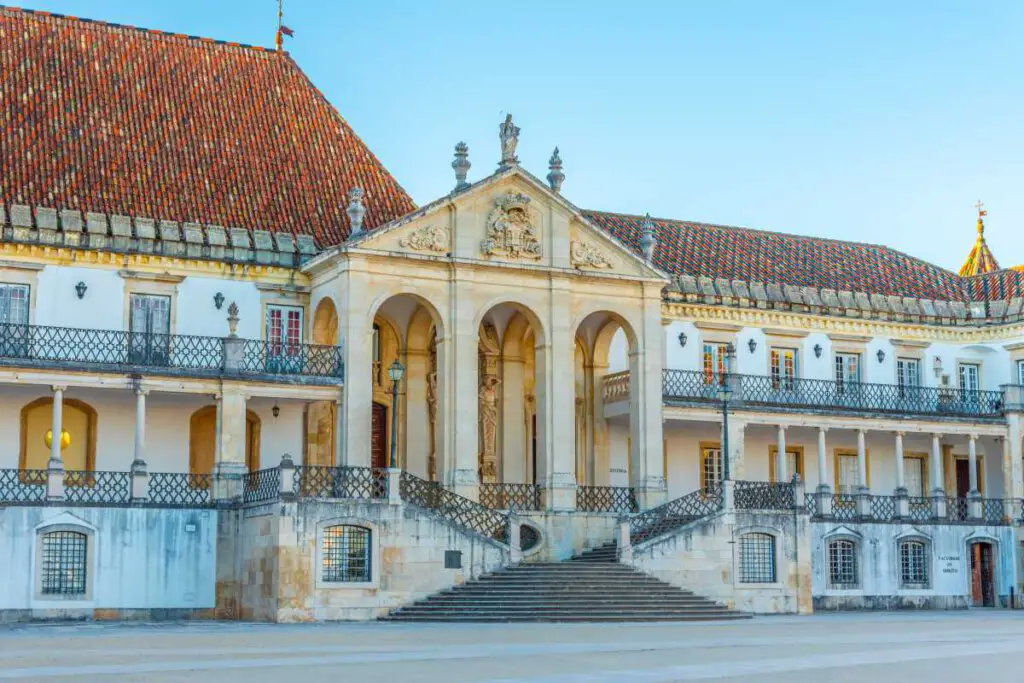 The University of Coimbra is another one of the most popular places in Portugal. It is famous worldwide as it was established in 1290, which makes this site very special from a historical point of view.
Throughout history, many students have graduated from the Universidade de Coimbra, including some Nobel Prize winners and even poets such as Fernando Pessoa.
The university is also very famous for its baroque-style architecture. So, if you are ready to enjoy the sites that this school has to offer, then go there and take stunning photos of Coimbra's University.
As it happens with many other Portugal attractions, this one also provides visitors with some guided tours through some carefully planned routes to show you all of its most distinguished areas.
For instance, a tour will start in the central area where Professors Square is located. And after taking amazing photos from that spot, your guide can take you through another side of the campus to visit.
In addition, this site holds many cultural activities such as lectures, concerts, etc., besides being a tourist destination thanks to its architectural design.
The university is known for its courtyards, fountains, and even magical aura that attracts tourists from all over the world.
And by visiting Coimbra's University, you can also learn about Portugal's history because this place is one of the best to understand how it was ruled throughout time.
Today it remains one of the most important centers that disseminate culture and tradition through more than 60 courses and with about 24,000 students enrolled.
18. Cais da Ribeira, Porto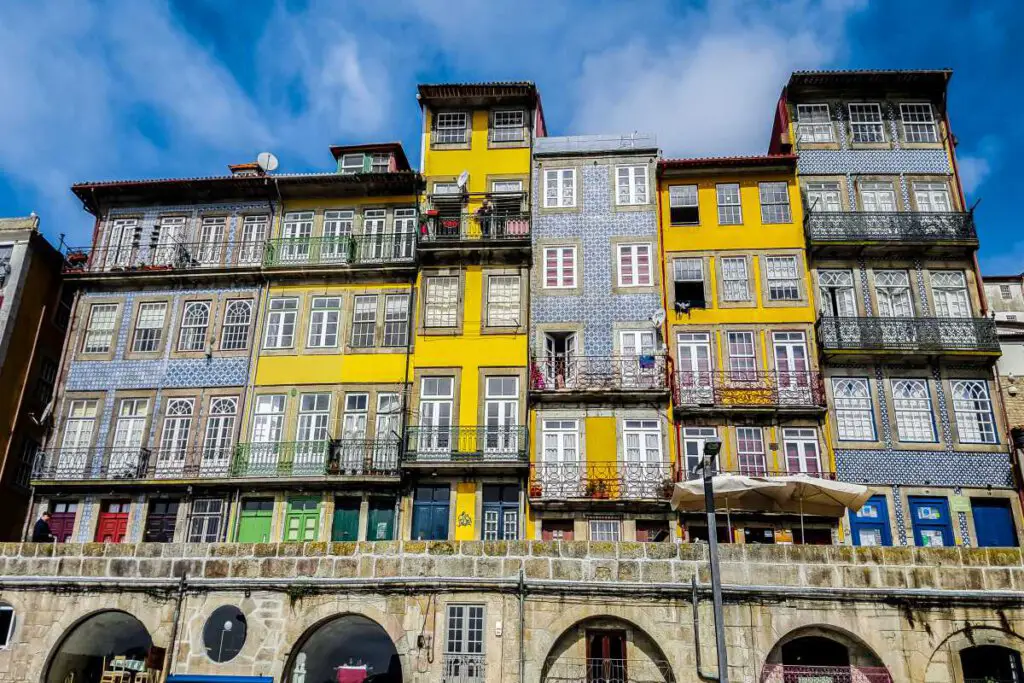 Cais da Ribeira is a charming picturesque district. It is located in Porto, the second-largest city in Portugal, known for its beautiful riverside and also as a foodie destination.
This is the perfect place to take photos and enjoy the day with your family and friends.
Inside this district, you can find wonderful views of Porto's Douro River, cobbled streets, and many traditional shops selling all kinds of things from clothing to souvenirs, banks, restaurants/bars/cafes serving local dishes.
You can take a ferry boat from Douro River, which offers trips around the city of Porto and its neighboring cities.
There are also several water buses that leave from this district if you want to explore more of Portugal's riverside attractions.
A 10-minute walk from Cais da Ribeira will take you to Aliados Avenue, a street very important in Porto's history.
This is where several monuments are located, such as Serralves Foundation Contemporary Art Museum, Sao Bento Train Station, Sao Francisco Church, and the Stock Exchange Palace.
Furthermore, it is an ideal place for shopping with famous Portuguese brands having shops all along this avenue.
As far as accommodation is concerned, you should know that there are many options in the area where you can enjoy 5-star and 4-star hotels. In addition, there are also budget-friendly hostels where you can meet other tourists from around the world.
Cais da Ribeira may seem like not much at first sight. But once you enjoy any of its attractions, you will see why it has been ranked as one of the top Portuguese places to visit.
19. Oceanario de Lisboa, Lisbon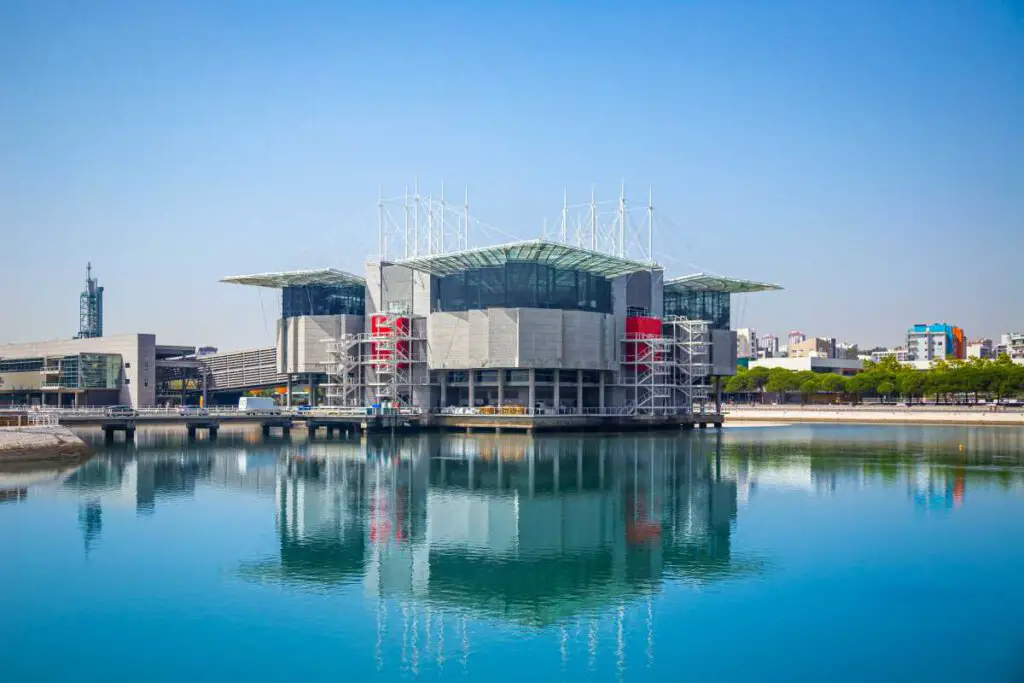 It is one of the top tourist attractions in Portugal that is a must-see. If you have seen this place, then you know what I am talking about. The Oceanario de Lisboa has more than 5 million liters of water and shows the widest variety of species under one roof.
It is one of the world's largest aquariums and was inaugurated in 1998. The attraction aims not only to provide a unique show for visitors, but also to conserve living species that are currently in danger of extinction.
With its large complex structure, this aquarium has several tanks, each with its own distinct characteristics.
These tanks carry fish from different parts of the ocean where they are kept while being observed by visitors. In some tanks, you can watch dolphins live their lives through a glass wall that separates them from us.
In addition to the fish and dolphin show, Oceanario de Lisboa has a very interesting underwater tunnel where you can have face-to-face contact with sharks and other species of dangerous marine animals.
According to the official information from Oceanario de Lisboa, all their tanks provide a social environment for aquatic life that's similar to their natural habitat so that they can live according to their needs.
At this place, you can learn more about how great our planet is because of its diverse population of animals.
This aquarium was awarded the "Wonders of Portugal" award for being one of the most important engineering feats of modern times. It is expected to be visited by 1 million people every year who hope to see some animals from all over the world such as penguins, dolphins, sea otters, sharks, tropical birds and many more.
20. Museu Calouste Gulbenkian, Lisbon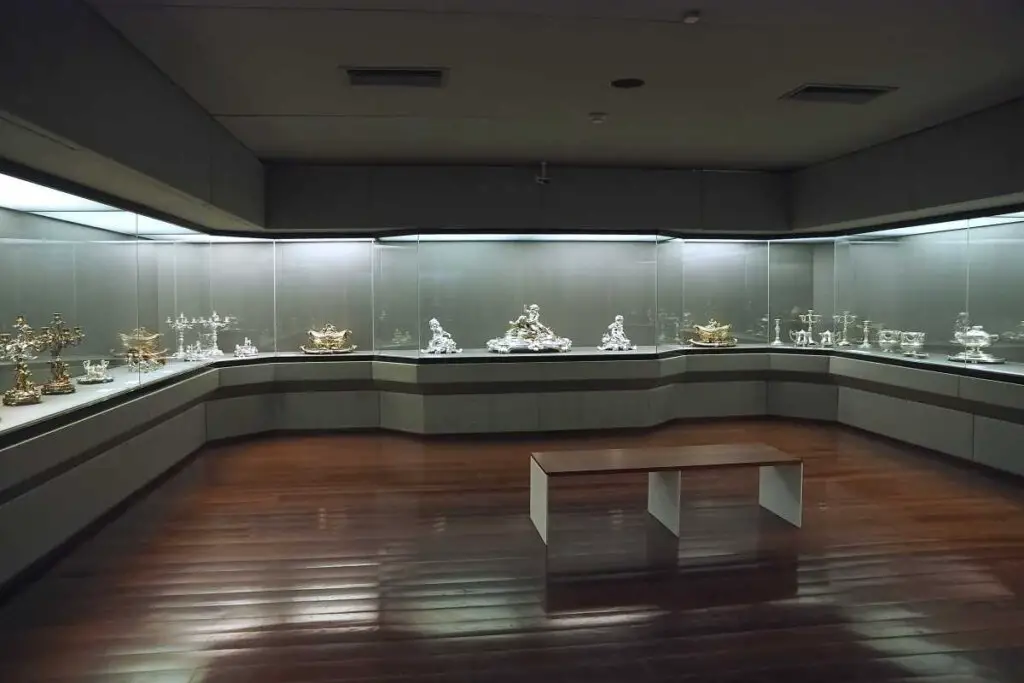 About a 15-minute walk from Jeronimos Monastery, you arrive in the Museu Calouste Gulbenkian. This museum owes its name to Calouste Sarkis Gulbenkian, a notable Armenian oil magnate who lived between 1869 and 1955.
In his lifetime, he was able to amass an impressive collection of artworks that were donated by him in order for this museum to be built.
Many of these paintings are from well-known European artists such as Botticelli, Renoir, Degas, and many others. The museum has more than 6000 pieces on display.
In addition, there is a theater hall inside this museum with shows that include ballet performances and contemporary pieces.
Also worth noting is the fact that at certain hours of the day, you can tour the gardens of the Gulbenkian Foundation's property.
They have an impressive collection of sculptures from great artists such as Rodin.
The Museum Calouste Gulbenkian is an incredible place where you can learn multiple things about different cultures and how they lived throughout the history of mankind.
It has very positive energy and is a must-see attraction if you visit Portugal. Also, it has a gift shop where you can find some really stylish souvenirs.
I would recommend visiting this attraction after seeing the Jeronimos Monastery. Both sites are in the same neighborhood, and it will save you transportation money.
21. Castelo de Guimaraes, Guimares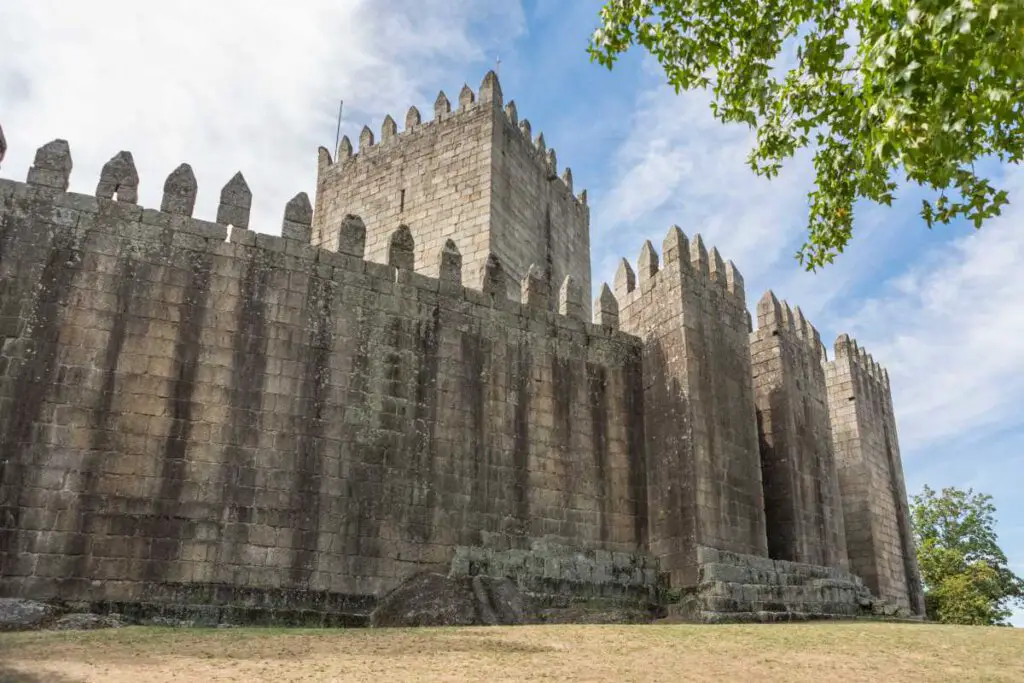 Castelo de Guimaraes also should be on your list of tourist attractions in Portugal. The fact is that this site is one of the most popular in Portugal and has so much history and interesting facts in it.
This medieval castle in the municipality of Guimaraes was built in the 10th century, but later, King Afonso Henriques conquered it.
Walking through its corridors and courtyards is an experience that successive generations have had. And visitors today continue to enjoy this magnificent medieval monument that tells part of the history of Portugal.
Its imposing towers are very visible from several points of view throughout the city center. Inside, there are collections of weapons and utensils used in the war.
Of special note is the magnificent view obtained from its terraces, which allows you to see a 360-degree panorama of the entire city.
There are guided tours that explain to you how this impressive castle looked like before being destroyed by the 1755 earthquake. It also tells you about its reconstruction process after being restored several times until reaching its current state.
When visiting this castle, you have free access to walk around inside or climb up to where you can enjoy an overview of Guimaraes.
In 1993, UNESCO listed this castle as part of World Heritage together with seven other monuments located in northern Portugal. If you want to complete the entire tour around Northern Portugal, visiting the Castelo de Guimaraes is a must.
22. Cross-Border Zipline, Alcoutim
Imagine flying over like Superman, seeing the Guadiana River in a bird's-eye view while feeling just a tiny bit scared for your life.
If this is something you would be interested in doing, then I recommend visiting Alcoutim, in the southwest of Algarve. In this Cross-Border Zipline, you will be harnessed to a cable that connects two countries: Spain and Portugal.
With more than 720 meters of an airline, you'll be able to enjoy the beautiful views from above while going down at speed reaching 80 km/h. and once you start zipping at high speed, you will feel the adrenaline course through your veins as you pass by Spanish territory.
You will see beautiful olive groves and other exotic flora (and fauna) native to Spain. The trip ends when you return to where you started from. In this case, you will finally be back on Portuguese ground.
There are some safety measures during the ride, such as helmets, gloves, ropes, carabiner clips, etc. Also, make sure you know how to swim and that you don't have any cardiovascular problems.
This place has an average temperature during summer, which makes it perfect for this adventure. And if you want to relax and have more fun in Algarve, I suggest you take a walk through the village or along the beaches of this town.
The beaches of Algarve have won several awards for being among the best destinations in Europe due to their clear waters and fine sand.
Because at Cross-Border Zipline, you are flying over the waters of the Guadiana River between Portugal and Spain, I recommend you carry your passport before starting your trip. The price may vary depending on when you book your ticket.
Read More: Best Tourist Attractions in Lagos