Looking for an enchanting escape that won't break the bank? Sintra has got you covered with a plethora of free activities that will leave you in awe. From the mesmerizing Praia da Ursa with its breathtaking views to the Centro Histórico de Sintra, where history comes alive.
Indulge in a moment of tranquility as you sink your toes into the soft sands of Praia Grande and Praia do Magoito. Let the gentle waves wash away your worries as you soak up the sun and unwind.
Venture to the Farol do Cabo da Roca, standing tall as the westernmost point of continental Europe. Take in the sweeping panoramas of the endless sea, feeling the power of nature's embrace.
Before you embark on your Sintra adventure, make sure to stop by the Posto de Turismo de Sintra, where friendly locals are ready to guide you and provide invaluable insights. And don't miss the Pelourinho de Sintra, a historic landmark that tells tales of times long gone.
So, pack your sense of wonder and get ready for an unforgettable journey through Sintra's treasures. With free activities abound, it's time to immerse yourself in the magic of this captivating destination.
1. Praia da Ursa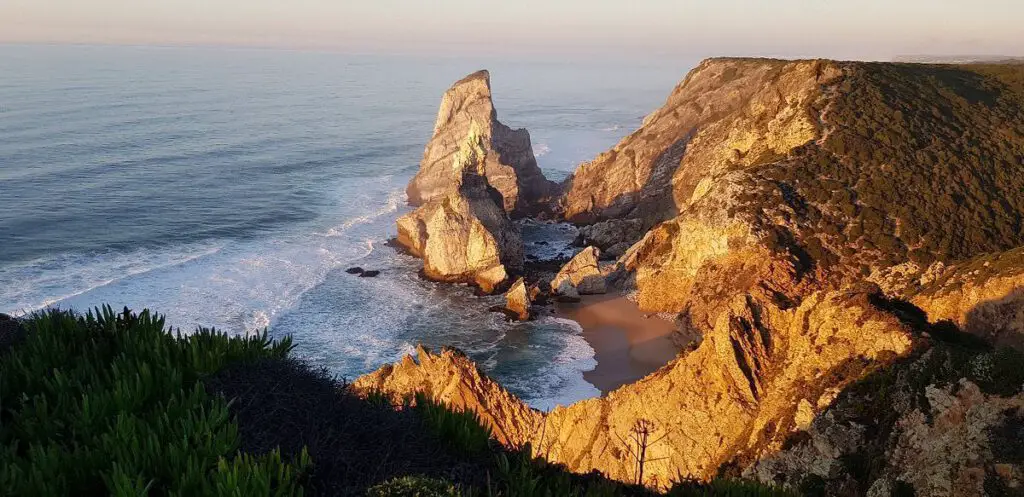 You should explore the tranquility of Praia da Ursa and embrace the serenity of its natural beauty. Located in Sintra, Portugal, this hidden gem offers an immersive experience with its stunning backdrop of wind, rocks, cliffs, sand, sea, and waves.
Although the path down to the beach requires caution, the effort is well worth it. Praia da Ursa isn't crowded, allowing you to enjoy a peaceful and uncrowded beach experience.
To fully experience Praia da Ursa and its nearby attractions, consider taking a trip from Lisbon, joining a bus tour, or embarking on a sunset hike with tapas and wine.
Whether you visit during spring break or as part of a private day trip to Sintra, Praia da Ursa promises to be a memorable and serene destination.
2. Centro Histórico de Sintra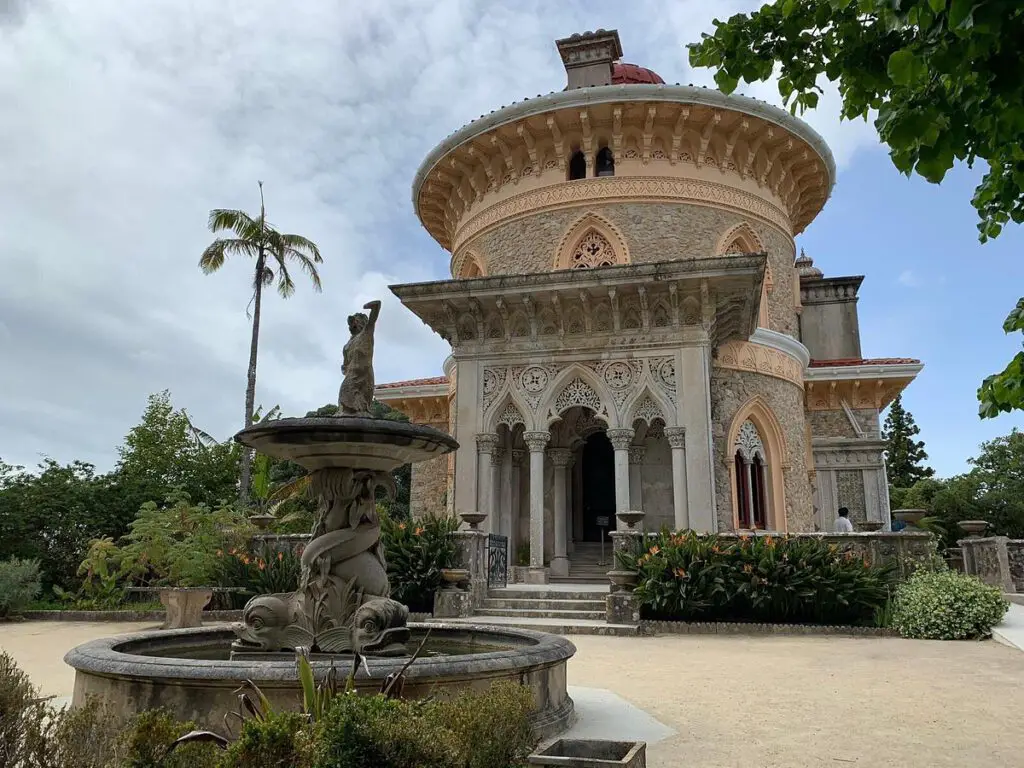 You can easily explore the Centro Histórico de Sintra, as it's conveniently located at the foot of the Serra de Sintra mountains and just a 10-minute walk from the train station.
This historic walking area in Sintra, Portugal, is highly rated and ranked as one of the top things to do in the city.
With its picturesque buildings, narrow streets, and steep hills, the architectural charm of the Centro Histórico is truly captivating. Must-visit attractions include the National Palace of Sintra, Quinta da Regaleira, and Pena Palace.
In addition, there are numerous castles, ruins, and parks to explore, making it a paradise for history and nature lovers.
While there are small restaurants, cafes, and souvenir shops in the area, it can get crowded with tourists.
For a more peaceful experience, visit Cabo da Roca and nearby beaches. It's recommended to stay overnight in Sintra to fully enjoy all the attractions this enchanting town has to offer.
3. Praia Grande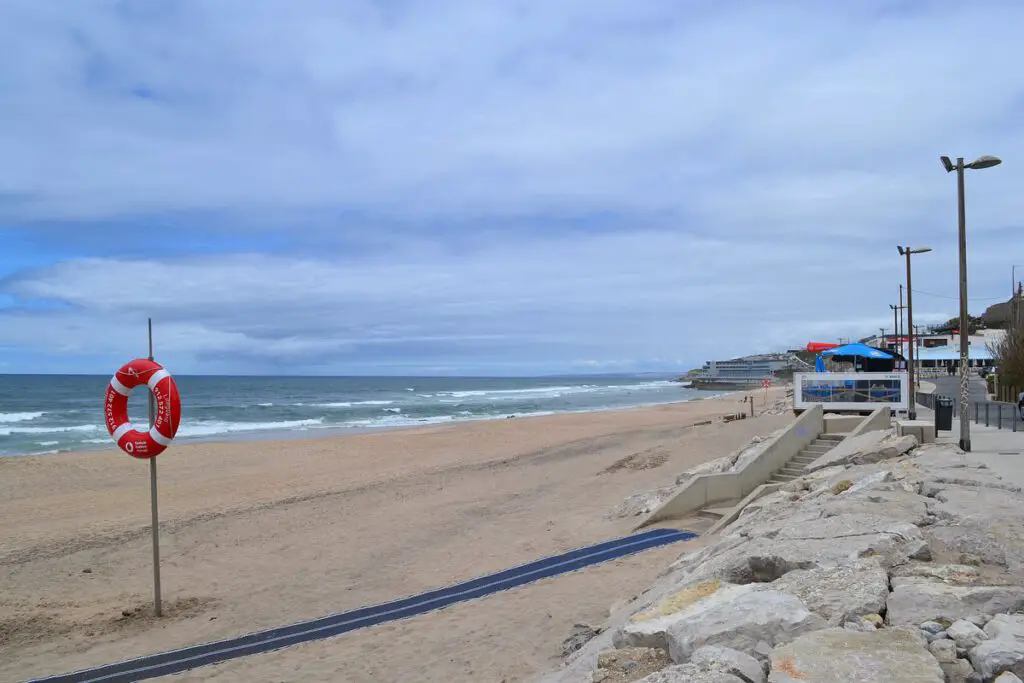 Praia Grande offers a great surfing experience and beautiful views, so make sure to visit and enjoy the beach.
Located in Sintra, Portugal, this beach has received a rating of 4.5 out of 5 based on 380 reviews. It's ranked #9 out of 74 things to do in Sintra, making it a popular destination for tourists.
Visitors have praised the beach for its stunning landscape, clean water, and long sandy shores. It's also known for its strong waves, making it a great spot for surfing enthusiasts.
In addition to the beach itself, there are also nearby attractions, such as restaurants and cliffs, that provide a well-rounded experience.
Best Tourist Atractions In Sintra
4. Praia do Magoito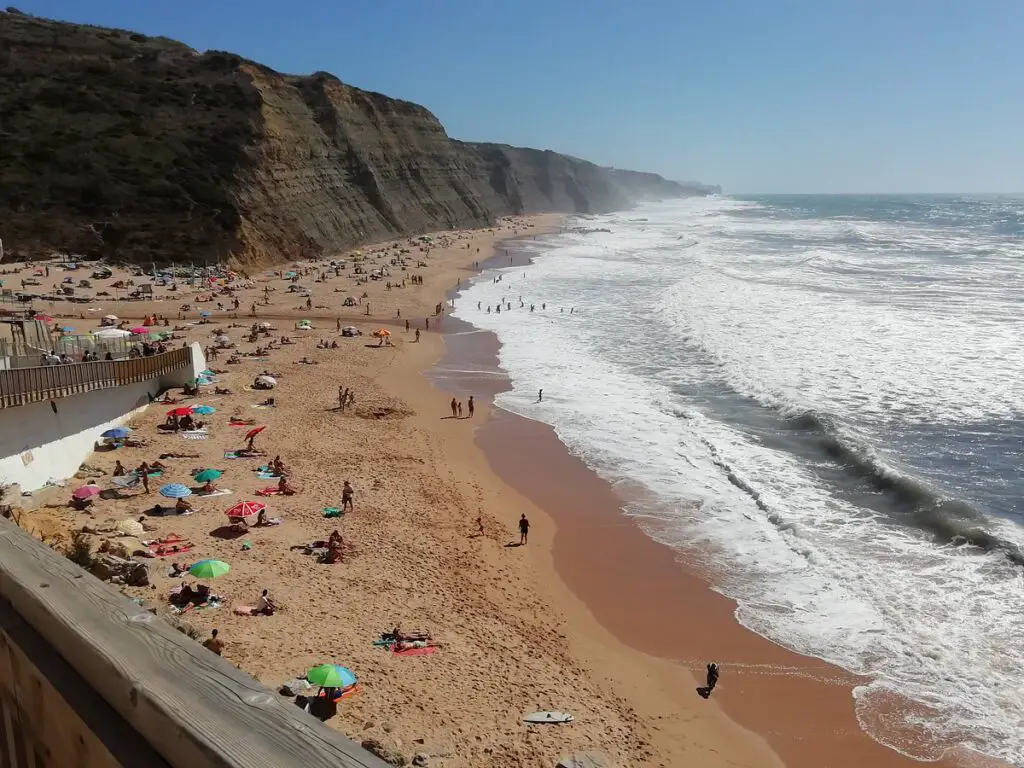 Grab your surfboard and head to the stunning Praia do Magoito, where you'll find good waves and a large beach to enjoy. This beach is a great spot for surfing, with its convenient parking area close by.
The waves here are perfect for catching some thrilling rides, but be mindful of the stones and rocks near the shore.
If you're not into surfing, you can still have a fantastic time at Praia do Magoito. Take a stroll along the beach and admire the beautiful views. During high tide, explore the rock pools scattered around.
And if you have young children, they can have fun in the sweet water river that runs through the beach.
5. Farol do cabo da Roca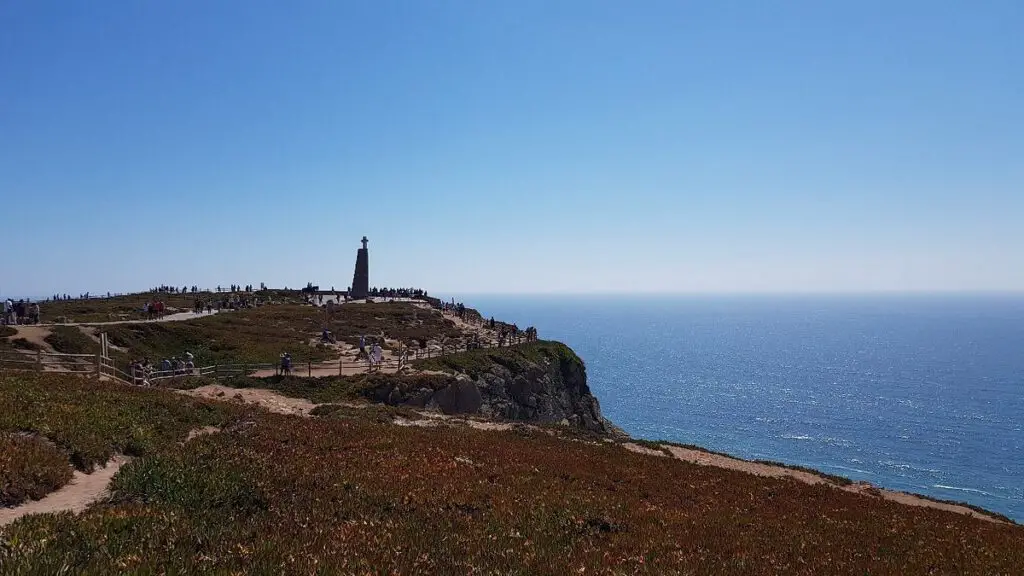 If you're looking for a breathtaking view of the Atlantic Ocean, head to Farol do Cabo da Roca, the westernmost point in continental Europe. Located in Sintra, Portugal, this historic lighthouse offers a unique experience for visitors.
Standing 541 feet above the ocean, the tower provides stunning panoramic views of the coastline and rock outcroppings. Many visitors describe Cabo da Roca as a beautiful and picturesque lookout, making it a popular spot to enjoy the ocean scenery.
However, it's important to note that the location is known for its constant winds, so be sure to bring a warm coat or sweater. The lighthouse is open to visitors, and tours are available to explore this iconic landmark.
Don't miss the opportunity to stand on the edge of Europe and witness the beauty of the Atlantic Ocean at Farol do Cabo da Roca.
Best Tourist Attractions in Portugal
6. Câmara Municipal de Sintra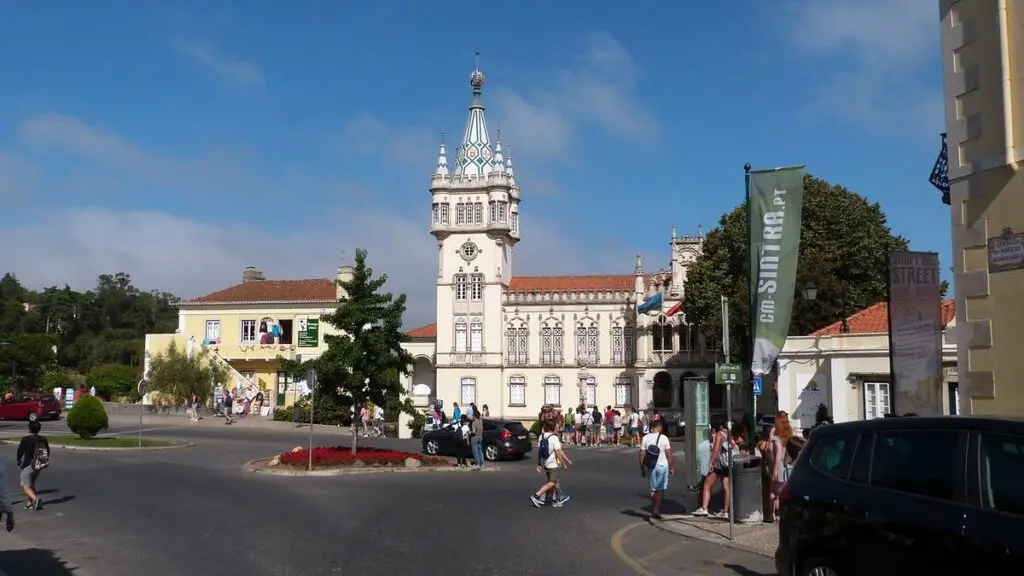 You should definitely visit Câmara Municipal de Sintra because it's a beautifully designed government building that will leave you in awe.
Constructed in 1909, this building features extravagant and fairy-tale-like architecture that's sure to capture your attention.
As you approach, you'll notice the ornately decorated Pillory Pole in front of the building, adding to its charm.
Ranked #11 out of 74 things to do in Sintra, this Town Hall is considered one of the highlights of the area.
With its unique and fanciful design, it's no wonder that visitors describe it as resembling a fairy tale.
Don't miss the opportunity to explore this historic gem in Sintra, Portugal.
7. Santuario da Peninha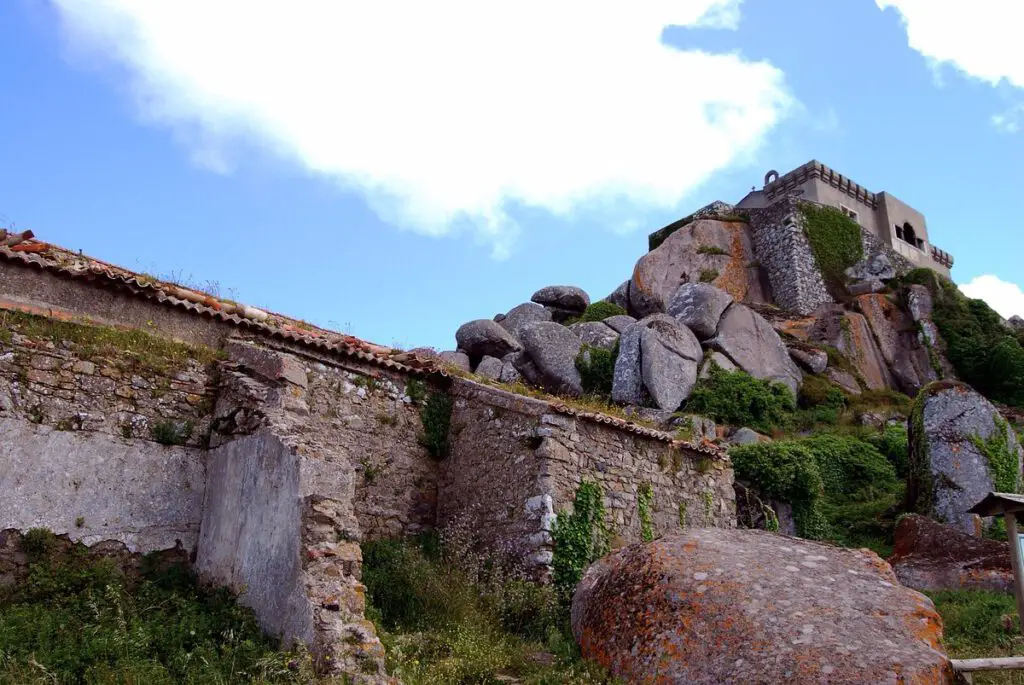 Take a few moments to admire the breathtaking panoramic views from Santuario da Peninha and experience the tranquil atmosphere it offers. Located in Sintra, Portugal, this sanctuary provides stunning ocean views and a bird's eye perspective of the coastline, including Cascais and Guincho beach.
Surrounded by beautiful forest scenery, the sanctuary offers a peaceful and serene atmosphere, away from the tourist traps in Sintra. Despite its small size and the appearance of the main building being abandoned, Santuario da Peninha holds its charm and beauty.
With limited visitors, you can enjoy a more enjoyable experience compared to the crowded Pena Palace. Explore the small buildings, walk around the sanctuary, and even hike the yellow/red coastal trail. Don't forget to bring a picnic and soak in the stunning views of the entire coastline from the top.
8. Moorish Fountain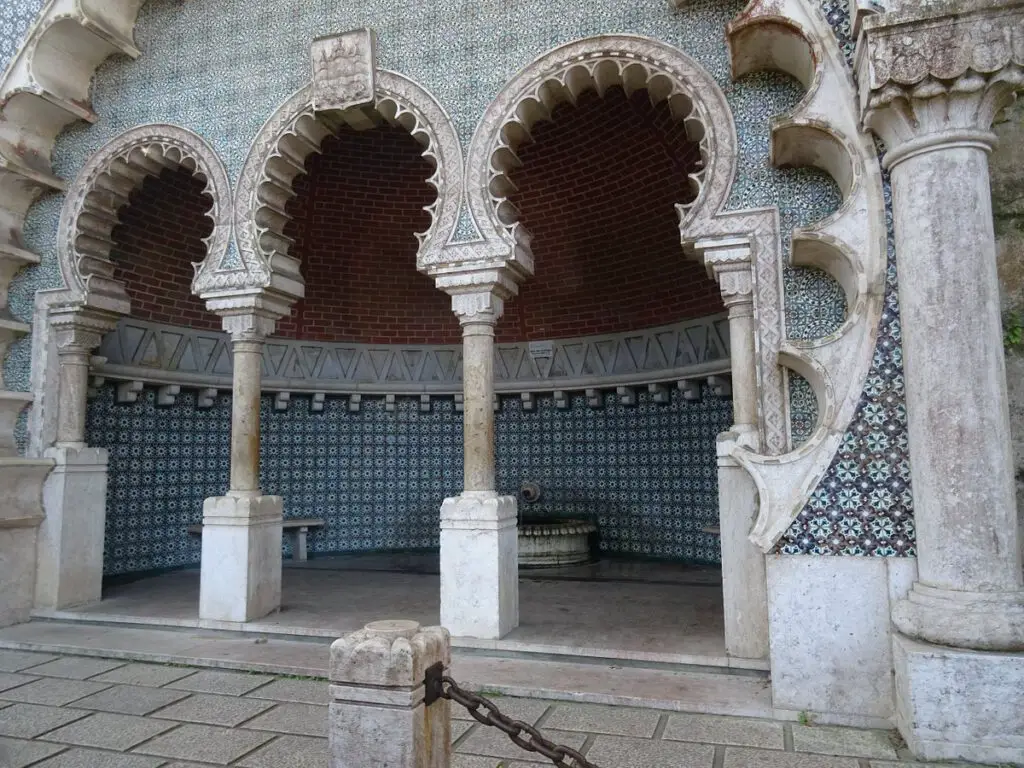 Check out the beautiful colors and ornate architecture of Moorish Fountain, and take a moment to appreciate its historical significance.
This fountain, designed by José da Fonseca in 1922, features stunning Moorish architecture and design, adorned with blue and white tiles. It's a revivalist piece, reflecting the style of 13th/14th century Moorish architecture.
The entrance is formed by three large horse-shoe arches, and the entire structure is covered in highly decorative and traditional azulejos tiles. Not only does the fountain provide relief from the sun or rain, but it also still supplies drinking water to visitors.
Situated along the road between Sintra station and the old town, it's easily missed if not paying attention. However, it's considered one of the prettiest decorative street fountains in Sintra and is definitely worth a stop to appreciate its beauty and capture some memorable photographs.
9. Vila Sassetti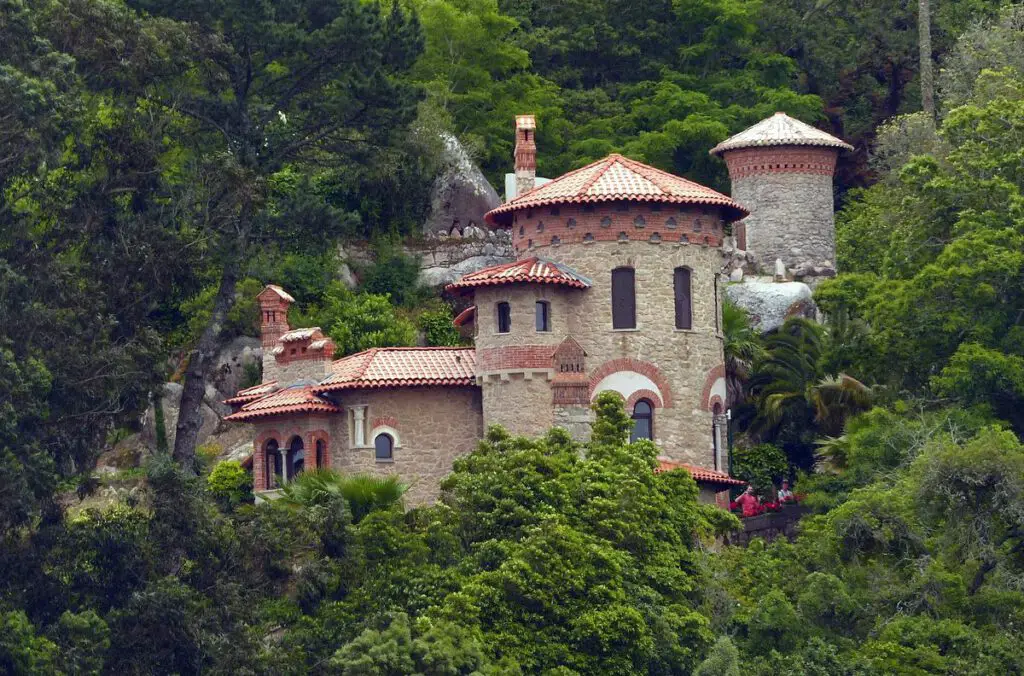 Explore the tranquility and serenity of Vila Sassetti as you immerse yourself in its picturesque surroundings. Located in Sintra, Portugal, Vila Sassetti is known for its scenic walking areas and has received rave reviews from visitors. With an average rating of 4.5 out of 5, the villa has been praised for its charm and beauty.
One reviewer even recommended hiking to reach Vila Sassetti, describing the journey as a lovely challenge with rewards along the way. So why not take a break from the hustle and bustle of everyday life and spend 1-2 hours exploring this hidden gem in Sintra?
Whether you choose to visit on a private tour or rent an e-bike for a self-guided tour, Vila Sassetti is sure to provide a memorable experience.
10. Sintra Mountains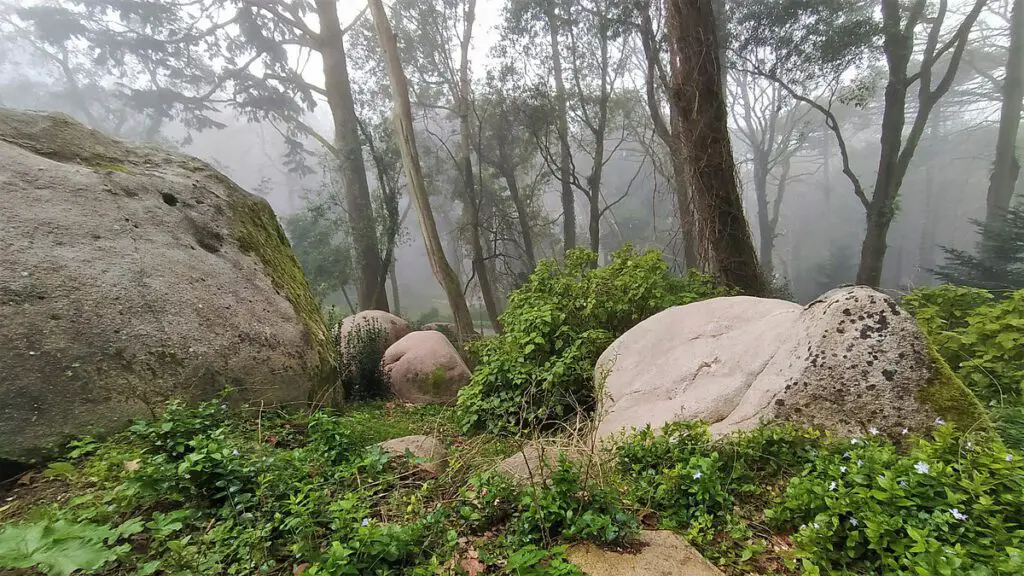 You can easily access the Sintra Mountains from the town of Sintra and enjoy their lush environment and historic attractions. Located west of Lisbon, these mountains offer a range of sightseeing attractions.
The National Palace of Pena, Monserrate, and Quinta da Regaleira are popular palaces that showcase stunning architecture and beautiful gardens. For history enthusiasts, the ancient Moor Castle ruins provide a glimpse into the past.
Outdoor activities abound in the Sintra Mountains, with hiking and cycling routes that offer breathtaking views of the mountains and the Atlantic coastline. Transportation to the mountains is convenient, with bus tours and private tours available from Lisbon.
Whether you're a nature lover or a history enthusiast, the Sintra Mountains are a must-visit destination that offers a wealth of free things to do.
11. Liberdade Park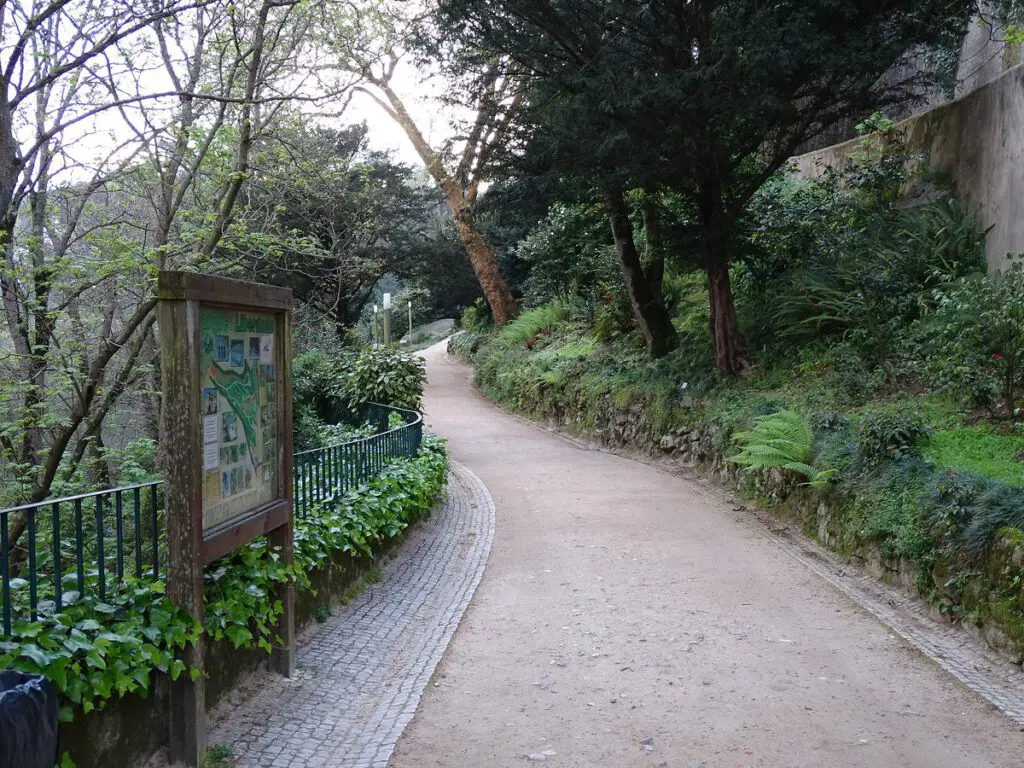 Don't miss out on the stunning beauty of Liberdade Park, where you can leisurely stroll among the lush greenery and vibrant flowers. This urban park, conveniently located near the Historic Centre of Sintra, offers a wonderful escape from the bustling city.
As you wander through the park, you'll be captivated by the array of plants and the peaceful atmosphere. It's the perfect place to take a break, relax, and enjoy nature's beauty.
With 67 reviews and an average rating of 4.0, Liberdade Park is a popular spot among visitors. So, grab your walking shoes and spend some time exploring this hidden gem. Whether you're a nature enthusiast or just looking for a tranquil setting, Liberdade Park won't disappoint.
12. Praia Sao Juliao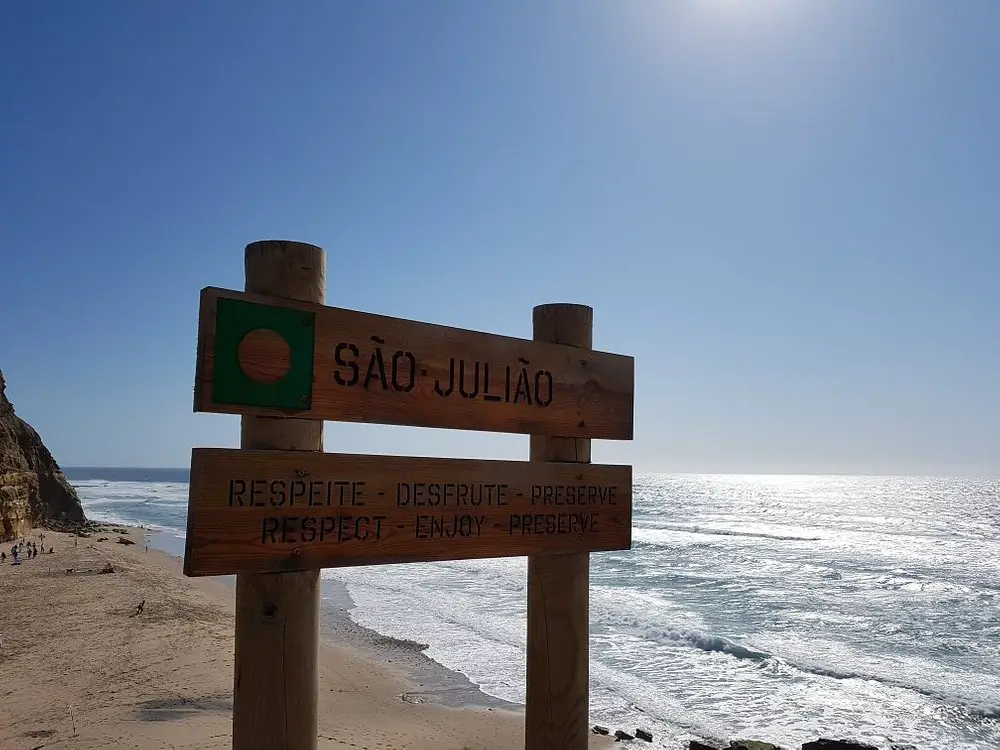 While visiting Praia Sao Juliao, consider hiking along the cliffs and admiring the breathtaking views of the Atlantic Ocean. The coastline offers a stunning view of the cliffs and crashing waves, creating a dramatic and picturesque scenery. On clear days, you can even enjoy panoramic views all the way to Roca Cape, the westernmost European cape.
Take a moment to relax at the esplanade, sipping a glass of local wine while taking in the incredible view. Keep in mind that Praia Sao Juliao is known for its strong waves, making it a popular spot for surfers. However, families with kids should be cautious as the waves may be too strong for swimming.
Don't forget to check the tidal schedule to avoid getting stuck under the cliffs.
13. Praia da Samarra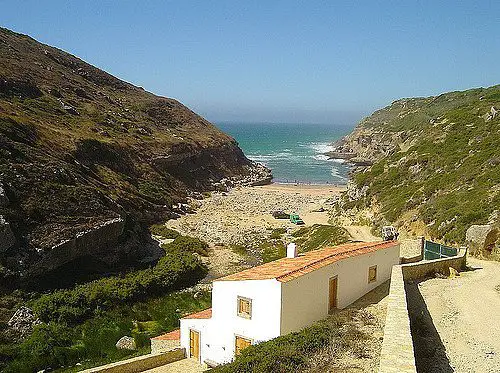 Take a leisurely stroll along the sandy shores of Praia da Samarra and soak up the sun on this beautiful beach. With its natural harbor and protected cliffs, this beach offers a tranquil and picturesque setting for relaxation.
Breathe in the fresh air, known for its high iodine content, and explore the nearby Roman bridge and traces of a Roman via, evidence of the area's historical significance. For the adventurous, fishing opportunities on the cliffs and hiking opportunities for randonneurs await.
The beach also provides a great spot for shellfish hunting and is a favorite among fishermen. So whether you're looking for a peaceful day by the sea or an active outdoor experience, Praia da Samarra has something for everyone.
14. Igreja da Ulgueira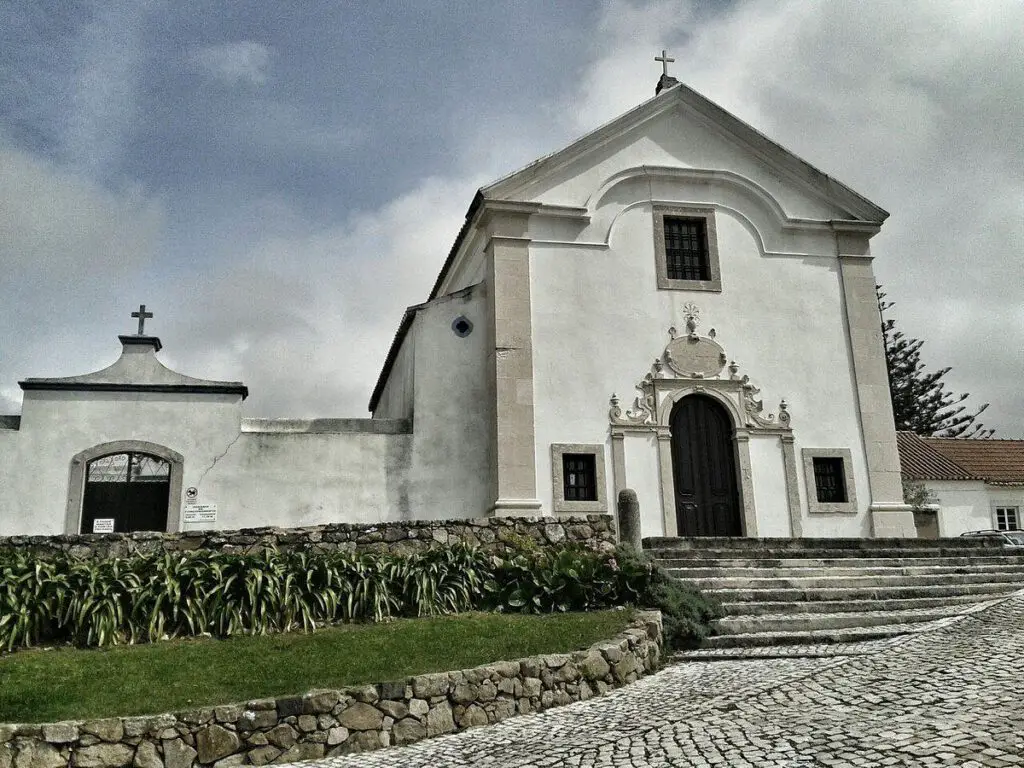 If you're interested in exploring the beautiful architecture of Sintra, you should visit Igreja da Ulgueira, where you can admire its peaceful atmosphere. Located in Sintra, Portugal, this church is known for its stunning architecture and tranquil ambiance.
It has become a popular tourist attraction, receiving positive reviews from visitors. Ranked #43 out of 74 things to do in Sintra, Igreja da Ulgueira offers a unique and enchanting experience.
Consider taking a Sintra Cascais 4×4 Land Rover Photo Panoramic Private Tour or a Sintra Cascais (Wine and Tapas) 4X4 Land Rover Panoramic Private Tour to make the most of your visit.
With nearby restaurants and attractions to explore, Igreja da Ulgueira is a must-see destination in Sintra.
15. Quinta Da Ribafria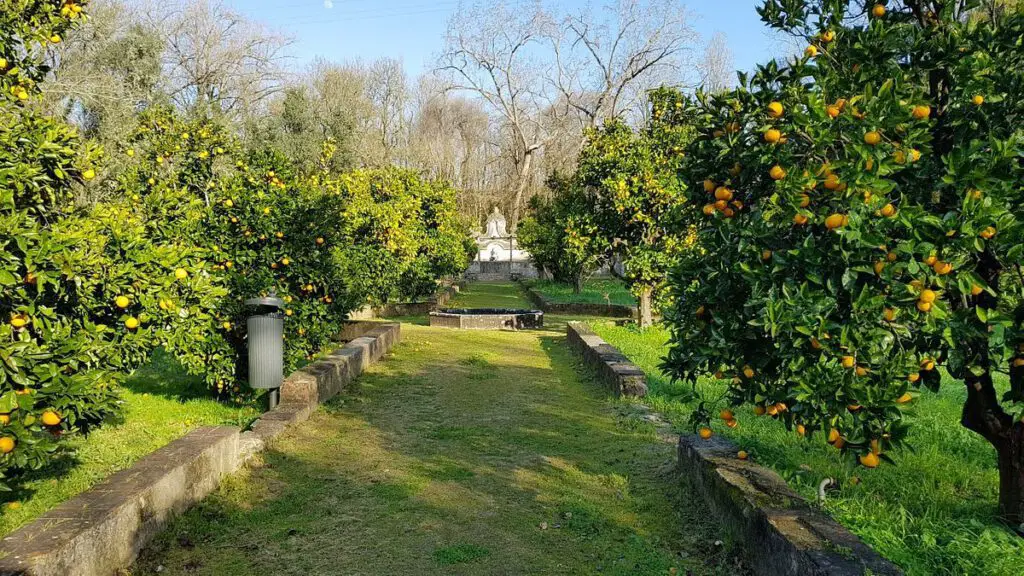 You can explore the beautiful gardens and grounds of Quinta Da Ribafria during your visit to Sintra. Take a leisurely stroll through the well-maintained gardens, surrounded by luxuriant tall trees that provide shade on a sunny day.
As you wander around, you'll come across a 16th-century swimming pool, a must-see feature of the property. Don't forget to visit the small chapel, adding a touch of serenity to the surroundings.
The Quinta offers a serene environment, perfect for a 30-minute walk or finding a quiet spot to read a book. While there are no services like food stands or games for kids available, the Quinta occasionally hosts special events, including alternative markets, concerts, and music performances.
16. Sao Martinho Church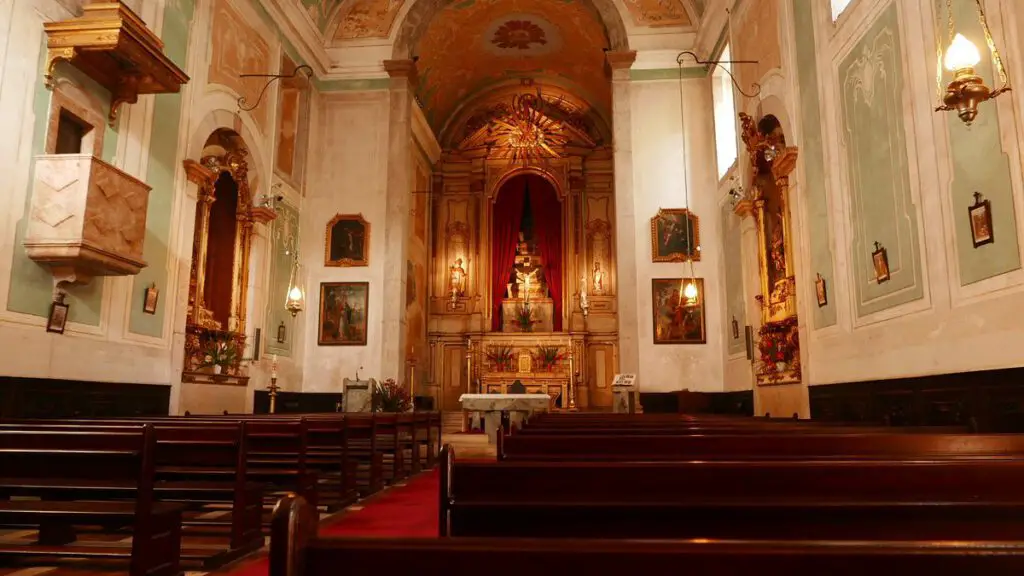 There are mixed reviews about the significance of Sao Martinho Church, but many visitors find its interior stunning and worth a short visit. Some people might say that it's not worth a special trip, but others appreciate the beauty of the church's interior.
The church is considered small but lovely, with a mix of Romanesque and Gothic architecture. People who've visited describe the interior as stunning, with murals and a beautiful altar.
Despite the mixed reviews, the church is still considered a worthwhile stop for those visiting Sintra. It's conveniently located in Praca da Republica, close to Sintra National Palace, and easily accessible from the tourist office.
17. Fonte dos Pisoes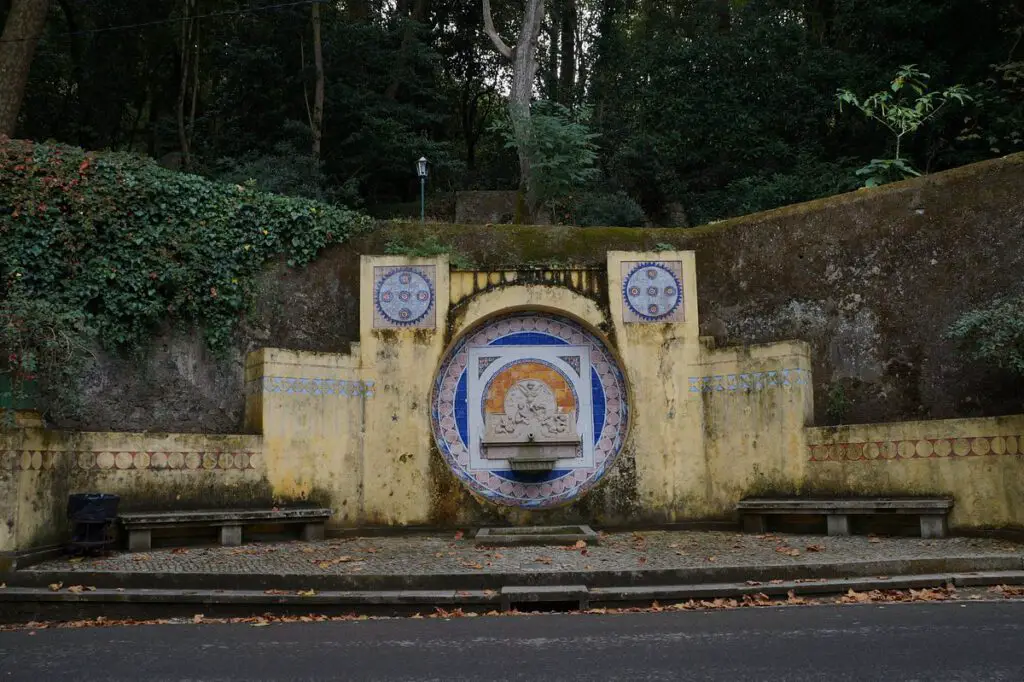 Don't miss out on exploring Fonte dos Pisoes while visiting Sintra, as it offers a unique experience with its decorative fountain and fresh water.
Erected in 1931, this bright yellow, semi-circle shaped fountain is adorned with colorful and geometric floral ornaments painted on the tiles. It's a lovely sight, especially if you're a Pisces!
Located on the way to Quinta da Regaleira, the fountain is a short walk from the main town. It's situated in a busy street, making it easily accessible.
The best part? You can visit the fountain any time of the day, as it's open 24 hours a day, seven days a week.
18. Igreja de Sao Martinho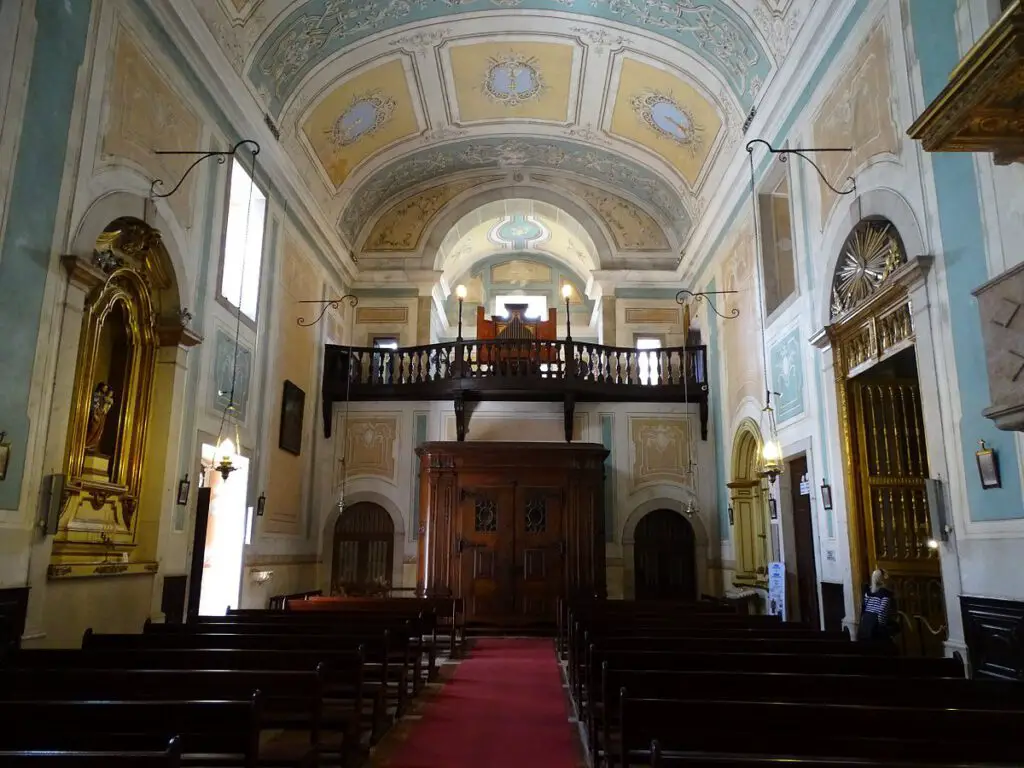 You should visit Igreja de Sao Martinho to appreciate its stunning Romanesque architecture and 16th-century paintings. This church, located in the heart of Old Sintra, showcases beautiful barrel vaults and rounded arches.
The interiors are adorned with intricate 16th-century paintings and old frescoes, adding to the church's historical charm. Despite surviving earthquakes and modifications over the years, Igreja de Sao Martinho still stands as a historic landmark in Sintra.
Many visitors recommend visiting this church for its architectural beauty and historical significance. It's also a great spot for photography, with the bell tower and the Moorish castle in the background.
Conveniently located in the center of Sintra, you can easily explore the area and appreciate the church's beauty.
19. Fonte da Pipa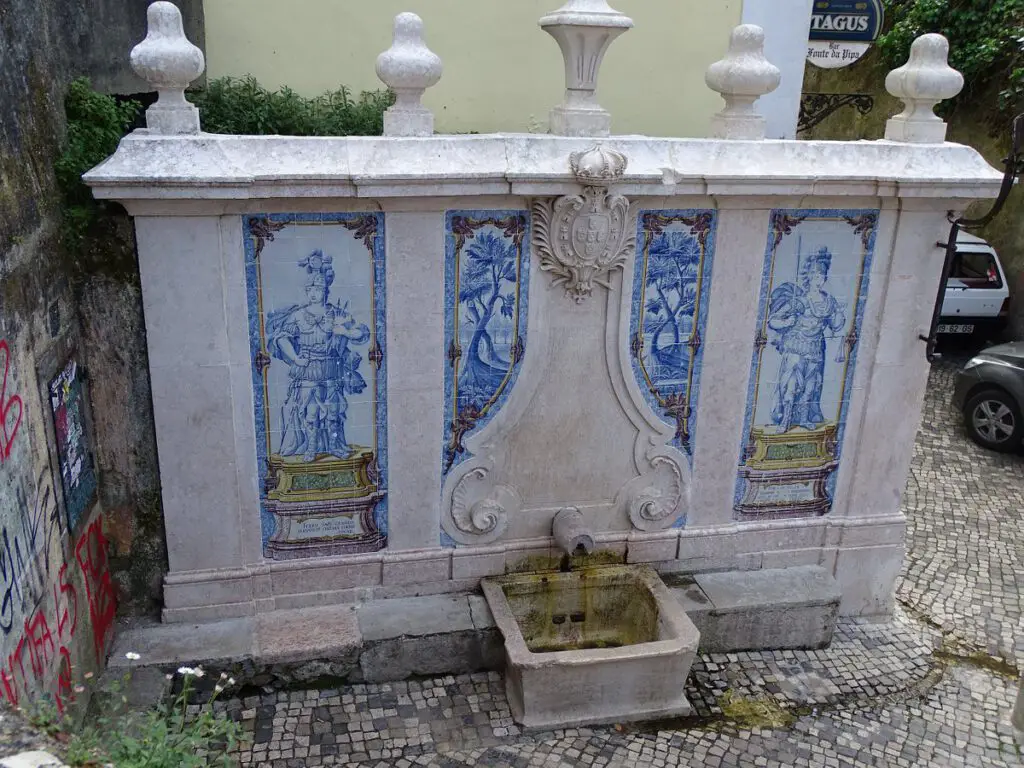 Check out Fonte da Pipa, as it's a must-see attraction in Sintra and features a beautiful fountain with four azulejo panels. Constructed in 1787 on the request of Queen Maria, this fountain is located on Fonte da Pipa Street, away from the center of the old town. Reviews indicate that the fountain is worth exploring amidst the city's winding streets.
One reviewer, Malgorzata, described it as a 'beautiful fountain with some nice azulejo.' However, another reviewer had a negative experience, citing issues with service, atmosphere, and noise.
To fully experience the nearby attractions, consider taking a Tuk Tuk Transfer with Sintra Pena Ticket from the meeting point or joining a guided small group walking tour to Belém and Jerónimos Monastery.
Don't miss out on the opportunity to visit Fonte da Pipa and appreciate its beauty.
20. Posto de Turismo de Sintra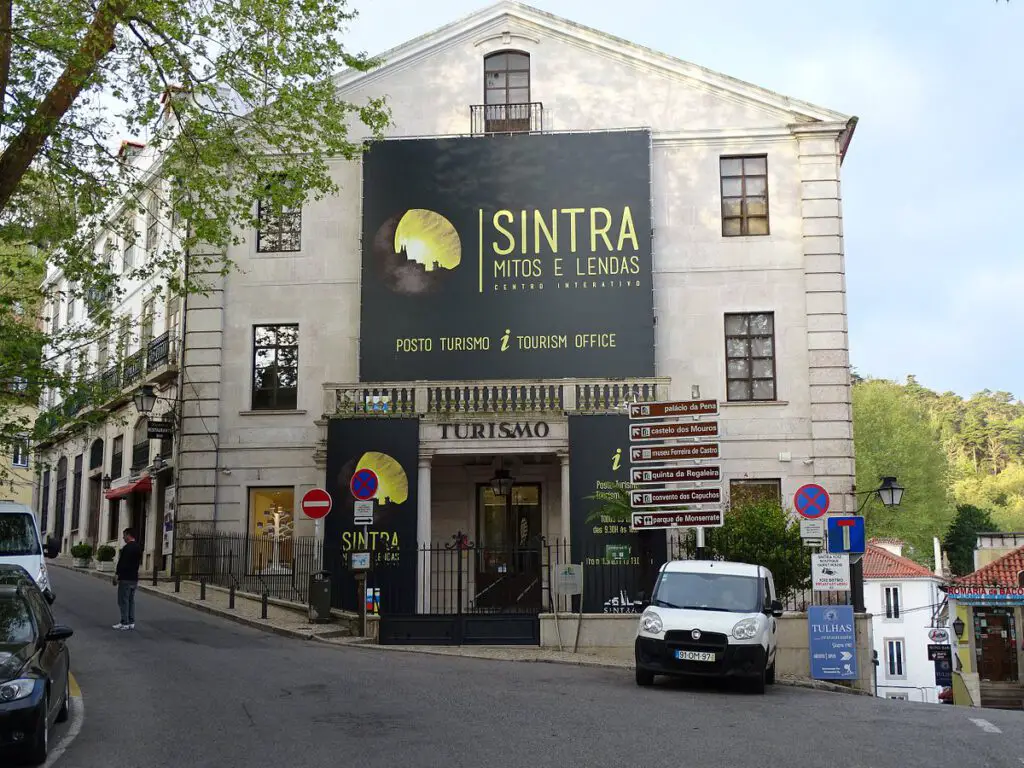 Make sure to visit the Posto de Turismo de Sintra, where you can find helpful information about the attractions and tours available in the area.
This tourist office is a great starting point for planning your visit to Sintra. They can provide you with maps, brochures, and recommendations on the top things to do and see in the area.
Whether you're interested in historical tours, private tuk tuk tours, or adventure tours like the Sintra Jeep Safari, the staff at the Posto de Turismo de Sintra can help you find the perfect experience.
They can also provide information on prices and recommended experiences based on feedback from other travelers.
21. Pelourinho de Sintra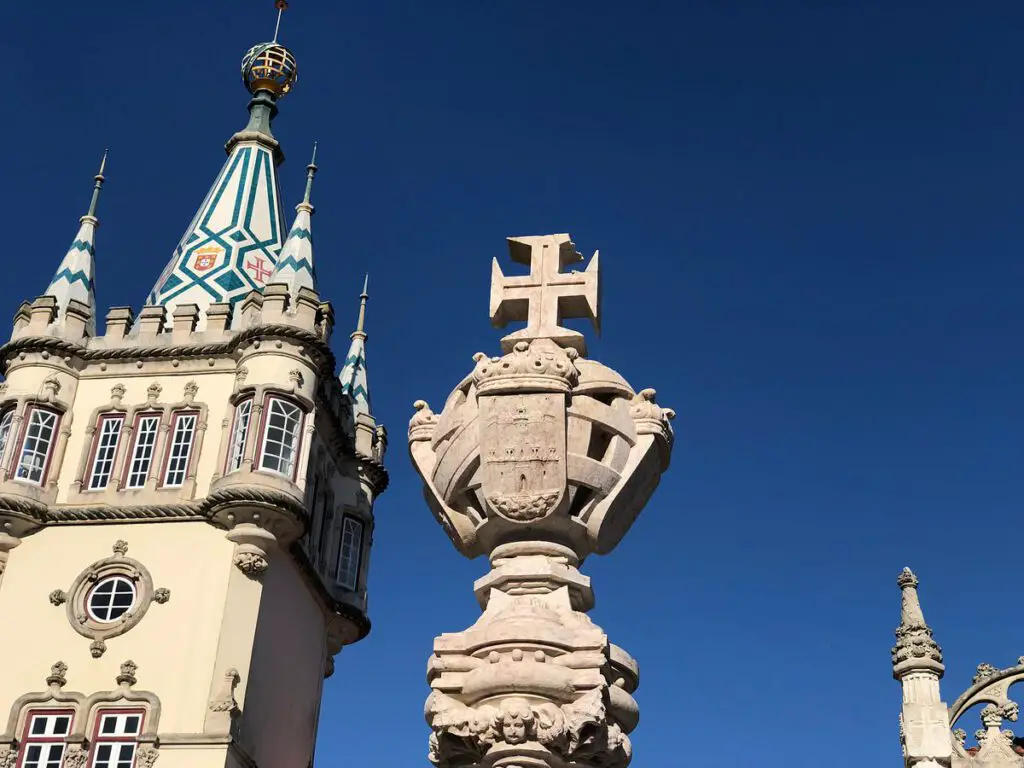 Head towards Pelourinho de Sintra to admire the historical pillory and its intricate decorations. This monument, located in Sintra, Portugal, was once used for law and order in the town.
It stands as a testament to the past, with sculptured patterning, an armillary sphere, and coats of arms adorning its surface.
As you walk from the train station into the old town, it will be one of the first sights that catches your eye. Visitors describe it as a beautiful and interesting monument, often comparing it to a fountain. Take a few minutes to view the nearby Town Hall building as well.
Pelourinho de Sintra is a must-see attraction that showcases the rich history and architectural beauty of the town.
22. Mercearia da Aldeia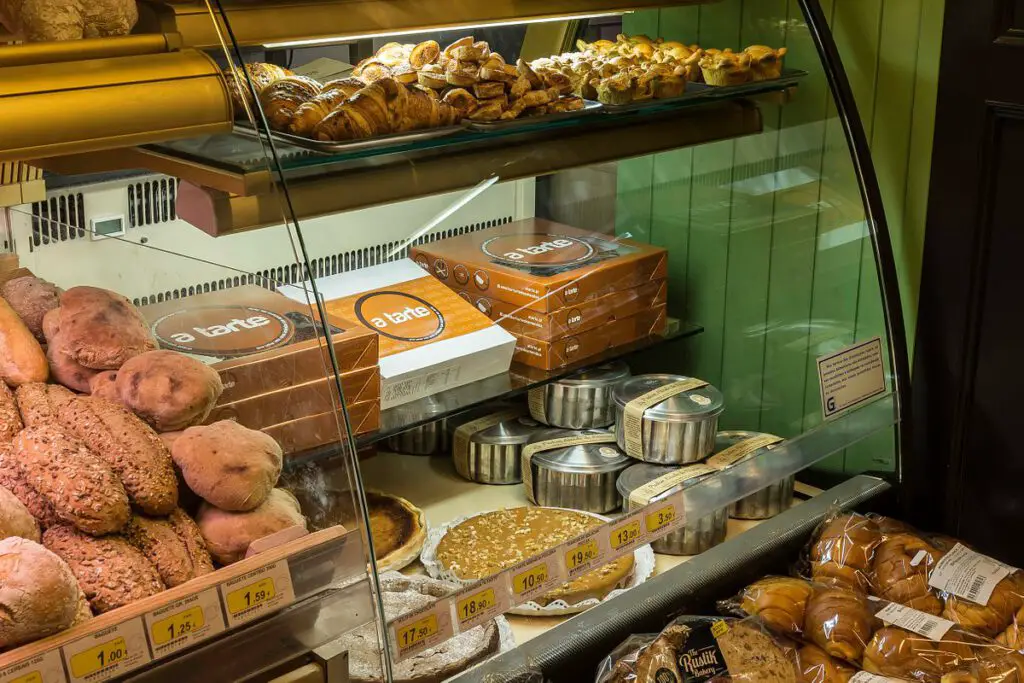 Have you tried the delightful surprises carefully selected from small wine producers at Mercearia da Aldeia?
Do you want to explore their great variety of excellent Portuguese products?
At Mercearia da Aldeia, you can find the best Portuguese wines in their wine section.
But it's not just about wine, they also offer a wide range of excellent Portuguese products for you to discover.
From lactose and gluten-free biological products to over 6000 references available, there's something for everyone.
Whether you're a wine enthusiast or simply looking to try some delicious Portuguese treats, Mercearia da Aldeia has got you covered.
Don't miss out on the opportunity to indulge in the delights of this hidden gem in Sintra.
23. 4 Caravelas Sintra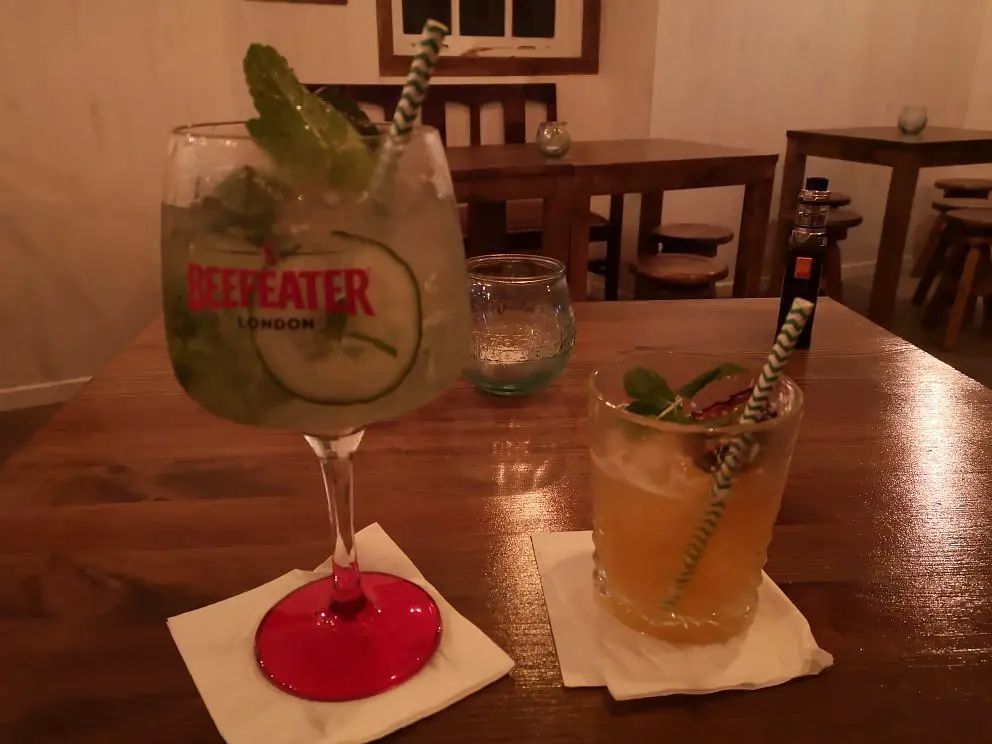 You should definitely check out the Caravelas Sintra, a bar that offers special cocktails and classic cocktails, as well as a food tower with local cheeses, presunto, chourico, spicy tuna spread, olives, jams, grapes, and bread.
Located just a short walk from the train station in Sintra, this bar is a hidden gem. The in-house created special cocktails are a must-try, and they also serve classic cocktails for those who prefer a more traditional drink.
The food tower is perfect for sharing and offers a delicious selection of local flavors. The atmosphere is warm and cozy, with friendly and knowledgeable staff. The bar also plays great music, adding to the overall experience.
Don't miss out on this fantastic spot in Sintra.