You've seen pictures of amazing architecture, beautiful beaches, and mouth-watering food. Now it's time to experience all of this for yourself!
Lagos is a coastal city in the region of the Algarve with an incredible history that stretches back centuries. This medieval town is a popular tourist destination for those seeking to explore the world.
It has been ranked as one of the most liveable cities in Europe and was voted as one of the top ten places to visit by National Geographic. As such, it comes as no surprise that Lagos is home to many attractions that are worth visiting while you're here!
But with so many attractions to choose from, deciding where to go can be a bit overwhelming. To help you out, I've compiled a list of 11 Best Tourist Attractions In Lagos that are worth exploring.
Best Tourist Attractions In Lagos
1. Ponta da Piedade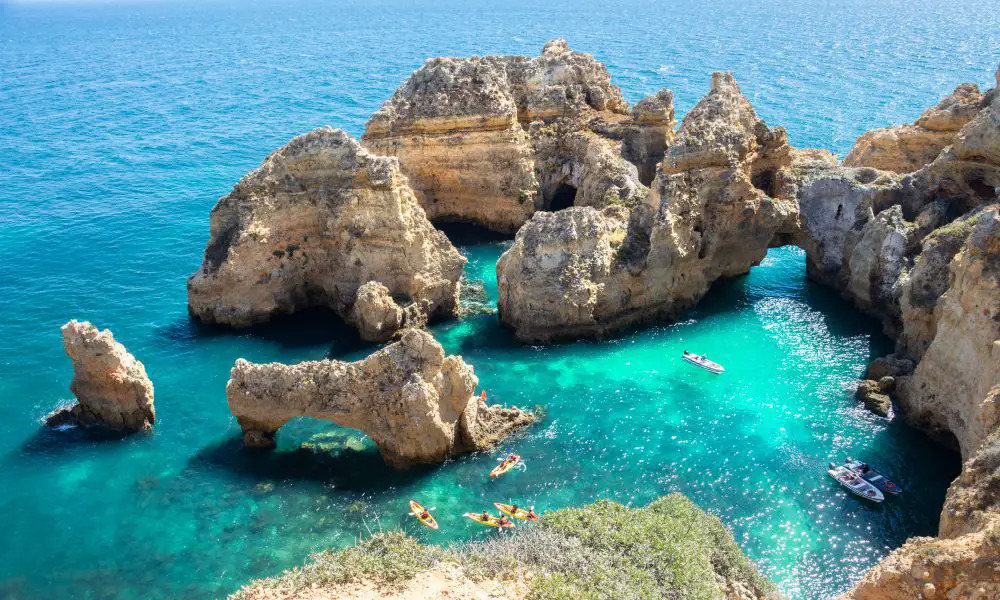 The Ponta da Piedade is one of the Lagos attractions with marvelous views of the Atlantic Ocean. Its name means "Point of Mercy", which relates to an interesting legend about how it received that name.
Legend says that there was once a shipwrecked crew washed ashore by stormy weather. As they cowered in fear from the raging waves crashing against the rocks, they began to pray for mercy, and their cries were heard by God who led them to this place.
I don't know if that's true or not, but the most interesting part of this place is definitely the rock formation with holes and grottoes formed by erosion.
The huge cliffs jut out into the Atlantic Ocean, creating one of Portugal's most dramatic landscapes. The viewpoint at its top offers spectacular panoramic views over Lagos and its bay.
The beach in this area is famous for its crystal clear waters, rock pools, and white sands where you can relax and take in the view. In addition, the place has a very relaxed vibe to it, perfect for just wandering around or having a drink at any one of its many spaces.
Also, do not miss the chance to see the holes at low tide because they turn into large tunnels that connects the huge rocks.
To me, this was one of the most interesting things to do in Lagos! And if you're able to visit it, I'm sure you'll enjoy it as much as I did!
Read More: Best Tourist Attractions In Lisbon
2. Praia do Camilo (Camilo Beach)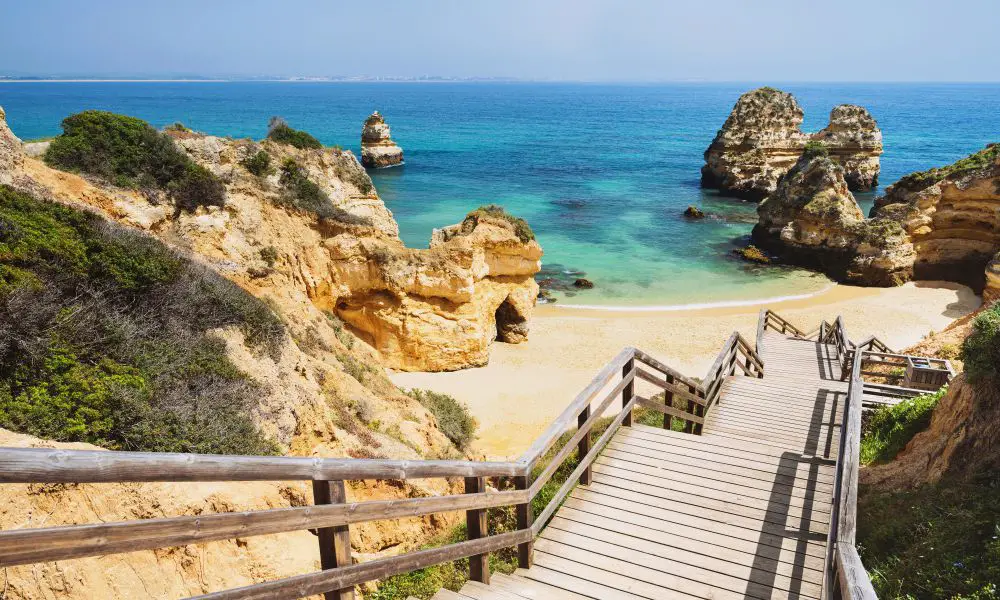 The Praia do Camilo is another of the attractions in Lagos, located at a short distance from the Praia Dona ana. This beautiful beach is famous for the rocky cliffs that surround it, and it is believed to be one of the best beaches on this part of the coast.
The beach itself is composed of fine golden sands and crystal clear blue waters that offer you some amazing views at almost any time of day. Its calm waters offer a peaceful atmosphere, perfect for relaxing and swimming. What I really liked about this place was how calm and peaceful it was.
There are no facilities here, just pure nature at its best! There are also sandstone cliffs formations that jut out into the ocean with some amazing views of the coastline.
Besides that, if you indulge yourself a little bit by taking a walk along the beach, you'll come across several wonderfully decorated sculptures made entirely of driftwood.
All in all, this place was wonderful! The views were breathtaking, and I spent hours walking around enjoying them. Even if you don't swim or sunbathe here, head over to admire the scenery because it's worth seeing! You can't go wrong by visiting this place during your stay in Lagos!
3. Old Town of Lagos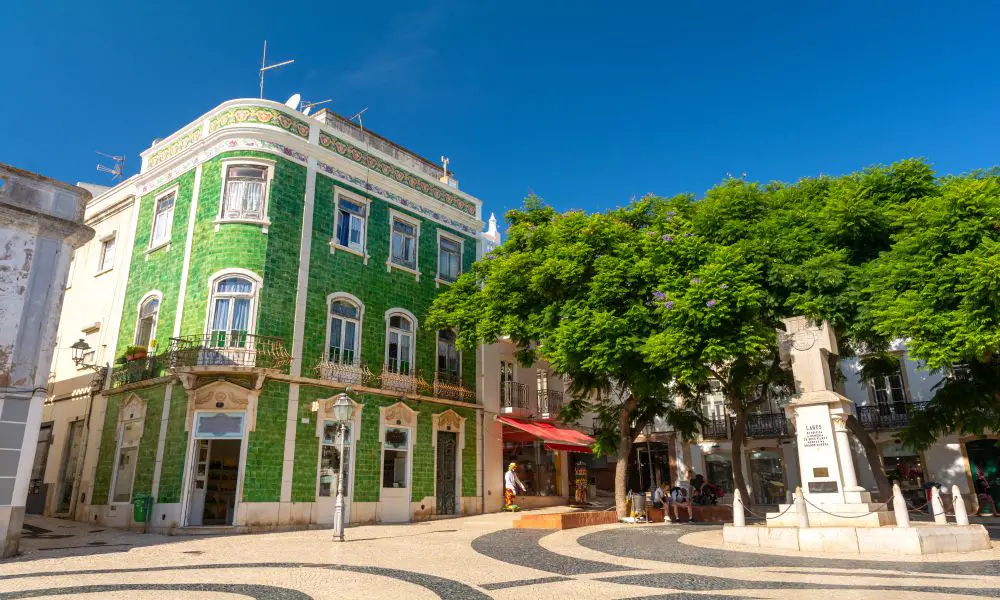 Walking through the narrow streets of the old town will take you back to medieval times. Located at the heart of Lagos, this quarter preserves some of the most historically valuable buildings in all of Portugal.
And with its multitude of historic landmarks, the whole town has been classified as UNESCO World Heritage Site. This is because it has played such an important role in history and culture.
This tiny town gives you wonderful insight into how life used to be like back then and still carries on with its traditions to this day.
You'll find houses with coats of arms on their lintels and windows embellished with stained glass details, cobbled streets lined with flowers throughout the year, steeped roofs, stone walls, and magnificent views over the sea. This is truly a magical place where time seems to have stopped!
And if you want to enjoy every little detail about this place, take your time to walk through the streets that meander into this area. You'll really feel like you're living in medieval times!
I loved this place because it was so different from what I had seen before. It was very peaceful and relaxed, but at the same time, you could sense a strong historical presence everywhere.
Read More: Best Tourist Attractions In Portugal
4. Igreja de Santo Antonio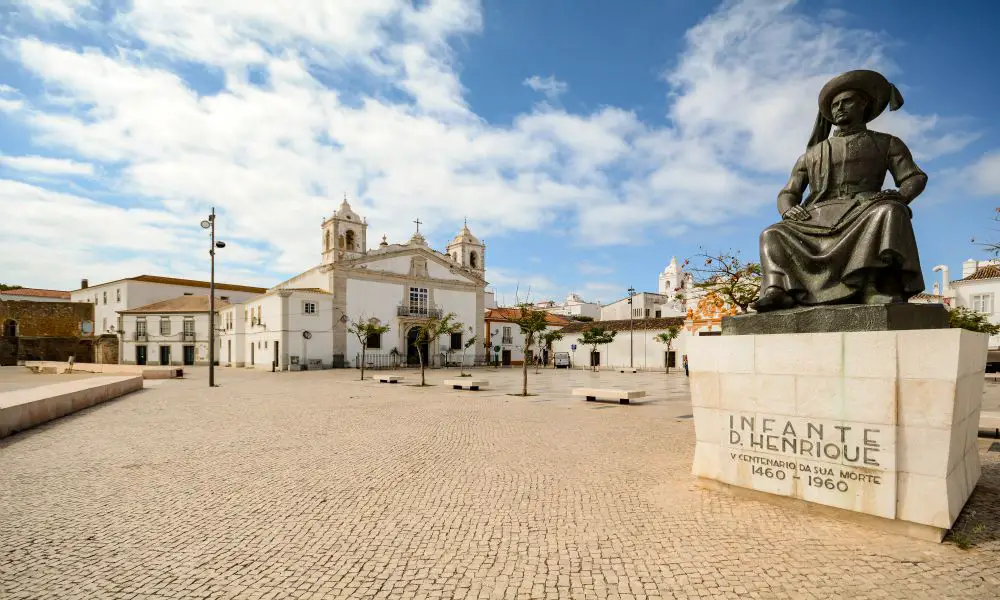 The Church of St. Anthony is an 18th-century religious monument that houses priceless art and religious items inside. The most famous part about this place would definitely be the life-sized sculpture of Santo Antonio (St. Anthony).
The church has undergone restoration works through the years, including one that took place in 1769, where its two towers were extended and some of its baroque features removed.
In the interior, there are several religious artworks like gilded altars decorated with painted panels depicting Saint Francis's life, chandeliers dating back to the 18th century, along with blue azulejos tiles that soberly tell stories from Portugal's Discoveries Age.
There is also a museum inside housing many interesting artifacts and pieces of art. The place has an intimate atmosphere that welcomes anyone to attend mass or just sit down for a while to admire this fantastic artwork.
While not being particularly large, it does manage to make an impression on its visitors because of all the intricate details it has to offer.
An interesting fact about this church is the incredible statue of Saint Anthony, the patron saint of lost things!
Apparently, there are lots of people who come here every day because they've lost something and believe that if they pray at his feet, he will guide them to where their belonging may be located!
Overall, this is definitely one of the top attractions in Lagos that everyone should visit! It's perfectly situated near several restaurants and other shops so you can enjoy everything it has to offer.
5. Parque Aventura Lagos
One of the most fun and entertaining things to do in Lagos is definitely Parque Aventura. Parque Aventura is a themed amusement park specifically designed for people with an adventurous spirit.
The park offers several activities such as zip-lining (being my favorite), a giant swing where you can fly like Superman over the park's beautiful landscape, hiking trails, and much more.
You can also discover even more tracks if you decide to go on an extra tour, all depending on what you're looking for adventure-wise. All these activities will get your heart pumping, and you'll be able to see some wonderful views while enjoying all the fun!
Also, I feel that these kinds of places really bring out people's best qualities because everyone works together to overcome whatever obstacles may come.
What I liked about this place is that it's considered safe, which is why I was able to enjoy their activities without worrying about safety.
6. Mercado Dos Escravos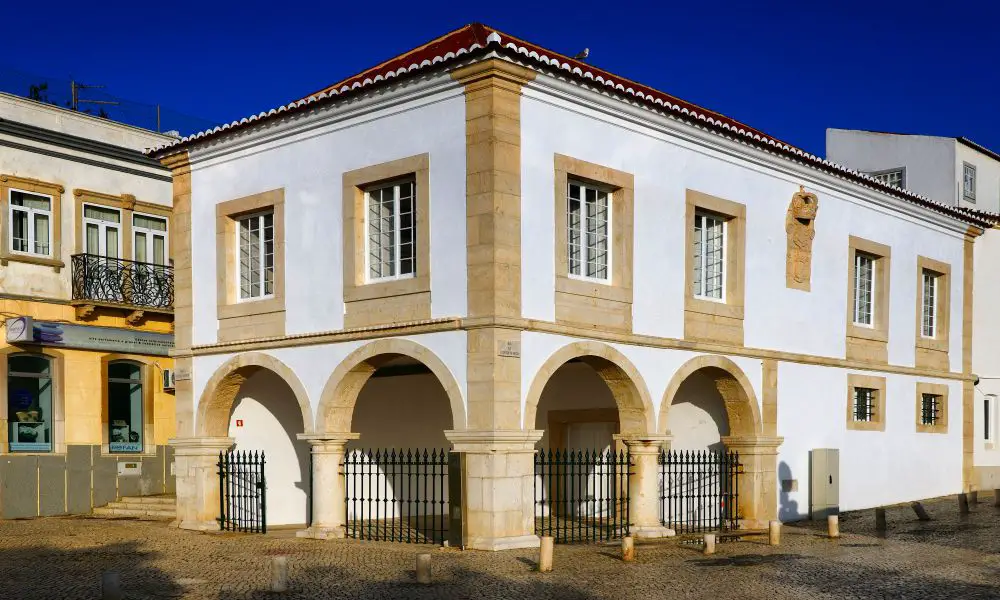 The Mercado dos Escravos is another interesting tourist attraction in Lagos, especially if you come from a country where slavery was abolished. For those of you who have no idea what I'm talking about, let me tell you more…
Portugal once had a massive slave trade business. They sold African slaves who were used for all kinds of laborious tasks, such as growing sugar cane or farming cotton.
The Slave Market in Lagos was the place where traders would haggle over prices for their slaves before they were sent off to plantations across South America.
Today, it is one of the best-preserved slave markets in Portugal. It's also one of Europe's oldest buildings that date back to the 16th century.
The market consists of two parts: the former market building, where slaves were brought to wait for later sale. The next part is an impressive arcade which used to be where the slaves were made to parade up and down while prospective buyers examined them like livestock.
There is a small museum located here, where visitors can get an idea about how life might have been for these unfortunate people thanks to pictures, quotes, and even mannequins depicting their situation during this terrible episode in human history.
There is also a display of a skeleton of one of the hapless individuals and collections of personal possessions that were discovered in this area.
So, it's a good idea to check it out! And if you come here, I recommend taking a guided tour. This will give you an insight into what used to happen in the past, along with information on some of the tragic events that took place during that time.
Read More: Best Tourist Attractions in Porto
7. Centro Ciencia Viva de Lagos
The Centro Ciencia Viva de Lagos is one of the best kid-friendly attractions in Lagos. It's basically an interactive museum where visitors can explore science and technology through educational activities and engaging visual experiences.
With more than 70 exhibits, this science center allows you to learn about the natural world by touching, feeling, and interacting with it.
You can also see some spectacular 3D films here, which are perfect for kids! There's also a well-stocked library containing many books about nature and science.
If you have young children, then I'm sure they'll love this place because there are plenty of things to keep them occupied, from viewing aquariums filled with aquatic animals and even watching videos about wildlife.
So, if you're looking for good things to do in Lagos with kids, I would definitely recommend checking out this science center!
8. Forte Ponta da Bandeira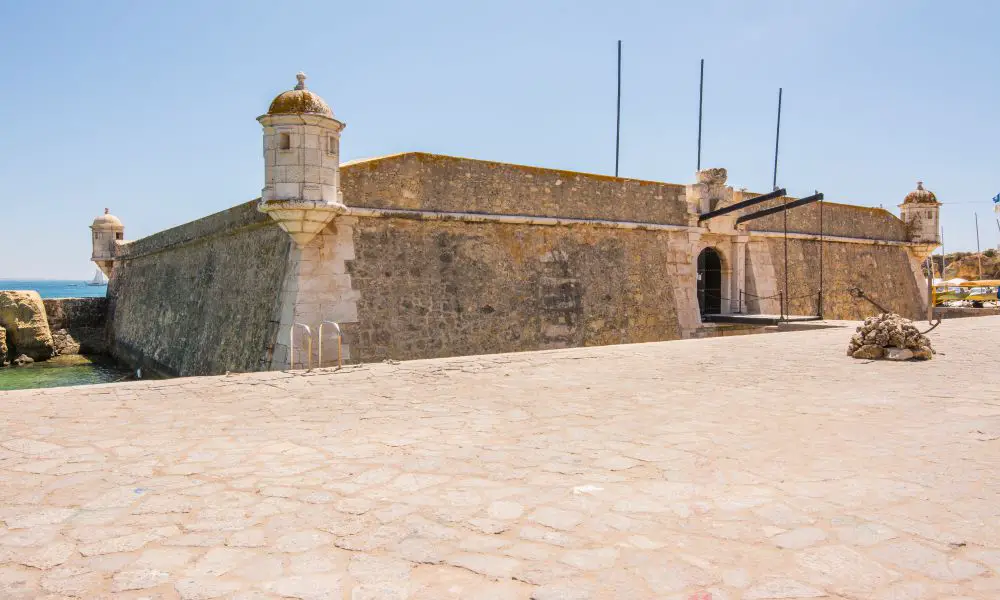 Forte de Ponta da Bandeira is a military fortress and one of the top tourist attractions in Lagos. It was built to protect the town from possible attacks by pirates and privateers coming from the sea.
This is because there were no mountains in its surroundings to serve as natural barriers for invading forces.
As you enter, you are greeted with a commanding view of the ocean below. The architecture is simply stunning! The structure reflects an impressive geometry favored during that time period.
You truly get a sense of how well-defended this place was against any threats from sea-faring enemies.
There are still some cannons on top of its walls that were used to defend Lagos against enemies. Also, notice how carefully placed stones are used to create smooth curves throughout the fortress.
By the way, I was fascinated by the way it was designed with the surrounding landscape in mind. The fort has all kinds of intriguing rooms and passages, perfect for taking in Lagos's dramatic views.
And as if that is not enough, this place has a long history of use that dates back to when it was built in the 17th century.
You can learn all this through guided tours offered here while enjoying its beautiful architecture up close! This alone makes it worth the visit!
9. Lagos Marina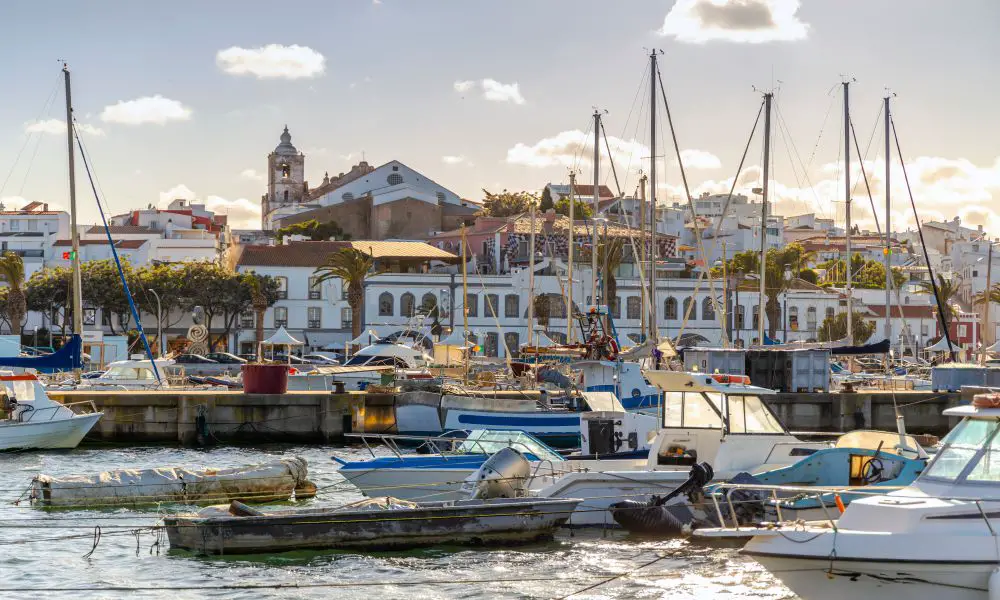 Lagos Marina is the most beautiful of all the tourist attractions in Lagos because of its beautiful marina, with panoramic views of the bay of Lagos. In addition, it's a bustling space with lots to see and do.
This marina was where all the important ships from Europe would dock at the height of its significance as a trade hub during Portuguese rule. This makes it very popular among tourists who come here to soak up the rich history that lingers due to its unique past.
There are also many boats that float around this place which you can rent out if you feel like going for a trip on the Atlantic Ocean!
In addition, there are lots of activities for people to enjoy here, such as scuba diving, a kayak tour, and a boat trip to sea caves, rock stacks, and grottoes that are around Ponta da Piedade.
Not only that, there are many restaurants and bars where you can chill out with your friends while drinking some beers!
And if you're not into that, then the huge pathway by the marina is perfect for just wandering around or having a meal at one of the many lovely little cafes.
However, be careful though because the Lagos marina can get very crowded at times, especially during weekends.
10. Parque Zoologico de Lagos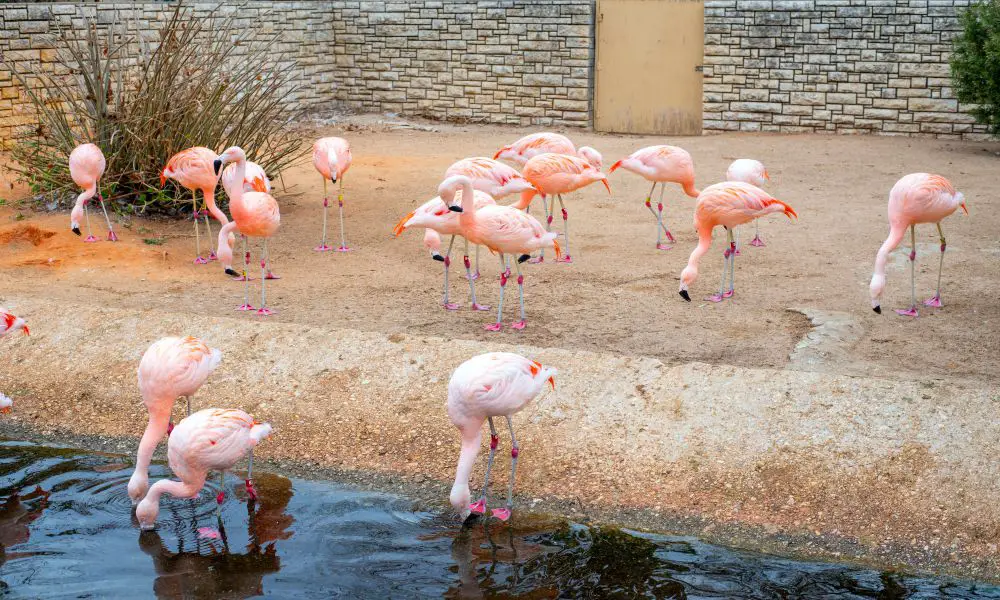 This is one of the few remaining traditional zoos in Portugal, which gives it a unique charm. It has about 100 different animal species, and it's always busy with school children and families enjoying their day out together.
The entire park runs on a very naturalistic theme that allows visitors to observe animals in their natural habitats as much as possible! Here, you'll find a wide variety of monkeys, zebras, birds, and other animals found across the world.
One of the fascinating things I liked about it was how interactive its exhibits are. This gives visitors an up-close experience where they can get within touching distance of the animals!
On top of that, this Lagos zoo has a picnic area where children can play and interact with small animals while enjoying their lunch.
What's more, is that the zoo also allows you to handle some of its small creatures if you'd like to! There are also opportunities to ride some horses around the zoo.
Overall, I highly recommend Parque Zoologico de Lagos for families who want to introduce their kids early on to animals and animal welfare. It is an excellent place where you can enjoy and appreciate nature!
11. Igreja de Santa Maria-Praça do Infante D. Henrique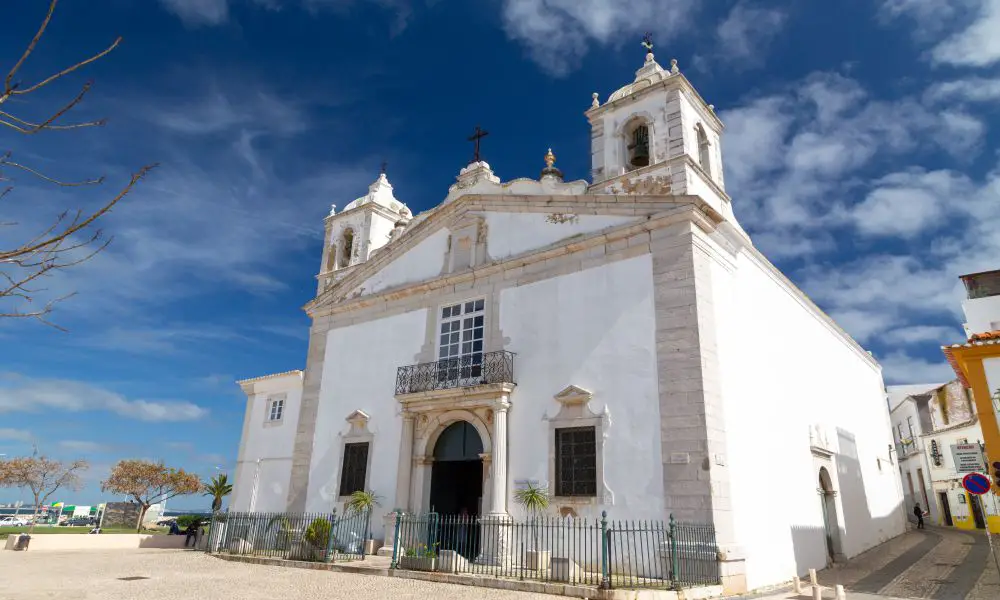 Igreja de Santa Maria is another one of the top tourist attractions in Lagos. It was built by the Franciscans in the early 15th century, and it has a very interesting facade with an enormous stone arch, which is divided into three sections.
Two towers flank on either side of the arched entranceway. The interior consists of an uncluttered nave, pulpit, and altar, giving off a feeling of great simplicity even though there are some magnificent Baroque altars that were installed later on during restoration works to its original structure.
In addition to being a unique place to visit, this church also offers several guided tours during which you can learn about the history of the building, the activities associated with its existence, and even have a chance at participating in some psalms or hymns, if you're up for it!
And what is the most interesting thing about this attraction in Lagos? One of the most interesting things about this church is its impressive stained-glass windows and statues. During the guided tour, you'll get to see some of them up close and take photos with them.
From my experience, visiting this location was one of my favorite things to do in Lagos! Even if you're not religious, I believe that seeing religious sites like these can still be very fun and interesting.