Cambodia's beaches are popular with tourists traveling to Southeast Asia. When I decided to travel to Cambodia, I knew I was going to see the main attractions, such as the terrible history of the Khmer Rouge and the temples in Angkor Wat, but I hadn't included beaches in my travel itinerary.
So I decided to spend a few days in Cambodia to explore its beaches which my friends recommended. And I can confirm that they are amazingly beautiful. They are best known for swimming, snorkeling, and diving. Surprisingly, most of the Cambodian beaches remain undiscovered to the mainstream tourist.
One of my greatest accomplishments during any trip is looking for a good place to take pictures and enjoy the sunset. And in this post, I will highlight the top 10 best beaches in Cambodia. And some of them are even among the best in the world.
Best Beaches in Cambodia
1. Lazy beach, Koh Rong Sanloem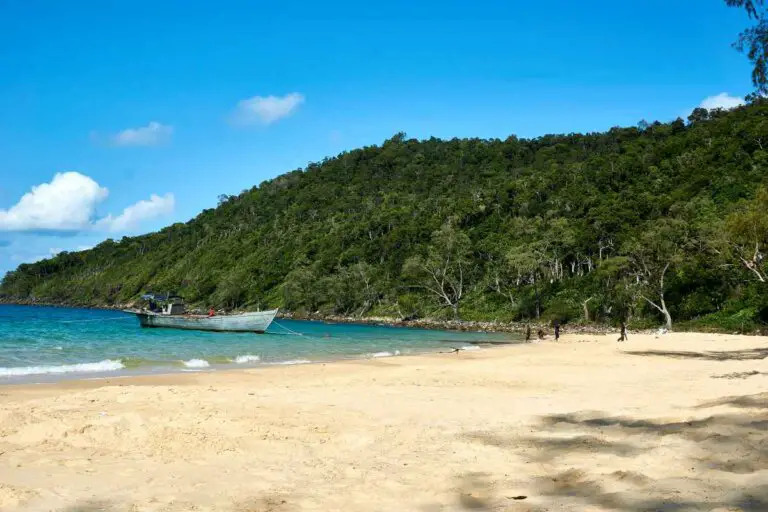 What better way to start my list of best beaches in Cambodia other than "Lazy Beach"? Literally, as the name suggests, you will find yourself lying lazily at the beach, so why not enjoy it.
At first glance, the ideal purity of golden sand, crystal purity of water, and emerald greens captivate. A beautiful beach landscape, with monkeys galloping among the pines, absolutely not reacting to your presence. It embraces a sense of absolute unity with tropical nature, despite the presence of modern infrastructure.
Local restaurants, cozy and calm, offer a varied and delicious menu. The combination of pristine peace and the benefits of civilization creates excellent conditions for families with children. I recommend this place for newlyweds looking for privacy on their honeymoon. In addition, fans of snorkeling and fishing will enjoy it: not far from the coast, there are underwater boulders, where fish of fantastic color live.
If you want to spend several days at Lazy Beach, you can rent a bungalow directly on the beach and enjoy the seclusion of the beach section to the full. There is also a restaurant on the beach for when you're hungry.
2. Saracen Bay Beach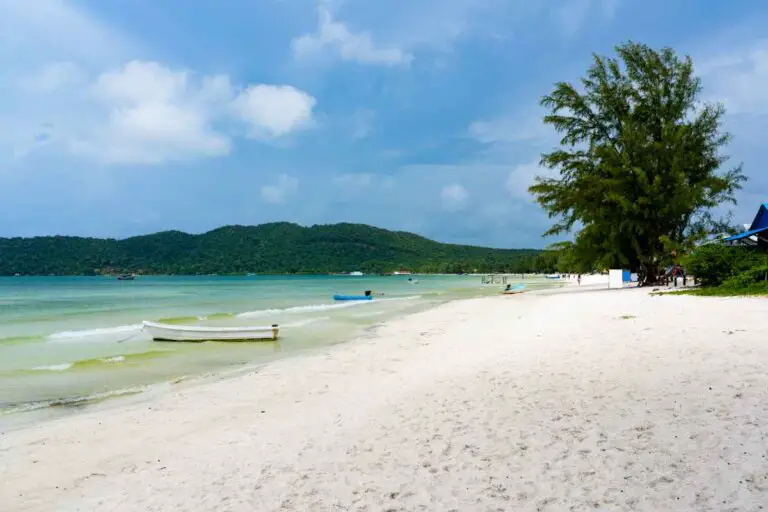 I can't stop saying that one of the most beautiful beaches in Cambodia is Saracen. It is a true paradise. This is also where most of the ferries arrive. That's why it's a rather tourist spot on the island.
The irresistibly beautiful views seem to have been painted with a thin brush of a skilled creator. The dazzling white sand, azure-blue surface of the bay, merging with the sky in the distance, makes you freeze with admiration.
It's an approximately three-kilometer-long beach that is relatively clean and perfect for relaxing. Since the water is very calm and without waves, it is popular with younger visitors and couples. The swings and hammocks are a highlight of this beach, which are placed in the middle of the water. If you are planning to spend several days here, there are several beachfront accommodations and a few beach resorts.
3. Otres Beach, Sihanoukville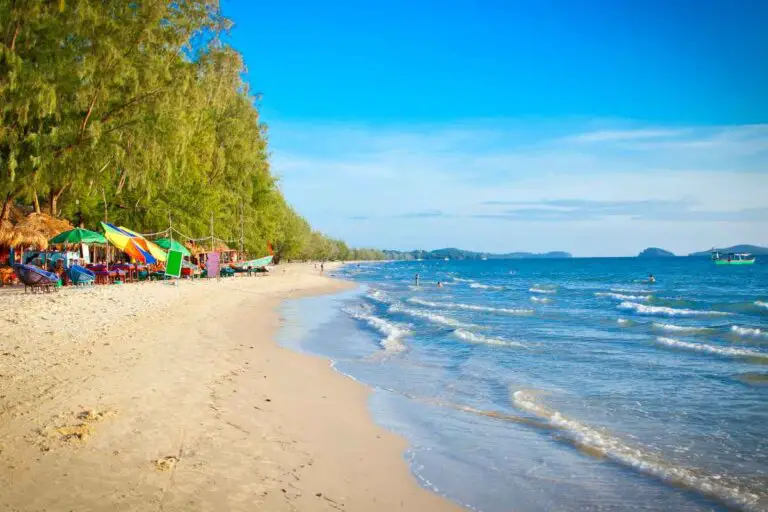 In the south of Cambodia, you will find the city of Sihanoukville. This is a city that, for me, is a very ugly and chaotic city. But if I talk about its beaches, things change. Otres beach is the most idyllic in the city. It is calm with clear waters and white sand. And regarding the services, they have everything. Hotels, hostels, bungalows, etc. On this beach, you will find a quiet environment where you can have a good beer with spectacular views.
My experience when I went to Otres beach was very positive. I only stayed for one day as it was an average stop before embarking to Koh Rong Sanloem. There are 2 Otres beach: Otres 1 and Otres 2. If you decide to go to Otres beach, my recommendation is that you go to Otres 2. It is located 2 km south of Otres 1, separated by Long beach.
Otres 2 is a beach where you will find peace and relaxation during the day, clean beaches, and semi-crystalline waters mixed with a relaxed Caribbean atmosphere. The sunset at Otres beach 2 is amazing; see the sun hide on the horizon behind a navy blue line while you plan your trip or immerse yourself in your thoughts! Live those moments as you want.
Of course, if you want nightlife, go to the night market in the town of Otres, where good vibes, music, food, and beer mix.
If you have decided to go to Otres beach 2, I recommend the guesthouse where I stayed: Boho. It is not on the beachfront, but it is closer to the night market.
4. Kep Beach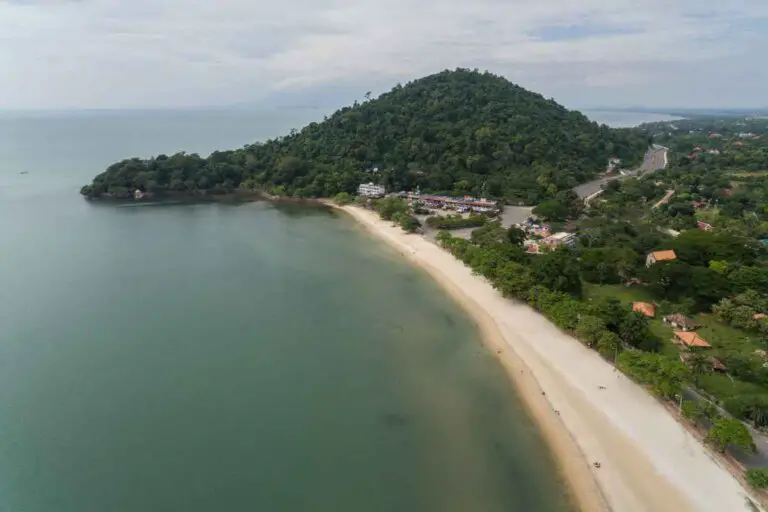 I can't express how much in love I was with Kep beach. It is certainly one of the best beaches in Cambodia, in my opinion. It has fine white sand, a calm sea in a blue-green tone, and coconut trees scattered along the entire beach.
Since it is a raw and remote beach, you will meet only a few tourists, and it is especially the locals who come to enjoy the beach. It is, therefore, a good opportunity to mingle with the locals while enjoying a delicious crab with pepper. In addition, Kep has a timeless charm with its colonial buildings, seafood vendors, and coconut palms.
Kep beach is an alternative if you don't have time to go to an island but want to escape the hustle and bustle of Cambodia's most famous seaside resorts and spend a night in a small bungalow by the sea.
By the way, Kep is also known for its shrimp market, which is located in the center of the village. Combine your stay in the south of the country with a little tour through the town.
5. Koh Tonsay Beach, Rabbit Island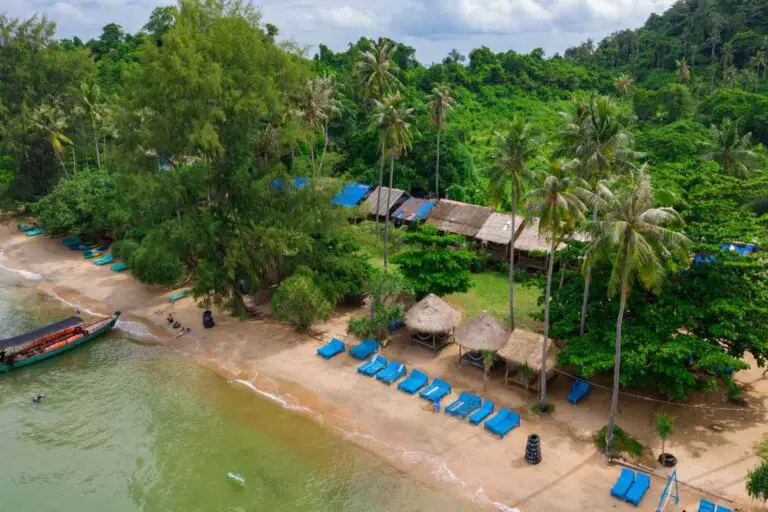 I reached Koh Tonsay on a small boat, one of those made of wood that move propelled by an engine. This is another charming beach where travelers who wish to escape the madness of the mainland can come to spend a day or two.
This beach is quite large, about two kilometers with some beautiful white-sand beaches. In addition, it is fringed by coconut palms and lapped by a beautiful sea ideal for snorkeling. The quiet and relaxing atmosphere is perfect for a day of total relaxation, perhaps swinging in a hammock with a cold drink.
I suggest visiting the beach after 4 p.m. when the last boat of the day leaves. An unfailing calm and serenity take hold of the island and its beaches. You can enjoy these expanses of white sand and orange sunset. With a little luck, you may have the opportunity to see a mysterious and hypnotizing light fluttering in the water at the same time. It is, in fact, phosphorescent plankton, a magnificent spectacle and a surprise you won't expect.
The development of this island is very slow, which means that you can expect a lot of living in seclusion. Therefore, you will only find a few bungalows and restaurants available.
6. Koh Totang Beach
If you want to experience the sheer raw and natural beauty of Cambodian beaches, then I recommend this barely developed island for you. Its beautiful white beaches, a clear sea, and palm trees are something special to enjoy.
Since this is an uninhabited island, there is only one guesthouse, called Nomads Land. There is also a restaurant with local and international dishes, so you won't miss anything here. The guesthouse uses solar panels and rainwater storage. Right next door is a small garden with mango and cashew nut trees, and some chickens are scurrying around.
There are plenty of activities you can do on this beach, such as snorkeling, kayaking, a boat trip around the archipelago, or a harpoon fishing workshop.
7. Sokha Beach, Sihanoukville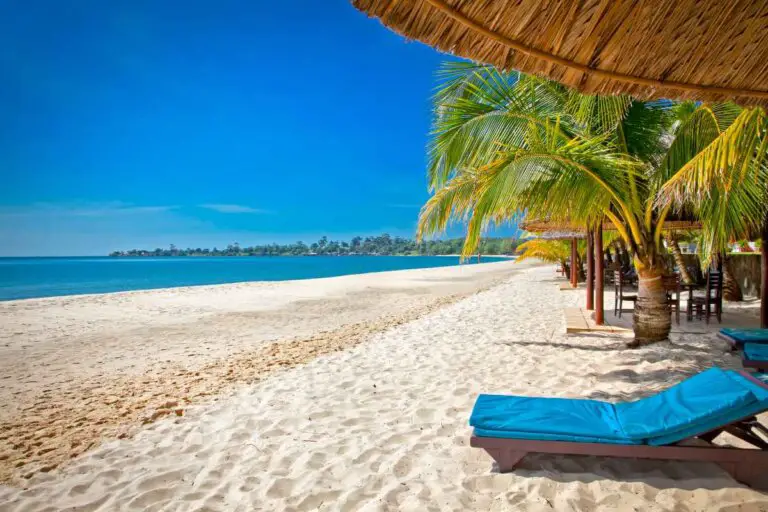 I found Sihanoukville to be a very popular place for tourists and Cambodians. The most beautiful beaches in Cambodia are just a few kilometers from the city center. And perhaps Sokha Beach is the most beautiful and most popular beach in the city. However, it has been privatized with the opening of the Sokha Beach Resort, a property offering luxury accommodation.
It is a quiet beach and is about 1.5 kilometers long, an expanse of fine white sand mixed with silicon pearls that creak at every step, creating a sort of all-natural background music. The beach, even if it belongs to a resort, is accessible to everyone for just a couple of dollars.
The good thing is that if you can't pay, a small portion of this beach is open to the public (which I visited), while the rest is only available to resort guests or those who pay for the daily entrance fee. However, for the guests of the resort, it is certainly an advantage, as they can enjoy this immaculate place in complete isolation.
8. Koh Thmei Beach (Ream National Park), Sihanoukville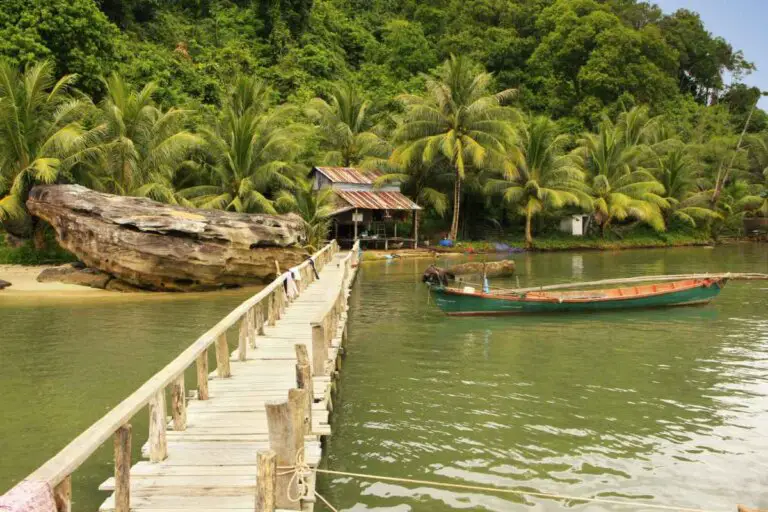 Another beach that I fell in love with is Koh Thmei. This is a small island covered in mangrove forests and boasting some of the most beautiful and pristine beaches in Cambodia.
It is located in Ream National Park, just twenty kilometers from Sihanoukville. The national park is a magnificent playground for hundreds of animal species. In addition, the mangrove offers a magnificent landscape when crossing the park. In the end, you will emerge from the jungle to discover a magnificent pristine white sand beach, a lovely place to energize your body and mind.
The island of Koh Thmei is completely uninhabited, except for a series of bungalows scattered on the beach of the Koh Thmei Resort. But beyond that, Koh Thmei is completely deserted. Here, I was happy to enjoy the view of hundreds of birds and glittering shells. If you wake up early in the morning, you can witness a beautiful sunrise.
If you don't want to stay overnight, you can also book a day trip to the Ream National Park and enjoy the mangrove forests and tropical islands where dolphins, deer, monkeys, and all kinds of birds live. I think this is a must-visit park when in Cambodia.
9. Ochheuteal Beach, Sihanoukville.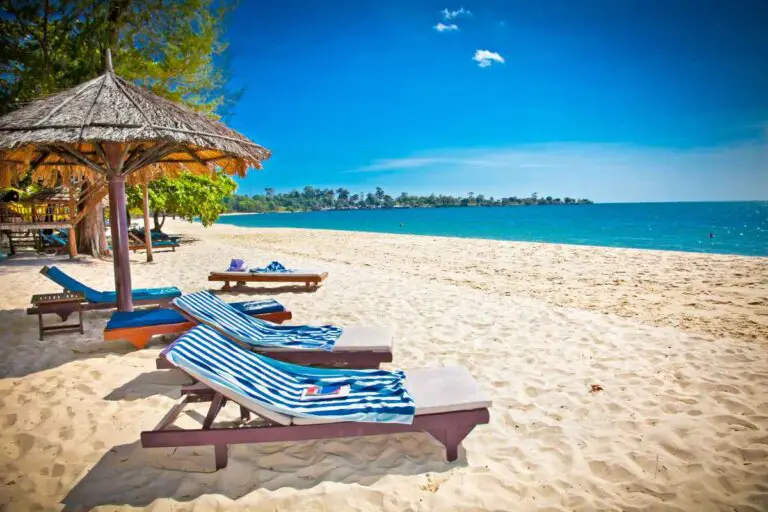 Are you looking for a cozy end to the evening with a view of the sea? Then head to Ochheuteal Beach, which is also one of the best beaches in Cambodia. In addition, it is considered to be one of the most beautiful beaches due to various infrastructure services that support tourism. Therefore, you shouldn't expect any deserted spots here because this beach is one of the most popular beaches around Sihanoukville.
Together with Serendipity Beach, Ochheuteal Beach even forms the longest beach in the city. Incidentally, both sections of the beach merge directly into one another.
In the evening you have the perfect opportunity to eat comfortably in one of the restaurants or bars on the two sections of the beach. Since numerous bars have been open for a long time, you can also celebrate one or the other beach party here.
10. Serepindity Beach, Koh Rong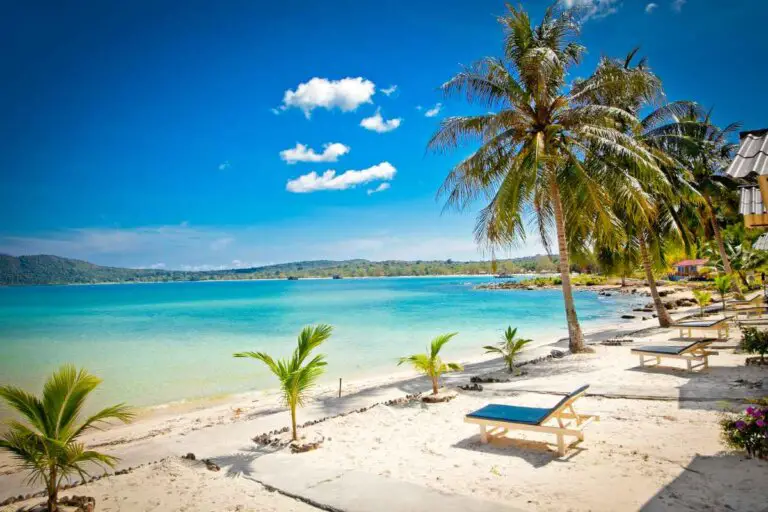 Another of the best beaches in Cambodia that I can recommend is Serendipity, which is centrally located in Sihanoukville. From the Golden Lions Roundabout, turn into Serendipity Beach Road, which is home to many restaurants, hotels, and shops.
During my visit, the beach wasn't that crowded. There were several tents, but they were pretty empty. Maybe it was the low season. The beach is very nice, water clean, white sand but no natural shadows. If you stay in the Serendipity Beach area, there is a very good food market near the Golden Lions monument where you can have soup for as low as $1.25 or a delicious amok for just $2.20.
The shallow and flat bottom of this beach attracts families with small children. In addition, divers are attracted by the corals growing in the water.
For sightseeing and when is the best time to visit Cambodia check our articles: 12 Top-Rated Tourist Attractions in Cambodia and Best Time to Visit Cambodia a Months by Months Guide
Conclusion
This is my list of the most beautiful beaches in Cambodia. Each city and island has a unique and particular beauty to discover and admire. If you are a lover of the sea, you want to have a beautiful vacation with crystal clear water and dreamy white sandy beaches. As of now, you already know which the best beaches in Cambodia are. Now is the time to make your reservation and start the countdown to your next vacation.