Wonderfully located in the Balearic archipelago, the island of Mallorca is home to more than 200 magnificent beaches of fine sand and pebbles, as well as a string of small wild coves.
And during my trip, I was expecting all the beaches in Mallorca to be crowded and full of hammocks and restaurants. But I was pleasantly surprised to find so many secluded little beaches. In fact, most of the beaches in Mallorca that I visited were quiet. I think arriving in mid-May was a very good decision, as even at the end of my two weeks on the island, the places were getting much more crowded. And having a car helped get off the beaten track a bit.
During my two weeks in Mallorca, I went to a number of beaches, and some stood out as clear favorites. Here are my personal tips for the 13 best beaches in Mallorca. In addition, I will suggest some of the best hotels near these beaches where you can stay. Read on!
Best Beaches in Mallorca
1. Cala Agulla Beach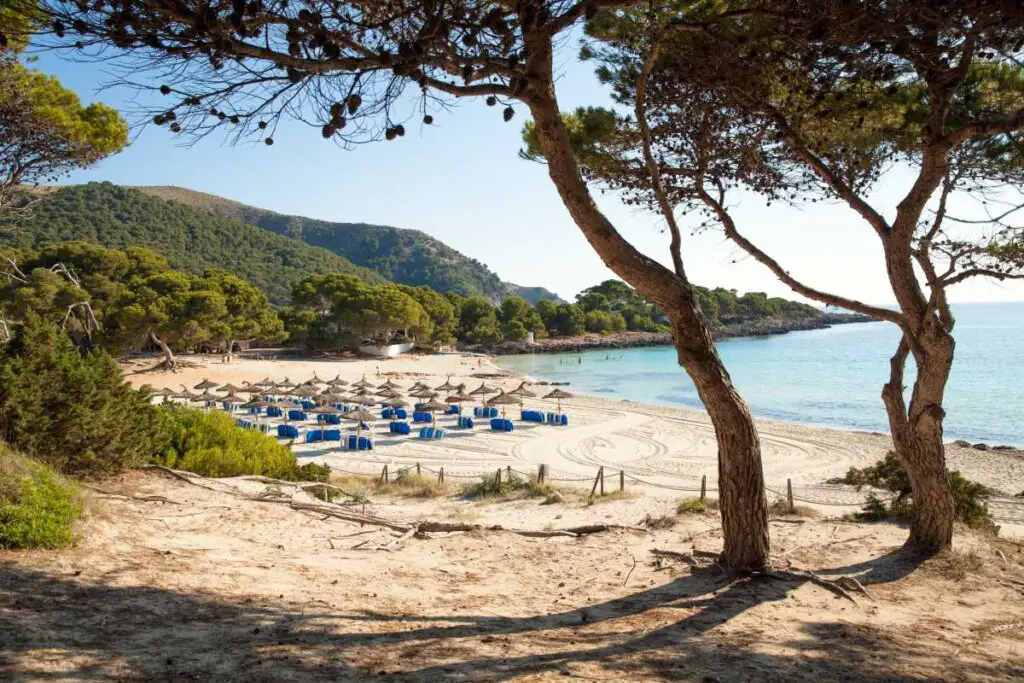 I start this list of the most beautiful beaches in Mallorca with one of its most famous, located in the northeast of the island: Cala Agulla. It is one of my favorite beaches, with inevitably turquoise blue water, and above all, a large white sand beach of over 500 meters.
On the beach, you will find all kinds of services for bathers, from deckchair and sunbed hire to bars and kiosks. As often with this kind of place, its fame turns it into a landmark for young tourists, who come here to party and listen to music.
Also, you will find several water sports options, although kayaking and paddleboarding stand out. All the equipment services, showers, and bathrooms are available.
Where to stay when visiting Cala Agulla Beach:
Hotel & Spa S'entrador Playa
Mar Azul Pur Estil Hotel & Spa – Adults Only
Hotel Bela Playa & Spa
2. Es Trenc Beach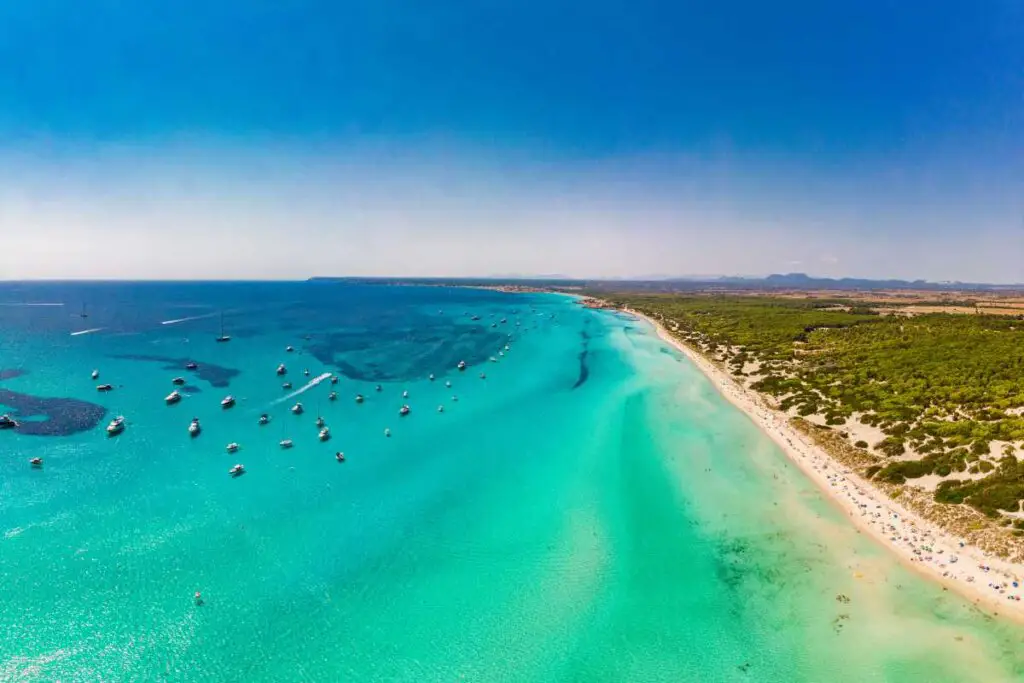 This was the most beautiful beach on my trip. This beach brings together all those ingredients for a perfect beach. It combines the best of an unspoiled landscape and basic services to spend a comfortable day. Its fine white sand beach stretches for 3km along the coast, with a gently sloping bottom, a feature that makes it ideal for swimming.
The sea is particularly calm and the atmosphere friendly. I recommend visiting this beach in the early hours of the morning when there are fewer people. This is because the view from the shore towards the Cabrera archipelago is beautiful.
By the way, in the Balearic Islands and Spain, nudism is very common. And on this beach, there is an area reserved for nudists. Finally, Es Trenc's only flaw, for me, is the absence of a gazebo. I love to see the beaches from above, but in the right corner, there is a part a little higher from where you can admire the beauty of the beach.
Where to stay when visiting Es Trenc Beach:
Hotel Villa Chiquita
Apartaments Posidonia
Hotel El Coto
3. Cala Millor Beach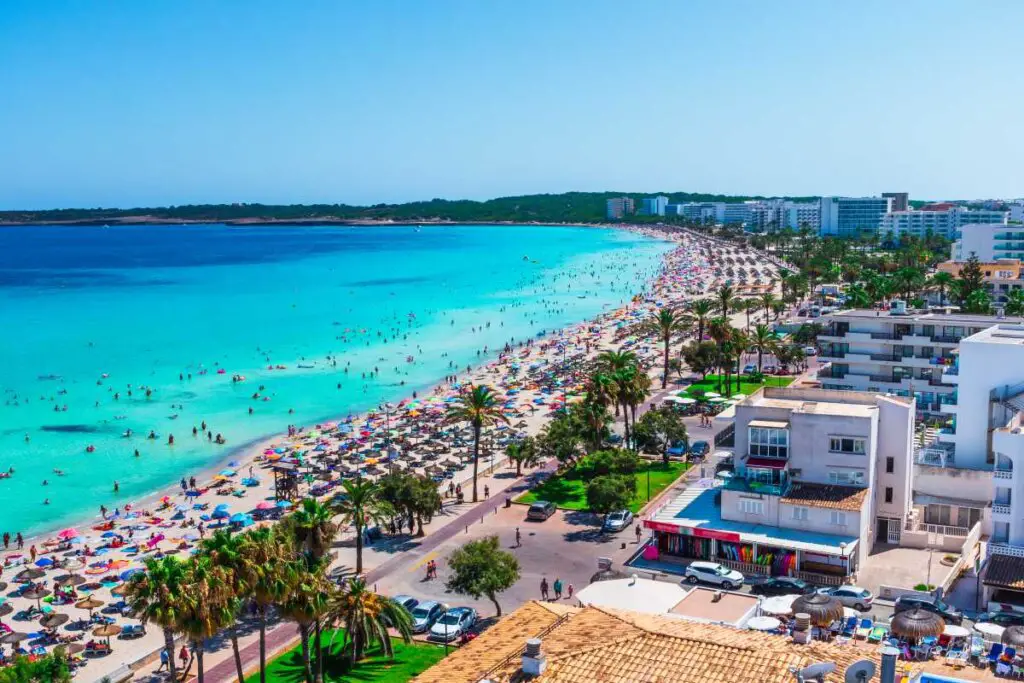 Cala Millor is one of the most populous resort towns on the east coast of Mallorca, with a beach that occupies its entire coastline, more than a kilometer long.
The clean environment and the modern infrastructures have allowed it to achieve the recognition of the "blue flag" in recent years. What I love about this beach is that it has been equipped with several wooden walkways to facilitate disabled people.
Cala Millor is ideal for snorkeling or diving but also for windsurfing due to the almost constant presence of the wind. There are several sports and recreational activities aimed mainly at families, while water entertainment is available such as jetski, paddle surfing, etc.
Swimming and water activities are under the watchful eye of lifeguards. Behind the beach, to the neighboring resort of Cala Bona, there is a beautiful promenade with bars, restaurants, and a city bus stop.
Where to stay when visiting Cala Millor Beach:
Hipotels Flamenco
Hipotels Hipocampo Palace & Spa
CM Playa del Moro
4. Formentor Beach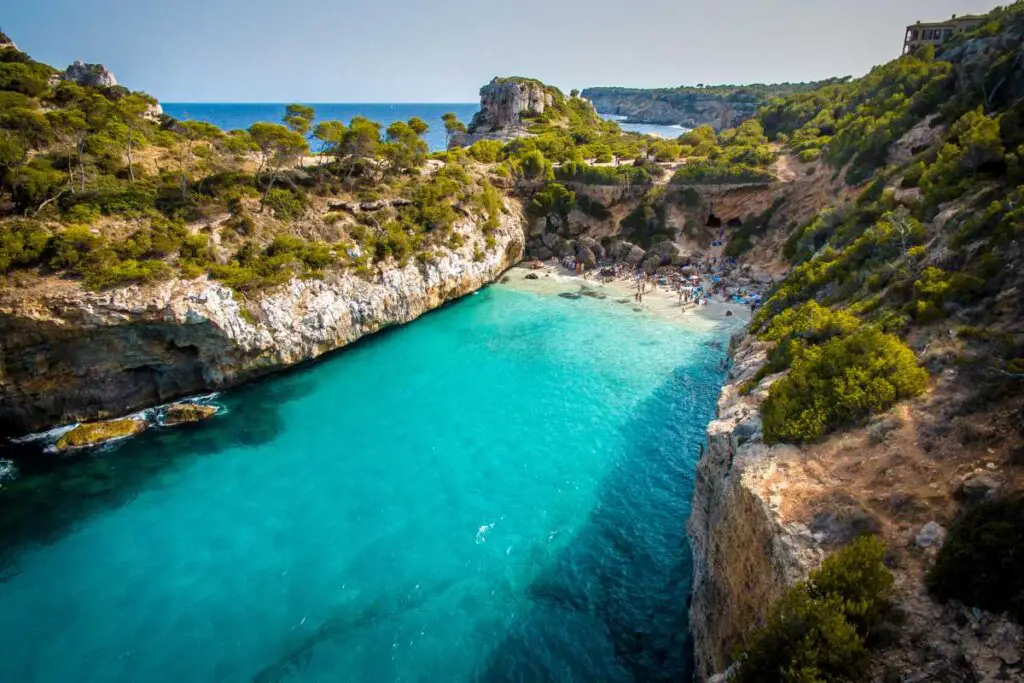 Formentor beach was one of my best beaches in Mallorca, although part of this could be because I went there late when there were no other people and the evening light was so beautiful.
It is a shell-shaped bay characterized by white and soft sand, with a beautiful evergreen Mediterranean scrub full of pines that surround it going down to the sea. Its waters changing from blue to turquoise are shallow, a feature that makes this bay particularly popular with families with children.
Near the beach is one of the most famous Cap de Formentor light-house. The trip to the lighthouse was one of my favorite trips in Mallorca as I was able to enjoy a panoramic view of the neighboring island of Menorca. In addition, two excellent restaurants await you on the beach, one with buffet service and the other with a sophisticated gastronomic menu based on seafood.
Where to stay when visiting Formentor Beach:
Mar Hotels Playa Mar & Spa
Hoposa Bahia
Hotel Villa Singala
5. Cala Des Moro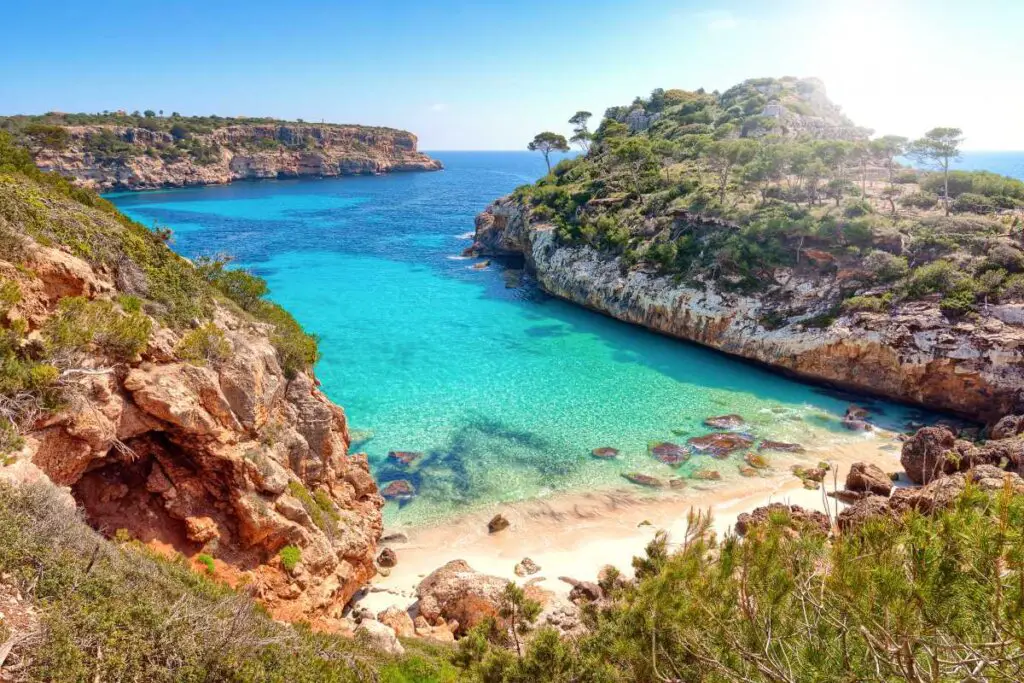 Another of the best beaches in Mallorca is Cala des Moro. The cool thing about this beach is that it is super isolated from everything, surrounded only by rocks and vegetation. There are no restaurants, bathrooms, or any structure there. Access to the beach is not very easy, but it is worth it.
For starters, parking is far away. I don't know how many minutes, maybe 20, but with the sun and the heat, it felt like a long way. First, you walk through some quiet streets until you reach the part of the trail, which has a dirt floor. The view from up there is breathtaking: water so clear it looks like a swimming pool, imposing rocks and small boats in the water.
Getting on the water is another challenge. You have to go down some narrow stairs made of rocks and covered with sand. Be careful not to slip. Once you get down there, you have to pass the stones covered with slime to have the reward of refreshing yourself in the sea finally.
I spent at least an hour in the water admiring the beauty of this place. I recommend taking sneakers or a firm slipper to walk the trail.
Where to stay when visiting Cala Des Moro beach:
CASA-BONITA
Petit Hostal Ventura
Hostal Playa Cala Santanyi
6. Cala Mesquida Beach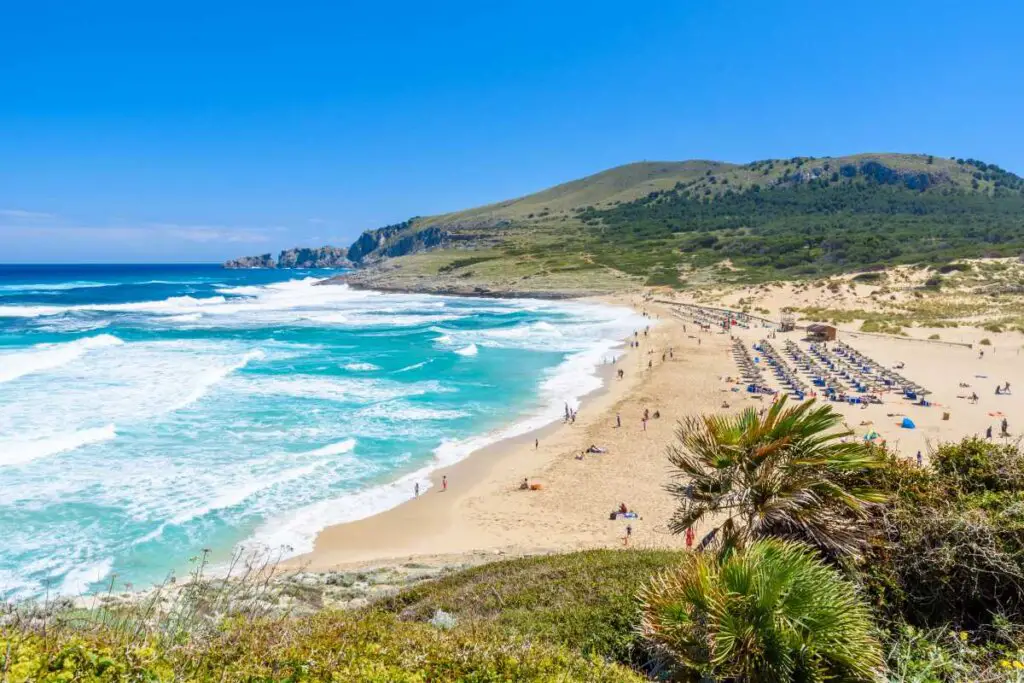 I found Cala Mesquida Beach to be one of the most beautiful beaches in Mallorca and one of the few that I visited twice. The coast is cool with clean mountain air, picturesque landscapes of the bay, surrounded by rocks with thickets of mastic trees and pines. Admirable is the beach, which stretches a white sandy strip 300 meters along the coast and 100 meters wide.
In windy weather, big waves rise on the sea, attracting surfers. Thanks to the shallow water near the coast, it is convenient to relax with children. There are bars with a sufficient selection of snacks and drinks, lifeguards on duty, and an anchorage.
I feel like this is a really nice beach to spend the day even in the height of summer as it is so big that you can still find a quiet spot easily.
Where to stay when visiting Cala Mesquida Beach:
VIVA Suites & Spa Adults Only 16+
Predi Son Jaumell Hotel Rural
Cases de Son Barbassa
7. Cala S'Amarador Beach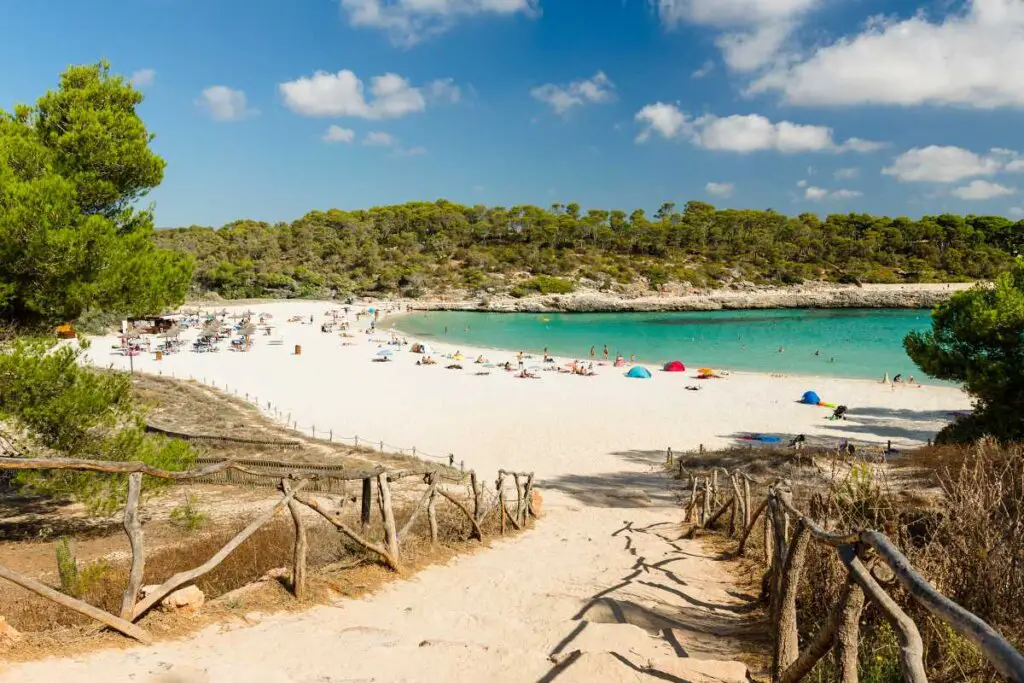 Cala S'Amarador is located within the Mondragon Natural Park, and without a doubt, it is one of the best beaches in Mallorca to include in your itinerary.
It is quite a large beach, and since it is only accessible by car, it was crowded when I was there. But it was still lively, and I loved that I was able to walk to the other beaches from here as well. Its soft white sand beach with shallow waters makes it safe for children, which is why it is particularly popular with families. I recommend getting up a little early to avoid the busiest hours.
This beach is surrounded by natural sand dunes, forests, and rocky coves. There is parking nearby, and on the beach, there is a beach bar where you can buy drinks and sandwiches.
Where to stay when visiting Cala S'Amarador beach:
Agroturisme Na Martina
Hostal Condemar
Hotel Playa Mondrago
8. Cala Mondrago Beach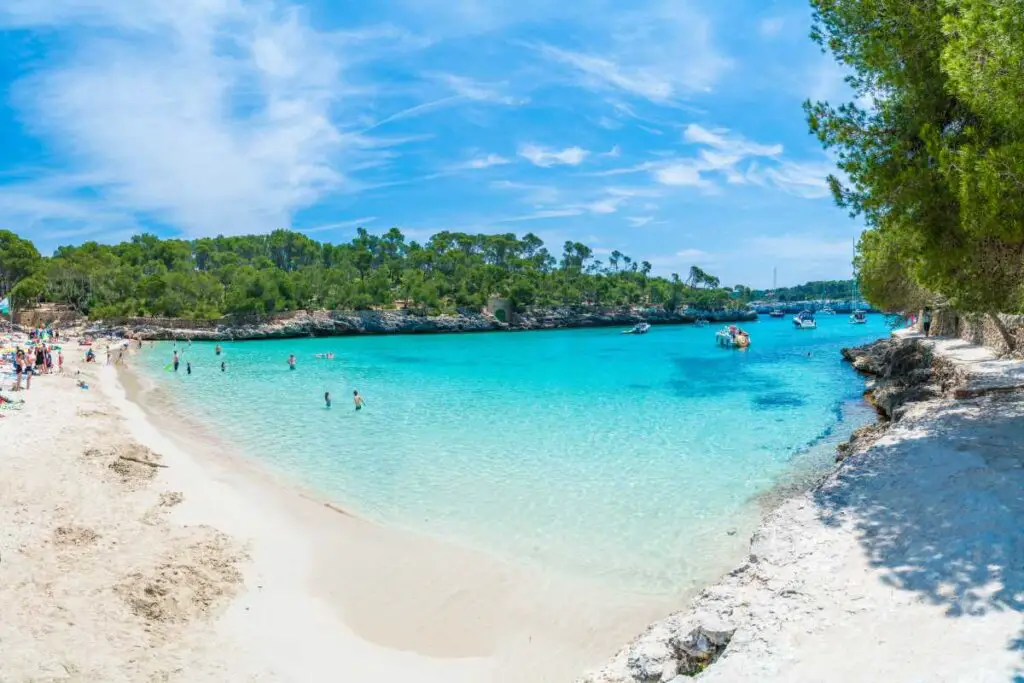 Whenever I hear that a beach is in a natural park region, I get excited. In general, the beaches are preserved and very beautiful.
But things aren't quite like that in Cala Mondrago. When I arrived, what really bothered me was the big crowd on the beach. There were a lot of people on the sand strip and on the paths between the beaches. Personally, this was not the idea I had when I thought of a beach in a natural park region. However, I could see that the beach still looked beautiful.
Surrounded by a shady pine forest, Cala Mondrago boasts soft white sand and clear, turquoise waters that have created a colorful landscape of the coastal strip. It stretches along the sea for 75 meters and is enclosed by rocky groynes at either end. In addition, soft white sand covers this piece of paradise.
The beach was declared a Natural Park in 1992. The park covers an area of ​​766 hectares, 95 of which are in areas controlled by the government. But as it has easy access, good infrastructure (including restaurants), and the beauty of its sea, it ended up conquering many more people than just me.
Where to stay when visiting Cala Mondrago Beach:
Hotel Rocamar
JS Portocolom Suites
Condemar
9. Cala Varques Beach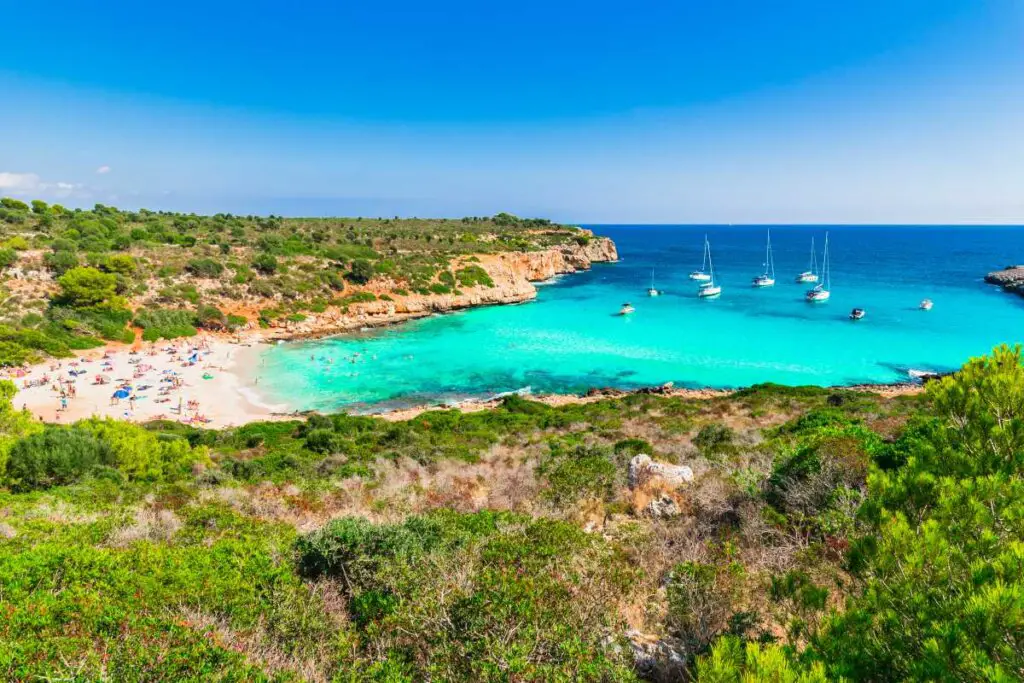 One of the calmest and among the most beautiful beaches in Mallorca is Cala Varques. A secluded place, striking with the harmony of the combination of golden sand with a white foam of azure seawater, the natural setting is exceptional. In fact, Cala Varques is surrounded by a wild rocky amphitheater, with two headlands, Punta de Llevant and Punta d'en Barrafau. These majestic presences give it a remote appearance.
With 90 meters long coastline and deep waters, this beach was my favorite as there were few people. In addition to its tranquility, this cove boasts one of the largest sets of underwater caves in Europe, which makes it one of the favorite spots for diving and snorkeling enthusiasts.
Where to stay when visiting Cala Varquez Beach:
Blau Punta Reina Resort
Finca Son Josep de Baix Hotel
Sol Romantica Hotel
10. Cala Pi Beach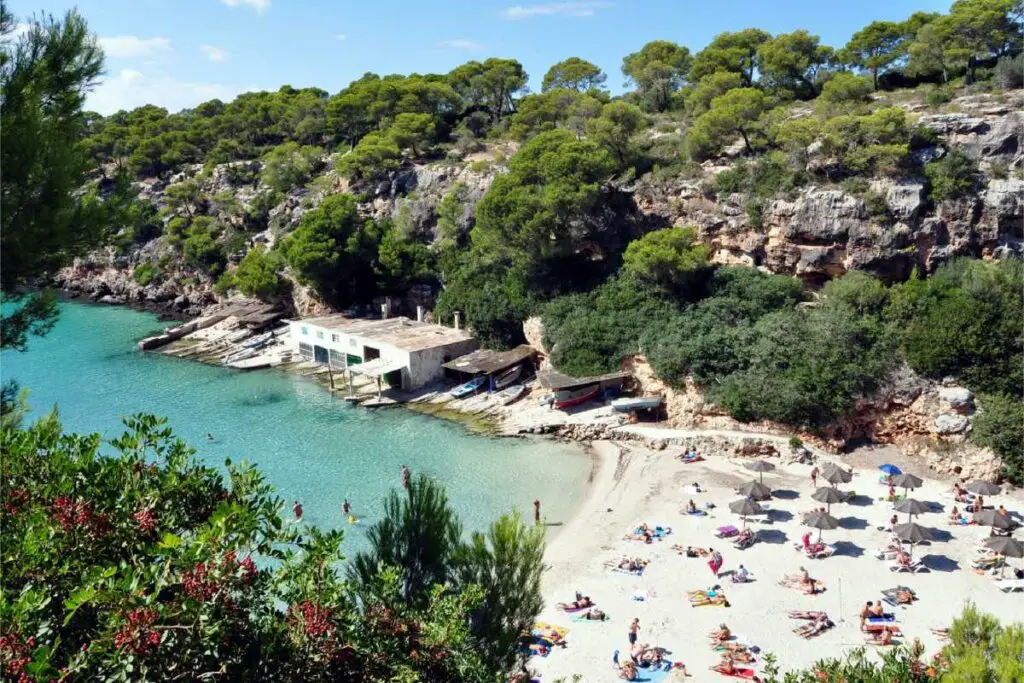 Cala Pi was one of the busiest beaches I went to, but I loved the location between high cliffs, and it had a really nice atmosphere. But before reaching the steep staircase that leads to the beach, the descent offers very panoramic views. The temptation to immortalize yourself in the most photogenic spots is almost inevitable, such as the stone "balcony" that juts out into the clear sea.
For a comfortable stay, I recommend renting umbrellas with sun loungers to enjoy the white sand, enchanting turquoise water, and the view of rocky cliffs. If you wish, you can take advantage of the nearby bars for a snack or a cold drink.
Where to stay when visiting Cala Pi Beach:
Aparthotel Ona Cala Pi Club
Villa Cala Pi Family
Apartamento Hibiscus
11. Sa Calobra Beach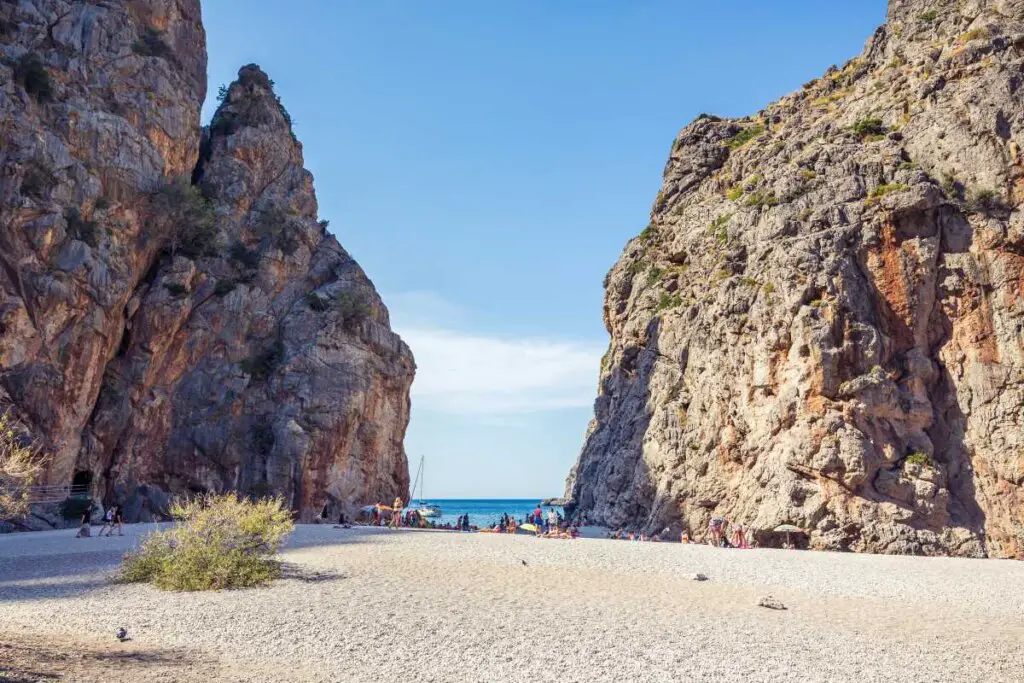 Which is the most photographed beach in Palma de Mallorca? It's probably Sa Calobra, immersed in a postcard landscape.
The location of this beach is beautiful, and you have to go through a long tunnel in the mountains to get to the beach. The beach has small pebbles distributed over a 30-meter long coastline.
I was impressed not only with its amazing seawater color, but also with its extraordinary transparency and purity. Actually, it was the most pleasant place I went swimming in Mallorca as there were so many fish and the surrounding cliffs offered some spectacular views.
Near the beach are restaurants, bars, toilets, and a medical center. To comfortably indulge in rest, you need to take everything you need with you. You can get there by car or boat from Porte de Soller.
Where to stay when visiting Sa Calobra Beach:
Esplendido Hotel
FERGUS Style Soller Beach
Hotel Marina & Wellness Spa
12. Cala d'Or Beach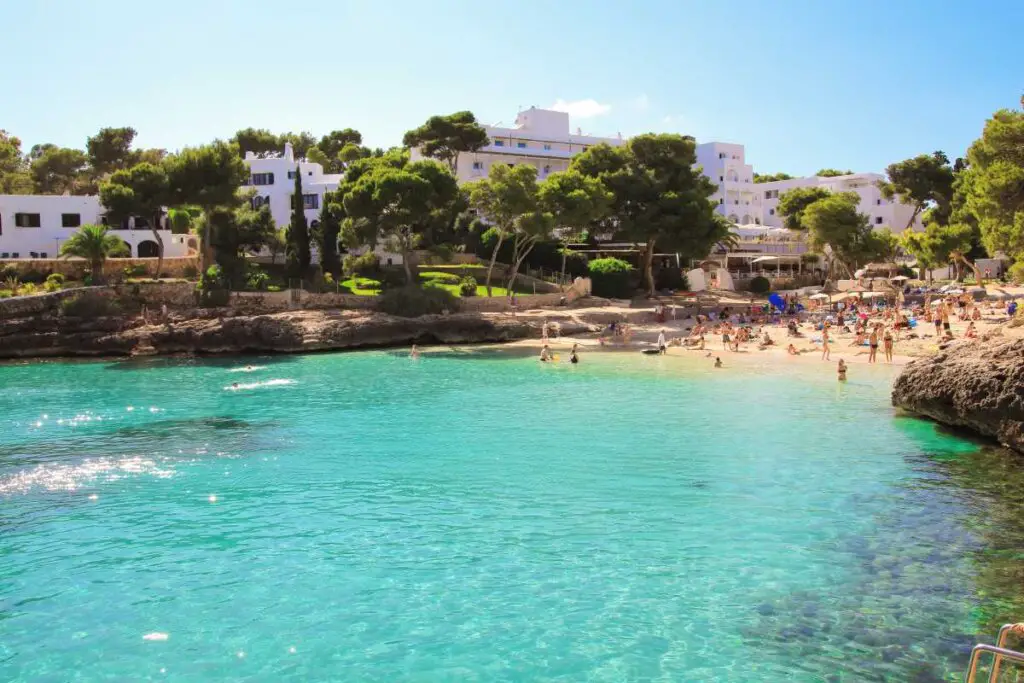 Cala d'Or is an example of a beach that is very different from others in the Balearic Islands. This beach is part of the municipality of Santanyi, where most of the most beautiful beaches in Majorca I visited are located. I arrived there and parked a little far from the beach. The walk from my car to the beach was a great way to get into the Cala d'Or vibe. The community is very quiet, with many white and charming buildings.
Cala d'Or beach coastline, not very extensive, is covered with soft golden sand, bathed by crystalline and transparent waters of a beautiful turquoise color, with gently sloping sandy bottoms. It is one of the most protected coves from both storms and winds, having a rocky end that opens it to the open sea.
You can enjoy swimming, surfing, fishing, water skiing, and sailing. The most popular entertainment is jet skiing. All the necessary equipment is provided here for rent.
Where to stay when visiting Cala d'Or Beach:
Hostal Mistral
Casa Ceiba Maria
Hotel Cala Dor – Adults Only
13. Cala de s'Almunia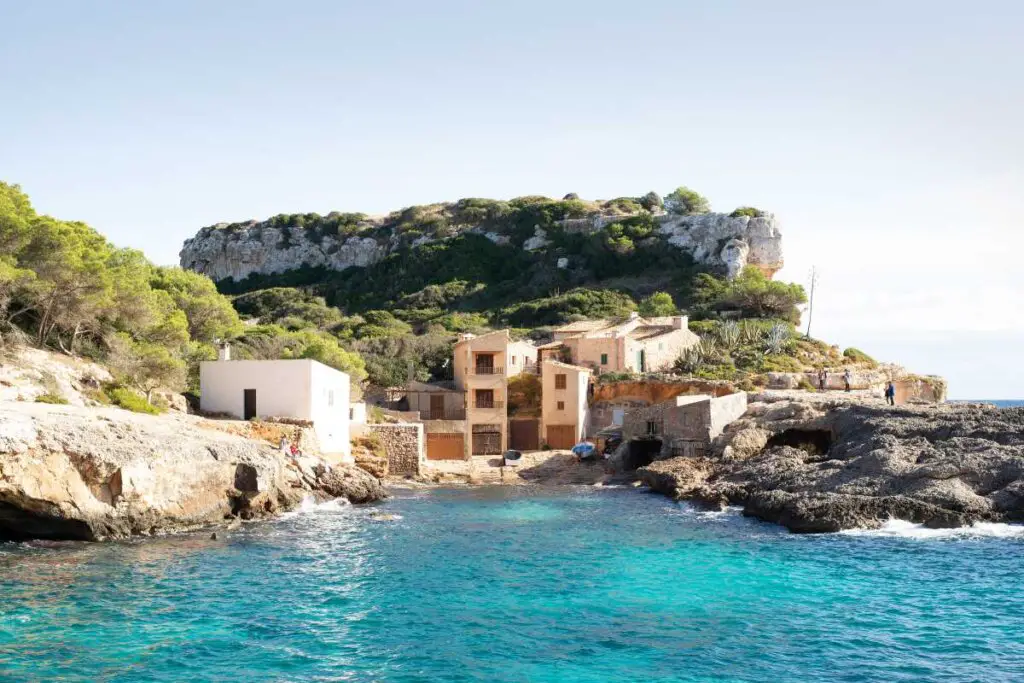 Just when I thought that my ranking with the best beaches in Mallorca was closed, then I decided to visit Cala de s'Almunia. Located 200 meters from Cala des Moro, Cala de s'Almunia is totally different from the beauty of des Moro. For the best.
It is located in a small harbor for boats, next to a family house, and is extremely photogenic. I spent several hours in incredibly clear water that, from the top of the cliff, took on an incredibly beautiful greenish hue. Plus, among all the places where I tried snorkeling in Majorca, it was in Cala de s'Almunia that I was able to see the most fish.
For all this, for my personal taste, the Cala de S'Almunia is undoubtedly one of the most beautiful beaches in Majorca. I loved it! Much more than its neighbor.
Where to stay when visiting Cala de s'Almunia:
Villa Sirena
CASA-BONITA
Hotel Cala Santanyi
Conclusion
Do you know any beaches in Mallorca that you want to recommend to me? Any suggestions are welcome now that there are still days to enjoy the sun and the sea.
For sightseeing in Spain check our articles Best Places to Visit in Spain for First-Timers and 14 Top-Rated Tourist Attractions in Barcelona