Split is a wonderful city with a lot of things to do in it. It has an incredible history that includes being one of the oldest cities in Europe, in addition to being one of the most visited places in all of Europe.
Since I first visited Split, Croatia, on a school trip in eighth grade, I have been absolutely obsessed. The city is full of culture and history with so many things to do and see. It's the perfect place for travelers who want to experience something new and exciting without breaking the bank. In addition, with its mild climate, rich history, and gorgeous scenery, there is something for everyone in this beautiful country.
I've returned to Split several times over the years because there's just something different about it than other cities in Croatia. It's got a little bit of everything that makes traveling so memorable. And in this post, I've compiled a list of the 12 Best Things to Do in Split.
Best Things to Do in Split
1. Diocletian's Palace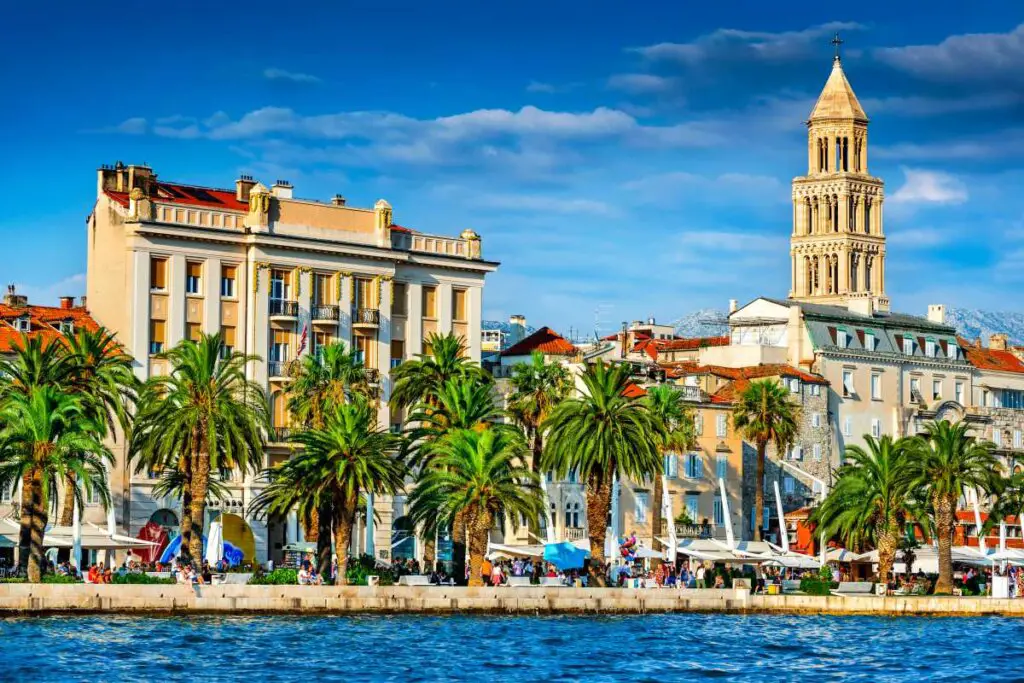 I'll start with one of the most obvious choices in Split: Diocletian's Palace. It is one of many UNESCO World Heritage Sites in Croatia, and it played home to the famous Game of Thrones scenes. The palace was originally built by Emperor Diocletian before he retired from his post as emperor.
While the exterior hasn't changed much over time, the inside has seen many different uses. It became a fortress during medieval times and then a castle in the 15th century. Napoleon used it as his headquarters during his second campaign against Austria, and it was later used to house Turkish soldiers during their occupation of Split.
I really enjoyed visiting this site, and I can say with confidence that it is worth checking out if you do visit Croatia.
The best way to tour it is with a guide who will explain all of its intricacies. For instance, most visitors don't even know that the walls used to be covered in lime plaster, which was painted white to make them look even more majestic. Definitely, this is one of the best tourist attractions in Split that will help you understand many of its secrets.
Read More: 20 Best Things to Do in Croatia
2. Cathedral of St. Domnius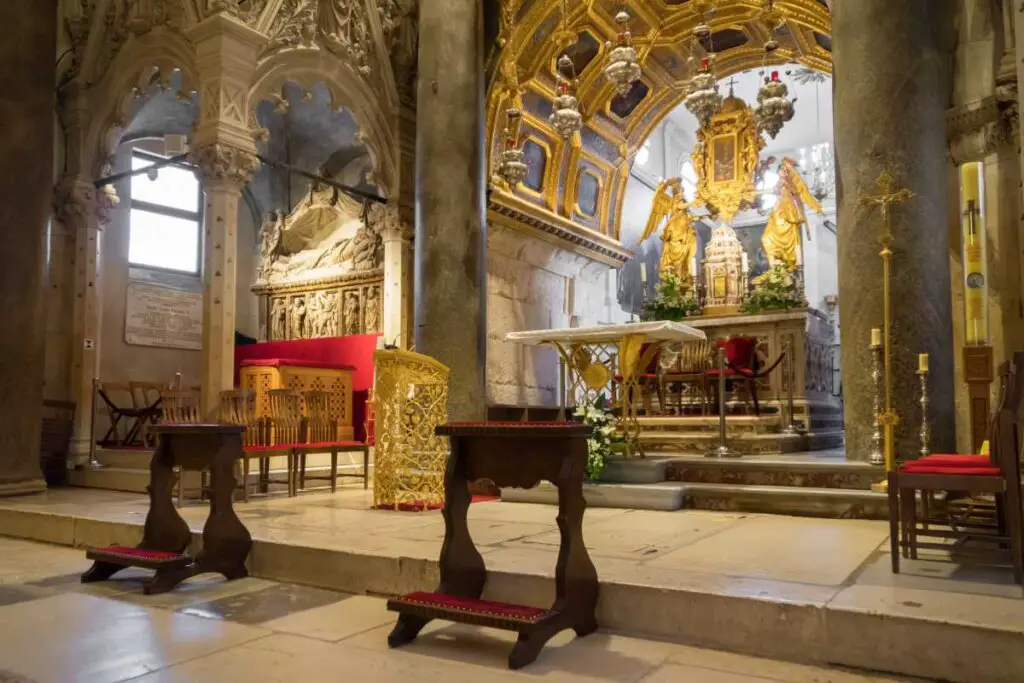 Do you know why St Domnius Cathedral is one of the best tourist attractions in Split? Because this is where Saint Domnius himself used to live! And if you're not convinced that's reason enough, then take a look at this cathedral's architecture. There aren't many cathedrals like this in all of Europe.
The street leading up to St Domnius Cathedral will remind you exactly where you are, thanks to Diocletian's Palace. And once you're standing in front of St Domnius Cathedral, you'll be able to see the stone columns that look like they were taken straight outta Rome (and I mean that as a compliment).
This cathedral was originally built as a Diocletian mausoleum. Today, it has undergone a lot of changes over time. For example, one side is in Romanesque style while another is in Gothic style. It's not every day that you get to see two completely different architectural styles used on two sides of one building. Inside, there are some stunning works of art, including paintings that were done by Venetian artists from the late Renaissance period.
 I think you'll agree when I say that the best tourist attractions in Split don't come much better than this. So make sure you pack your camera and bring a spare memory card for all those great snaps!
3. The Ivan Mestrovic Gallery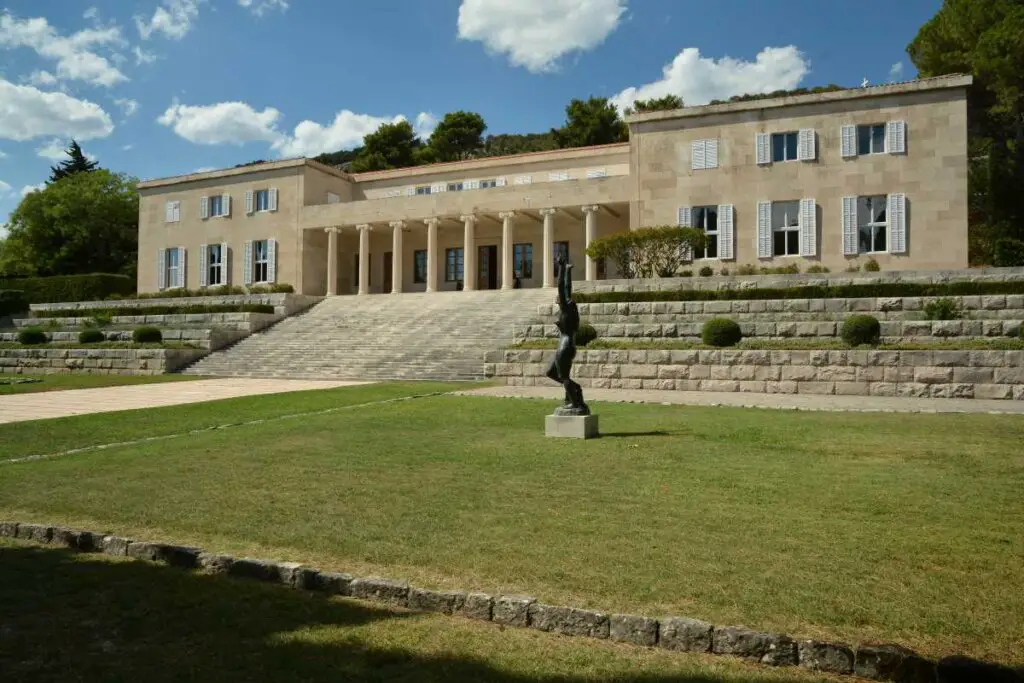 The Ivan Mestrovic Gallery is located within the UNESCO World Heritage Site Diocletian's Palace, and it contains many drawings and sculptures by the artist himself. If you know anything about this gallery, it's because of its amazing chimneys, which resemble a dragon's back! I actually listen to my audio guides when I visit locations like this, but I usually end up looking to find some hidden gem that no one else has found.
When you visit The Ivan Mestrovic Gallery, make sure you see all three floors to get a feel for his drawings and sculptures. You can also take photos inside as long as they aren't flash photography because those will damage the art. This is a place I had to include on this list of the things to do in Split because it's unique and worth visiting, especially if you're a fan of his artwork (and who isn't?)
Read More: 15 Best Things to Do in Dubrovnik
4. Marjan Forest Park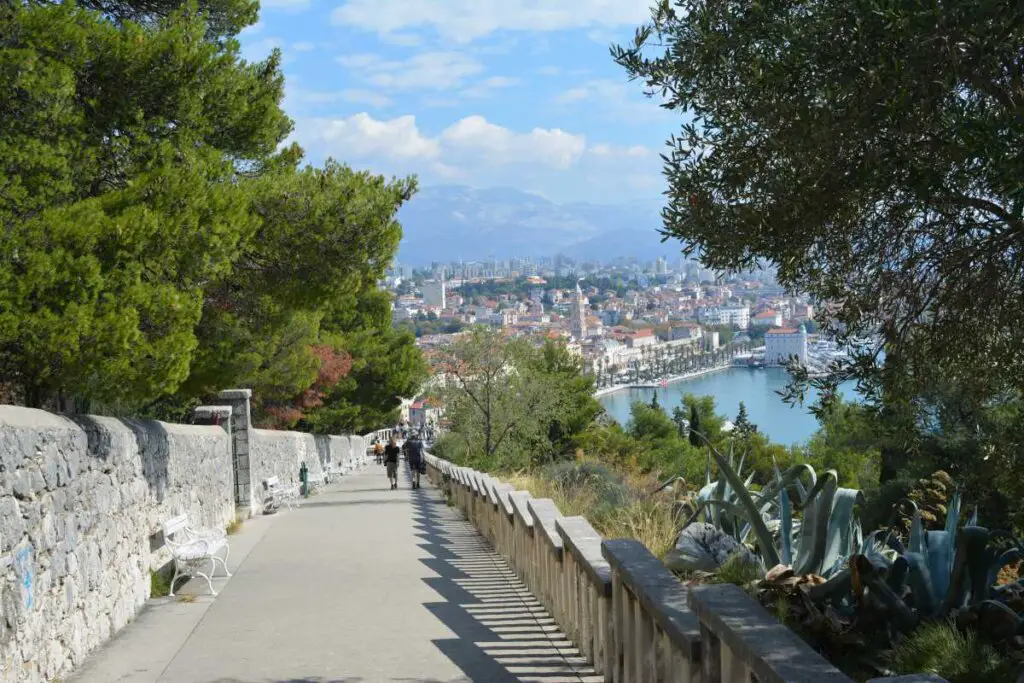 This is considered to be one of the best things to do in Split! This forest park is located on a hill right next to the city, so it's best accessed by car or taxi.
I bet you're wondering if there are wild monkeys just running around this huge forest, and I'm happy to tell you that there aren't! The name Marjan comes from an old Roman translation for Mount St. Mary. And instead of monkeys, you'll find wonderful views over the sea and nearby islands.
There are also many trails leading through this massive park which makes it popular with hikers and joggers who enjoy getting some fresh air away from busy cities like Split. As well as its natural beauty, there are some historical points worth checking out, such as The Pond and The White House.
I'm not going to lie, Marjan Forest Park was one of my favorite split tourist attractions, so I highly recommend it if you are also a nature lover. And if you are a tourist from another country, don't forget your passport as you'll need it to enter the park!
Read More: 15 Best Things to Do in Zadar
5. Daytrip to the City of Salona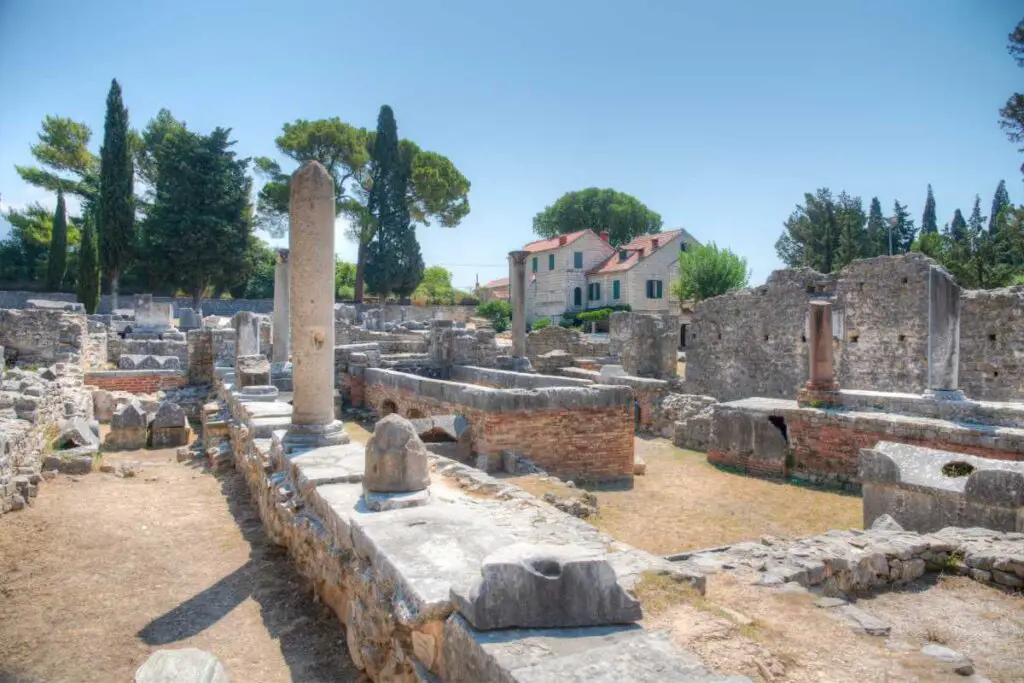 The City of Salona is another UNESCO World Heritage Site, and it has some of the best historical ruins in Croatia. Located just south of Split, this ancient site was built during Roman times as the capital city for the province. The city was destroyed by Avars and Slavs in 655 AD, but you can still see parts of its original buildings today due to how well preserved they are.
If you like history, you will enjoy touring through what remains of Vis Town. There are many different things to see, which include reconstructed streets, houses with mosaics that were once decorated with amazing artwork, and a basilica that has some parts that date back to 100 BC.
Other notable sights at The City of Salona include its amphitheater (which I got lost several times), Salona Aqueduct, and a public baths complex. And if you really want to get your bearings straight, make sure you check out their map, which is posted at the biggest building on site. It will probably take an hour to explore because there is so much to see.
It's definitely one of my best tourist attractions in Split that I recommend visiting when you're checking out Diocletian's Palace. Perhaps if you come here before going through the palace, it will help you appreciate everything a little bit more.
6. The People's Square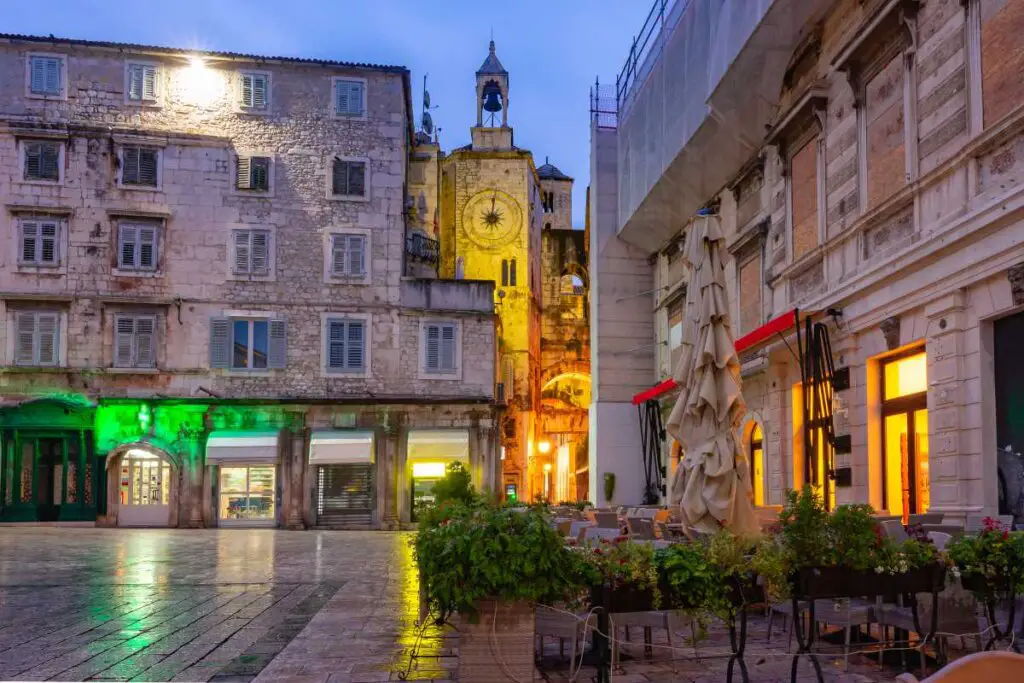 Another great sight in Split is The People's Square – the biggest town square in Dalmatia. It was built during the early 19th century by a Venetian architect, and it used to hold markets where locals bartered their goods.
The next attraction that I have to recommend is The People's Square. It features several historic buildings, but the most prominent one is St. Mark's Church (known locally as the Gric church). It was originally built during the Middle Ages and has seen many different uses throughout history. Parts of it were used as a mint in the 13th century, while other parts were used as an Orthodox Church during the Austria-Hungary occupation around the 1750s.
The square itself dates back to the 4th century BC when it was outside Diocletian's palace walls. However, it doesn't look like much today since almost all of its jewels burned in fires over time.
For me, this was one of the most atmospheric spots in Split. I was able actually to feel the history here, and it is definitely worth checking out if you can spare some time during your visit.
Another fun fact: The Square is one of the many places where Split's famous masked carnival takes place during the winter months. This is when everyone is in a particularly festive mood.
7. Croatian National Theatre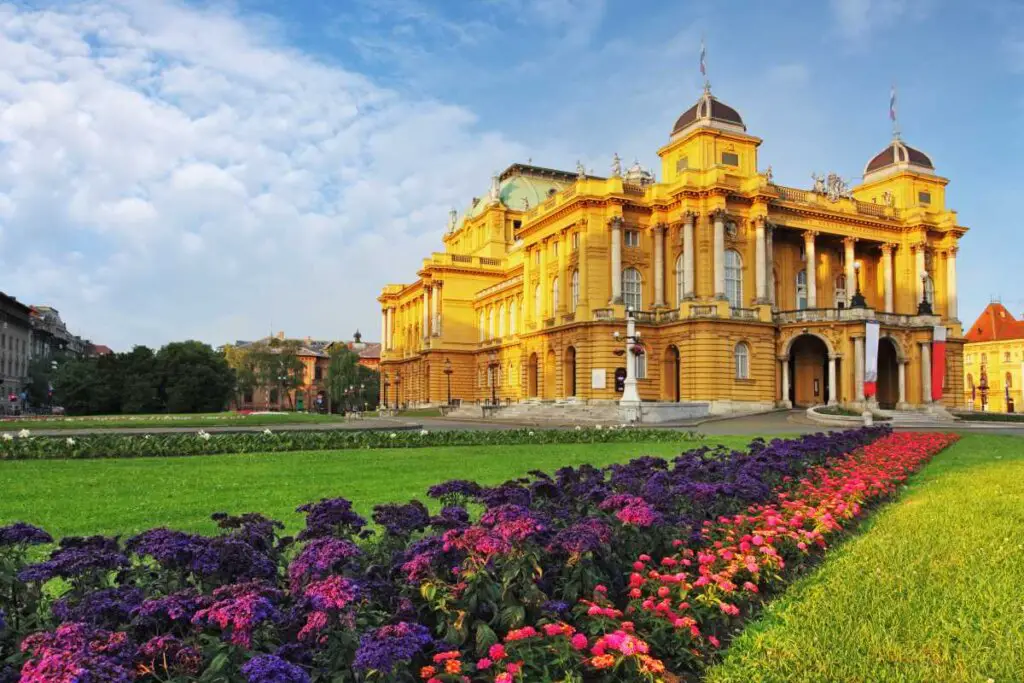 The Croatian National Theatre is one of the best places to visit in Split because it's such a historic building. One famous actor who premiered movies here during his lifetime was Orson Welles. Another notable director whose movies were played there was David Lynch (you know him from Twin Peaks and The Elephant Man).
The theatre has three different places combined into one since it includes a theater, opera house, and ballet. How awesome is that? And if you love ballet then I have good news for you: Croatia has its own national ballet company which performs here.
The theater itself is beautiful, with large chandeliers and red carpets. I've never seen a play here, but I think it would be the perfect place to see one. One of my friends has seen an opera here before, and she said that it was amazing!
This theatre is also home to the International Puppet Festival, which takes place every year. If your timing is good, you can catch a performance while you're visiting this attraction. Keep an eye out for their advertisements around the city, so you don't miss out on seeing something unique! Although I haven't seen a show here myself, it's definitely on my bucket list.
I fell in love with this place when I visited because it was so different from any other theatre I had seen before. It feels like you're walking onto an actual stage when you go inside. This is one of those best tourist attractions in Split that everyone should see once.
8. Klis Fortress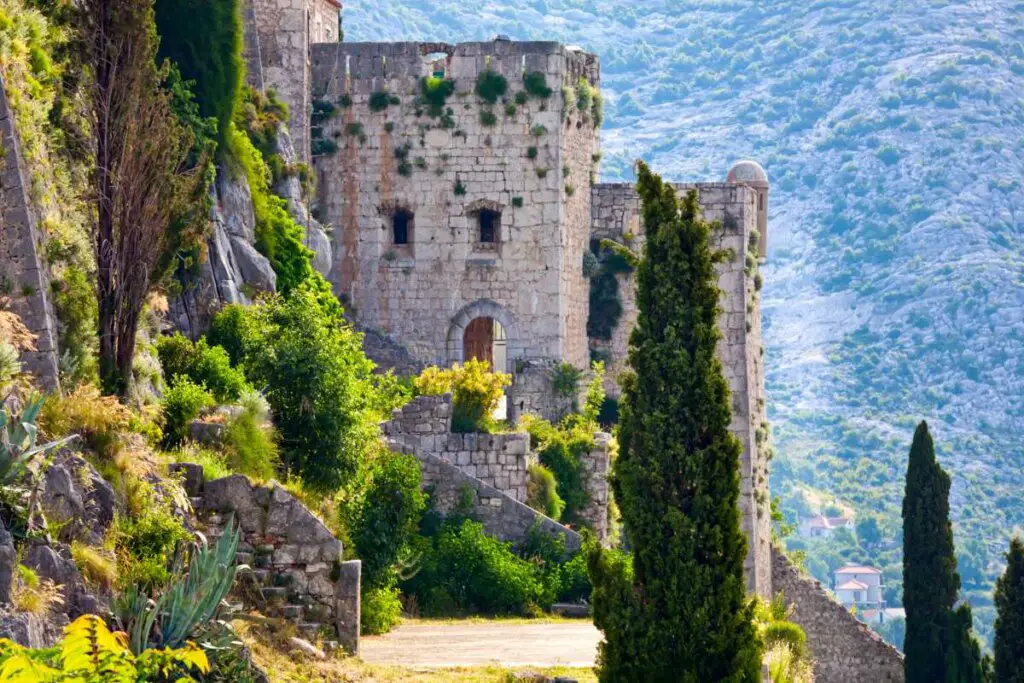 Klis Fortress has been standing for many centuries because it was built by the Romans in order to protect their territory from foreign invaders. The fortress stands on a hill above the city of Klis, and you can visit both inside and outside thanks to the stairs that go all around it!
There are three towers which look over the surrounding land, but I recommend visiting the eastern side because there are no tourists here.
Klis Fortress basically has everything you'd expect from a Croatian castle: walls made from stone from Mount Mosor and defensive towers with views over both sea and land. And best of all, the view over Vis Island which makes Croatia so famous for its sunsets. This is one of those best tourist attractions in Split you can't miss.
The best way to get up Klis Fortress is by car or taxi, but there are some hiking trails that lead up too. I would just stick with the roads, though, because these hiking trails aren't easy for beginners. The view from this fortress is well worth it, though, so don't forget your cameras! I'd recommend spending at least half a day (3hours) here if you want to see everything, including the best places to take photos.
9. Day Trip to Krka National Park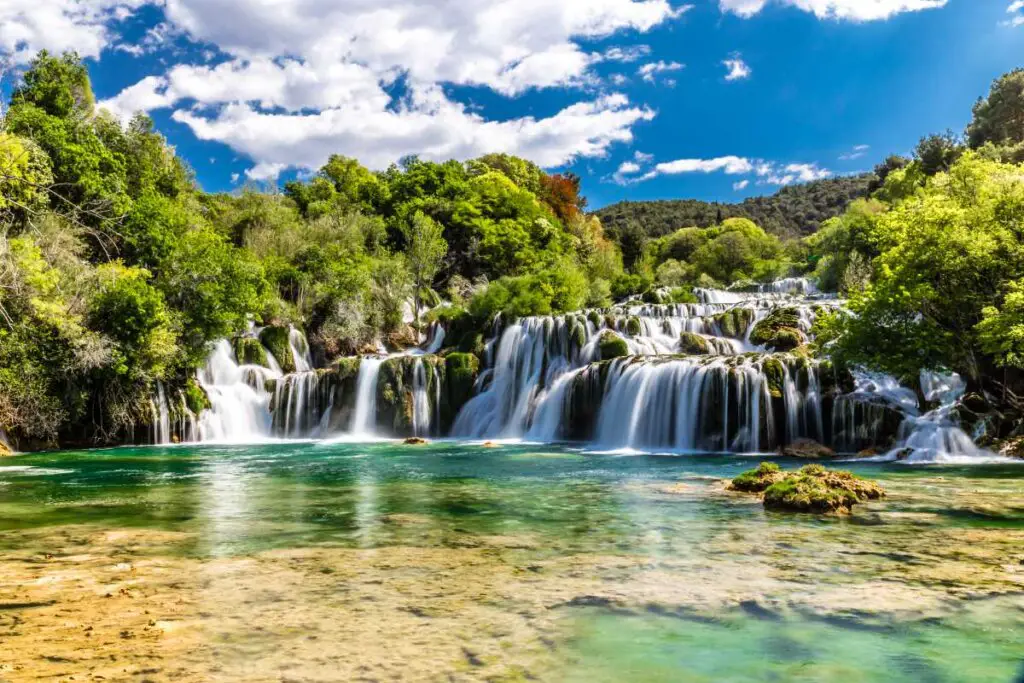 Krka National Park is one of the best tourist attractions near Split, and it's another place you can't miss. It is known for its beautiful waterfalls, which are absolutely stunning to see during the summer months. But I actually recommend visiting them during autumn or winter because they're even more impressive.
Krka National Park is one of Croatia's nine national parks and contains seven waterfalls with various levels of power depending on how much water they have at any given time (which depends on whether it's autumn/winter or spring/summer).
There are many hiking trails inside the park with amazing views over rivers and forests, as well as a couple of monasteries you can visit if you're not completely exhausted at the end of it.
When visiting the waterfalls, make sure you don't go during the high season. This is because there will be too many people inside with you and it won't be as enjoyable. The best time to visit is either April until June or September until October. But I wouldn't recommend going at any other time outside of those months unless you like seeing dead trees everywhere!
You can take a tour of the whole park or just go to some specific areas depending on how much time you have there (it's quite big). Once again, make sure you pack sunscreen and bring your camera! This park is definitely one of the most beautiful places I've ever visited, and I'd highly suggest adding it to your itinerary.
10. Zlatni Rat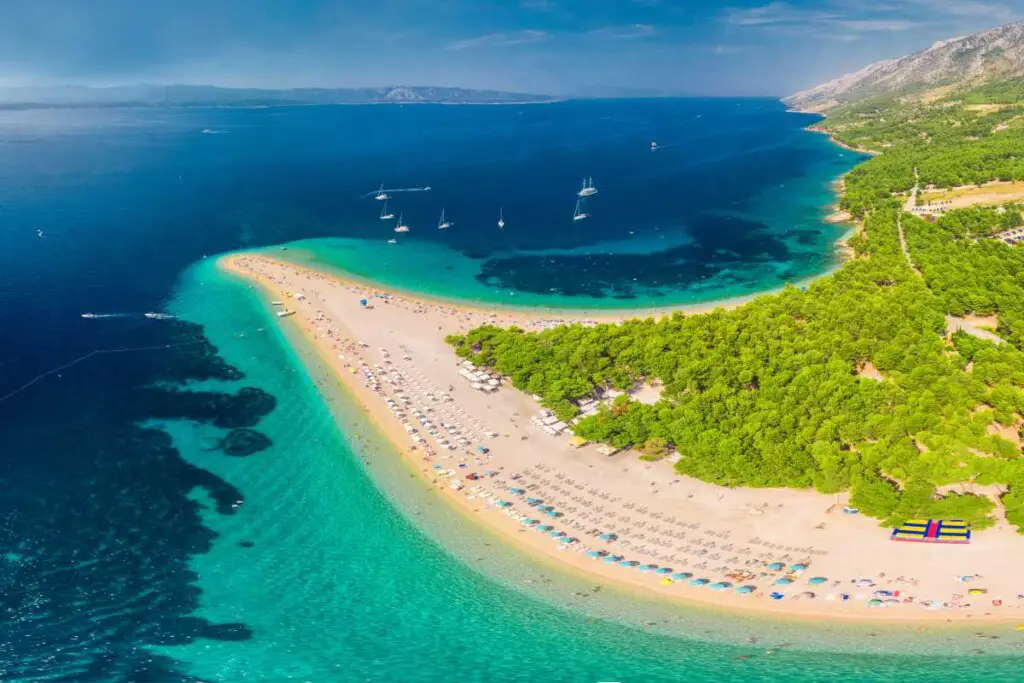 Let me ask you something: what's the best thing to do in Split? It's a pretty obvious answer: go to Zlatni Rat beach! I did some research, and this place is supposed to be one of the top tourist attractions in Croatia.
Zlatni Rat Beach, also known as the Golden Horn, gained its name from a local fisherman who said it looked like a golden horn when the sun rose behind it. Of course, you should always be careful when swimming at sea and check out conditions first so you don't get caught in a rip current that might take you away from land.
Situated on the beautiful Zlatni Rat Beach is also Bluesun Hotel Elaphusa, where I spent my night. It has an excellent restaurant and is one of the most luxurious hotels in Croatia (popular with celebrities!). You can even order a room and enjoy some scuba diving right from your hotel balcony. You'll never forget it!
Zlatni Rat Beach is definitely my favorite attraction in Split. I was lucky enough to visit twice during my trip, well worth checking out if you're visiting this part of the world.
Read More: 9 Best Beaches in Croatia
11. Riva Harbor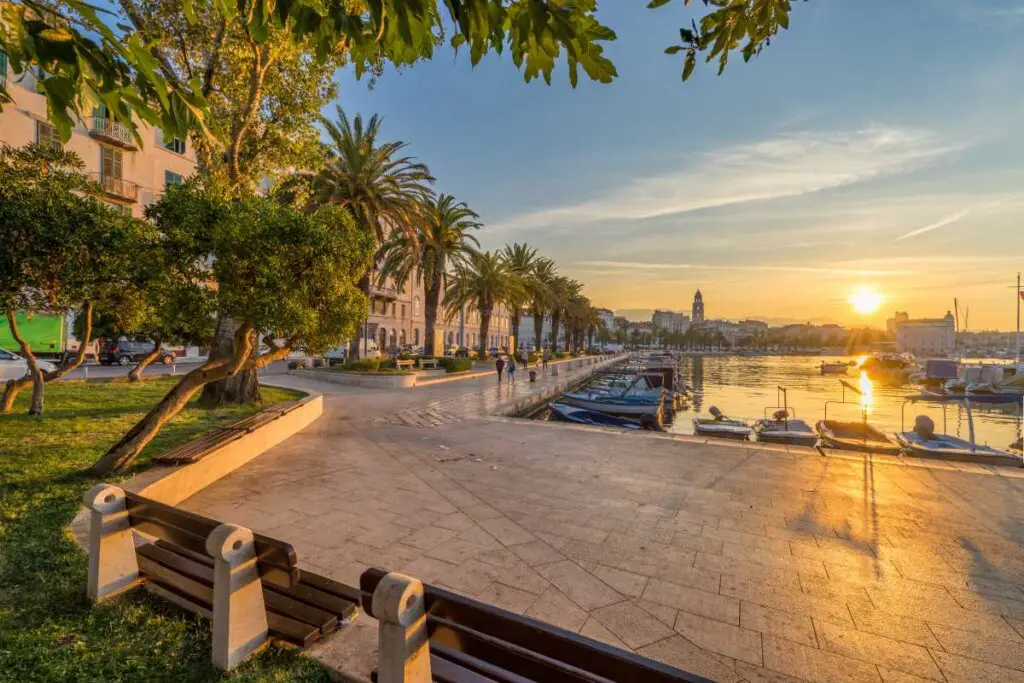 Riva Harbor is a must-see for anyone who visits Split. It is considered to be one of the best tourist attractions in Split because it offers a fantastic view of the entire city and even the mountains behind it.
This section of the city waterfront was seemingly designed with tourists in mind. This is because there's plenty of action here whether you're looking for some cheap souvenirs to bring back home or just want to sit down, relax and enjoy the view. You can also try renting a boat from one of the many companies located here and go on a ride around Vis Island, which is a great idea if you have kids!
Riva harbor is amazing, and it has so much going on that there's always something to do here. I would recommend getting ice cream from one of the many vendors located here because it's a super cheap way to cool down from the heat.
Riva Harbor is such a great place because there are so many cafes and bars where you can sit back and take in the views over a cup of coffee or glass of wine if that's more your speed. I would definitely recommend Riva Harbor for anyone who wants to relax during their visit. Or you can just walk along and watch all of the boats that come into port at night (it really is beautiful).
12. Split Archaeological Museum
Okay, so this is the only tourist attraction in Split I haven't actually visited yet. But it's on my list of best things to do in Croatia, and everyone tells me it's worth checking out, so I include it here in case you're in town!
I feel bad saying this because I wish I could tell you everything about it (and maybe one day soon I will). But since I haven't seen it myself at the time of writing this post, all I can say is that based on the reviews, it's one of the top attractions to visit!
I'm not sure how much you know about archaeology, but let me tell you there is lots of cool stuff inside Split Archaeological Museum. There are exhibits from Split itself and from all over Croatia.
I've read that the most interesting part for children is the huge amphitheater in the basement that looks like an ancient coliseum which you can walk around inside! This is something I plan on doing myself when I visit Split next.
In summary
I hope this post has been useful for you to understand why each one of these places makes my list of top tourist attractions in Split! If you ever want to ask me more about any of these must-see destinations, feel free to inbox me.