Anyone can find their dream beach in Croatia, but I want to introduce you to some of the best beaches in Croatia. Croatia's Adriatic coast is perfect because it combines beach tourism, very pleasant weather, breathtaking scenery, cultural tours, history, and an intense day and nightlife.
The beaches of Croatia are one of the great attractions of the country. The rugged coastline surprises us with cliffs and bays with crystal clear waters. There is more than 1777 km of the Croatian coastline, so the number and diversity of beaches are enormous.
In my article today, I will show you the 9 best beaches in Croatia and prove once again that this country is an absolute dream destination!
Best Beaches in Croatia
1. Punta Rata Beach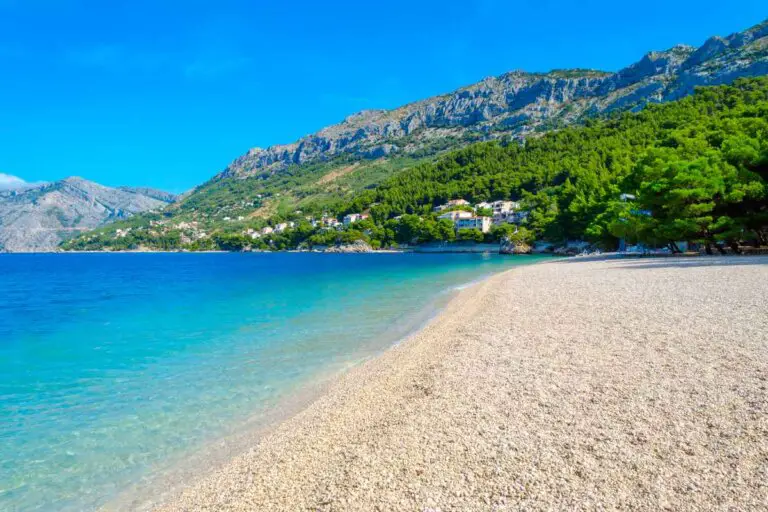 Punta Rata beach is, according to Forbes magazine, the sixth-best beach in the world. So it's no wonder that Punta Rata has also found its way into my top 9 best beaches in Croatia. The truth is that this beach is different from others. Punta Rata Is found in Brela, a small town located in Makarska Riviera, facing the island of Hvar. And like all beaches in Croatia, it is a location surrounded by nature.
The length of the beach is about 6 km. Small pebbles are pleasant for feet. Pine and juniper forests approach the shore. There are also myrtle thickets, and one can imagine how wonderful the air is here. Plus, you can always hide in the shade. The sea near the coast is shallow. However, there are areas that diving enthusiasts will appreciate.
The seawater here is very clean. Its colour is blue with an emerald tint. For vacationers, there is everything you need, from sun loungers, umbrellas to cafes, playgrounds, and water attractions. The necessary sports equipment can be rented.
During the high season, it is always crowded here. The most comfortable time to visit is the first autumn month. It is recommended to rent a car and come here to sunbathe and swim to your heart's content. Paid parking is equipped.
Read More: 20 Best Things to Do in Croatia
2. Nugal Beach
If you love secluded pebble beaches, this is the place to be. Nugal is located in a rocky bay, it is a very green area, and the sea here is clean and transparent. You will love this beach if you are a fan of sunbathing and swimming, as well as fans of diving (just like me) because you will see the rich underwater world.
The depth increases gradually, which is convenient for both children and adults. The coast of this Croatian beach is characterized by the presence of coniferous forests. Therefore, it is very easy to breathe fresh air here. The waves on the sea are usually small and are very rare.
The territory is cleaned regularly, so you will not find garbage here. In addition, I was delighted with Nugal's silence. There are no discos and nightclubs, and there is free parking. You can come with the whole family and have a good rest.
If you get tired of basking in the sun, I recommend taking a walk. The places around are picturesque, and there are trails for travel. If you wish, it is easy to arrange for a yacht ride. Most of the holidaymakers here are adults who value both their own peace and the peace of those around them. There are many who will love it.
3. Stiniva Beach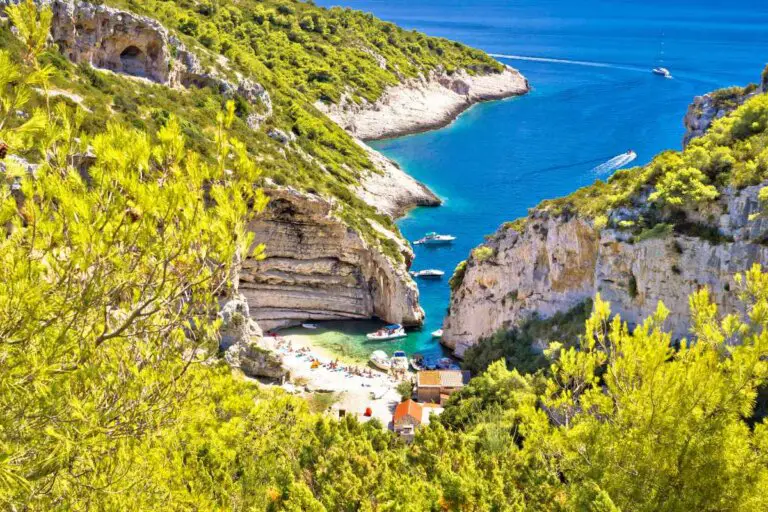 It is one of the most curious and spectacular coves that I have seen in my life. The beach is located on the Island of Vis, near Split. Unless you are going by boat, you'll need to take a good walk of about 20 minutes with a lot of slopes. Of course, the reward is worth it. And the fact that it is not a bed of roses to get here makes it one of the best beaches in Croatia.
The bay is small, surrounded by a ring of rocks. The water is always calm, warm, and clean. In addition, it is shallow. And therefore, it's great to go here if you're looking for an easy and safe swim. One has only to remember about sea urchins. You can prick your feet, so it is better to take care by wearing special shoes.
Compared to the past, Stiniva now has a lot of facilities for you to enjoy your stay. Atop its cliff backdrop is the Lucana villa that provides a panoramic view of the Stiniva landscape, which highlights the magnificent view of two cliffs that guards it. For foodie options, Stiniva has an onsite restaurant that serves Dalmatian cuisine consisting of Pekas, Char, and Capavici.
Don't expect to get a lot of sun while you're in Stiniva Beach. The rock cliffs that embrace it blocks sunlight most of the time. Nevertheless, don't be disappointed because the beauty of this beach compensates for that. Moreover, kayaking is highly enjoyable due to the magnificence of the rock cliffs on the sea.
Read More: 12 Best Things to Do in Split
4. Zlatni Rat Beach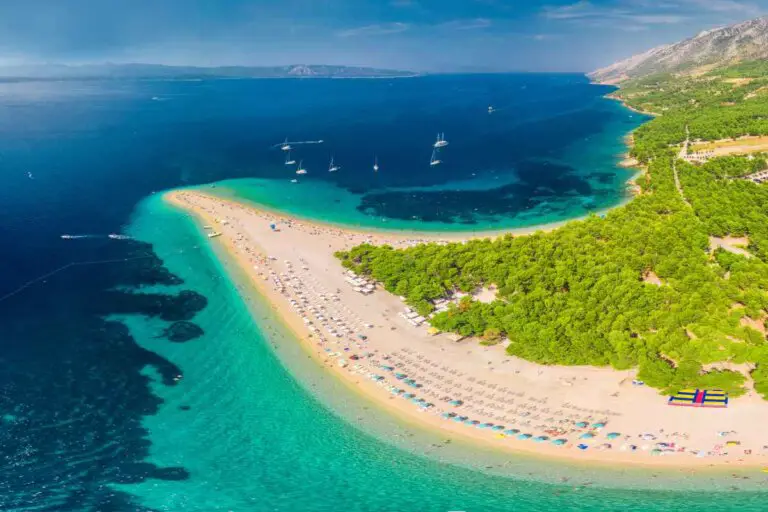 It is probably one of the best beaches in Croatia. I have also seen it a lot of times in all the newspaper and magazine rankings as one of the best beaches in Europe. It is very close to the town of Bol on the Island of Brac, just off the coast of Split.
The most curious thing about this beach is its shape as a protruding sand tongue that is molded according to the wind and the tides. Tourists call this beach as Golden Horn. This is due to its distinct horn-like shape. You can also imagine this beach like an arrowhead wherein the tip is where most tourists spend their time swimming or doing water activities.
The peculiarities of this place include the underwater currents, which pose a danger to unwary swimmers. On the other hand, surfers are very fond of surfing here. After all, the winds blow here constantly, and the waves are quite big. There are also quite a lot of yachtsmen here, and you can always ride a yacht. But there are areas where the water is calm, shallow, and the coastline is covered with white pebbles. Here, parents with children love this place.
One fun fact about Zlatni Rat beach is that it's still developing. This means that the present beach that everyone enjoys today might change its shape over the years.
5. Banje Beach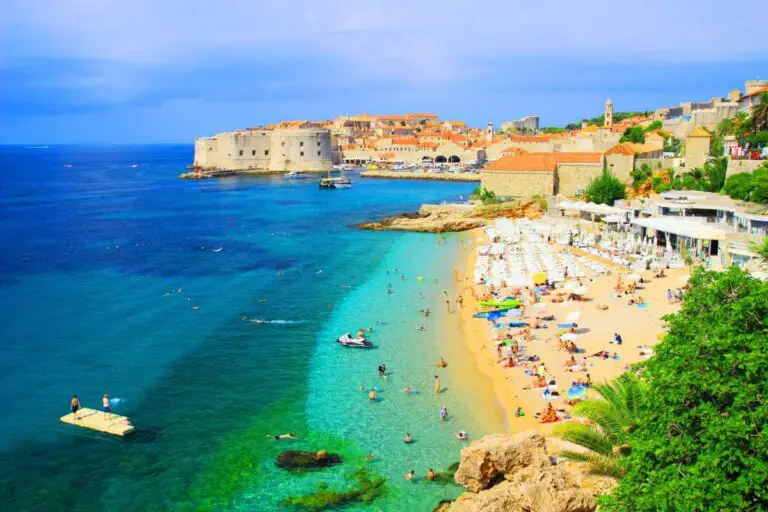 Banje Beach is the urban beach of Dubrovnik. The fact of it being next to this city makes it one of the best beaches in Croatia to go with children.
And like all urban beaches, you will not be the only one on the beach. But I recommend it because when you take a bath in it and see what a luxury it is to bathe with the Old City of Dubrovnik behind you, you will feel like you're in another world.
In addition to enjoying its beautiful beach and clean sea, it offers a wide variety of sports and leisure activities, as well as great nightlife at the beach bars. It has types of amenities such as showers, booths for changing clothes, bars, and restaurants. In addition, you can rent sunbeds, umbrellas, jet skis, pedal boats, as well as a wide variety of water activities such as boat trips, paragliding, and much more.
There are various musical activities and water sports. It is the perfect place to "rest" after an intense day visiting one of the best-preserved medieval cities in Europe.
Read More: 15 Best Things to Do in Dubrovnik
6. Sakarun Beach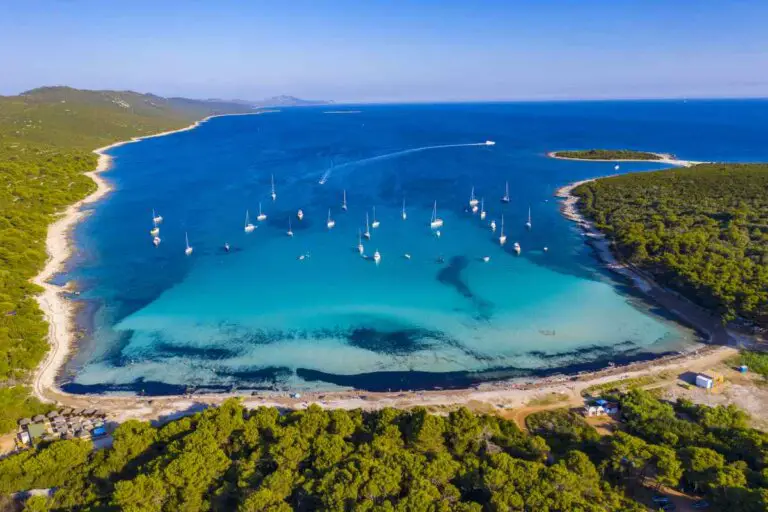 The Sakarun beach is clearly one of the best beaches in Croatia. This beach is 800m long, and the island on which it is located is off the Dalmatian coast in the Adriatic Sea. And as you probably already know, the Adriatic is simply a great holiday region. The entire bay of Sakarun Beach is enclosed by pine forests, so you can switch between sun and shade depending on your mood and temperature.
This beach is very calm and moderately shallow, thus making swimming safe and very enjoyable for kids and adults. Though fishes aren't that many, you can also opt to take a mini-snorkeling escapade since visibility is good.
Sakarun beach offers boat tours. This will let you see the top sights of Dugi Island. And the best way to enjoy the boat tours is to rent them so as to get further of Sakarun beach where snorkeling is more appropriate.
Serving as the backdrop of Sakarun beach is an expansive tundra. You can freely explore this without a guide. Be sure to bring water and protective equipment with you because there are no amenities as you trek. To be safe, never stray too far and stick on trails where you can still see Sakarun beach.
7. Beach Zrce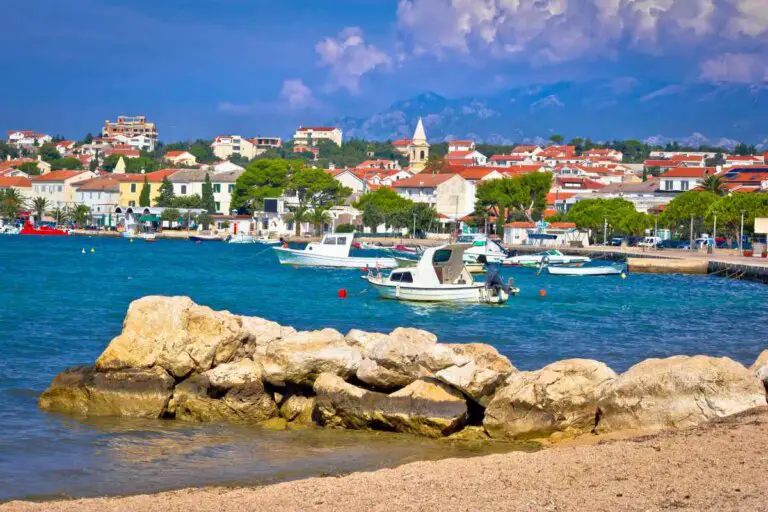 Considered among the best beaches in Croatia, Zrce beach is also known as "the Croatian Ibiza." It is located near the town of Novalja on the island of Pag, which is connected by a bridge to the mainland of northern Dalmatia. In addition, it is a pebble beach with a Blue Flag, equipped with all the services for bathers (and a few more).
Zrce beach has an abundance of entertainment and water sports, including beach volleyball, diving, or jet skiing. In recent years, Zrce Beach Clubs have taken a permanent place in the prestigious annual list of the 100 Best DJ Mag Clubs. This beach is also perfect for sunset beach parties and boat parties. With open-air discos and beach clubs, you will have a fun time here.
8. Queen's Beach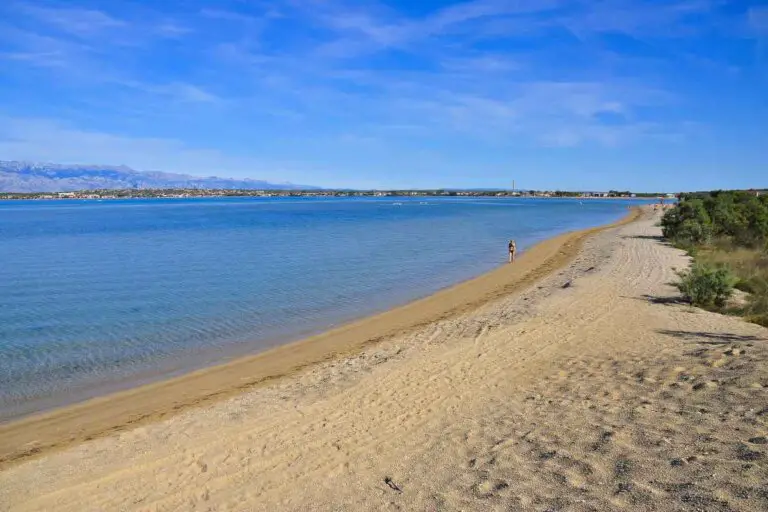 Croatia's coastline is home to a lot of award-winning beaches that a lot of tourists dream of experiencing. Nevertheless, out of all these, Queen's beach is among the most popular. This beach's brown strip of shoreline is more than a delight for the eyes. Moreover, the shallow cerulean water that's calm and vibrant makes swimming very wonderful.
Nevertheless, most would agree that Queen's beach look isn't the only notable thing that it has. There's also the medicinal mud that's within its vicinity. Queen's beach has been subject to different research, and its therapeutic effects aren't blind testimonies. According to studies, the medicinal mud of Queen's beach can cure rheumatoid diseases, skin diseases, infertility problems, and even spinal deformities.
9. Pasjaca Beach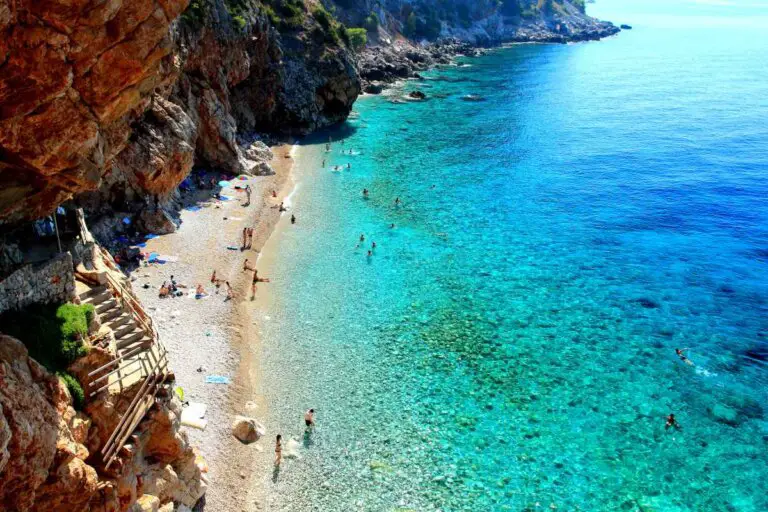 Pasjaca Beach is a definite go-to if you're planning to visit Croatia. This beach is the wonderful aftermath of man's tweaking with Mother Nature. Before World War II, this beach didn't exist. It only existed after people created a tunnel and left the debris on the sea. The resulting debris then formed a beach which is now the Pasjaca.
Going to Pasjaca beach is an adventure. This beach is 200 meters below its overhead entrance. And to reach it, you have to traverse a lengthy stepladder pathway carved on the face of the rocks at the back of the shore. Nevertheless, your effort is worth it because Pasjaca has scenic spots for social media posts.
Pasjaca beach is constantly degrading. The sea is starting to erode its pebbly fish. The shore of this beach is getting thinner and thinner as years go by. You're in a race against time. So, never delay your visit to this beach if you wish to see it in its glory days.
In summary
I have given you a few secrets about Croatia. If by chance, you have more information about which are the best beaches in Croatia that are not very crowded, I would love you to share them with me on the message button of this website. Thanks!