Texas is known for its diverse landscapes, and its waterfalls are no exception. From the rugged beauty of Big Bend National Park to the serene hills of the Hill Country, Texas boasts some of the most stunning waterfalls in the United States.
Whether you're a seasoned hiker or a casual sightseer, these breathtaking waterfalls are sure to take your breath away. In this article, we'll showcase some of the best waterfalls in Texas, and provide tips on how to best experience them.
So pack your hiking gear, grab a camera, and let's hit the trail to discover the natural beauty of Texas' waterfalls!
Best Waterfalls in Texas
1. Hamilton Pool Waterfall, Pedernales River (Travis County Park)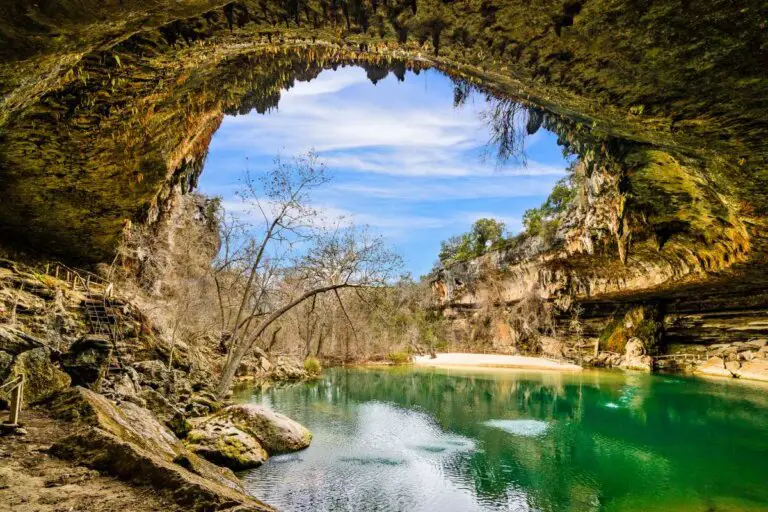 Hamilton Pool Waterfall is one of the most beautiful waterfalls in Texas, if not even America. There are a lot of places to stop and look at this large pool before the water cascades over the rocks into it. The massive waterfall that splashes down into Hamilton Pool can be seen from quite a distance away, but no picture could ever give it justice. I was astonished by this place.
Be prepared for some moderate-level hiking if you want to see Hamilton Pool up close. There's an accessible trail for much of the way (about 0.25 miles) until you come to a crowded swimming pool. There are stairs leading down to a path that leads right up to the edge of Hamilton Pool, which provides an amazing view of a waterfall cascading into a large, still blue pool surrounded by lush greenery and trees.
The water temperature was perfect for me to take a quick swim and cool down after being out in the sun all day. The best time of year to visit this waterfall is spring through fall when conditions are not too wet or too dry. Be prepared for crowds on weekends, holidays, and during school breaks. If you want to avoid crowds, I recommend going either really early or later in the evening when there are few people.
2. Gorman Falls, Colorado Bend State Park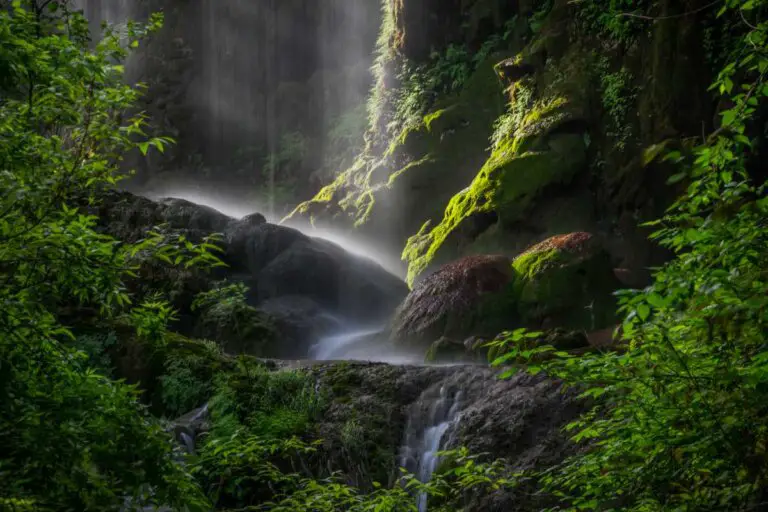 Gorman Falls is a hidden gem that not many people know about! The entrance looks like it belongs in a movie and the whole experience was incredible.
The hike down is very easy, and most people can do it without a walking stick if they want to. But I would recommend bringing one because there are some loose rocks that can be slippery, especially when you have shoes on!
The falls feature a stunning 70-foot drop into a large round pool at its base. A short hike downstream reveals three additional "mini" falls where the water breaks over smaller drops before reaching the main plunge pool.
Gorman Falls offers excellent views along its streams and on various rocky ledges lining its stretch upstream of the first waterfall. If you visit this area after it rain, avoid climbing on rocks near or under waterfalls as they are extremely slippery!
There aren't many places like Gorman Falls. It's totally secluded, and there are not many people (I went on a Wednesday afternoon during the week and saw about eight people). The waterfall is also breathtakingly beautiful, great for taking pictures along with some memorable selfies! Be sure to bring lots of water because it gets hot out by the falls!
Gorman Falls is probably one of my best waterfalls in Texas, and I definitely recommend making a trip here one day because it's truly gorgeous!
3. Windows Trail Waterfalls, Big Bend National Park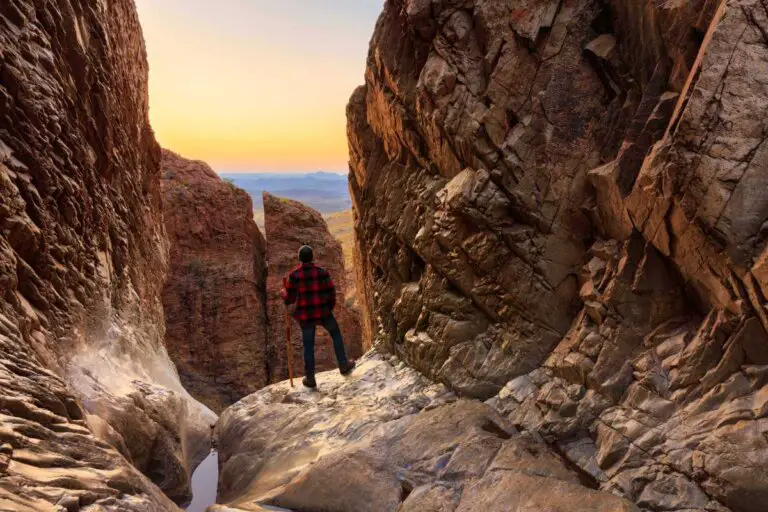 Another of the best Texas waterfall is Windows Trail! It's one of those places that exceeded my expectations with every step I took.
As soon as you start walking onto this trail, I guarantee that these falls will be the best thing you've seen! The best part about the hike down to the falls is being surrounded by cliffs on both sides. But watch out because if another person or group goes down while you're going up, it can get pretty tight. So just be patient and keep an eye on other people. Once you get closer to the bottom, it gets more difficult to maneuver around the rocks, so use caution when you go down to the water's edge.
The best time to visit Windows Trail Waterfall is during spring and fall because it'll be a little cooler, there won't be as many bugs, and fewer people will be here. On a busy day, you could also see up to 40 or 50 other people, so I highly recommend going at a different time of year if you want a more private experience!
I know this waterfall is amazing, but let me just give you one last reason why you should go: IT'S FREE TO VISIT!! So if money's an issue for your trip, then don't worry about it. Just come out here and have fun!
4. Madrid Falls, Lajitas, Texas
These falls are found in an isolated area of Big Bend Ranch State Park that is only accessible with a short hike or on horseback. Parking is limited, so it's important to get there early in the morning if you want to see these falls during peak season!
The trek leads through shady forest and eventually across the river before reaching the falls. This scenic spot does not disappoint! The limestone ledges offer several spots for hanging out near the waterline. However, you should exercise extreme caution when standing near any edge. High cliffs surround this beautiful spot, especially toward the top of the falls, where they drop off steeply into deeper pools below.
The flow of water is sporadic, and sometimes the flow can be too thin to see any real falls. When the falls are flowing well, it's easy to understand why this spot is one of the best waterfalls in Houston!
5. Westcave Waterfall, Westcave Preserve
This waterfall is the main attraction of Westcave Preserve, which is also one of the best waterfalls in Texas. This waterfall only has two tiers but is still bigger than most other falls across Texas! The best part about this waterfall is that it's literally right down the street from Austin.
Westcave Preserve offers a 1-mile nature trail with interpretive signs explaining how and why these ecosystems developed as they did over millions of years. There are also several trails beyond the preserve's borders if you want to venture out for more exploring.
This fall is known for its impressive 30-foot drop into a refreshing pool. This waterfall is best viewed after rainfall when there's lots of water flowing over its rocky slopes. There are some trails where you can hike down to see the falls up close and personal. Or if you prefer, you could also view them from a spot far away which is what I did.
I really enjoyed this waterfall because it was the most secluded out of all of them. I definitely recommend bringing snacks and drinks if you plan on visiting this waterfall because there aren't any places nearby that sell anything besides ice cream.
6. Wildcat Hollow Waterfall, Glen Rose, Texas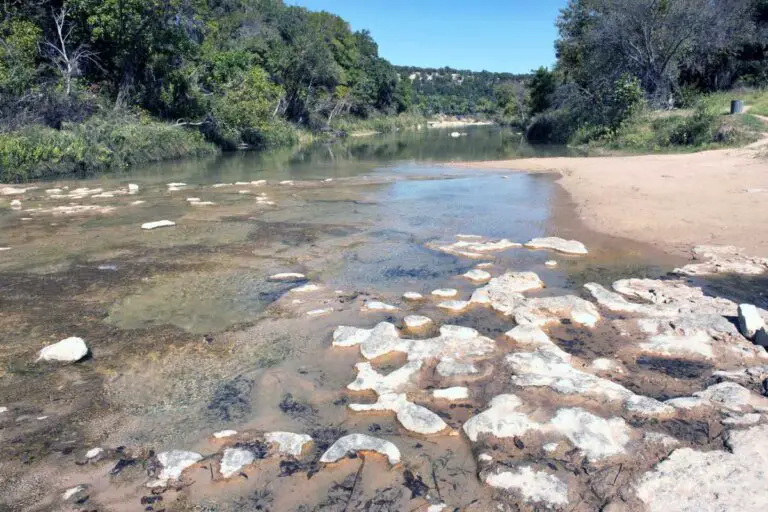 Dinosaur Valley State Park is a really great place. It has lots of trails and areas for kids and adults. The park itself offers camping and lodging as well as picnic spaces and playgrounds.
Listed as one of the best waterfalls in Texas, Wildcat Hollow Falls is best seen during rainy weather. The flow rate varies quite a bit depending on recent rainfall amounts and time of year. In addition, the fall offers great views along its stream and on various rocky ledges lining its stretch upstream of the first waterfall. If you visit this area after rain, avoid climbing on rocks near or under waterfalls as they are extremely slippery!
Overall, Dinosaur Valley State Park is great for kids or those who love spending time outside exploring nature. This park contains extensive hiking trails where you can see lots of wildlife.
7. Krause Springs, Spicewood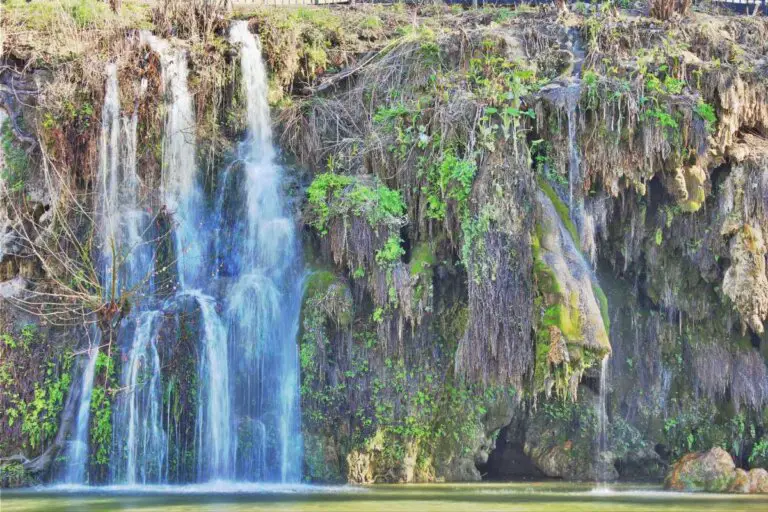 Krause Springs is a very popular spot for camping and swimming in central Texas, about a 45-minute drive from Austin. I came here on a nice summer day to swim and hang out with my best friend who lives nearby. The grounds are spread out over several acres of grassy hills.
Taking a dip at Krause Springs is a treat, with its clear water and towering cypress trees providing a scenic backdrop. The pool's cool waters are always refreshing. Bring along enough sunscreen for your visit here too. It doesn't take long for this area to get hot.
Campsites are available, with amenities like fire pits and picnic tables. There's also a poolside snack bar serving up an array of food and drink year-round. A small convenience store next door provides necessities you might have left at home, like sunscreen or bug spray.
This place isn't quite as secluded as Gorman Falls, but I think Krause Springs still deserves a spot on my list of best waterfalls in Texas! It is best for families and larger groups who are looking to have a nice, fun time at day or night!
8. Boykin Creek Waterfall, Angelina National Forest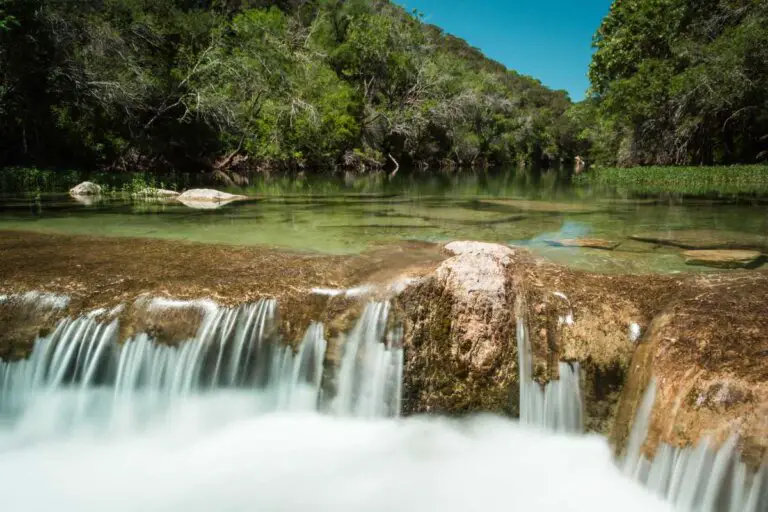 If you are looking for the best waterfalls in Houston, look no further than Boykin Creek Waterfall. This waterfall is in a stunning location with lots of beautiful scenery. I came here on the second to last day of summer, and it was amazing! This place doesn't get nearly as crowded as Hamilton Pool, so it's best for people who want peace and quiet.
The fall has many spots to explore and discover within its setting. So there are plenty of things to look at while you soak up your surroundings. You could even have a picnic here if desired!
The trail to this fall is easy. Just follow all of the signs until you reach water (there are three signs total, each one pointing in a different direction). Some parts of the trail are steep and rocky, but it's totally manageable for anybody who is able to walk on their own. Although I would recommend wearing shoes.
9. Mexicano Falls, Big Bend Ranch State Park
Mexicano Falls is a picturesque scene perfect for those who enjoy taking pictures. Not only is it beautiful and serene, but you also get to cool down and relax at the bottom of the falls. It is best known for its 80 feet's high rushing water that cascades over large, interesting rocks into a deep pond below.
I really liked standing so close to falling water because it was very soothing, probably my favorite part about being up there! There's also an opportunity for cliff jumping there, which means you get the best of both worlds: beautiful scenery and satisfying fun with adrenaline rushing through your veins!
This is one of the best waterfalls in Houston that I think everyone should visit! There are great opportunities for photos, relaxation, and even swimming after climbing down the rocks at the bottom of the falls. It's definitely an experience which is why I highly recommend going there during your next trip.
10. Dolan Falls, Devils River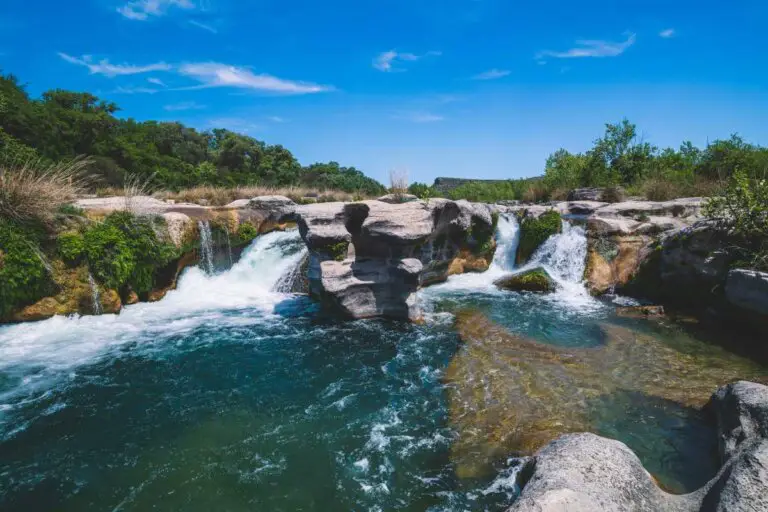 Located between Hill Country and the Chihuahuan Desert, Dolan Falls is a hidden gem in southwestern Texas. This spot offers something for everyone from deep, calm pools to shallow water along cliffs and rocks.
Dolan Falls requires only an easy 20-minute hike from its trailhead to reach, making it accessible for people of all ages and fitness levels. There are a few switchbacks on the trail before it opens up to a clearing where you can see Dolan falls.
The falls are short, less than 10 feet high. But the beautiful blue color of the water flowing over limestone makes it worth visiting. The best part about visiting Dolan Falls was definitely swimming! I spent probably two hours here just lounging around in the giant pool that formed under the falls.
Take note that this is a popular place for college students looking to party, and rangers do monitor the area for underage drinking and littering.
11. Capote Falls, Marfa on Private Property
Capote Falls is a tall waterfall found on private property in Marfa. The best way to view Capote Falls is from a wooden observation deck that has been built near the top of the falls.
The hike itself isn't very strenuous and only takes about 30 minutes round trip, but you will need to pack in your water and wear long pants and sturdy shoes if you want to go exploring in the river below the falls (which is not recommended). There are plenty of places to walk around and check out with great views.
The trail leading to Capote Falls is filled with unique natural beauty that any nature lover can appreciate. There are lots of different types of trees and plants in the area, plus I saw some lizards near the falls themselves!
When you reach Capote Falls, it's so beautiful because the water rushes down in a sheet over rocks into this big pool below. You can hang out here for a while or sit on top of some rocks, so you have a nice view from above.
12. Wichita Falls, Lucy Park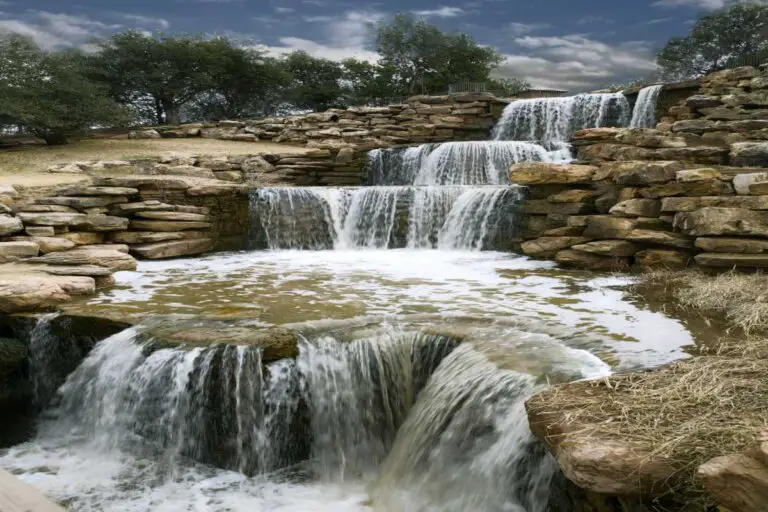 This waterfall is one of the best places to go for anyone who loves ornately designed, manmade waterfalls. This park has a series of impressive falls and pools along its creek, which is home to some interesting native wildlife.
This fall is made of several smaller cascades with walking paths along with each one and a few benches along the way for visitors to sit on. The walking trails are gorgeous, with native plants all over the place. You can enjoy a peaceful afternoon stroll through this beautiful park while taking in the stunning scenery.
This is definitely one of my favorite waterfalls because it's incredibly beautiful, and there aren't many people around. This makes it a perfect place for relaxing and taking pictures in peace. In addition, it makes an excellent tourist destination for urban exploring.