Seychelles is a tropical paradise like no other for beachgoers. Just like any other state in the Indian Ocean, Seychelles boasts azure beaches that seem to defeat the vibrant blue color of the sky during sunny days.

But setting Seychellian beaches apart from others is their polychromatic landscape. The shoreline of the beaches comes in light brown and dark brown hues, black granite rocks ornate adorn the shore, and the verdant leaf of coconuts, palm, and other trees cast dark shadows as the sun shines hot.
Seychelles is an archipelagic state that 115 islands comprise. For this reason, there are a lot of excellent beaches regardless of where you are. All beaches in Seychelles are the best without criteria or standards for qualifying bad from good ones. Thus, if we talk about the best Seychellian beaches in terms of beauty, these are what counts as the best:
• Spiagge di Anse Maron
• Anse Lazio
• Beau Vallon
• Baie Lazare Public Beach
• Petite Anse
• Anse Georgette
• Anse Coco
• Anse Source De' Argent
• Anse Intendance
• Anse Severe
• Anse La Passe
• Machabee
• Takamaka Beach
• Curieuse Beach
You don't have to worry about where to stay because there are villas near to these beaches. However, don't expect to have rave parties or beach clubs because Seychellian beaches operate with the balance of nature and urbanization in mind.

So what does each beach, which I mentioned, have? The proceeding sections show you what
A Quick Look on the Top 14 Seychellian Beaches
In Seychelles' La Digue Island, no other beach can be more natural and photogenic than the remote Spiagge de Anser Marron. Its signature feature is the numerous granite rock formation on the shoreline. On the far side of the beach, on the western side, there's a highly concentrated collection of these that form natural saltwater pools, where you may take a dip.

Come to Spiagge De Anse Marron during high tide to make the most of the saltwater pools. High tide is when these become very suitable for swimming. The most suitable time for spending your time at them is during the afternoon because waves are calm, making the pools safe for swimming.

Le Repaire Boutique Hotel is the nearest accommodation to Spiagge de Anse Marron. Situated 2.2 miles away, this hotel simple rooms that accommodate 3 to 4 guests. Stay in Le Repair because it's near to basic tourist commodities such as bike rental shops, restaurants, and banks.
Anse Lazio is one of the most naturally picturesque spots on Seychelles' Praslin Island. The place has all that you need to relax your eyes – an alluring crystal clear water that converses with its waves, orange granite rocks on the shore, and heavy foliage on the back of the shore. To top it all, pompanos and eels swim happily on the shallow parts, providing a quick snorkeling escapade.

It's important to have your snorkeling equipment beforehand before going to Anse Lazio. No matter how much you look, no diving rental shops are nearby. Your best bet to buying makeshift snorkeling equipment is the GRP Grocery Store that faces Anse Boudin. Its distance from Anse Lazio is 30 minutes on foot and 15 minutes with a bicycle.

As for where to stay, the nearest hotel is Avani Barbarons. This is a resort hotel 2.6 miles away from Anse Lazio. It takes pride in its private swimming pool and hospitable staff. Don't worry about language barriers because personnel speaks English. Since this hotel faces the waters of Grand Anse, prioritize getting the beachside rooms.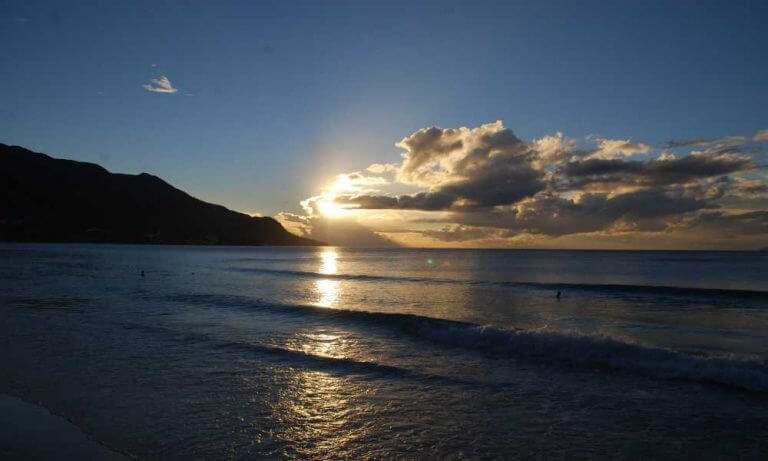 On Mahe, at the northwestern coast of the island, lies Beau Vallon. Though not as natural as the previous beaches since hotels and villas are around, Beau Vallon still beguiles a lot of tourists due to its wonderful sunset view. Set your eyes on the protruding part of the nearby mountain on the west end of the beach to witness this. Moreover, Beau Vallon is home to a hefty number of coral reefs where angelfish, mullets, boxfish, etc., swim around.

After a day in Beau Vallon, don't go back to your hotel yet. There's the Bazar Labrin Market waiting for you on the northeast. Renting a bike or riding the public bus is the best way to go there. Bazar Labrin Market is where you'll get to taste Mahe street food such as fresh green coconut, octopus salad, fish salad, bourzwa, and bonito.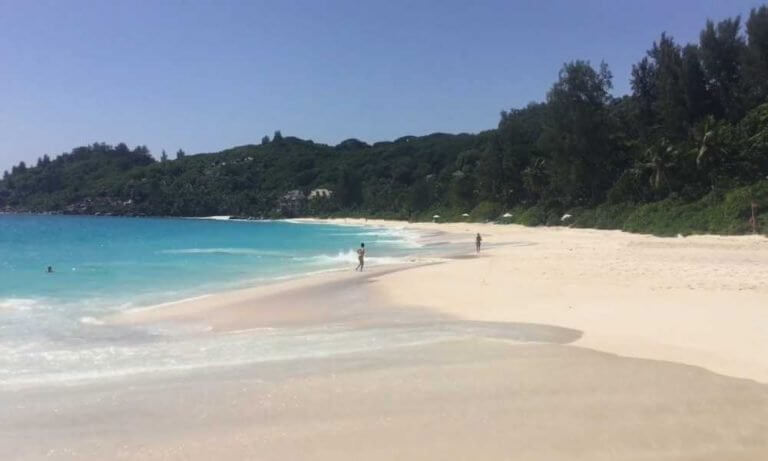 Baie Lazare Public Beach is one of my personal favorites on the island of Mahe. Though a public beach, you'll rarely see buildings close to it. This preserves the beauty of Baie Lazare's shoreline, which stretches for a few kilometers. Soft white sand comprises the shore, and near and on it are trees and granite boulders, which serve as great backgrounds for photos.

If you're visiting Mahe to experience Baie Lazare at its best, it's best to schedule your trip during the off-season. Since it's free, a lot of tourists and a lot of locals hang around when tourism is at its peak. Also, don't forget to bring your own parasol because natural shade from the trees is only excellent in the afternoons.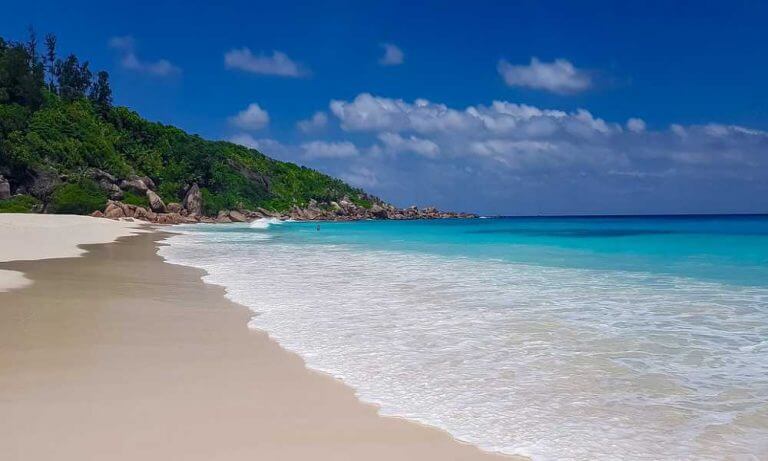 The Petite Anse beach is actually a part of the bigger Baie Lazare beach. You'll access this by passing the walkway found at the Four Seasons Resort. Petite Anse is a formidable beach on its own. It has fine white sand, softshells, a palm-lined shoreline, and numerous amenities such as swings and traditional cottages. To make things better, all of these are available without a price.
Here's an insider's tip; Petite Anse isn't far from the north of Anse Lazio Beach. With that being said, you should come here if there's a lot of tourists or if Anse Lazio is too deep for your liking. You don't have to prepare a lot of food because the Four Seasons resort is nearby. Four Seasons has its own restaurant you can get food from it. Don't miss the seafood dishes because they're very fresh.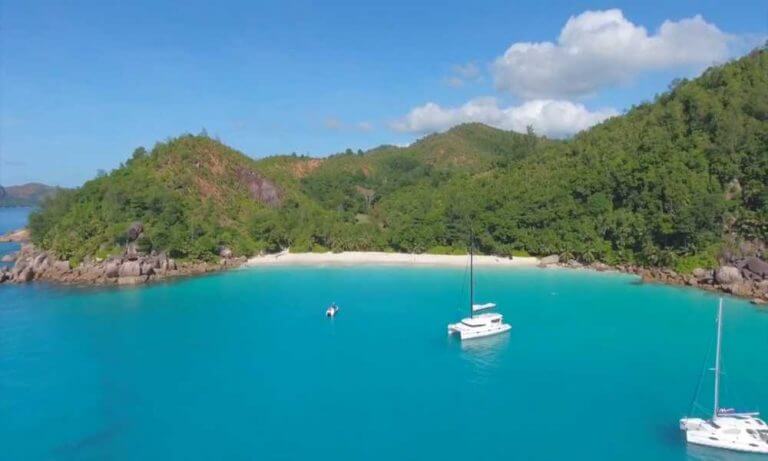 We're back at Praslin Island, but this time on Anse Georgette. which is a few minutes away from Anse Lazio. Anse Georgette doesn't stretch for long. Even so, it's one of the most visited beaches in Praslin. Why? It's because Anse Georgette has very clean and calm waters. The nearest hotel is a walk away, so there's no chance for the fracas of tourists to invade your moment.

The Hotel Anse Georgette is the nearest accommodation and the nearest source of basic commodities to this beach. You don't need to have a parasol with you because the trees provide excellent shade. However, having a hammock or a mattress is a must because dead leaves and pieces of dead branches litter the sands beneath the trees' foliage.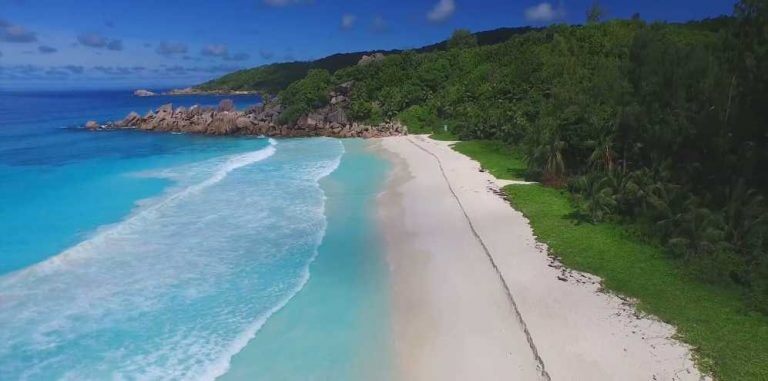 Seychelles' La Digue Island doesn't let other islands beat it if naturally picturesque beaches are the talk subject. One of its contenders is the Anse Coco Beach. Out of all beaches in Seychelles, Anse Coco might have the largest coconut trees concentration on its shore. Making this sound even better is the fact that you can take the coconut fruits and eat them. Another highlight is the small saltwater pool on the far left of Anse Coco.

I want to advise that you don't pick the brown coconut fruits that lie on the shore. Most of these are already inedible, as they're already dried or rotten on the inside. Coconut fruits that are still on the top are what you need to have. These provide you a fresh and sweet supply of drinks though quite hard to get.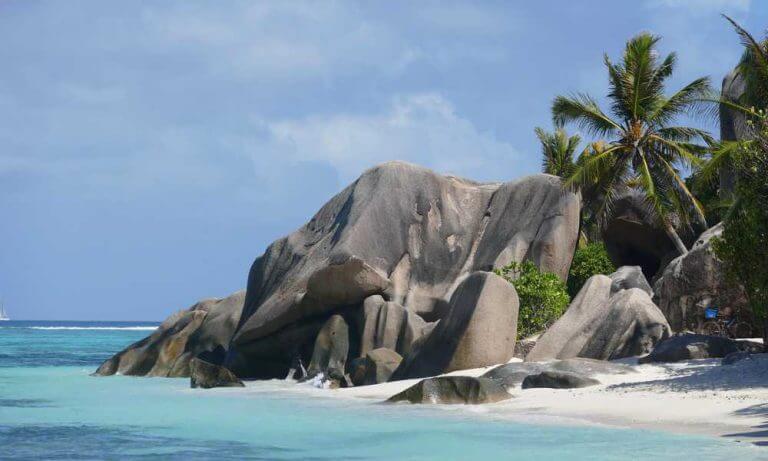 But perhaps La Digue beats other Seychellian islands in terms of naturally beautiful islands if we put Anse Source D'Argent into the mix. Anse Source D'Argent is the world's most photographed island, and this isn't an overstatement. Backing this title is its snowy and soft fine white sand, verdant backshore, granite-filled shoreline, cerulean seawater that teems with marine life, corals, and giant tortoises.

Prepare money because Source D'Argent has a gateway that asks for an entrance fee. Nevertheless, you can bypass this by entering through the other end of the beach. This might take long but is certainly worth the effort since you won't have to spend money anymore.

Prepare an underwater camera because the visibility of Anse Source D'Argent isn't bad. Snorkeling can be rough sometimes, but you'll get over this if you mind the tide. As for basic amenities, consider bringing a tent because cottages are very limited.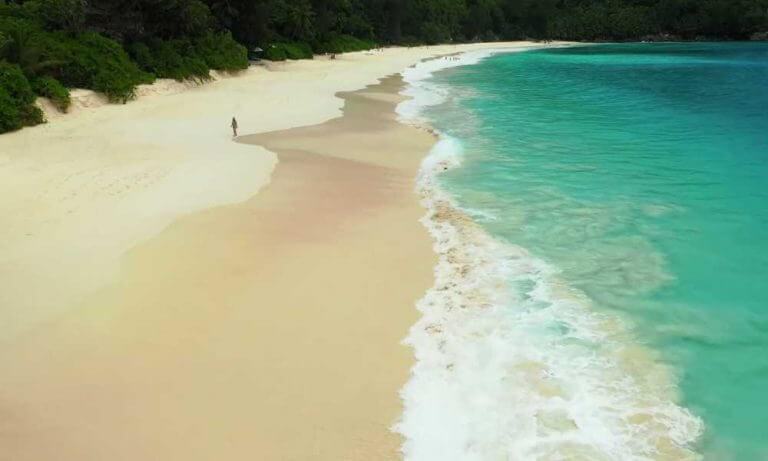 Another great beach in Mahe close to Petite Anse is Anse Intendance. One of its striking features is the soft white sand that seems to form folds when viewed from afar. Nevertheless, the waves are the reason why you should come. Anse Intendance's waves stay strong regardless of the tide, so it's ideal for honing your surfing skills.
Anse Severe is a beach in La Digue that many claim to content with Anse Source D'Argent. This is due to a lot of reasons. When Anse Source D'Argen turns noisy during peak season, Anse Severe stays peaceful, whether off-peak or peak season.

For accessing Anse Source De Argent, one has to pay an entrance fee, but this isn't the case with Anse Severe that's equally beautiful. Finally, Anse Severe also has its share of giant tortoises and large boulders, which is a defining trait of the premium Anse Source D'Argent.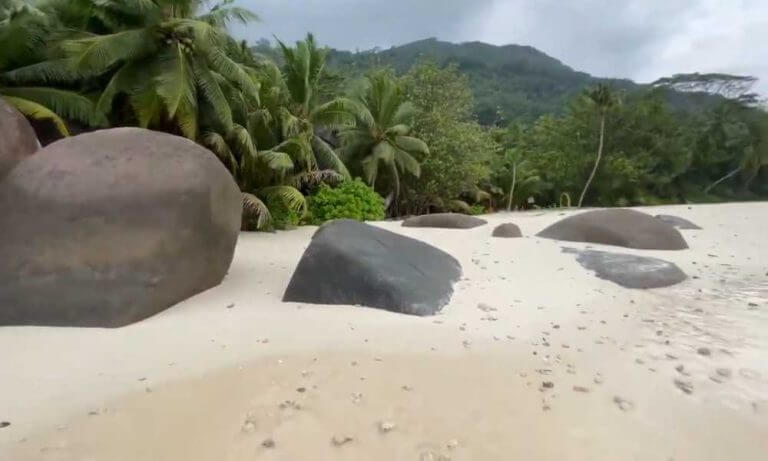 Anse La Passe is the longest beach in Seychelles' Silhouette Island. Only a small resort and a small guesthouse operate nearby, so much of the area is undeveloped. Anse La Passe awes guests with its long stretch of white sand that's dazzling at noon. It doesn't get too deep or very wavy, and for this reason, Anse La Passe is an ideal swimming location for tourists coming with the elderly and the kids.

The low tide is the best time for swimming in Anse La Passe. During the low tide, numerous sand pools form on the seabed. Oftentimes, these sand pools may trap small fishes, and you can take time watching them. If you're with kids, be careful of the coming of the high tide because you might suddenly get caught by the sudden rising of the water.
On the northern tip of Mahe island is the humble Machabee Beach. Lots of tourists miss this because it's far from the more famous beaches and beach resorts of Mahe. Nevertheless, consider trying it out if you're aiming to experience the freebies of Mahe Island. Machabee sits next to the highway. So just stop, park your car, and take a quick deep while the rocks ensure your privacy from the passerby.

Prepare a pair of comfortable rubber swimming shoes for spending time in Machabee Beach. The seabed is very rocky, which might be why it's not too popular for the locals and tourists. Even with this, Machabee Beach allows for delightful swimming. Its water is very warm, and a lot of small fishes swim near the rocks.
Takamaka Beach, just like Machabee Beach, is a beach in Mahe that's accessible on the side of the highway. However, its shoreline is longer, and its waves are rougher. If the major surfing locations of Seychelles are full of tourists, Takamaka is a free alternative.

Though near the highway, not many restaurants operate within the premises of Takamaka. The only option for digging your teeth into real food is the Takamaka Beach Restaurant that's on the western end of the beach. Takamaka Beach Restaurant has a very simple setting. Nevertheless, don't let this take you back because the food is great and it's priced cheap.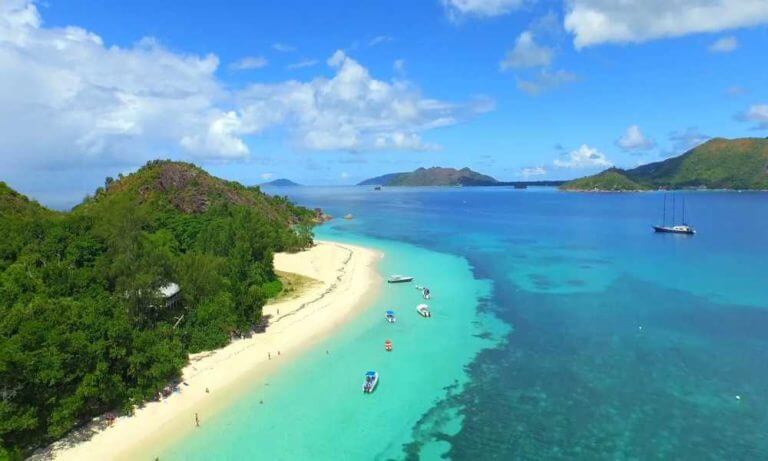 The beach of Seychelles Curieuse Island might be what you need to get away from the crowd. Only a few tourists visit here. And because of this, you can enjoy the entire beach for yourself. The highlight is the wild animals that live in the woods not far from the shore. Another great location is the faraway large granite rock wall having a wrinkle patterned surface.

Feeding wild animals, especially giant tortoises, is fine. Don't forget to bring fruits like bananas, mangoes, and avocadoes, as these are what the tortoises love. As for personal belongings, just bring a hat or umbrella. Cuereuse Beach already has tables and makeshift cottages for you to use.

For the best time to visit, any month will do except November to March and May to September. During these months, going to Curieuse Beach is a bit perilous because the waves are larger and stronger. Nevertheless, trips are always available so long as the torrents don't rage.