Upon hearing the word Egypt, what immediately comes to mind for most are vast deserts, pyramids, temples, and tombs. If you aren't familiar with the place, you'll be heading home right after seeing all of the historic spots near major Egyptian cities. But don't pack yet. Egypt has another ace up its sleeves – beaches.

You heard that right. Egypt has beaches too! These are on the coastal regions near the Midettarranean sea and the Red sea. So are they beautiful? Their beauty is as timeless as Egypt itself.
Characterizing Egyptian beaches from the rest of the beaches in other parts of the globe is their effervescent shore that meets a calm azure sea. Moreover, these beaches are in Egypt's semi-dry climate. Egyptian beaches don't experience a lot of rain and serve as a year-round destination for holiday vacations.

So where do you go? These are the top places that you shouldn't hesitate to include in your Egypt beach travel:
• Naama Bay
• Dahab Lagoon
• Abu Dabab
• Nuweiba-Taba Coastline
• Sahl Hasheesh
• Mamoura Beach
• Mahmya Island Beach
• Ageeba Beach
• El Gouna
• Nuweiba
• Ras Abu Galoum
• Soma Bay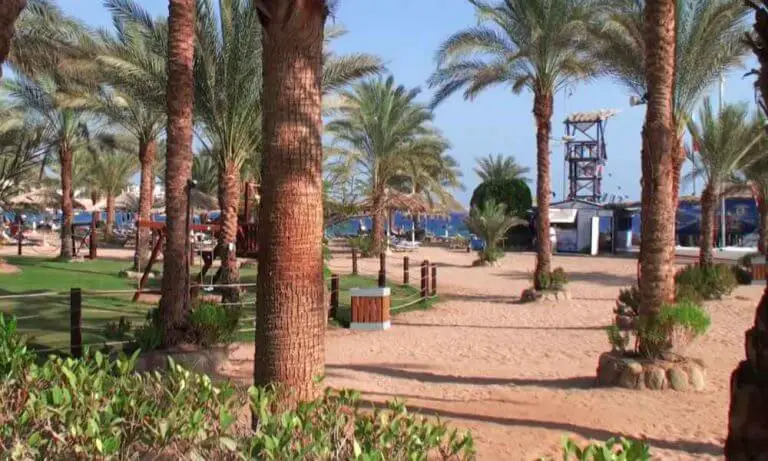 Naama Bay is one of the major spots in Egypt's Sharm El Sheikh city that sits on the Sinai Peninsula's southernmost location. This is a great spot if you're looking for a beach that immediate access to numerous amenities such as resort hotels, restaurants, cafes, bars, and souvenir shops.

Naama Bay's cerulean water is home to blue spotted rays, moray eels, lionfish, and napoleons. Sometimes, giant green turtles hang around. Naama Bay enjoys Sharm El Sheikh's reputation as a snorkeling and scuba diving location. With that being said, get your gears ready.

You don't have to prepare a parasol because numerous wooden cottages are on the shoreline. The same also goes for the food. Nearby restaurants where you can get a snack to bring to the beach are Kokai Restaurant, Zigolini's Italian Restaurant, and Domineer.

At nighttime, Naama Bay transforms into a bustling location for nightlife. Souvenir shops don't close early and become more inviting. What you can buy are t-shirts, toys, figurines, etc. After shopping, spend some time on the bars or clubs such as Camel Bar and Roof, Pacha Sharm El Sheikh, and Hard Rock Cafe.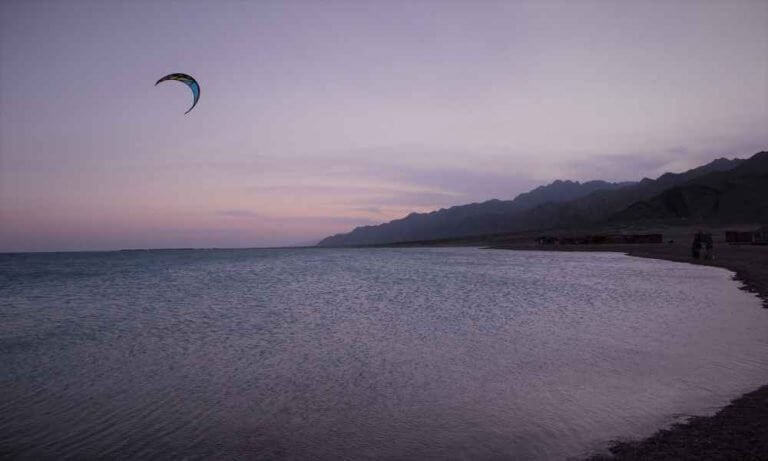 Many might advise you not to go to Dahab. Most know this coastal town as a place of rocky beaches. However, this isn't the case, really. Go to the south of this town, and you'll see a treasure only available to those willing to give Dahab a chance – The Lagoon.

Hotels, restaurants, bars, and cafes don't stand near to Dahab Lagoon. What you'll only find on the coastline are numerous wooden makeshift cottages. The absence of urban development makes Dahab Lagoon peaceful all day long – no noise from clubs, no vendors asking you to go to their souvenir shops, and no towering hotels that disrupt your view.

Dahab Lagoon is windy. Its winds can reach 8 knots up to 15 knots depending on the month and the weather. Moreover, the water of Dahab Lagoon is very calm. As a result, it's a popular all-year-round kite surfing location that has no fatal safety hazards.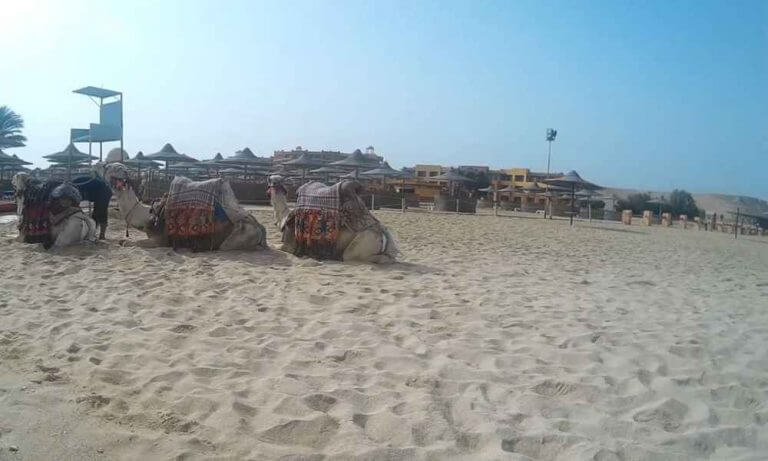 Abu Dabab Beach is a U-shaped beach north of the resort town of Marsa Alam – a town that's part of Egypt's Red Sea governorate. Tourists highly prize this beach due to its soft and large sunbeds. Also, coral reefs grow abundantly on Abu Dabab, attracting rare marine life forms such as dugongs and green turtles.

Go to Abu Dabab diving center to experience the best time in Abu Dabab. This diving center consists of a shop and a coastal area. The shop is where you can take driving classes and rent snorkeling gears or diving gears. On the other hand, the coastal area has a lot of cottages. This is where you can spend time lying around while watching the deep blue color of the sea.

You have two options for staying in Abu Dabab. If you want luxurious accommodation, book the Maliki, a resort with a large frontside pool, which faces several contemporary style buildings. If you want to stay somewhere more budget-friendly, go to the Abu Dabab Lodge, overlooking the Abu Dabab beach.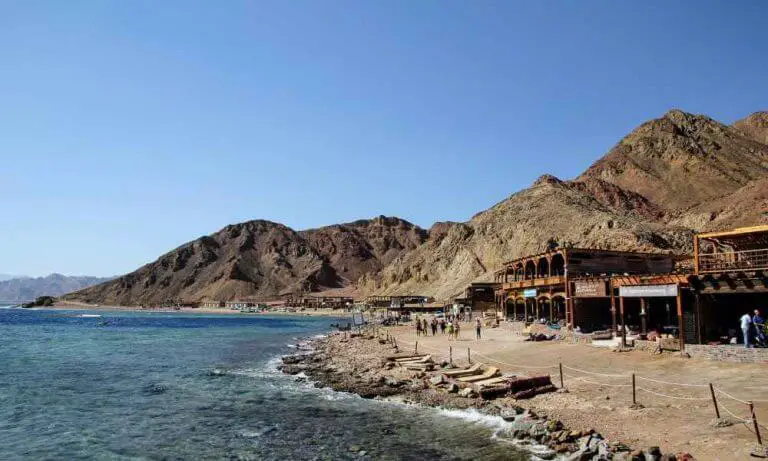 Nuweiba and Taba, just like Sharm El Sheikh, are places where lots of tourists go to spend time snorkeling, scuba diving, and wind-surfing.

However, during peak season, tourists put Taba and Nuweiba in alarms and excursions – numerous windsurfers make scuba diving hard, fishes swim away due to the hefty number of people swimming, and noise from the seaside restaurants and hotels become unbearable.

Try the beaches along the coastline that connects Nuweiba and Taba. Though not that big, these beaches provide a relaxing stay with their cool palm huts and date huts. Restaurants are around but not that many. Moreover, the only accommodation is simple local inns. That being said, the bustle from tourism isn't too much and won't spoil your time.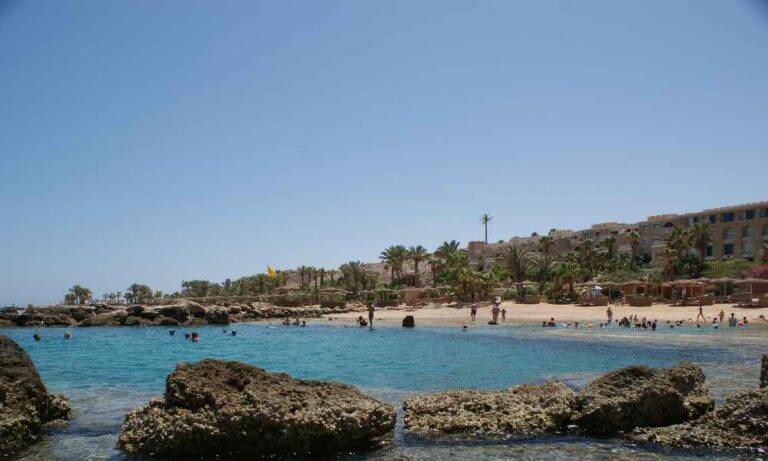 Sahl Hasheesh Bay is a lively bay that's 18 kilometers south of Hurghada. Though some of its parts aren't available for swimming and sunbathing, many choose to go here due to the hefty number of nearby restaurants, hotels, and bars.

On the back of the Sahl Hasheesh beach is a highway where numerous palm trees line up for a scenic view. Moreover, standing on the highway's edges are numerous classic Egyptian buildings comprising of souvenir shops, cafes, and restaurants. Nothing beats biking along the highway to explore what it has if you're not swimming in Sahl Hasheesh.

Beach resorts in Sahl Hasheesh offer reasonable packages to tourists. Examples of what they offer are day tours to popular Egyptian cities like Luxor, horseback riding trips in Hurghada, Hurghada day tour, and Egypt Honeymoon packages.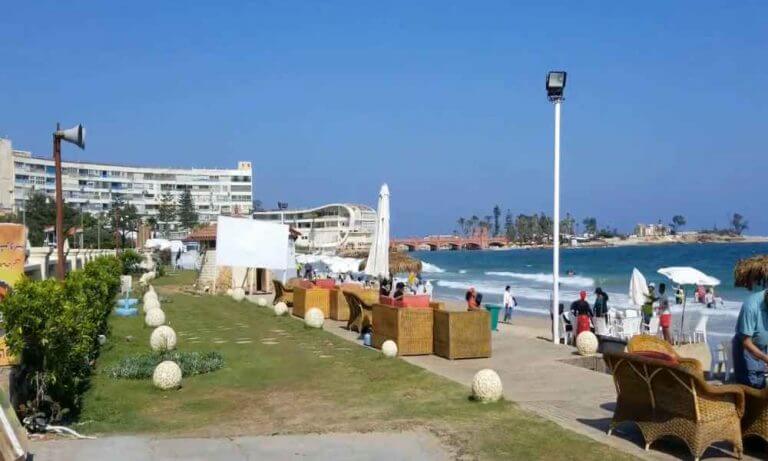 Alexandria is a city that the Greeks built on the northern coast of Egypt under Alexander the Great's command. Some of the most famous spots in this city are the lighthouse of Pharos and the Temple of Serapis. Nonetheless, if looking at the historical sites is tiring you, just go the northeast of Alexandria and find Mamoura Beach.

The Mamoura Beach is a wavy beach in front of Alexandria's Malak Hefni street. In July and August, locals crowd this beach to cool off and spend time with friends or family. However, in other months, Mamoura is a haven where you can practice surfing, scuba diving, and kayaking.

Making Mamoura beach more ideal is its proximity to other tourist attractions in Alexandria. On the south of Mamoura Beach is a theme park and the Kota park, which you can access via bike. Moreover, on the western tip of Mamour'as shoreline is the Tea Island restaurant. Go to this cafe, order tea and cake, and relax while watching the fun happenings in Mamoura and the nearby Montazah beach.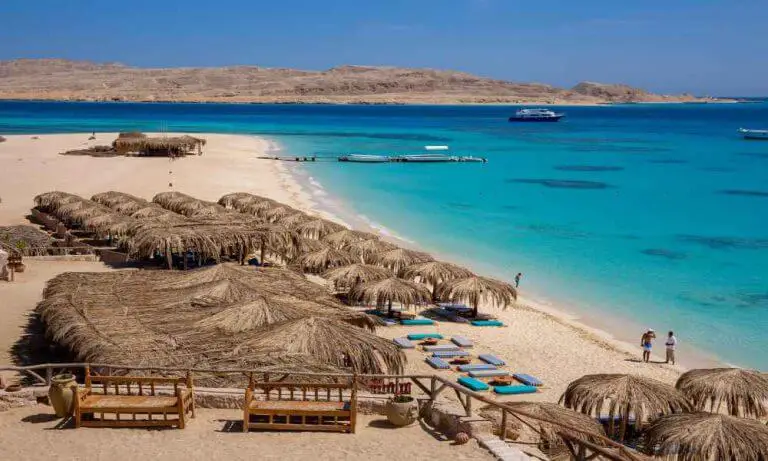 Just east of Hurghada International Airport and 16.8 kilometers southeast of Hurghada City is Mahmya Island Beach. Though near to the airport and famous to tourists, Mahmya beach doesn't have a lot of hotels and restaurants operating within its premises. As a result, its shore stays free from obstructions, and its water remains virgin blue.

Scuba diving is what most do in Mahmya. Underneath its vibrant water is colorful coral reefs that serve as habitat to moray eels, sea horses, crocodile fish, scorpionfish, and red sea clownfish. Sometimes, locals who visit the island also set up beach volleyball matches. But all in all, viewing the sunset during the afternoon is the best activity that you'll experience in Mahmya.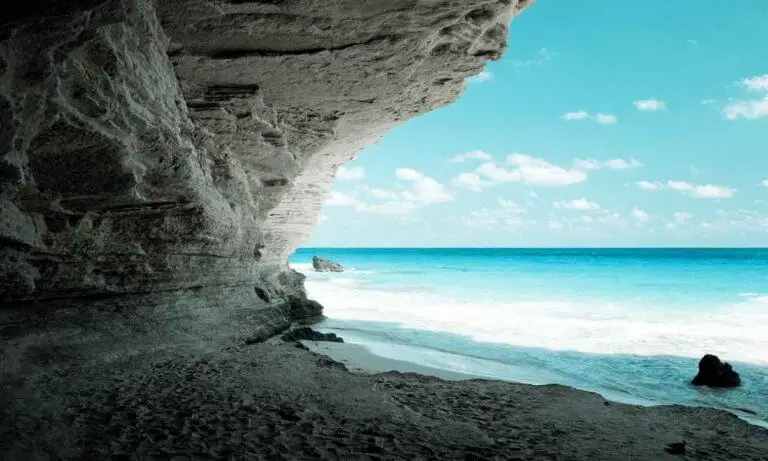 Thirty-five minutes east of Marsa Matruh's town center is Ageeba Beach. What sets this beach apart from other Egyptian beaches is the two cliffs that shelter its shore and aquamarine water.

Though the shoreline of Ageeba beach isn't that long, it's very soft nonetheless. With its soft white sand. Ageeba ascertains that you'll have a wonderful time sunbathing. The aquamarine water isn't deep and more than qualifies as perfect if you're not a strong swimmer.

As for the cliffs on both ends of Ageeba's shoreline, you spend time walking to explore this. The cliffs provide a panoramic sight of the whole Ageeba beach area. They even hide some high-rise diving spots where you can jump from if you're brave enough.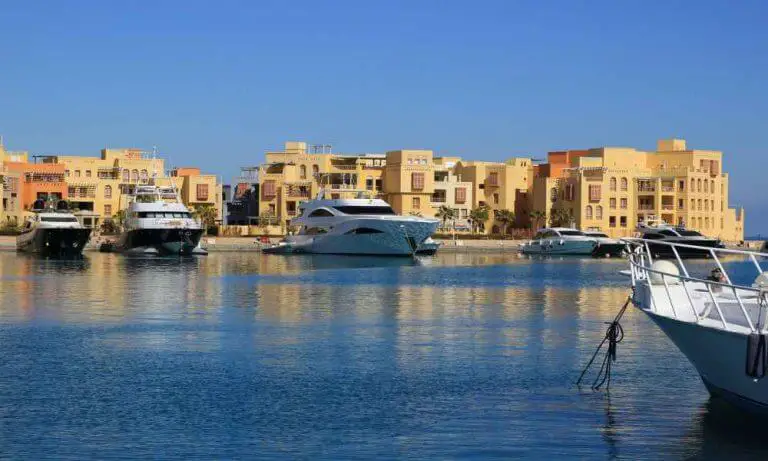 El Gouna is a resort town in Egypt that boasts one attractive beach that several luxurious restaurants back up. It has the notorious reputation of being one of the beach locations in Egypt that only the wealthy can afford. For accommodation, El Gouna has nothing but only 5-star or 4-star hotels and resorts.

The hotels and resorts in El Gouna offer luxurious cruises to you. What you'll be riding are first-class yachts that let you see the beauty of El Gouna from the ocean while drinking wine and eating luscious Egyptian lahma bil basal. That being said, don't forget to include El Gouna in your destination list for a honeymoon trip.

Aside from cruises, El Gouna is a popular location for jet skiing, paragliding, kitesurfing, and scuba diving. This is because the wind quality of this resort town is strong and consistent. Also, numerous fishes and coral reefs dwell healthily on its beach.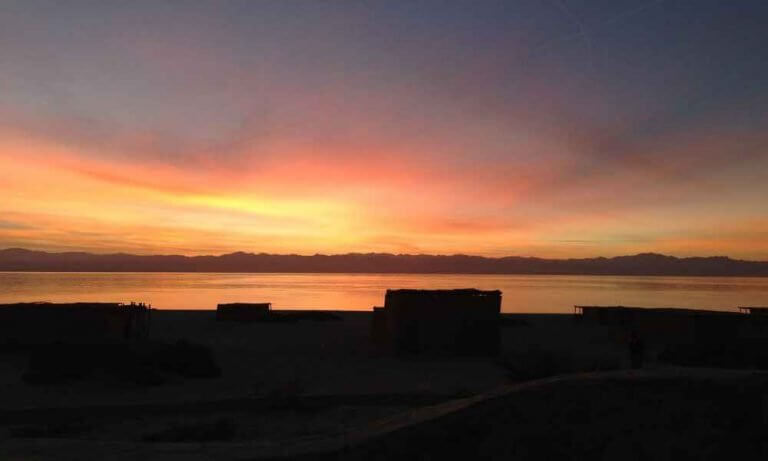 Nuweiba is another famous resort town in Egypt. It links to the resort town of Taba via the Nuweiba-Taba coastline, which is filled with thin strips of pristine beaches. Nuweiba is famous because aside from an attractive beach, it has a healthy eco-system and wildlife.

Besides spending time on Nuweiba beach's brown sands, other activities you can do in Nuweiba are visiting the Bedouin Village, trekking the Coloured Canyon, and scuba diving in the South cover, which is only a short drive away.

Nuweiba is only starting to get lively. Therefore, don't expect to find luxurious hotels here. For accommodation, you'll be likely to spend time on the lodge and inns that the locals own. However, if you want to stay somewhere more exciting, go to the Bedouin village and rent a Bedouin hut.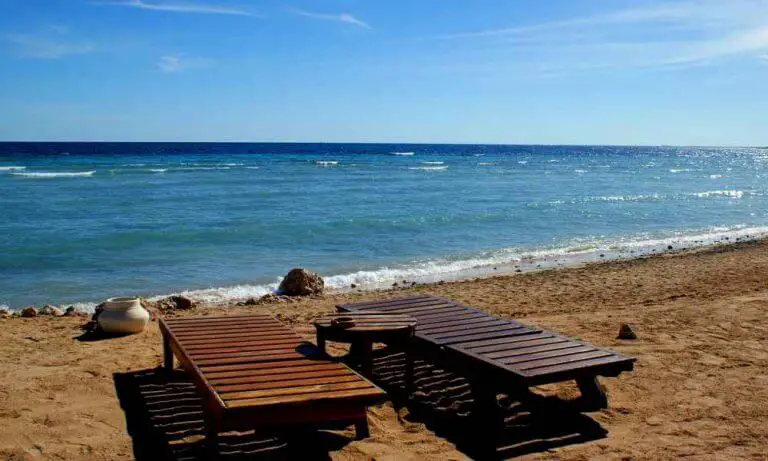 Ras Abu Galoum is a rocky beach that's 15 kilometers away north of the town of Dahab. Since it's rocky, sunbathing isn't an option for spending time on this beach. However, the water of Ras Abu Galoum is the real treasure. It offers 6 different dive sites where octopus, scorpionfish, mantas' and turtles dwell.

The nearby traditional Bedouin settlement is worth visiting. In there, you can spend time with the inhabitants and try their food. If you're not picky, they're also ready to provide simple accommodation at a cheap price. Then as nighttime comes, go out because the view of Ras Abu Galoum's dark starry sky is spectacular.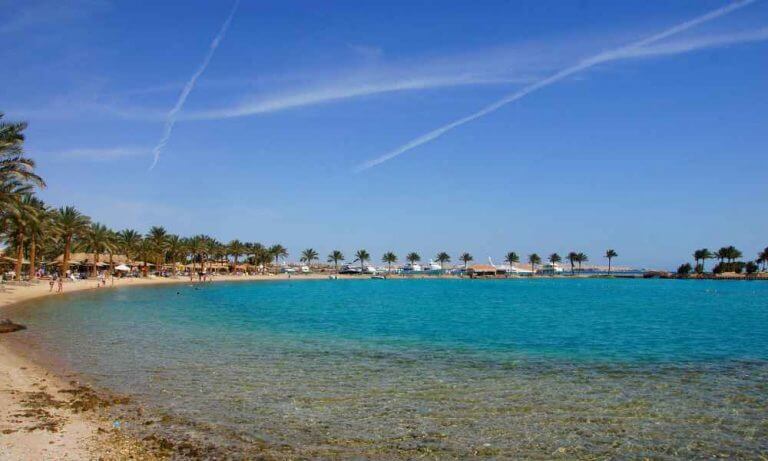 The Soma Bay that's only an hour away from Hurghada, is notable because it receives a hefty amount of sunshine. This might be the only beach in Egypt where rain falls at very short durations, if not absent. For this reason, many tourists -who don't know when the rainy seasons in Egypt – go here.
Popular activities in Soma Bay are windsurfing and scuba diving. Coral reefs here are numerous, even on the shallow parts. Wind strength is just enough for those who want to try windsurfing for the first time. Soma Bay is starting to pick up with modernization. That's why finding nearby accommodation and restaurants will be easy.