Abu Dhabi is a city that moves toward the future. In terms of engineering, technology, politics, and culture, this city just keeps on progressing. That's why if you want to get inspired to see the effects of good governance and good economic management, a vacation to Abu Dhabi is a must.
Abu Dhabi is home to architectural wonders. Nevertheless, what you'll see on it leans more on the beautiful possibilities that the future holds instead of what the past provides. Moreover, since it's a rich country, Abu Dhabi provides your vacation with a type of luxury that might beat Paris and other highly sophisticated cities in the world. Here are the top places in Abu Dhabi that you should visit:
• Sheikh Zayed Grand Mosque
• Louvre Abu Dhabi
• Corniche Road
• Alulu Island
• Emirates Palace
• Yas Waterworld
• Emirates Park Zoo
• Marina Eye
• Women's Handicraft Centre
• Al Watbha Cycling Track
• Abu Dhabi Markets
• Abu Dhabi Festival
• Clymb Abu Dhabi
• Sadiyaat Beach
• Al Bateen Beach
Sheikh Zayed Grand Mosque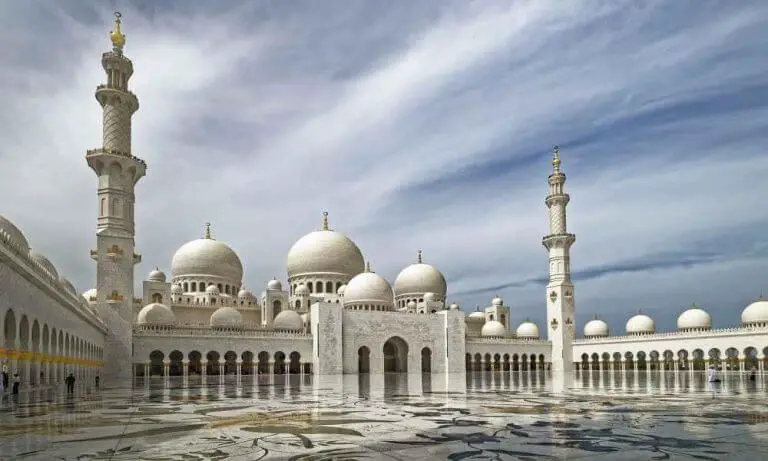 The Sheikh Zayed Grand Mosque is one of the most ambitious buildings in Abu Dhabi. It doesn't only represent the strong faith of the citizens in Islamism but also shows how much they do to express their love for it. Prepare to be amazed because the Sheikh Zayed Grand Mosque is a building like nothing you've ever seen.

Covering a total area of 12 hectares and following 960 feet by 1380 feet floor plan, the Sheikh Zayed Grand Mosque is the third-largest building in the world. Its main hall can accommodate 10,000 people at once. But this is just a fraction of its total capacity. If you include the other spaces, the Sheikh Zayed can store accommodate 41,000 people.

This building is a proud symbolism of the brilliance of Muslim-inspired architecture. Inspect it closely, and you'll realize that Sheikh Zayed Grand Mosque bears the architectural elements of three Islamic cultures; Mamluk, Ottoman, and Fatimid. To realize such a diverse feat, the builders have to use building materials from New Zealand, Morocco, Egypt, Turkey, Greece, Pakistan, Italy, Germany, Austria, China, and India.

The most salient features of this mosque are its 82 domes and main hall. An expansive golden-hued ornamental carpet covers the walls and flooring of the main hall. On the other hand, the domes impress tourists with their aesthetics.

One more thing that you should know. Unlike Turkey's Blue Mosque, the Sheikh Zayed Grand Mosque doesn't smell like feet.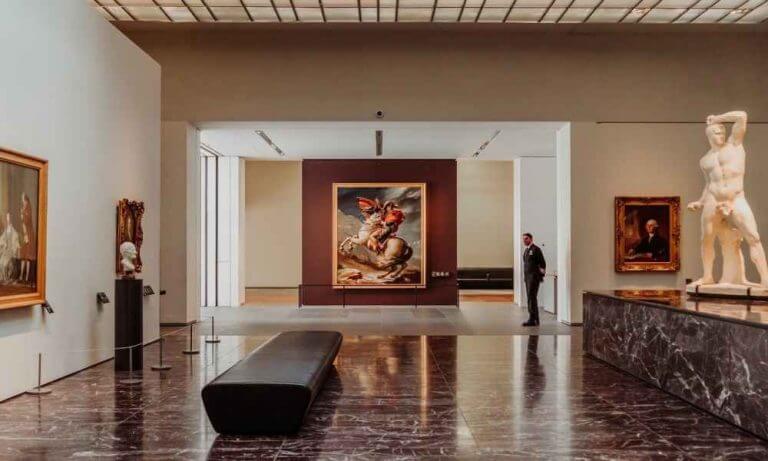 Abu Dhabi's Louvre museum is a modern version of the one in Paris. With it glass dome that seems like it's floating, Louvre Abu Dhabi never fails to fascinate tourists with the grandness of its architecture and engineering. A building that Jean Nouvel designed, Louvre Abu Dhabi, is one of the most significant achievements in modern engineering and architecture.

This museum's glass dome is heavier than that of the Eiffel Tower in Paris and beautiful. From afar, the dome looks like a UFO since it makes you think that it's suspended in mid-air. Builders achieved this illusion by using low-slung beams as a foundation for the dome.

Entrance fee for the Louvre Abu Dhabi is 31-63 Emirati dirham. It's quite pricey. Nevertheless, the 600 art pieces make your money's worth. You can see great artworks here are the La Belle Ferronnierre of Leonardo Da Vinci, Van Gogh's Self Portrait, and A Young Woman Sitting at the Virginals of Johannes Vermeer.
The Corniche Road, which starts from the Emirates Palace and ends at the street leading to LLH hospital, is Abu Dhabi's most elegant highway. It allows you to view to wonderful sea that surrounds Alulu Island. Palm trees line on its sidewalks and provide a wonderful shade if you choose to come at noon.

Biking along, jogging, walking, and taking pictures along the Corniche road's sidewalks are the most popular activities. Nevertheless, this doesn't mean that the water in front of it is for viewing only. Corniche Road has a beach of the same name that allows you to take a quick dip or sunbathe. Be sure to bring your own trash can because littering is a sacrilege.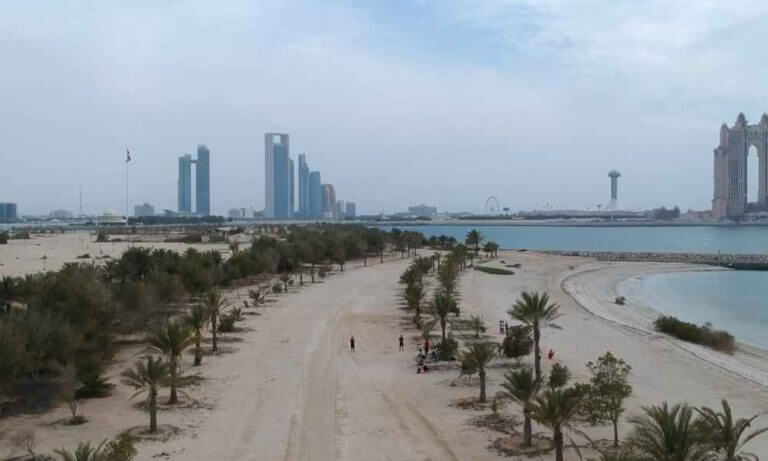 A visit to Corniche Road means that you will also be visiting Alulu Island. Literally speaking, Corniche Road and Alulu Island are facing each other. You can see the views of the other if you're in one. Though it's on the sea, you don't need to ride a boat since Al Lulu connects to Abu Dhabi through a bridge. If you're in Corniche and are thinking of visiting Al Lulu, later on, the quickest access is the bus stops of Khalifa Street and Hamdal Street.

In Alulu Island, you can do camel riding, horseback riding, jet-skiing, parasailing, windsurfing, snorkeling, etc. It divides into several sections that cater to a specific recreational need. Throughout the years, the number of people coming to Alulu has increased steadily. This is the reason why you can find lots of great restaurants and accomodities on it.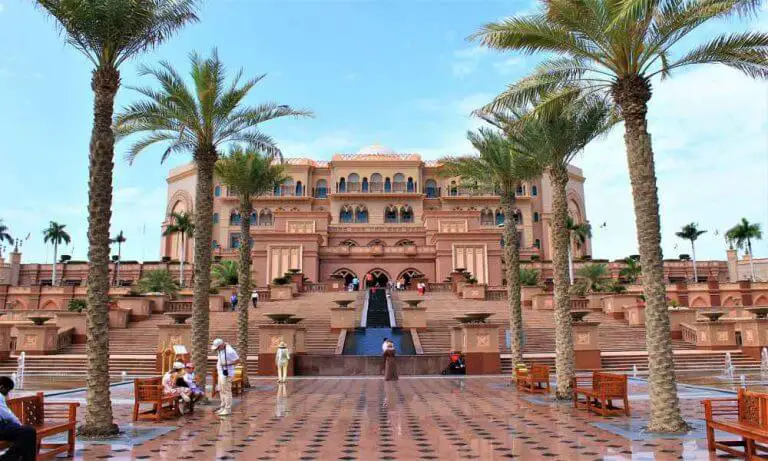 If you have the money to spare, the Emirates Palace is the grandest accommodation that's easily accessible if you're in Alulu Island or Corniche Road. Booking this place offers more than luxury. Emirates Palace contains 394 luxury rooms (some covered and furnished with gold), 14 Michelin-rated restaurants and cafes, a private beach, a spa, a kid's club, a relaxation pool, and other top-notch amenities that you can think of.

A night in the Emirates Palace is never cheap since it's where the most iconic and important world figures choose to stay in Abu Dhabi. However, considering that you have money to book it, a stay in Emirates Palace is a very unforgettable experience.

Emirates Palace seems to be crazy about gold. Its atrium dome, the largest, is covered by a 22 karat gold leaf. Such craziness about gold doesn't only extend to its construction but also to what it offers for the guests too. Restaurants and cafes of the Emirates Palace serve edible gold integrated dishes such as the 24 karat Gold Flaked Cappuccino and the Emirates Palace Camel Burger.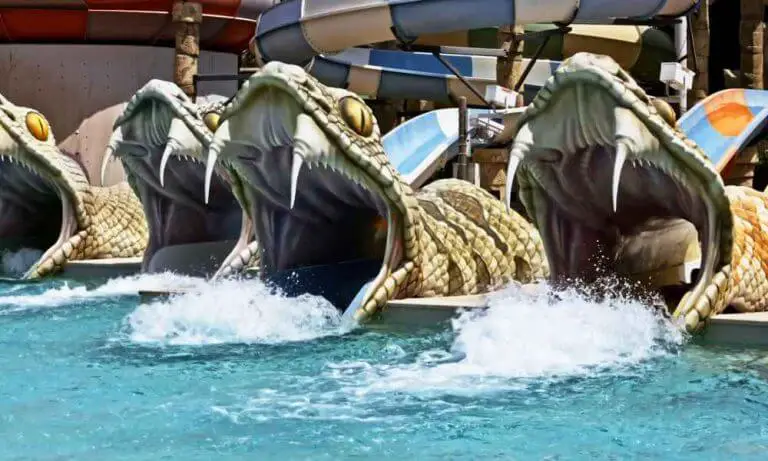 Abu Dhabi is hot, and I mean really hot. Temperatures in the city can be as hot as 33 degrees celsius. It's something that you can't fend of with water and a portable fan if you're not accustomed to warming environments. If the hotness of Abu Dhabi is starting to get to you, go to Yas Waterworld and cool down.

Yas Waterworld provides fun for you through its rides and slides. Most would agree that the SEBAG, Tot's Playground, Yehal, Mahra's Fortress, and Cannon Point are the best for kids. For adults, the Rush Rider, Bubble's Barrel, Bandit Bomber, Liwa Loop, Jebel Drop, and Yadi Yas are definite must-tries.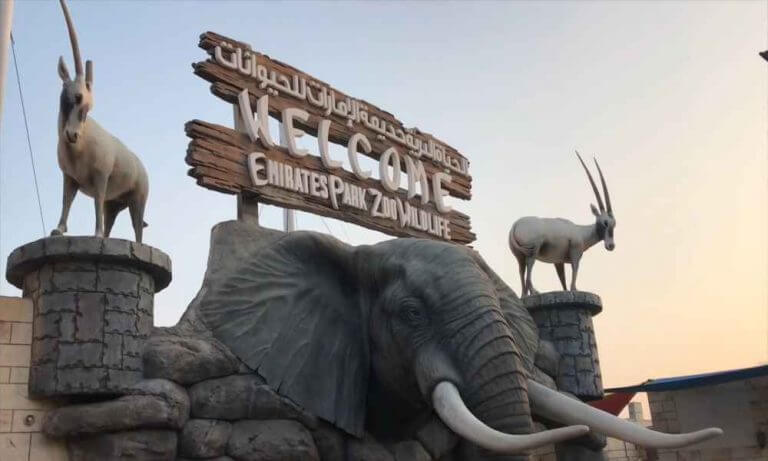 Since 2008 and home to 1700 animals, Emirates Park Zoo provides locals and tourists a diverse wildlife experience that Abu Dhabi doesn't naturally have. Aside from a touch of nature, Emirates Park Zoo also provides for other commercial purposes such as accommodation and public gatherings. Comprising this zoo are 54 king and twin rooms, 24 chalets, spa and hammam, swimming pool, and a kid's zoo camp.

Emirates Park Zoo provides a very interactive zoo experience for you. You can take close-up pictures with birds such as falcons, ospreys, and eagles. The reptile room of the park allows you to feed iguanas, pythons, salamanders, etc. Though quite scary, the crocodile feeding crocodiles is nevertheless fun.
For seeing all of the city at once, ride the Marina Eye – Abu Dhabi's most popular and largest ferris wheel. This is part of the Marina Mall where you can buy a lot of limited edition gadgets and fashion goods. There are 42 capsules in the Marina Eye that anyone can afford. However, for the best views, go for the VIP capsules since they provide an unobstructed panoramic view.

Places that you can see while engaging on the ride are the Emirates Palace, The Corniche Beach, Qasr Al Hason, Qasr Al Watan, Abu Dhabi Beach, Al Lulu Island, and Sheikh Zayed Grand Mosque. Nevertheless, the best views are at night. You'll certainly enjoy the glimmer of the lights that come from Abu Dhabi's orderly traffic and the astounding buildings.

Marina Eye is open from 10 am to 1 am. There are no age restrictions. However, those with irrational fear of heights might be prohibited from ever trying the ride. The same also applies to persons who have motion sickness. Having a camera will be great because Marina Eye turns slowly and allows you to take good shots.
Women's Handicraft Centre
The Abu Dhabi Women's Handicraft center is where you can find handmade incense, souvenirs, thread work, and the peculiar items on display and sale. Running this museum/shop is the Abu Dhabi Women's Association intending to showcase women's amazing prowess when it comes to handicraft.

There's nothing much to do except learning how to make the products that are on display. Nevertheless, the experience is fun because the staff provides a hand's on training to guests. In a few hours, you'll learn how to make cute handcrafted items that you can give as souvenirs upon getting back home.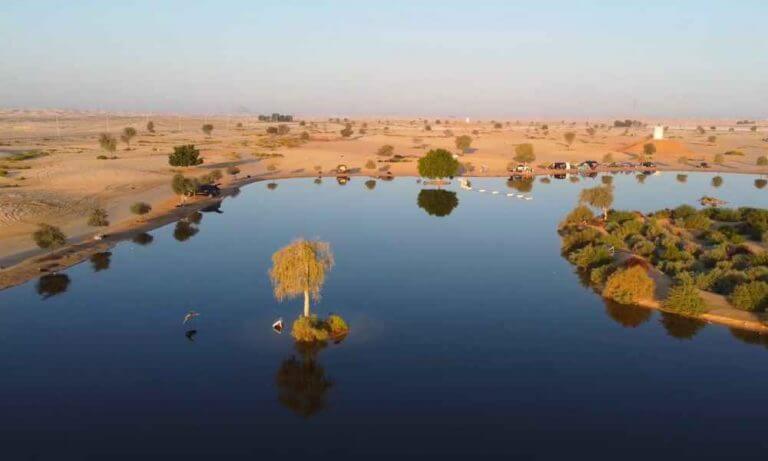 The AL Watbha Cycling Track is a dessert cycling location where Star Wars is used as a film set. It's popular due to the scenic sand dunes and the surrounding vistas. Moreover, the trail is highly suitable for intermediate and professional cyclists.

There are two options for biking on the Al Watbha Cycling Track; individual biking and grouped biking. Individual biking is suitable if you're a professional who wants to break his current record. On the other hand, the grouped biking is what you should go for if you're just trying things out.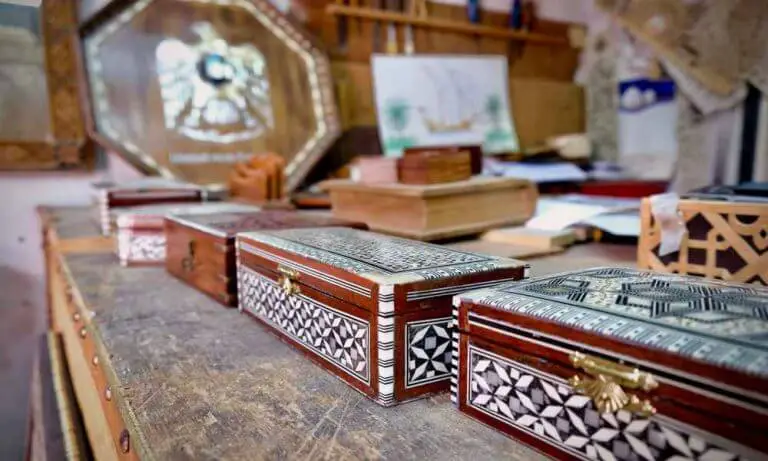 Abu Dhabi's markets do shopping even if there are luxurious malls where you can find top-notch goods. There are three locations in Abu Dhabi where for laid-back shopping and for buying products at cheap prices; Mina Market, Abu Dhabi Dates Market, and Abu Dhabi Central Market.

If you're into cooking, you'll see Mina Market like a shining jewel. Mina Market is where the freshest raw ingredients from the sea are sold. You will also find numerous restaurants that provide popular seafood dishes in Abu Dhabi, such as roasted lobsters, braised crabs, Samak Mashwi, Fish fi Har, Fish Kabsa, etc.

As the name implies, the Abu Dhabi Dates Market is where you'll find products related to the fruit from date boxes, date candies, etc. Here you can also find other comforting foods such as apricots, nuts, almonds, figs, and chocolates. The Dates Market isn't far from Mina Market. Their distance is only 1 minute.

The Abu Dhabi Central Market is coined as a city within a city. Meaning that it acts as a small urban district within a high-rise building where you can find luxurious restaurants, cafes, and shops. A lot of professionals in Abu Dhabi spend their time in the Central Market.
.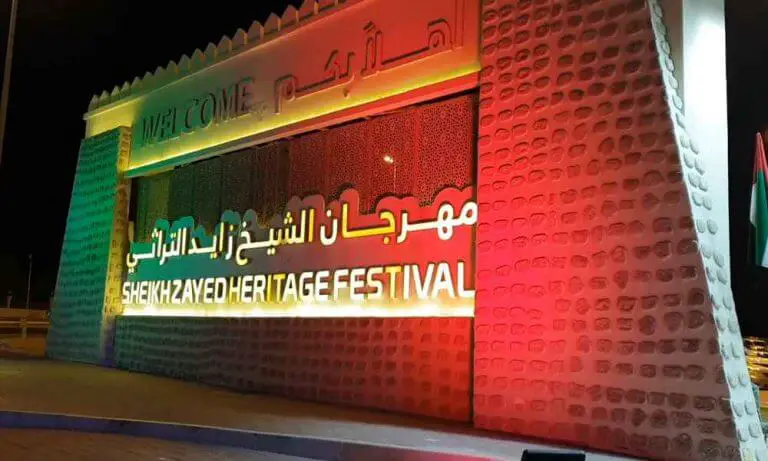 The Abu Dhabi Festival is a prestigious event in Abu Dhabi that happens to strengthen Arabian cultural relationships with other nations all over the world. And as such, it showcases a lot of musical, literary, and visual theatrical performances of performers from at least 500 different countries. This event also features workshops, seminars, and art exhibits.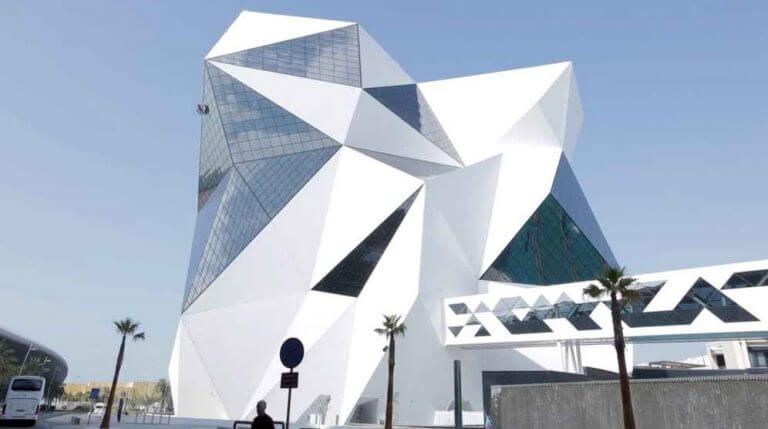 Clymb is an artificial sky diving and rock climbing facility in Abu Dhabi. The climbing wall extends up to 43 feet in height. Kids can climb up to the lower to the middle portion. However, only adults can proceed to the middle up to the highest portion because the wall features largely gapped footholds and handholds, crooked surfaces, and protruding surfaces on this area.
The indoor flight chamber spans for 32 feet and is twice the size of a normal flight chamber. Note that the flight Chamber of the climb is the largest in the world. Therefore, if you want to feel what real sky diving is, Cylmb can certainly help. The experience is very surreal because 16 fans emulate the air's feeling pushing your face as you fall down to the ground.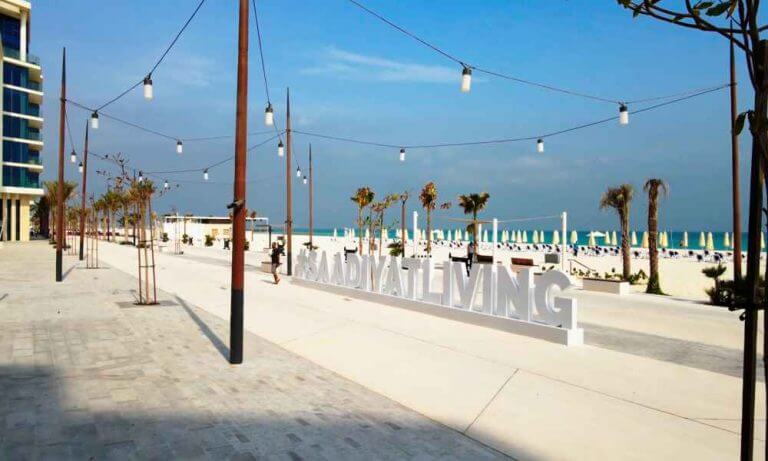 The Saadiyat Beach offers the most authentic beach vibe out of all beaches in Abu Dhabi – wavy waters, a very windy environment, and hissing waves. Corniche is good. However, it doesn't have the feel and the space that Sadiyaat Beach has. Consider going to Saadiyat Beach if other beaches in Abu Dhabi feel so still.
In terms of orderliness, the Al Bateen Beach ranks number one if you compare it with other Abu Dhabi beaches. It's complete with bathrooms, changing rooms, and children's playground. Don't be surprised with its strict policies, though. If you have kids under 6, don't argue if you can't bring them with you since the management is preventing the possibility of drowning-related accidents. Moreover, guests can't bring phones. I think this is to prevent people from taking violating photos of beachgoers.