Chiang-Mai, which's in the northern region of Thailand, is the exact opposite of Bangkok. If Bangkok pulls tourists with its urban atmosphere, the rural atmosphere is what Chiangmai specializes in. Suppose Bangkok is more about the hustle and bustle of the pubs, clubs, and bars at night. Chiangmai dwells on the classic peaceful atmosphere of its surroundings that balance urban development and nature.

As many put it, too much of everything can make you sick. Thus, if the fracas of Bangkok is too much for you to enjoy, head to Chiangmai – Thailand's Northern Rose and the land of the forgotten Lanna Kingdom.
Activities in Chiangmai are more laidback than Bangkok activities – sightseeing at the temples, eating street foods, visiting waterfalls, playing golf, riding elephants, and touring the city with a moped. These are the places in Chiangmai that make your visit completely worthwhile.
• Doi Suthep-Pui National Park
• Bhubing Palace
• Chiangmai Zoo
• Elephant Jungle Sanctuary
• Hmong Village
• Nong Buak Haad Public Park
• Chiangmai Historical Center
• Summit Green Valley Village
• Eagle Track Zipline
• Grand Canyon Waterpark Chiangmai
• Wat Sri Suphan
• Night Bazaar
Doi Suthep-Pui National Park
Doi Suthep-Pui National Park is a protected park in Chiangmai City, covering a total area of 261.1 square kilometers. The Doi Suthep mountain and Doi Pui mountain constitute – hence the name Doi Suthep-Pui. Its landscape divides into a deciduous forest, evergreen forests, rocky trails, waterfalls, caves, and a temple.

The top sights in Doi Suthep-Pui are the Buddhist temple of Doi Suthep, the Doi Pui, and Doi Buak Ha peaks, and Mok Fa waterfall, Popular activities in Doi Suthep-Pui are cycling and trekking. Cycling and trekking will let you see the dipterocarps, oak, and the 2000 species of ferns and flowering plants.

Since the vegetation is lush, it's no wonder that birds love to spend their time Doi Suthep-Pui. Therefore, don't hesitate to come if you're a birdwatcher. Specific birds that you might see are grey-winged blackbirds, brown bush warbler, Himalayan Cutia, chestnut thrush, and purple cochoa.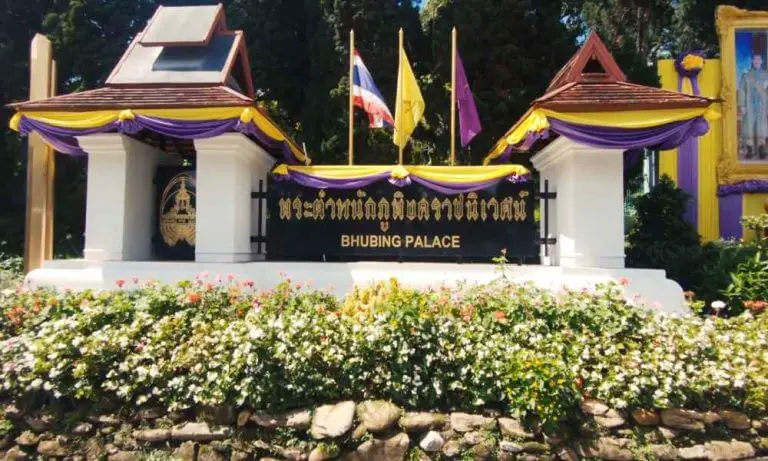 Bhubing Palace is a 20th-century palace atop the Doi Bok Hua Mountain that gazes over the Chiang Mai City. Though the surrounding trees block the panoramic view, Bhubing Palace is worth visiting nonetheless. Its architectural style follows the Thai reuan mu architectural style, and its landscaping rivals the landscaping of the old pavilions in Istanbul.

You will certainly enjoy Bhubing palace if you're fond of flowers. Numerous gardens, where flowers not endemic to Thailand excellently grow, surround Bhubing Palace, patching the landscape with the colors of yellow, purple, red, and orange. Chairs are on these gardens so that you can take pictures comfortably.

Bhubing Palace serves as a good spot where you can relax before going to the other tourist attractions. Its environment is very still. Tourists aren't allowed to make a lot of noise for the comfort of their guests. Moreover, the flower gardens adorn the air with a sweet scent.

Bhubing Palace is open from 8:00 in the morning to 4:00 in the afternoon. Tickets for tourists costs 50 baths notwithstanding age.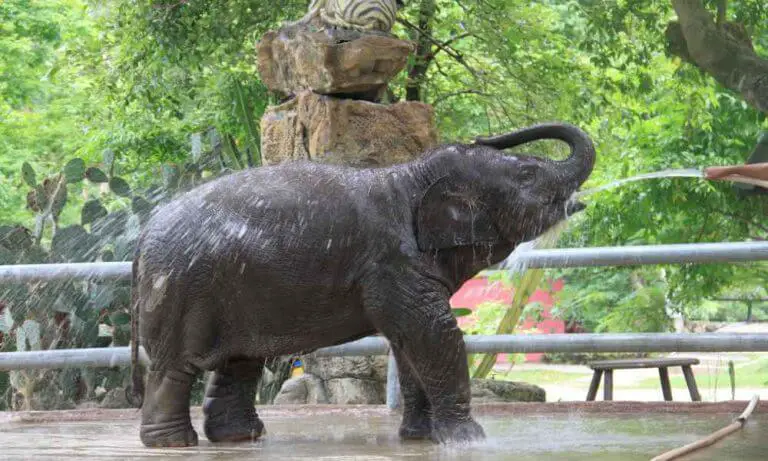 Chiangmai zoo is only 16 kilometers away from Bhubing Palace. That being said, consider going to this tourist attraction after spending your time there. From Bhubing Palace, arriving at Chiangmai doesn't take more than 26 minutes with the songthaew – a modified pickup truck that's Chiangmai's most common public transport.

Covering an area of 200 acres, Chiangmai zoo takes you on a mini-safari tour. Waiting for you, here are rhinoceroses, tigers, lions, elephants, monkeys, pandas, pythons, and other animals that comprise the 400 species of Chiangmai Zoo's animal collection.

Chiangmai zoo is keeping all of the animals in an open-air environment. Animals are dwelling inside fences instead of cages. Hence, looking at them closely is never an issue. Moreover, you can also try feeding docile animals like elephants, rhinoceroses, and monkeys with a caretaker's guidance.

But know that Chiangmai Zoo doesn't only have terrestrial animals for you to see. Chiangmai Zoo also has a vast collection of marine animals in its 133-meter aquatic tunnel. The tunnel is where you'll see sharks, rays, dolphins, and colorful fishes. The aquatic tunnel is Chiangmai's treasure because it holds the reputation of being one of Asia's largest.
Elephant Jungle Sanctuary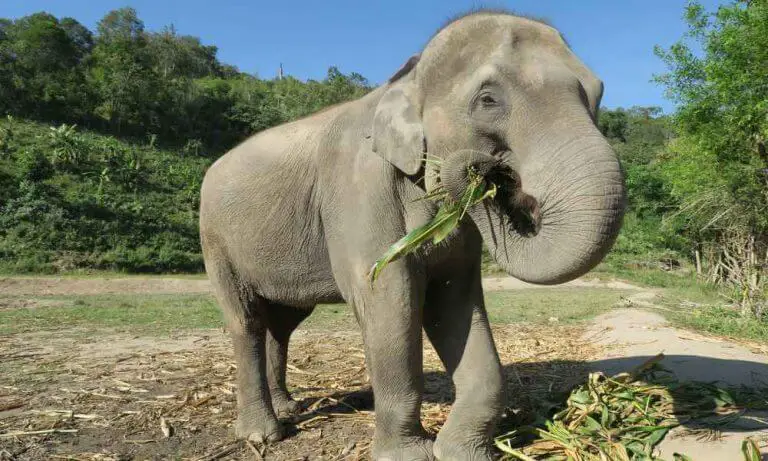 For all people, the dog is the man's best friend. But for locals living in Chiangmai, man's best friend is the elephant. With the help of tribes from northern Thailand, Chiangmai locals founded the Elephant Jungle Sanctuary – Thailand's most established institution that oversees elephant protection and welfare in the country.

Though many expect the Elephant Jungle Sanctuary to be a center that's only found in Chiangmai, it's actually found in different Thailand locations. Aside from Chiangmai, the Elephant Jungle Sanctuary also operates in Phuket, Pattaya, and Samui.

But regardless of which branch you choose to visit, the Elephant Jungle Sanctuary is always ready to provide fun. In Chiangmai, the Elephant Jungle Sanctuary provides half-day tours. Avail this to join with a group that a guide educates about elephant care and elephant behavior. Moreover, elephant rides are also on the list of activities.

You and the other tourists do the tour by walking. Prepare rubber shoes because the Elephant Jungle Sanctuary consists of mud pools and streams. The trails are a bit muddy. If you don't mind getting your feet dirty, then walking barefoot is the best way to get around.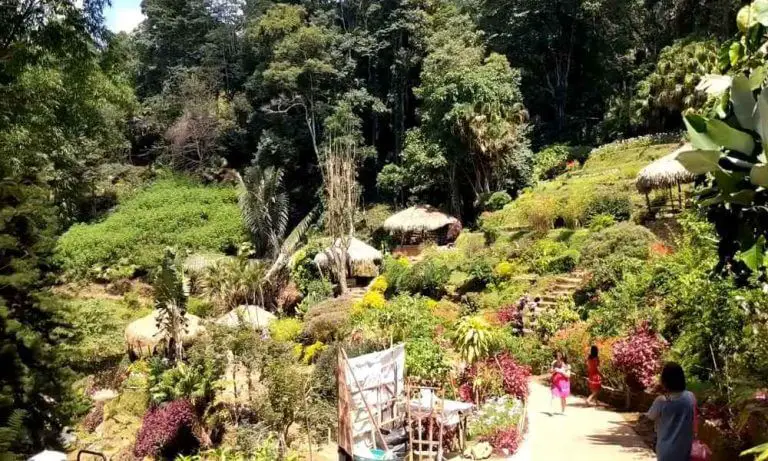 The Hmong Village is a tribal settlement atop the Doi Suthep mountain, which is part of the Doi Suthep-Pui National Park. Though it doesn't look as authentic at present as it did in the past, the Hmong Village is an interesting spot if you want to learn the culture and tradition of the Hmong tribe.

As soon as you arrive, the Hmong tribe members will greet you warmly while wearing their peculiar clothing. Traditional attire of Hmong village members is strange but attractive nevertheless – colorful robe or tunic that goes with colorful beads, tassels, and earrings.

The houses aren't what they used to be anymore since authorities converted them into shops for tourism purposes. Nevertheless, their structure is queer and intriguing. What you can find inside are the Hmong tribe's traditional kitchenwares, farming tools, clothes, and ornaments.

Shopping for souvenirs and taking pictures are the top activities in the Hmong village. However, nothing beats building a solid relationship with the inhabitants during your short stay. That being said, muster your courage and start a conversation with those you meet.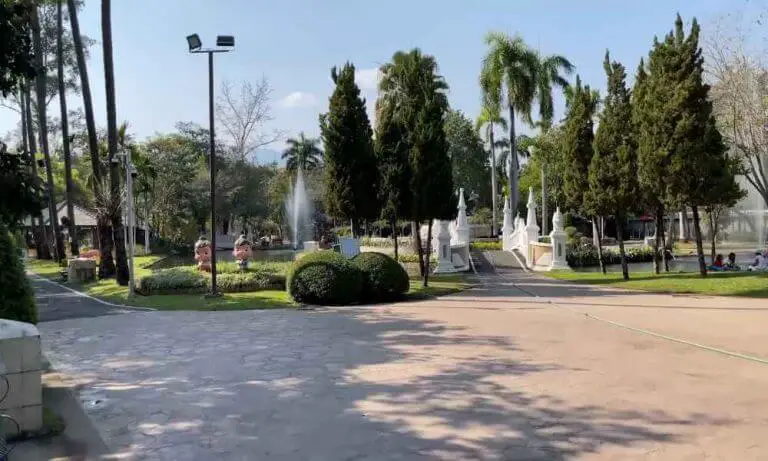 Chiangmai is a city that's about 800 years old. You can divide its area into two sections – new city and old city. The new city is where most urban developments take place. On the other hand, the old city has a more historical allure. In Chiangmai'c old city, one spot that you'll enjoy is the Nong Buak Hat Park.

The Nong Buak Hat Park is the most peaceful spot in the old city. Noise from cars and people seems to disappear while you're on it. This park covers a perimeter of 44o meters. Flower-filled trails comprise its landscape. For this reason, Nong Buak Park serves as a popular spot for biking, jogging, and walking.

At the center of Nuang Buak Park is a large pool with a fountain in the middle. This is the place where you have to be for taking great photos.

Some elderly Chinese inhabitants of Chiangmai's old city also do Tai Chi exercises. Watching this is an unforgettable experience. The Tai Chi movements of the elderly look very cool because they seem to go with the tranquil atmosphere of Nuak Buak Hat Park.
Chiangmai Historical Center
Chiangmai's old city has another ace up its sleeve – the Chiangmai Historical Center. The Chiangmai Historical Center follows the Lanna architectural elements to commemorate the Lanna Kingdom, the first major settlement in Thailand's northern region.

Much of the displays in Chiangmai Historical Center provide you with an idea of how the Lanna Kingdom was like. Things that you might find exciting are the wax figurines and interactive displays. Moreover, there are also numerous artifacts from the Lanna kingdom, such as swords, knives, shields, and potteries.
Summit Green Valley Village
To be honest, the Summit Green Valley village isn't an actual village but is more of a golf course. This tourist attraction is the most prestigious and the most expansive golf course in Thailand's northern region. Summit Green Valley Village takes pride in its well-trimmed fresh-looking fields, where coconut trees and flower gardens are on.

Moreover, aside from its golf course, Summit Green Valley boasts a restaurant and a golf school. The restaurant offers gues with cuisines from all over the world. On the other hand, the golf school teaches professional golfing tips and tricks to amateurs with certified local and international golfers.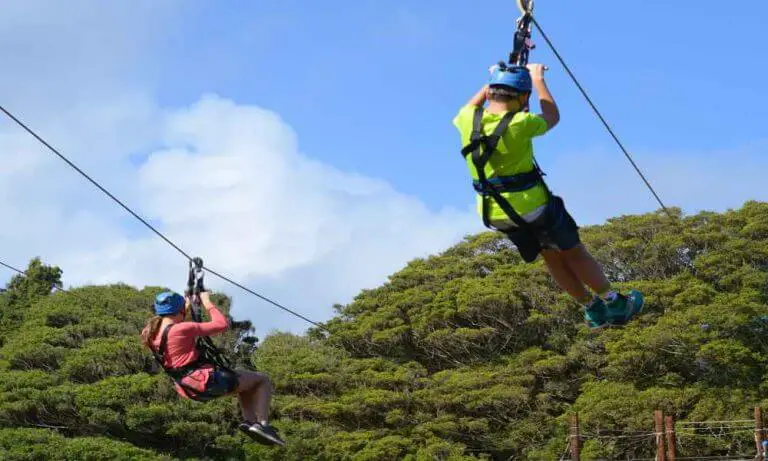 The Eagle Track Zipline is a 260-meter long zip line track in Chiangmai that features the views of the Hmong village, Karen village, Maerong river, and the infamous Chiangmai rice paddies.

Scenes that you'll see while being on the Eagle Track Zipline is always spectacular because you'll suspend 40 meters above the ground. There is no need to worry because the staff never fails to maintain the ziplining gears so that accidents can't happen.

Ziplining isn't the only fun activity that awaits you in Eagle Track Zipline. Eagle Track Zipline also has a gut-challenging hanging bridge, balance beams, and spiderweb contraption. But all in all, what can enthrall you the most is the waterfalls, which is Eagle Track's Zipline's secret gem.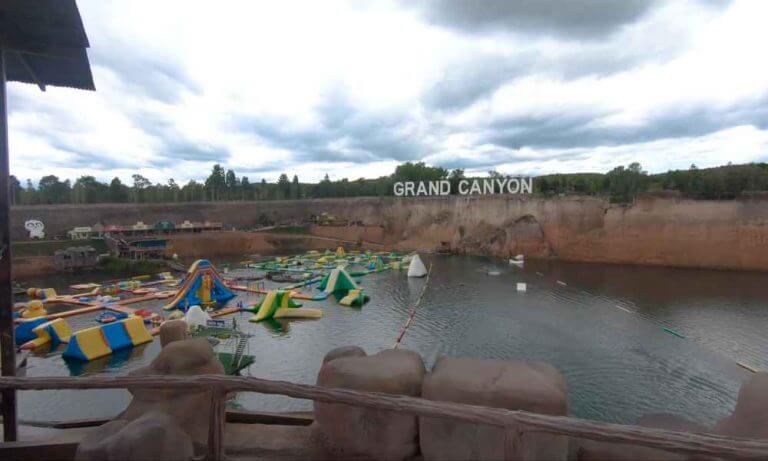 The Grand Canyon Waterpark is a natural emerald pool that Chiangmai authorities developed into a waterpark having slides, a zipline, a wakeboarding section, and an inflatable floating obstacle course.
Though it would've looked better without additional structures to the contrast of the green water and the orange surrounding cliffs, Grand Canyon is the best place in Chiangmai for you to cool down.
Since it's a natural pool, Grand Canyon Waterpark's water stays fresh and clean no matter how many tourists come to take a dip. Moreover, the floating obstacle course makes swimming safer. Swimming is exciting because there are diving platforms on the surrounding cliffs.
Don't forget to try wakeboarding. Grand Canyon Park's wakeboarding scene is suitable for beginners. There are no obstacles on the wakeboarding section of the pool. This means that you can practice wakeboarding maneuvers without toppling on the water.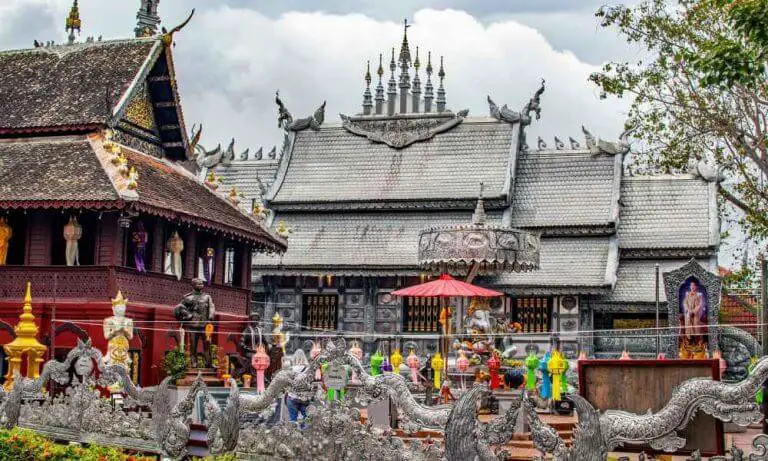 The Wat Sir Suphan is a Buddhist temple in Chiangmai that dates back to the 1500s. What makes this temple special is the coating of silver that covers its exterior and interior. Even the handicrafts that adorn Wat Sri Suphan are made out of silver too.
A portion of the silver that covers this temple came from the local villagers. At present, the Wat Sri Suphan is the only authentic silver temple in Thailand. Making this location even more famous to tourists is the rule that only men can enter its space.
The most popular explanation why the builders decided to cover Wat Sri Suphan with silver is because it stands on a silversmith village. Silversmiths still linger on the Wat Sri Suphan, and you can buy handcrafted silver necklaces, bracelets, figurines, and earrings from them.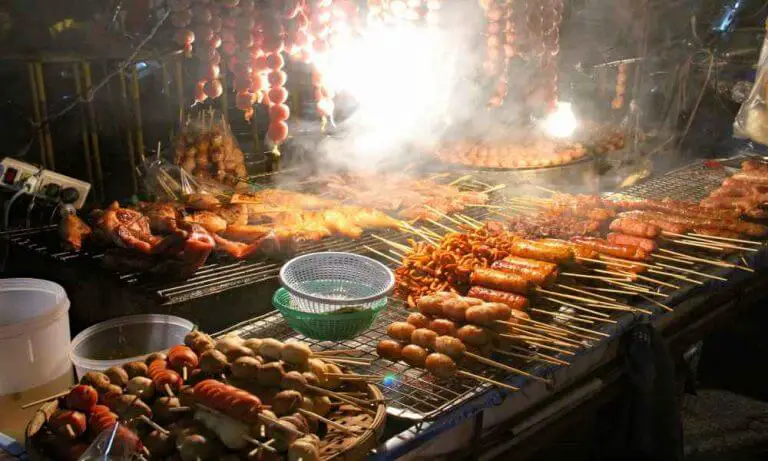 The Night Bazaar is a main night shopping market square of Chiangmai. You'll find this on the eastern side of the city, on Chang Klahn road. The things for you to see here are street food stands, textile shops, and souvenir shops. Night bazaar looks very spectacular at night due to the light of the orange lamps for the shops. Shopping here starts at 5 pm and ends at midnight.

Night Bazaar offers the cheapest products in Chiangmai. Vendors are always ready to sell their goods at a lower price if you know how to negotiate.

The souvenirs are to die for and comprise of handcrafted items that came from the hill tribe villages of Chiangmai. Moreover, the street food is made out of ingredients from Chiangmai's local produce. Delicious eats for your tastebuds are Sai Ua, Khao Mok, and Khao Soi.