Head to Cambodia if you want to look at what would probably be the most beautiful temples in Asia. Cambodia has such a rich history that even the French can't bury Khmer heritage after their colonization. Cambodia never fails to trace its roots and use that to leverage tourism. In this article, I'll show you some of the Khmer attractions that highly benefit from this.
Aside from temples, Cambodia is a state of low-key beaches and national parks that tourists who can't bear with a lot of crowds will love. Moreover, it's also a place where nightlife is starting to become colorful as that of Thailand. No matter how long or short your trip to Cambodia is, never miss these locations:
• Phnom Penh
• Tonle Sap
• Angkor Wat
• Banteay Srei
• ANK Night Market
• Pub Street
• Angkor National Museum
• Cambodia National Museum
• Happy Ranch Horse Farm
• Phom Aural Wildlife Sanctuary
• Victory Beach Pier
• King Island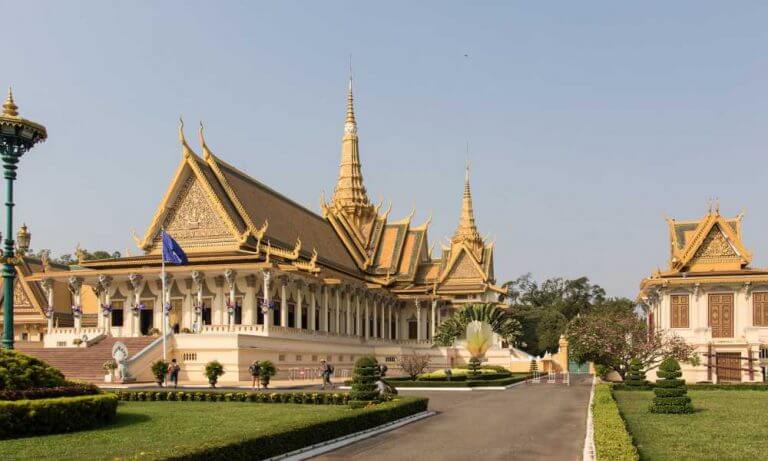 A trip to Cambodia begins and ends with Phnom Penh, Cambodia's capital. That's why it wouldn't make sense if this article misses talking about it. Phnom Penh is notorious for its traffic – roads with no good traffic lights and vehicles that seem to crash into each other, only missing each other by a few inches as they go their own ways.

Nevertheless, Cambodia's traffic isn't that bad if you get used to it. If you don't let the traffic get to you, Phnom Penh has many to offer that won't waste your vacation no matter which time you come to visit. By the way, if you know when is the best time to go to Phnom Penh, read my article about what's the best time to go to Cambodia.

There's lots of street photography for you in Phnom Penh's central market. Existing since 1937 and displays an Art Deco construction, Phnom Penh is where most foreigners flock around to buy the best goods in Cambodia -spices, fruits, vegetables, textiles, furniture, and souvenirs. If your Cambodian is good, purchasing everything in a bargain isn't impossible.

The independence monument is a great spot to visit. And making it even greater is the street behind it that tourists call Bassac Lane. Bassac Lane has lots of local restaurants that sell Cambodian comfort food for hangover and merry-making. After stuffing your stomach with food, go to Independence Monument and enjoy the flowers and grasses' uplifting scenery.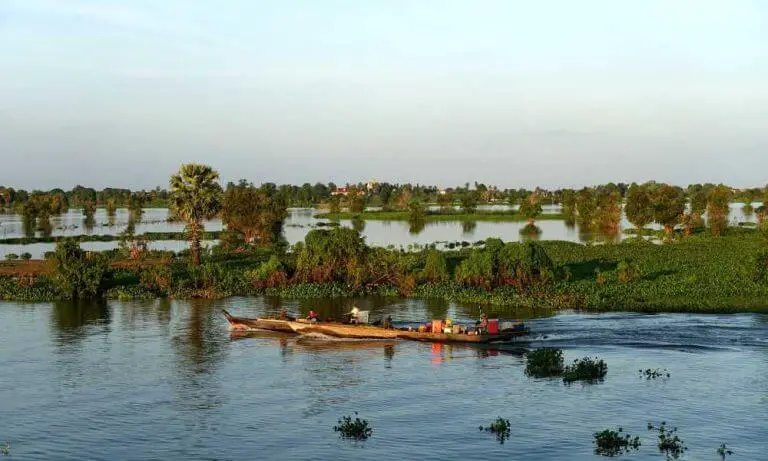 Tonle Sap Lake is Cambodia's largest lake that fills in the wet season and dries in the dry season. Simply put, this lake appears and disappears at specific times of the year. Though quite far and without amenities such as restaurants and hotels, this location is famous because of the floating houses and the people living inside.

Life in Tonle Sap is very simple. People depend on the lake for food, water, and washing. During the wet season when Tonle Sap is deep, the locals residing in it fish most of the time. SWatching them is an unforgettable experience since it makes you see the harmonious relationship between man and nature.

During the dry season, Tonle Sap transforms from being a lake to being a land that looks like tundra and grassland at the same time. Birds are the highlight of Tonle Sap during the dry season. Some that you might see are Painted Storks, Balckheaded Ibises, and Grey-Headed Fish Eagle.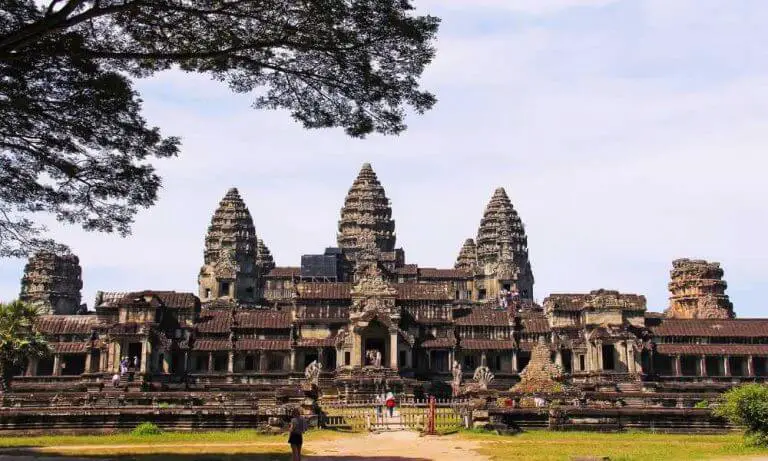 Cambodia's Angkor Wat is where you can appreciate Khmer architecture and engineering's sophistication long before the French colonizers came. A UNESCO Heritage site covering 1.6 square kilometers, Angkor Wat is one of Cambodia's national treasures. Evidence of this is that Angkor Wat is on Cambodia's National Flag.

Angkor Wat is special for many reasons. First is the freezers on the temple galleries, which contain Shiva and other Hindu gods' images. Second is the peculiar placement of its temples on a westside position in contrast to other Cambodian temples that are on an eastside position. The third is the massive amount of sandstone that the builders used for Angkor Wat. It took five million sandstone to finish it.

You can avail yourself of guided tours of Angkor Wat. Prepare your feet because the tours last for three hours on average. Nevertheless, you won't get bored even if touring Angkor Wat takes long. The guides provide insightful information about each temple that you can't read in books.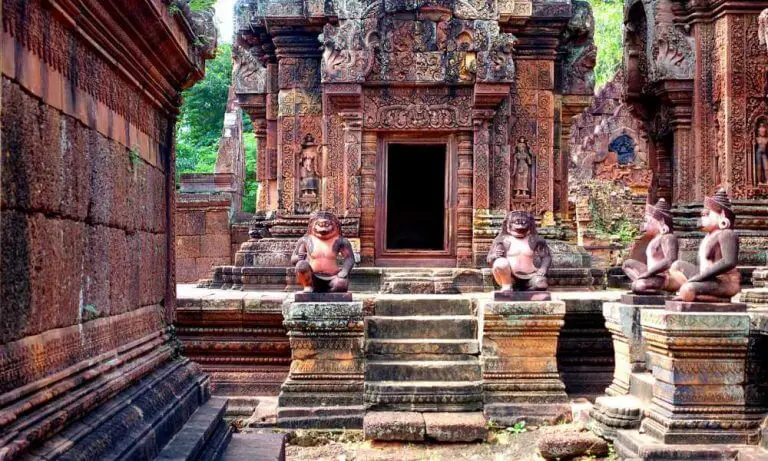 Forty-nine minutes away from Angkor Wat is Banteay Srei. Banteay Srei is where you should go after exploring Angkor Wat. This is because if Angkor Wat is the most popular, then Banteay Srei is the most beautiful temple in Cambodia. Visit it, and you'll see why.

The carvings in Banteay Srei make the carvings of Angkor Wat a child's play. The depictions of the Hindu gods are very vivid. Moreover, their designs are so fine and too meticulously made. A popular explanation for this trait is that craftswomen made this temple. There might be merit to this statement because Banteay Srei's English translation is "Citadel of Women."

You can't refuse Banteay Srei. This is because Angkor Wat tours include this on their packages. Therefore, save space on your camera's storage because you might like the allure of Banteay Srei better than that of Angkor Wat's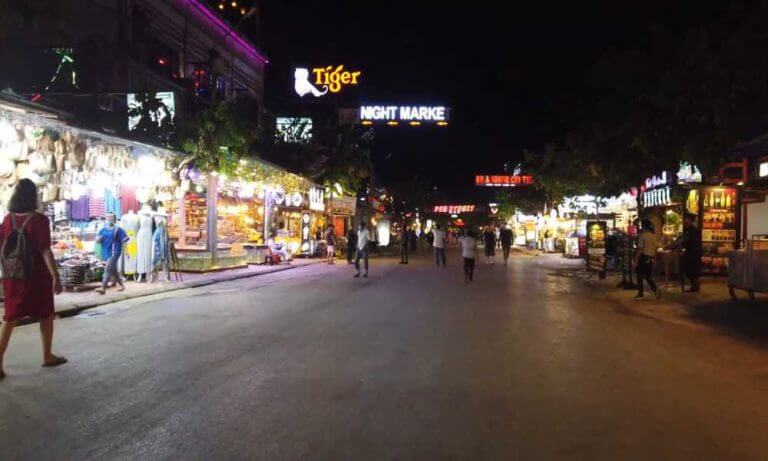 If you're looking for somewhere else fun aside from Phnom Penh's central market, the ANM Khmer Night Market is ready to take you on. This is a location within Siem Reap that's only 5 kilometers away from the Angkor Wat temple complex and Banteay Srei Temple.

ANM Night market has a very bustling yet orderly environment. This might be due to the grid-like placement of the local shops and restaurants that are based on the goods that they provide. You can also find a few clubs here where you can enjoy the night with the locals and tourists. Overall, the place is safe because people are present until daybreak.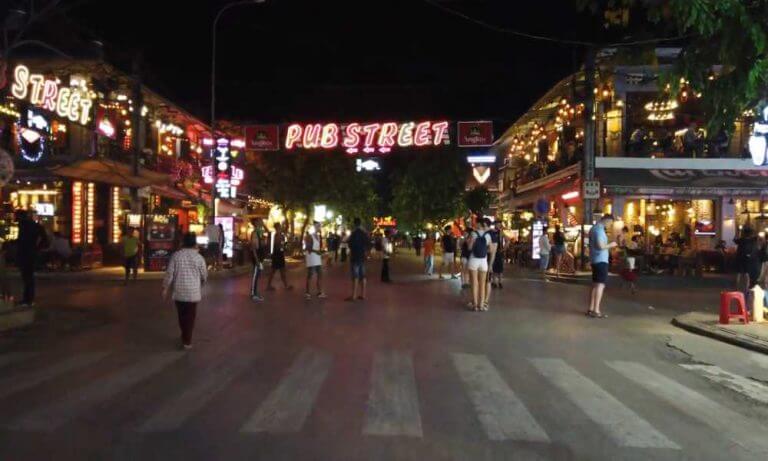 A walk away from the ANK Night Market is Pub Street or Street 08. Pub Street is starting to steal the limelight away from Phom Penh's clubbing district since it's more organized and enjoyable to tourists. Clubs that operate here range from those that offer gay comedy live shows, music live performances, folk music live performances, etc.

The beauty of Pub Street at night is uncontestable too. This is due to the neon lights' polychromatic illumination in green, blue, red, violet, pink, purple, and other bright colors. Pub Street's environment is very retro, which is one reason you can't resist visiting it.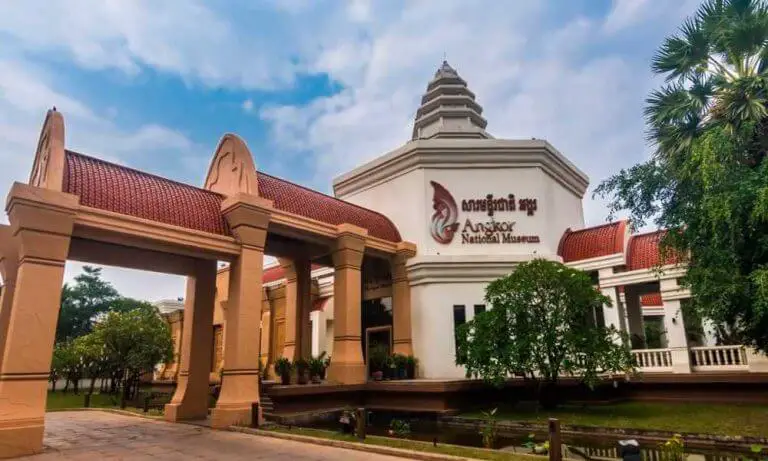 Before the French colonizers came, Cambodia held the name Siam and housed the Khmer Kingdom that's responsible for all the Cambodian temples that tourists are enjoying at present. The Khmer Kingdom was very sophisticated, and it left many artifacts that go toe to toe with the artifacts of ancient Romans and other popular ancient cultures.

The Angkor National Museum contains most of the artifacts from the Khmer Kingdom's golden age. It divides into eight different sections that offer interactive guided tours to tourists in Korean, Thai, Chinese, Japanese, Khmer, German, English, and French languages. The best artifacts in Angkor National Museum are the Sumedha Hermit, Lintel, Lokesvara, Prajnaparamita, and Ganesha.

Aside from displays, Angkor National Museum also undertakes restoration projects of damaged Cambodian artifacts. Therefore, what it has for tourists never stays the same. Moreover, Angkor National Museum also holds seminars such as Learning Experience with ANM and Tour Guide Seminar.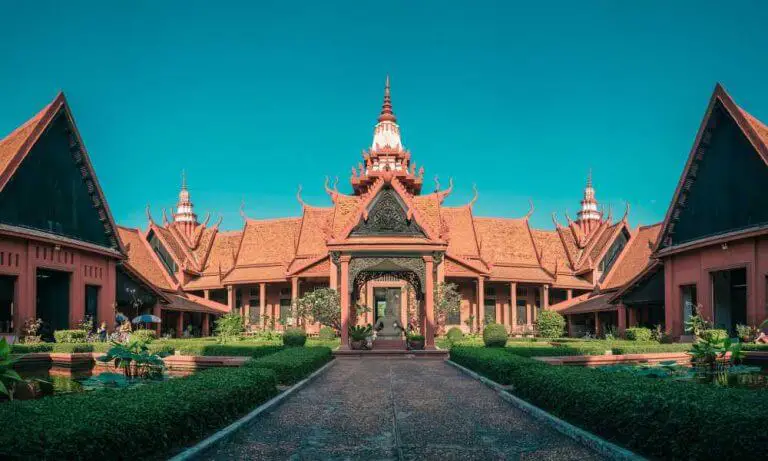 The Cambodia National Museum stores most of Cambodia's most prestigious artifacts that foreign museums haven't archived. You'll find this museum in the city of Phnom Penh. This museum takes pride in its 6,800 Khmer bronze artifacts. Though quite hefty, the museum only displays 600 of these at any given time.

Though not as many as the bronze artifacts, the pottery and stone objects are spectacular. Ancient artifacts in the Cambodia National Museum date back to the neolithic age, wherein the best ones are the Elephant Vessel, Vessel for Prahok, and Oval Vessel.

The Cambodia National Museum's stone objects comprise Khmer sculptures in the categories of bas relief, high relief, and freestanding categories. Pieces that you should see are the sculptures of Devi, Jayavarman VII, Lintel, and Vishnu.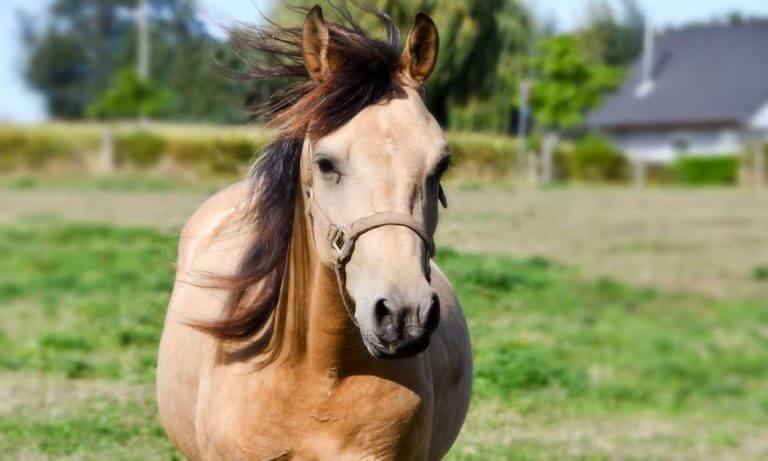 Go to Cambodia's Happy Ranch Horse Farm in Siem Reap for a bit of recreation. Though it originally started as a personal endeavor of the owner, the Happy Ranch Horse Farm is, at present, one of the most well-performing recreational ranches in Cambodia. It currently owns 51 horses that stallions, mares, and foals comprise.

The trail rides that Happy Ranch Horse Farm is simply heavenly. It will take you to the hidden locations in Siem Reap that tourists mostly miss, such as verdant countrysides, minor temple ruins, and scenic rice fields. If you're fond of horses, never miss this activity because it lasts for 1 – 4 hours.
Phnom Aural Wildlife Sanctuary
The Phnom Aural Wildlife Sanctuary is a recreational attraction that's atop the highest peak in Cambodia. Phnom Aural that's part of the Cardamom Mountain Range. It's 1813 meters above sea level. As a result of this, Phnom Aural is a popular spot for hiking tours.

Hiking is wonderful in Phnom Aural Wildlife Sanctuary since it contains at least 200 bird species. Birds that you might see are Chestnut-headed Patridge, Great Hornbill, Blue Winged Leafbird, Cambodian Laughing Brush, Green Cocoa, Silver Breasted Hornbill, and Blue Pitta.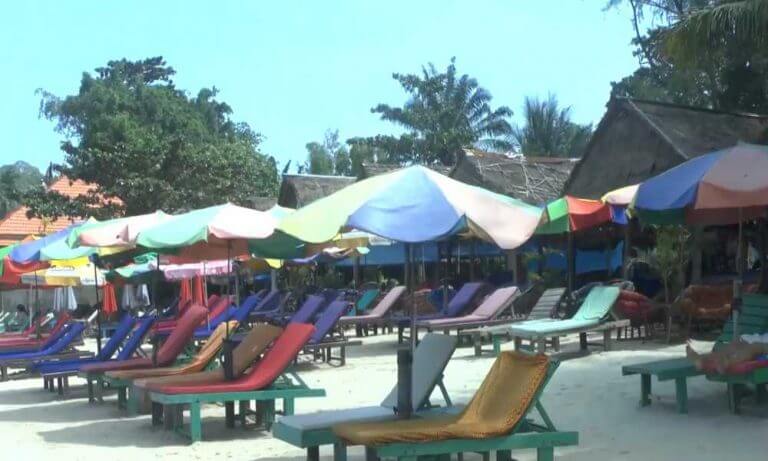 If you're a beach lover who found his way to Cambodia, then head to Sihanoukville City and find Victory Beach Pier. This is a budget destination if you can't afford the expensive beaches. Victory beach is great because, at a cheap price, you'll get an A-class beach experience and accommodation from it.

The sands of Victory Beach are a mix of gray and black. The water isn't cerulean but has a murky color. Nevertheless, this shouldn't bother you because nearby the accommodation is great. Rooms have wide front windows, and there's a public pool for all guests.

Sunbathing in Victory Beach Pier doesn't disappoint. On the dry season, temperatures in Victory Beach Pier rest between 27 – 35 degrees celsius, Winds are great too, and you can do a bit of parasailing or windsurfing if you have the equipment. The rental is far, so get it before coming. Also, local fishermen trade their catch fresh for you to roast over an open fire on the shore.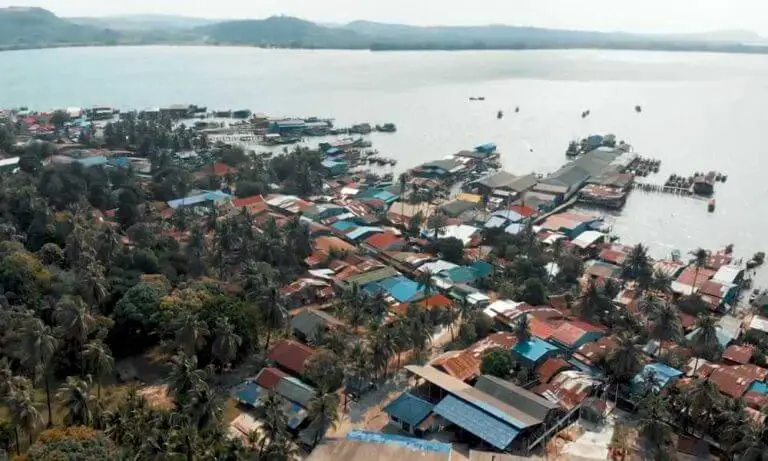 Cambodia's King Island and its fishing village entice you to come with its fishing and snorkeling. The modern bungalows of this island are another reason why you should come. Rooms provide the sea's calming view, where the waves ebb with the wind's breeze.

Snorkeling isn't bad though you can't see a lot of fishes to see. Nevertheless, visibility is good, so you will enjoy your time searching for fishes that might be swimming nearby.

Nights in the fishing village will be very extraordinary. The fishing village of King Island consists of inhabitants that hail from Vietnamese, Chinese, Thai, and Khmer nationalities. Spend time in the local bars and pubs because you'll hear tales of the olden days when King Island wasn't popular in the world. Stories that you might hear are fishermen's tales about anomalies in the sea, legends surrounding the island itself, etc.