Croatia doesn't disappoint when it comes to beaches. Whether it's for partying, relaxing, or sightseeing – Croatian beaches got you covered. Even though most don't have the strips of white sand, you'll enjoy Croatian beaches for their natural pebble-covered shores that have a clean, monochromatic hue.
There are more than a hundred beaches in Croatia that have earned the status of being blue flag beaches. Still, I know that you can't go to all of these with your limited stay. That being said, these are the top 11 beaches in Croatia that you should visit before visiting others.
• Dubrovnik Beaches
• Bacvice Beach
• Stiniva Beach
• Brsec Beach
• Sakarun Beach
• Zlatni Rat Beach
• Pasjaca Beach
• Podrace Beach
• Queen's Beach
There are several key points as to why these beaches are the best in Croatia. Go to the next sections because I'll tell you all the traits that make them special.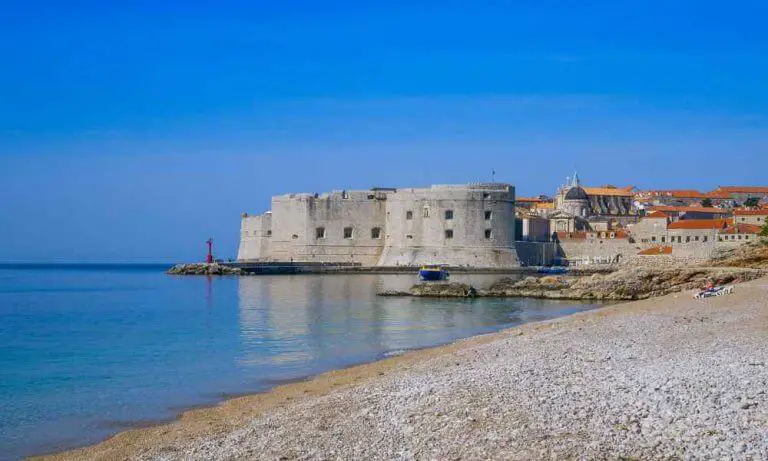 It's a fortified town that looks like it's stuck in medieval times with its stone buildings, towering walls, and bastions. A film set of the highly popular Game of Thrones series. A seaside town with beaches that don't chase newcomers away. Yeah, a beach vacation in Dubrovnik is second to none.
You can spend your time on the main beach area of Dubrovnik. However, there are better places for you to go if you're willing to do a bit of exploration. Examples are the Betina Cave and Sveti Jakov Beach.
Betina Cave is on the south side of Dubrovnik. Riding a kayak is the most popular way to reach Betina Cave. Nevertheless, you can also rent a boat if you don't mind spending money. Betina Cave is popular because it receives a lot of sunlight, and tourists are rarely around it. Therefore, it's a good spot for sunbathing.
On the other hand, the Sveti Jakov beach is a hidden paradise that you can access after a 20-minute walk from Banje, Dubrovnik's main beach area. It's famous due to the natural rock formations surrounding it and the trees that provide a wonderful shade.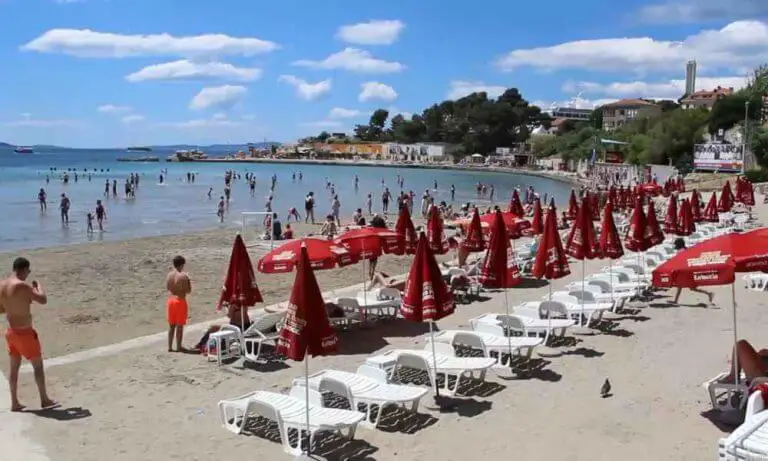 Many say that Croatia's Split beach is the best location for beach parties. This statement might be true to a greater or lesser degree. Split isn't a single beach but a collection of more than 6 different beaches having sandy, rocky, and pebbly landscapes. And when talking about parties, people should talk about Bacvice Beach and not Split itself.

Bacvice beach sits on the eastern portion of Split and spans 103 meters. It's not very expensive. However, Bacvice, due to its sandy shore that's rare in Croatia.

After it opened in 1919, Bacvice became one of the most sought-after beaches in Croatia with all the activities for singles, couples, and families. Bacvice Beach has a playground for children, jet skis, water scooters, kayaks, and canoes. Popular activities are beach parties, picking, and watersports.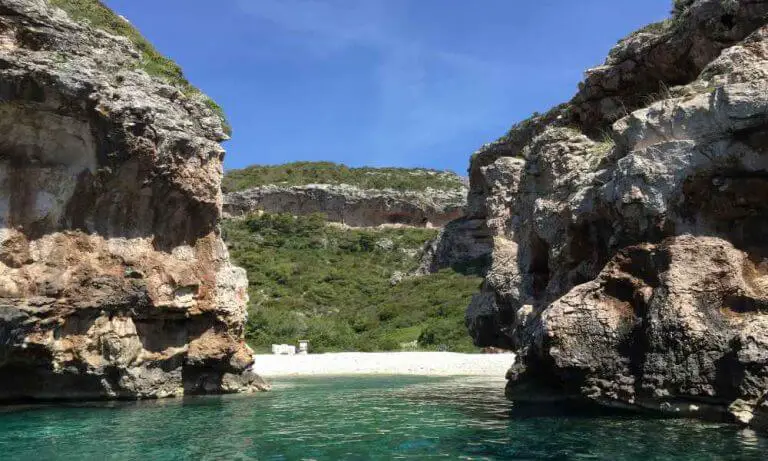 Croatia's Vis island hosts a very peaceful and picturesque beach – Stiniva. Hiding behind two gigantic rock formations that serve as its gates, Stiniva secludes you from the troubles of civilization. Stiniva is shallow, and therefore, it's great to go here if you're looking for an easy and safe swim.

Compared to the past, Stiniva now has a lot of facilities for you to enjoy your stay. Atop its cliff backdrop is the Lucana villa that provides a panoramic view of the Stiniva landscape, which highlights the magnificent view of two cliffs that guards it. For foodie options, Stiniva has an onsite restaurant that serves Dalmatian cuisine consisting of Pekas, Char, and Capavici.

Don't expect to get a lot of suns while you're in Stiniva Beach. The rock cliffs that embrace it blocks sunlight most of the time. Nevertheless, don't be disappointed because the old taverns in the place are a great compromise. Moreover, kayaking is highly enjoyable due to the magnificence of the rock cliffs on the sea.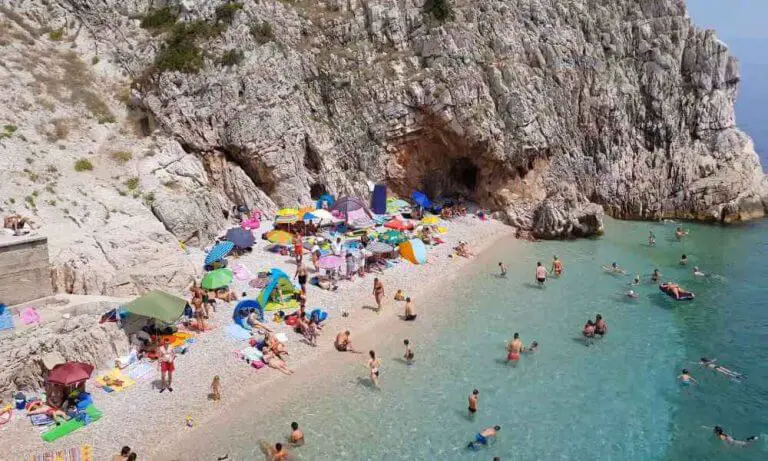 If you think that Stiniva Beach is too far for your tastes, then Croatia's Brsec Beach is a nearer alternative. You'll find this beach below the Brsec Village of Pula. To reach Brsec Beach, you don't need a engage on a long trip. Pula has its own airport that's only 1 hour away.

Brsec beach takes pride in its translucent water that's neither too hot nor too cold for swimming. It also receives a lot of sunlight. During the hot seasons, sunshine pours on Brsec beach for 10 – 17 hours on average. As a result, it's highly popular for those who want to go sunbathing.

The trip from Brsec village to Brsec beach is a strenuous walk where you have to follow a steep pathway for going up or down. With that being said, buy all that you need from Brsec village beforehand because going back and forth is what you wouldn't want to happen.

The hilltop town of Labin is the best option for accommodation if you're planning to visit Brsec beach. The inns and villas of Labin Old Town and New Town allow you to rest while hearing the singing of insects that live in the surrounding woods below.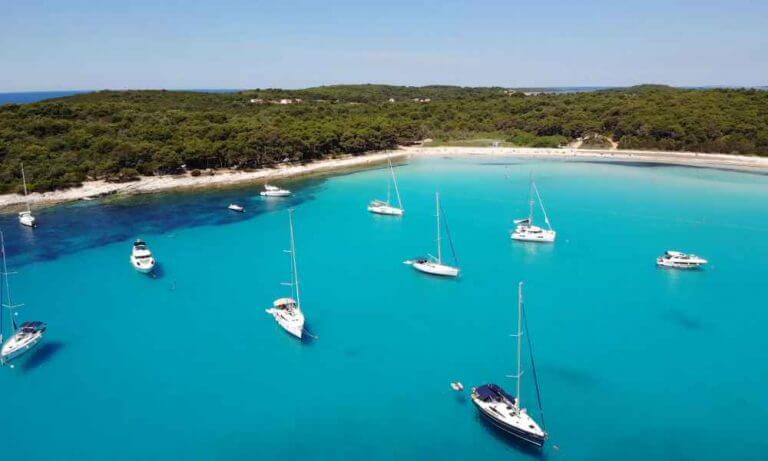 The Sakarun Beach in Croatia's Dugi Island is another fun galore beach that enjoys the same reputation as Split's Bacvice Beach. Many locals and foreigners spend time on this beach due to its laid-back vibe. Moreover, Sakarun Beach is also one of the few beaches in Croatia with a spacious white sand shore.
The shimmering blue water of Sakarun Beach entices tourists to take a swim. It's very calm and moderately shallow, this making swimming safe and very enjoyable for kids and adults. Though fishes aren't that many, you can also opt to take a mini-snorkeling escapade since visibility is good.
Sakarun beach offers boat tours. This will let you see the top sights of Dugi Island. Nevertheless, the best way to enjoy the boat tours is to rent them so that you can get to deeper parts of Sakarun beach, where snorkeling is more appropriate.
Serving as the backdrop of Sakarun beach is an expansive tundra. You can freely explore this without a guide. Be sure to bring water and protective equipment with you because there are no amenities as you trek further. To be safe, never stray too far and stick on trails where you can still see Sakarun beach.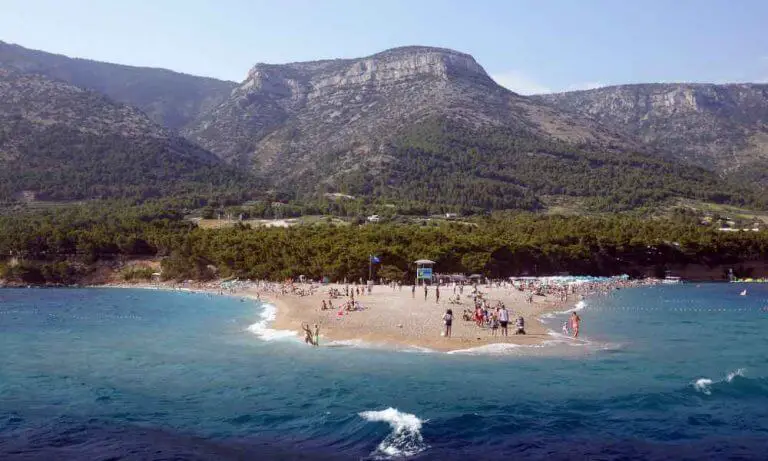 Never forget to squeeze Zlatni Rat Beach on your vacation to Croatia, even if you've already jotted down a lot of things to do and a lot of places to visit. The orange pebbly shore of this beach looks like it could only exist in a dream and makes the perfect contrast to the blue sea.
Tourists rever to Zlatni Rat beach as Golden Horn. This is due to its distinct horn-like shape. You can also imagine Zlatni Rat Beach like an arrowhead wherein the tip is where most tourists spend their time swimming or doing water activities.
One fun fact about Zlatni Rat beach is that it's still developing. This means that the present beach that everyone enjoys today might change its shape in the next hundred years. With that being said, don't delay your visit because who knows when Zlatni Rat's distinct shape changes.
The maestral winds regularly blow on Zlatni Rat Beach. Maestral refers to a type of wind that blows strangely constant, strong, and steady. For this reason, Zlatni Rat beach won't waste your time if you're fond of kitesurfing and parasailing. Another thing that makes it special is the stones of happiness on its shore that most believe in bringing good luck.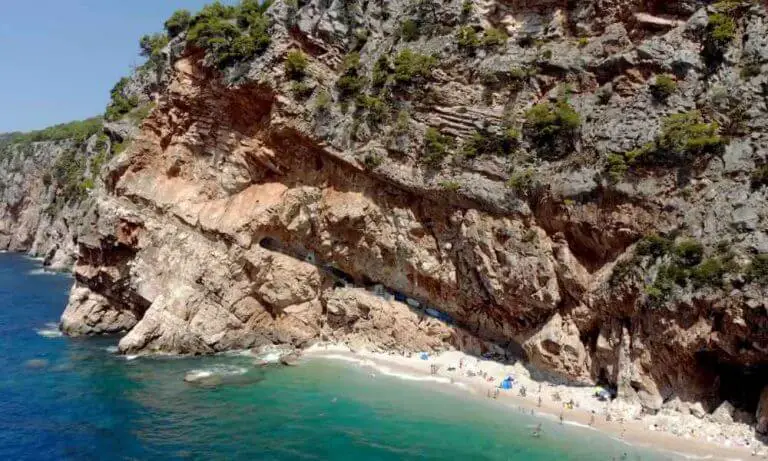 Pasjaca Beach is a definite go-to if you're planning to visit Dubrovnik or Caveat since it's near to these. This beach is the wonderful aftermath of man's tweaking with mother nature. Before World War II, no Pasjaca beach is on the maps of Croatia. It only existed after people created a tunnel and left the debris on the sea. The resulting debris then formed a beach which is Pasjaca at present.
Going to Pasjaca beach is an adventure. Pajama Beach is 200 meters below its overhead entrance. And to reach it, you have to traverse a lengthy stepladder pathway carved on the face of the rocks at the back of the shore. Nevertheless, your effort is worth it because Pasjaca has scenic spots for A-grade social media posts.
Pasjaca beach is constantly degrading. The sea is starting to erode its pebbly fish. The shore of this beach is getting thinner and thinner as years go by. You're in a race against time, so never delay your visit to this beach if you wish to see it in its glory days.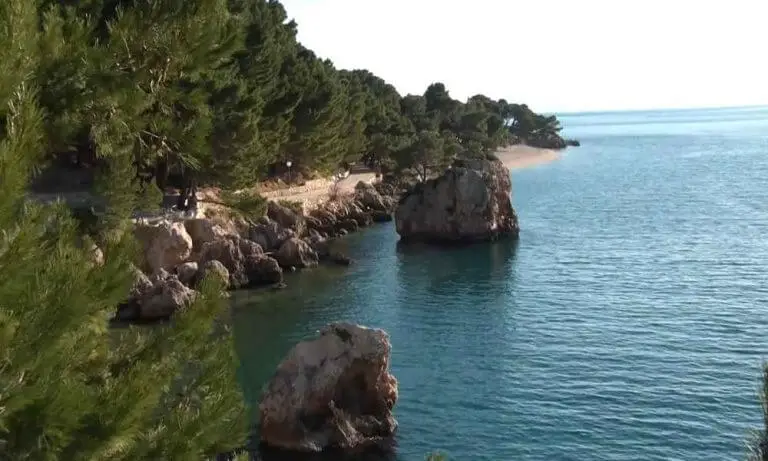 None would ever disagree that Croatia's Podrace beach is great even though it has limited space. The pine trees and tamarisks that grow on the back of this beach's shore provide natural scenery. On the right side is a short rock hill that's perfect for snapshots.
Another key trait of Podrace beach is its proximity to Punta Rata Beach. A part of a protected nature reserve, Punta Rata attracts tourists with its shining pebbly shore and greenish translucent water. Add the tamarisks that look like cotton on its backshore, and Punta Rata is without a doubt one of the most beautiful beaches in the world.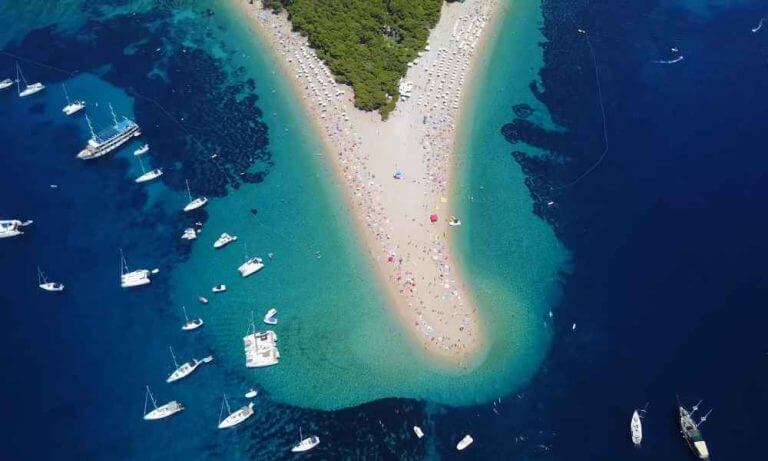 Spanning for about 8,000 kilometers, Croatia's nin coastline is home to a lot of award-winning beaches that a lot of tourists dream of experiencing. Nevertheless, out of all these, Queen's beach is the most popular. This beach's brown strip of shoreline is more than a delight for the eyes. Moreover, the shallow cerulean water that's calm and vibrant makes swimming very wonderful.

Nevertheless, most would agree that Queen's beach look isn't the only notable thing that it has. There's also the medicinal mud that's within its vicinity. Queen's beach has been subject to different research, and its therapeutic effects aren't blind testimonies. According to studies, Queen's beach's medicinal mud can cure rheumatoid diseases, skin diseases, infertility problems, and even spinal deformities.