Hollywood is a place where dreams can come true and imaginations run wild.
From the iconic Hollywood Walk of Fame to the world-renowned Hollywood Bowl, this bustling city is full of fun and exciting activities for visitors of all ages.
From seeing the stars on the Walk of Fame to catching a concert at the Bowl, here are the best and fun things to do in Hollywood.
If you're a film enthusiast, then the Hollywood Walk of Fame is a must-visit. Here you can get up close and personal with the stars of TV and film.
Take a stroll down Hollywood Boulevard and take in the sights and sounds of the bustling city.
You can take a selfie with your favorite star, visit the iconic Chinese Theater, or just people watch and take in the atmosphere.
For music lovers, the Hollywood Bowl is a must-see. This iconic venue has hosted many of the world's most famous performers and is a must-visit destination for any music fan.
Catch a concert or movie under the stars and take in the incredible atmosphere.
From rock to classical, the Hollywood Bowl has it all. So if you're looking for the best and fun things to do in Hollywood, the Hollywood Bowl should be top of your list!
Things To Do In Hollywood
1. Get Up Close And Personal With Celebrities On The Hollywood Walk Of Fame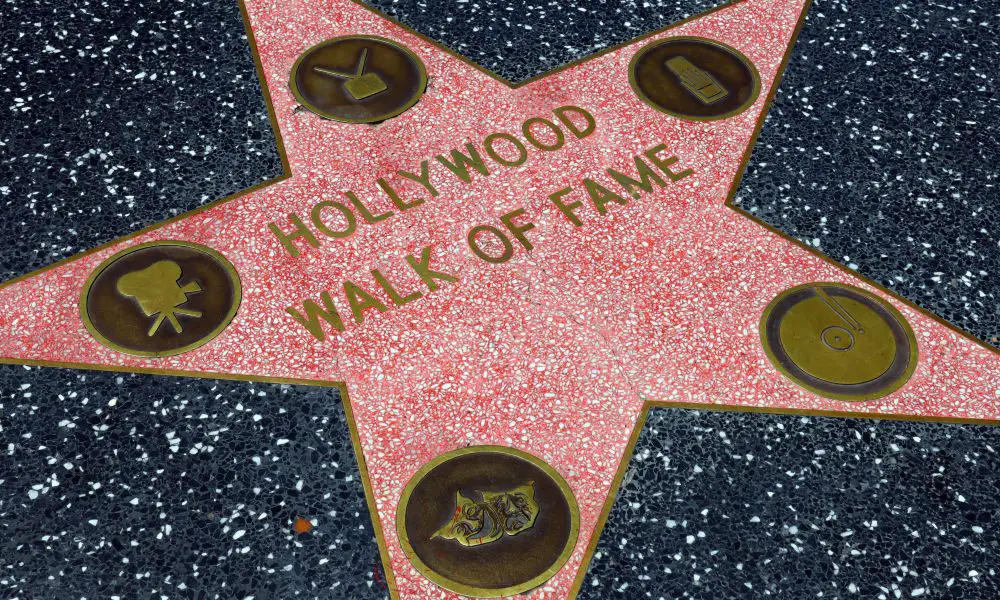 The famous sidewalk stars celebrating all of the showbiz's biggest stars can be found along Hollywood Boulevard and Vine Street.
They are divided into five categories: Motion Pictures, Live Performance/Theater, Recording radio, and television. They are distributed in two parallel rows for each sidewalk.
Some are dedicated to fictional characters such as Godzilla and Mickey Mouse, others to famous animals such as Lassie, and some stars have more than one star because they have shined in different categories.
Today, the Walk of Fame has more than 2,500 famous stars stamped on the ground and with free access.
Therefore, searching for the star of a favorite artist is one of the must-do activities to do in Hollywood.
Each star is inscribed in brass with the honoree's name engraved in bronze, and below is a round emblem indicating the category for which that person was awarded the star.
And if you are a big fan of an artist, look on the official website for the exact location of that person's star.
That way, you won't waste much time looking for where it is among many others.
But if you don't have a favorite, the best thing is to walk with your eyes fixed on the ground and let yourself be surprised by the encounters of the big names of the past, dodging the dozens of people sitting or slumped down to take a picture.
This place is also a good spot to buy souvenirs. However, be aware that near the Chinese Theater and Dolby Theater, prices can be more expensive.
Walk a few blocks, and you will see that the prices charged are lower.
All in all, the Hollywood Walk of Fame is one of the best-known sights in Hollywood.
So walking down this street is an almost obligatory stop for anyone going to the city.
2. See The Hollywood Sign On The Hill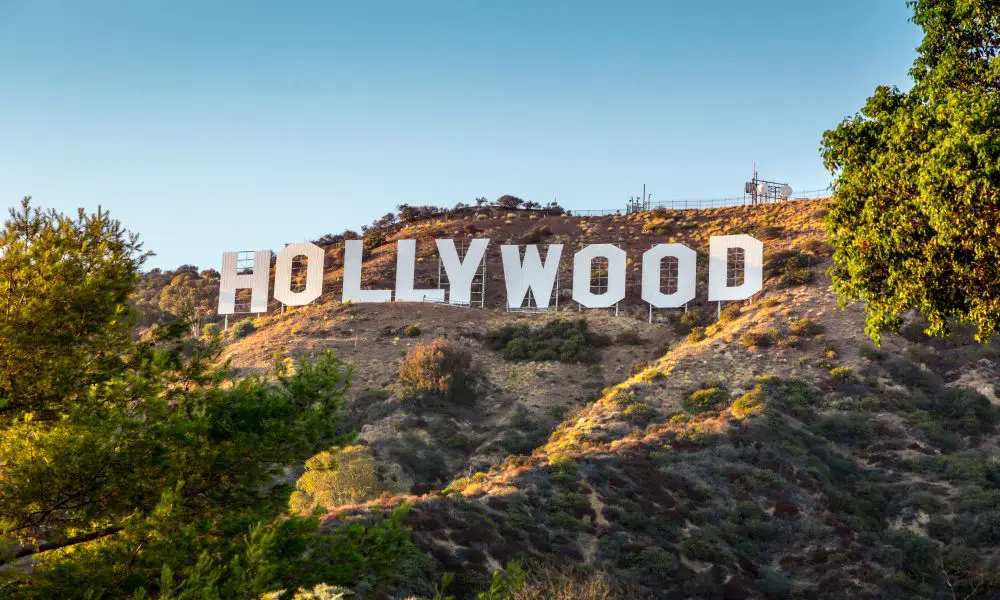 The Hollywood Sign is probably one of the most famous tourist spots in Hollywood and one of the most characteristic postcards of the city.
It is situated on Mount Lee Hill and features huge 13.7-meter-high letters spelling out the word Hollywood.
So if you go to Los Angeles and don't take a picture of the Hollywood sign, it means you haven't been there.
It is possible to see this sign from several points in Hollywood, but there are some places where the photos come out better, especially if you are a photography fanatic like me.
One of the best places to take panoramic photos of the Hollywood sign is the Griffith Observatory.
This beautiful park is free to enter, with numerous trails and viewpoints from where you can enjoy some of the best sunset views in Los Angeles. 
Another good place to take photos of the Hollywood sign is Lake Hollywood Park, a beautiful park with large expanses of grass and privileged visits to the famous sign, where you can also take a walk or have a picnic.
3. Explore Celebrities Home Through Beverly Hills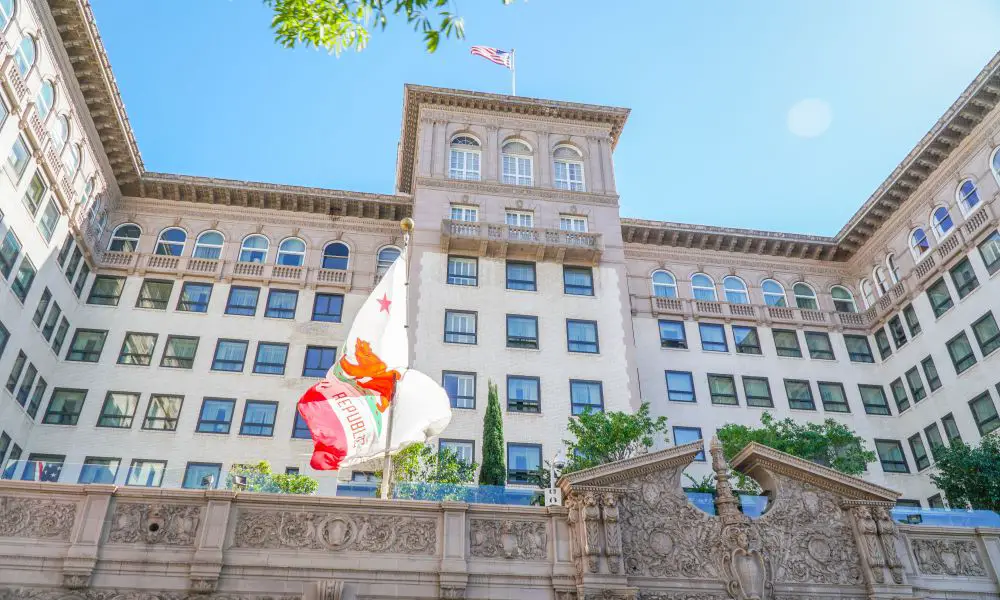 Who has never heard of "The preppy girls of Beverly Hills"?! Don't worry if you've never heard of this series.
But I'm sure you've already seen the movie "Pretty Woman." In short, Beverly Hills became famous after being the setting for several films and series, in addition to being the home of several Hollywood celebrities.
So a visit there is one of the best things to do in Hollywood.
Beverly Hills is all luxury and glamour. It is there that we find Rodeo Drive, one of the most chic shopping streets in the world, made up of dozens of very expensive designer stores, including Hermes, Dior, Chanel, Dolce & Gabbana, and Tiffany.
The Beverly Hills Wilshire Hotel, where "Pretty Woman" was recorded, is at the end of Rodeo Drive, almost opposite the staircase with the fountain that everyone photographs.
You can also tour the homes of famous people like Michael Jackson (the last house he lived in), Paris Hilton, Charlie Chaplin, Walt Disney, Jennifer Aniston, Tom Cruise, Nicolas Cage, and many others.
It is possible to take a guided tour, or you can go on your own if you have rented a car (which is the best way to make the most of everything the city has to offer).
If you prefer to go on your own, you can buy a map on Sunset Blv or find them on the internet.
4. Catch A Movie At TCL Chinese Theatre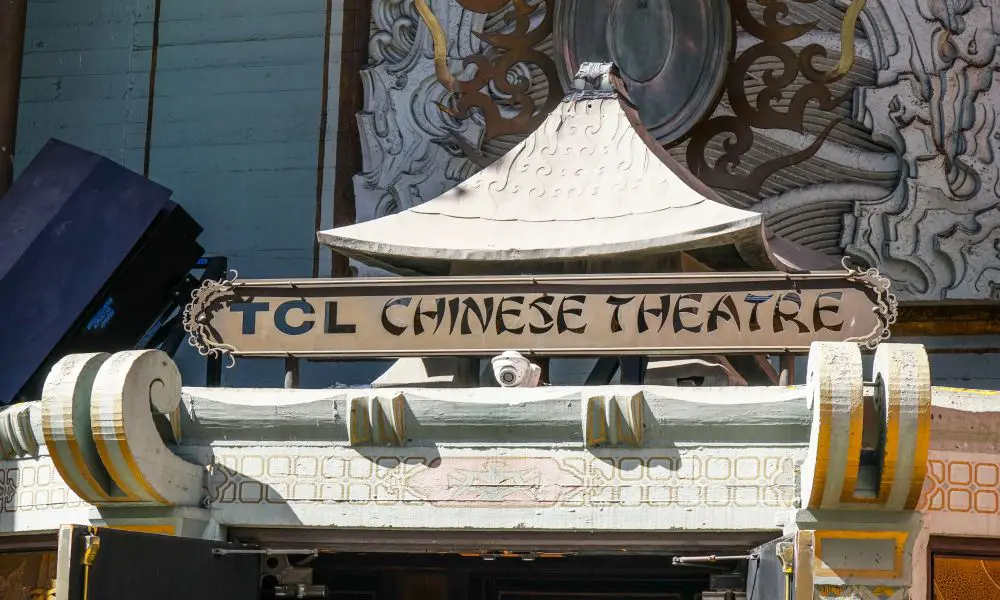 Built in 1927 in the shape of a Chinese pagoda, the Chinese Theater is mainly famous for the hand and footprints of Hollywood stars imprinted on the concrete sidewalk in front of the entrance.
One of the points where there is more concentration is the legendary Marilyn Monroe, Arnold Schwarzenegger, and Harry Potter. And without a doubt, this is one of the main tourist attractions in Hollywood.
The theater hosted the Oscar awards between 1944 and 1946. Today, it is a reference to one of the biggest and best technologies in the world used in audio and video.
Another point that must be taken into account when visiting it is its decoration.
The element that most caught my attention was the central chandelier, in addition to the seats and the entrance hall. It really is worth doing this tour internally.
There are two alternatives to enter the Chinese Theater. It is possible to buy a ticket to see a movie or take a guided tour in English, which takes place every 30 minutes.
Both options can be purchased at the ticket office, subject to availability. To ensure your entry on a specific day, the ideal is to buy online in advance.
5. Explore Griffith Observatory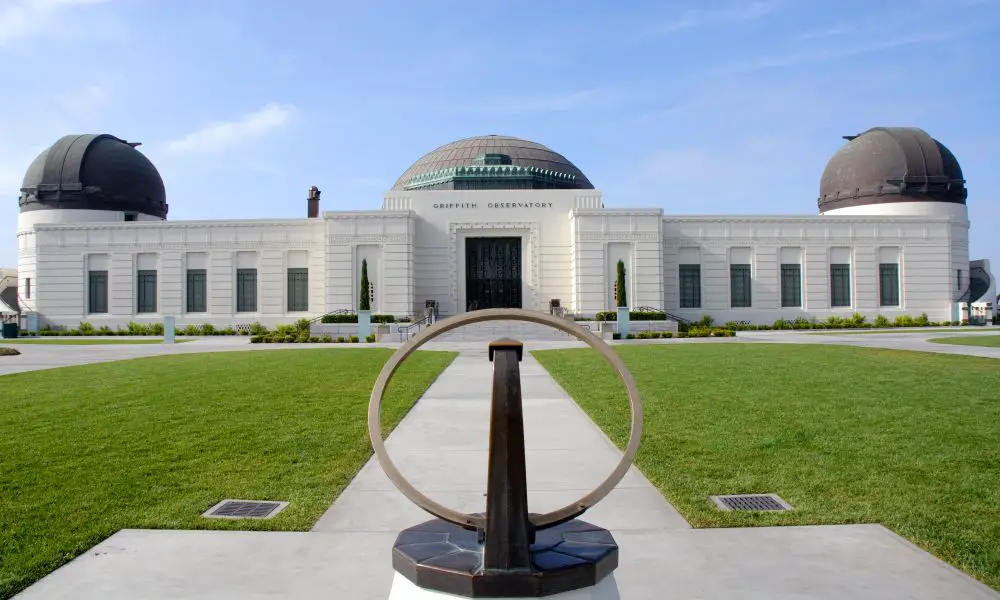 If you are a lover of viewpoints, one of the best things to see in Hollywood is the night views from the wonderful and cinematic Griffith Observatory. From here, Los Angeles really does seem like the city of stars.
In addition, a visit to this observatory allows you to visit some exhibitions with collections of telescopes, celestial maps, and a piece of lunar rock.
The events, which will delight astronomy enthusiasts, include lessons and guided observations of the sky.
My recommendation is that you come at sunset and let night fall. Not too late either because they close the access parking lot.
You can get there by car, but parking near the observatory is very expensive ($10 an hour).
There are other free car parks further away, from which you can then go back on foot.
Those in good physical shape can hike up to the observatory on one of the many hiking trails through immense Griffith Park.
For all the others, there is a comfortable bus called DASH Observatory, which takes you from the subway station at the intersection of Sunset and Vermont to the Griffith Observatory, and runs until evening.
6. Meet Celebrities At Madame Tussauds Hollywood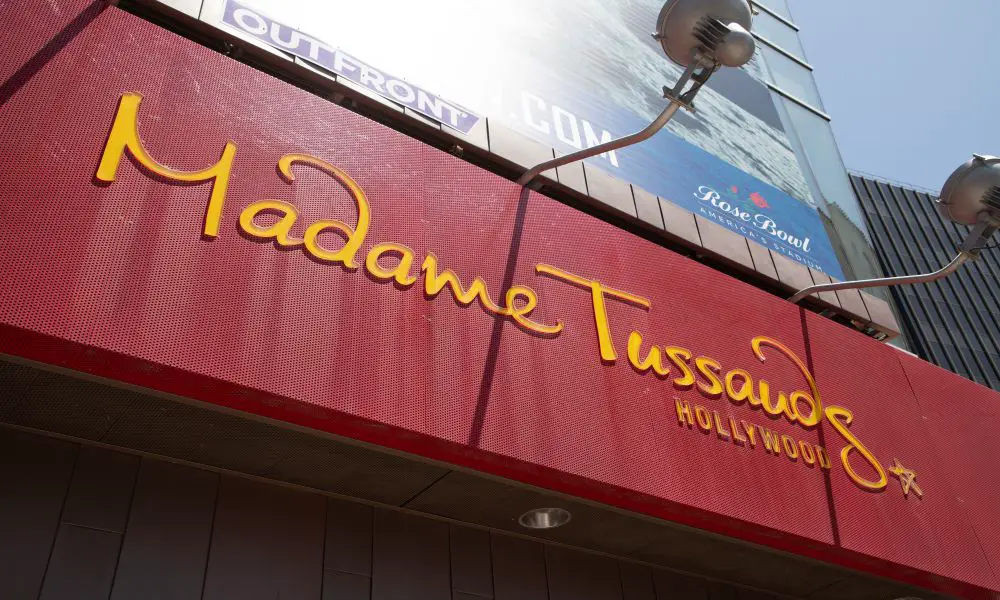 The capital of American cinema could not fail to have one of the most famous wax museums in the world, right?
Located on Hollywood Boulevard, its doors opened in 2009 to present 115 figures from music, sports, and cinema.
You'll get to see wax figures of Hollywood's most famous celebrities, such as Marilyn Monroe, Johnny Depp, Obama, Beyonce, Angelina Jolie, Lady Gaga, Brad Pitt, Charlie Chaplin, and Elvis Presley, among others.
So if you have a celebrity that you admire, you can take the opportunity to get a picture with them, even if it's just in wax.
There are also themes like Superheroes with Spiderman, Iron Man, Thor, Captain America, and more characters from the world of Marvel; Modern Classics with Tom Hanks, John Travolta, Patrick Swayze, and Sylvester Stallone.
As you can see, you can spend hours taking pictures, creating stories, and getting to know certain pieces of Hollywood history up close.
Therefore, adding this option to your list of the best things to do in Hollywood will be a great idea.
7. Shop 'Til You Drop On Rodeo Drive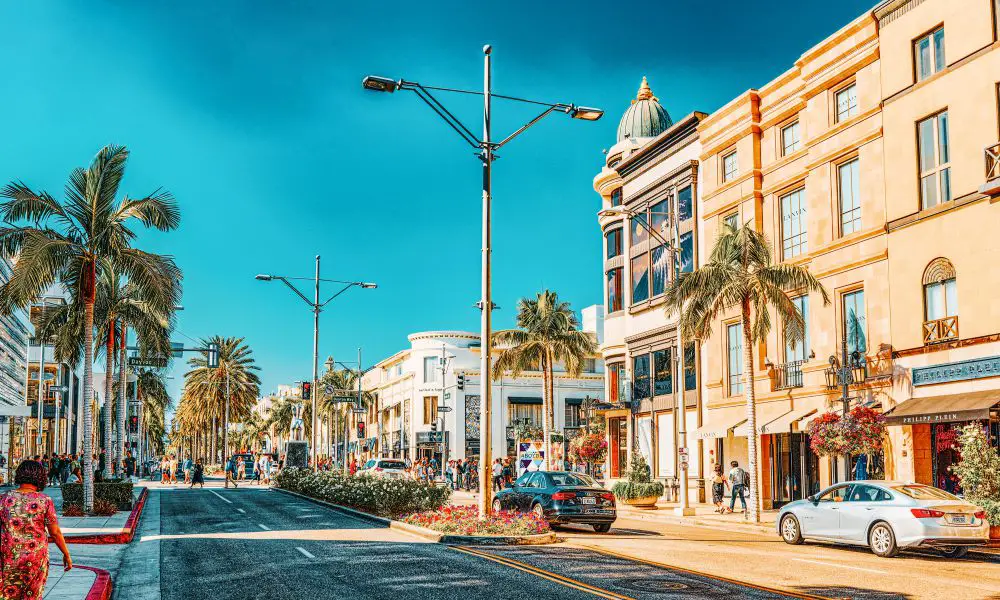 Considered the most exclusive street in the state of California, Rodeo Drive is lined with beautiful coconut trees that we often see in Hollywood films.
Located in the Beverly Hills neighborhood, it brings together the most desirable brands in the world in just 500 meters of extension.
Brands such as Dolce & Gabbana, Armani, Ferrari, and Rolls Royce are also there, among others of great elegance.
It's not difficult to walk down the street and meet a movie star because that's exactly where they do their shopping.
That is to say, to buy something here or even have lunch, you have to scratch (and a lot) your pocket!
But the truth is that I don't think it's necessary to visit it just for the purpose of buying.
Just looking at the shop windows, which are super elaborate, is already an interesting experience, especially at Christmas when they get beautiful decorations!
But if you have enough money to buy a Chanel bag, Rodeo Drive is the ideal spot to go.
I recommend a quick visit to the site, even if you're pressed for time. It's really worth it, even if it's just to take a picture in one of the corners of this incredible tourist spot in Hollywood.
Another option is to just have a coffee at Urth Caffe, a chain of coffee shops in LA that serves brunches, desserts, and other tasty treats.
If you intend to include this attraction in your Hollywood itinerary and go by car, I recommend arriving early.
This is because although there are several public parking lots, they sell out quickly!
8. Visit The Departed Celebrities At Hollywood Forever Cemetery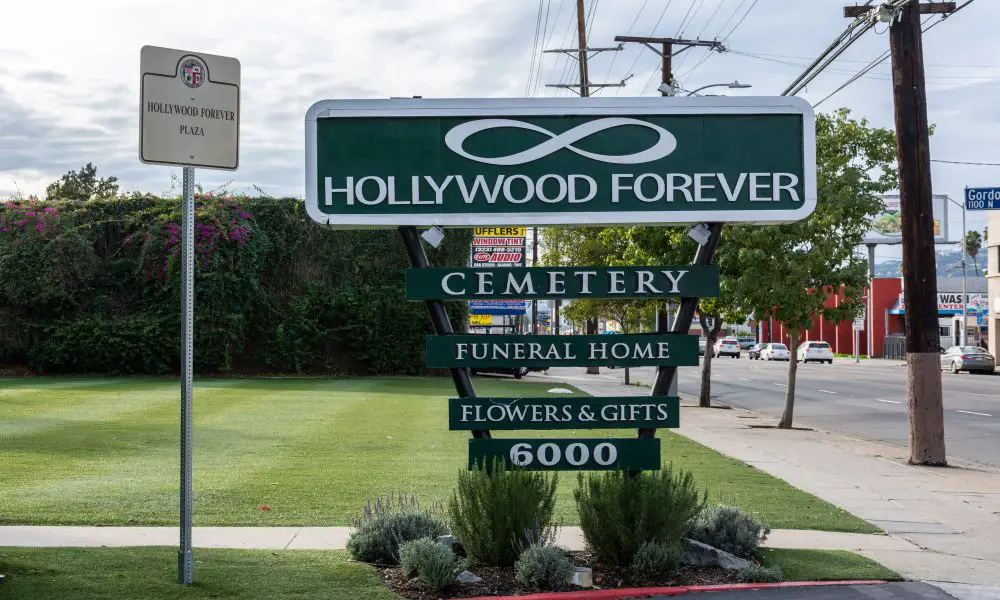 The Hollywood Forever cemetery really deserves to be visited, even by those who don't usually visit these places.
Film and music stars, directors, producers, costume designers, and screenwriters are buried here.
They rest in the shade of towering palm trees, surrounded by green lawns, flower-filled rock gardens, and pretty ponds with ordinance willow.
Belonging to the world of entertainment and celebrity status, this cemetery has allowed the death of Hollywood Forever to rest in creative graves, realistic statues, and amusing epitaphs that worthily remember the extraordinary nature of their lives.
Among the big names buried here are Judy Garland, Cecil B. DeMille, Rudolph Valentino, Bugsy Siegel, Mel Blanc, Chris Cornell, Dee Dee Ramone, and many more.
Hollywood Forever, in recent years, has been able to make the most of its tourist vocation and its link with entertainment: Halloween night becomes an open-air cinema where you can see horror films surrounded by tombs, and more events are organized at other times of the year such as treasure hunts, thematic guided tours, and other film screenings.
9. Have Fun At Ovation Hollywood
Opened in 2001, this shopping and entertainment center has grown to become one of the most popular places in Hollywood.
This massive mall is located On the Corner of Hollywood Blvd. & Highland Ave and offers a mix of stores, restaurants, and entertainment in the same place.
First, it's important to note that this building houses the home of the Oscars, the Dolby Theater, where movie fans can get to feel close to the stars.
Also, this mall is home to JAPAN HOUSE LA Gallery, which occupies two floors of the mall and is dedicated to highlighting the best of Japanese culture.
There are many shops in Ovation Hollywood, all of which have a distinctive style.
Plus, you'll find several classy restaurants where you can enjoy a delightful meal.
You can also find plenty of entertainment, with bowling lanes and an arcade that will keep you busy for hours.
Spending a day here will guarantee you an entertaining and unique experience.
And for this reason, a visit to Ovation Hollywood should be high on your list of fun things to do in Hollywood.
10. Take The Universal Studios Tour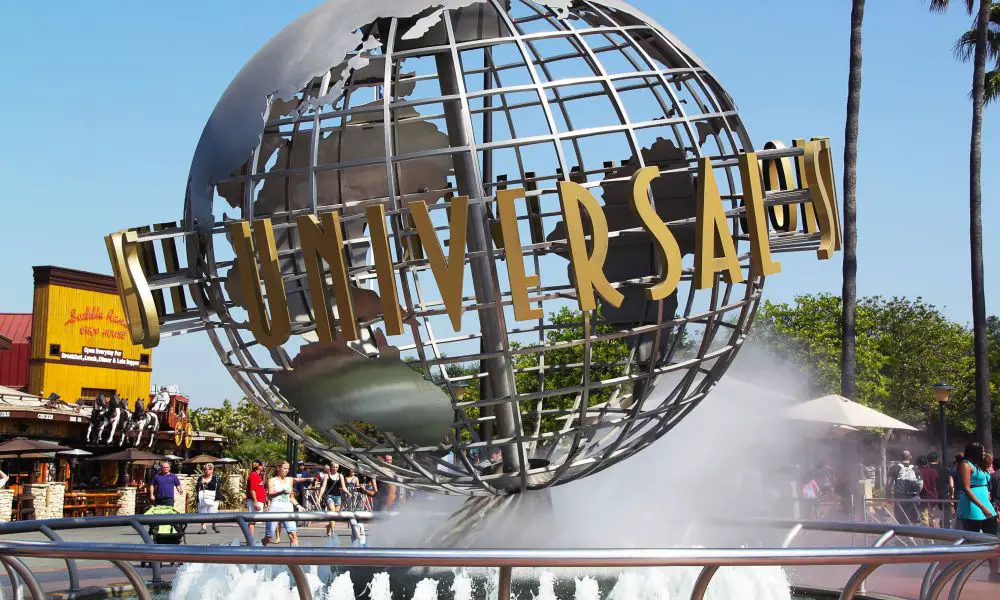 In my opinion, this is one of the most fun tourist spots in Hollywood since you can interact more with the attractions.
As I've been here twice, at two different times, I observe that they change each year.
For those who have been to Universal Florida, you will notice that this park is smaller, but it does not leave anything to be desired.
The most crowded attraction is Harry Potter. So, the tip is to go to the rides that are close to it and, when you see that the queue has decreased, run there, as it is a must. 
Revenge of the Mummy is the most frequented roller coaster in the park, be sure to go even if the wait is long.
If you don't want to face queues, there is also a VIP ticket, which is a little more expensive and gives you quick access, but you can only go once to each attraction.
It's worth every penny, even more so if it's summer when Universal is packed, and the heat is unbearable.
Another point taken into account is the means of transport to the location.
If you rent a car, be aware that parking in the park costs from 27 to 50 dollars, depending on the location of the space.
A practical, safe, and much cheaper way is to take the subway at Walk of Fame and get off at Universal City station, which is right in front of the park.
11. Tour The Warner Bros Studio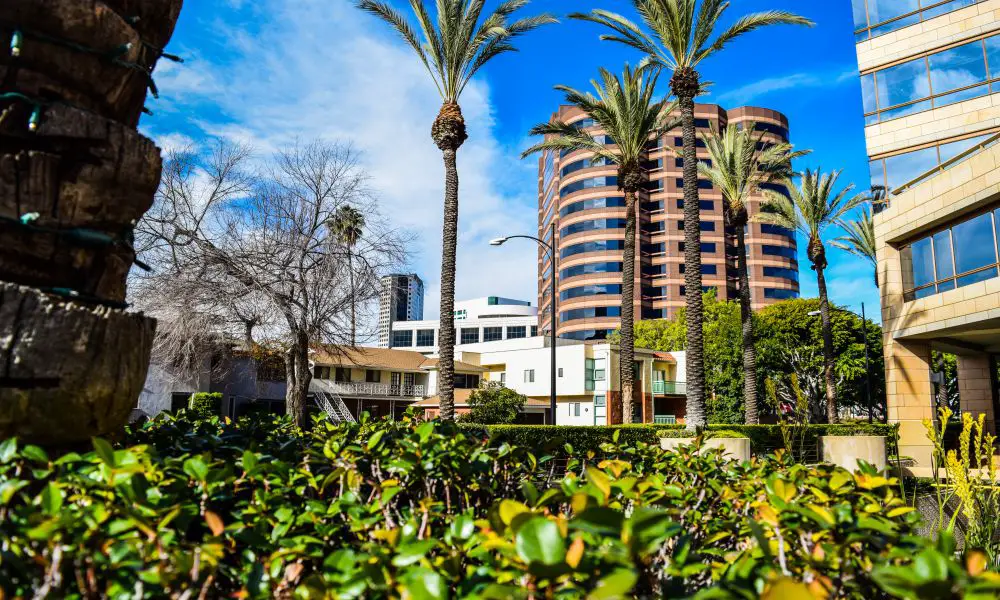 If you are fascinated by cinema or the series Friends, you definitely need to visit the Warner Bros Studio.
In it, you can see sets of films that are still being produced and still sit on the couch where hundreds of movies/series have been recorded.
As LA is the land of cinematography, it is almost impossible not to go to a movie studio.
As I've been to California's three most famous theme parks, my tip is to go to Warner Bros and Universal Studios, especially if you're a first-timer.
At Warner Bros, tours take place daily but sometimes change as the warehouses are closed due to filming, so each visit is a different experience.
Two types of tours are offered, Deluxe and VIP. In The first, the visit takes about 5 hours and is much more detailed, but much more expensive.
The traditional one lasts 2.5 hours, and I particularly think it's enough for those who don't want to spend most of their time here.
12. Attend A Concert At The Hollywood Bowl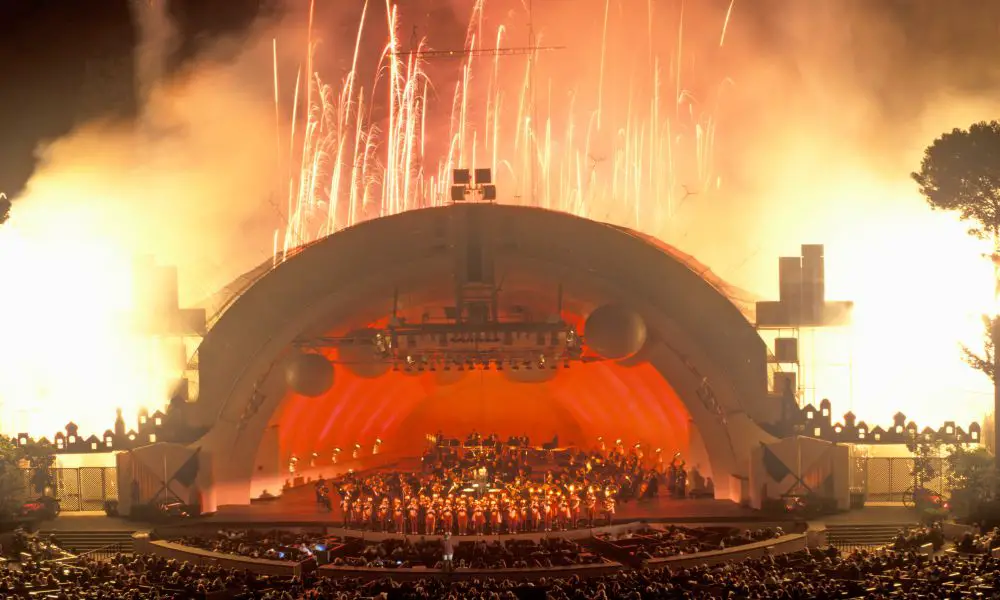 One of the best things to do in Hollywood is to enjoy the music at the Hollywood Bowl, an open-air venue where many shows and concerts take place.
Since its opening in 1922, it has played host to basically every major entertainer, with names ranging from the Beatles to Prince and Kanye West.
It's an amazing place to catch a show, with SURREAL architecture (designed by Frank Lloyd Wright's son), incredible acoustics, multiple TV screens, and other factors that go beyond expectations.
By the way, this is one of the favorite stages of the Los Angeles Philharmonic Orchestra. So the best way to enjoy your time here is to attend a show or concert.
To complete, the place has an excellent view of the Hollywood sign and a small museum (the Hollywood Bowl Museum) with a movie exhibition, free and very cool.
It is worth searching the Hollywood Bowl website for the shows and concerts that will be held and buying tickets in advance.
13. Unwind At Griffith Park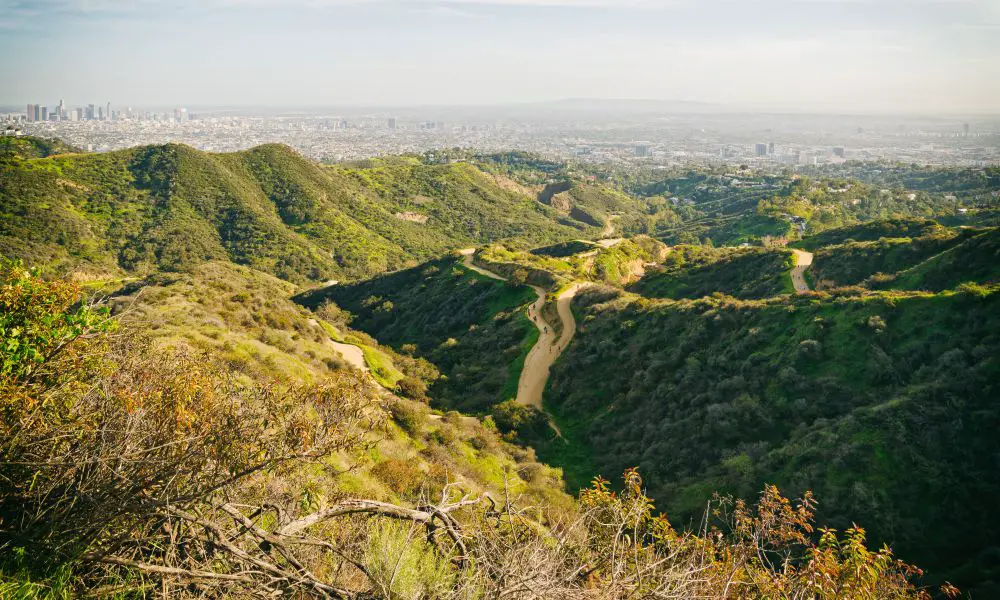 This park is a major historic attraction in the city of Los Angeles. This park offers the possibility of strolling through tree-lined canyons and doing sports, such as horse riding, cycling, golf, tennis, and even swimming. 
The flora and fauna are very rich: over 150 species of plants, including rare autochthonous species such as the Southern California black walnut, deer, coyotes, raccoons, foxes, bobcats, and even mountain lions live here, along with a variety of native insects including two very rare butterflies.
If you're not a fan of nature trekking, there are many other good reasons to visit Griffith Park: the magnificent views of Los Angeles.
This is also the best spot for photographing the famous Hollywood sign, and the Griffith Observatory (which I've already talked about) is also located around.
With all these attractions in one place, you won't be disappointed coming here.
After all, it's one of the best places in Hollywood to enjoy nature and see wild animals. And the best part is that it's possible to use public transport to reach Griffith Park.
The Metro connects Los Angeles to the stop for the park shuttles, Dash Observatory.
14. See Some Illusion At The Museum Of Illusion
Feed your imagination with 3D exhibits and the famous Upside Down House. Los Angeles' premier institution of illusions will put your brain to work like never before!
Inaugurated at the beginning of 2018 on Hollywood Boulevard, the Museum of Illusions is one of the most talked about tourist attractions in Hollywood and California at large.
On-site, visitors can walk around and pose for photos on over 30 3D different exhibits.
Exploring optical illusion effects with scenic elements available on site, it is possible to integrate into the scenarios.
In short, the Museum of Illusions in Los Angeles is a place that teleports you to unimaginable places where you can enjoy optical illusions and even fight Donald Trump in the ring.
In addition, you can get on an elephant and take pictures, since the objective is to transport visitors to imaginary spaces.
Live unreal experiences like getting into a bubble, singing next to a star, or even feeding a dinosaur.
Today, people say this is a "Museum made for Instagram" due to the fact that the main motivation of visitors is to take pictures to post on the social network specialized in photography.
So remember to charge the mobile! You will surely want to show the photos to your friends.
15. Visit Capitol Records Building
Built in 1956, the iconic Capitol Records Building is one of the city's unique landmarks.
The building was designed by Louis Naidorf of Welton Becket Associates and is shaped like a stack of vinyl records.
The building consists of 13 stories with a cylindrical shape, complete with a spindle on top, a detail that makes it even more striking.
The building houses the offices of Capitol Records and some of the most important music companies in Los Angeles, where many of the albums and soundtracks for movies are recorded.
Unfortunately, Capitol Records does not offer tours. However, the building can be admired from the outside, and its design makes it an ideal spot for taking incredible photographs.
There is a 1972 mural by local artist Richard Wyatt on the South wall of the building that pays homage to the clubs and artists that have made their mark in the Hollywood music scene.
All in all, the Capitol Records Building is an essential stop for all music lovers.
This makes a visit here to be one of the best things to do in Hollywood. But remember, parking can be a bit tight in the morning.
So if you don't want to worry about it, use public transportation.
16. Get Amazed At Ripley's, Believe It Or Not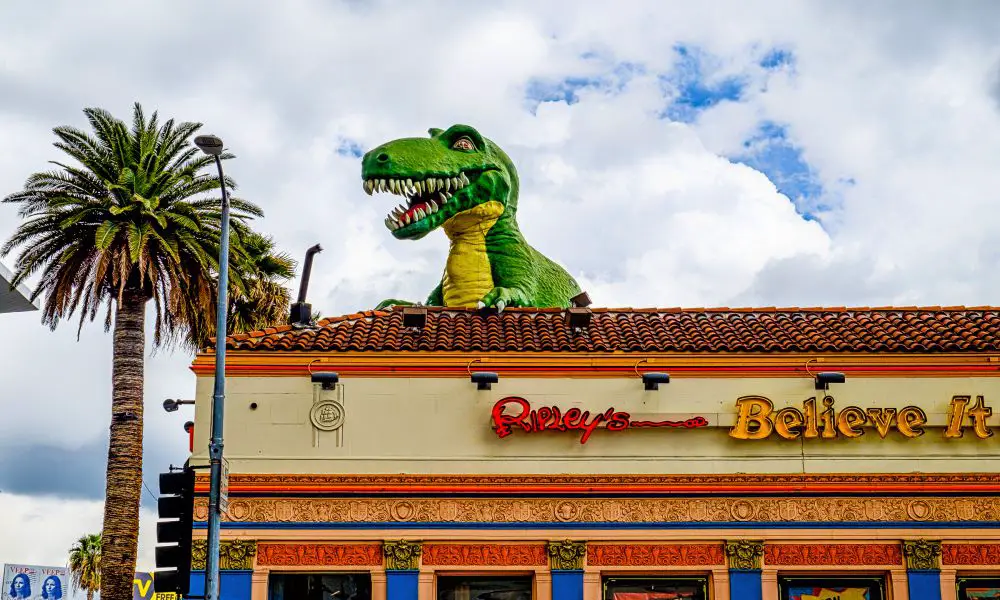 On the corner of famous Hollywood Boulevard and Highland Avenue is a strange-looking building with a funny three-dimensional dinosaur on the roof; it is Ripley's Believe it or Not museum.
The museum was founded by Robert Ripley, an American cartoonist, reporter, and amateur anthropologist who amassed his collection of curiosities while traveling around the world.
And today, hundreds of strange and unusual exhibits from all over the world are exhibited on two floors in 11 halls.
There you will find heads that were shrunken by the Jibaro Indians, the tallest man in the world, Superman's cape, the biggest tire in the world, Marilyn Monroe's makeup bag, a two-headed turtle, a model of the Tower Bridge made of matches, the Lizard Man and paintings made with materials you wouldn't believe, and they look perfect.
And this is just a small part of the collection, as there is more to be seen.
Therefore, let your imagination run wild and be surprised by the things you'll see at this museum.
After all, it is a place where you can Believe it or Not. And being one of the unique attractions in Hollywood, this place is a must-see.
17. Tour The Hollyhock House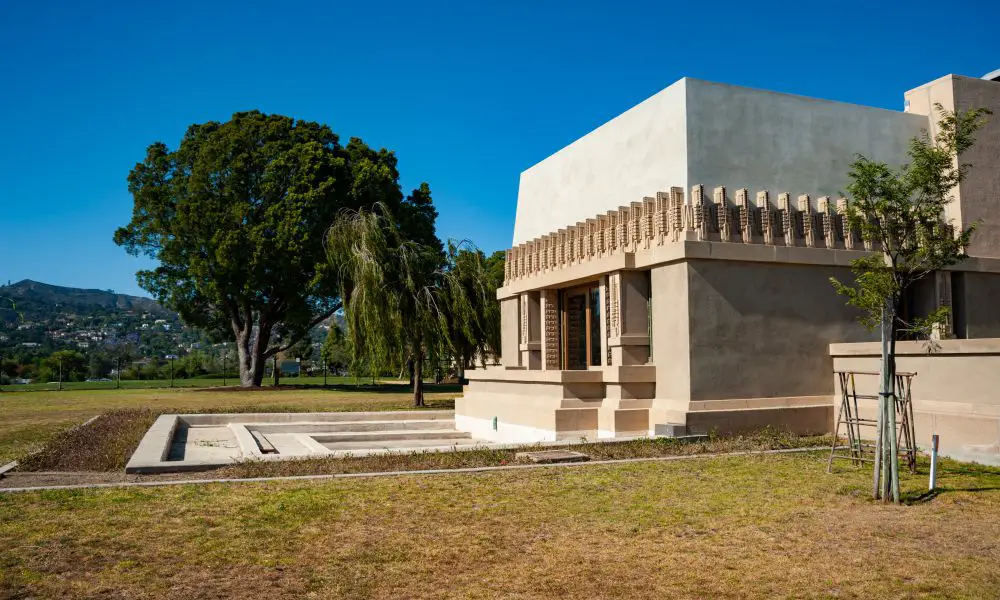 Perched on a hill East of Hollywood and built from 1919 to 1921, Hollyhock House was designed by Franck Lloyd Wright for Aline Barnsdall.
The very rich heiress, intellectual, and producer of experimental theater wanted an acropolis of culture anda multidisciplinary artistic park. 
But for budgetary reasons, the project was reduced to Hollyhock House alone, a massive construction of 17 rooms, seven bathrooms, and two secondary residences.
Wright called the villa a Californian romance, but attributions to the most diverse architectural styles were not lacking.
Some saw an inspiration to Mayan or Aztec architecture, others a reference to Asia and Egypt. 
Barnsdall's request for a residence that was half house, half garden inspired the many terraces, colonnades, and pergolas that enhance the indoor and outdoor spaces of Hollyhock House. 
Barnsdall donated the Hollyhock House to the City of Los Angeles in 1927. And today, the house is open to the public for tours. You can opt for docent-led tours, but most visitors prefer the self–guided tour.
18. See The Animals At Los Angeles Zoo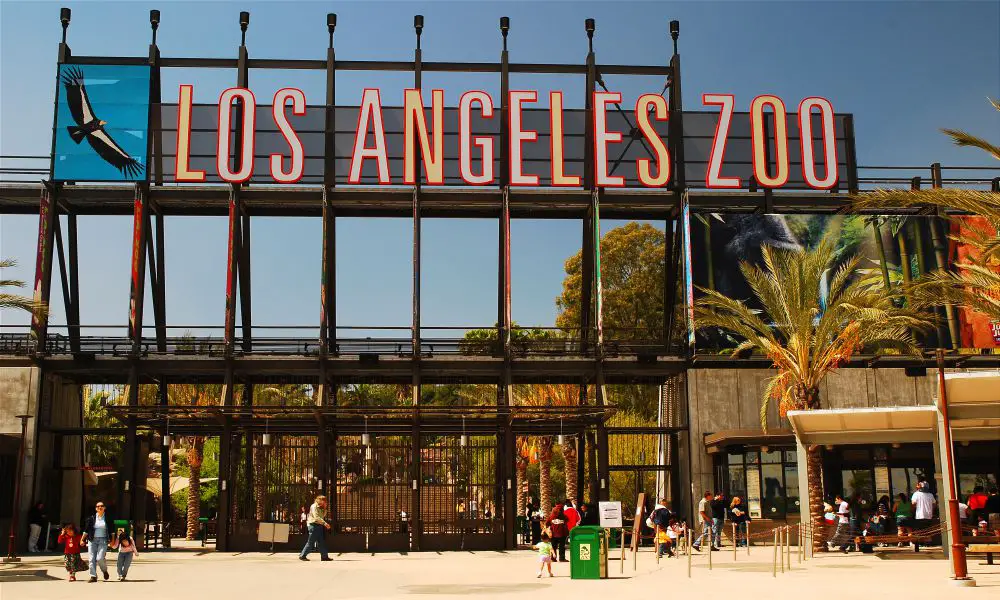 Home to about 270 species of animals, the Los Angeles Zoo and BotanicalGardens is a great addition to the list of best things to do in Hollywood with kids, but it also delights adults.
Through the complex, you will be able to observe mammals, birds, reptiles, and fish, explore beautiful gardens, participate in educational lectures and check out exhibitions.
The little ones can also paint their faces and participate in several recreational workshops.
Despite being in the heart of Los Angeles, the zoo offers a peaceful and natural atmosphere.
In addition, it occupies an area of ​​more than 50 Hectares (133 acres) and is one of the largest zoos in California.
There is a lot to do and see in the park, so planning your visit in advance is advisable if you want to explore every corner.
At least 4 hours should be reserved to make the most of your experience.
19. Celebrate All Things Academy Awards At The Dolby Theatre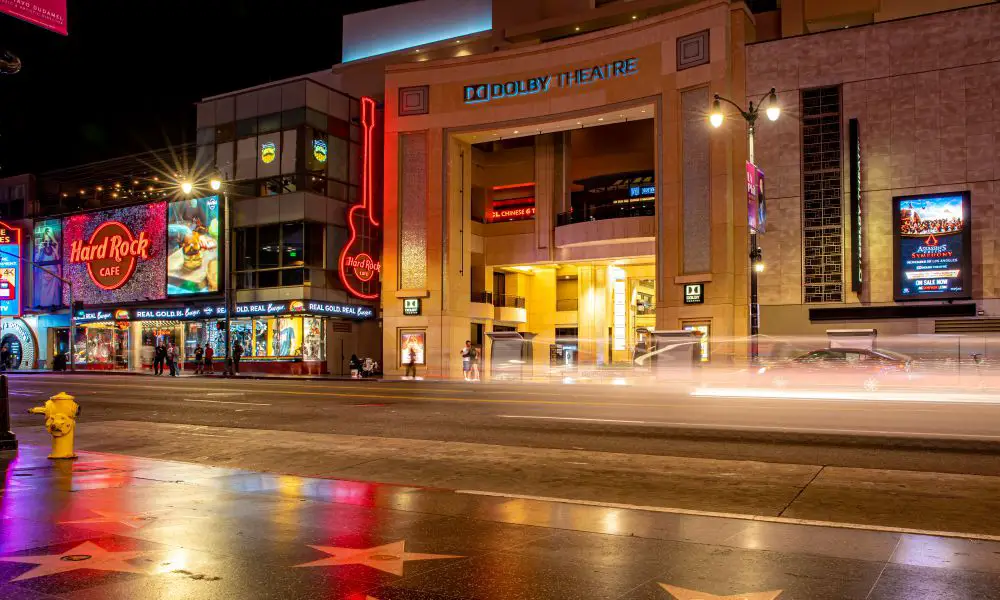 Red carpet, a line of photographers, lots of lights, and limousines. It's not impossible to see this scene while visiting the Hollywood Boulevard area, specifically the Dolby Theater.
The space is the official home of the Oscar ceremony, one of the most important events in the entertainment industry.
And when not serving the Oscar ceremony, the theater hosts shows and concerts with big names from around the world.
Every day, except when there are shows, paid tours take place every 30 minutes inside the Dolby Theater and can be purchased at the box office. There are three floors of luxury and glamour.
However, taking pictures is impossible due to security issues imposed by the establishment. Even so, the experience is valid and is engraved in the memory.
20. Explore La Brea Tar Pits
La Brea Tar Pits is one of the most interesting places in Hollywood for lovers of paleontology.
This is an open-air archaeological site where you can find fossils of the animals that lived in the area thousands of years ago.
It is believed that the animals got trapped in the asphalt pits and ended up becoming fossils over the years.
Some of the prehistoric species found at this site are American lions, Pleistocene mammoths, saber-toothed cats, ground sloths, short-faced bears, and giant wolves.
Today, you'll find life-size replicas of these animals placed in the same area where they were found.
The site also has its own museum where, in addition to fossils, you can admire full-scale representations of the huge mammals that inhabited the planet thousands of years ago.
So if you don't know what to do in Hollywood but want to see something that no other city in the world offers, I suggest allocating a few hours to appreciate the La Brea Tar Pits.
21. Take A Walk Through Hollywood Boulevard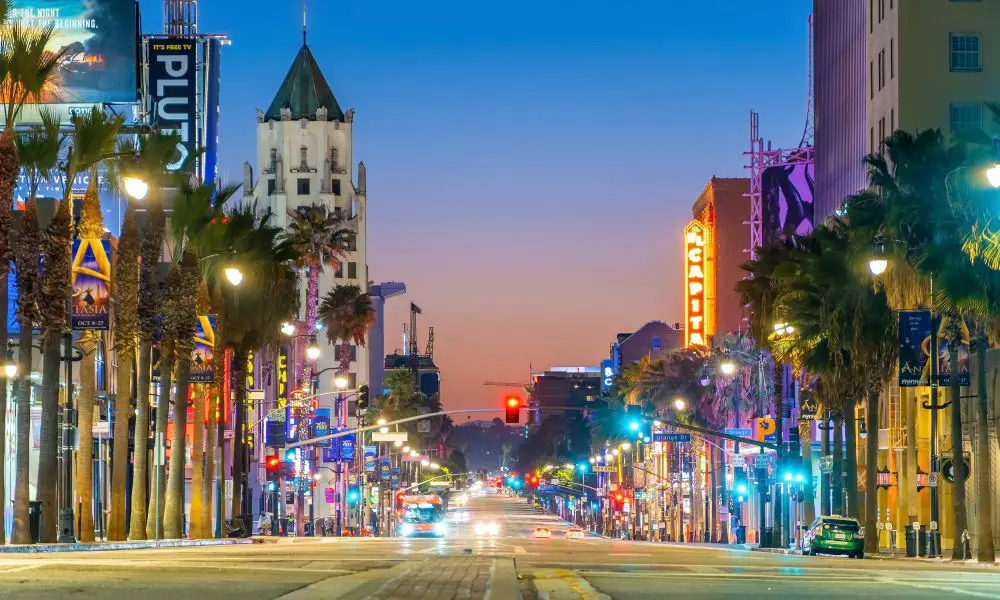 One place in Hollywood that you can't miss visiting is Hollywood Boulevard.
This vibrant street, which runs from Sunset Plaza Drive to Sunset Boulevard, has been a favorite of movie stars and their fans since the days of silent films.
Today, it is home to many Hollywood attractions such as the Dolby Theatre, the Walk of Fame, the Pantages Theater, Grauman's Chinese Theatre, the Ovation Hollywood, and the historic Hollywood Roosevelt Hotel.
But Hollywood Boulevard is more than just the stars. It's also the perfect spot for taking a leisurely walk and enjoying all its vibrant colors and sounds.
The street also has plenty of restaurants and cafes offering great food and drinks to grab while you walk around.
And when the sun goes down, the Boulevard comes alive with street performers, street vendors, and nightclubs.
So while you're in the area, take a stroll down Hollywood Boulevard and experience the excitement of the city.
It's definitely one of the most exciting things to do in Hollywood and a great way to explore the city and its many attractions.
22. Enjoy Hollywood Nightlife At Sunset Boulevard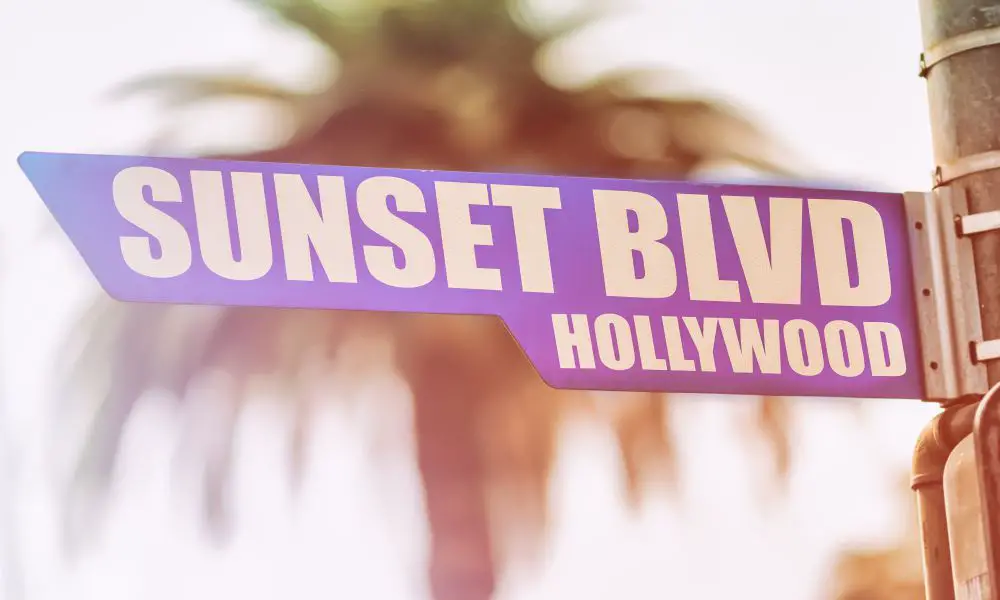 Sunset Boulevard is one of the most famous avenues in Los Angeles. This iconic 40 kilometers thoroughfare runs from Figueroa Street in downtown Los Angeles to the Pacific Coast Highway that borders the sea.
It crosses the most famous neighborhoods of Los Angeles, such as Hollywood, West Hollywood, Beverly Hills, Bel Air, Brentwood, and Pacific Palisades.
It is closely linked to the culture of entertainment and glamor that characterizes the city.
Its most famous part is the section known as the Sunset Strip, which is approximately two kilometers long.
It is famous for being one of the epicenters of nightlife in Los Angeles, with a large concentration of nightclubs and venues with live music.
Plus, it is here where you'll find numerous restaurants and comedy clubs.
Among the places of interest on Sunset Boulevard are the Hollywood Palladium Theater, The Roxy Theater, and the Whiskey a Go Go nightclub.
This is the club where future stars like Van Morrison and Frank Zappa took their first steps.
23. See Hollywood Relics At The Hollywood Museum
This is a mandatory stop for lovers of the seventh art! The Hollywood Museum has an incredible collection of costumes and parts used in classic films, such as Jurassic Park, The Silence of the Lambs, and Harry Potter, among others. 
There are also exclusive pieces that have belonged to several celebrities spread on three floors.
Among the gems is the typewriter used by Alfred Hitchcock to write the script for "Psycho," the $1 million Marilyn Monroe dress, one of Bela Lugosi's covers in the feature "Dracula," and the shoes of the character Dorothy from "The Wizard of Oz."
It's a delight to recognize costumes and remember cool movies. Another strong point of the museum is its incredible collection of photos of Marilyn Monroe.
I left there thinking she was beautiful and the best. Undoubtedly, this is one of the best museums to visit in Hollywood. I loved it and recommend the visit.
24. Get A Taste Of The Celebrity Lifestyle At One Of Beverly Hills Luxury Hotels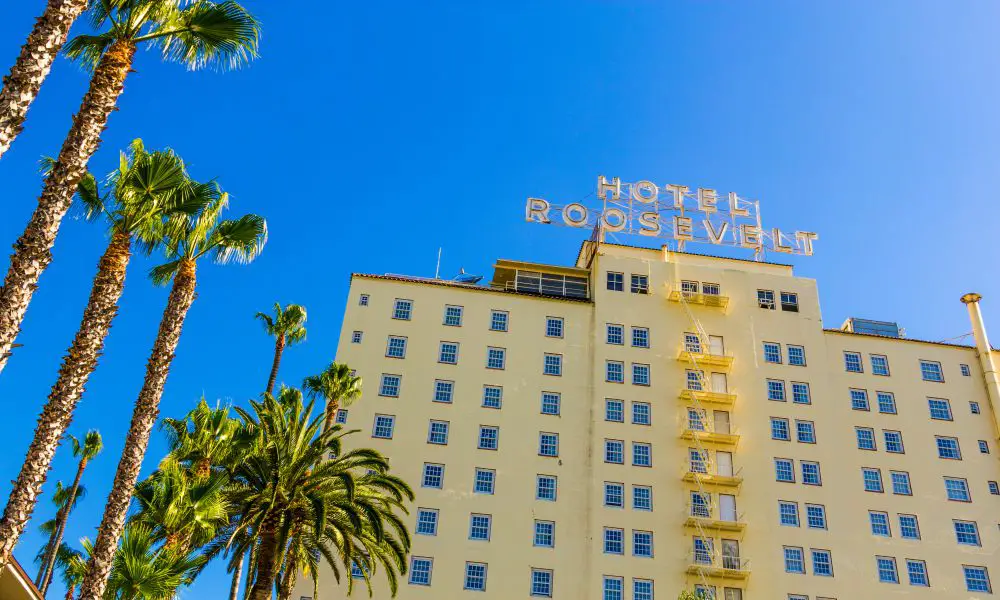 You need at least a day to really enjoy the glamor of Hollywood. After all, it is home to a number of luxurious hotels, spas, and shopping complexes.
It costs you almost $400 a night, but it will be a very special night: the Roosevelt Hotel, inaugurated in 1924, is the oldest hotel in Hollywood still in operation.
And even if it has been renovated several times, it still retains all its old Hollywood charm.
Here Marilyn Monroe lived for two years, and the suite is the same where Clark Gable and Carole Lombard spent the night. Some say it is also haunted by the ghosts of many actors who died tragically, including Marilyn herself.
Another option is the Loews Hollywood Hotel, perfect for those who want to spend a lot and expect comfort.
This modern hotel has 628 rooms equipped with air conditioning, a coffee machine, Wi-Fi, and free bottled water. In addition, it has 25 restaurants and eateries, over 70 shops, seven movie screens, 12 bowling lanes, a rooftop pool, and a lot of other options that will leave any guest in awe.
I recommend the Kimpton Everly Hotel for the crazy view of Los Angeles and the hill with the Hollywood sign, but also for the contemporary elegance and the rooftop pool.
If,on the other hand, you're on a more limited budget, take a look at the Celebrity Hotel or the even cheaper The Hotel Hollywood, both very centrally located and with breakfast included.
So, don't just limit yourself to sightseeing. Pamper yourself and get to know the best of Hollywood's hotels. In fact, this is one of the cool things to do in Hollywood and the perfect way to truly experience the glamor of this city.
25. Hike At Runyon Canyon Park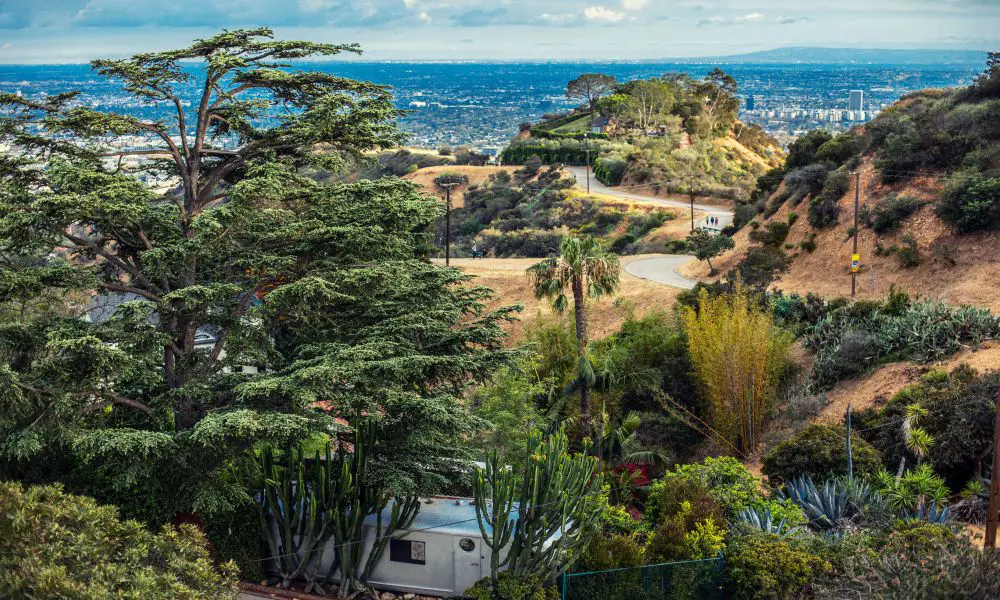 Enough of museums! Anyone who likes sports and prefers hilly nature to running routes from Santa Monica to Venice Beach should try Runyon Canyon.
Just a stone's throw from Hollywood is the hilly area lined with various trees and vegetation. Or, depending on the season, also withered plants with a wonderful view over the city.
This park is very popular with residents who like to go for a walk, take the dog for a walk, or enjoy the wonderful view of the city.
It is also one of the points where it is possible to see the Hollywood sign from afar and an excellent place to watch the sunrise/sunset.
But the park is not only perfect for extensive running or strolling, but also suitable for "celebrity spotting."
Popular YouTube and Instagram stars and models work out here and can often be seen. So, why not take your chances and see if you can get a selfie with someone famous while you're there?